Let's channel our innermost trends and throw a Tiktok party at home! This post will hopefully give you some inspiring tips for Tiktok decorations, invitations ideas, games to play, recipe ideas and more so that you can throw a trendy Tiktok themed party that may just go viral!! Hey, you never know!!
TikTok has literally taken over the internet.
It is the fastest growing social media platform with millions of users. It is much more than a dance trend app offering recipe ideas, health tips and fitness advice!
I know that I usually make it part of my daily routine to make sure to scroll through my "for you" page. Whether it's a new song, dance routine, or recipe, I'm always staying in the loop thanks to the social media app.
If you have an account, make sure to give me a follow where I share party tips!
Being 2023, there's no better way to get in touch with your inner social butterfly than by throwing a TikTok-themed party! Teenagers and young adults will go crazy over it.
The best part is, you don't need much planning! Just some imagination and creativity.
So I've put together some TikTok party ideas for planning an epic party that will have your guests creating their own trends all night long!
The best part? These TikTok party ideas are perfect for either adults OR kids!
Make sure to check out my other 23 Creative Party Theme Ideas if you are open to other unique themes!
📩 1. Send Out A Trendy Invitation!
First things first, you definitely want to make sure you are on theme in all aspects of the party, starting with invitations.
Here are your options:
Option #1: You can design your inivitations using an online source like Zazzle. All you'll need is the color scheme, a downloaded TikTok logo and the event details.
Option #2: A BETTER option is to create a DIGITAL customizable video invitation to send to your guests, which means you won't have to send physical invites.
Option #3: Download this MP4 Video Invitation for FREE! It is such a fun way to invite friends and it can be easily customized to your needs using Canva.
Either way, your guests will be delighted to receive these trendy invites for your upcoming tiktok party!
2. Set Up TikTok Themed Decorations
TikTok decorations are NOT as simple as it seems.
Luckily these days, Amazon sells quite a few Tiktok decorations!
Items such as these party staples go a long way:
💦 Tiktok Water Bottle Labels
Print out these labels and stick them over top of the normal labels to add a fun inexpensive touch!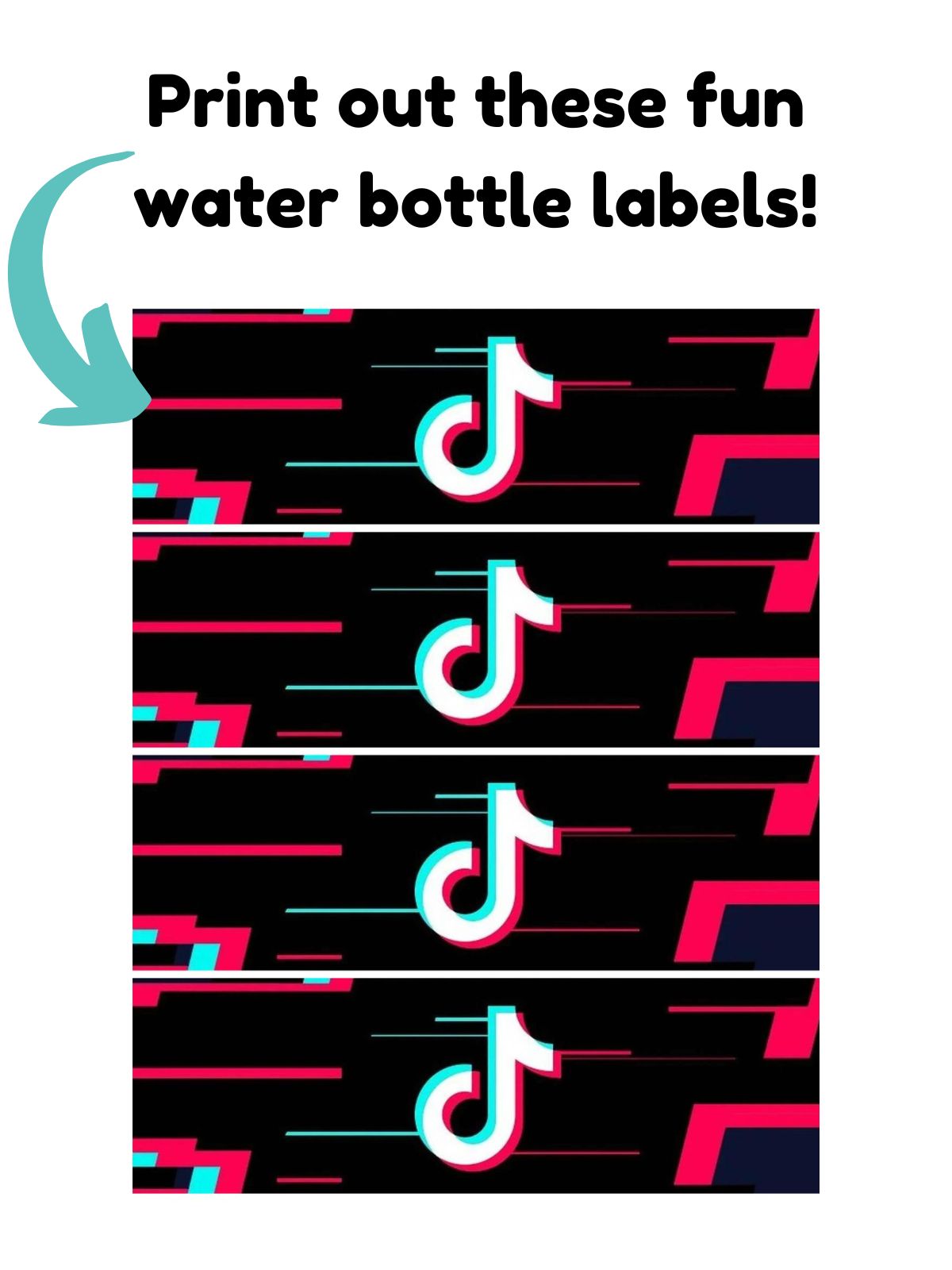 🎈Assemble/Order A Balloon Garland
Balloon garlands are EVERYWHERE these days. And surprisingly they aren't too tough to make! All you need is:
Balloons
Garland string
Balloon stickers
Command hooks
Purchase balloons in teal, pink and black colors preferably in different sizes.
This will create the perfect photo booth backdrop or allow you to have a decorative backdrop around your food or dessert table.
You could also buy a blue, pink or black curtain and add or create a TikTok poster to complete the backdrop.
If you don't want a photo booth or backdrop, you can also purchase balloons with the TikTok logo and place them all around the house for a more minimalist look.
Use colored lightbulbs or LED strip lights for "TikTok lighting." Amazon sells these and they aren't too expensive. The mood lighting will definitely add to the ambiance of your TikTok-themed party.
3. Plan TikTok Party Activities & Games
Keeping your guests entertained during your party is a must! These activities will keep your guests occupied for the duration of the party, if they choose to participate in them.
Create a photo booth
As stated above, a photo booth makes a decorative area for your TikTok-themed party, but it can also make a fun activity!
To make your photo booth come to life, buy TikTok Party Photo Booth Printable Props or if you're creative, you can make the signs yourself.
You can use items you already have as props for the photo booth, such as sunglasses, a boa scarf, and a crown or headpiece. Either way, they will have a great time using different props that you provide!
You and your guests can take selfies or you can set up a tripod for everyone to use. Polaroid cameras are still on-trend, so whip yours out for this special occasion so everyone can leave with a memory of the great time they had. Oh and don't forget to take a group photo with everyone!
There's no better time to create new TikToks with all of your friends than at a TikTok-themed party. Using the photobooth as a background, have everyone take turns creating TikToks if they want to! Your guests will be stuck at the photo booth all night long! Make sure to create a party hashtag!
Sing karaoke using trending songs on TikTok
You don't need a ton of equipment for this - just a smartphone to display lyrics and a speaker so everyone can hear.
Create a playlist of the karaoke versions of trending TikTok songs ahead of time and have your guests show off their belting abilities!
This karaoke machine is just $40!
Move the furniture aside and create a dance floor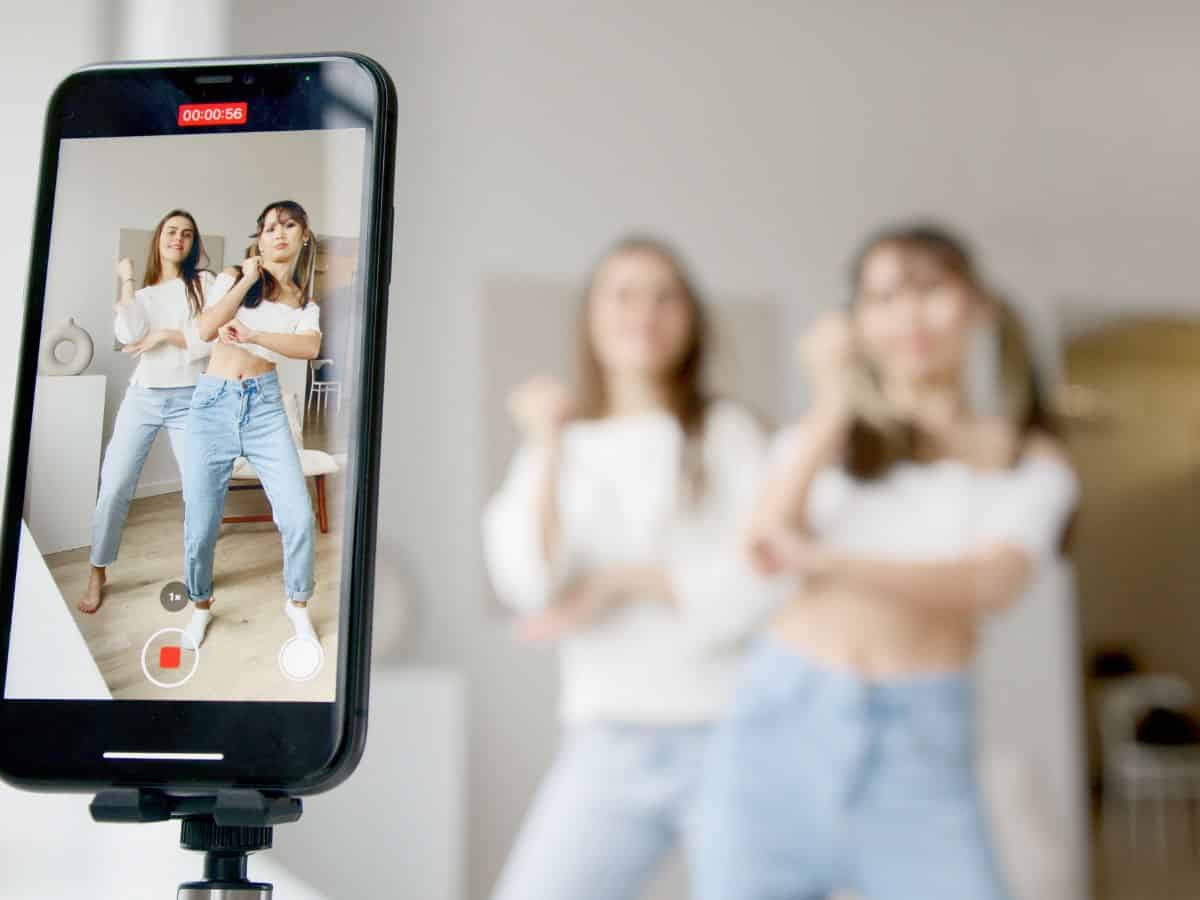 Hire a DJ or become the DJ at your own party by blasting trending TikTok sounds and show your guests your signature dance moves! Buy a disco ball or strobe light, or even use your TikTok mood lighting to enhance the ambiance of your dance floor.
Create a duet with a friend!
Think about having a large monitor or projector screen and stream trending dance moves for everyone to try on their own! Give prizes to winners!
4. Serve TikTok Viral Recipes
Food is a huge part of any party, so you want to make sure to plan the menu well.
And since Tiktok has MANY popular food trends, it's only expected that the food will also be on trend!
Tip* It's critical to keep your guest list in mind when planning what you will serve at your party. Offer a variety of foods to your guests and consider any food restrictions or allergies they may have.
Tiktok Food Trends
Tiktok is known for its food trends so consider serving 2-3 of these trends to your guests! The good thing is that most of these trends can be made in bulk for a crowd!
Garlic Accordion Potatoes
Pesto Eggs
Ricotta Toast
Spicy Vodka Pasta
Corn Ribs
Baked Feta Pasta
Pasta Chips
Whipped Coffee
Serve the food buffet style
Consider making some other appetizers and easy party appetizers for easy eating. Foods such as Hawaiian Roll Pull Apart Cheesesteak Sliders or Baked Ham and Cheese Sliders are easy to make in advance!
If these don't sound good, try some of these 97 Fun Mini Appetizer Ideas!
Buy or rent a popcorn, slushie, or cotton candy machine
These machines are pretty affordable to rent for parties or you can even purchase them off Amazon! It's something that people will rememeber. Plus, who doesn't love popcorn?!
Create a signature cocktail for your party
There are also drink trends that your guests will go crazy for! Try one of these:
Ensure that you create a drink that can be made in batches so you can leave pitchers out for your guests to serve themselves. That way you won't have to worry about bartending throughout the entire party.
You can also simply serve color themed drinks like this blue mocktail or this blue spiked punch, my scooby snacks shot or a pink drink like this starburst shooter or this aperol sour for a fancier drink.
When creating your signature cocktail to keep it on theme and make up a name! Your guests will remember your signature drink for this party for years to come!
Make or order a custom TikTok cake or cupcakes
I'll admit that it's pretty difficult to get a cake to look amazing if you aren't a professional.
A cake may be something you want to order from your local bakery. Just bring them a print out of the Tiktok logo and they should be able to recreate it.
If you really want to make everything yourself, a simple cake or cupcake recipe with a TikTok cake topper will work too!
Alternatively, you can customize this cake ball recipe with pink or teal candy melts for a bite-sized treat that your guests can indulge in. After all, cake pops ARE trending on Tiktok too!
5. Hand Out Tiktok Party Favors
Purchase these TikTok party favor bags and fill them up with any of the following goodies:
You can also purchase plain WHITE party favor bags and simply put a TikTok sticker on it. Then fill the party bags with candy, small candles, gourmet soaps, and other items you think your guests will enjoy.
I hope these TikTok party ideas were helpful and that you enjoy your TikTok-themed party! Please comment below if you have any other ideas or suggestions!
More Party Theme Ideas
Check out some of my other party theme ideas!
23 Ideas For An 18th Birthday Party
17 Awesome 13th Birthday Party Ideas
Truth or Drink: 100 Questions to Get the Party Started