This tropical blue drink is made without any alcohol! The bright blue color and citrusy flavor is perfect mocktail for warmer months!
We used blue curaçao syrup to get the beautiful blue color it's known for. Plus, they're kid-friendly making it perfect for any kind of party!
This beautiful blue drink immediately takes me away to a Caribbean island! I can hear the steel drums now...you can find me by the swimming pool. 🙂
But now, you can bring some tropical flair home to your guests instead.
A good host thinks of ALL of their guests so if you are expecting a few who prefer non-alcoholic drinks like my lavender lemonade or Strawberry Basil Lemonade.
It's a nice gesture and very considerate to offer something fun for those who aren't drinking. They will appreciate that you thought of them, trust me.
If you are throwing a cocktail party or another theme party, check out these tips!
Why I Like This Blue Drink!
It is great for both adults AND kids.
It is unique, colorful and fun and doesn't turn GREEN!
You can make large pitchers for a party.
It is well balanced and not overly sweet.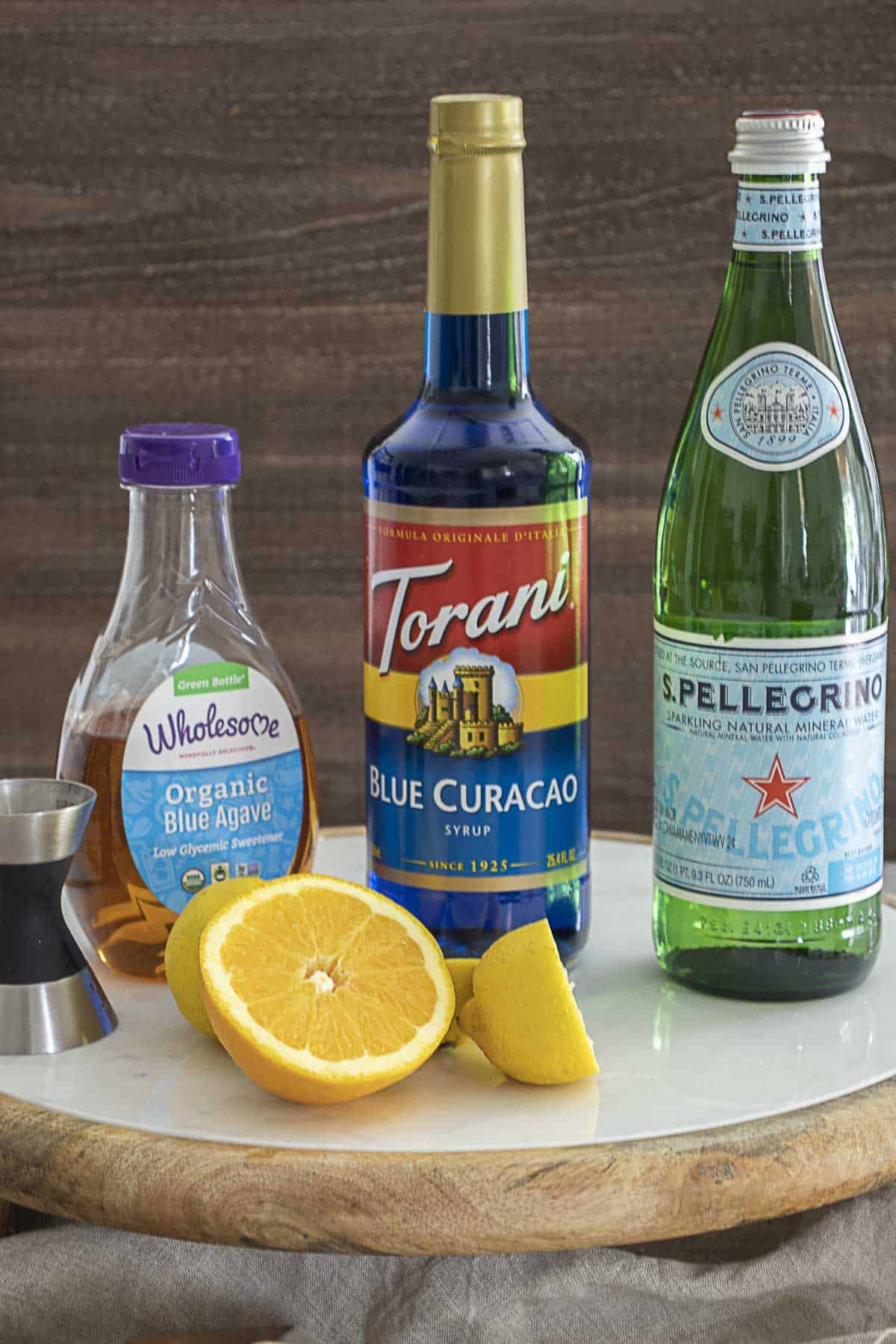 🛒Ingredients
Club soda (or Sprite)
Blue curaçao syrup
Lemon Juice
Simple Syrup *Optional
Adding the syrup and lemonade will make your drink way too sweet. AND if you add sprite, it's just pure sugar.
So if you combine all those sugary drinks with the curaçao, you'll have a sugar high that's sure to send you back to your childhood.
Option #1: So instead I recommend using club soda mixed with a bit of lemon juice. You'll get the sugar from the curaçao syrup and acidity from an actual lemon (which always tastes better.) The flavors are still there without making it overly sweet. You can also add an ounce of simple syrup if you prefer.
Option #2: Another option is to leave out the lemon juice altogether and replace it with a mixture of lemonade and soda water. The soda water will help to lessen the sweetness of the mocktail.
✅Drink Mixing Tips
Step 1: Add your ingredients EXCEPT for the soda water to a cocktail shaker and shake well for 10-20 seconds. The ingredients blend well so the purpose of this is to chill the mocktail.
Step 2: Add drink to a chilled glass filled with ice.
Step 3: Top with soda water aka sparkling water LAST. The carbonation could explode from your shaker and make a mess if you shake it.
Blue Curaçao vs. Blue Curaçao "SYRUP"
Blue curaçao is a blue-dyed orange flavored Caribbean liqueur. It's made using the dried peel of the Laraha citrus fruit. It is typically clear in color but is dyed blue with artificial coloring to give drinks an exotic color. Another common blue cocktail is the Blue Hawaii.
If you do not have this, you can use Cointreau or another orange liqueur instead.
Blue curaçao SYRUP is made of cane sugar, natural flavor and blue #1, a dye. That's all. It's basically blue sugar water so it is VERY sweet. This is why I suggest diluting the sweetness with soda water.
Other than the bright blue color, they are very different.
🍯Simple Syrup vs. Agave Nectar
Simple Syrup
Simple syrup is exactly what is sounds. A simple syrup that's super easy to make requiring just two ingredients.
Sugar
Water
Both ingredients are typically added in equal parts. So if you add 1 cup of sugar, you would use 1 cup of water. But if you like simple syrups that are LESS sweet, you less sugar. If you like sweeter drinks, add more sugar to your water. There is no rules, just recommendations.
Simmer your sugar and water in a saucepan just until the sugar is dissolved. It shouldn't take long. Then allow your syrup to come to room temperature before chilling in the fridge. Add to a bottle and store in the fridge.
You can also favorize your simple syrup by adding herbs like mint, basil, vanilla, cinnamon, etc.
I think a lemon or citrus simple syrup would be a great addition to this mocktail!
Agave Nectar
Agave comes from the agave plant and is naturally sweetened. Here I used blue agave nectar which is something you can easily find in the food store.
It gives the drink a different flavor that I enjoy.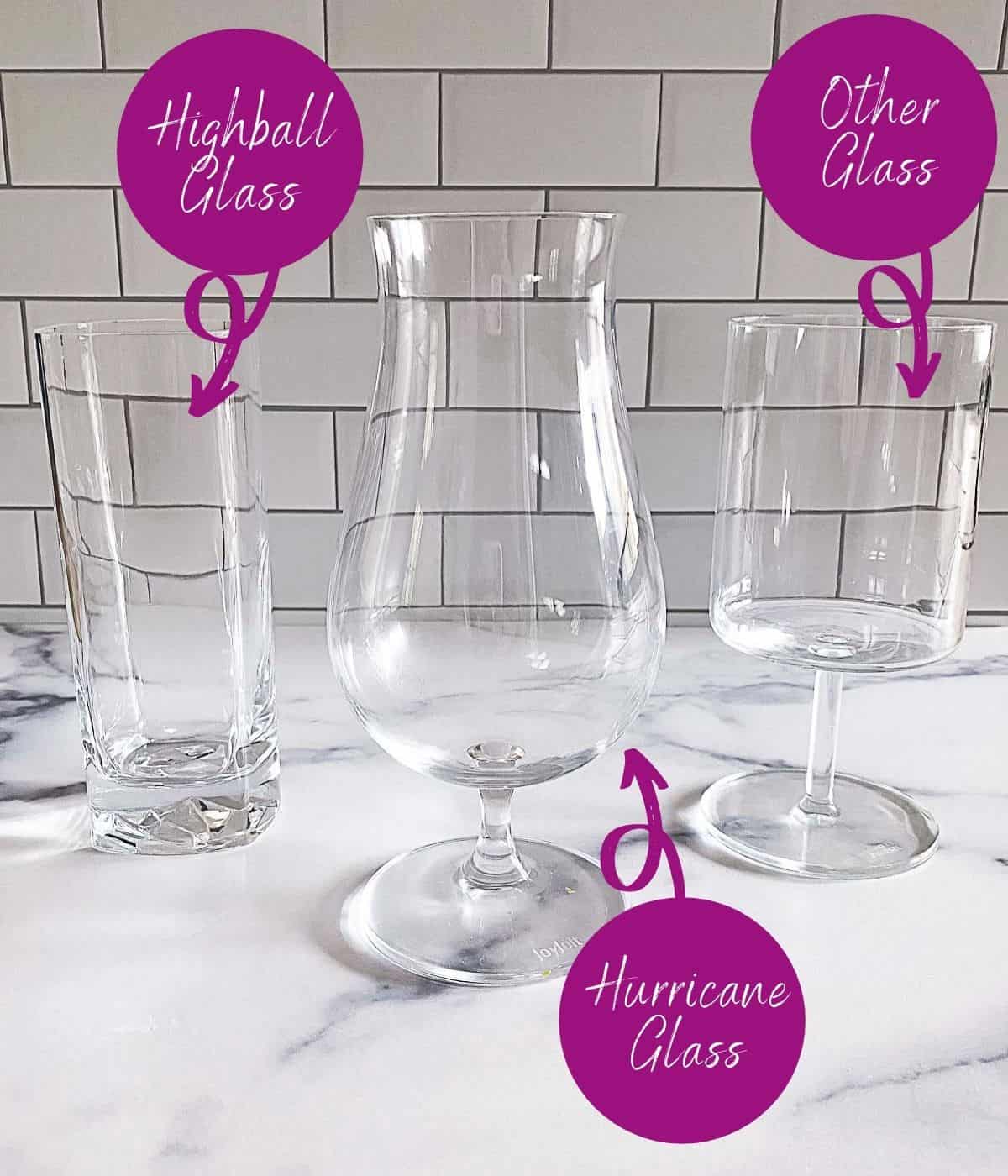 Choosing Your Glass
Serve your blue drink in a hurricane glass (tulip glass) for some "ooos" and "aaahs" fro guests. But a highball glass would work well too. Just choose something tall and skinny rather than something short and wide like a lowball glass.
✔️Expert Tips
Use a vegetable peeler to get perfectly peeled lemon rinds for garnishing.
Chill all your ingredients INCLUDING your glasses to create a super cold mocktail!
You can make your own simple syrup if you prefer.
Muddling your lemon rinds helps to release the oils in the lemon giving your mocktail LOTS of citrus flavor.
Add a shot of vodka, white rum or gin if you'd like to make yours alcoholic.
Garnishing your drink is an important part in finishing this mocktail.
Using crushed ice is another option but will water the drink down quicker.
Substitutions
Like mentioned above, if you want to substitute the club soda for lemonade, that is fine but it will be a sweeter drink. If you want to use sprite and lemonade, use half and half. Just add the sprite LAST to the drink not in the mixer.
Questions
What does blue Curaçao syrup taste like?
It's similar to Triple Sec! Blue Curacao has a sweet orange peel flavor with a slightly bitter finish.
Where does the blue color come from?
Blue food coloring.
Can I add alcohol?
Yes. Anything clear would be best. Try a shot of vodka, gin or white rum.
Is there alcohol in Blue Curacao?
Yes. The alcohol percentages vary per brand.
Equipment You Might Need
All of these items are affiliate links from Amazon.
Highball Glasses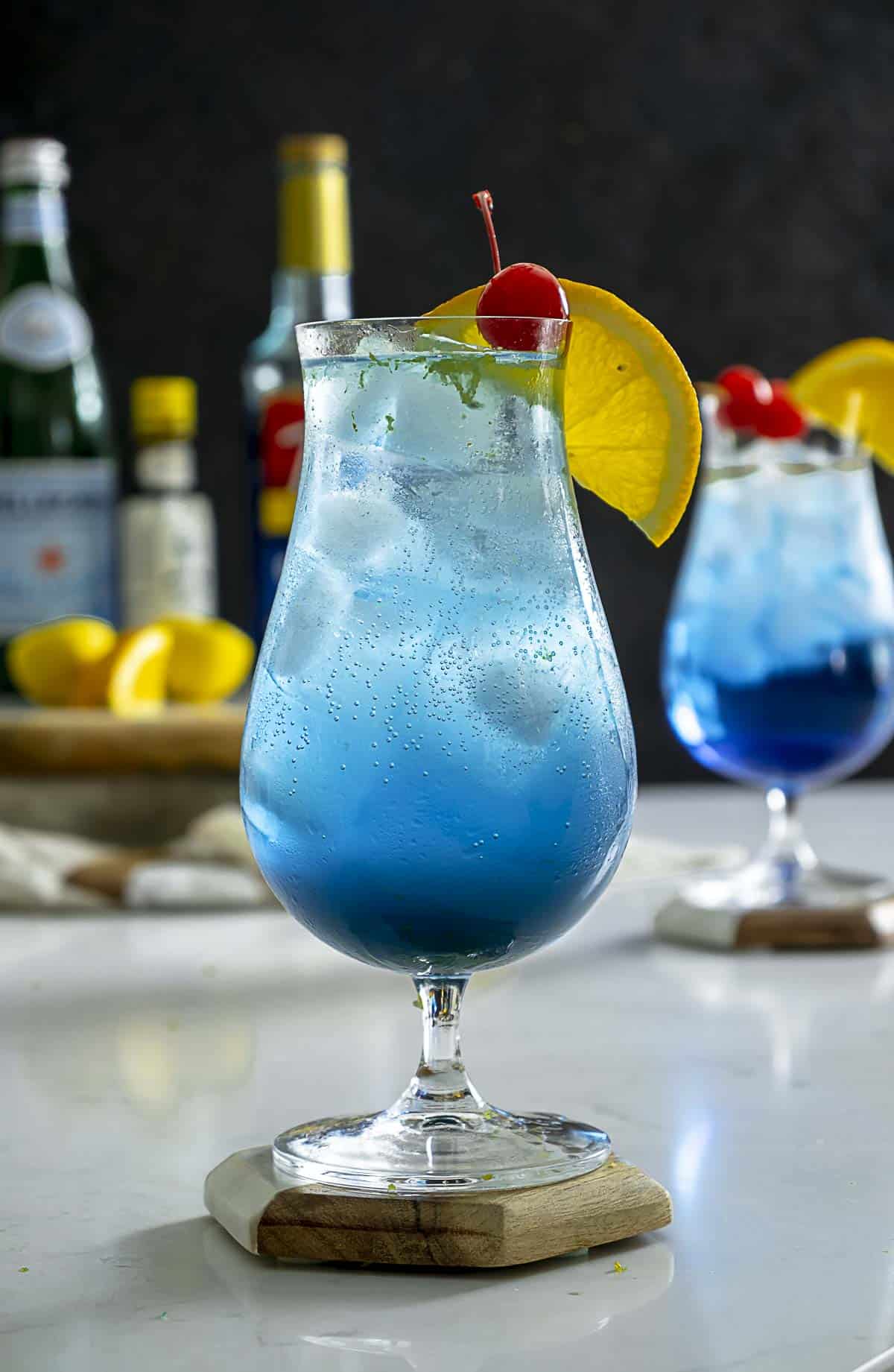 Other Cocktails To Try!
📲 FOLLOW Aleka on social!! 👋 Follow me on facebook, instagram, pinterest, youtube or tiktok for more recipes and entertaining tips!
📖 Recipe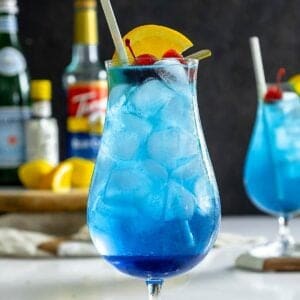 Non Alcoholic Blue Drink
This Blue Mocktail is made without any alcohol. The bright blue color and citrusy flavor is perfect for warmer months! We used blue curaçao syrup to get the beautiful blue color it's known for. Plus, it's 100% kid-friendly making it perfect for any kind of party!
Print
Pin
Rate
Ingredients
5

ounces

blue curaçao syrup

1½

ounces

agave syrup or simple syrup

1

lemon

juiced & zested

½

orange zested

club soda for topping

(*see note)
Instructions
Fill your glass up with ice and pour drink over top.

Top drink with soda water and garnish with an orange slice and a cherry.
Recipe Notes
*The amount of soda water will depend on how large your glass is and how much ice you use. 
Sprite can be used in place of the soda water however it will make your drink sweeter so I suggest leaving out the sweetener if using it!
Lemonade can be used in place of the soda water for a sweeter non-carbonated drink.
Adding yellow lemon juice will give this blue drink a greenish tint which is why I used more zest rather than juice for the citrus flavor. Don't add any lemon juice if you want your drink super blue.
Chill your glass for an extra cold mocktail.
Blue

curaçao syrup is very sweet so omit the sweetener if you don't want a super sweet drink.
Other mocktails recipes:
9 Easy Mocktails To Try
🍹Non-Alcoholic Italian Aperol Spritz
Nutrition
Calories:
185
kcal
|
Carbohydrates:
14.7
g
|
Fat:
0.1
g
|
Sodium:
19.2
mg