This Aperol Sour is a popular summer cocktail your guests will love! Citrusy, slightly bitter with a touch of sweetness, it's the perfect apéritif to serve with appetizers before dinner!
I also love serving these Margarita Pitchers when expecting a larger group!
I love serving this cocktail, along with my whiskey smash, during the warmer summer months! It's refreshing, bright and citrusy. Plus, the orange-red color is vibrant like just this Paper Plane Cockail.
If you want to do it "properly", you will want to serve this cocktail before dinner with appetizers as an "aperitif".
On my honeymoon I was handed an apéritif menu while waiting for dinner. I had no idea what it was but I loved the idea of a separate pre-dinner drink menu. You can read more about what it is below!
⁉️Fun fact⁉️Did you know, in Italy, they don't even start serving dinner until after 9:00? That's usually when I'm getting ready for bed! (If I'm not expecting guests.) 🙂
Looking for a fun unique mocktail to serve? Try my lavender lemonade!
Ingredients
Aperol- This cannot be substituted and can easily be found in any liquor store.
Gin- You can choose an gin you prefer but see my gin recommendations below!
Simple Syrup- Simple syrup is equal parts water and sugar dissolved in a saucepan. You can replace this with agave nectar if you wish.
Egg White- A raw egg white gives the drink some body and creaminess that is delicious. Plus the subtle foam looks beautiful on top. If you are vegan or do not want to use an egg white, this bottled cocktail foam is a great option.
🍹Love fruity cocktails? Check out this awesome drink list!
About Aperol
Aperol is an Italian amaro or bitter liqueur similar to Campari. It's a uniquely bittersweet and pairs incredibly well with many alcohols such as vodka and gin. It has an 11% alcohol content so it's not overly strong.
It is most popular in an Aperol spritz which is made using Aperol, Prosecco, and a splash of soda. It is light refreshing and bubbly.
Aperol is known in Europe as an apéritif. Apéritifs are typically a bitter alcoholic drink served before a meal to stimulate ones appetite. Try serving this with a few Italian appetizers like my Italian Clam Stuffed Mushrooms or my Burrata w/ Roasted Peppers and Garlic.
What Does Aperol Taste Like?
Aperol tastes zesty like an orange with herbal notes while being slightly sweet and slightly bitter at the same time.
If you love gin, you need to try this beautiful Lavender Martini Cocktail!
Shaking Up Your Cocktail
This cocktail is easy to shake up. If you aren't using an egg white, simply add all ingredients to a shaker along with ice and shake for 30 seconds. This is called a WET SHAKE.
If you ARE using the egg white in your Aperol sour because you want the foam on top, you will need to DRY shake your cocktail first. Read about the difference here.
Dry Shaking
Dry shaking a cocktail means shaking it WITHOUT ice cubes at room temperature. This allows the ingredients to emulsify (blend) better. Then after, you want to add in your ice and shake again for another 30 seconds or so to chill and dilute your cocktail.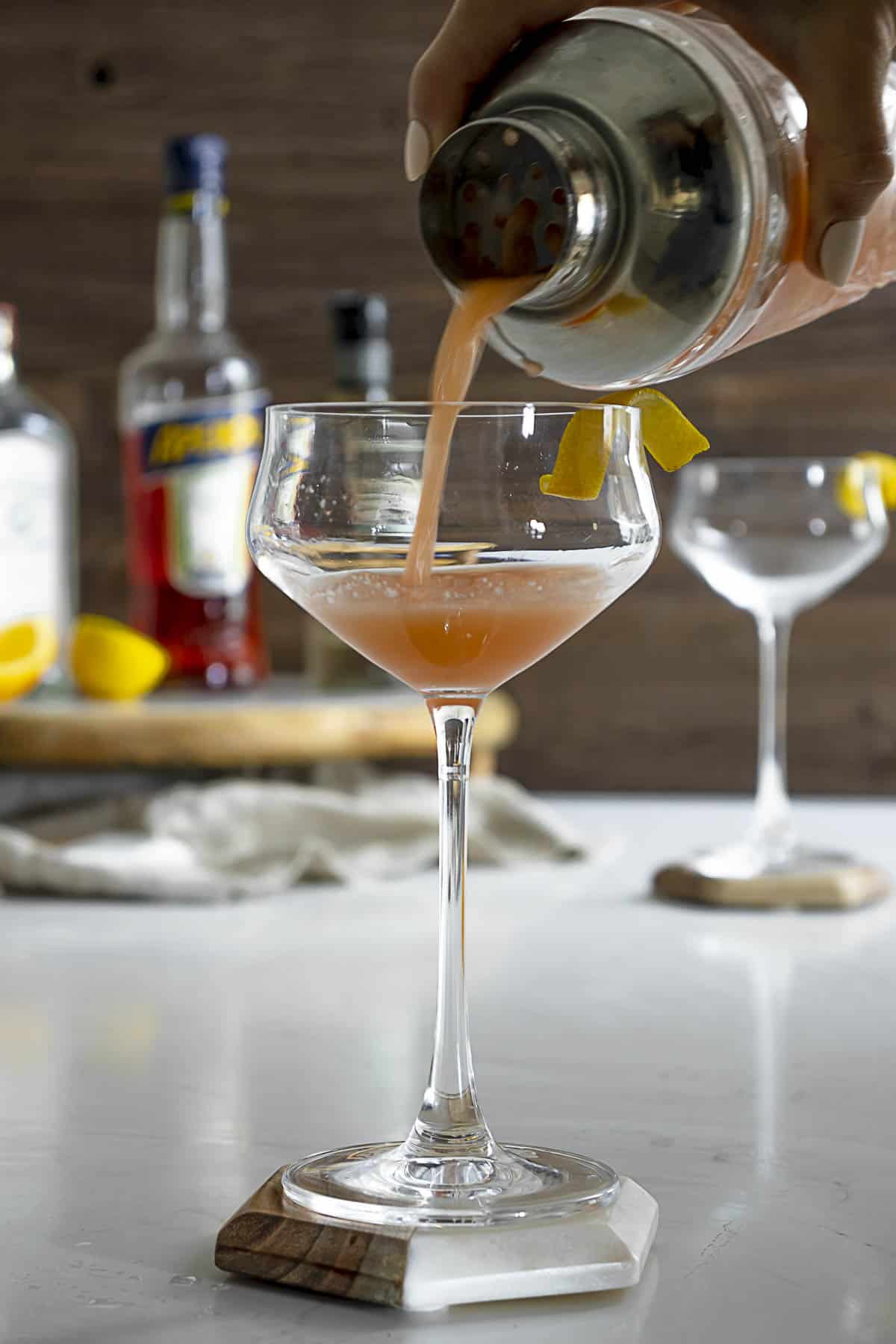 🍸Looking for Classy Cocktails? Check out this list of Classy Cocktails you will love!
The Egg White Foam
Egg whites are commonly found in cocktails because they make drinks creamy and silky while adding some body. Shaking an egg white in a cocktail shaker results in a thick frothy foam that sits on top of cocktails like Aperol sours.
But keep in mind that using raw egg whites can put you at risk for salmonella poisoning however the risk is extremely low. If this makes you hesitant at all, you have a few other options:
Purchase PASTUERIZED eggs from the store.
Use aquafaba which comes from chickpeas.
Purchase bottled cocktail foam from Amazon.
You can also leave out the egg white if this is easiest.
4 Types of Gin
London Dry*- This is the most popular type of gin with a juniper taste.
Plymouth- This is named after the distillery that produces it and is more dry and citrusy than London Dry.
Old Tom- This type of gin is richer in flavor than London Dry making it better for mixed, bitter drinks.
Genever- The flavor is more robust and malty and pairs well with rich cocktails.
You can read more about these types of gin here.
The Best London Dry Gins
There are many, MANY London dry gins on the market. Every one will taste a bit different so depending on your taste, choose what you typically like in your standard gin and tonics.
Bombay Sapphire: Best overall for price and taste.
Hayman's- The best bang for your buck.
Highclere Castle- Best to splurge on.
Tanqueray- Best for martinis.
Beefeater- Best for G&T's.
Sipsmith- Best for beginners.
All of these would go well with an Aperol sour so use whatever you like or if you don't have a strong preference, use what you can find, or have on hand.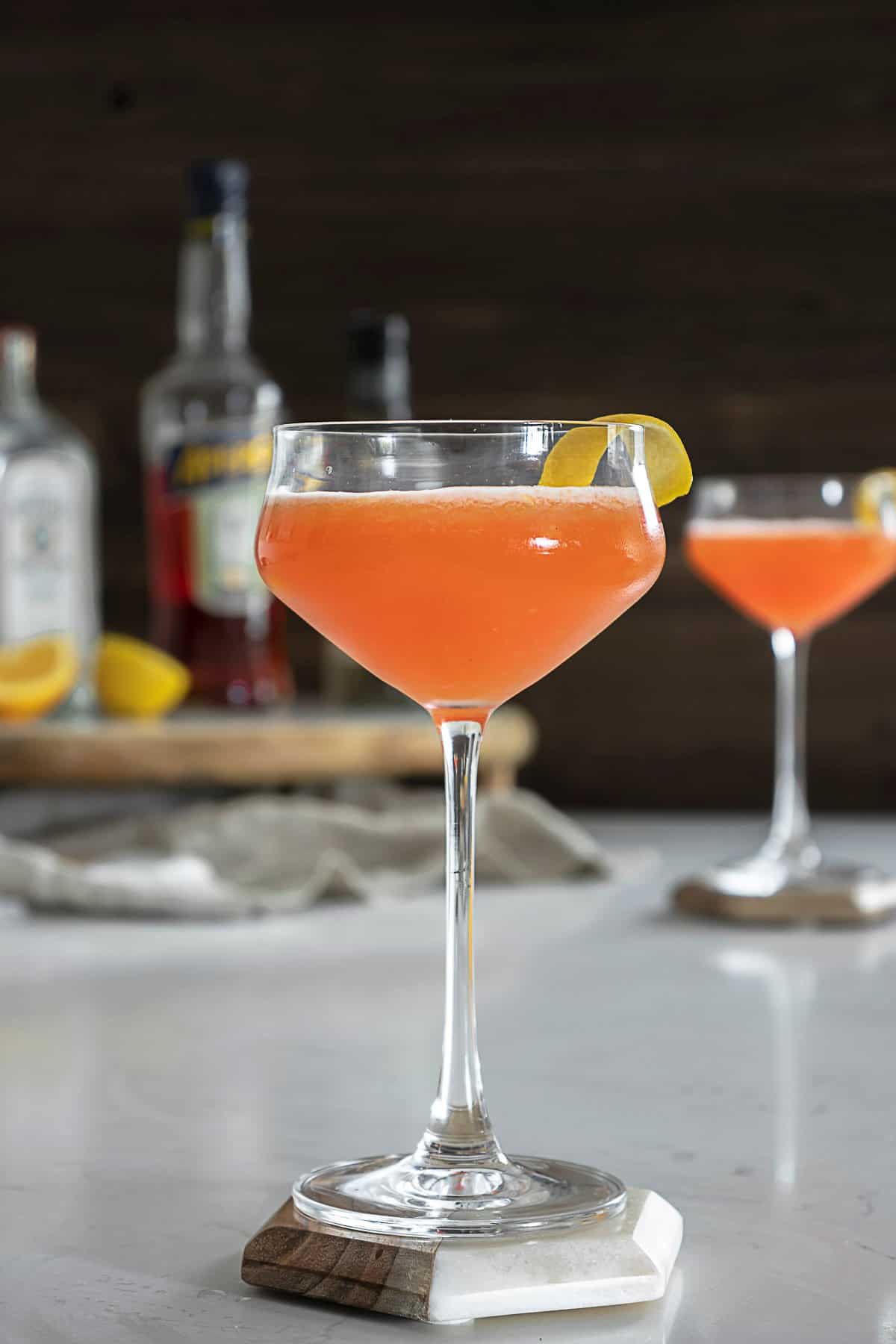 Expert Tips
Chill your coupe glasses in the freezer for 10-20 minutes before serving for an extra cold sour!
Mix up your Aperol sour for a crowd by adding all ingredients to a blender. Add ice after blending then strain it before serving.
Make your own simple syrup at home with sweetener of choice.
Muddle lemons in a shaker before adding your wet ingredients for added citrus flavor.
Froth your egg whites in advance and top each drink separately if you don't want to bother with shaking and potentially pulling a muscle at your party! 🙂
Add a dash of bitters to your mixer.
Garnish with orange and or lemon peel.
Useful Bar Tools
If you love making cocktails at home then I suggest you invest in a few bar tools to make it easier!
Next time, try throwing a blind wine tasting party!
Frequently Asked Questions
Do I have to use a shaker?
Using a cocktail shaker will help to chill your drink while slightly diluting it. This is a small thing that makes a big difference in cocktails so I encourage you to do so! You can use two plastic cups if you don't have a shaker. If you are using an egg white then shaking it will be the only way to get it frothy.
I don't have a shaker, what else can I do to get the foamy top?
You can use an electric whisk (like the one used for cappuccinos) or even immersion blender to whisk up the egg white. Then pour the foam on top of your sour last.
I'm vegan and don't want to use an egg white. Is there an alternative?
Yes! Simply use aquafaba for your foam! Read about it here. It is the liquid from a can of chickpeas and it froths up beautifully without much flavor.
Other cocktails you will love:
Bonefish Grill's Winter White Cosmo
Avocado Margarita w/ Jalapeno & Cilantro
Passion Fruit Vodka Martini Cocktail (With Puree)
Virgin Blue Lagoon Mocktail Recipe
📲 FOLLOW Aleka on social!! 👋 Follow me on facebook, instagram, pinterest, youtube or tiktok for more recipes and entertaining tips!
📖 Recipe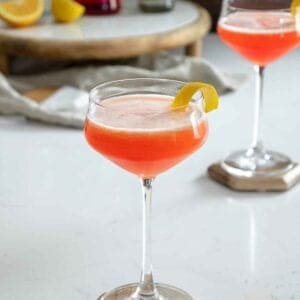 Gin Aperol Sour Cocktail
This Aperol Sour is a refreshingly bright summer cocktail your guests will love! Citrusy, slightly bitter with a touch of sweetness, it's the perfect apéritif to serve with appetizers before dinner!
Print
Pin
Rate
Ingredients
1½

ounces

Aperol

1½

ounces

gin

¾

ounce

freshly squeezed lemon juice

1

teaspoon

simple syrup

1

egg white (about 2 tbsp)

(*optional)
Instructions
Fill a cocktail shaker halfway with ice and add Aperol, gin, lemon juice, simple syrup and egg white.

Shake WELL for 30-45 seconds until fully chilled and frothy.

Strain into a chilled coupe glass and garnish with a lemon twist.
Recipe Notes
The egg white produces a smooth, frothy cocktail and is recommended! Shaking your cocktail is a must to both chill and froth your cocktail.
In a coupe glass is how this drink is traditionally served.
Chill your glass in the freezer 15 minutes before serving.
Nutrition
Calories:
261
kcal
|
Carbohydrates:
17
g
|
Protein:
1
g
|
Fat:
6
g
|
Saturated Fat:
3
g
|
Cholesterol:
0.02
mg
|
Sodium:
5
mg
|
Potassium:
27
mg
|
Fiber:
0.1
g
|
Sugar:
14
g
|
Vitamin A:
1
IU
|
Vitamin C:
8
mg
|
Calcium:
2
mg
|
Iron:
0.3
mg