Get ready to mix up a delightful and balanced cocktail with the Paper Plane. This modern classic combines bourbon whiskey, Amaro Nonino, Aperol, and fresh lemon juice to create a harmonious blend of flavors. The bourbon provides a smooth and smoky base, while the Amaro Nonino adds complexity with its herbal bitterness. Aperol brings a touch of sweetness and vibrant orange notes, balanced by the tangy freshness of the lemon juice.
Get your shaker ready, and let's craft a Paper Plane cocktail that will take your taste buds on a delightful journey!
The first time I had a paper plane cocktail was at a local restaurant. I never heard of it before but, BOY am I glad I tried it out!
It was placed in front of me with the cutest mini paper airplane on the rim. 😍
Then I tasted it and fell in love. It isn't too bourbon-y if you know what I mean. It's sweet but not overly sweet and slightly tart from the aperol and lemon. It's a bonus that it looks beautiful!
If you love aperol drinks, you have to try my Gin Aperol Sour. It also has a pretty pink color and is perfect for the summer time!
🤔 Where The Paper Plane Cocktail Originated
The Paper Plane Cocktail is believed to have originated at a restaurant called 'Please Don't Tell' located in New York City.
Supposedly bartenders there were looking to create a cocktail that was inspired by the classic Boulevardier and this is what they came up with!
I also read that M.I.A.'s song paper airplanes was the inspiration for its name!
What Is Aperol?
Aperol is a type of liqueur that is orange in color and has a bittersweet taste. It's often used in cocktails and can be found at most liquor stores.
What Is Amaro?
Amaro is an Italian digestif that is made with herbal ingredients. It's often used in cocktails and can be found at most liquor stores.
🍸 How To Make A Paper Plane Cocktail
In a shaker filled with ice, combine all ingredients.
Shake well and strain into a chilled glass.
Garnish with a lemon twist or paper airplane (optional).
📃 NOTE: Recipe card with exact quantities and detailed instructions are below! Print it out for later!
What's the best bourbon for a Paper Plane?
Buffalo Trace: Buffalo Trace bourbon is a versatile and approachable choice for a Paper Plane cocktail. It has a smooth and mellow flavor profile with notes of caramel, vanilla, and a hint of spice.

Four Roses Small Batch: Four Roses Small Batch is a high-quality bourbon that offers a rich and complex flavor profile. It has a balance of fruity and spicy notes.

Maker's Mark: Maker's Mark is a classic bourbon that is known for its smooth and easy-drinking qualities. It has a sweet and oaky flavor profile with hints of vanilla and caramel.

Elijah Craig Small Batch: Elijah Craig Small Batch is a rich and full-bodied bourbon with deep flavors of caramel, oak, and baking spices.

Bulleit Bourbon: Bulleit Bourbon is a popular choice for cocktails due to its high rye content, which adds a spicy and slightly floral character. It blends well with other ingredients.

Woodford Reserve: Woodford Reserve is a premium bourbon with a smooth and rich profile. It has notes of caramel, vanilla, and toasted oak.

Wild Turkey 101: Wild Turkey 101 is a bold and robust bourbon that stands up well in cocktails. It has a higher alcohol content and a full-bodied flavor with hints of caramel, spice, and oak. It adds depth and complexity to cocktails.
👅 What Does A Paper Plane Cocktail Taste Like?
Paper.
Just kidding.
This cocktail tastes like bourbon with a slightly bitter edge from the Aperol and Amaro. The lemon juice helps to brighten it up and make it refreshing!
My fall inspired bourbon cocktail is one of my favorites if you like bourbon!
If you love this drink, check out these other fabulous upscale cocktails.
✈️How To Fold A Paper Airplane "Garnish"
1. Fold a very sheet of paper in half lengthwise. (A post-it note is perfect!)
2. Unfold the paper and then fold the top two corners towards the center crease.
3. Fold the paper in half along the center crease again.
4. Unfold the paper and then fold each side towards the center crease.
5. Fold the paper in half along the center crease again.
6. Your paper airplane is now ready to garnish your cocktail!
Check out this list of edible flower garnishes that are perfect for cocktails!
🍋How To Make A Lemon Twist Garnish
Cut a lemon into thin slices.
Cut one slice into a thin strip.
Twist the strip and place it on the rim of your glass.
If you want to make a skinnier spiral-like twist, you will need a tool like this one.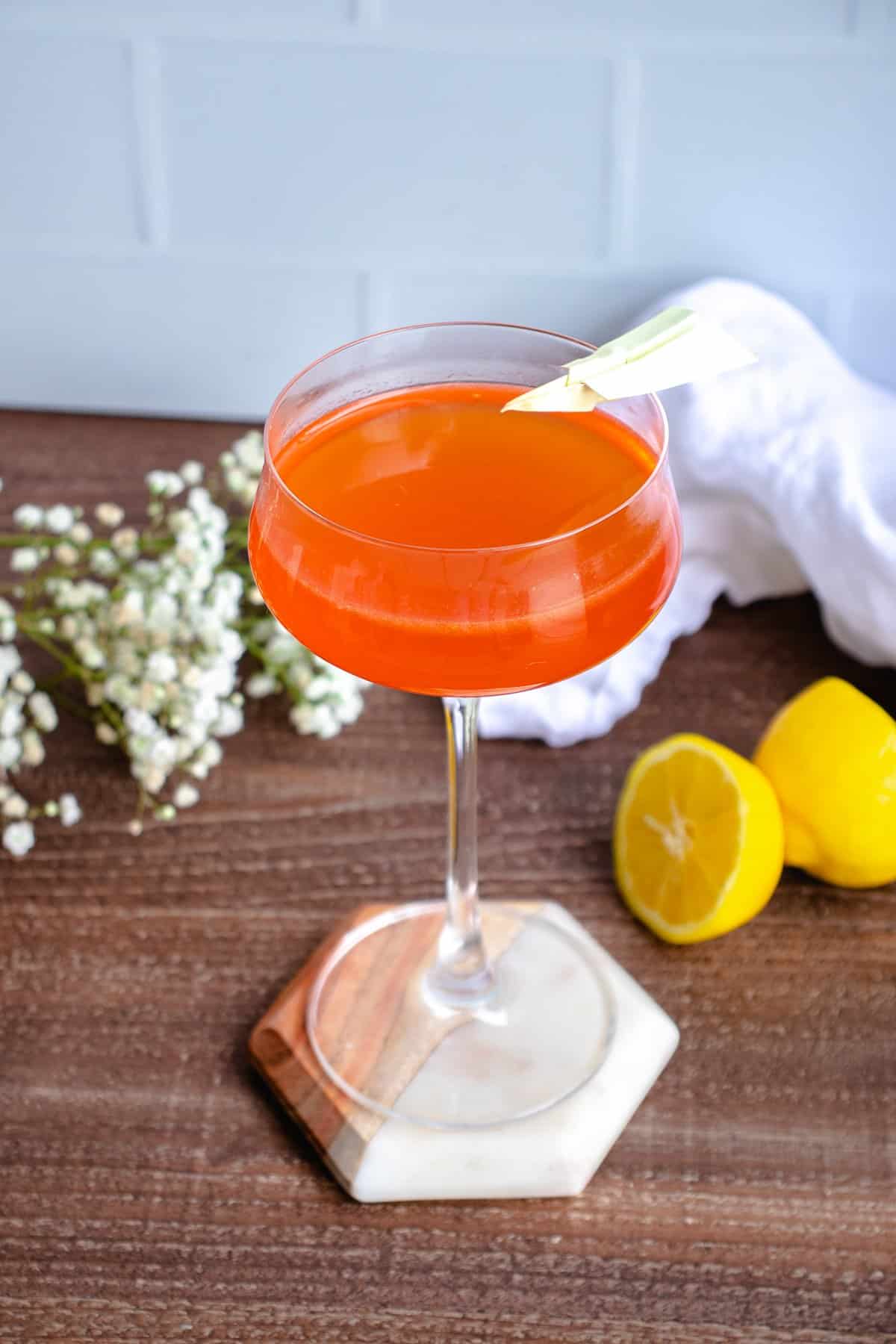 🍹Love fruity cocktails? Check out this awesome drink list!
📃 Paper Plane Substitutions
If you don't have Aperol on hand, you can use Campari in its place. For the Amaro, I like to use Montenegro but any Italian amaro will work well. Lastly, if you don't have lemon juice, you can use orange juice instead!
😍 If You Love This Cocktail, You Might Also Like…
A Boulevardier, Old Fashioned, Whiskey Smash, or Manhattan. All of these popular cocktails are bourbon-based and feature bitters which help to give them a similar flavor profile!
📽 If you love entertaining at home, subscribe to my YouTube channel!!
🍢Serve Cocktails With These Appetizers:
Goat Cheese & Fig Jam Crostini w/ Caramelized Onions
CRISPY Air Fryer Avocado Fries With Lime Cilantro Crema
Baked Polenta Fries With Thyme Honey
📖 Recipe
Paper Plane Cocktail
The Paper Plane Cocktail is my top 3 favorite cocktail recipes so if you're a bourbon lover, this is for you! It's bright, freshing and perfect for the warmer months! I especially love the paper airplane garnish that's typically added!
Print
Pin
Rate
Ingredients
3

ounces

Amaro

3

ounces

Aperol

3

ounces

bourbon

3

ounces

lemon juice
Instructions
Shake vigorously for 15-20 seconds.

Strain into two coupe or martini glasses.

Garnish with a lemon peel, twist and/or mini paper airplane!
Recipe Notes
Yield: 2 Cocktails (Use 7-8 oz. glasses)
Watch how to make a mini paper airplane here to garnish your drink!
Chill your glass for 15-20 minutes prior.
Nutrition
Calories:
345
kcal
|
Carbohydrates:
14
g
|
Protein:
1
g
|
Fat:
6
g
|
Saturated Fat:
3
g
|
Polyunsaturated Fat:
0.01
g
|
Monounsaturated Fat:
0.01
g
|
Cholesterol:
0.01
mg
|
Sodium:
1
mg
|
Potassium:
46
mg
|
Fiber:
0.1
g
|
Sugar:
10
g
|
Vitamin A:
3
IU
|
Vitamin C:
16
mg
|
Calcium:
3
mg
|
Iron:
0.1
mg