These Candied Pecans With Brown Sugar are the quickest sweet snack to serve your guests and perfect for the holidays! They are coated in brown sugar and cooled until glazed over and crunchy! You won't be able to stop eating them.
I love putting them out at holiday parties or cocktail parties as a snack for guests to munch on throughout the evening. They also make a beautiful edible gift either in festive tins or mini baggies. They're also egg-free & gluten-free!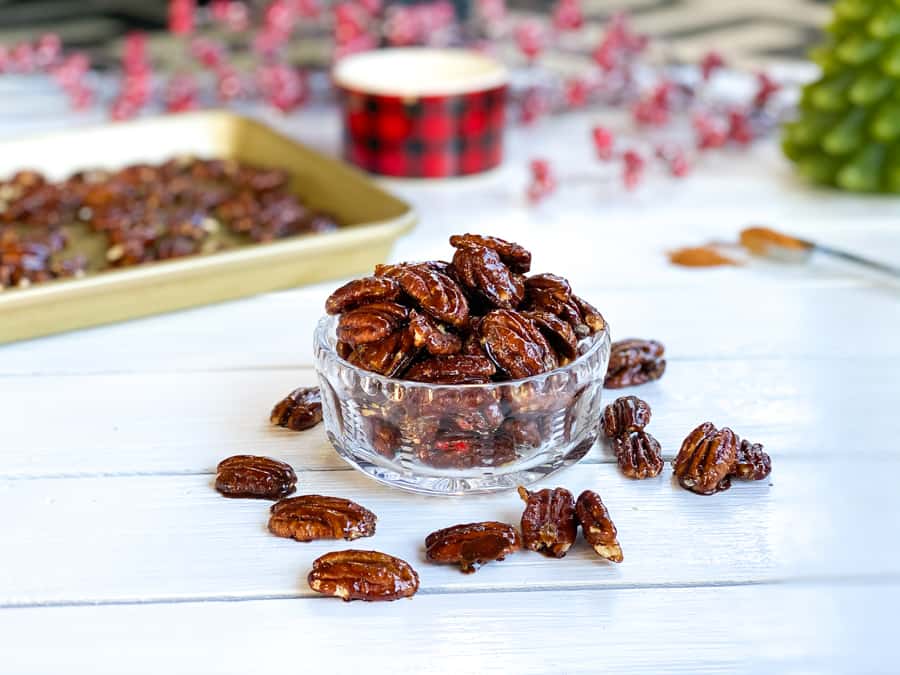 The holidays are around the corner and I could not be more excited for the winter spice and everything nice! 🙂
Pecans are my go-to nut this time of year so making them extra special by turning them into candy is absolutely necessary.
If you love pecans, you'll loove my Pecan Tassie Cookies and my Mini Cranberry Pecan Cheese Balls.
They also go wonderfully in the bottom of these Individual Charcuterie Cups! (Those are perfect for small gatherings!)
What I really love is the SHINY coating glazed pecans gives. It's just beauitful.
The fact that they're totally addicting is a bonus. I prefer to munch on a handful with a glass of spiked eggnog.
Speaking of desserts, make sure you check out my holiday desserts.
🛒Ingredient Tips
Whole Raw Pecans- Make sure you purchase whole, unflavored, unsalted pecans.
Brown Sugar- This adds a deep rich molasses flavor to your pecans that plain white/granulated sugar cannot do.
Vanilla Extract- Adds lots of delicious flavor.
Cinnamon- A must for holiday nuts.
Ground Cloves- I love the addition this adds. It is warm and reminiscent of gingerbread.
Salt- To balance out the sweetness.
How To Make Candied Pecans with Brown Sugar
These candied pecans are a great snack around the holidays! They take your average bland pecan and raise the flavor level up 10 notches! I remind myself that they are 'healthier' sweet snack because of the omega 3's that nuts have.
Plus, you can control your portion size....well...we can TRY to control our portions. I like to make these holiday nuts a few times a year!
Making pecans coated in a candied glaze at home doesn't need to be difficult. And even if you don't get it perfectly right, they still come out delicious. This recipe has NO eggs so they are indeed VEGAN. You will still get beautiful, shiny pecans without egg whites.
The goal is to heat your sugar so they reach that 'hard crack' stage. This temperature is 300 degree F. This way, your nuts will be nice and crunchy! If you don't reach that stage, your nuts will just be chewier. Which is still yummy.
The best way to ensure your sugar reaches this stage is to buy a candy thermometer. It will allow you to see exactly when your sugar reaches this stage so you can act quickly when it does.
📃 NOTE: Recipe card with exact quantities and detailed instructions are below! Print it out for later!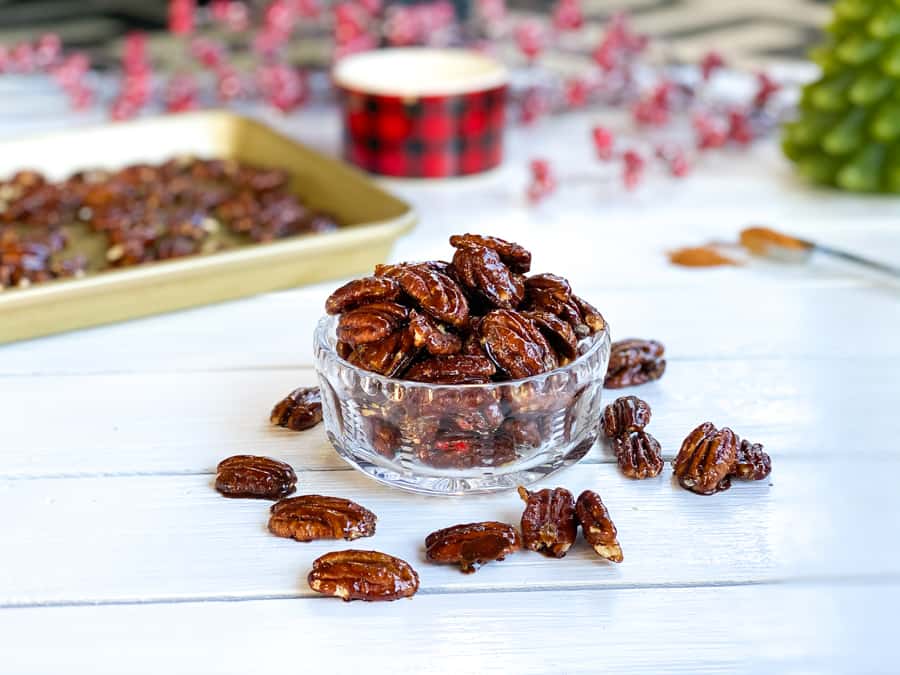 If you do NOT have a candy thermometer, it's okay! Just heat your brown sugar, vanilla and spices in a small saucepan for 4-5 minutes over medium heat.
Then add your pecans and quickly stir to coat each in the sugar mixture and lay the pecans flat onto parchment paper or a silicone (nonstick) mat.
Then bake at 350 degrees F for 8 minutes. Then they're ready!
Why Are My Pecans Sticky?
Sugar needs to reach that hard crack stage so it can harden. If your pecans are still sticky, you did not heat your sugar high enough.
Solution:
Just lay your pecans onto a non-stick mat or parchment paper and bake at 350 F for about 8 minutes. If you start to smell the sugar burning, remove immediately from the oven. Let your pecans cool completely before testing them again.
Storing Your Pecans
These glazed pecans are super easy to store! When pecans are completely cooled, add them to a sealed container or plastic Ziploc bag and simply leave them on your counter or in your pantry. Room temperature is recommended. They will last 1-2 weeks but are best the day or two after.
Refrigerating Tips
These candies pecans do NOT need to be refrigerated. Since they're just made with sugar, you can leave them out at room temperature. You can freeze them to extend their shelf-life for up to 6 weeks if you prefer.
Other Nut Options
Candied pecans are just ONE of the many nuts you can candy. If you don't love pecans or want to use another nut, here are some other options:
Peanuts
Walnuts
Almonds
Cashews
Macadamias
Hazelnuts
Or you can try mixing multiple types of nuts together!
Other spice variations:
Pumpkin
Apple Pie
Nutmeg
All Spice
Cayenne
Chili
Paprika
The possibilities are endless so go NUTS!
Other Ways To Use Your Pecans!
Pecans are NOT cheap so I don't like to waste ANY!
I love adding any extras to my Cranberry Pecan Cheese Bites or using them in my Nut Cups.
The most common meal to add pecans to is in a salad. Or you can simply and them to the top of your sweet potato casserole or your pumpkin pie! My absolute favorite thing to add pecans to is ice cream! If you like making your own yogurt creations in the morning, add some pecans on top!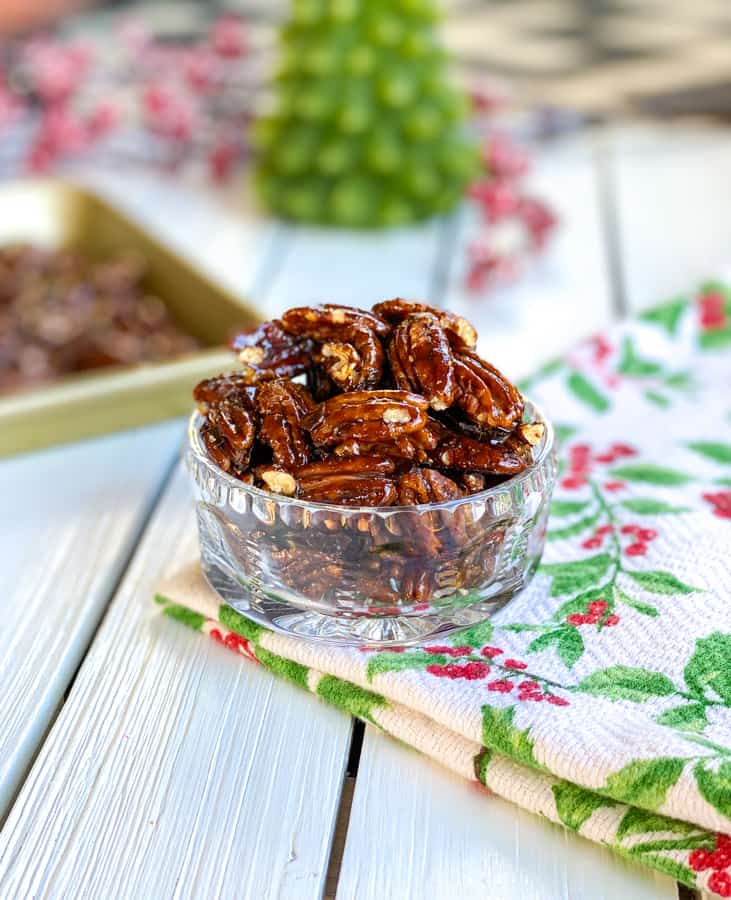 Looking for more fun finger foods for your holiday party? Check out my list of Holiday Finger Foods!
FAQ's
Can I use maple syrup?
Maple syrup gives a wonderful flavor to pecans but if using, know that the texture will be affected.
My pecans are bitter! Why?
You're heat was too high and your sugar most likely burned! Turn down the heat and make sure to use a candy thermometer.
Other holiday recipes you may like:
Vanilla Pudding Chocolate Covered Chex Mix
Cinnamon Sugar Apple Pie Fries (with 3 Dipping Sauces!)
Easy Homemade Buttery Caramel Corn (without Corn Syrup)
📲 FOLLOW Aleka on social!! 👋 Follow me on facebook, instagram, pinterest, youtube or tiktok for more recipes and entertaining tips!
📖 Recipe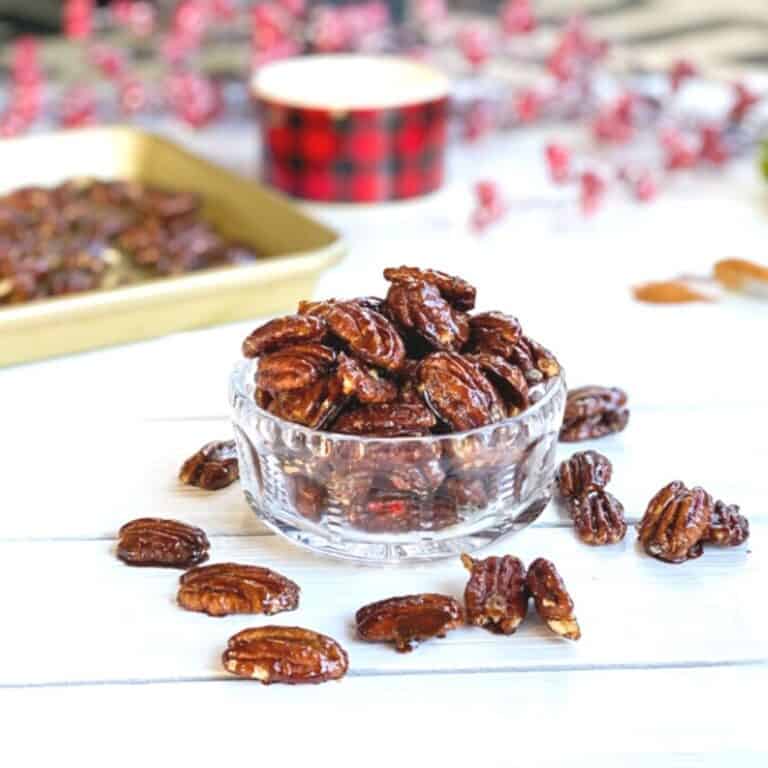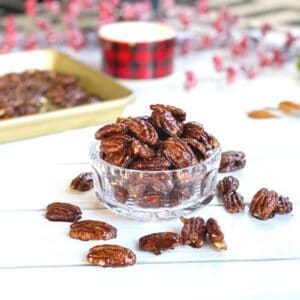 Candied Pecans With Brown Sugar
These Candied Pecans With Brown Sugar are the easiest snack you will serve your guests and perfect for the holidays! They are coated in brown sugar and cooled until glazed over and crunchy!
Print
Pin
Rate
Ingredients
2 ½

Cups

Whole Raw Pecans

½

Cups

Brown Sugar

2

Tsp.

Vanilla Extract

1

Tsp.

Cinnamon

½

Tsp.

Ground Cloves

1

Tsp.

Salt

3

Tbsp.

Water
Instructions
Preheat oven to 350°F and have a non-stick baking sheet ready! You could also use a nonstick liner or parchment paper. (Wax paper will not work!)

Add all ingredients except pecans to a small saucepan.

Turn heat to medium-high and bring sugar mixture to a boil while consistently stirring with a wooden spoon. If using a candy thermometer, the temperature you want is just around 280°F.

After 5 minutes, turn off heat and add pecans stirring gentle trying not to break the pecans. Add pecans to your baking sheet and spread them out. Bake for 9-10 minutes. Remove and let cool completely.
Recipe Notes
If your nuts come out too sticky or soft, the sugar did not get to the right temperature. Put them back in the oven for another 5 minutes or so.
Nutrition
Calories:
53
kcal
|
Carbohydrates:
12.5
g
|
Protein:
0.1
g
|
Fat:
0.2
g
|
Saturated Fat:
0
g
|
Cholesterol:
0
mg
|
Sodium:
392
mg
|
Fiber:
0.3
g
|
Sugar:
11.9
g