Potato appetizers make the party appetizer because of how versatile they are! I mean, you can fry them, bake them, boil them or roast them and they always turn out delicious!
Below you will learn about a few different types of potatoes, what potatoes are best for which dishes and all the different ways you can serve them at your next party!
Types of potatoes
Potatoes are a popular and low-cost vegetable that can easily be turned into a party appetizer or even fancy hors d'oeuvre. The best thing about potatoes is all the different varieties that are available. But which ones are the best for french fries? Are russets the best for tater tots or are yellow potatoes better?
Did you know? There are more than 200 types of potatoes out there!
Yellow Potatoes
Yellow potatoes are my favorite kind! They are soft, super buttery and have a skin that is easily palatable. Yellow potatoes are best, in my opinion, because they hold up to any type of cooking whether your frying or baking them!
These potatoes are best for:
making wedges
mashing
dicing to put in soups
adding to salads
Cooking method:
roasting
grilling
mashing
steaming
Russet potatoes
Russets are best for french fries!! They're are a popular variety that has a thicker skin with a fluffy interior. They are delicious fried, sauteed, baked or mashed.
They are ideal for:
fries (waffle, french, tater tots)
baked potato
stews
hash browns
Cooking method:
grilling
baking
sautéing
steaming
boiling
roasting
Red potatoes
These potatoes have a waxy skin that stay in tact while cooking making them ideal for roasting/baking. The skin is usually never peeled but you can peel it if you wish.
They are ideal for:
mashing
roasted whole as a side dish
Cooking method:
Fingerling potatoes
These potatoes are one of my favorite because of their size, shape and texture. They are often underused because they are a bit more expensive but they make the perfect side dish OR in this case, skewered appetizer. Toss some in butter, herbs and salt and you've got an easy appetizer you can serve with toothpick skewers.
They are ideal for:
roasted whole and served as a side
sautéed whole or chopped
Cooking method:
---
French Fry Appetizer Ideas
Who doesn't love french fries? These air fryer fries recipes hit the spot! They are much healthier than fast food or frozen fries, and they have a great homemade taste.
Here are some potato ideas that will work with most varieties of potatoes!
French fries- Have you ever tried a french fry bar? They are in! You can change up the seasoning if you prefer and offer a selection of dipping sauces. Here are some fry ideas friends and family will love!

Old Bay (think crab fries)
Cheese fries
Sweet potato fries (with cinnamon)
Chili fries
Gravy fries

Potato skins- These are a popular appetizer because they form a boat when cut so you can fill them up with all kinds of yummy fillings!
Tater tots- These remind me of my middle school days. They were always so perfectly crunchy. They are hard to make from scratch so I suggest buying frozen and serving on skewers or with toothpicks with cheese for dipping!
Twice baked mini potatoes- Twice baked potatoes are popular as a side dish at dinner but consider making them using baby potatoes! They would without question, be the most delicious bite!
Potato chips- No one thinks about these as being an "appetizer" but if homemade, they can be a delicious treat!
Recipe Ideas
Mini Cheesy Baked Potatoes Appetizer
These mini baked potatoes are such a fun and easy appetizer to serve to kids or adults! Roasted in the oven and topped with a cheesy sour cream n' chive filling!
Prep Time: 7 minutes
Cooking Time: 20 minutes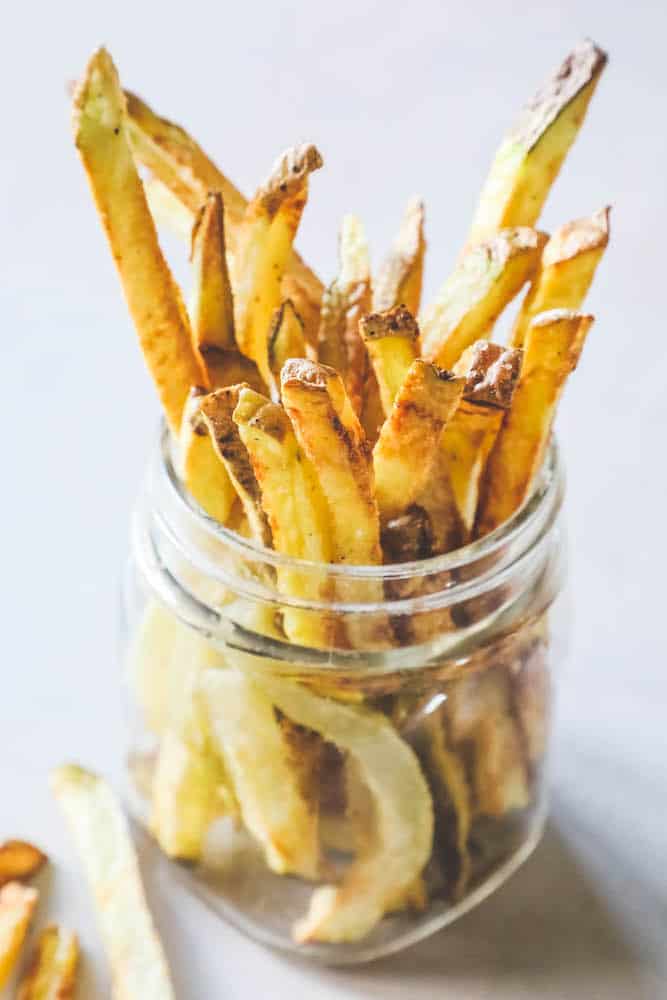 French fries are the ultimate finger food! This is a simple and classic recipe. The fries will come out crispy and ready to be dipped in your favorite sauce. Try spreading a large serving of fries onto a platter with ketchup, aioli, ranch, cheese and bbq sauce for a fun dippable appetizer!
Prep Time: 15 minutes
Soaking Time: 30 minutes
Cook Time: 20 minutes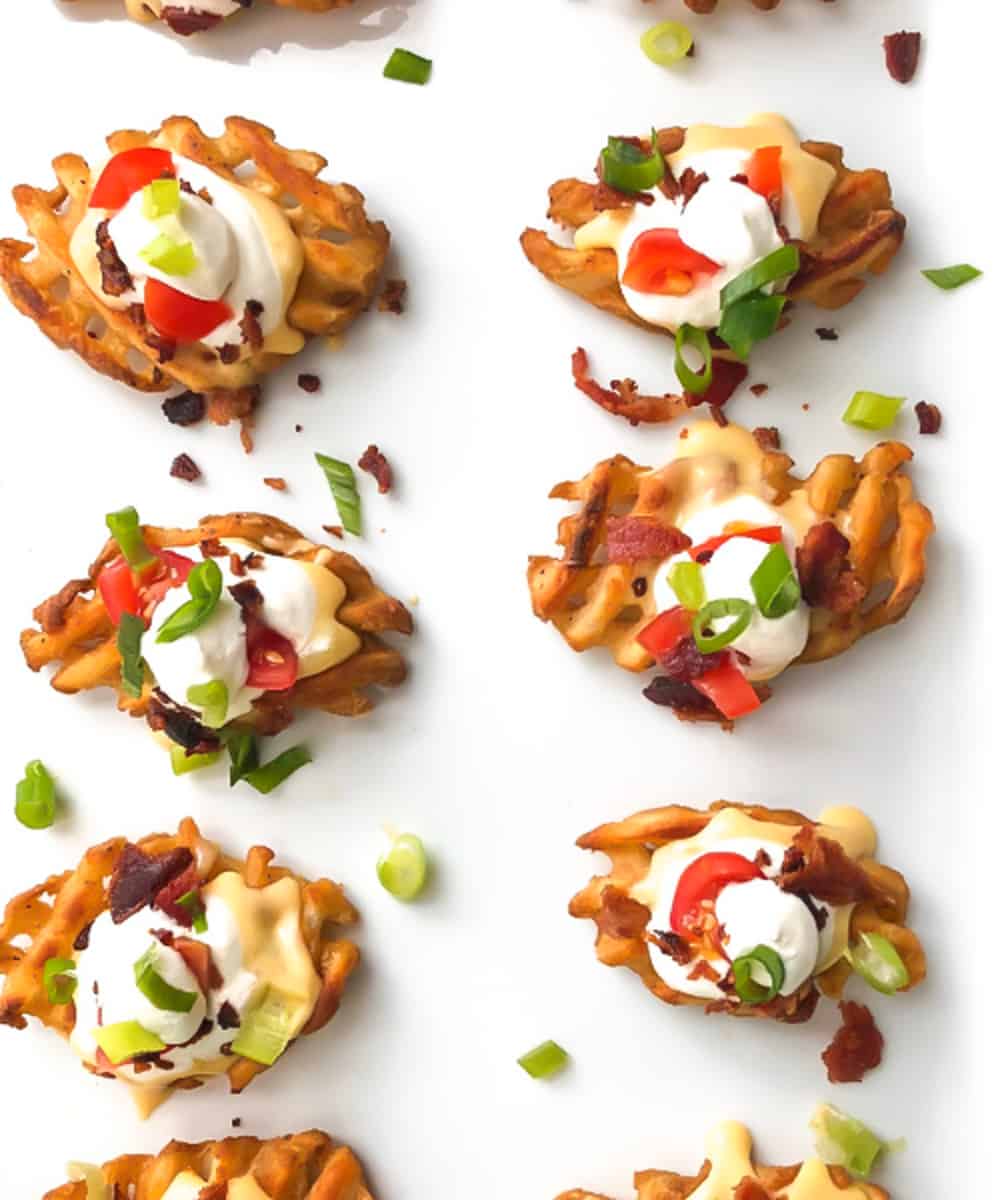 Loaded Irish Pub Waffle Fry Nachos
These Loaded Irish Pub Waffle Fry Nachos are a spin off of an appetizer a local Irish Pub serves. Served on crispy waffle fries and topped with a homemade cheese sauce, they are the perfect appetizer for any sports party or tailgate!
Prep Time: 10 minutes
Cook Time: 20 minutes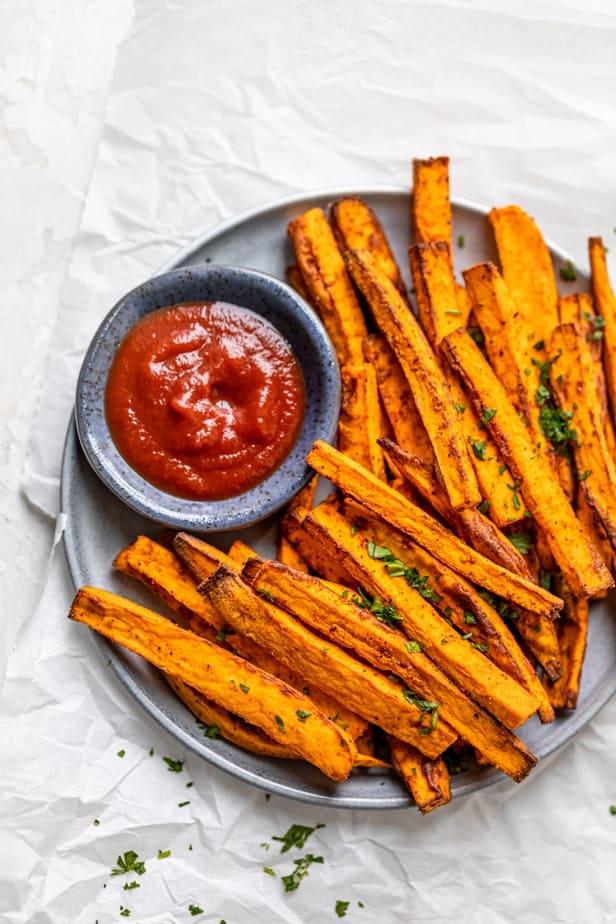 Sweet potato fries are a popular version that many people love! Season with some cinnamon to really bring out the sweetness in this appetizer. You can also pair them with a sweet maple aioli dipping sauce for some added fun.
Prep Time: 5 minutes
Cook Time: 12 minutes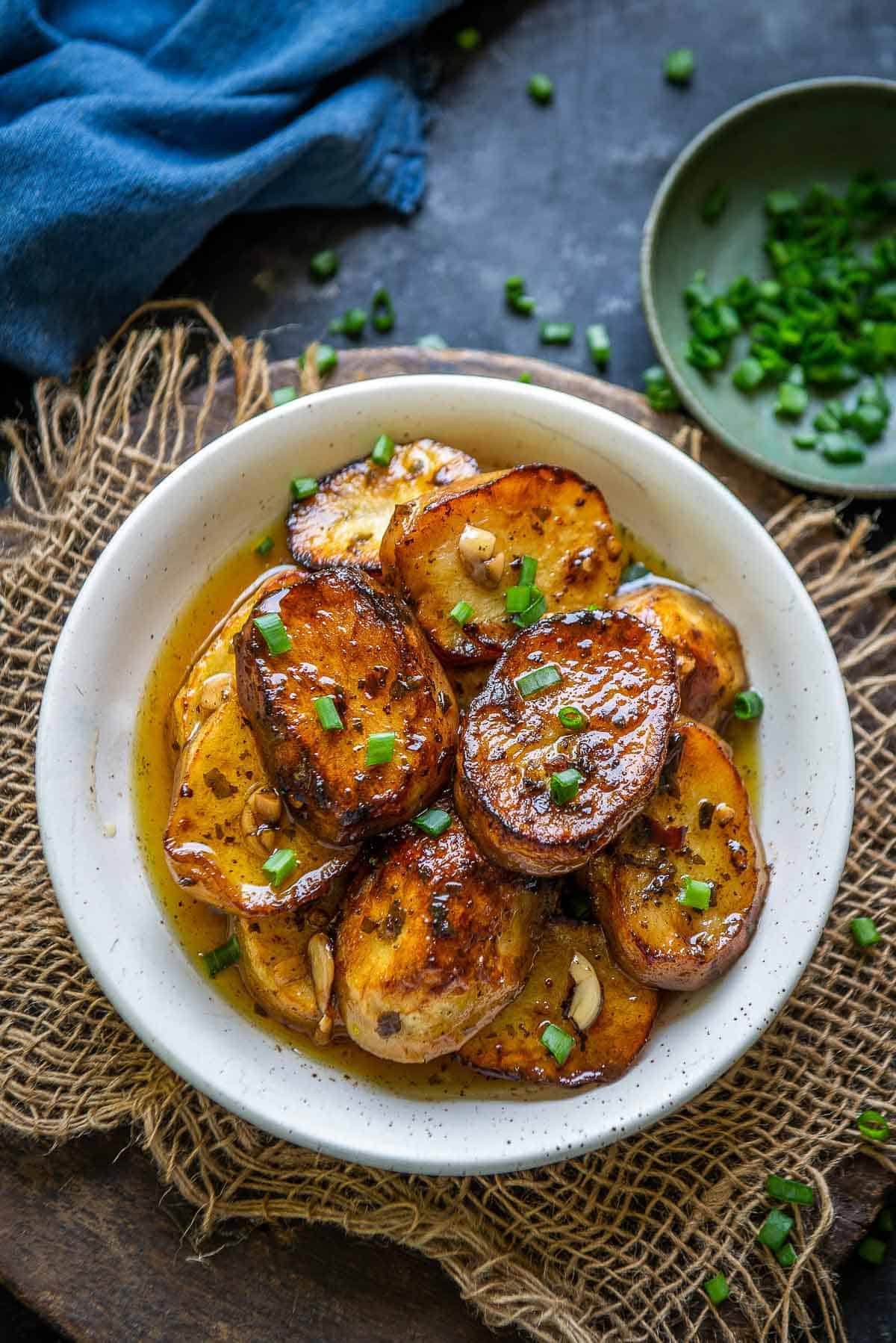 Butter and potatoes are a match made in heaven! These Italian seasoned potatoes will melt in your mouth and are ideal served with mini toothpick skewers.
Prep Time: 10 minutes
Cook Time: 50 minutes
Crispy and easy to pop in your mouth. Mix in some shredded vegetables to add some different flavors and make it a little bit healthier. These would be perfect served at a breakfast or brunch party for an appetizer.
Prep Time: 10 minutes
Cook Time: 30 minutes
Gluten-free 3 ingredient potato smiley faces
Super easy to make! No cutting or peeling is needed. Gluten-free and paleo- friendly. This will be a hit with kids and adults especially those with allergies or dietary preferences.
Prep Time: 20 minutes
Cook Time: 20 minutes
Bacon-wrapped grilled sweet potato fries
Bacon? Check! Fries? Check! Sweet and smoky? Check! A deliciously flavorful appetizer. The pairing of the bacon and sweet potato will have your guest coming back for more!
Prep Time: 10 minutes
Cook Time: 35 minutes
Who doesn't like baked potatoes? Use a small-sized potato to keep it as an appetizer. A topping bar will allow your guests to get creative with their flavor combinations.
Prep Time: 10 minutes
Cook Time: 1 hour and 15 minutes
Ditch the chips but keep the toppings! Simple but filling appetizer. Keep the flavors nacho inspired by using Mexican blend cheese, tomatoes, and cilantro.
Prep Time: 15 minutes
Cook Time: 45 minutes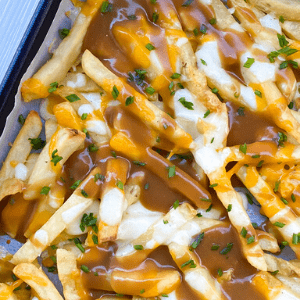 Disco fries (Gravy Mozzarella cheese fries)
The mozzarella cheese and the homemade gravy make a perfect pair. A fun appetizer for a casual get-together or tailgate party. Make sure to keep a napkin handy!
Prep Time: 5 minutes
Cook Time: 30 minutes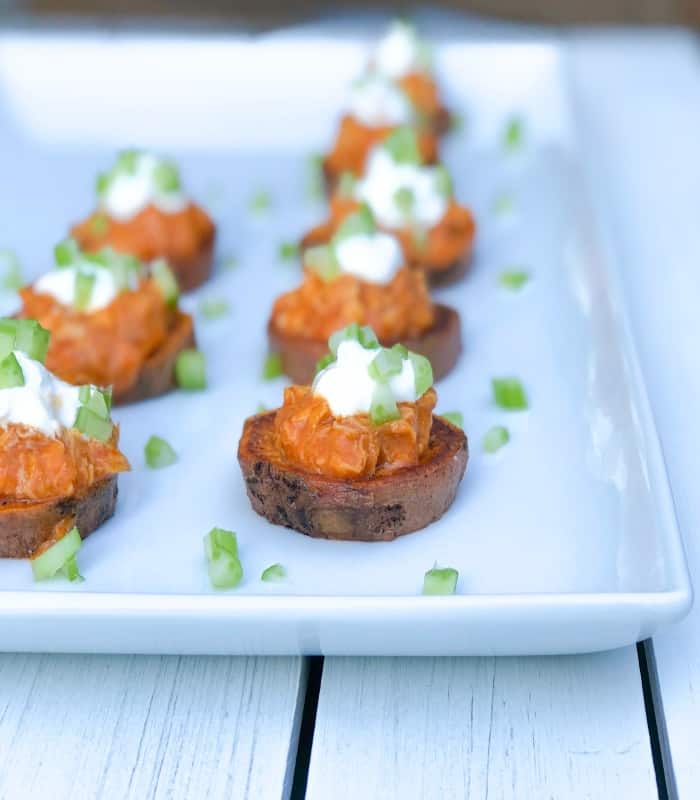 Buffalo chicken sweet potato rounds
An explosion of flavor in one bite! You get the right amount of sweet and spicy. The chicken makes this little guy a little more filling. This is an easy make-ahead recipe.
Prep Time: 10 minutes
Cook Time: 15 minutes
Meaty, cheesy, and a little tangy. This is comfort food. You can even drizzle them with a special sauce.
Prep Time: 20 minutes
Cook Time: 35 minutes
These potato skins do not skimp on the delicious pulled pork filling. In one bite, you wil definitely taste the combination of all the flavors. A filling appetizer for your next party.
Prep Time: 20 minutes
Cook Time: 40 minutes
Philly cheesestake potato skins
This is one popular sandwich, and now you can serve it as an appetizer. The potatoes skins add crispiness and more flavor.
Prep Time: 15 minutes
Cook Time: 12 minutes
Vegetarian stuffed potato patties
Just the right amount of crispy and creamy. The earthy flavor of the mushrooms makes a great pairing with the seasoned potatoes. Gluten-free and vegetarian.
Prep Time: 20 minutes
Cook Time: 30 minutes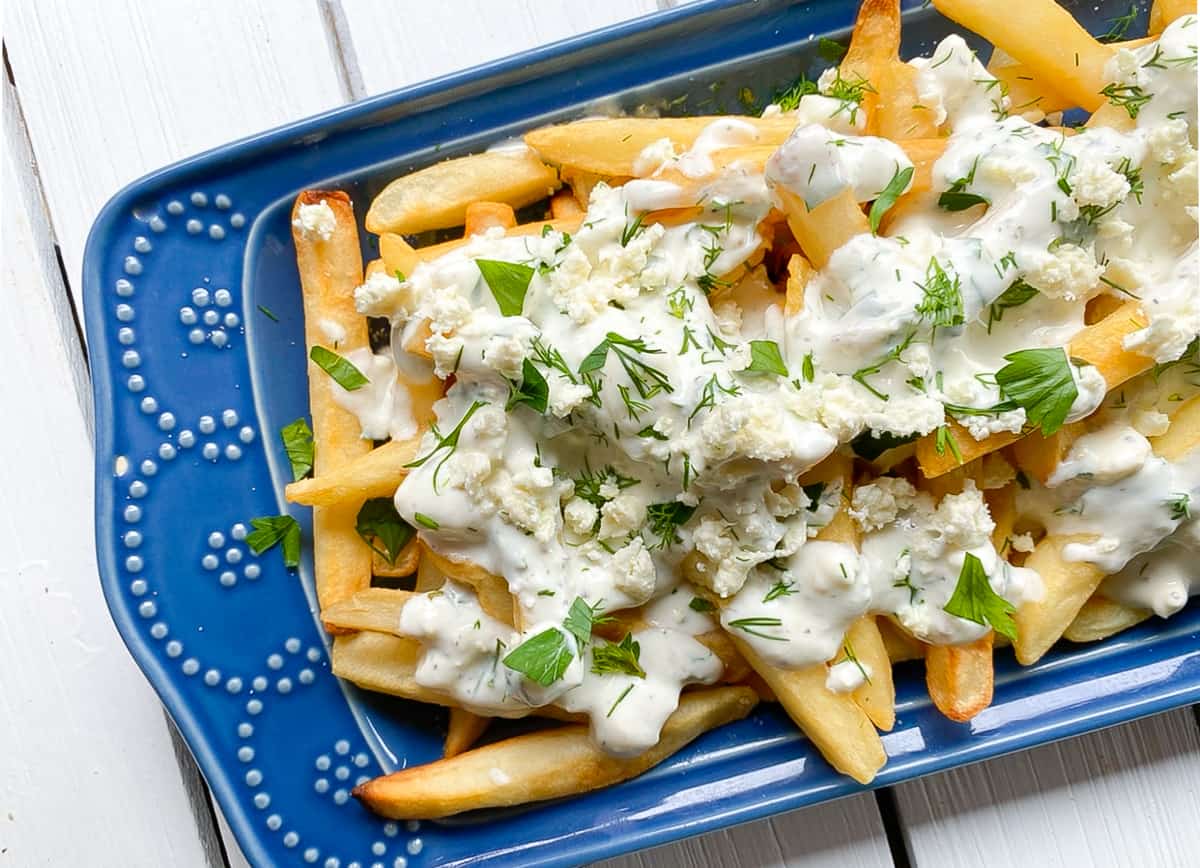 Greek Feta Cheese Fries (w/ Yogurt Sauce)
These Baked Greek Feta Fries appetizer take french fries to another level. Fluffy, crispy potatoes smothered a creamy feta cheese yogurt sauce, you will be left licking EVERY finger clean. Trust me.
Prep Time: 12 minutes
Cook Time: 17 minutes
Crispy Seasoned Potato Wedges (Oven Baked)
Crispy seasoned potato wedges that stay moist and fluffy on the inside! Baking your potatoes makes them an easy and healthy way to enjoy wedges without frying!
Prep Time: 5 minutes
Cook Time: 20 minutes
Greek Potato and Garlic Dip (Skordalia)
Skordalia is a traditional Greek mashed potato spread that can also be enjoyed as a delicious appetizer! Made with potatoes, garlic and olive oil, this dip is best served room temperature with freshly grilled pita bread on the side!
Prep Time: 5 minutes
Cook Time: 23 minutes
Maple Sweet Potato Rounds with Président® Brie and Walnuts
These sweet potato rounds are made with brie cheese, walnuts and honey giving guests a sweet and salty appetizer that is perfectly bite-sized! These are ideal for holiday parties or can also be served alongside dinner.
Prep Time: 10 minutes
Cook Time: 25 minutes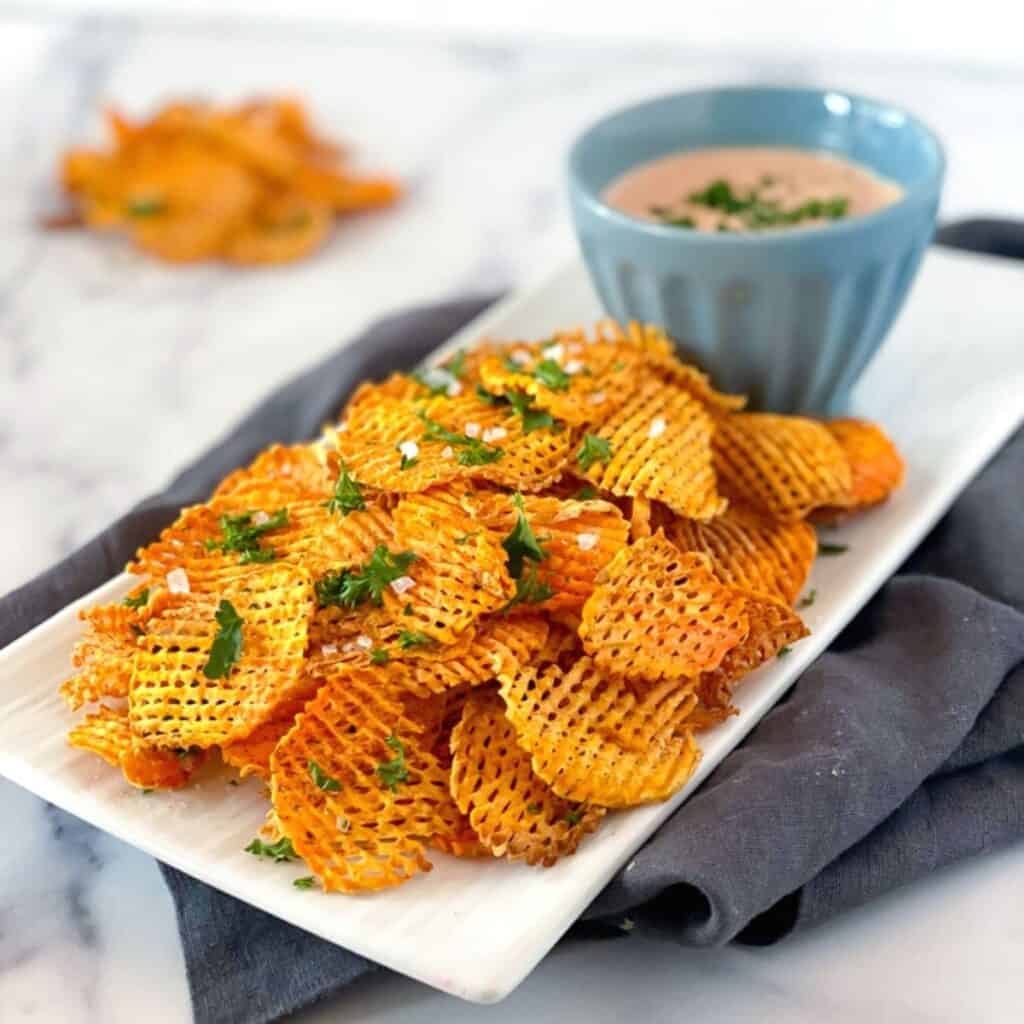 CRUNCHY Air Fryer Sweet Potato Chips
Sweet potato chips are a delicious way to enjoy those salty snacks before dinner but in a healthier way! These chips have less oil than regular potato chips, less sodium and more nutrients! Serve them with a delicious maple Dijon dipping sauce to make them a delicious appetizer!
Serving Potatoes
When serving your potato appetizer, make sure to have the right accoutrements. Mini toothpicks, skewers, small bowls for sauces and condiments, or cute little mason jars make a party fun and festive.
Any of these recipes will leave your guest full and satisfied. Don't be afraid to play with the seasoning to give them your own personal touch. Remember, the cheesier, the better!
Other appetizers you will love:
Maple Bacon Wrapped Pork Bites with Dipping Sauce
Melitzanosalata (Greek Roasted Eggplant Dip)
Greek Lamb Meatballs Appetizer
Stuffed Greek Cucumber Cups Appetizer (Keto)