Amuse bouche have been around for many years and although they disappeared for a bit, they're back and better than ever!
After having my first hands-on experience being served an amuse bouche at a fancy 5 star restaurant, I wanted to talk more about what they are exactly, why they are served and also give you some recipe ideas!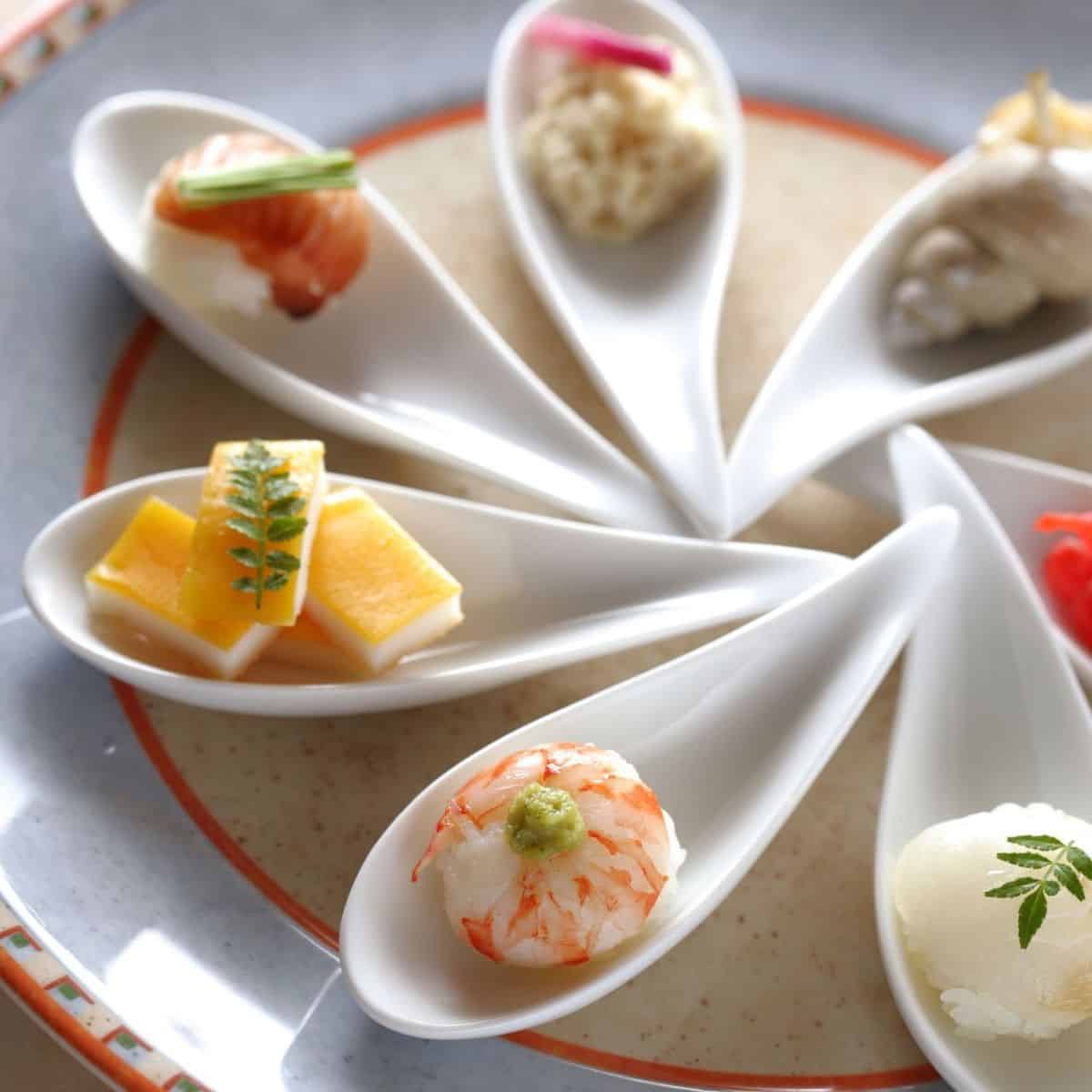 This post contains affiliate links. You can read my disclosure here.
📖Amuse Bouche History
Amuse bouche is a French term which literally translates to "mouth amuser". It is a small complimentary dish, hors d'oeuvre, or "pre-starter", that is served before your main course. It is usually consumed within one or two bites and is meant to start off your dinner.
The history of amuse bouche originated with the French when chefs wanted to let the flavors of fresh produce shine rather than masking them with sauces and such.
Chefs also use this opportunity to showcase their creativity, knife skills and cooking techniques with the one goal of creating a single all-encompassing bite.
🗣️Pronunciation
The way to pronounce amuse bouche is, "amuze boosh". Click to the pronunciation.
🍢Canapes vs. Amuse Bouche
Canapes are types of hors d'oeuvres that are typically served on top of a small piece of bread, toast, puff pastry, or cracker with a topping and garnish.
They are served in multiples usually at fancy events or cocktail parties and meant to be eaten with your fingers. They can usually be consumed standing up while most amuse bouche cannot since they often involve utensils.
Have you checked my 59 Finger Food Ideas yet? Most can be served as an amuse bouche!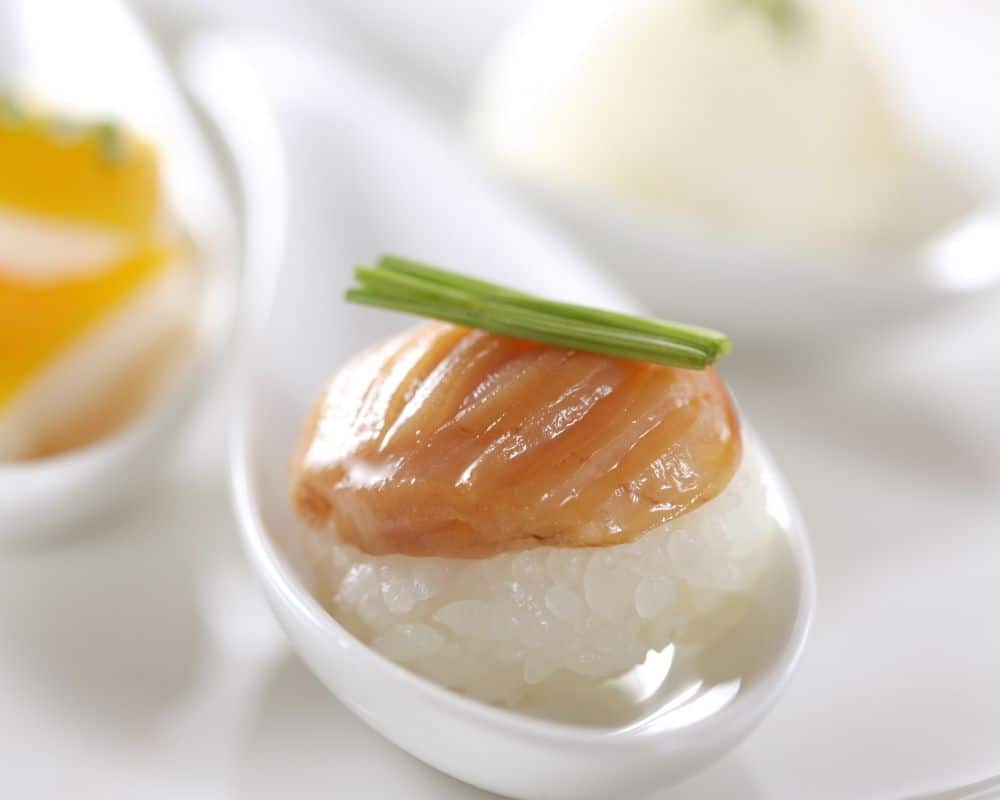 An amuse bouche is a dish (or dishes) that is served as a small appetizer typically preceding dinner. They are most common in a fine dining restaurants.
An amuse bouche is meant to be eaten in just one or two bites in an attempt to stimulate or "tease" the palate to want more. Something a lot of people don't know is that they are not ordered by the patron (customer), but rather selected by the chef and given "free" or complimentary at no extra cost.
The idea is to spoil guests while the chef has the opportunity to essentially show off their culinary skills.
When dining at a 5-star restaurant in Philadelphia for my birthday, I experienced my first, "amuse bouche".
I immediately thought, wait, I didn't order this...
After a few minutes, I realized it was complimentary and something uniquely delicious. It most definitely made my husband and I feel special and excited for the next course.
Check out these 33 Crostini Appetizer Ideas!
👨‍🍳How To Prepare Amuse Bouche
When it comes to amuse bouche, there is only one rule.
Keep it small!
The point is not to fill your guest's tummies but to "entertain" or excite their palates in anticipation for what's to come.
Many amuse bouches are smaller portions of a larger meal that are presented in a creative manner. They can range from foods such as a deliciously flavorful broths to mousses to shrimp to cured meats.
The presentation is usually fancy. They can be served on trays, wooden boards, a Chinese soup or cradle spoon, a tiny plate, a bamboo dish, inside of shells, or even in shot glasses!
27 mini phyllo cup appetizers you will love!
🍹Serve With An Apéritif!
Amuse bouche are usually consumed with an apéritif, like my 🍹Non-Alcoholic Aperol Spritz or my limoncello spritz, both of which are an alcoholic drink taken before a meal meant to simulate the appetite.
Here are some other aperitif cocktails you might like.
🥄Amuse Bouche Spoons
Although you can serve amuse bouche however you wish. Amuse bouche are often bite sized and served inside a special "soup spoon".
Here are some great amuse bouche spoons you can get off of Amazon!
These spoons are great because they sit upright on their own and hold a sauce neatly. This way, you can prepare them in advance and store them safely in the fridge without spills! Plus, they are super fun to eat from and are easily disposable.
📝Amuse Bouche Ideas
Serving amuse bouche is all about bringing the flavor. You can use shooters, spoons, skewers, or anything you like to serve your pre-course appetizer on. Get as fancy as you want but make sure to do all your prep work ahead of time so assembling your amuse bouche is quick and flawless.
Here are some delicious examples of amuse bouche recipes that may inspire you:
Cucumber Mint Shooter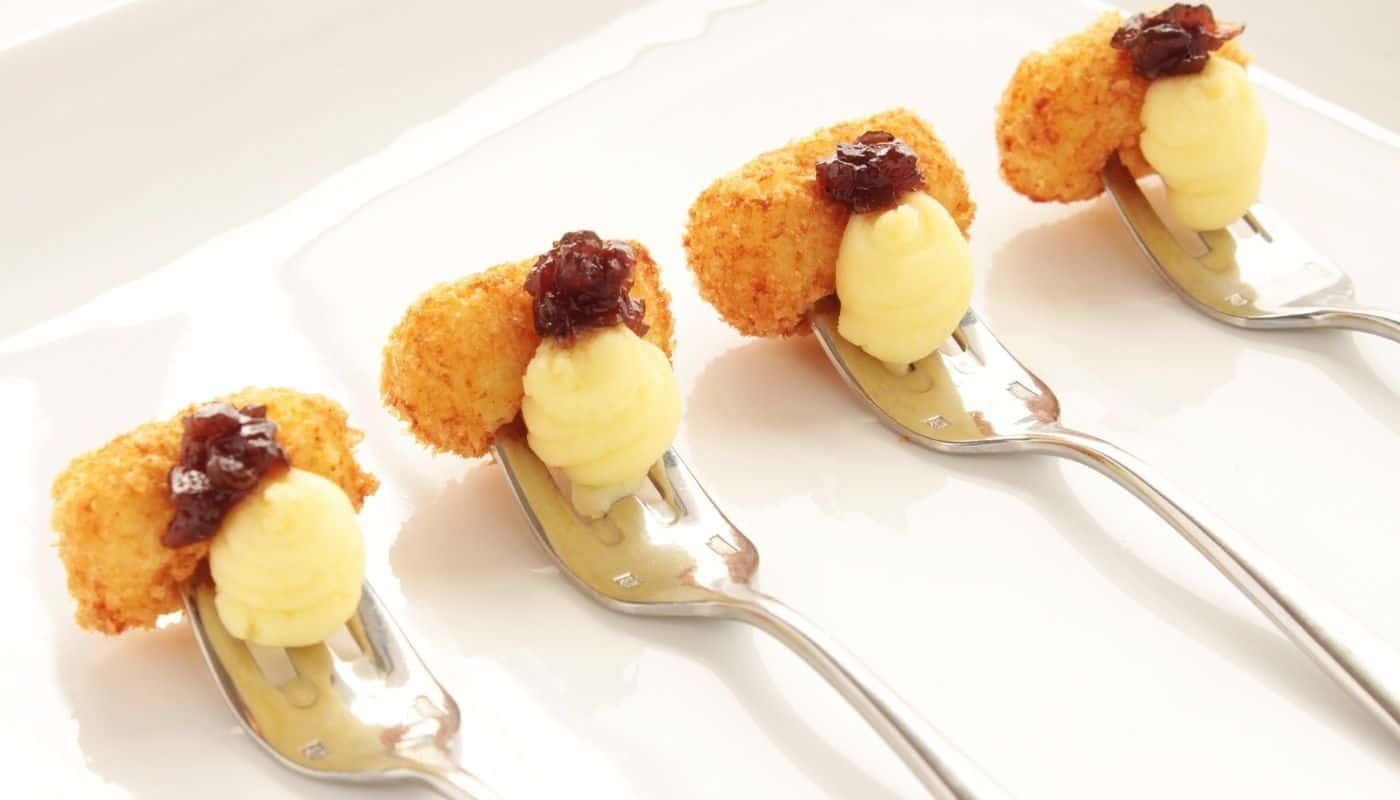 Other appetizer recipes you may like:
Phyllo Cups With Roasted Peppers & Burrata Cheese