These homemade Chocolate Covered Potato Chips are, by far, easiest sweet and salty party snack I have on my blog. They are much cheaper than those gourmet versions too!
Crunchy, crispy, sweet, salt and made with just two ingredients! They are impossible to mess up and purely addicting..so be warned.
Chocolate covered potato chips are the ultimate sweet and salty snack combo that people go crazy over! I love serving them at parties year-round in small bowls or gifting around the holidays.
Chocolate covered potato chips are what inspired my Salted Dark Chocolate Bark recipe. (Go try that if you love salty snacks coated in chocolate!)
I am a huge fan of salty sweets and these chips hit the spot every time, especially when you've got a hankering for a little something something post dinner.
I especially love that you can store these in the fridge or freezer for weeks at a time and pop a few whenever that craving hits.
If you love chocolate covered pretzels and chocolate covered pineapple, you will LOVE chocolate covered potato chips.
Don't forget to check out my other sweet party snacks!
Jump to:
🛒Ingredient Tips
Potato Chips- Ruffled potato chips are the best chips to use because of how thick they are. They wont break easily when dipping and they offer a much needed crunch factor. Plus, they look fancier! I like Lays Wavy, Herr's Ripples, Ruffles, Utz or kettle chips.
Chocolate- Use GOOD chocolate! While I love candy melts, I don't recommend them for chocolate covered chips. Since we are only using 2 ingredients here, we want to use the best chocolate we can find.
Coarse Sea Salt- Sea salt is optional but adds a delicious salt flavor that balances the sweetness from the chocolate very well.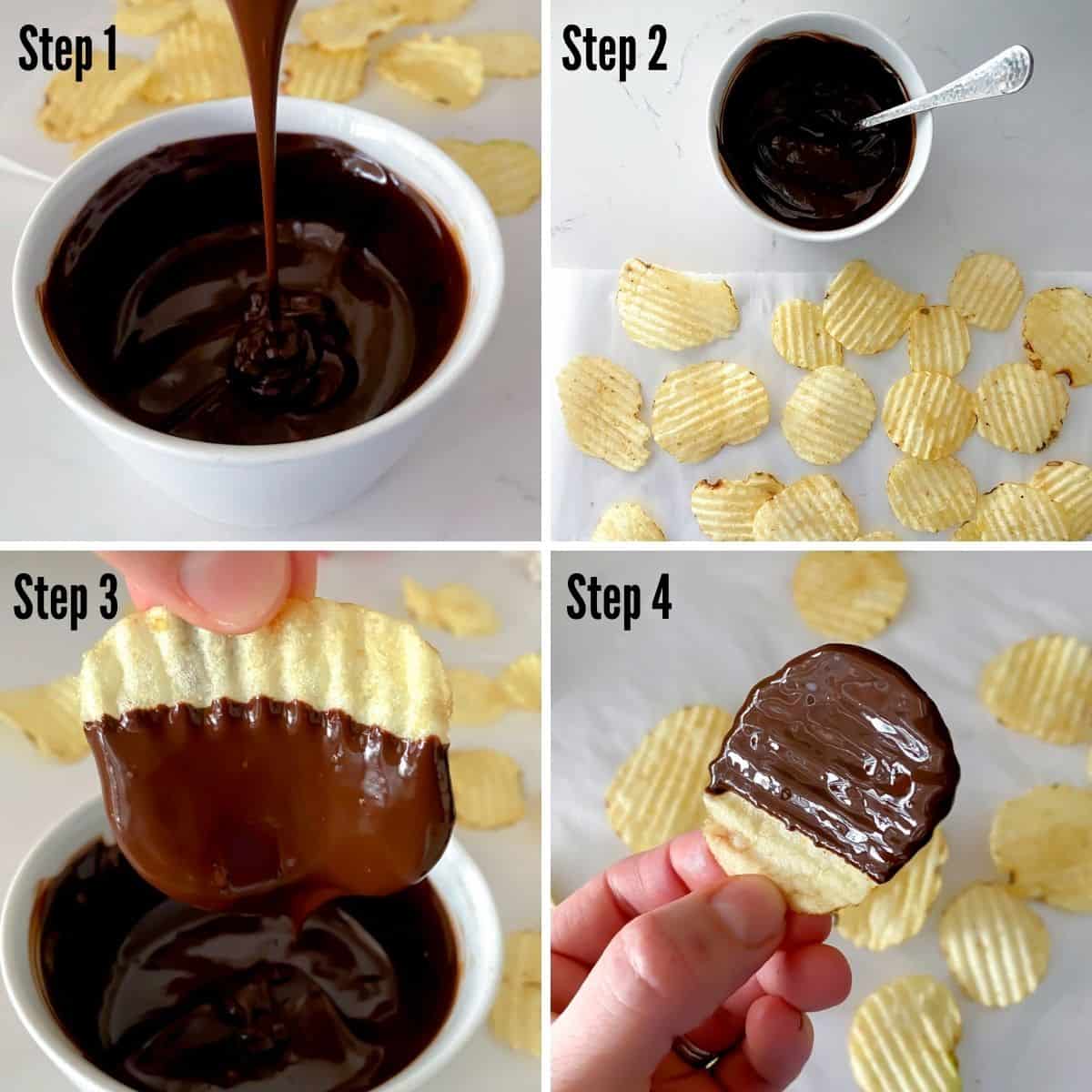 How To Make Chocolate Covered Potato Chips
Melt your chocolate in the microwave in 20-30 second intervals or in a double boiler.
When your chocolate is smooth and silky, dip your chips into your chocolate one at a time. I like to dip each chip ½ or ¾ of the way up so you can still see the chip. It's easier to do and looks pretty but you can coat the entire chip if you wish.
Set your chips onto parchment paper, wax paper or a nonstick baking mat until the chocolate sets.
Wait for the chocolate to harden slightly before sprinkling with sea salt.
Let the chocolate set completely.
🥂Need to sharpen your hostess skills? Check out my BEST tips for entertaining friends!
🍫Choosing Your Chocolate
When choosing the best chocolate for melting, choose the best you can find. Don't go generic here. I love Ghirardelli's melting wafers, Nestle Toll House or Hershey's chocolate the best.
I recommend using a bar or wafers over chips since chocolate chips are coated with ingredients that prevent it from melting silky and smooth.
As for flavor, you can choose between dark, semi-sweet or milk chocolate.
I've tried them all and think I like the semi-sweet the best. If you want a true sweet and salty combo, go for the milk chocolate. If you love dark chocolate, the sea salt will balance the flavors very well. Either way, you can't go wrong.
I just wouldn't use white chocolate!
Are chocolate chips good for dipping?
They are not the best option. Melting chocolate or pure chocolate is the best way to get silky smoooth dipping chocolate.
🍫Chocolate Melting Tips
Although chocolate covered potato chips are difficult to mess up, I do have a few tips for you that will take these over the top!
Choose the right mug! Mugs are the best for melting chocolate. They have a handle and are narrow enough to allow your to easily dip your chips.
Don't scorch your chocolate! When heating your chocolate, heat in 20-30 second increments. This will prevent your chocolate from getting too hot and stiffening up.
Keep the water away! Chocolate and water do not mix and will make it seize up. Make sure your bowl/mug and spoon is completely dry before mixing it up.
Check out my other quick desserts which take less than 15 minutes to whip up!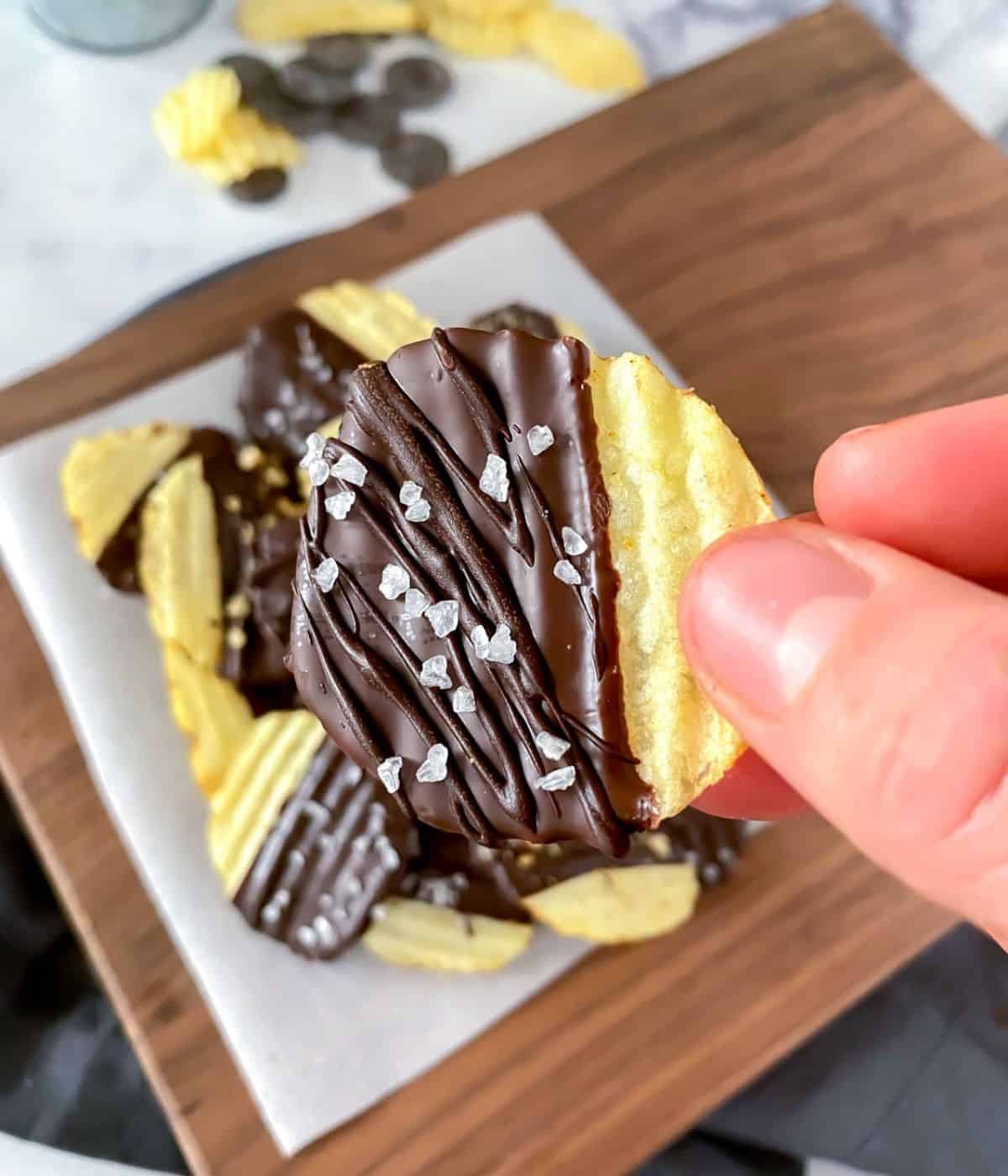 Choosing Your Potato Chips
I prefer to use RUFFLES or chips with RIDGES. I do not recommend using the regular sliced chips. I don't recommened sweet potato chips.
This is for two reasons:
You need to give something the chocolate something to grab onto.
Chips with ridges are thicker and crunchier.
Chip Toppings
You can top your chocolate covered potato chips with anything you desire! Other than sea salt, you can use:
shredded coconut
chopped nuts
crushed Oreos
crushed graham crackers
sprinkles
mini chocolate chips
desiccated coconut
toffee bits
bacon bits
caramel drizzel (like in my caramel popcorn)
peanut butter drizzle
white chocolate drizzle
How To Store Your Chips
Store your chocolate covered potato chips in an air tight sealed container at room temperature either on your counter top, in the fridge or even in the freezer! They should last a week or so.
I love keeping mine in the fridge because it is just cold enough to give the outer shell a snap when you bite into it!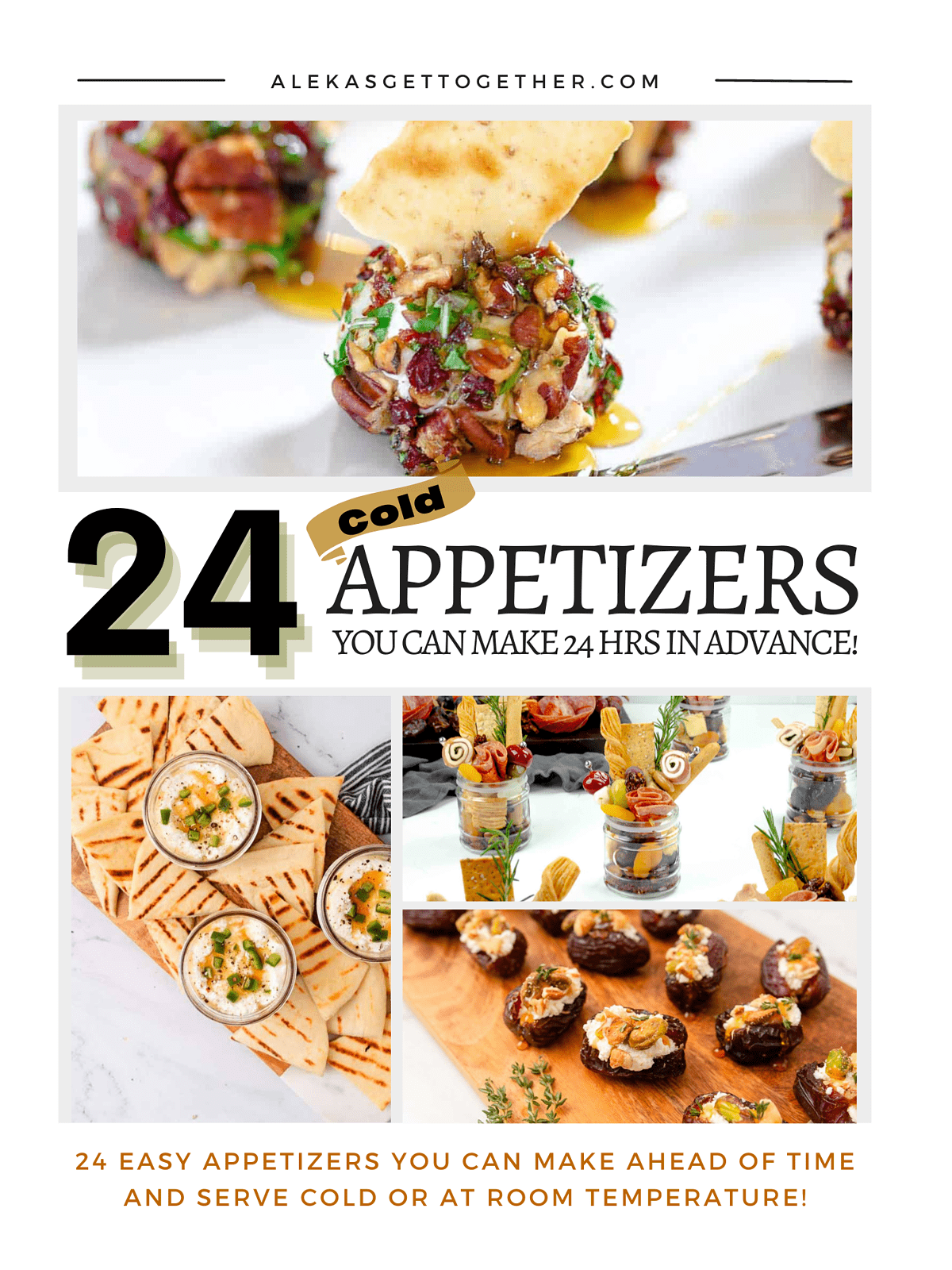 Love Make Appetizers in Advance?
I have an Ebook I created with my top make-ahead appetizers you'll LOVE! Get it here!
When To Serve Your Chips
When entertaining, I love placing these chips around the house for guests to snack on. I also love gifting around the holidays in little cellophane bags with ribbon.
They also make a delicious and thoughtful party favor! Place in paper boxes with a sticker and add some tissue paper inside. Guests will love snacking on this sweet treat on their way home.
FAQ's
Why did my chocolate covered chips turn out soggy?
You want to make sure your chocolate is silky smooth and thin enough to dip easily. If the excess doesn't drip off, it could turn them soggy. Equally important is the storage of your chips. Store in an airtight container at room temperature for the crispiest chips.
Do I need to temper my chocolate?
No. Tempering helps but is not necessary.
How do I get my chocolate to be super silky?
Using chocolate that's made for melting is the best route. The next bext option is to add parawax or EZ-thin to thin out your chocolate. Crisco or coconut oil help as well.
Other sweet and salty snacks you will love:
Pumpkin Spice Fall Chex Mix (Sweet n' Salty)
Glazed Holiday Pecans With Cinnamon and Brown Sugar
Chocolate Boxed Cake Mix Cookies
📖 Recipe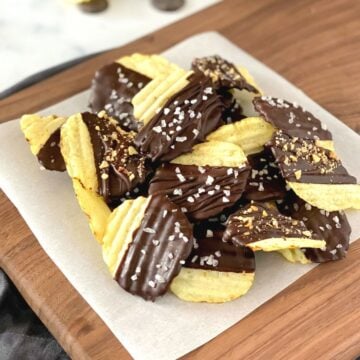 Chocolate Covered Potato Chips Recipe
These homemade Chocolate Covered Potato Chips are, by far, easiest sweet and salty snack I have on my blog. Made with just two ingredients, they are impossible to mess up and purely addicting.
Print
Pin
Rate
Ingredients
10-12

oz.

milk chocolate

30

medium-large

ruffled potato chips

1

tablespoon

coarse sea salt
Instructions
Add your chocolate to a small bowl or mug and microwave for 30 seconds. Take out and stir. Reheat for another 20 seconds and stir again. Repeat in 20 second intervals until the chocolate is fully melted. (About 2 more times.)

*You can also use a double boiler if you wish.

Try to pick out the chips that are whole (not broken). Dip one chip at a time into the melted chocolate. Allow excess chocolate to drip off before placing onto a parchment paper lined baking sheet.

It is important to allow excess chocolate to drip off! Too much chocolate and it will form a pool under your chips. It will also overpower the chip which we don't want.

Shake your chip up and down for at least 10 seconds before setting down.

Once your chocolate is somewhat set (about 1-2 minutes later) go back and sprinkle your chips lightly with a few flakes of sea salt. A little goes a long way.

*It is important to allow your chocolate to set a bit before adding your salt or else your salt will sink into the chocolate.

Allow your chocolate to harden completely before adding to a container. This could take up to 2 hours. You can place your baking sheet into the freezer or fridge to speed up the process.
Recipe Notes
Your chips should last 1-2 weeks in the fridge or 3-4 weeks in the freezer.
Although I love dark chocolate, I think milk chocolate works best here. The sweetness balances the salt well.
Nutrition
Calories:
399
kcal
|
Carbohydrates:
47
g
|
Protein:
3
g
|
Fat:
27
g
|
Saturated Fat:
14
g
|
Polyunsaturated Fat:
1
g
|
Monounsaturated Fat:
9
g
|
Trans Fat:
0.003
g
|
Sodium:
1795
mg
|
Potassium:
296
mg
|
Fiber:
4
g
|
Sugar:
37
g
|
Vitamin C:
2
mg
|
Calcium:
20
mg
|
Iron:
2
mg