This Halloween Spiced Chex Mix is made with Candy Corn, corn Chex cereal, pretzels, bugles, pecans, candy corn, Reese's Pieces and drizzled with a brown sugar spiced glaze!
It's the perfect sweet, salty, crunchy snack for this harvest season! Plus, it's no bake since it's made in the microwave so it's easy, perfect for kids and quick to whip up!
Jump to:
I'm a sucker for a good Chex mix. Especially at parties. No matter if it's a salty trail mix or a sweet Chex mix, they are great for munching on while waiting for food like this caramel corn recipe I have.
And since Halloween is around the corner, what could be more approapriate to put out than a Halloween Chex Mix?!
I can't help but appreciate how portable snack mixes are like my popular Muddy Buddy recipe! And best of all, they don't require reheating or refrigeration!
For this Halloween inspired Chex mix, I chose to add sweet and salty flavors. They, in my opinion, make for the best snacks and are so addicting.
You get salt from the pretzels and bugles and you get sweet from the brown sugar glaze and of course, the candy corn and chocolate! The fall colors are beautiful too.
Don't forget to check out my Pumpkin Shaped Cheese Ball and my other sweet party snacks!
Halloween Pumpkin Spiced Chex Mix
Pumpkin Glaze Ingredients
Brown sugar
Butter
Pumpkin Spice
Vanilla Extract
Chex Mix Ingredients
Chex Cereal
Candy Corn
Pecans
Bugels
Pretzels
Reeses Pieces
To make this super festive and ideal for Halloween AND autumn, I added pumpkin pie spice to my glaze. This is completely optional but I think, it's a must if you are serving this mix in the fall.
The glaze is made without corn syrup too which is a win in my eyes because I despise the stuff.
The pumpkin pie spice add a ton of flavor without adding calories or fat. If you don't have pumpkin pie spice, you can simply use a combination of cinnamon, nutmeg and clove. If you want, you can always make your own.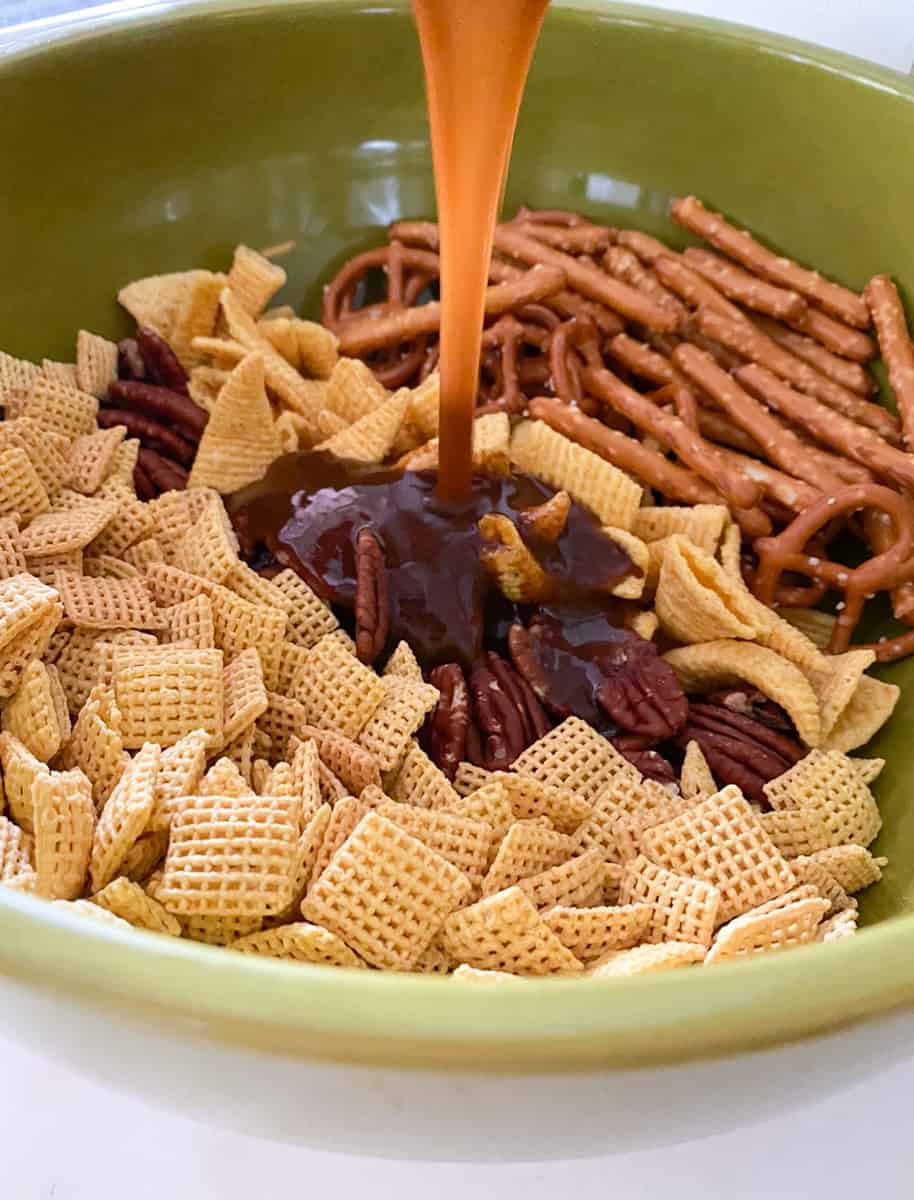 Microwaving Your Chex Mix
I love that I don't need to turn on my oven to make this trail mix. All you need is a LARGE microwave proof bowl and 5 minutes. You don't even need to simmer the glaze in a saucepan.
The idea is to mix together the dry ingredients first. Then, mix together your brown sugar spiced glaze and drizzle it all over your salty snacks. Kids can help make this it's that easy.
Gently toss everything together and microwave on high until the sugar melts and forms a crust when cooled.
It's important to add your Reese's Pieces LAST and when the Chex mix is fully cooled. If you don't the residual heat will melt your Reese's Pieces and it will look messy. If you don't mind that, then add them in whenever you want!
If you're looking for another fun kids recipe, try making a DIY Halloween Milkshake Bar!
Baking Your Chex Mix
You can spread everything onto a baking sheet and bake for 30-40 minutes at 275F. Use a spatula to toss everything in 15 minute intervals.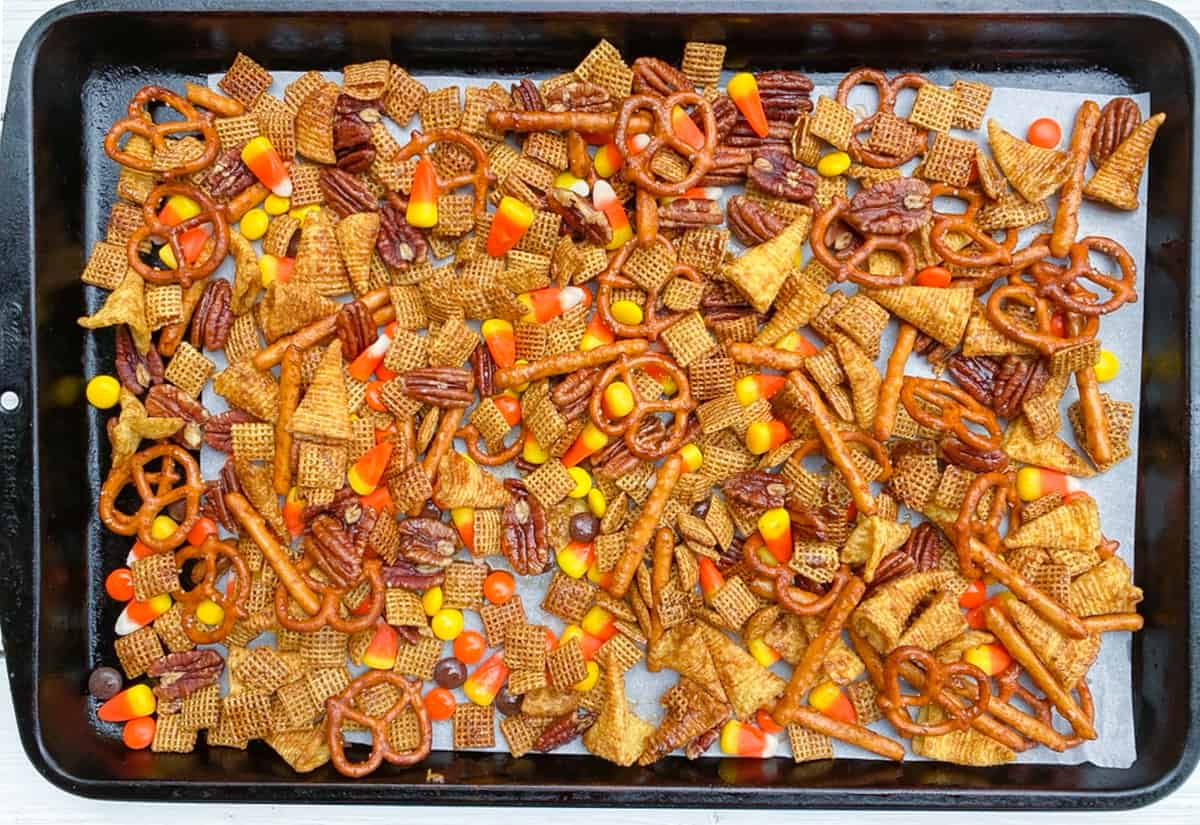 Halloween Inspired Mix-Ins
I used candy corn and Reese's Pieces in this recipe because in my opinion, they scream Halloween and are easy to find.
So if you're having a Halloween party, stick with just orange and black (dark brown) candies and nix the yellow. You can also add ghost or witches hat candies. You also can serve these spooky mocktails to the kiddos!
If you want to make it more Thanksgiving friendly, add in yellow and some cornucopia candies.
Reese's Pieces are peanut butter flavored so if you don't want that flavor in your mix, then I suggest using fall colored M&M's instead so you have a chocolate flavor! OR you can leave them out entirely.
The candy corn is a must (even if you despise the stuff). Personally I am not a huge fan but if you are serving it at a party or potluck, it adds a festive flair that will let guests know that the mix is sweet at first glance. Plus, kids love picking them out!
If you want to kick it up a notch on the festive scale, add those Halloween candy pumpkins too! I personally think they are too clunky but again, it is all about presentation so maybe a few here and there won't hurt.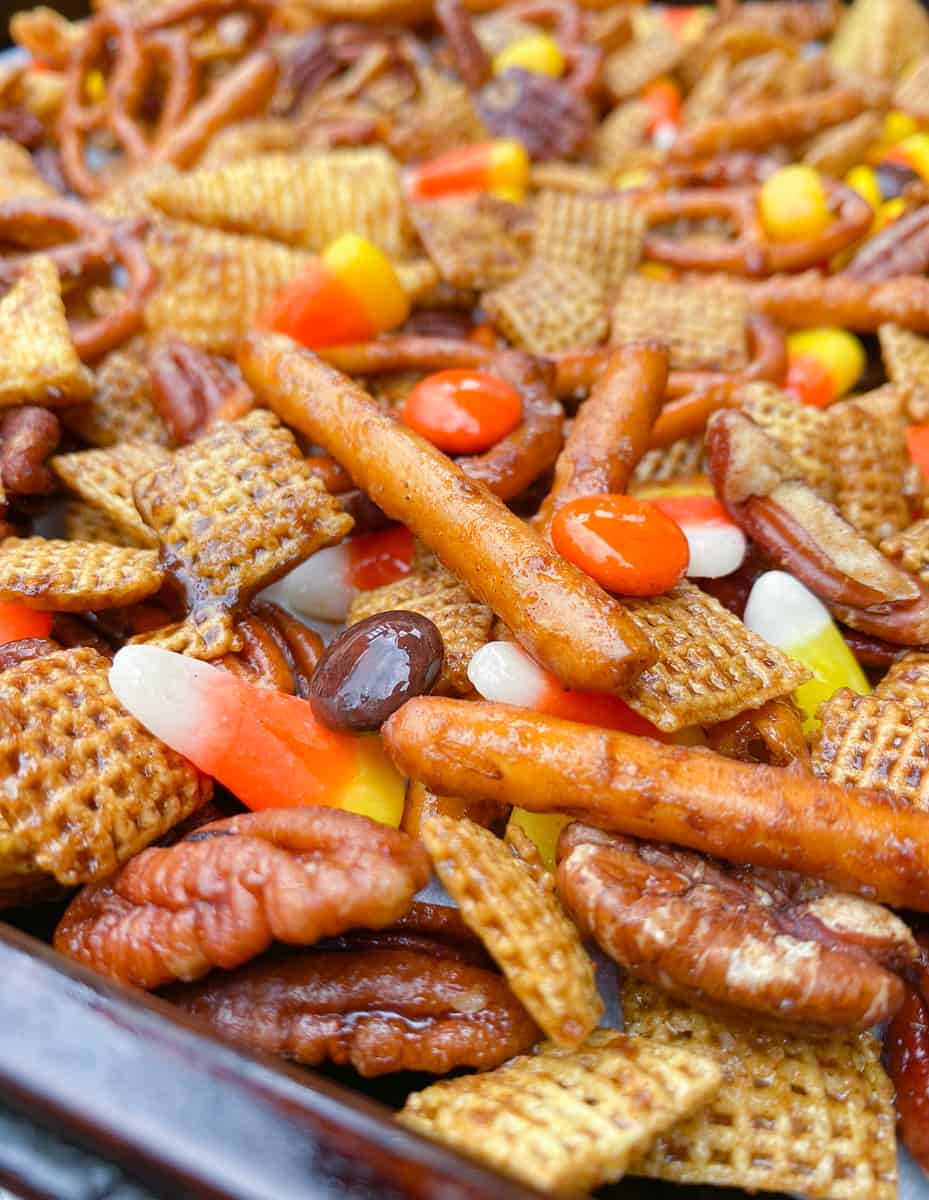 Substitutions/Variations
This is YOUR party mix so feel free to add in whatever you like! Here are some other suggestions if you want to add other ingredients to your mix:
Mix up your flavored Chex cereals- They have cinnamon, wheat, honey and chocolate Chex.
Add in different types/shapes of pretzels- They have waffle pretzels, sticks, balls, twists, etc.
Add nuts for added crunch- Peanuts, cashews, almonds, walnuts and pecans would be delicious,
Add dried fruit- Craisins, raisins, and cherries are fun and festive.
Chocolate - Add white, dark or peanut butter chocolate chips.
Marshmallows- This is a fun treat that adds color and sweetness for the kiddos.
Granola- They have pumpkin granola too!
Candy Corn Pumpkin- They are another festive candy addition!
✔ Aleka's Tips
Don't use a spoon to mix! Trust me. It will smash all your Chex cereal together (which is very delicate) and look sloppy. Instead, use your HANDS initially! They are the best tools and you can be gentle.
Watch your mix! Don't forget about it in the microwave. It WILL burn so heat in intervals to make sure!
Pick out the broken pieces. This is a great task for the little ones but is completely optional. Again, it is purely for aesthetics.
Package it in bags! When fully cooled, add to a plastic bag and package it for treat bags or gifts!
Use nonstick paper - Parchment paper, wax paper or a silicone mat so your mix doesn't stick.
Just remember that Chex mixes are totally flexible! If you don't want your mix super sweet, you can always use less sugar. The most important thing is that you have fun and enjoy the party!
Need an easy party punch to serve this Halloween? This one is my favorite!
FAQ's
How do I store my Chex mix?
Wait for it to fully cool then add it to an airtight container for up to one week.
Is it cheaper to buy Chex Mix or make your own?
It is definitely cheaper to buy it BUT you cannot find this combination of ingredients in the store.
Other Halloween snacks you might like:
📖 Recipe
Halloween Pumpkin Spiced Chex Mix
This Halloween Pumpkin Spiced Chex Mix is made with corn Chex cereal, pretzels, bugles, pecans, candy corn and Reese's Pieces! It is the perfect spiced snack that hits both sweet and salty notes.
Print
Pin
Rate
Ingredients
Pumpkin Spice Glaze
¾

cup

Brown sugar

½

cup

Butter (1 stick or 8 tbsp)

1

tablespoon

Vanilla extract

1½

tablespoon

Pumpkin pie spice
Dry Ingredients
2

cups

Chex cereal (I used corn)

2

cups

Pretzels

1½

Bugles

1

cup

Pecans

¾

cup

Candy corn

¼

cup

Reese's Pieces or M&M's (Fall mix)
Instructions
Add your Chex cereal, Bugles, pretzels and pecans to a large microwave safe bowl and set aside.

Melt your butter in the microwave and add your brown sugar, vanilla and pumpkin pie spice. Whisk so there are no lumps.

Pour your pumpkin spiced glaze over your dry mix and toss everything together GENTLY. I like to use my hands for this so I don't smash everything.

Microwave your mix for 2 minutes on high.

Remove and toss gently with a rubber spatula or spoon.

Place back in the microwave for another 2 minutes.

Remove and toss gently.

Add it back in for one more minute and toss on last time.

Spread mixture onto a nonstick baking pan or parchment paper and allow to cool. (about 5-10 minutes)

Mix in your candy corn and Reese's pieces and enjoy!
Recipe Notes
Use your hands to mix everything together if you can. If it's too hot, use a rubber spatula so you don't crush your cereal.
Store your Chex mix in plastic bags or a sealed container for 7-10 days.
Nutrition
Calories:
1087
kcal
|
Carbohydrates:
163.2
g
|
Protein:
10
g
|
Fat:
45.6
g
|
Saturated Fat:
21.6
g
|
Cholesterol:
31
mg
|
Sodium:
1506
mg
|
Fiber:
5.7
g
|
Sugar:
78
g