Halloween appetizers are hard to come by but have no fear, I've got you covered! Here are some deliciously, spooky and creepy appetizers you will be DYING to serve at your next Halloween party!
Make sure to check out my spooky cocktails and shooters too!
It's almost that time of the year again!
Halloween is my favorite holiday. It also happens to be my husbands birthday so it is extra special for us!
If you ARE planning on throwing a small party this year, I have collected some of the spookiest appetizers and snacks that your guests will love!
All food is festive and guaranteed to give your party guests the ultimate chill.
This list is also comprised of some vegetarian options for those meat-free folks, like veggie "fingers", and big bites of traditional favorites, like the Jack-o-lantern ham and cheese sandwich bites.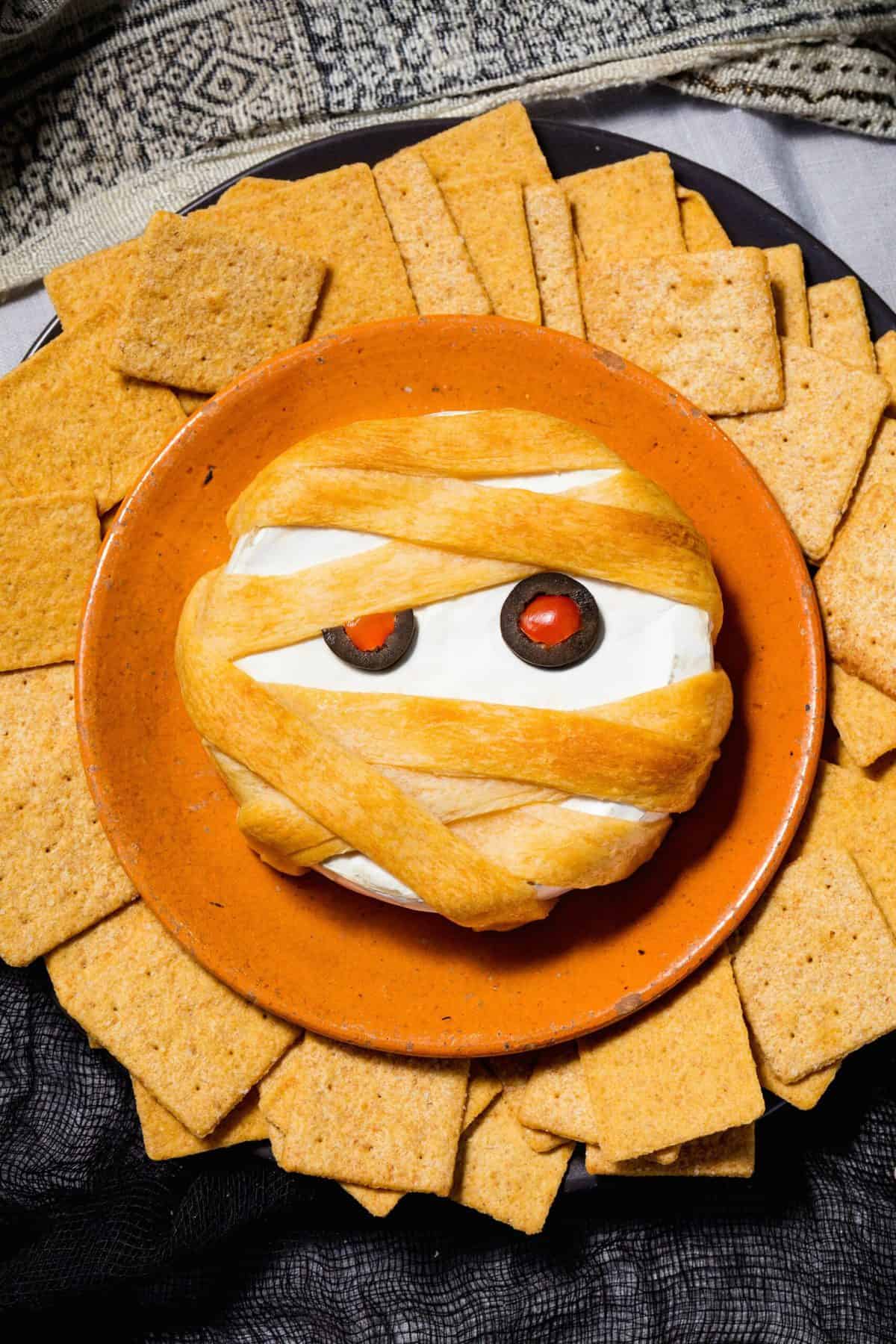 Thanks to puff pastry, mini pepperoni and two slices of black olives, your basic baked brie becomes a totally spooky Halloween appetizer. It is perfect for your Halloween party spread and can be smacked on while watching scary movies!
Cook Time: 20 minutes
Prep Time: 5 minutes
Pumpkin Spice Fall Chex Mix (Sweet n' Salty)
Chex mixes are always a party favorite! This recipe is made sweet and salty so you can set it out at the start of the party and let guests snack until the moon is full!
Prep Time: 5 minutes
Cook Time: 5 minutes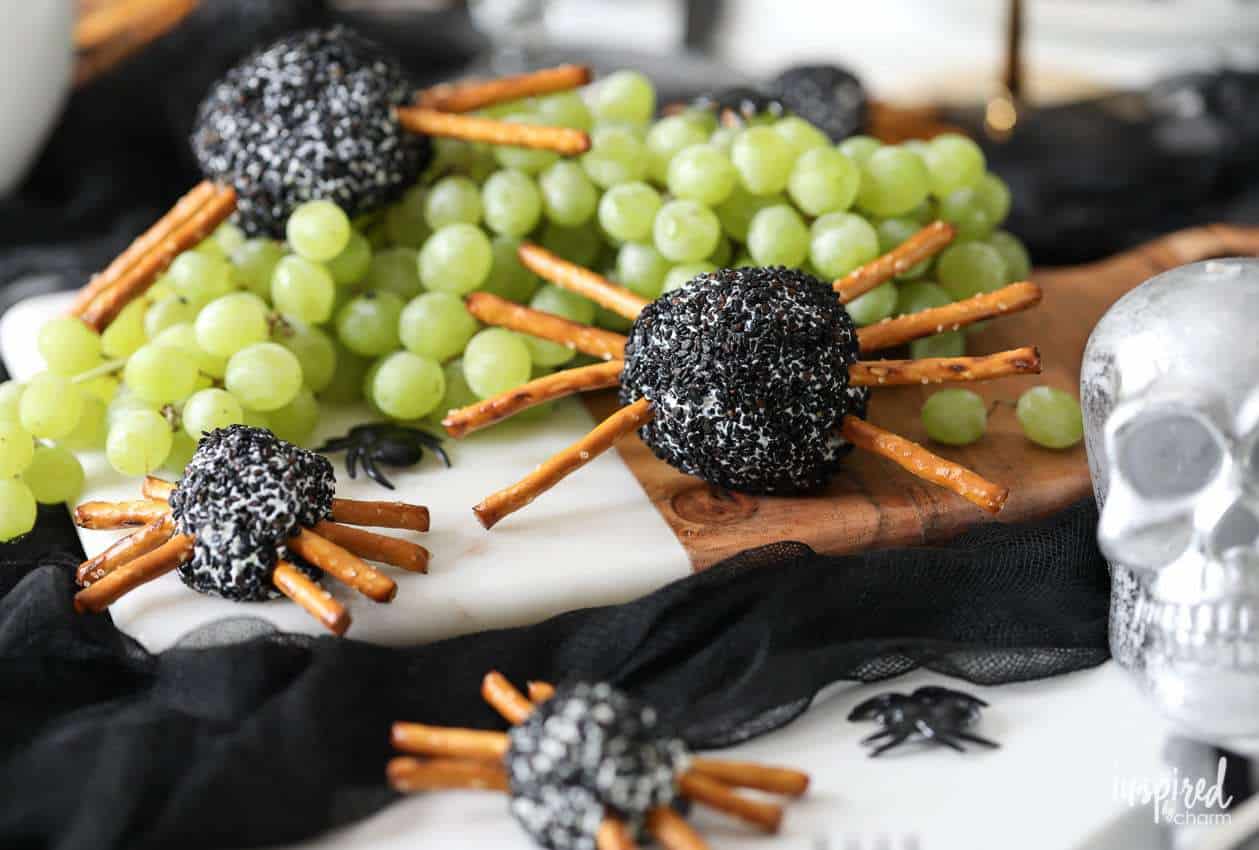 Creepy yet yummy, cheesy spider balls are an excellent addition to every Halloween party. Their breadcrumb fur and chow mein noodle legs make them great finger food or a melty-crunchy garnish on top of bubbling bowls of stew.
Cook Time: 5 minutes
Prep Time: 10 minutes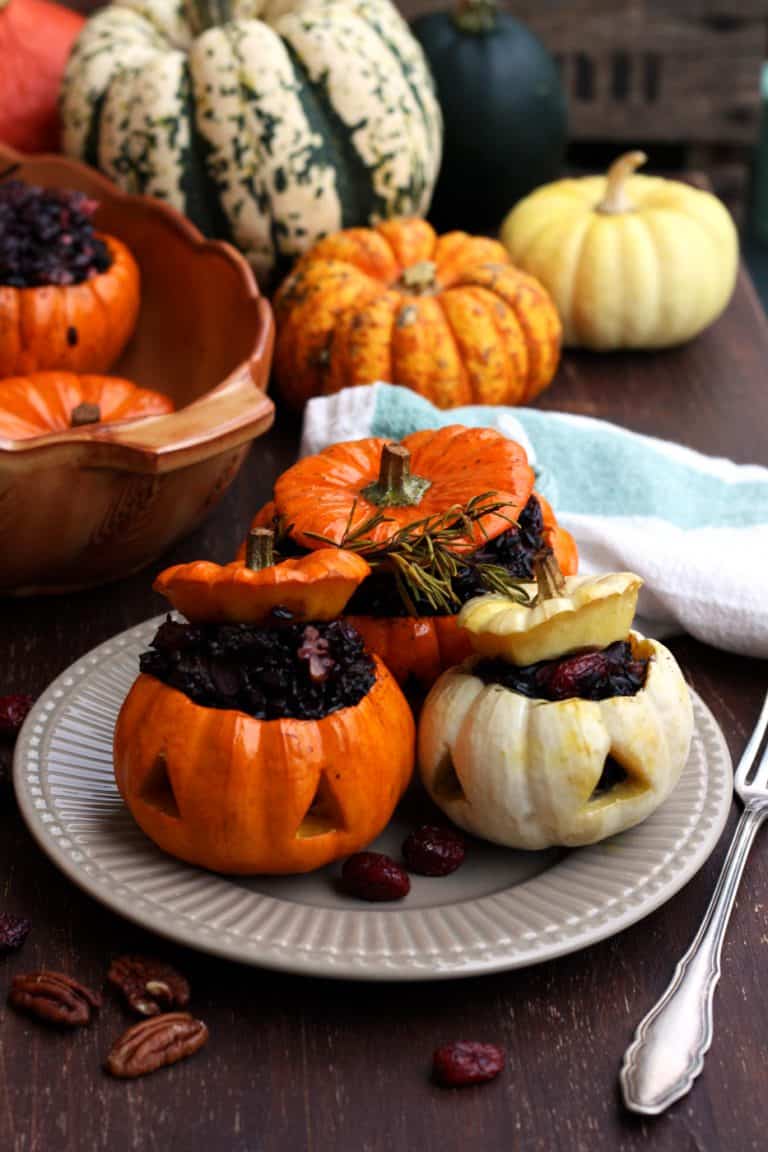 How cute are these Halloween carved pumpkins with wholesome wild rice stuffing?! Serve these spooky kid-friendly stuffed pumpkins for a healthy holiday treat!
Prep Time: 5 minutes
Cook Time: 55 minutes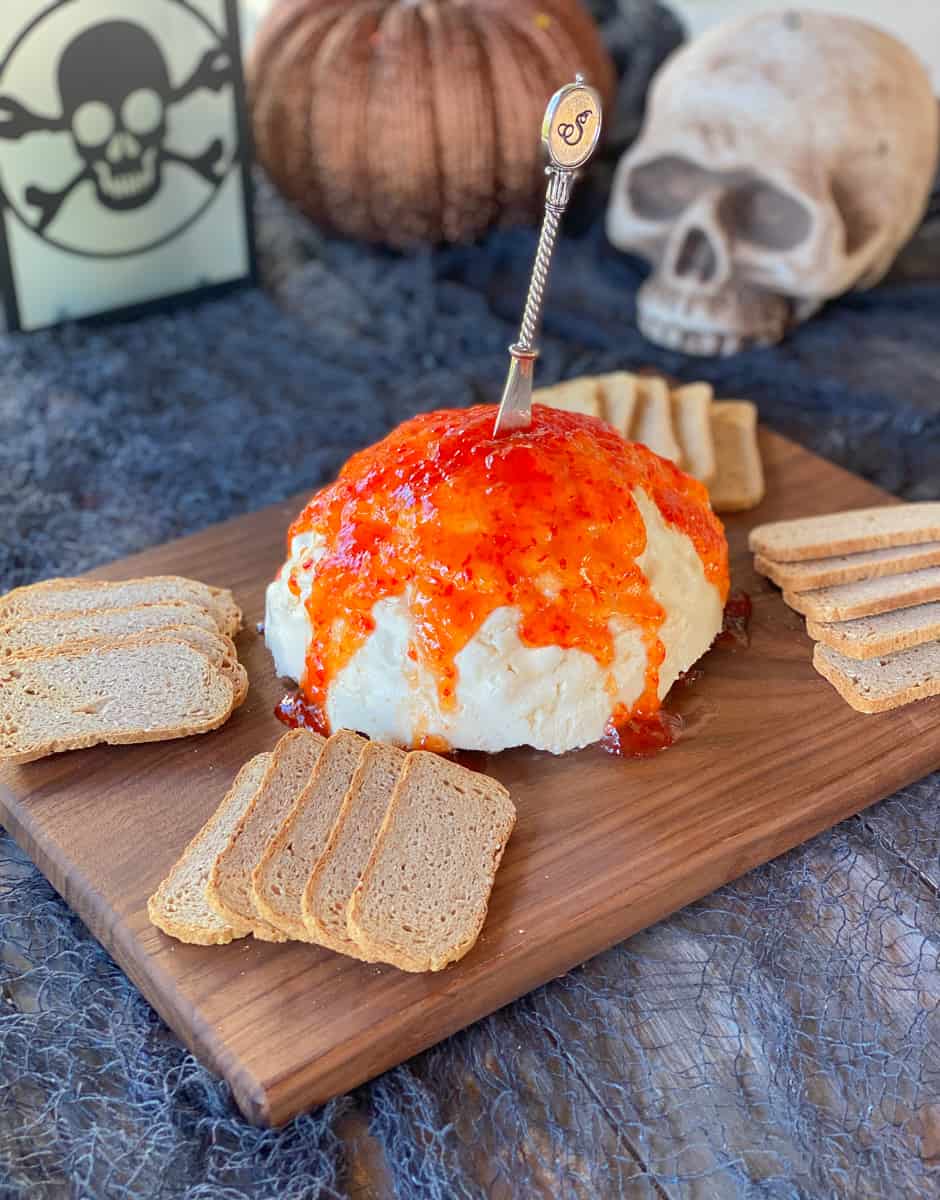 Halloween Brain Dip Appetizer (Using Brain Mold)
This creepy brain dip is a fun and delicious Halloween appetizer to serve at your next Halloween party that is both spooky and easy! It is made using a brain mold and a few simple ingredients!
Prep Time: 5 minutes
Chill Time: 2 hours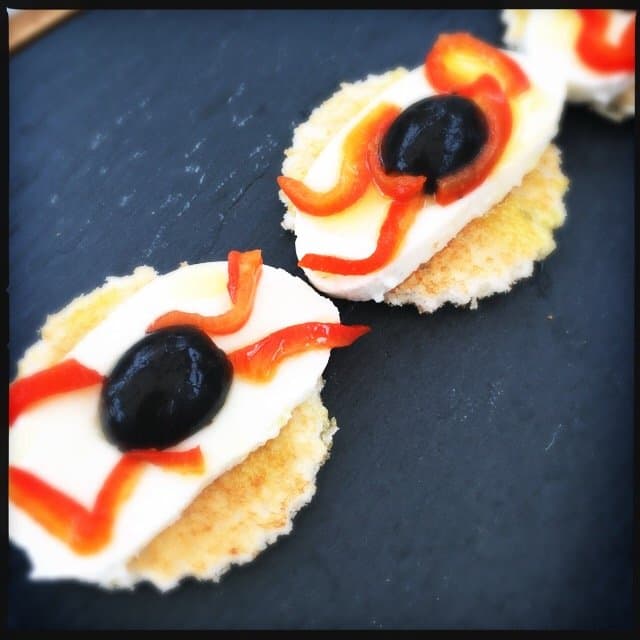 Gruesomely delicious, this Halloween eyeball bruschetta is a fun and delicious appetizer adults will love! And don't worry, no eyeballs were used in the making of this yummy snack. You can serve it to Halloween loving vegetarians too!
Prep Time: 20 minutes
Cook Time: 3 minutes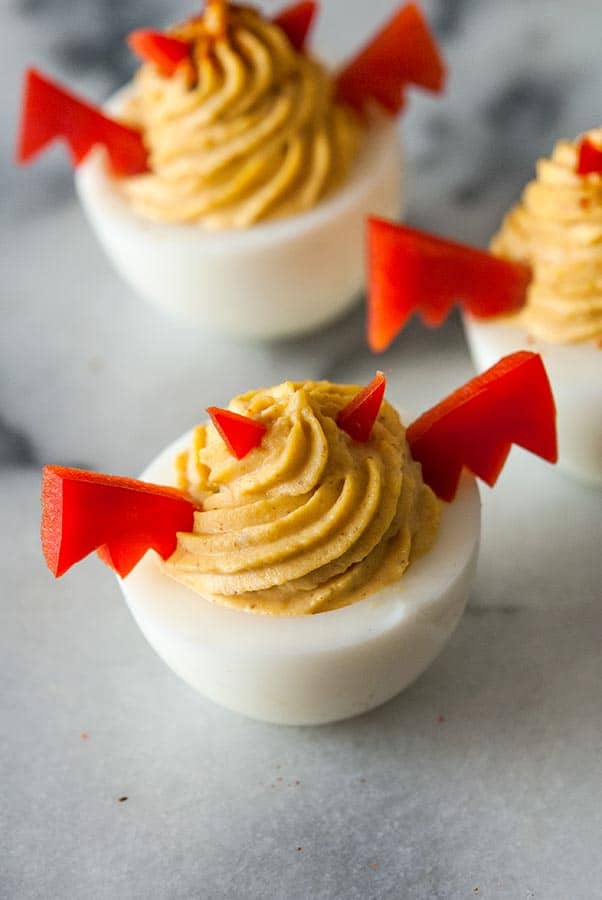 Don't just add horns to your Halloween deviled eggs, add little red bell pepper wings to really give these precious appetizers some devilish character! They're so easy to make and will be the fiendishly cutest appetizers at your Halloween party!
Prep Time: 30 minutes
Cook Time: 20 minutes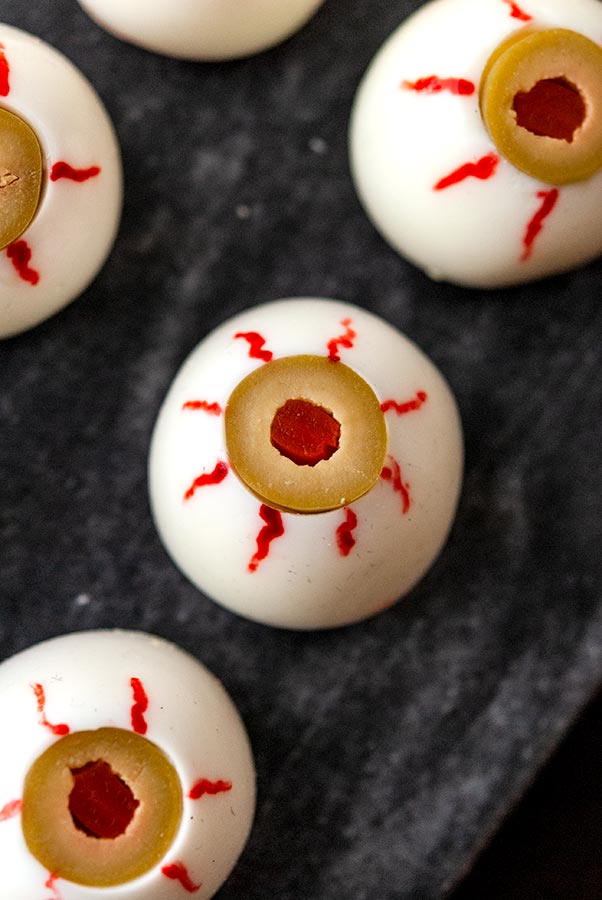 These spooky-ooky deviled eyeballs are such fun Halloween party appetizers! They won't just make your party guests giggle, they taste delicious too! They're also perfect for your KETO, low-carb boys and gooouuls.
Prep Time: 30 minutes
Total Time: 20 minutes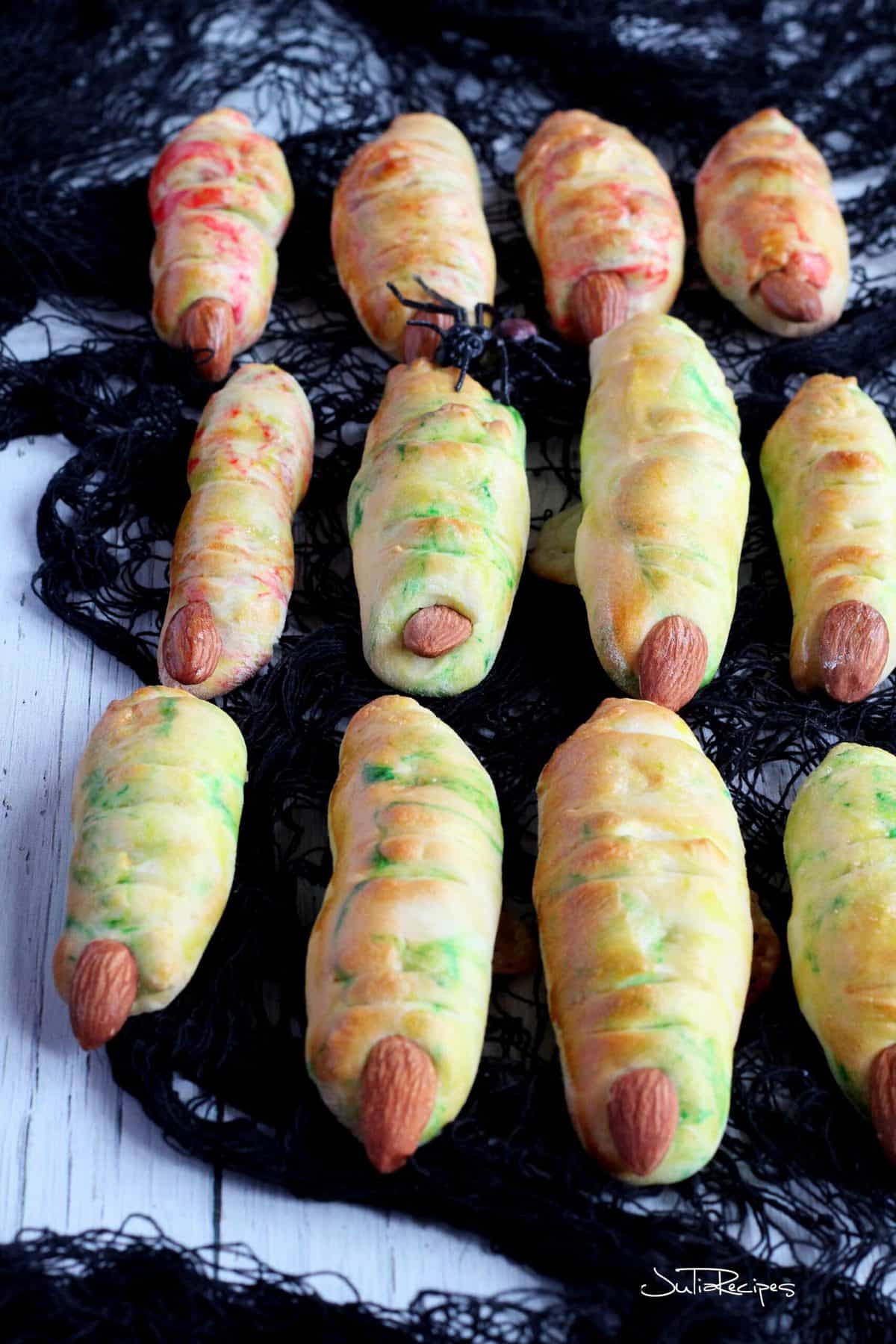 Usually witches fingers are made either from pretzels sticks or sugar cookie dough. But these are a savory finger food option made with pizza dough and with cheddar cheese inside!
Prep Time: 15 minutes
Total Time: 35 minutes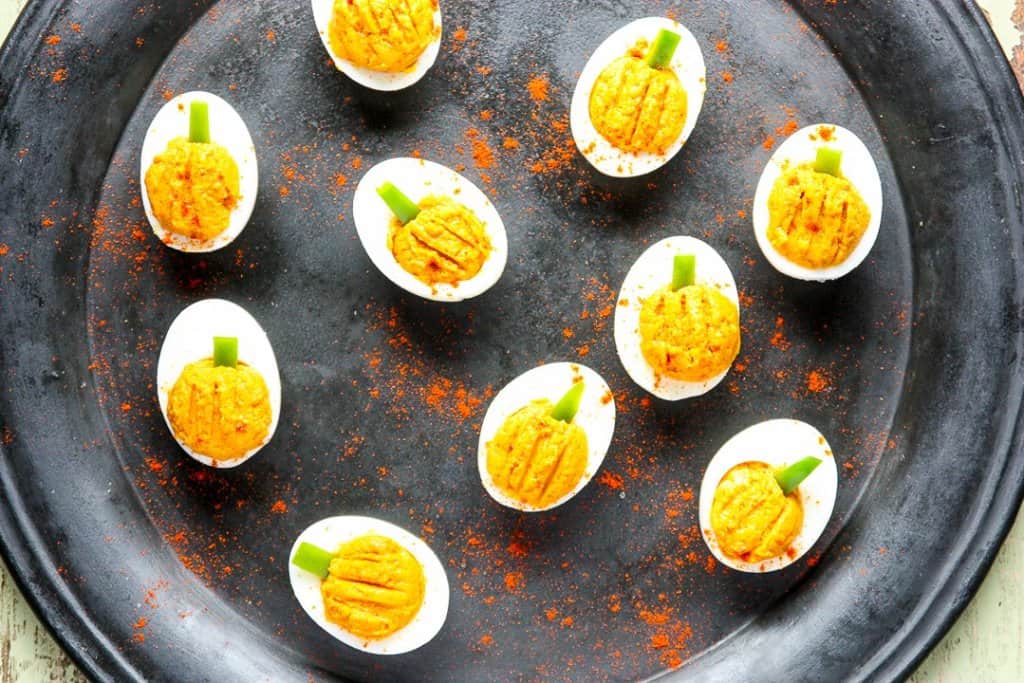 Spook-tacular deviled eggs are one of my favorites and are sure to please your party guests. All it demands is a few twists (we're talking a chive stem and a deep orange yolk) and your traditional recipe festive is ready to be devoured.
Prep Time: 15 minutes
Cook Time: 20 minutes
This Pumpkin Cheese Ball recipe will be a hit at your next party, fall fest or Thanksgiving dinner. The recipe is simple and easy to make. You can change up the chips or crackers and even serve with fresh vegetables. I like to take this pumpkin cheese ball to office parties, too.
Prep Time: 15 minutes
Cook Time: 35 minutes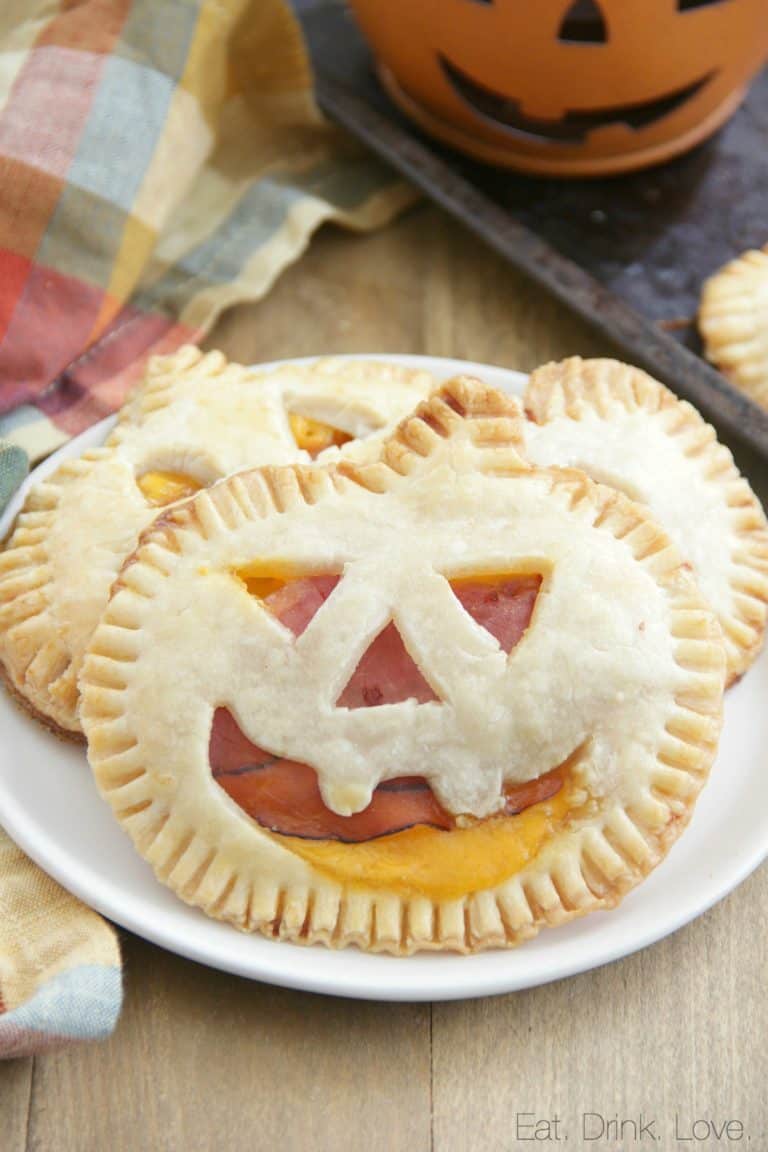 Jack' O Lantern Ham and Cheese Pies
Slice the not-so-scary faces of a tortilla into triangles, making a Jack' O lantern and serve on a platter with some scream-worthy dipping hot sauce for a fun appetizer!
Prep Time: 5 minutes
Total Time: 15 minutes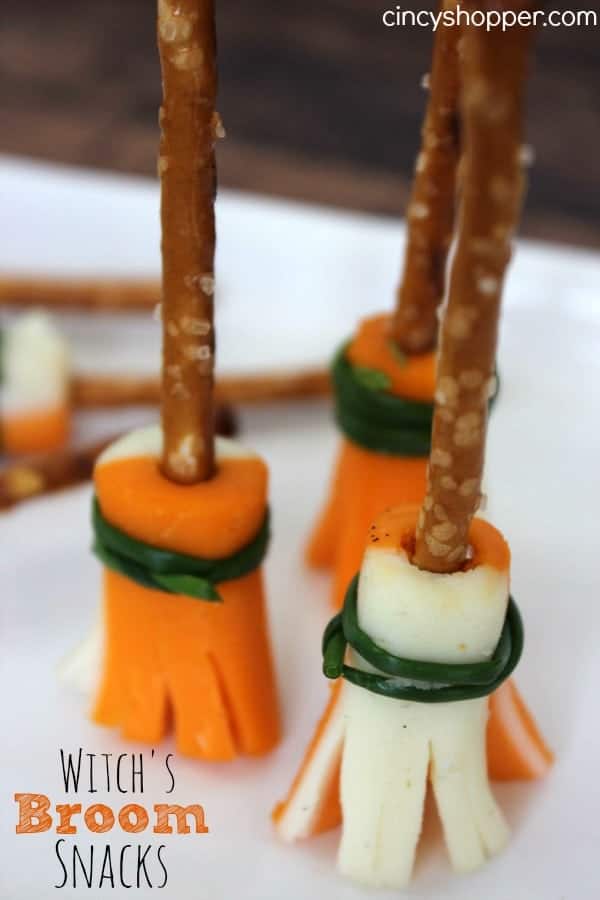 Like many other snack ideas these are super simple to make. They come together quickly only take THREE ingredients and are SUPER adorable.
Prep Time: 15 minutes
Cook Time: 0 minutes
These meatballs provide protein to balance out some of the special occasion sweets served at Halloween. Plus, they're super easy to make and look so spooky!
Prep Time: 12 minutes
Total Time: 20 minutes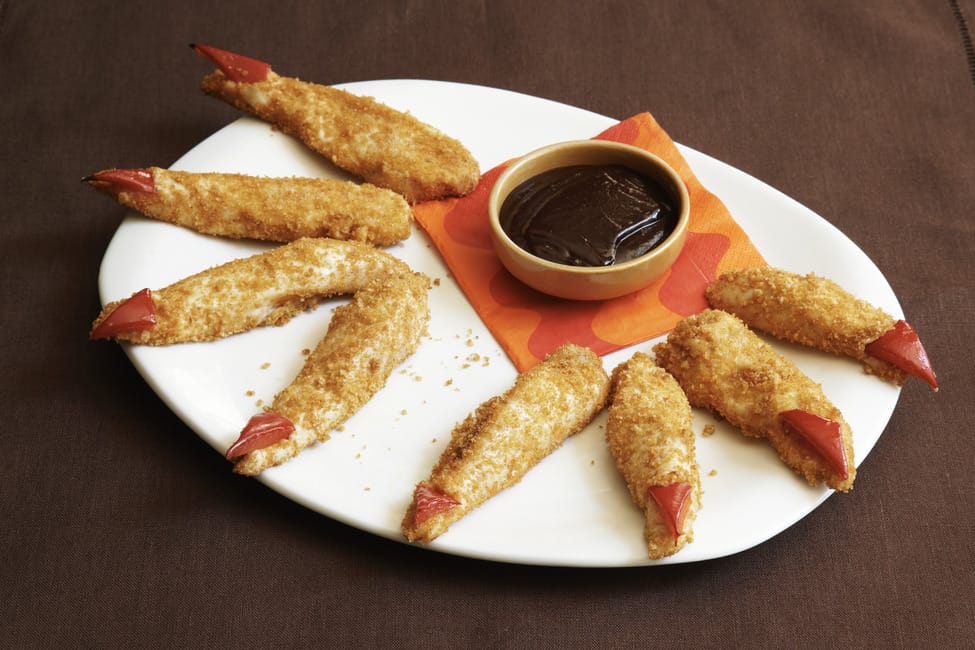 These spooky chicken fingers look like creepy monster fingers! Made with chicken, breadcrumbs and red peppers for the fingernails, they are simple but Halloween festive!
Prep Time: 45 minutes
Cook Time: 15 minutes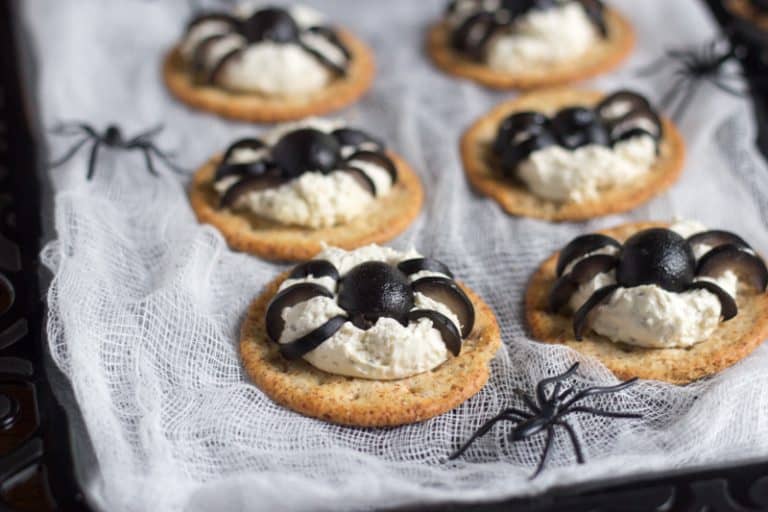 For creepy beginning to my Halloween Themed Dinner Menu for Adults, I love to serve these "Bug Bites" . It's a fun Halloween Appetizer recipe that always loosens up the crowd!
Prep Time: 10 minutes
Total Time: 10 minutes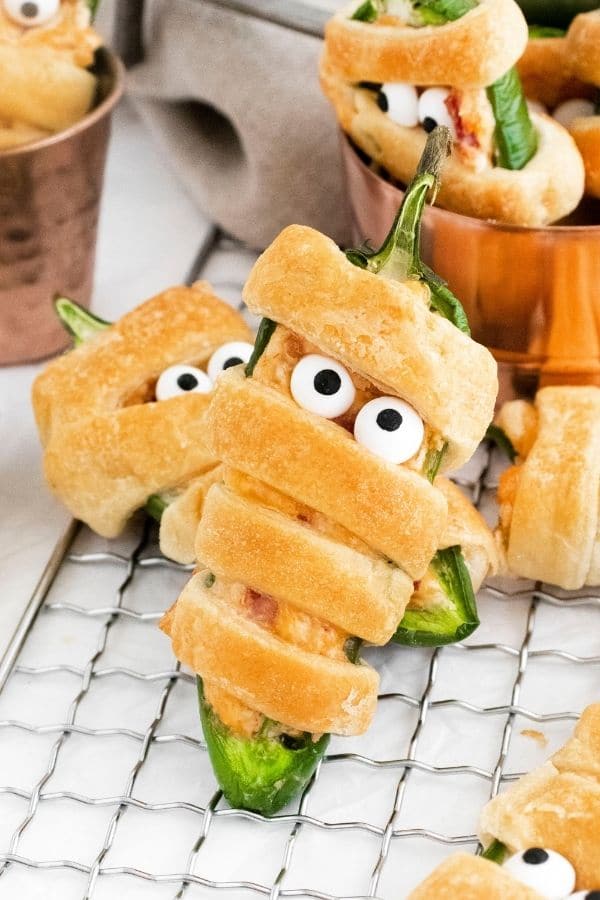 Halloween Party Jalapeno Mummies
These mummies are a slightly creepy, fun and healthy food treat that is perfect for a Halloween party appetizer or snack that both adults and kids will love!
Prep Time: 10 minutes
Total Time: 20 minutes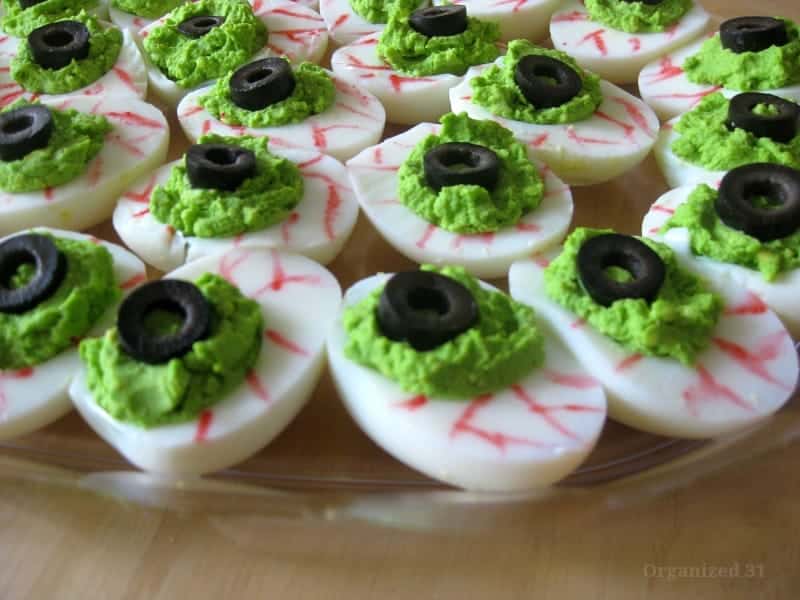 These creepy eyeballs are the perfect appetizer for adults! They are filled with a standard deviled egg filling but dyed with green food coloring for effect!
Prep Time: 20 minutes
Cook time: 10 minutes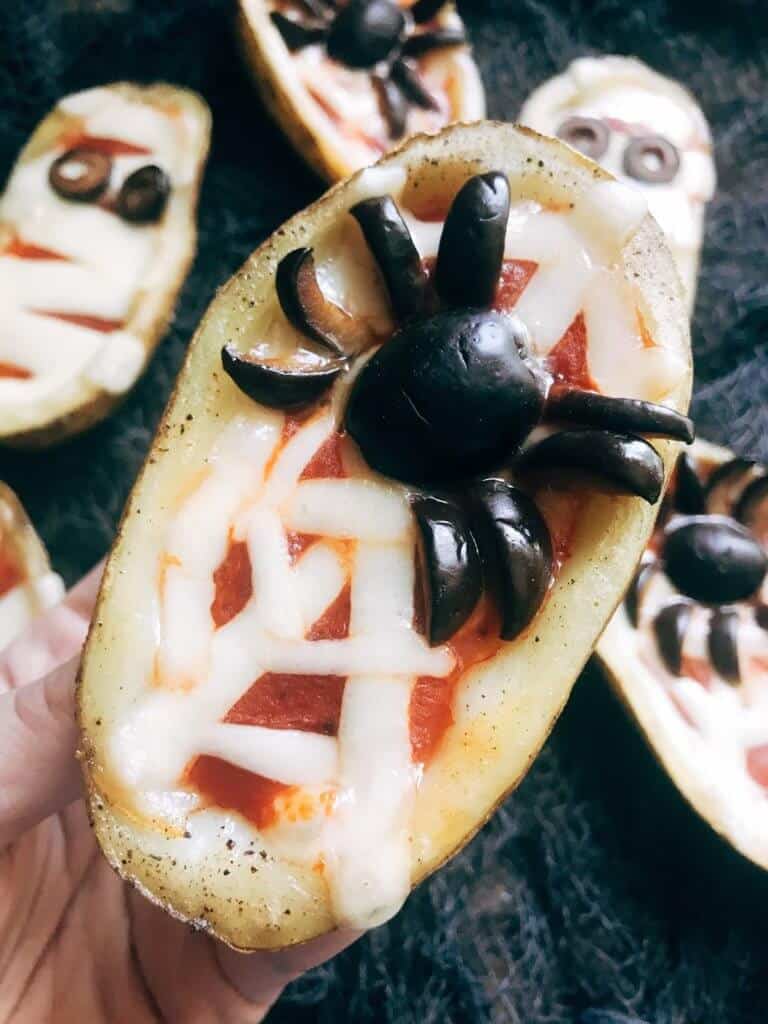 Halloween Pizza Potato Skins are a fun recipe for the holiday. Three different Halloween designs of a mummy, ghost, and spider web for this creative and popular fall holiday. Gluten free and vegetarian.
Prep Time: 12 minutes
Total Time: 27 minutes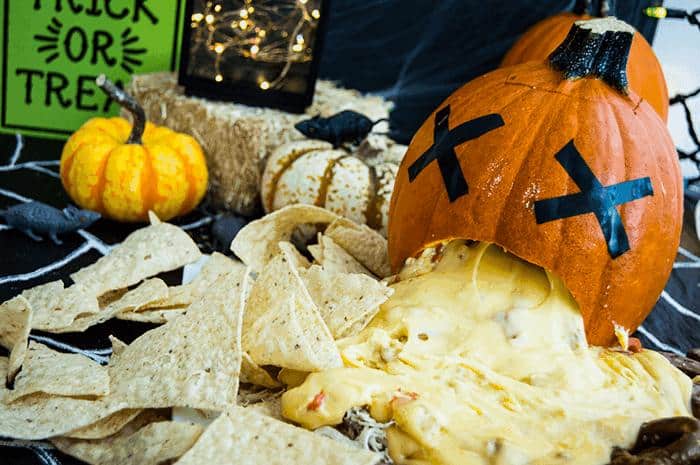 This creepy pumpkin puking nacho cheese is a fun and clever way to serve a classic! Using a real pumpkin helps keep the nacho cheese warm as it spills out the mouth of the pumpkin onto a pile of shredded chicken and tortilla chips.
Prep time: 15 minutes
Cook time: 30 minutes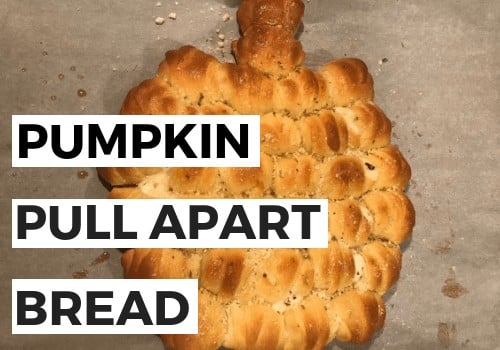 Pull apart bread is so easy to make and something everyone loves! This one is formed into a pumpkin and stuffed with cheese before being baked to gooey perfection.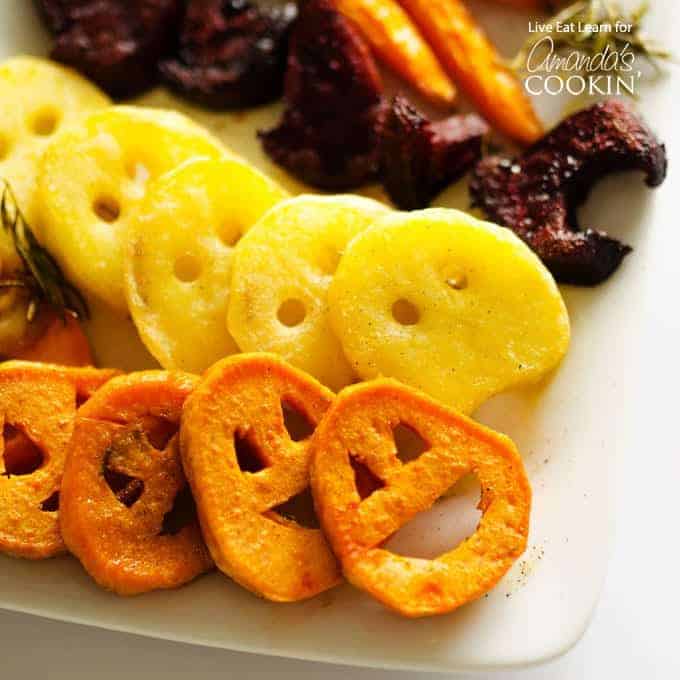 These Roasted Halloween Vegetables are a fun and simple way to celebrate this October! With sweet potato jack-o-lanterns, beet root witch's hats, and spooky potato ghosts, this is a simple dish with some major wow factor.
Need a spooky cocktail?? Serve with my spooky BLACK witches martini, or my Monkey Brains Shooter or warm your guests with my hot spiked cider!
Final Party Tips
Many of these appetizers are incredibly easy and exciting to prepare; all you need are the right tools and a festive heart.
Undoubtedly, these Halloween finger foods and light bites will lighten the mood of your party and make it memorable, whether you're throwing the biggest costume party of the year or gearing up for a long night of trick or treating! And don't forget, food can never be too spooky!
If you're looking for tips and tricks for keeping food warm at your party, check out my post!
Happy Halloween!!
Here are some other themed parties you will love!
Make sure you are dessert ready!
Spooky Phyllo Cup Chocolate Pretzel Spiders (No Bake)
Easy Chocolate Wafer Dipped Ghost Cookies