Halloween is right around the corner so get your cauldrons ready to mix up some of these boo-zy spooky Halloween themed cocktails for your Halloween party!
And if you love shooters, check out these fun Halloween shot ideas!
Halloween is always a big deal in our house, not only because we love the fun, but it is also my husband's birthday. Because of that, we love to always host Halloween parties this time of year.
I have put together a collection of some daringly delicious spooky and Halloween themed cocktails for you to enjoy.
These Halloween drinks feature all different liquors from vodka to whiskey, so you can pick your poison.
👻Make sure to check out these Halloween appetizers that are perfect for adults!
And if little goblins and ghouls are attending too, you can easily make these into mocktails for the kids served with these fun chocolate spiders.
Ways To Spookify Cocktails
Add candy corn to vodka and let it sit overnight to pull out some of those flavors.
Add mini jack-o-lantern candy pumpkins to the rim for a festive look.
Add dry ice to your cocktail. Just make sure to read about dry ice safety before using!
A safer and easier option is to buy this mini mister fog machine that safely sits INSIDE liquid.
Add Halloween themed spinkles to your rim.
Use activated charcoal capsules to turn any cocktail instantly BLACK.
Halloween Cocktails & Drinks
This is my personal favorite Halloween inspired spooky cocktail. It not only looks cool but it tastes amazing and is the perfect cocktail to serve during spooky season. It's classy and sophisticated too!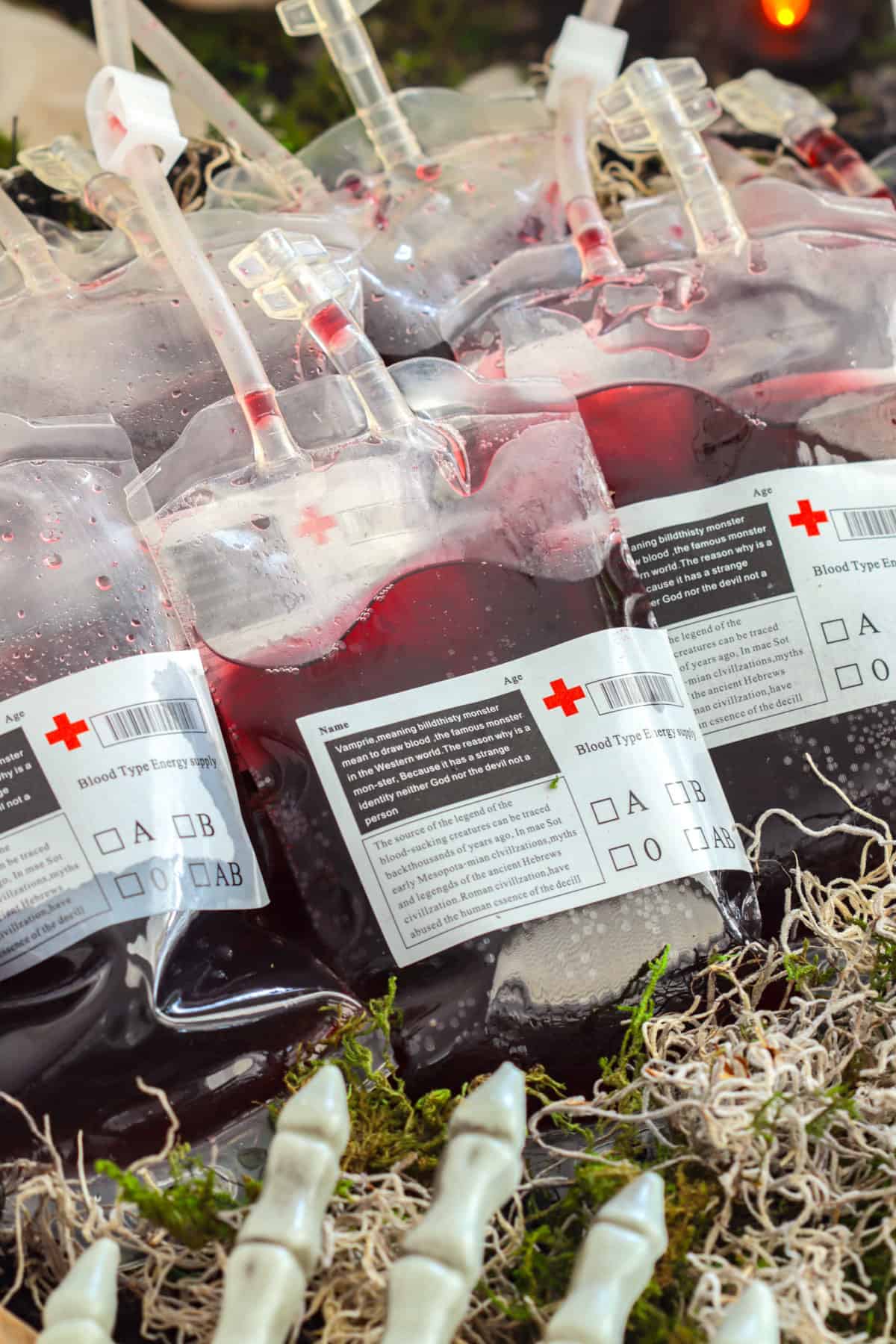 Halloween Blood Bag Cocktail
A blood bag cocktail that is as eerie as it sounds. Fill these up with your most delicious blood-resembling drink and serve over ice. Your guests will love the unique creativity of this fun drink!
These Jello shot syringes are a deliciously fun and spooky way to serve drinks to your guests this Halloween! They are easy to make and can really pack a punch! Plus, you can choose any flavor or alcohol choice.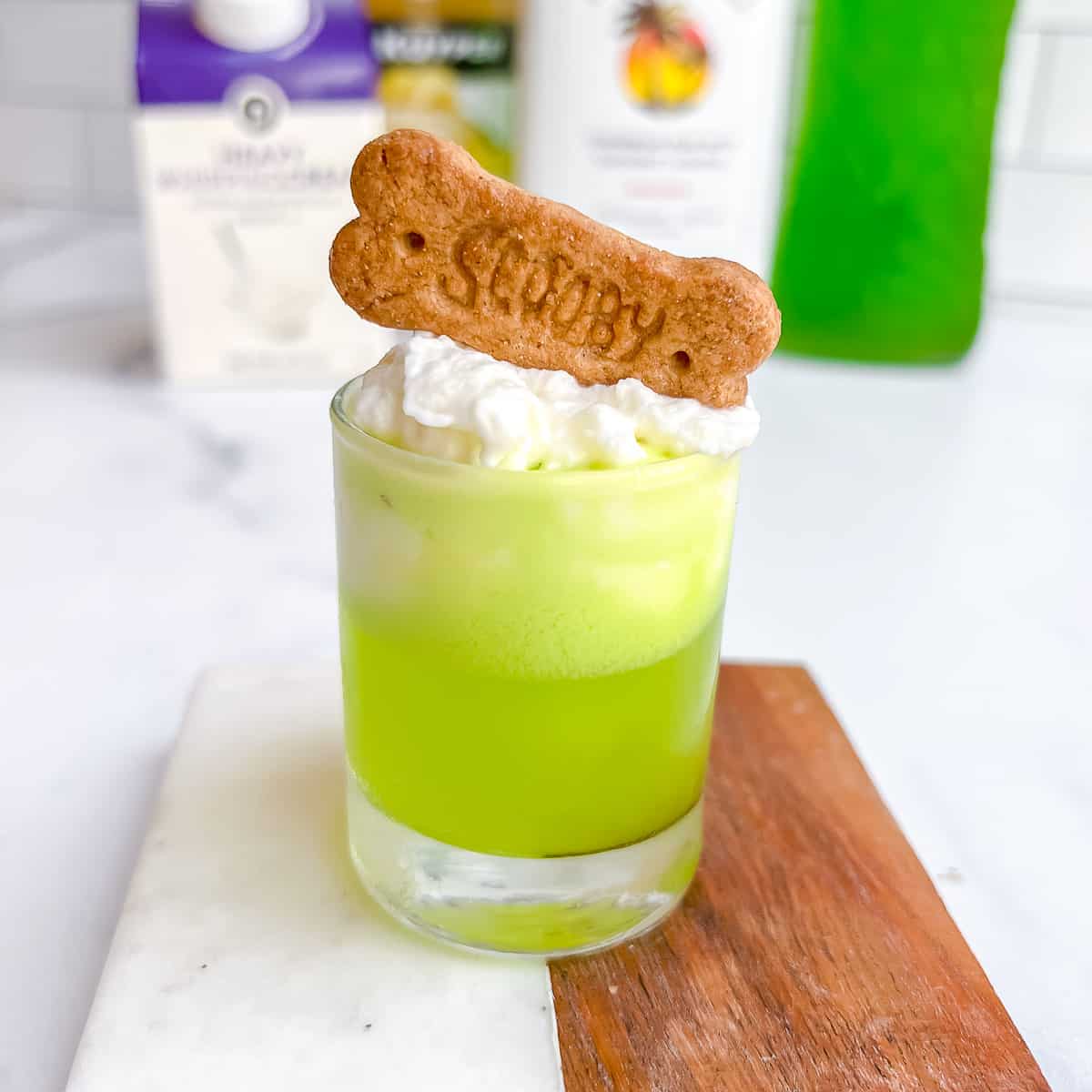 This shot can easily be callled a green monster or zombie guts to make it Hallowee festive! It's a beautiful GREEN color and tastes like a tropical banana cream pie! No lie. Remove the cookie on top and add a few candy eyes to make it more Halloween friendly!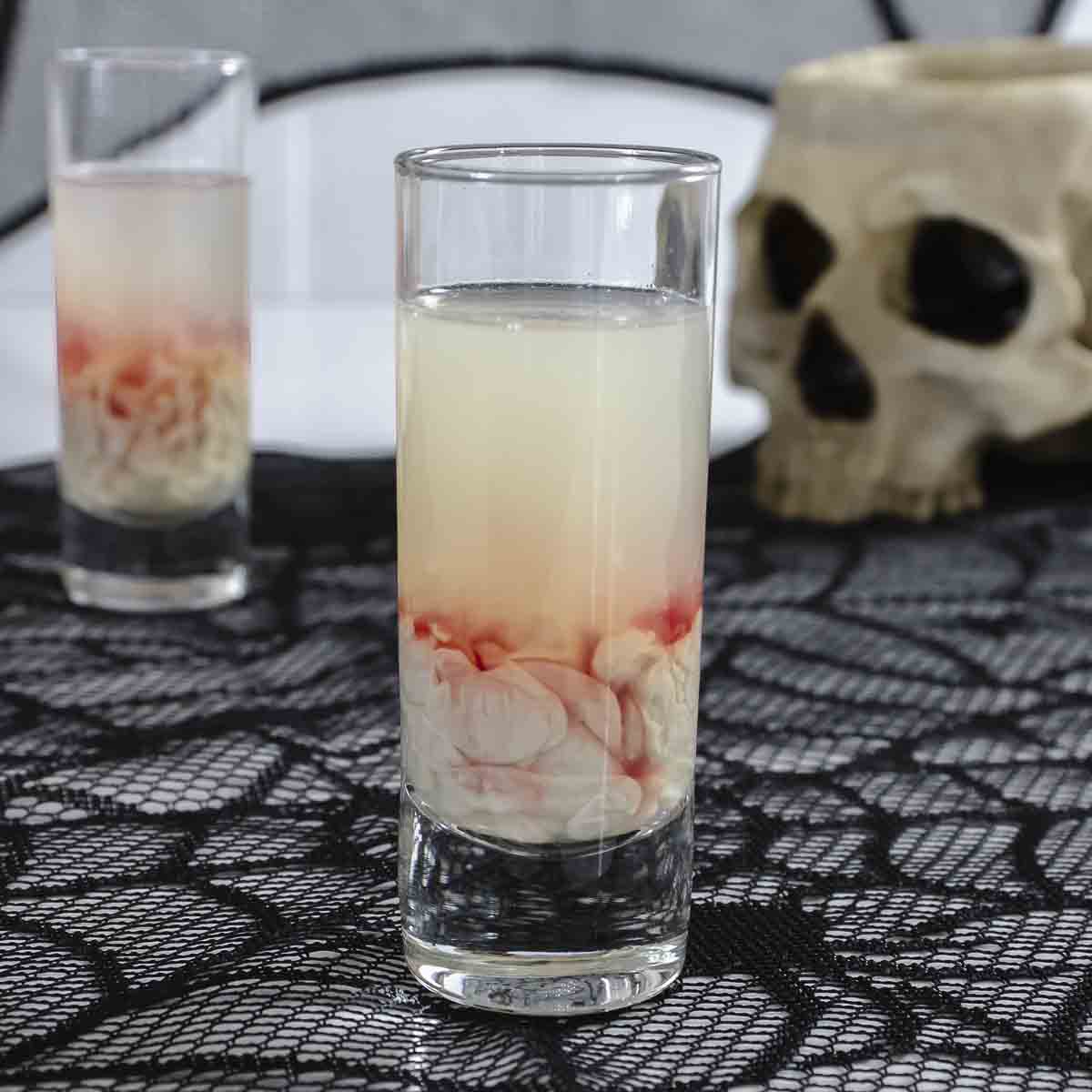 This shooter is one of the creepiest ones out there. It looks just like monkey brains and blood. Yuck but so cool!! Check out what ingredients are used! It's always a popular one to serve at Halloween parties!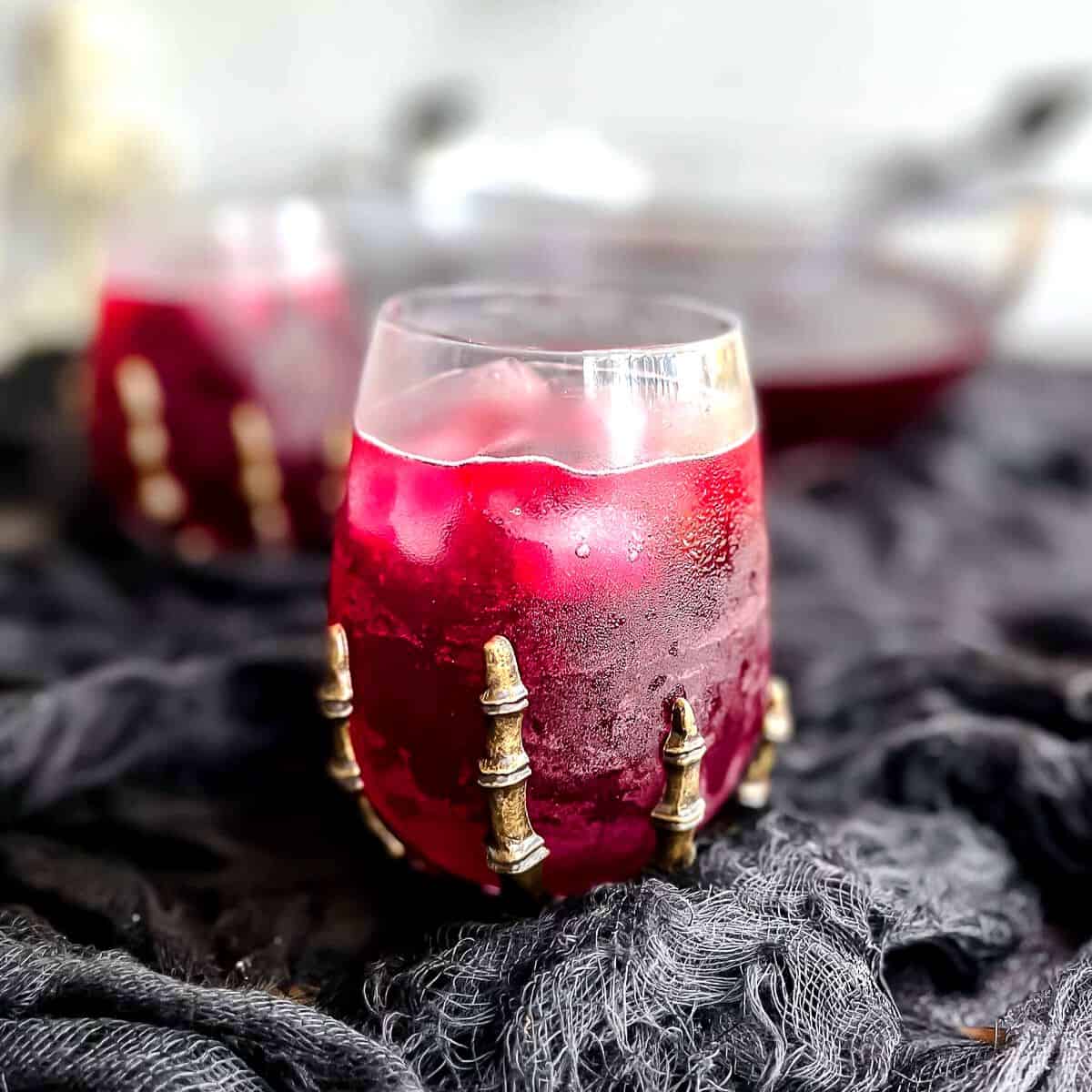 A spooky Halloween party punch is a must for a crowd of 8 or more! It's easy to make in bulk and is a beautiful deep dark hue. Serve with spiders, ghost ice cubes or glitter for a classy spooky touch!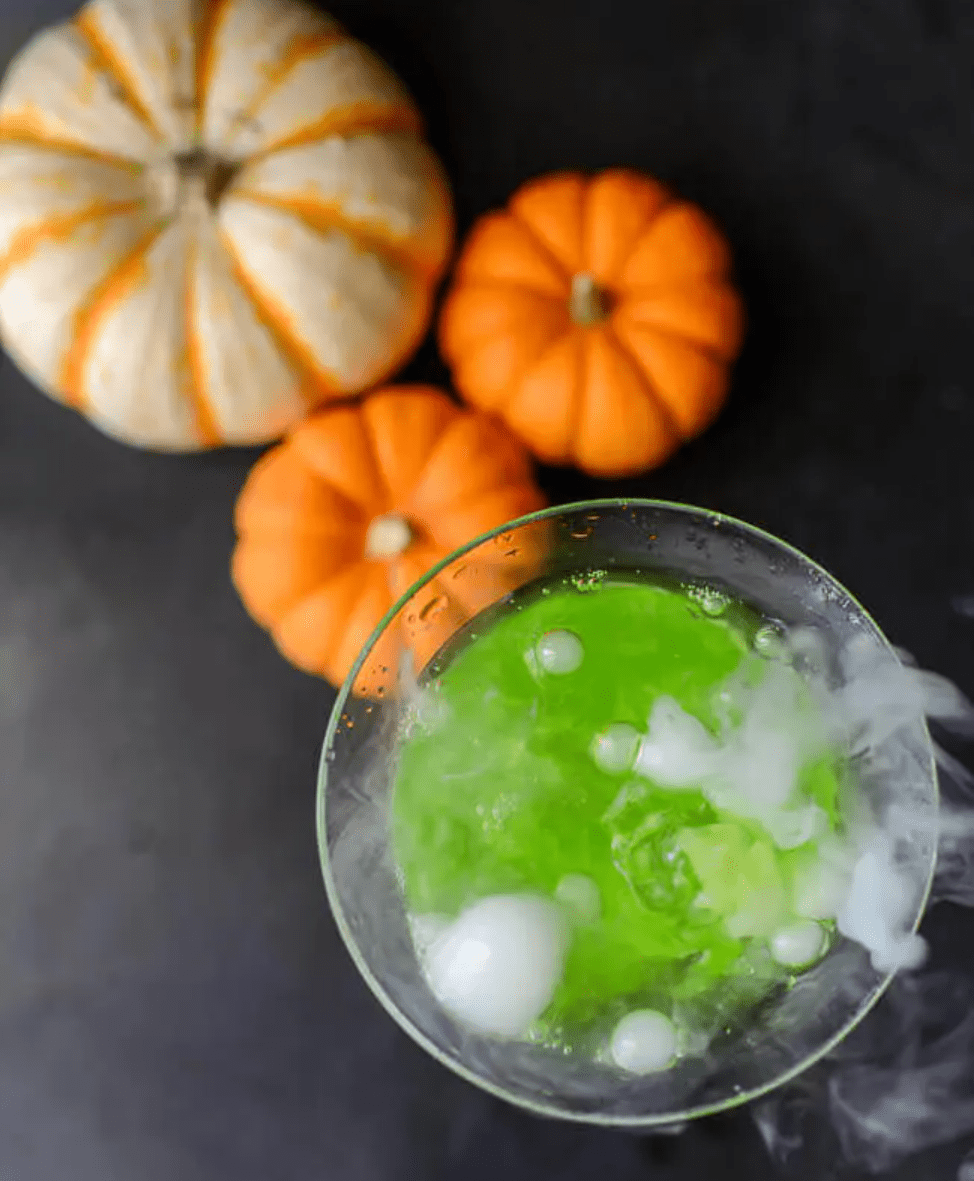 This Witch's Brew cocktail is scarily easy to make, and the magic ingredient makes it shimmer. Plus the addition of dry ice will make it boil and bubble.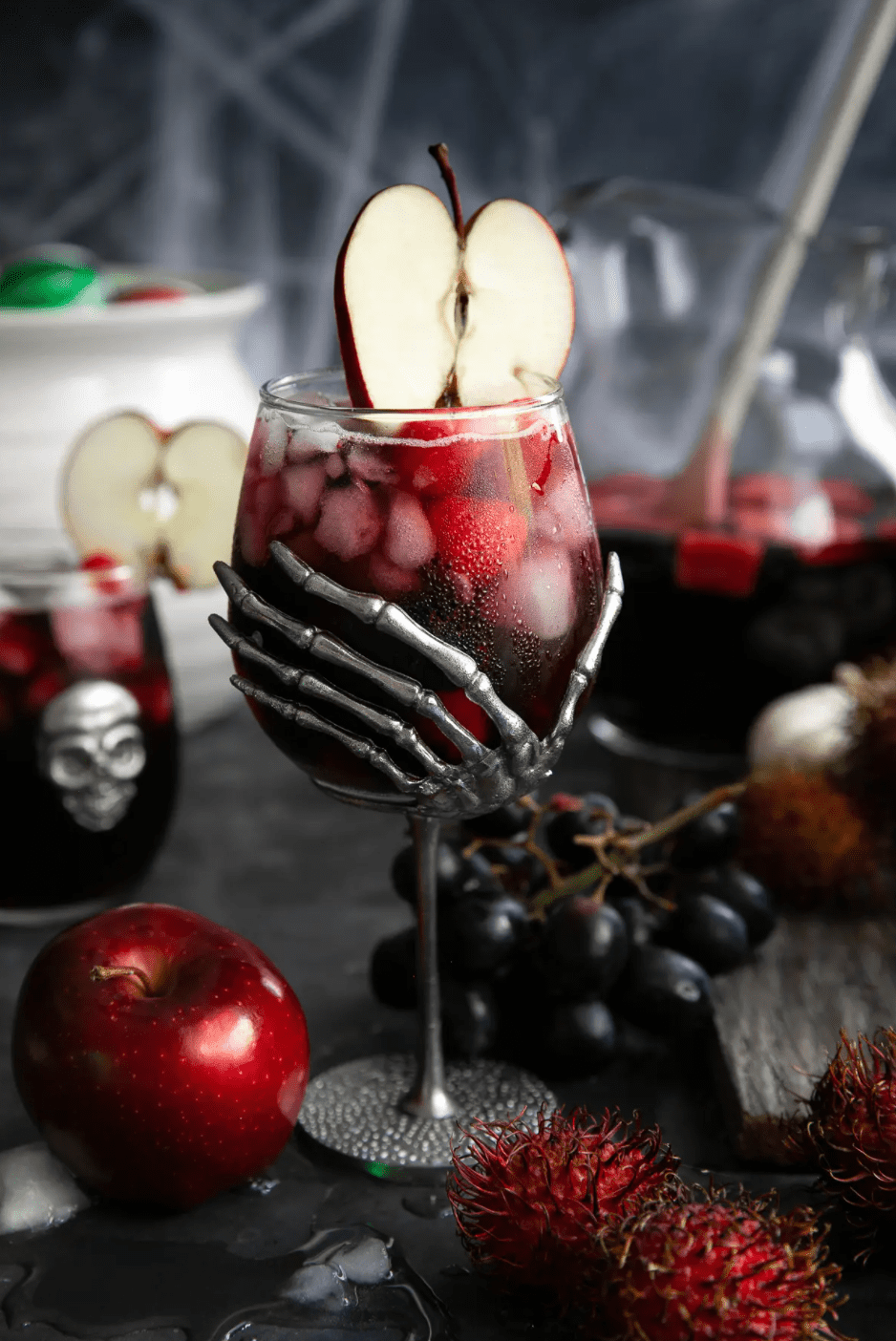 This sangria recipes is pairs perfectly with a dark and spooky night. Wasy to make and delicious to drink, this sangria recipe is customizable to meet your preferences.
🕷️If you love dark looking punch, this Blackberry Party Punch is my go-to Halloween drink!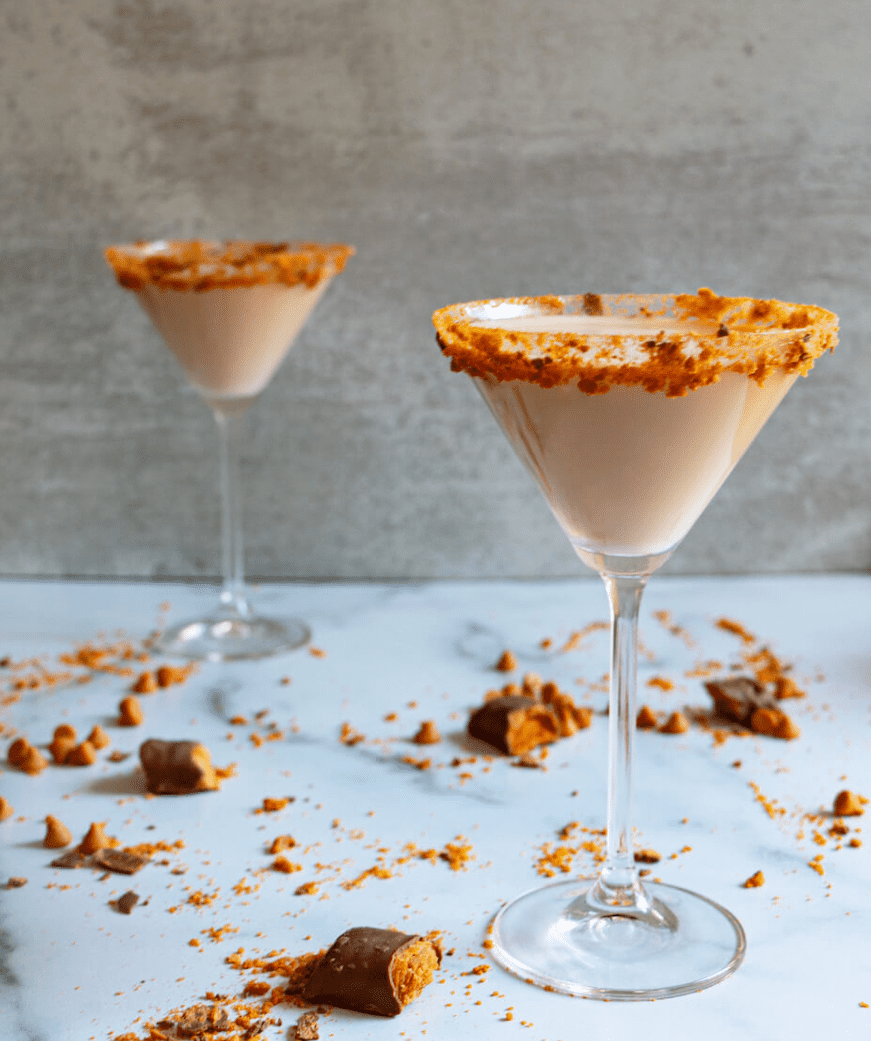 This candy inspired halloween drink is on the sweeter side. This drink can be served chilled or hot for the perfect sugar rush on the chilliest of fall days.
This monstrous margarita is sure to be a smash at your next Halloween party. Make sure to remember to rim your glass with chocolate shavings!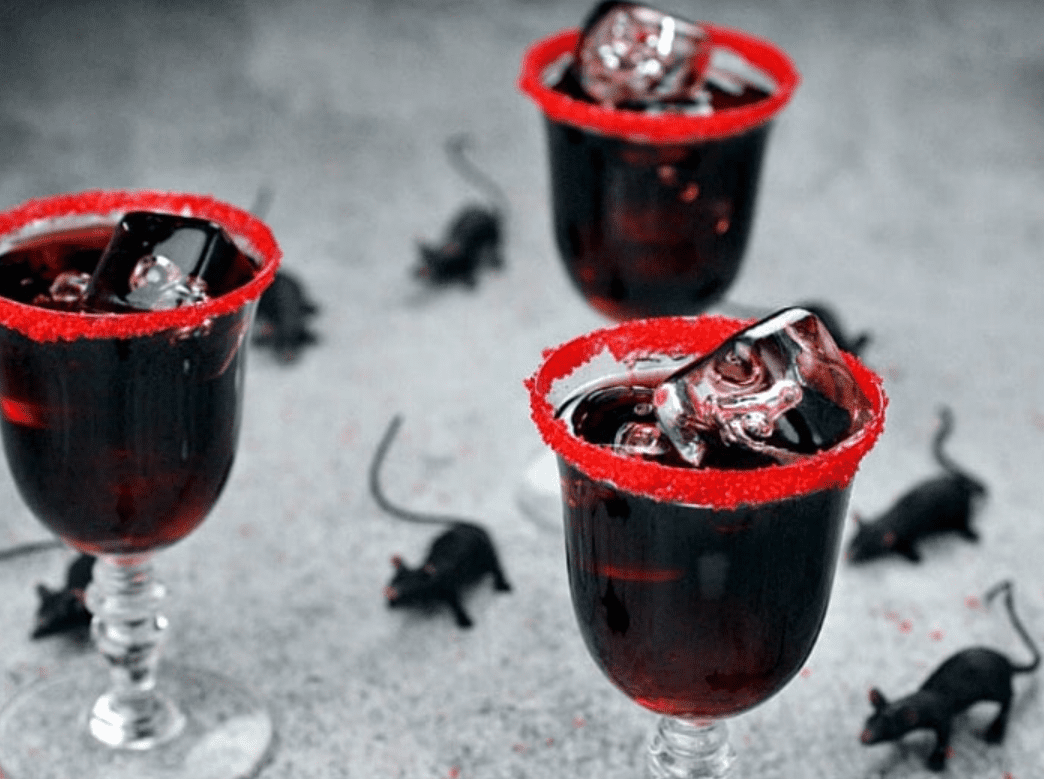 Another spooky yet sweet black cocktail. This recipe also calls for black vodka, which you can make yourself or purchase!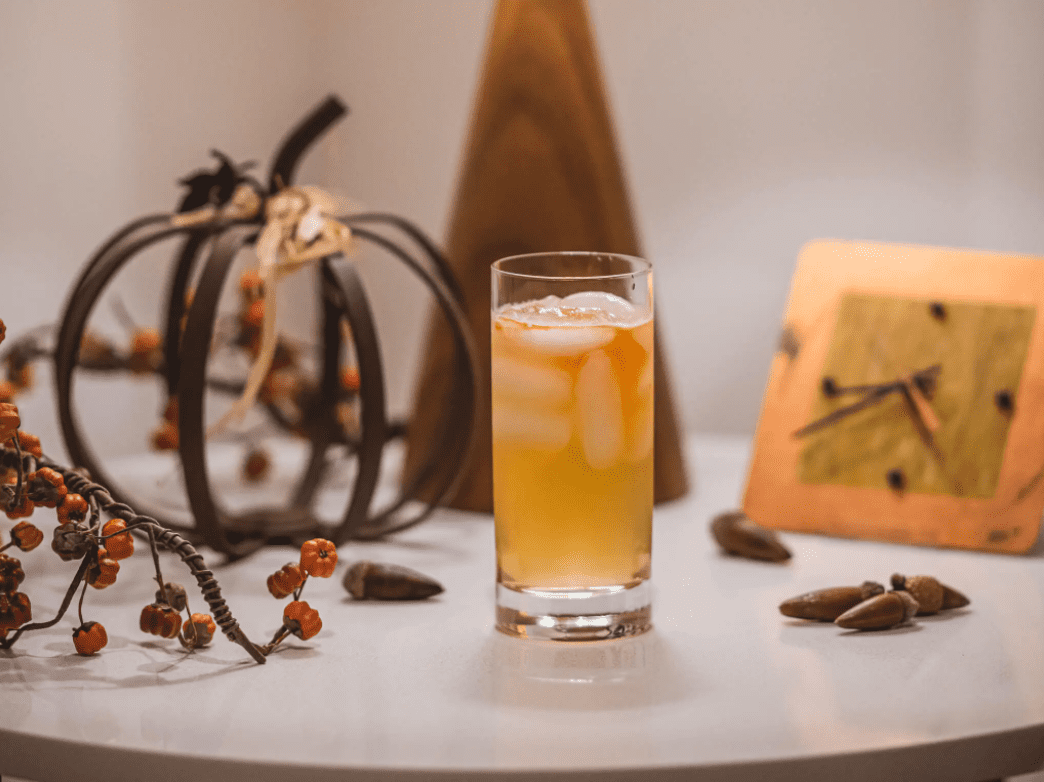 This bourbon based cocktail is the right way to start off your frightful night. The name is inspired by the rust color, similar to that of old skeleton keys. It is ideal for those who love drinks that are not so sweet. Its made with ginger beer too so it has a spicy kick!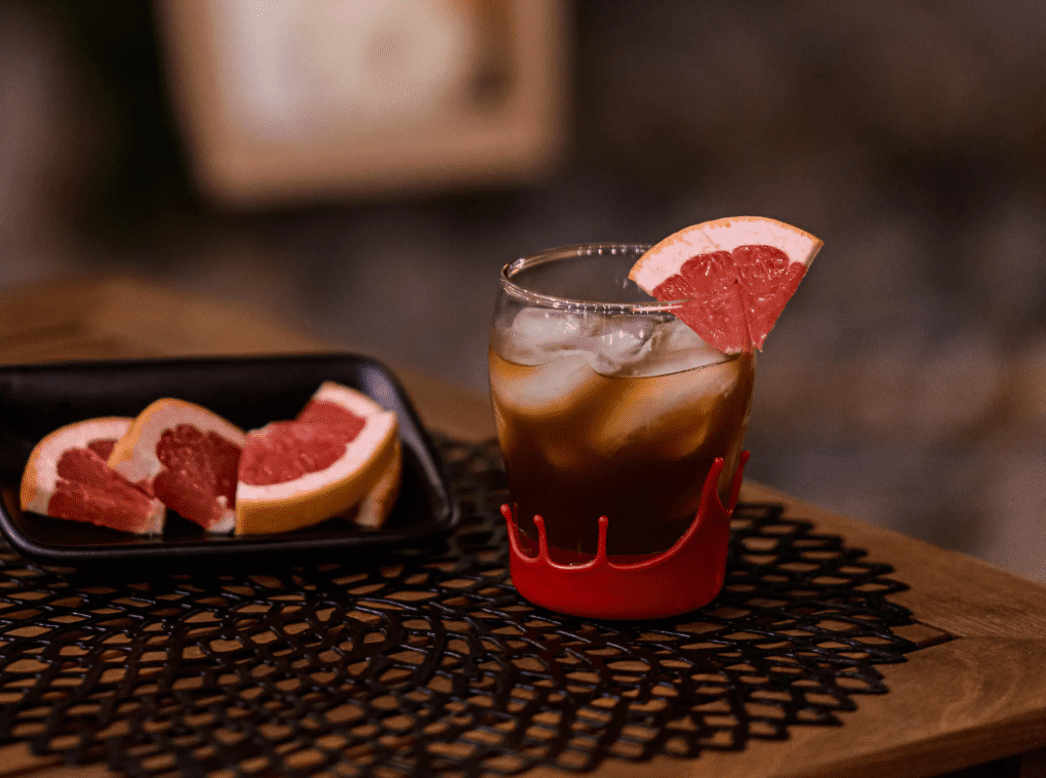 This chilling cocktail made with tequila is perfectly balanced with freshly squeezed grapefruit juice. It is dreadfully delightful and a deliciously easy drink to make for Halloween.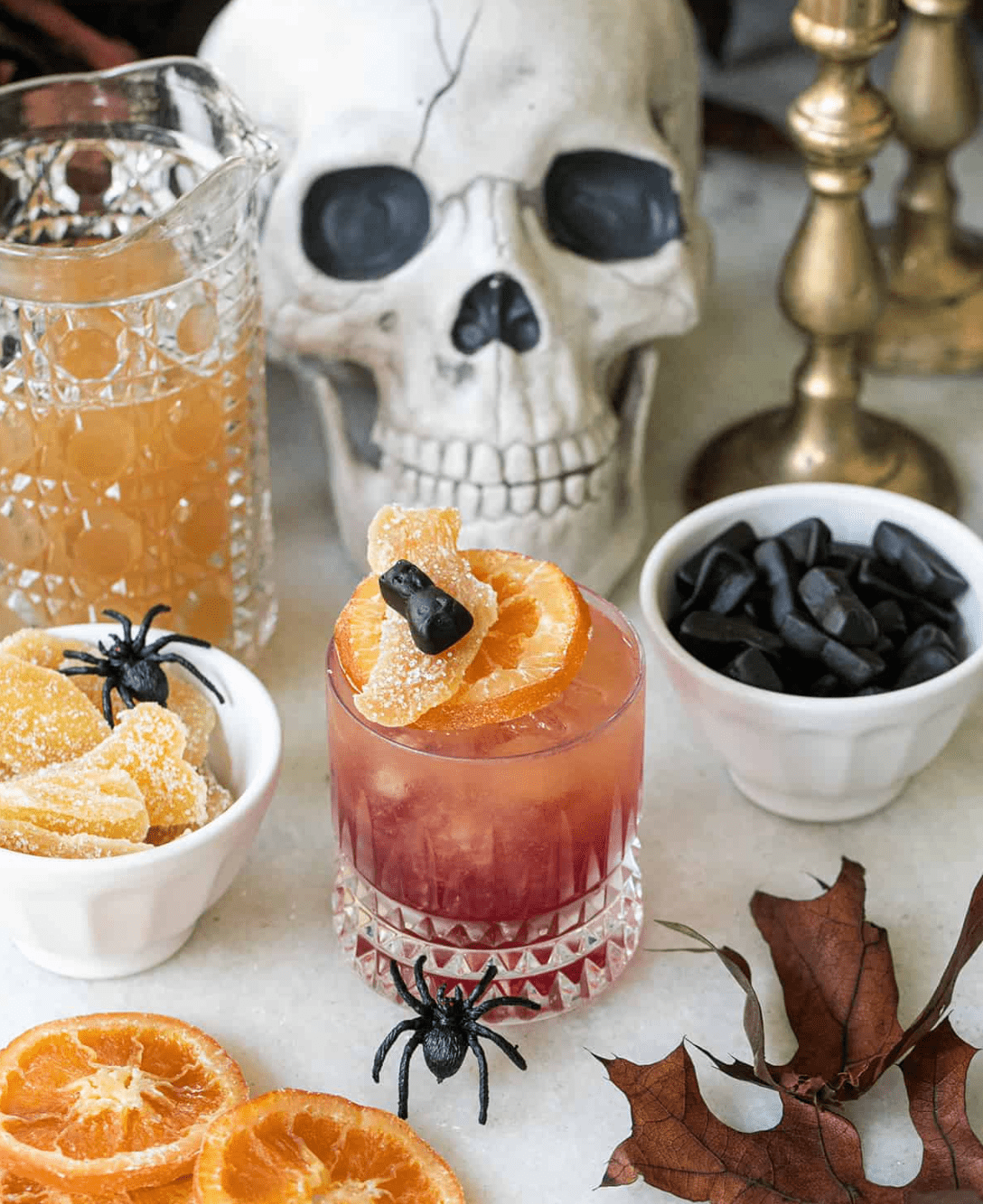 Don't be fooled by the name, this drink is anything but unpleasant. This tasty version is nothing like your typical witch's brew. Serve with these witches cauldron dessert cups!
💜If you're looking for purple hued cocktails, consider adding some Chambord or Empress gin to your shaker!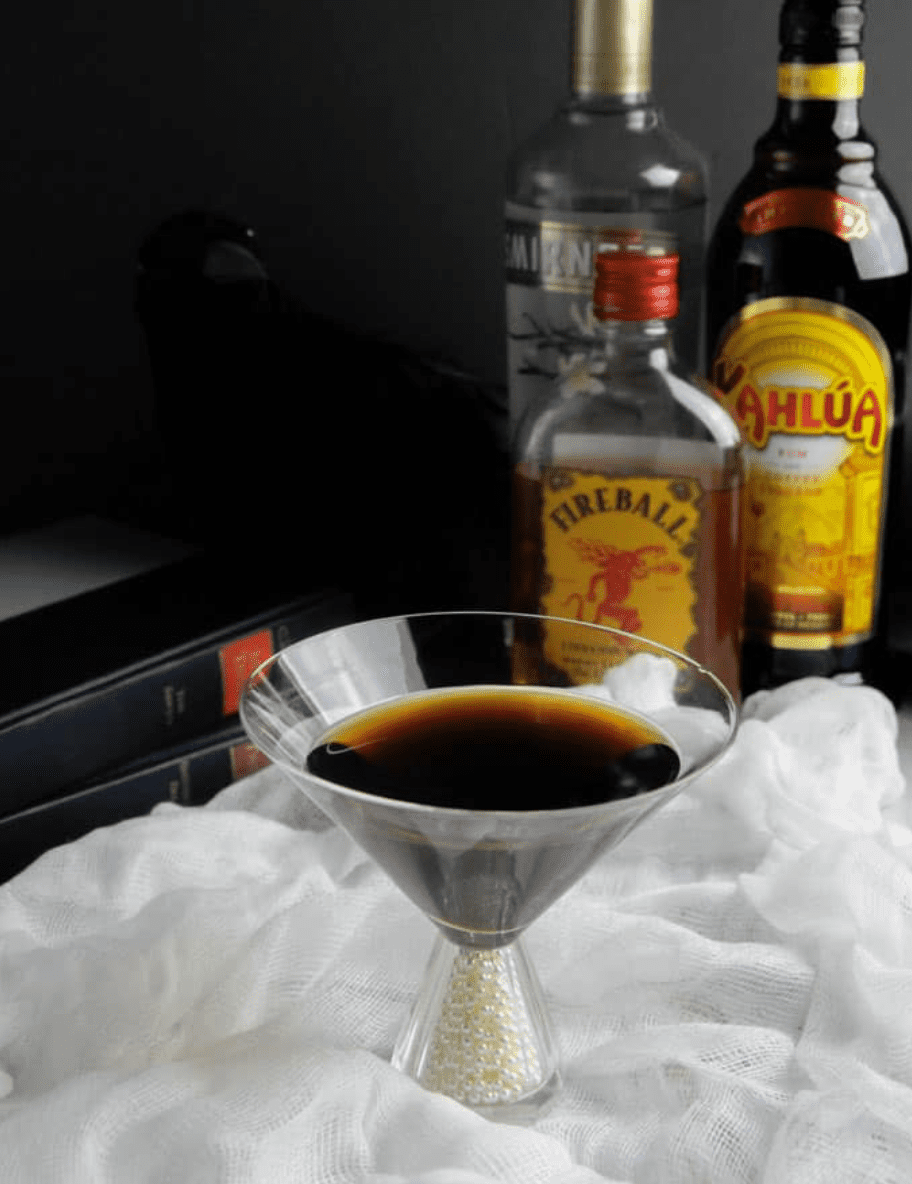 The monsters under the bed aren't the only thing going to keep you up at night. This coffee based cocktail will be sure to keep you up dancing all night long with the spooky sounds of the night.
This version of a classic is sure to be the perfect signature drink for any Halloween party. The addition of dry ice will also add to the halloween feel of spooky season. TIP* Use Empress Gin in place of regular gin to get more of a purple hue!
This cocktail is not for the faint of heart and is sure to keep you on your toes. Inspired by Tim Burton's cult favorite, this drinks packs a real punch and is a beautiful color too.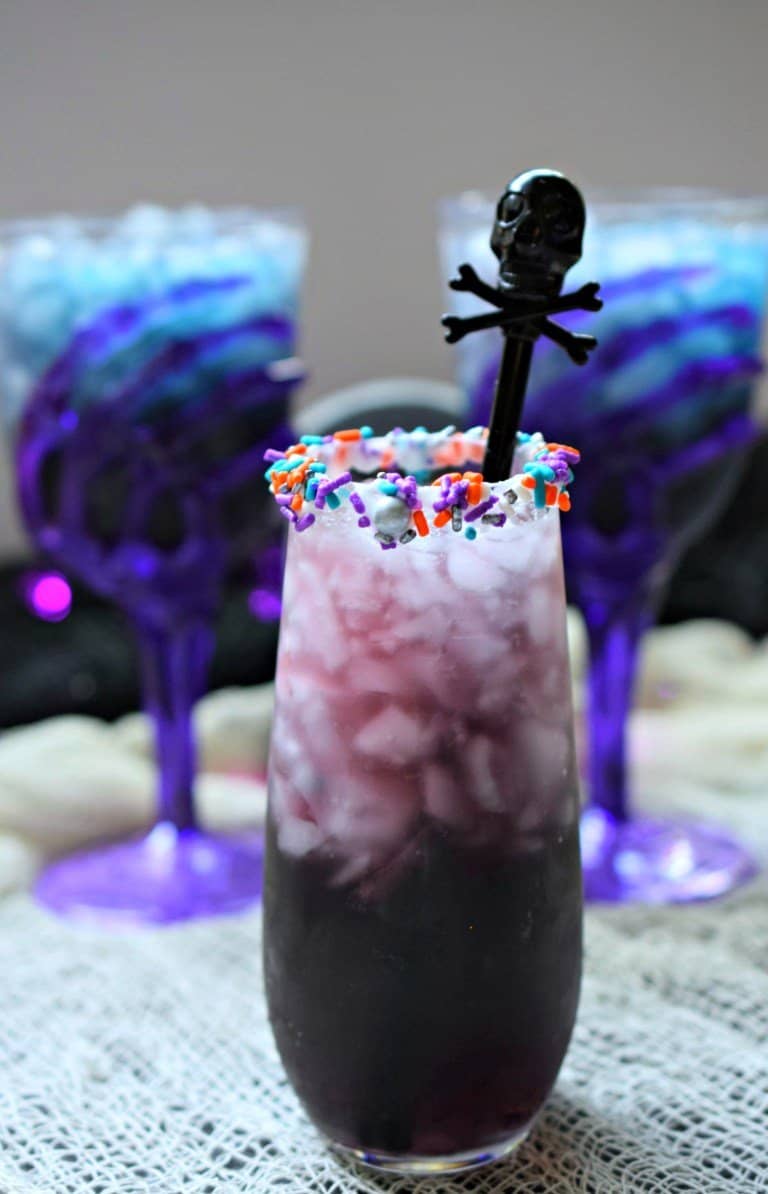 The Crypt Keeper Cocktail is a 3 ingredient beverage consisting of cranberry juice, Blue Curaçao (an orange-flavored liqueur) and vodka. The color comes from the addition of vibrant Blue Curaçao to the red cranberry juice. It becomes a fun purplish color which is great for Halloween events.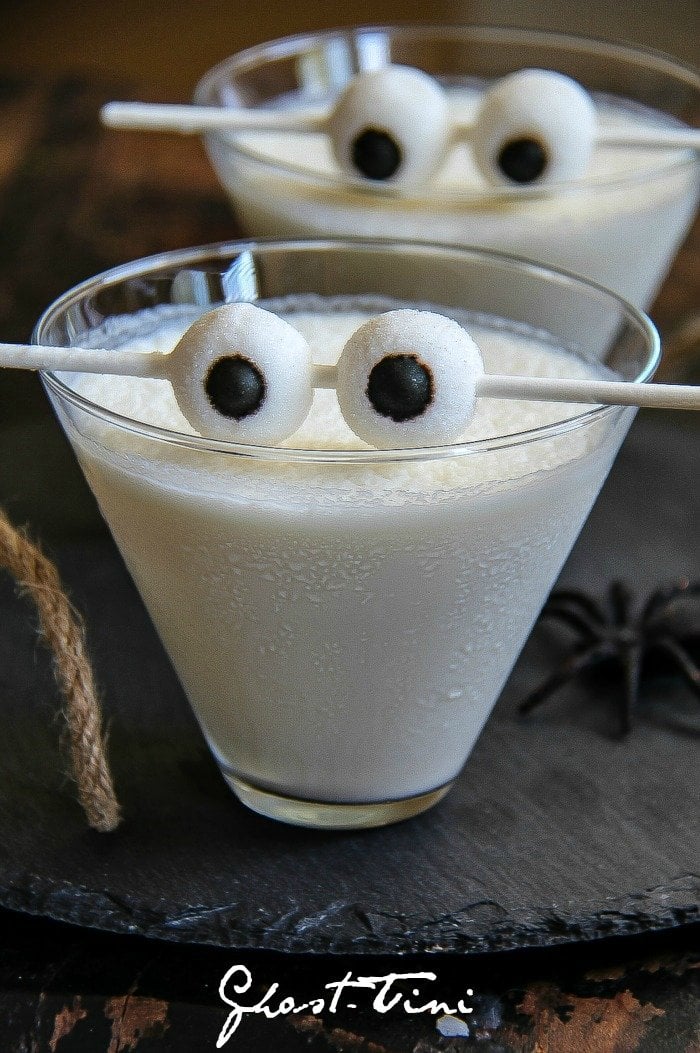 This creamy Rumchata and vodka ghost martini, (Ghost-tini) is the perfect easy Halloween cocktail for your Halloween party this year. It is fun, tasty and easy to mix up! Serve with these easy ghost cookies!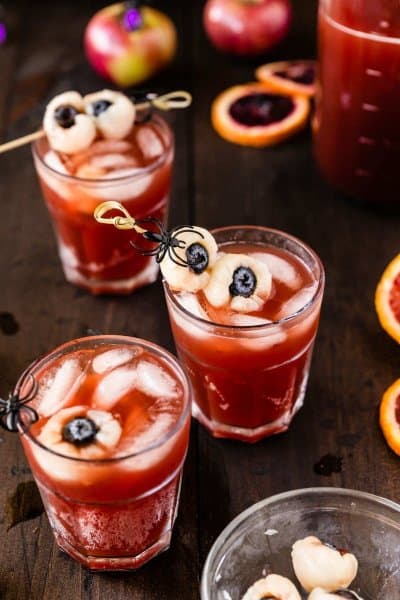 A fun punch with creepy lychee eyeballs! I intend on using the eyeballs in several spooky treats this year. It's so hard to find unprocessed Halloween recipes, but these eyeballs are SO easy, creepy and completely natural. You just need canned lychees and blueberries!
Your Halloween party guests will love when you serve them this unique spiderweb cream cocktail. Decorate their martini with a spiderweb for delicious
Halloween Cocktail Tips
Don't forget to stock up on items like fun ice cube trays, straws and orange, black or white food coloring can take your cocktails and mocktails to another spooky level!
Make sure to look out for any dry ice in your area to add another fun effect to your drinks. But use with caution! Adding sprinkles or plastic spiders to the rim of your glass is an easy way to make your drinks festive!
Have you checked out my Halloween Mocktail ideas yet?
Other Fun Halloween Treats You Should Serve
📖 Recipe
Ingredients
4

oz

vodka

4

oz

cherry juice

2

oz

lemon juice
Instructions
Rim your martini glasses with honey and dip into orange/yellow sugar. Add a mini spider to the rim. Use more honey if needed. Freeze until ready to serve.

Add all ingredients to a large cocktail shaker with lots of ice and shake well for 10-20 seconds.

Strain into martini glasses and serve!
Recipe Notes
You can use any colored sugar like purple or black if you like.