👻I LOVE Halloween! I have hosted a few Halloween parties and typically start to plan weeks ahead. The decorations are usually what take the longest but as with any party, the food and drinks are also something that should be well thought out.
So here I am FINALLY sharing with you my Halloween party ideas from the past, including decor, food, and other hosting tips to ensure your party is smooth, stress-free and extra spooky!!!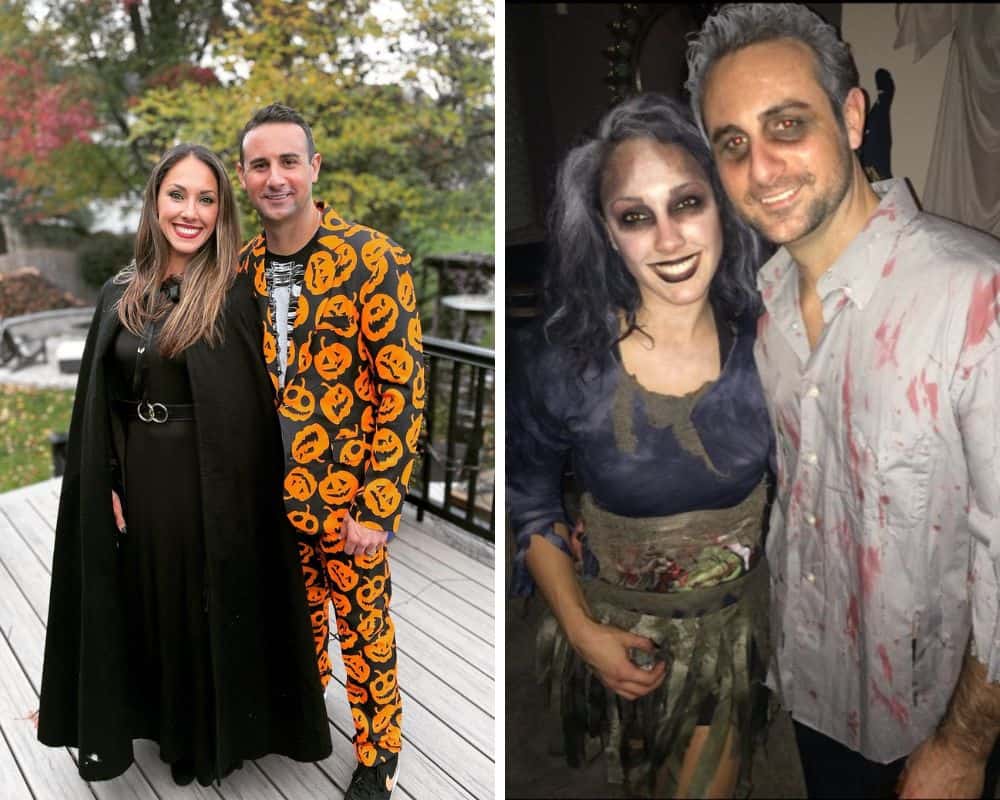 This is me and the Derek dressed up for Halloween.
He is lucky enough to have his birthday fall on Halloween so it's always a big occassion for us!
And being obsessed with both entertaining and Halloween, I of course love throwing a bash whenever we can!
So here I am going to share some photos and ideas from the Halloween parties we have thrown over the last few years.
I've made many mistakes but learned from them so I feel an obigation to share those with you.
Because no matter if you're planning a fancy cocktail party, wine tasting party or a surprise party, you need to plan properly WEEKS in advance.
The worst thing to do is to scurry around last minute. This only leads to added stress and usually spending MORE money since your options are limited and you're typically desperate.
So grab a pencil and paper and let's plan the best Halloween bash ever!!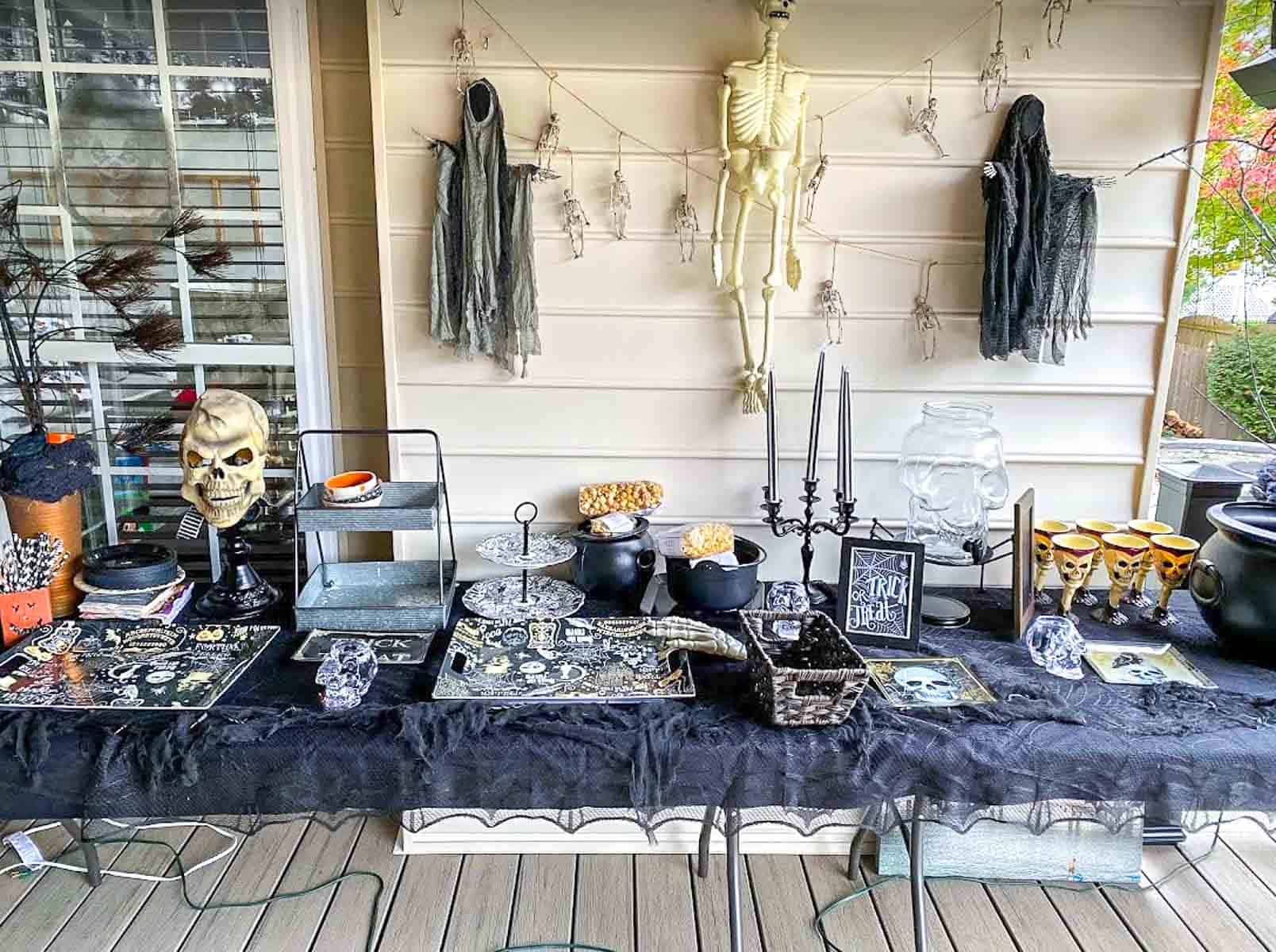 👻The Decorations
The decorations take the most time and effort so it's important to start setting them up AT LEAST 2 weeks ahead of time.
Think about whether you're going to buy or DIY your own decorations or do a combination of both. (If you are "doing it yourself", you may need more than 2 weeks.)
Start with the outdoor decorations. You can't host a Halloween party and have no decorations outside! They can be put up super early and will not be in the way.
A little goes a long way if done right.
I always think proper lighting makes everything 100 times better.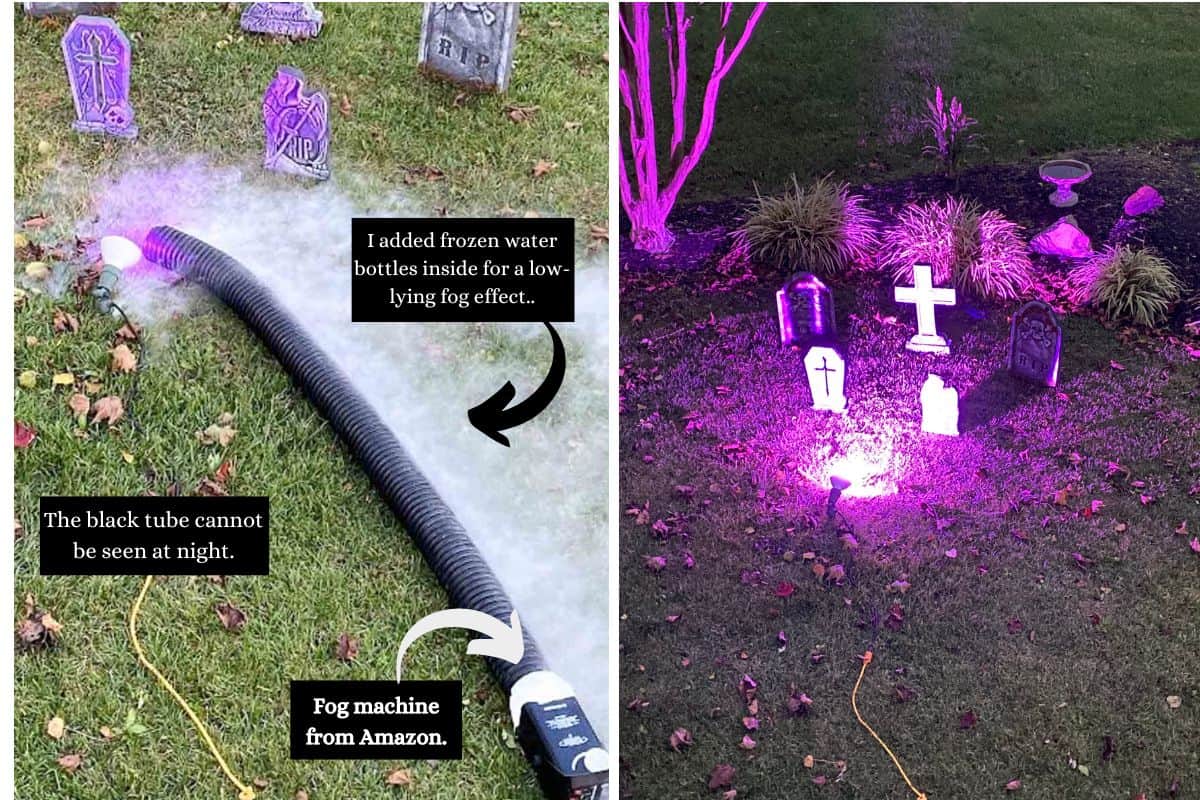 Add 2-4 of these uplights or spotlights to the front of your home and shine them directly on the house or, better yet, onto a mini graveyard.
Add a fog machine for an extra spooky effect! They are inexpensive and fun!
Make sure to look for purple, orange or green light bulbs so you can stick to the Halloween theme!
Next, add some of these flying ghosts in one or two trees. I added them last year and they were inexpensive and easy to hang!
Next, focus on the entryway! These are the items I recommend adding:
halloween wreath (with lights to match)
purple and orange mums for a chic look (which can double for Thanksgiving decor)
light up jack-o-lanterns- make your own or purchase some and plug them in.
pumpkins- all kinds! White and lighter colored ones will keep things chic.
bails of hay- top with lots of pumpkins or a scarecrow
spider webs - super cheap and can go a long way
large mummy/witch/ghost/skeleton/zombie- these can be propped in a chair or outside hanging! All are great options.
Focus on this area as it is where you're guests will feel the most excited to enter your party. Don't forget to place a sign on the door or one on the ground that says, "Walk Right In If You Dare" or something cute. This way, you won't have to man the door and they won't have to wait for you.
🕯️Floating Candles
These are always a favorite and something I reuse every single year.
I made these DIY ones over 6 years ago for my very first Halloween party. (I had no kids at the time so I had a bit more time on my hands.)
See the Instagram reel showing how I make them!
I love how big they are and how they sit upright straight. You can purchase these floating candles from Amazon if you want to save time!
🎶Music
I mention this second because that's how important it is.
I started making my Halloween playlist in Spotify weeks ahead. Every time I was driving, I would listen for music to add. Some of the classics like Monster Mash and Thriller are a MUST. I also added some oldies and new hits for a fun mix.
👻➡️Save this Spotify Halloween playlist!!
This allows you to hit play and not worry about a song bringing down the vibe, stopping, or worse, being inappropriate. Keep it classy.
Another note* Make sure you have music where you want people to gather. If you want people spread around the house, consider setting up two speakers. Ask a friend to borrow an Alexa and sync them so they can play around the house. This will also encourage people to mingle!
Parties where everyone is huddled in one room is not a good one.
Lastly, make sure it's loud enough. The music sets the vibe period. 
🍾Drinks
The drinks are the next important thing. Is it more important than food?
YES!
Because most people do not arrive at a party starving. (Most people at least.) They arrive are expecting a drink...a good one.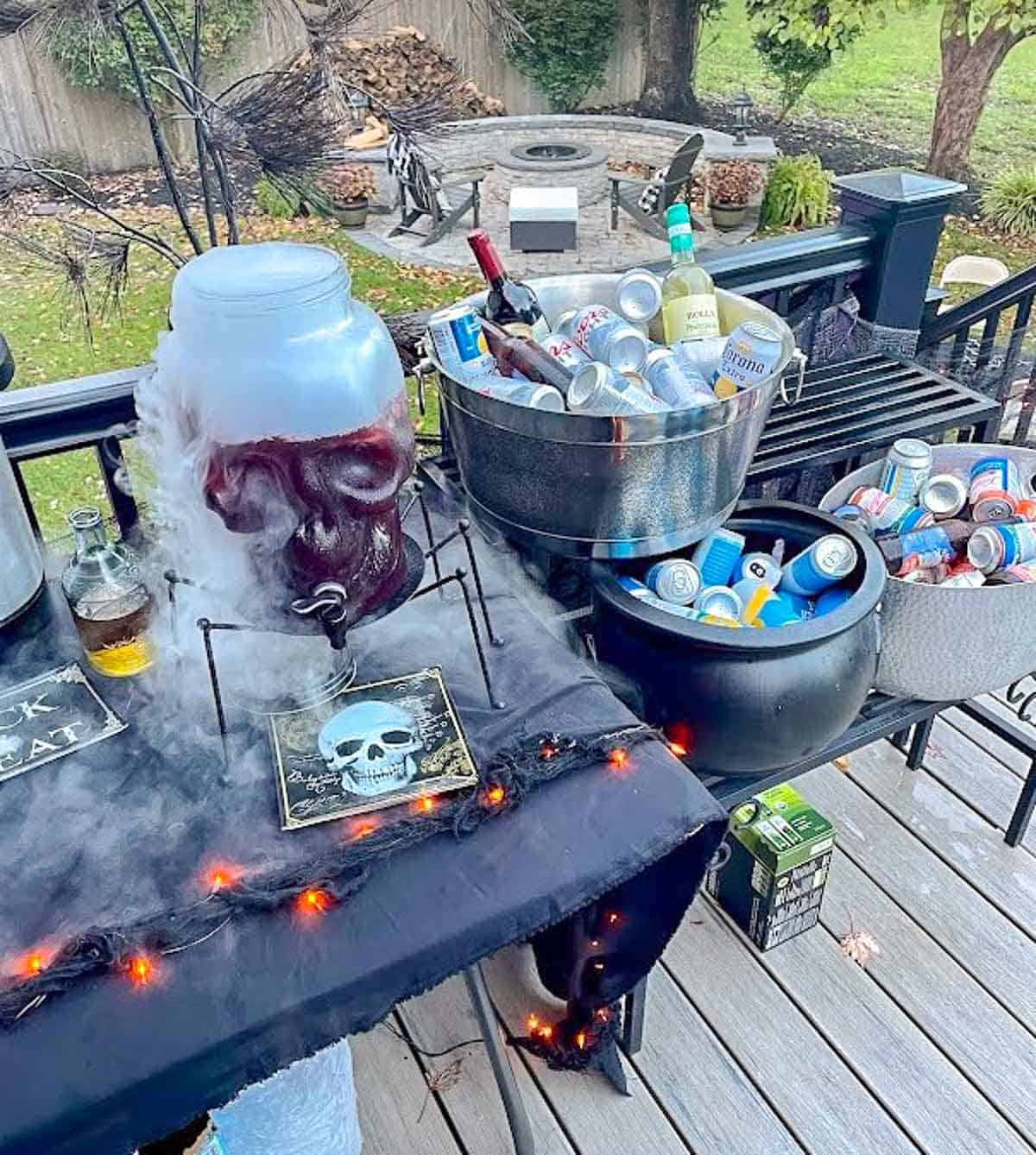 Low Key Drink Options:
I recommend having 2-3 tubs/coolers of ice filled with the most common drink selections. You can't go wrong with the following:
🎃at least two types of beer, (preferrably one seasonal like a pumpkin one, and one light beer)
🎃a few hard seltzers (since they are very popular)
🎃sodas (opt for the mini cans to limit waste)
🎃juice (or juice boxes for kids)
🎃water (sparkling/tonic and flavored water like La Croix)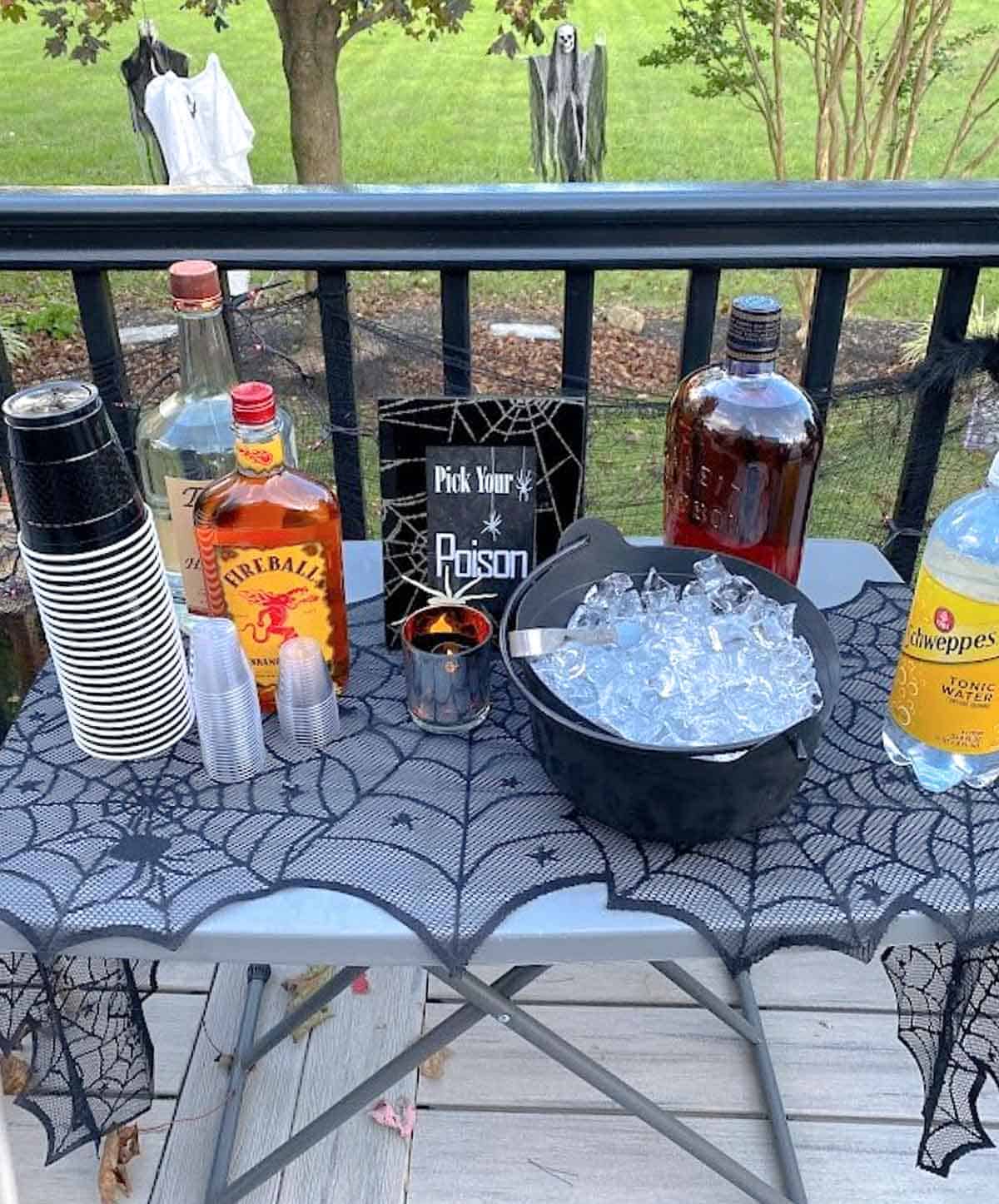 Fancier Drink Options:
Wine is a must especially if you are not planning on serving any other drinks. I suggest having a bottle of red and white at the very least. Assume guests will have 1-3 glasses each.
Champagne is an awesome addition if you want to be extra fancy. Add some of this blackberry syrup to syringes and you have a fun and tasty bubbly drink!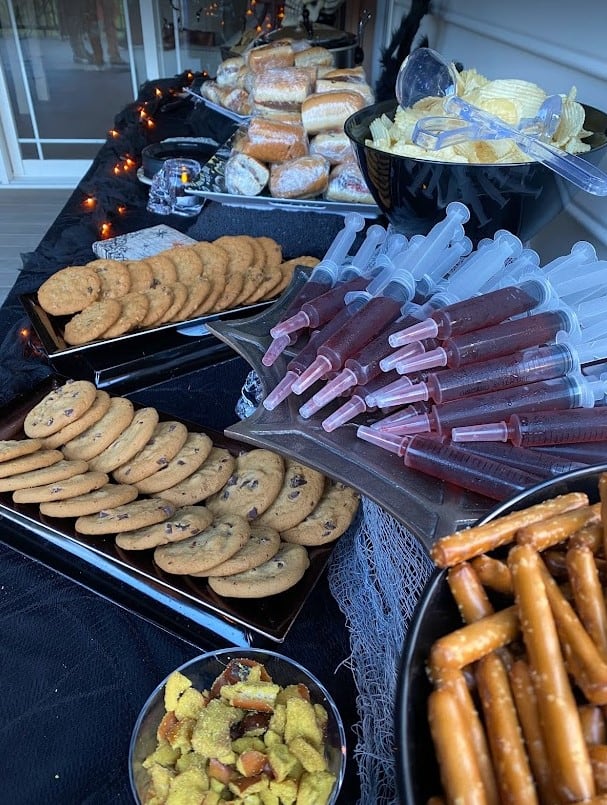 Mixology Drink Options:
Lastly, if you are feeling mixologist-y, and REALLY want to wow your guests, mix up a spooky drink!
You can add it to a large punch bowl, large cauldron, or a festive drink pitcher for guests to help themselves.
The drinks I made at last year's party:
➡️Black martini- this s what I added to the skull pitcher with DRY ICE (see photos). It was a show stopper.
➡️Pumpkin Pie Martini (w/ Rumchata)- I actually served this up as shooters!
➡️Halloween Party Punch- make it and forget about it. Guests can serve themselves!
➡️Monkey Brain Shot- this couldn't be creepier! Guests will love it!
➡️Jello shot syringes- These were gone faster than I thought! I should have made more!!
But remember, if you are on a tight budget, wine, beer and seltzers are expected. Take advantage when guests ask, "what can I bring?". The store is an easy stop for them on the way to the party!
🍡Food
Food is the next item that abbsolutely cannot be winged last minute. But remember that if you choose to go big with the drinks, go EASY with the food. And vice versa!
A mistake I made my first Halloween party and I was running around like a chicken with it's head off. I ended up burning myself from a sauce I made as guests were arriving...
I knew right then and there, I messed up by trying to take on too much. Trust me, no one will enjoy the party more just because you MADE all the food.
If you serve store-bought favorites or have food catered, everyone will have just as much fun!!
With that said, I usually mix it up and prepare 1 or 2 items myself. The rest, I buy from the grocery store.
🧾Here is the menu from last year's Halloween party:
Primos Bada Bing Sandwiches- If you know Primos, you know....If not, they are so delicious. They're made with fried eggplant, roasted peppers and broccoli rabe and lots of garlic. Provolone is optional! I made them the day before, cut them in half, and wrapped them each in saran wrap. Then I pulled them out of the fridge 30 minutes before guests arrived.
Pumpkin Soup- Soup is my favorite thing to serve at a party especially if it's cold out. Make it 1-2 days prior and serve it warm in a crock pot! So delicious and so easy.
Snacks- I will usually buy mini snack bags like chips, doritos, pretzel, etc. from Costco so everyone can help themselves without dunking their hands into the same snack bowl. Something about that skeeves me out. Plus, they won't go stale!
🍧Dessert
I made these mini sin cake cups the day before. (See below). They are made with boxed chocolate cake mix, reese cups, pudding, and whipped cream.
These dessert cups are amazing and so easy. They just take some time to assemble but once done, they make for a neat, easy to eat dessert that people absolutely go crazy over.
Sin Cake Cup Ingredients:
-Betty Crocker Dark Chocolate Cake Mix
-Cool Whip
-Instant Chocolate Pudding
-Reeses Cups
How To: Just bake the cake according to instructions and once cooled, break it up with your hands. Mix together the cool whip and pudding. Layer the cake, mousse and reeses cups pieces as desired!
The cups come with lids too so I set the dessert cups out on our grill (since I ran out of table space) and lit it up with orange lights and creepy cloth!
If they weren't enjoyed at the party, I encouraged guests to take some on their way out to enjoy on the way home or the next day! They will last up to 3-4 days chilled!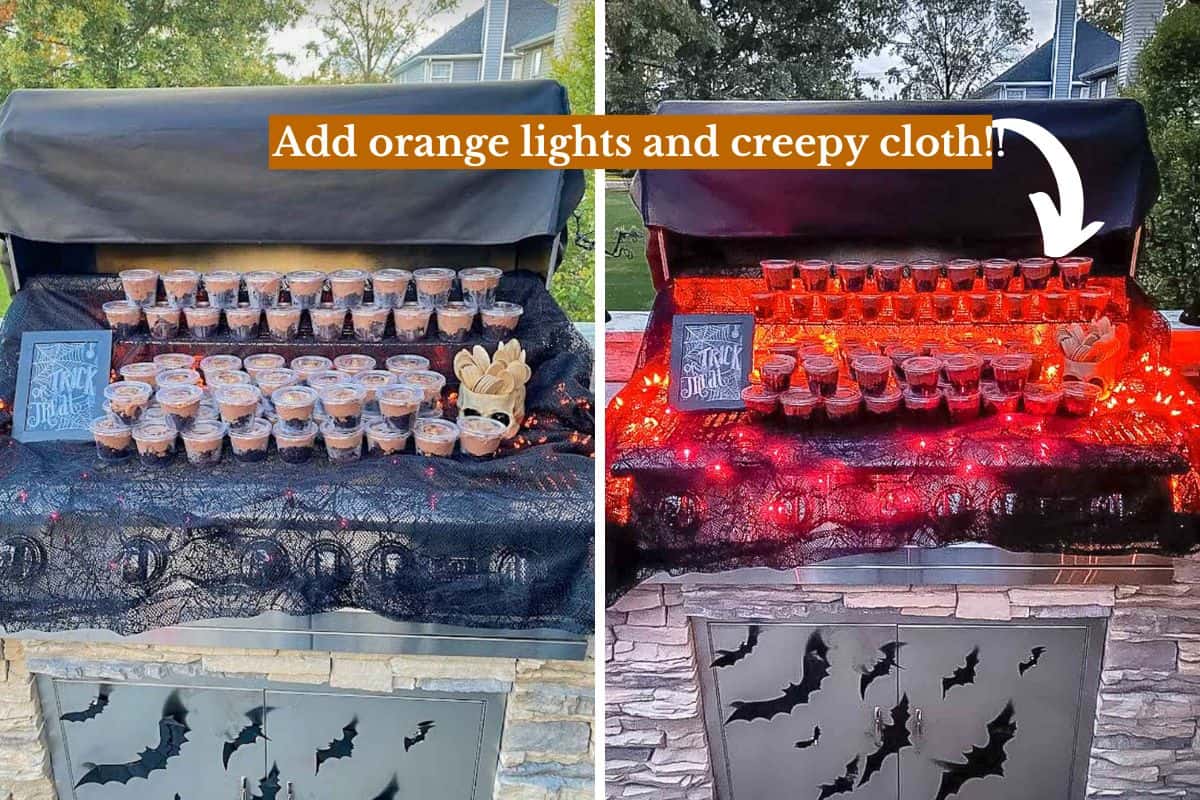 🦇Other Decor Ideas
Don't hold back on your bathroom decorations! It's one place you know people will see so make it spooky and fun.
Add some cob webs, fake spiders, bloody handprints and cheap spooky pictures.
I swapped out a few light bulbs too for purple ones!
I also added a spooky little girl who "walks around" and talks. She was amazing and scared the crap out of guests. It's like this one here.
📩Invitations
Determine what you want the vibe to be like. Spooky? Fun? Casual? Classy?
The invitations set the vibe so use them to inform your guests of what to expect!
I ordered mine off of Etsy! They were customized and all I had to do was drop them off in mailboxes!
We went with an adults only party and kept it spooky. The theme was "Boos and Booze" so everyone knew it was more of a cocktail party rather than dinner.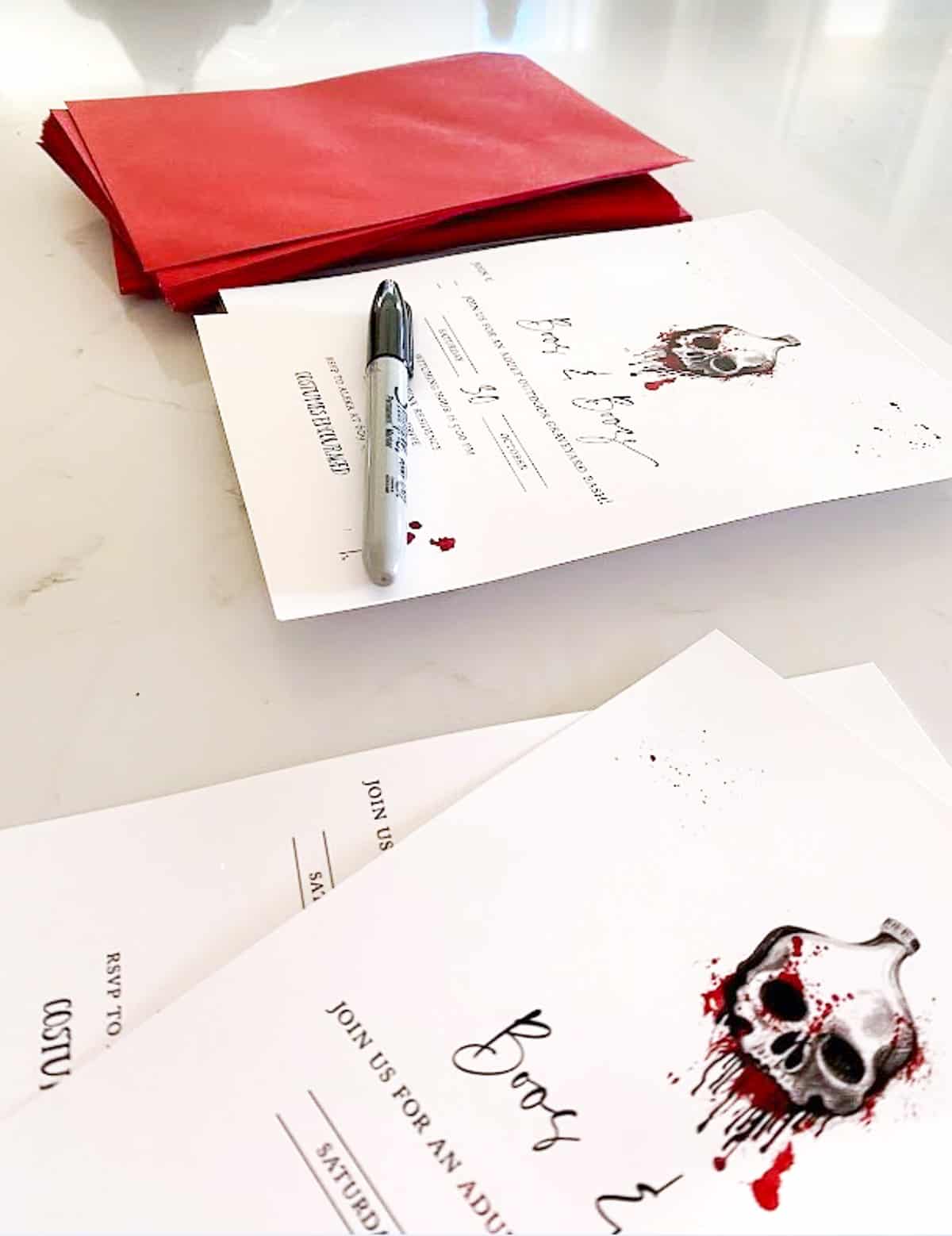 Notice I also put "Costumes Encouraged" at the bottom. That made sure everyone arrived dressed for the occasion!
Final Halloween Party Tips
I could talk for hours about this but I am not going to do that to you.
If you would like to know more about what I did or have questions about what food to serve, drop a comment below and I will make sure to get back to you soon!
Other Recipes You Will Love!