"Trick or Treat! Give me something good to eat"- like this delightfully spooky Halloween Charcuterie Board! Filled with all sorts of goodies from creamy cheeses and cured meats to a ghost inspired yogurt dip finished with crawling with spooky spiders and even a large friendly skeleton!
In this post, I'll share how to take a standard charcuterie board and turn it into a ghoulishly tasty Halloween themed appetizer spread that will satisfy a crowd for this year's Halloween Costume Party or day of trick-or-treating!
I am happy to share that I partnered with Dairy Council of Florida to bring you this deliciously spooky board!
Do you love Halloween as much as I do??
From choosing costumes, to taking my kids trick-or-treating, to (my favorite part) decorating my house, I love all aspects of this spooky holiday!
Combining my love for Halloween and my job as a food blogger specializing in recipes for entertaining, I couldn't help but create a spooky Halloween themed charcuterie board for you.
It's a delicious and nutritious family friendly appetizer or snack that's just as much fun to assemble as it is to serve!
It's family friendly so make it either for this year's Halloween party or just as a fun snack board to pick at before trick-or-treating! Skip the candy and finish off then night with this Kid's Halloween Milkshake Bar!
My favorite part of this spooky board are the little details such as a coffin shaped brie slice, to the "bloody" cheese knives, to the creepy crawling spiders.
Both kids and adults alike will absolutely love grazing on this hauntingly good appetizer.
👻Finish off the night with a few Halloween themed desserts like these Spooky Chocolate Spiders, Ghost Cookies, or Chocolate Marshmallow Cauldrons.
What Makes This Spooky Board So Awesome!
It will serve at least 8 guests
Fun for both kids and adults
It's very versatile! (you can really add anything you like that's in the color scheme)
You can make it "scary" spooky or "cute" spooky
There's something for everyone to enjoy on it
It has both sweet and savory items
🧀
Best Cheeses To Use
On my Halloween charcuterie board I used brie cheese, to make a spooky coffin, string cheese to make these cute little ghosts and a good sharp white cheddar.
But know the cheese options are endless.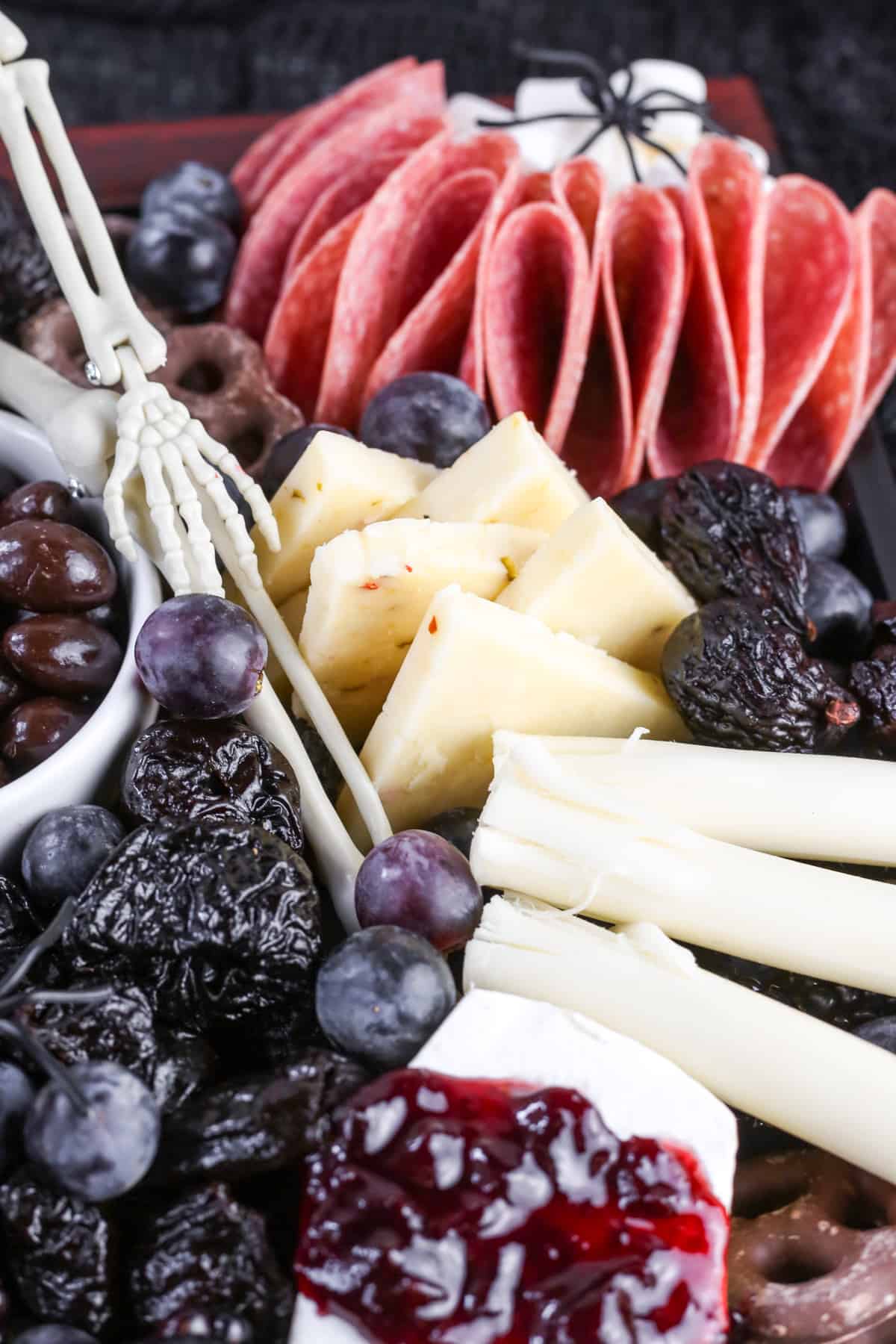 Tip* A cute way to serve the cheese on your board is to cut slices of them and then cut into shapes with Halloween themed cookie cutters.
Hard:
Parmesan

Romano

Gouda

Cheddar (orange OR white)
Semi-Soft:
Reblochon

Pepper Jack

Limberger (Fair Warning: This has a VERY pungent aroma)

Fontina

Stilton

Halloumi
Soft:
⚰️
How To Cut A Coffin Shape Out Of Brie
Look for a pre-sliced large wedge of brie from the food store.

With a sharp knife, cut the pointed tip of the wedge off as well as the two corners of the side like in the photo.

Square off the sides as needed to really get that coffin shape, then place on your board and serve

.
For added effect, pour cherry preserves over the top and stick a cheese knife in it to play up the spookiness. Add fake spiders to finish it off.
🍖
What Kind Of Meats Should I Add?
You can really add any you like however I prefer to stick with the basics because I know that most people like them and will eat them.
Here's a few of my favorite options:
Prosciutto

Sopressata

Capicola

Mortadella

Pepperoni

Chorizo
What Are The Best Spreads To Add?
For this Halloween themed board I added Tzatziki sauce and cherry preserves. Depending on what meats and cheeses you serve, you may want to switch them up. Here's some more great dips and spreads to add:
Hot honey

Salsa

Strawberry or blueberry jam

Red pepper jelly

Pumpkin jam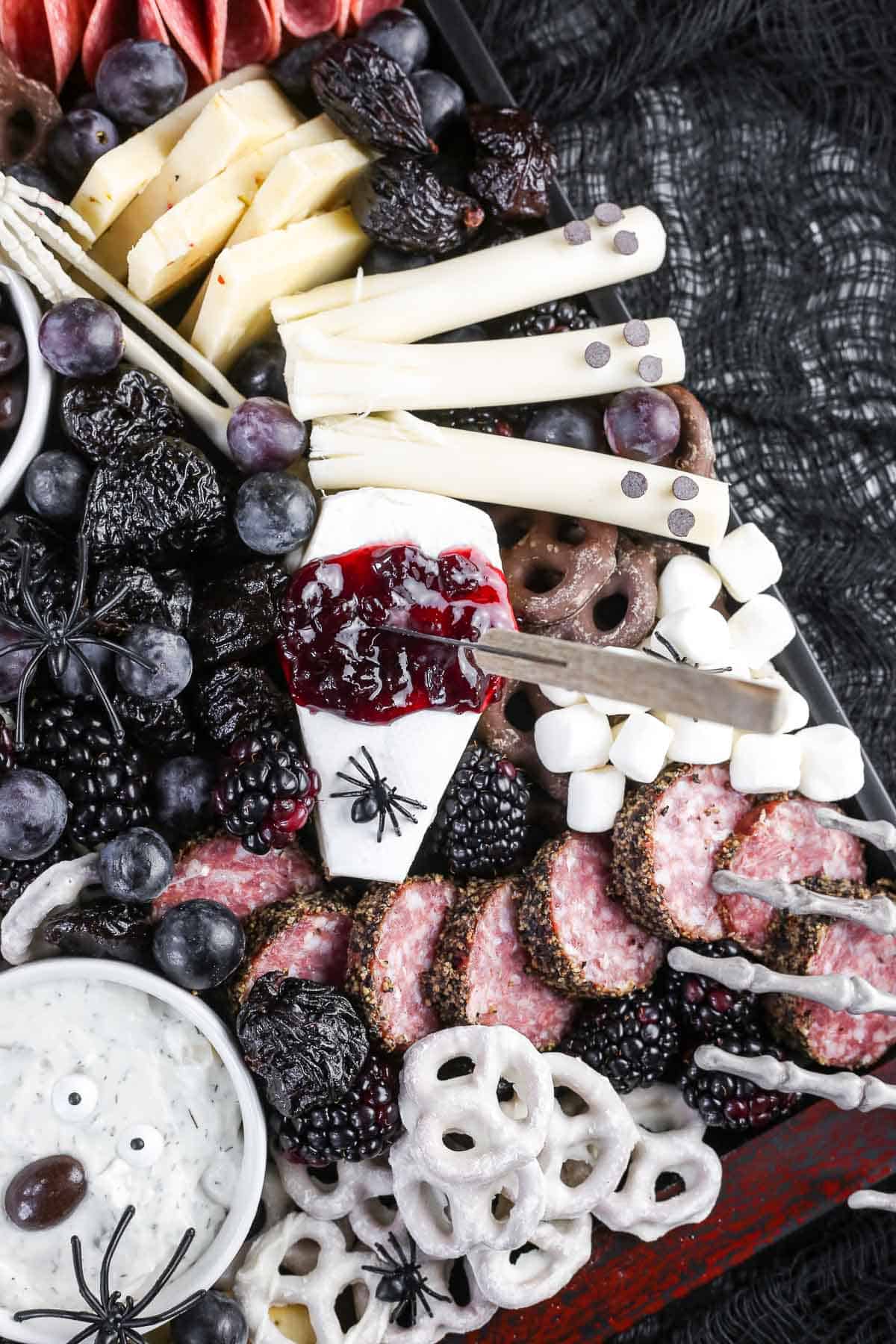 Spookier Charcuterie Board Extras
I used a few of these to add variety and texture to my Halloween themed board. You don't have to add them all, pick and choose what would be appropriate for your guests.
🟣⚫ Just keep the color scheme! Aim for WHITE, DARK PURPLES, and BLACK colors.
Chocolate covered raisins

Butter

/

Club crackers

Dried or fresh plums

/prunes/figs

Blackberries

Olives

Cornichons

Pomegranates

Nuts/Candied Pecans

Raisins

Dried cranberries

Ghost marshmallow Peeps
Spooky Props I Used On My Board
The trick to serving a sensationally spooky charcuterie board is the decorations.
A few tastefully placed candy eyeballs or creepy crawly spiders can make your board go from "eh" to WOW!
🕷️Here's a list of my favorite decoration ideas:
Gummy worms

Mini pumpkins

Mini cauldrons (for serving dips or adding nuts)
I also used this creepy cloth. If you have something similar at home, or something black, that would be fine too!
Check out these other helpful charcuterie board accessories.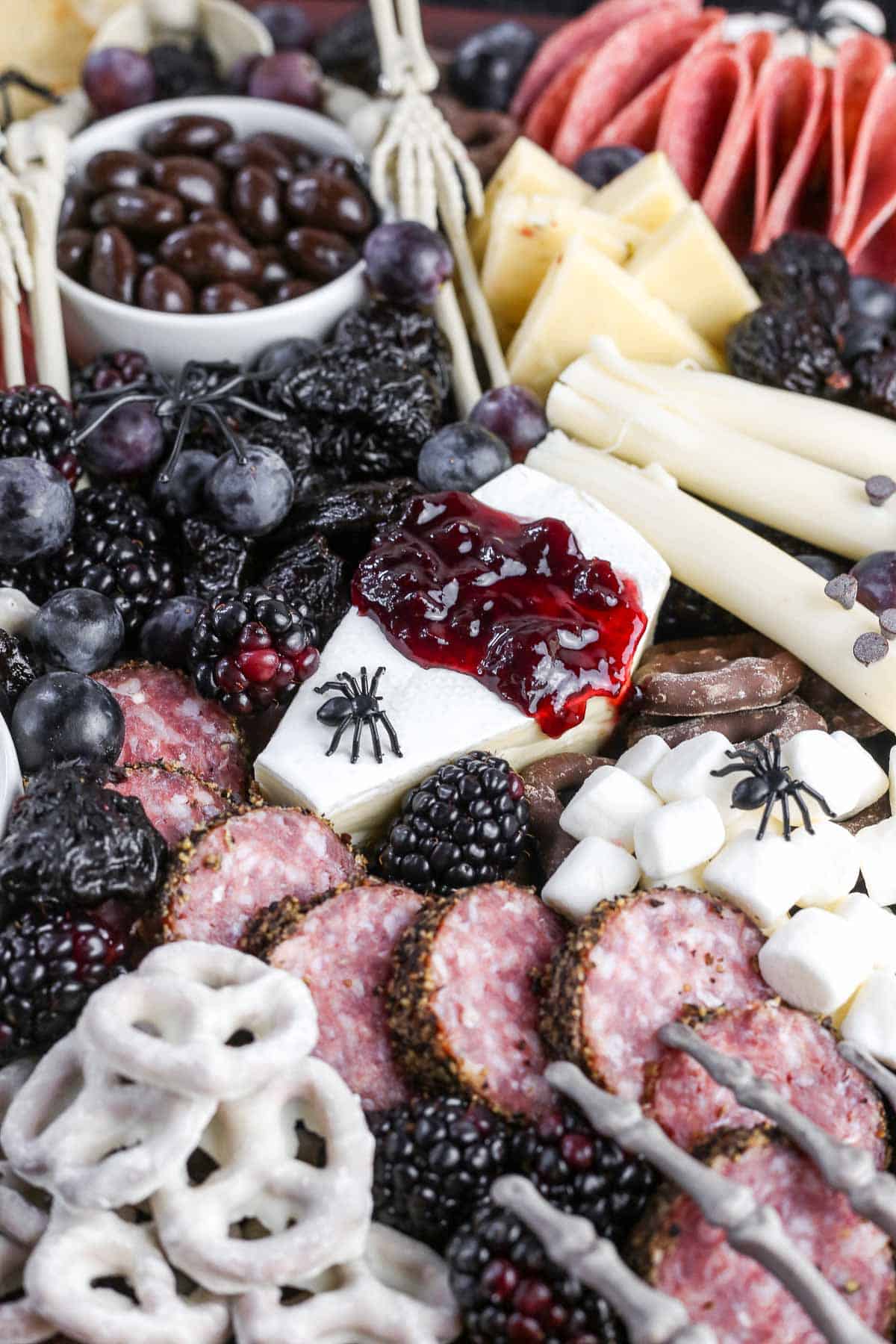 How Much Food Do I Need To Serve On My Charcuterie Board?
When making a charcuterie board for a party it's always better to have too much than too little. If you're serving charcuterie alongside other party appetizers, like Halloween Brain Dip or Halloween Chex Mix, I wouldn't worry too much about serving sizes because your guests can fill up on the other snacks.
Here's the general serving suggestions per person when it comes to charcuterie boards.
Cheeses: 2 ounces per person
Meats: 4 slices per person
Fruit: 2 ounces per person
Nuts: 1-2 ounces per person
Spreads: 2 tablespoons per person
Crackers: 6-8 per person
👻Charcuterie Board Platter Options
To start, you're going to want to choose a serving tray or board to build your Halloween themed charcuterie board on. When making your choice, be sure to pick an appropriate size for the number of guests you'll be serving.
For the most spine-tingling presentation, I really like a dark wood or black tray to serve mine on. This one from Amazon is the one I use, and it's always perfect for my parties.
You could also use one like this coffin shaped tray or this smaller slate platter! Aim for one that's at least 12" x 12" inches.
The more guests you are expecting, the larger your board should be. Read about how to determine appetizer portions per person.
Making Your Board In Advance
You can assemble this board a few hours OR the night before!
Just keep a few things in mind:
Breads and crackers are best added the day of the party.
Covering the entire board with saran wrap tightly will keep the cheese from hardening and meats from drying out.
Cover the dip or jams separately.
Wait to add the "bloody" preserves over the coffin until the day off.
More Deliciously Spooky Halloween Recipes
Halloween Cocktails To Serve
📖 Recipe
Ingredients
20-30

crackers

(any lighter colored round ones)

10-12

oz.

cheddar cheese, cut into right triangles

10

oz.

chocolate covered almonds

8

oz.

dried prunes

8

oz.

dried black figs

14

oz.

dark chocolate covered pretzels

14

oz.

yogurt pretzels

5-7

oz.

salami, sliced

(thinly sliced)

½

cup

mini marshmallows

12-14

oz.

tzatziki sauce

(store-bought)

6-8

string cheese

18-24

mini chocolate chips

((for the cheese stick ghost))

½-1

cup

blackberries

1-2

cups

black grapes

1

triangle wedge

brie cheese

(triangle cut into coffin like in photo)

2

tablespoon

cherry preserves

(for bloody brie coffin)
Instructions
There is no right or wrong way to assemble a charcuterie board. The idea here, is to keep the ingredients dark and spooky. Stick to the color scheme.

The size and shape of your board will affect how you assemble it.

Use my photos above as inspiration and a guide but always build your board to your liking!
Recipe Notes
Portion Sizes:
Cheeses: 2 ounces per person
Meats: 4 slices per person
Fruit: 2 ounces per person
Nuts: 1-2 ounces per person
Spreads: 2 tablespoons per person
Crackers: 6-8 per person
Other ingredients to add to your board:
Chocolate/yogurt covered raisins
Butter crackers
Olives
Cornichons
Pomegranates
Any nuts/candied nuts
Raisins/dried cranberries
Ghost marshmallow Peeps
Nutrition
Calories:
1096
kcal
|
Carbohydrates:
163
g
|
Protein:
35
g
|
Fat:
40
g
|
Saturated Fat:
15
g
|
Polyunsaturated Fat:
4
g
|
Monounsaturated Fat:
11
g
|
Trans Fat:
0.1
g
|
Cholesterol:
68
mg
|
Sodium:
1292
mg
|
Potassium:
1099
mg
|
Fiber:
15
g
|
Sugar:
55
g
|
Vitamin A:
770
IU
|
Vitamin C:
4
mg
|
Calcium:
475
mg
|
Iron:
5
mg