Fall is HERE which means Black Margaritas are sliding into the spotlight just in time for Halloween! This black margarita is spooky but classy, questionable but delicious and one that needs to be on your Halloween cocktail menu this October!
I am obsessed with Halloween. I usually throw some type of Halloween bash every year. So if you are throwing a Halloween party too, check out my spooky food and decor ideas!
This black cocktail is like my black martini. If you DON'T want to purchase the charcoal, you can see how I made my martini black using food coloring in that post!
Ingredients
Tequila- Any silver tequila works.
Orange liqueur (such as triple sec or Cointreau)- this adds a delicios orange flavor to your margarita.
Freshly squeezed lime juice- freshly squeezed is a must.
Agave or simple syrup- This is to sweeten your margarita and can be adjusted to your liking.
Activated charcoal powder or black food coloring- This is what makes a black margarita so BLACK.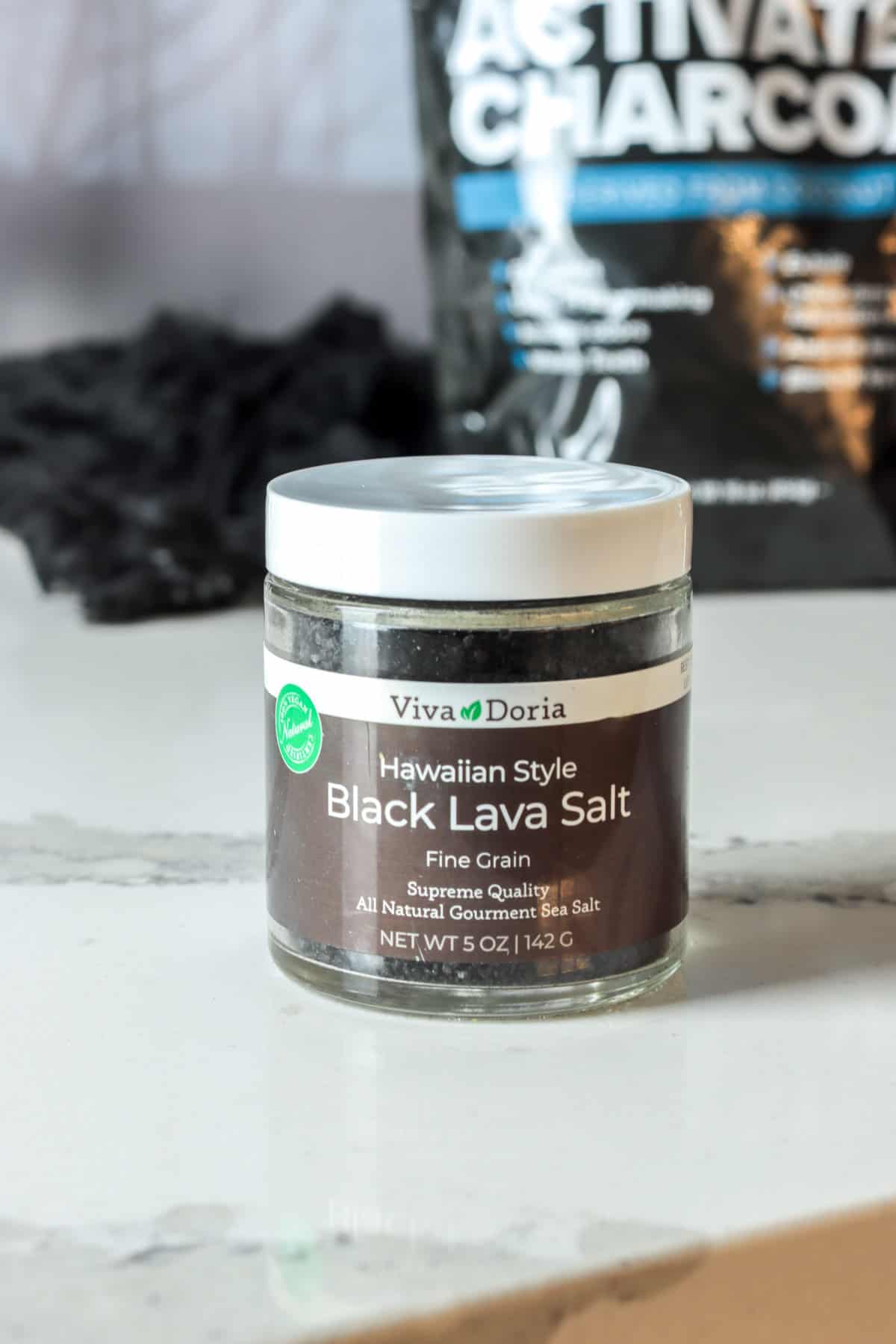 Activated Charcoal
Activated charcoal is what is used to get black cocktails SUPER black!
Activated charcoal is a highly porous form of carbon that has been processed to have a large surface area, making it effective for adsorbing and trapping a wide range of chemicals, toxins, and impurities.
It is commonly used in medicine for poisoning treatment and in various consumer products like water filters and skincare products for its ability to purify and cleanse.
It's completely safe to consume and in this case, works like a charm in obtaining the black color we desire around Halloween!
Note* It's important to use food-grade activated charcoal when making black margaritas, and be cautious with the amount you add, as a little goes a long way in terms of color. The activated charcoal should not significantly affect the flavor of the margarita.
You can purchase the one I use off of Amazon here...
Black Lava Salt
Black lava salt, also known as Hawaiian black lava salt, is a type of sea salt infused with activated charcoal or volcanic black lava, resulting in its dark color and complex, earthy flavor.
Typically coarse in texture, it has a mild saltiness, is a little smoky, and has minerals, making it a popular finishing salt like for rimming a margarita.
What Tequila Is Best For Margaritas?
When it comes to making margaritas, it's best to use a good-quality, 100% agave tequila. The choice between blanco (silver), reposado, or añejo tequila depends on your personal preference and the flavor profile you want for your margarita.
Here's a breakdown of the types of tequila and their suitability for margaritas:
Blanco (Silver) Tequila: This is an unaged tequila, known for its pure, clean agave flavor and a slight peppery kick. It works well in classic margaritas and allows the citrus and sweetness to shine. It's a popular choice for margaritas, especially if you want a crisp and refreshing drink!

Reposado Tequila: Reposado tequila has a distinct flavor profile that sets it apart. It is aged in oak barrels which gives it a smoky flavor that people love or hate.

Añejo tequila is more oaky with notes of vanilla, caramel, baking spices, and dried fruit. I

t can also be used in specialty margaritas for a more complex and sophisticated margarita.
Ultimately, the choice of tequila for your margarita depends on your taste preferences and the style of margarita you want to create. For a classic margarita, blanco tequila is a safe and popular choice. If you're feeling adventurous, you can experiment with reposado or añejo tequila to see how their unique flavors complement your margarita recipe. 
Can You Taste The Activated Charcoal?
Activated charcoal itself is typically tasteless and odorless when used in small amounts, so it should not have a noticeable flavor impact in this cocktail. Its purpose is to provide a deep black color for presentation purposes.
When used in a recipe like a black margarita or a black food dish, the activated charcoal is usually mixed with other ingredients, like alcohol, citrus juices, or sweeteners, which will dominate the flavor profile.
Other Halloween Recipes
📖 Recipe
Spooky Black Margarita
This black margarita is made with activated charcoal to give it its deep black color. It's a deliciously spooky cocktail that is perfect for serving at your Halloween bash this year!
Print
Pin
Rate
Ingredients
2

oz.

Tequila Blanco

(White Tequila)

1 ½

oz.

Cointreau or Triple Sec

1

oz.

Freshly squeezed lime juice

(*about 1 lime)

½

ounce

Agave syrup

(*Optional)

¼

teaspoon

Activated Charcoal Powder

honey + black lava salt for the rim
Instructions
Dip the rim of your glass into honey and then dip into margarita salt or black lava salt. Place in freezer until ready to serve.

Add lime juice, Cointreau, agave, tequila and activated charcoal to a cocktail shaker filled with ice. Shake vigorously for 20-30 seconds.

Pour the margarita into a 4-6 oz. margarita glass filled with ice (preferably crushed). Garnish with lime/orange wedge and serve!
Recipe Notes
Note* It's important to use food-grade activated charcoal when making black margaritas, and be cautious with the amount you add, as a little goes a long way in terms of color. The activated charcoal should not significantly affect the flavor of the margarita.
This is the charcoal I use from Amazon.
Nutrition
Calories:
182
kcal
|
Carbohydrates:
13
g
|
Protein:
0.1
g
|
Fat:
0.1
g
|
Polyunsaturated Fat:
0.01
g
|
Sodium:
2
mg
|
Potassium:
35
mg
|
Fiber:
0.1
g
|
Sugar:
10
g
|
Vitamin A:
14
IU
|
Vitamin C:
11
mg
|
Calcium:
4
mg
|
Iron:
0.1
mg