If you love Halloween as much as me, then you will love these Spooky Chocolate Pretzel Spiders! They are kid friendly, easy to make and super tasty! Check out my other no-bake desserts.
🎃 How to throw an awesome Halloween party for adults!
This no bake fun Halloween dessert is SO simple being just a few pantry ingredients! In fact, they are so easy, I had my 3 year old son help me attach the "spider legs"! He loved helping me...probably because he enjoyed licking the chocolate off of his fingers the entire time.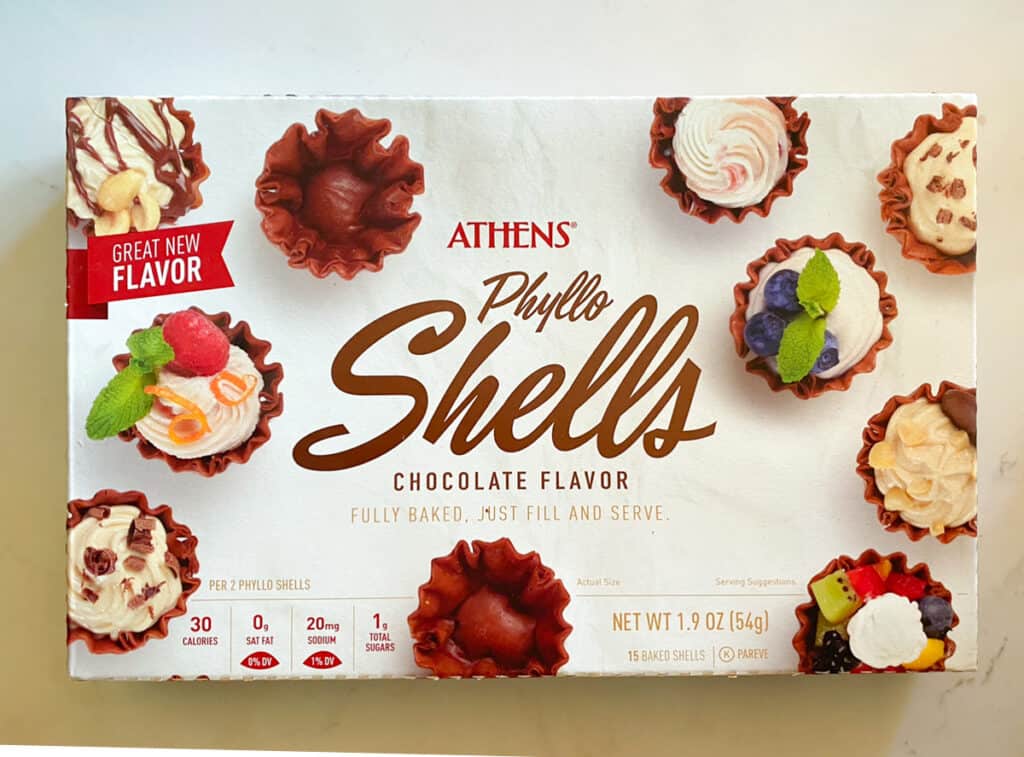 Making Your Chocolate Pretzel Spiders
These pretzel spiders are a fun and spooky chocolate dessert kids will go crazy over! They use just 4 simple ingredients!
Athens phyllo shells
Chocolate
Pretzel sticks
Candy eyes
Sea salt (optional)
The main ingredient is the phyllo shells. My go-to brand is Athens. They have three different phyllo shell flavors: plain, graham cracker and chocolate. And after making this dessert, I think I have a new favorite...CHOCOLATE!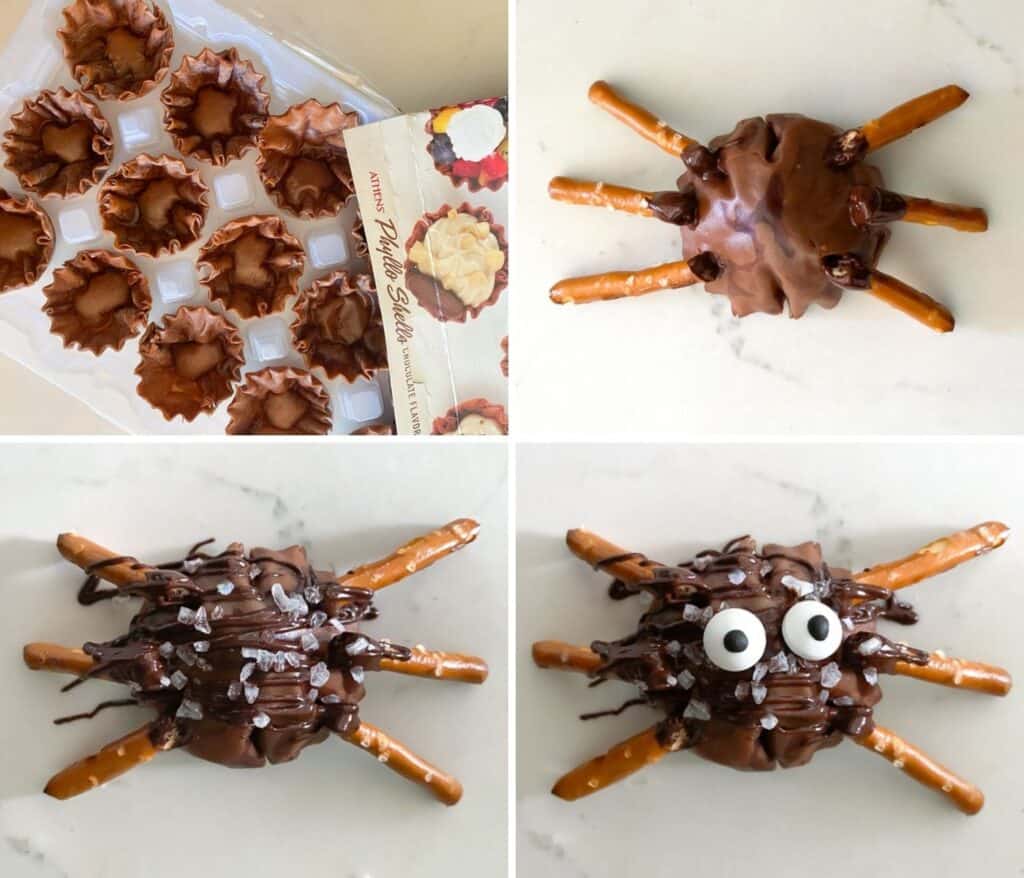 Where to find chocolate phyllo shells
You can find Athens phyllo shells in the freezer section of your grocery store. They are packaged in boxes of 15 adorable mini "cups". My favorite thing about their phyllo shells is that are prebaked! That allows you to turn any dessert you want into a quick but impressive dessert.
They can also be stored in the freezer for months and then defrosted in no time for a quick sweet treat like this one. Grab a few packages and store them in the freezer. You never know when you'll need them!
Check out my Easy Gingerbread Cannoli Cups which use their gingerbread flavored shells!
Assembling the legs
For my pretzel spiders, I did not put anything inside the shells. Instead, I flipped them over and used the shell as the spider's body. Then I used pretzel sticks for the legs and attached them with some melted chocolate.
To give this dessert an extra chocolatey kick, I also drizzled the chocolate over top of each spider shell. This adds flavor and also helps to hold the legs in place.
Lastly, I sprinkled some coarse sea salt over top of each for a sweet and salty bite everyone will love!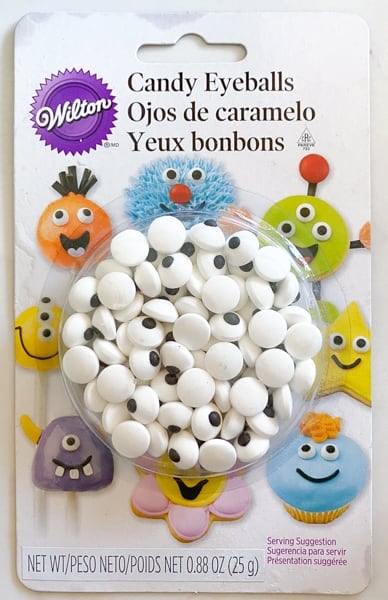 The candy eyes
The candy eyes are what make these spiders LOOK like spiders so don't leave them out! You can find them at any craft store in different shapes and sizes.
I used them for my Halloween Milkshakes too! The eyes I used are from Amazon. You can get them here.
I used a bit of chocolate to "glue" them into place. They are completely edible and super cute!
Spider Tips
I promise you this dessert is foolproof. The only thing I recommend is to assemble your spiders while on top of a baking sheet lined with parchment paper. (You can also use a nonstick mat.)
This way, when you are waiting for your chocolate to dry, you can place the entire baking sheet in the fridge or even freezer to speed up the cooling time by half!
If you assemble your spiders directly on your countertop, you will NOT be able to move them until the chocolate has completely set so keep this in mind!
Serving appetizers? Make these Halloween inspired apps!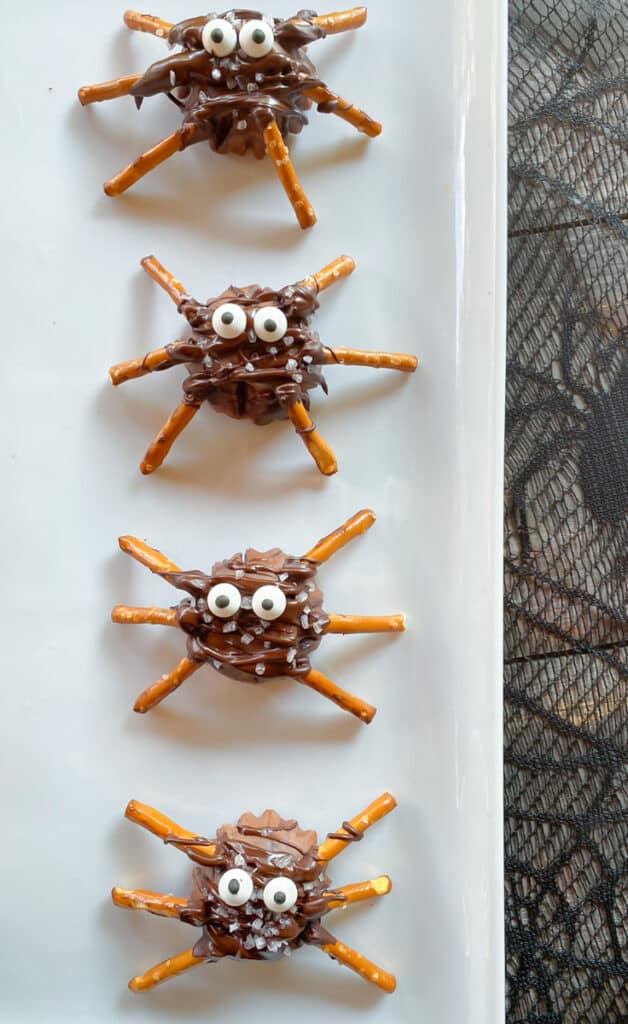 Other Halloween desserts you will love:
Pumpkin Spice Fall Chex Mix (Sweet n' Salty)
3 Ingredient Pumpkin Puree Spice Dip (With Gingersnaps)
Easy Chocolate Wafer Dipped Ghost Cookies
Chocolate Marshmallow Cauldrons
📖 Recipe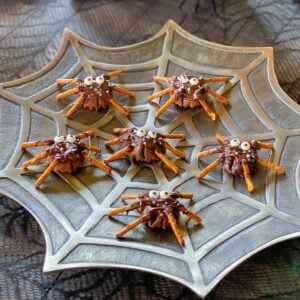 Spooky Chocolate Pretzel Spiders (No Bake)
If you love Halloween as much as me, then you will love these Spooky Phyllo Shell Spiders! They are easy to make, require NO BAKING and taste delicious too!
Print
Pin
Rate
Instructions
Turn your thawed phyllo shells upside down on a baking sheet lined with parchment paper or a silicone mat.

Place your chocolate in a small microwave-proof bowl, or mug, and heat for 30 seconds. Take out and stir well. Place it back in the microwave for 15 more seconds. Stir WELL until fully melted. If you need to pop it back in for another 15 seconds you can.

*Do not overheat or your chocolate will scorch.

We need to let our chocolate cool down so while you're waiting, break 45 pretzel sticks in half so you have 90 "legs". Also have your candy eyes ready.

After about 5 minutes, your chocolate should have thickened up a bit. Dip the end of 3 pretzel sticks into the chocolate and attach one side of your phyllo shell and repeat on other side. (You want 3 on each side of the "spider" for its legs). Repeat with the other 14 shells.

If the pretzels slide down the shell, wait a little longer for your chocolate to thicken more!

Once all your legs are on, pop the chocolate back in the microwave for another 15 seconds to heat it back up so it is smooth again. Use a small spoon to drizzle the rest of the chocolate over top of your spiders.

Finish by sprinkling the body with course sea salt (optional) and topping each shell with two candy eyes.

Do not move your spiders until the chocolate sets. This will take about 30-45 minutes.
Recipe Notes
These can be made 5-7 days in advance.
*You can place your entire baking sheet (with finished spiders on it) in the fridge or freezer to help them harden within 15 minutes.
*I recommend using dark chocolate for this recipe to help balance the sweetness.
Nutrition
Calories:
37
kcal
|
Carbohydrates:
6
g
|
Protein:
1
g
|
Fat:
2
g
|
Saturated Fat:
1
g
|
Polyunsaturated Fat:
0.02
g
|
Monounsaturated Fat:
0.01
g
|
Sodium:
492
mg
|
Potassium:
14
mg
|
Fiber:
0.1
g
|
Sugar:
2
g
|
Vitamin C:
0.03
mg
|
Calcium:
3
mg
|
Iron:
0.1
mg