It's not wonder Scooby liked his scooby snacks. A Scooby Snack Shot is one made with a few sweet liqueurs and creamy whipped cream. It's pretty green hue and tropical taste makes it hard to resist just one! I bet Shaggy would agree.
🎶"Scooby Dooby Doo, where are you?"🎶
I'll tell you where he is...He's sipping on one of these scooby snack shots! 🤣
If you've never had a scooby snacks shot, you're missing out! It's such a FUN and delicious drink to serve guests at your next get-together.
It's one of those shots that everyone will enjoy whether they are a straight shooter or not.
And if your guests loved watching the famous Scooby-Doo cartoon growing up, it will be even more enjoyable!
If you love sweet shots, you have to try my PINK Starburst Shot or my Gummy Bear Shot!
👅What Does A Scooby Shot Taste Like?
A scooby snack shot is creamy, tropical, fruity and sweet. It tastes like a coconut pineapple banana cream pie if you can imagine that.
It really is a delicious treat that I suggest serving AFTER dinner as a "dessert cocktail". It may even take you for a trip in the famous mystery machine!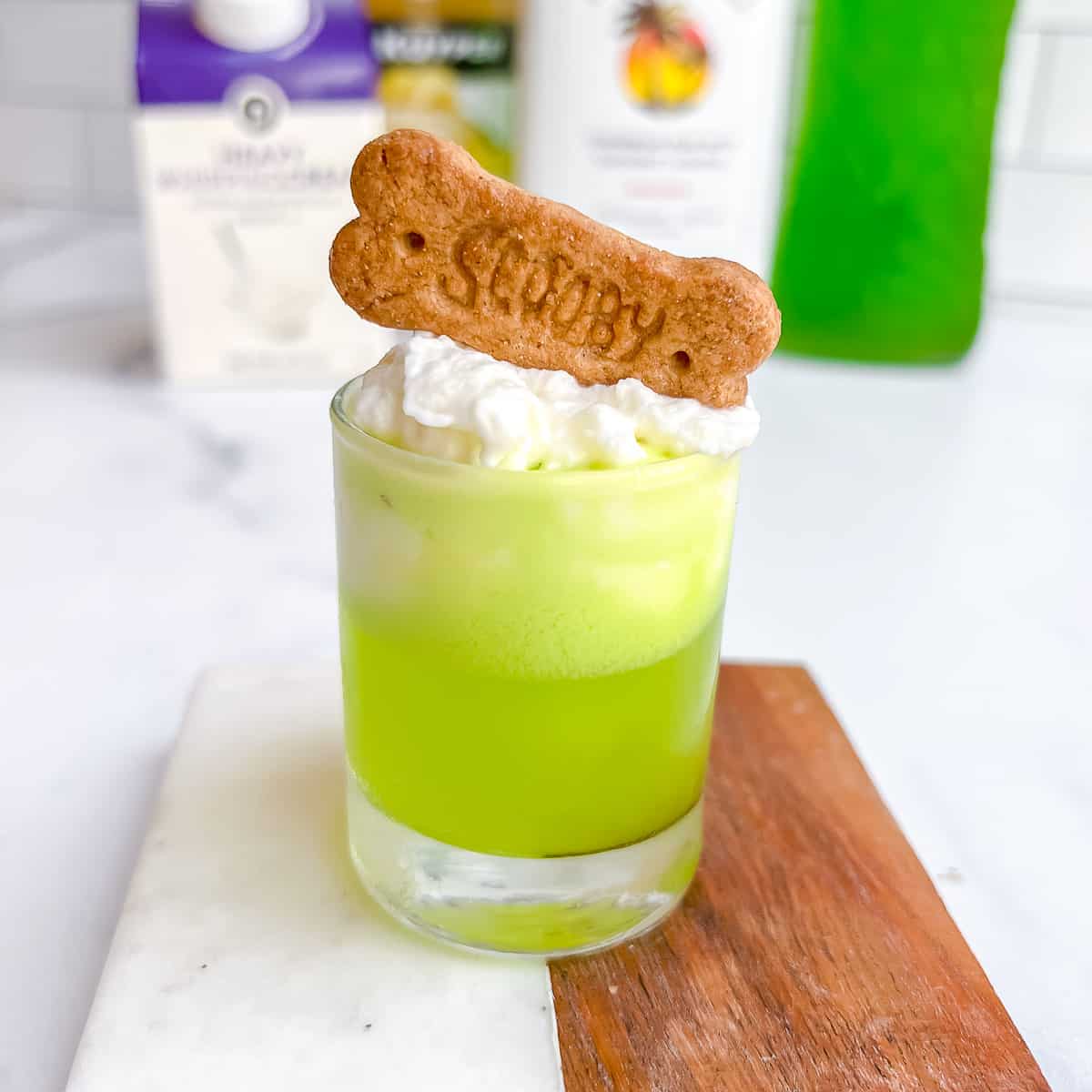 🥃How To Garnish Your Shot
If you look in the cookie section of your local grocery store, you should find some of the same scooby snack cookies I used here.
They are a must in my opinion as they tie together the entire shot!
Homemade Whipped Cream vs. Storebought
Since the shot is already pretty darn sweet, I choose to use heavy cream instead of the sugary whipped cream in a can. Plus, when you shake it, it gets frothier than using the canned stuff.
If you wish to add a touch of vanilla extract to your homemade whipped cream, you can!
To make homemade whipped cream, all you need to do is whisk heavy cream for 2-3 minutes until it thickens. Add powdered sugar to sweeten it up if you wish.
Other delicious drinks you will love:
📖 Recipe