These easy Mini Cheesecakes are the best mini cheesecake recipe ever! (See why below.) They are made with a thick cookie crust that is super crunchy and perfectly bite sized. Best of all, NO CUPCAKE LINERS are needed!
Cheesecakes have a special place in our family. My mother has been testing cheesecake recipes for YEARS in hopes of making "the best cheesecake ever". She purchased cheesecakes from the top restaurants in our area to do taste-test comparisons.
Yes, she was on a mission.
She refused to give away her "secret" recipe to those who asked. (And everyone asked.)
Until recently...
She graciously gave up her secret recipe so I am THRILLED to share it with you!
As expected, I converted her recipe meant for a regular sized cheesecake into mini bite-sized cheesecakes! Like my butter cake, they are the perfect dessert for a crowd or any party! I hope you enjoy this recipe as much as we have over the years! It is one of my most popular recipes for a reason. (Thanks ma!) 🙂
Mini Cheesecakes Using Muffin Tins
Your classic cheesecake recipe uses a spring form pan and sometimes, a "water-bath" to prevent cracking and sinking. These methods definitely work when done right however they add extra steps and a mess that is a headache to deal with.
So I wanted to make these mini cheesecakes not only taste delicious but EASY to make.
To prevent the infamous cracking and sinking, I did one major thing...OPENED the oven door to slowly release the heat. The reason why cheesecakes crack is because if a sudden temperature drop going in the hot oven to a cool countertop. If you allow them to SLOWLY cool down, the cheese cakes wont sink nearly as much.
Another thing I don't use are muffin or cupcake liners like the other mini cheesecake recipes require. You can definitely use them if you want but I don't like the look of them.
Steps:
Step 1: Make your crust by adding your cream filled cookies, butter and cinnamon to a food processor until the mixture resembles wet sand. Next, add about a tablespoon to each muffin cup. Use a shot glass or your fingers to press down your crust. Bake at 350 degrees F for 5 minutes.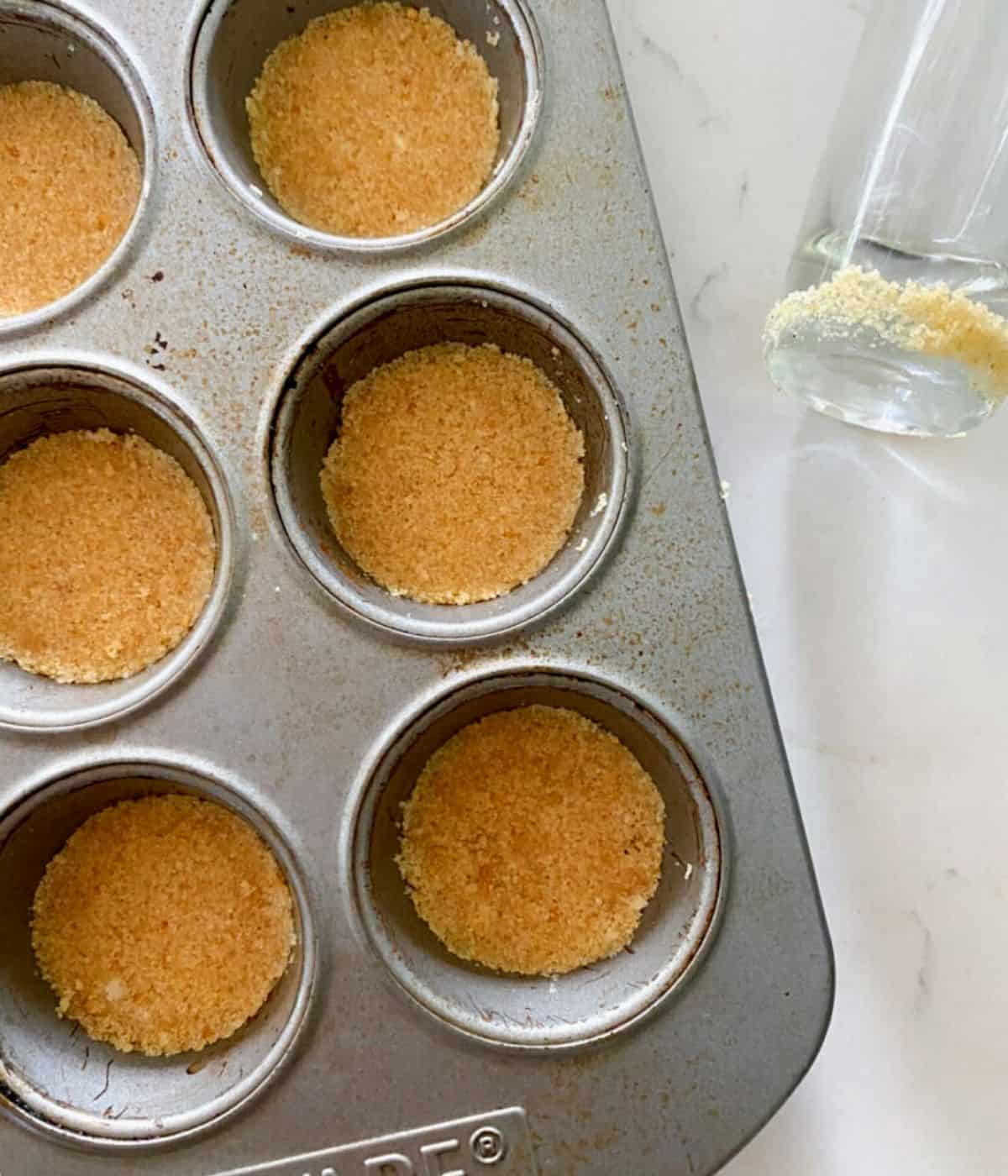 Step 2: Blend together your cream cheese, sour cream, cream, vanilla, sugar, egg yolks, and cornstarch in a large mixing bowl using a hand mixer or standing mixer until smoother and creamy.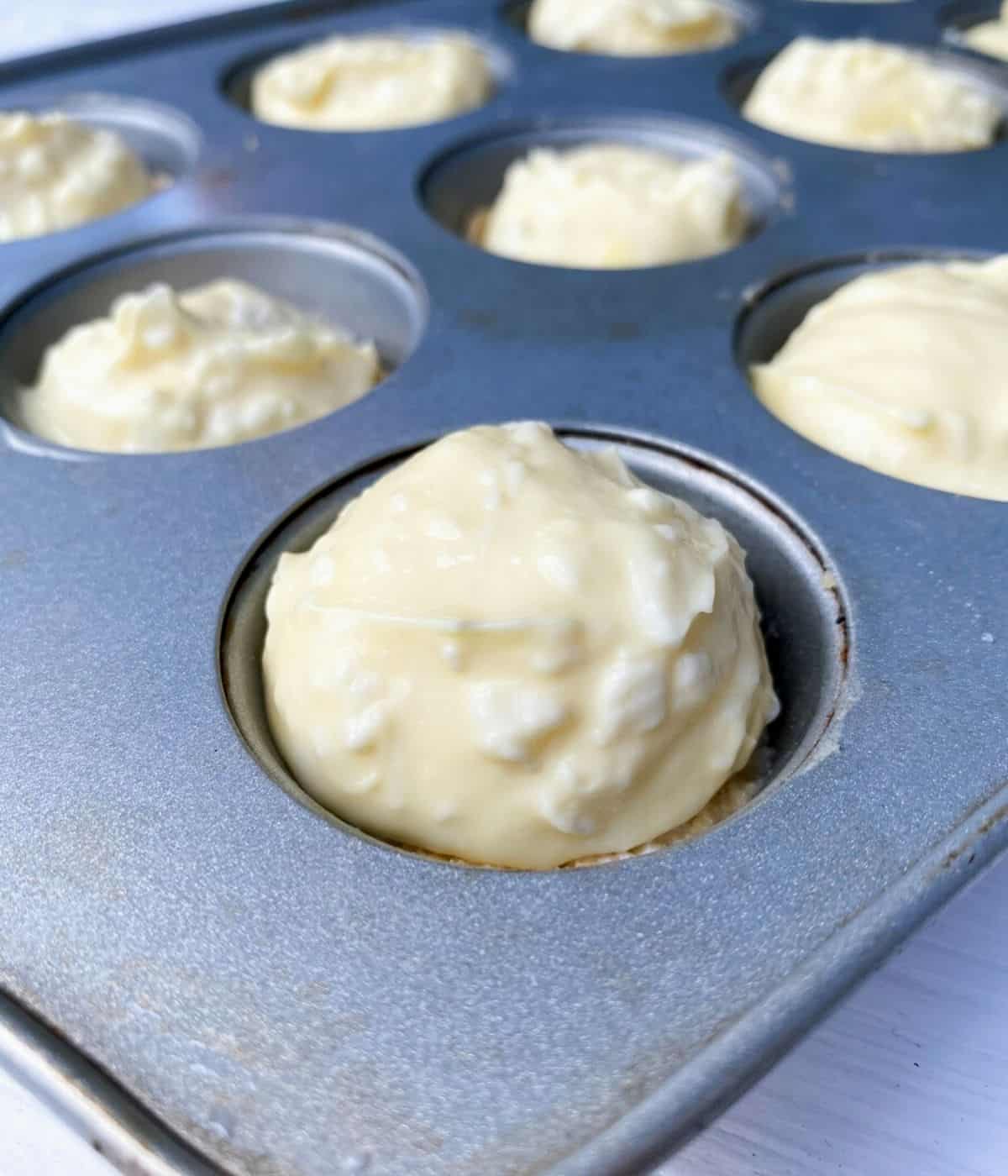 Step 3: Add your cheesecake batter to each muffin cup. I recommend using a mini cookie scoop to portion each out and keep your cheesecake cups neat.
Step 4: Bake at 350 degrees for 5 minutes then turn OFF the oven and let continue to bake for another 13 minutes. The last 10 minutes crack the oven to allow the heat to slowly release. Allow to cool and top as desired!
Bake Time
Baking time is CRUCIAL when it comes to cheesecakes. They are very fussy and the even slightest temperature change can affect the appearance of your cheesecake. The best, or should I say "prettiest", cheesecakes are flat on top (not sunken in), have ZERO cracks and are not brown.
About the bake time:
I technically only bake my mini cheesecakes for 5 minutes. But let them sit in the oven the remainder of the time, for a total of 28 minutes.
The first 5 minutes are at 350 degrees F, then I turn the oven OFF completely and let them sit in there for another 13 minutes. Finally, I crack the oven door open for another 10 minutes. This allows them to SLOWLY cool down preventing sinking.
Check out the difference in bake times below!
You can see in this photo the difference between leaving the mini cheesecakes in the oven the entire time at 350 degrees vs. just half the time, (or a temp. adjusted time). When you bake cheesecake batter at too high of a temperature too long, they rise fast, and FALL fast.
Quite a difference huh?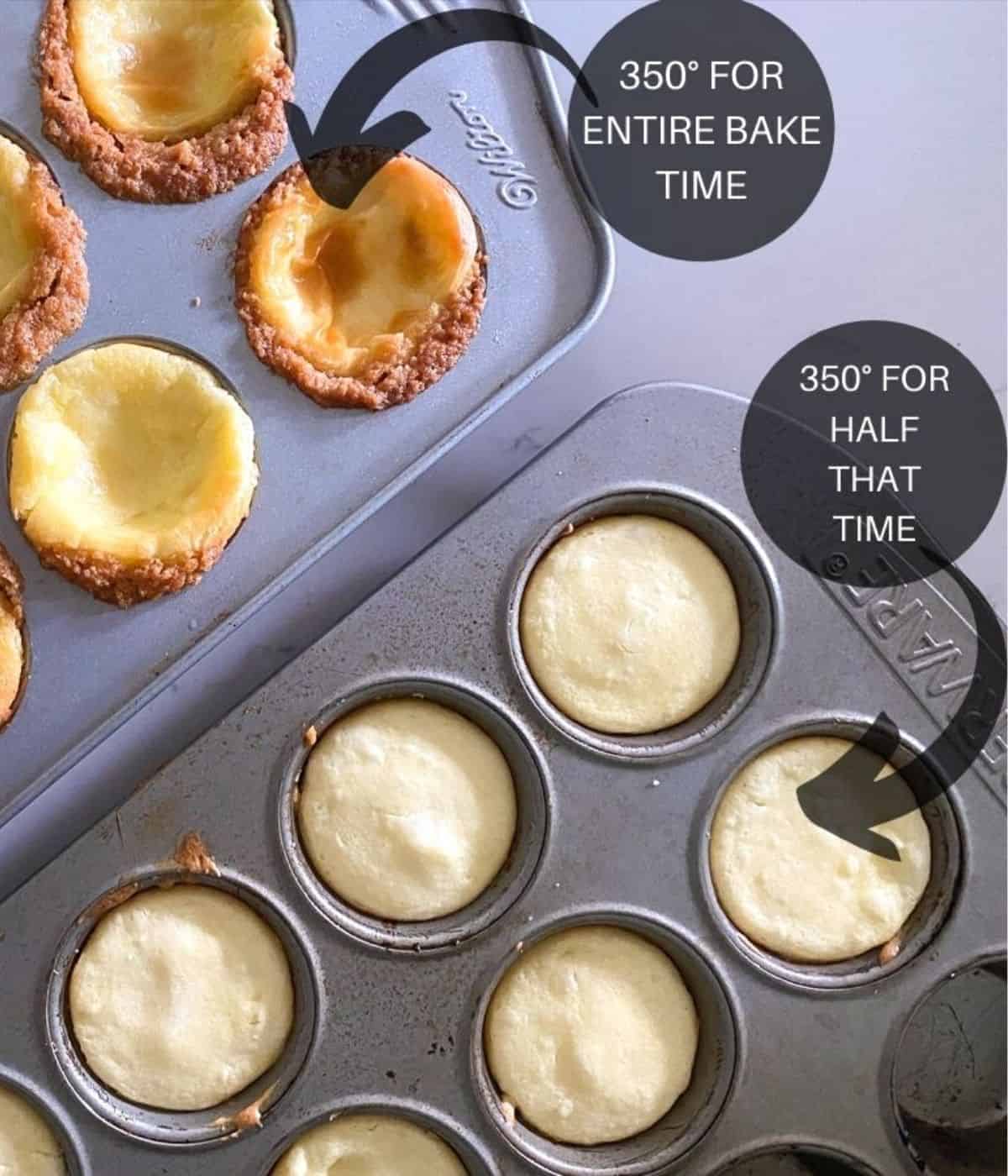 The Cookie Crust
How do you make mini cheesecakes without liners? By using a solid crust! It is crucial to not leave it out. It create a solid foundation for your mini cheesecake bites so you can pick them up without a fork.
You can make a cheesecake crust out of a few different things. Graham crackers is the most popular but Nilla wafers are a close runner up. But for years, I have been using cream filled COOKIES. Yes. Actual cookies like I used in my Bailey's Mini Cheesecake Recipe.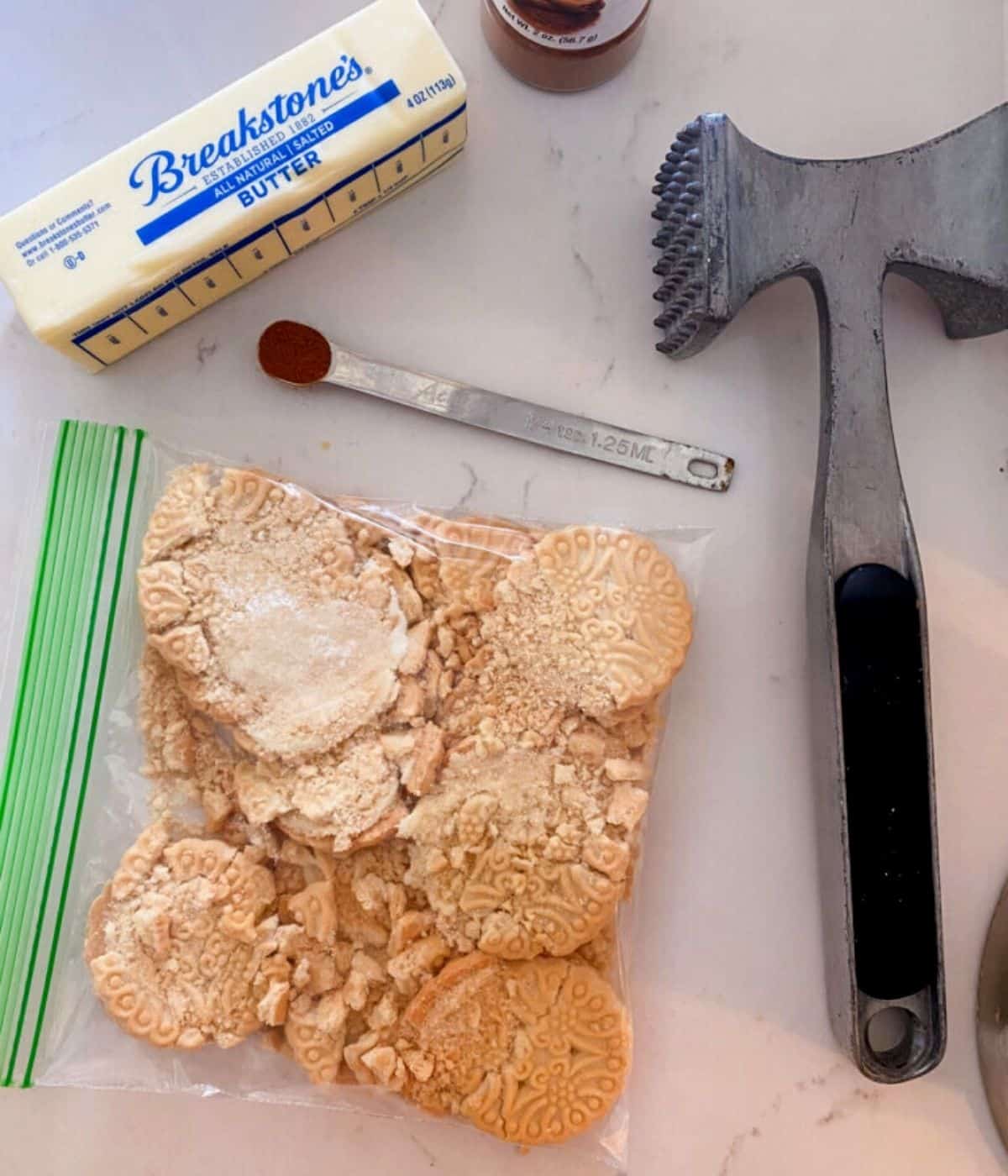 Creme filled cookies create a deliciously thick and crunchy crust that is too die for. And because cookies are already sweetened, I don't add any extra sugar to the crust.
*Crust Tip* Add your cookies to a plastic baggie and use a mallet to crush them up!
Topping Options
Cheesecakes are the most versatile dessert. Although these mini cheesecakes are amazing PLAIN, you can decorate them by adding any topping you wish!
For simplicity, I purchase a favorite store-bought canned pie filling to top my cheesecakes. There are some amazing canned fillings out there so why go through the extra effort if you don't need to?
Here are some of my favorite topping ideas you can use to top your mini cheesecakes:
Freshly cut strawberries or blueberries
Fruit pie filling (like I used here)
Chopped nuts (pecans or walnuts would be delicious)
Shredded coconut
Sprinkles
Chocolate sauce
Caramel
Crushed Oreo's
Storing Tips
Storing your mini cheesecakes can be tricky because you do NOT want to squish them. The good thing is, cheesecake freezes incredibly well.
So if you want them to keep for a few days, place them on a flat baking sheet, plate or just keep them in the original muffin pan, and cover them with plastic wrap.
If you want to keep them for weeks or up to 2 months, you will want to freeze them. To do this, add them to a freezer safe container with parchment paper between the layers. This way you can stack them without having them stick together.
Recipe FAQs:
How do I prevent my cheesecakes from sinking?
When you cool cheesecakes too quickly, they tend to sink. Stick to the specific temperature and baking time mentioned in the directions to prevent that from happening. No short-cuts allowed! 🙂
Can I use a larger cupcake/muffin pan to make these?
You can however the bake time will need to be longer. I have not tested them yet in larger tins but will update this post when I do!
Can I still use muffin liners?
Yes of course! Nothing will change other than adding them to the tin before you add you crust.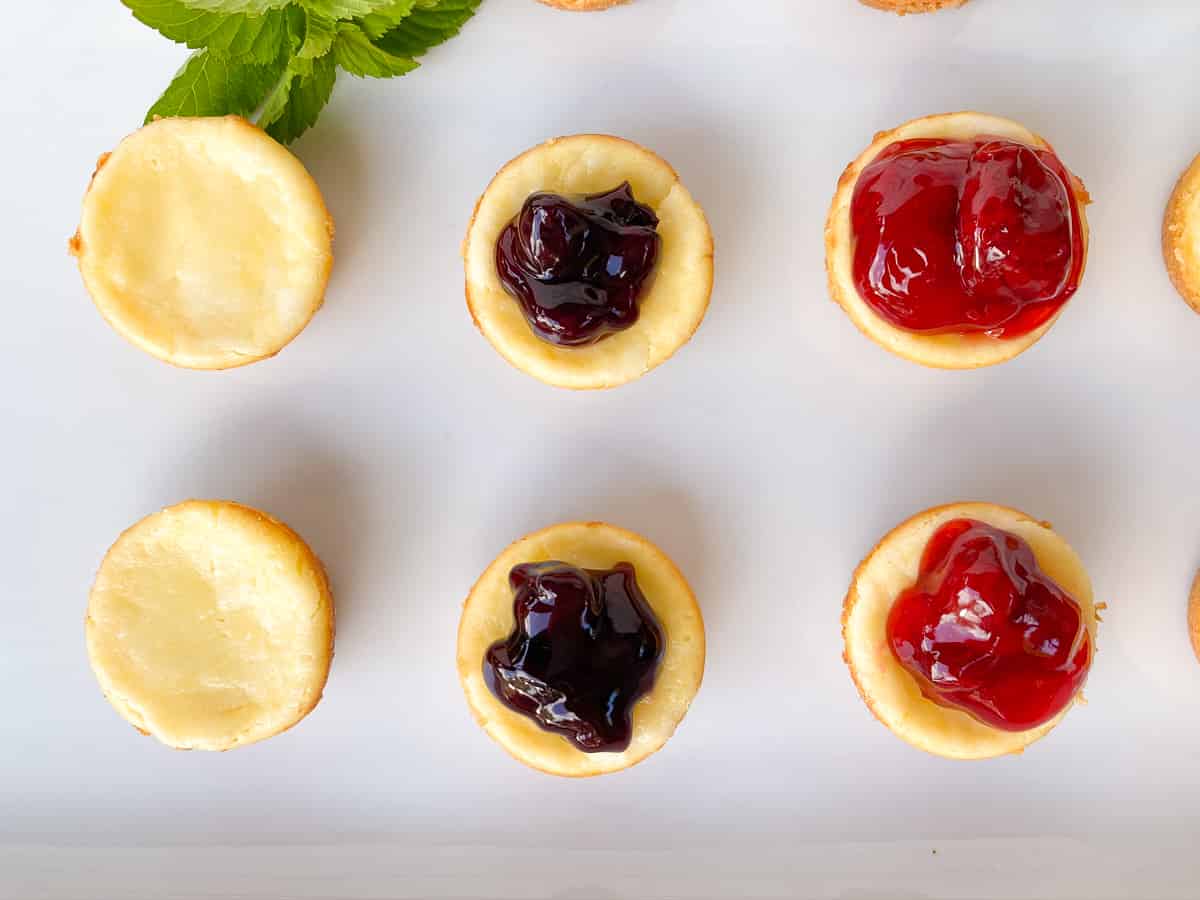 Expert Tips:
Baking is always tricky so following these tips will ensure your mini cheesecakes come out perfect every time.
Use the best full fat cream cheese you can find. I love Philadelphia cream cheese.
Don't skip out on steps or leave out ingredients!
Wait until your cheesecakes cool completely before removing them.
Greasing your muffin tins will help them slide out but its not necessary.
Make sure you wait until your oven reaches the right temp before throwing in your cheesecakes.
Make your crust nice and thick so you can remove them easily.
Place your cheesecakes on the middle rack of your oven.
No peeking! You do not want to let too much hot air out of the oven which could affect the bake time or cheesecake's appearance.
Other mini desserts you may like:
BAKED Mini Churro Bites w/ Quick Chocolate Sauce
Chocolate Covered Banana Walnut Bites
Crescent Roll Blueberry Cream Cheese Danish
Sweet Empanadas With Cherry Cheesecake Filling
No Bake Coconut Lemon Cream Cheese Truffles
📖 Recipe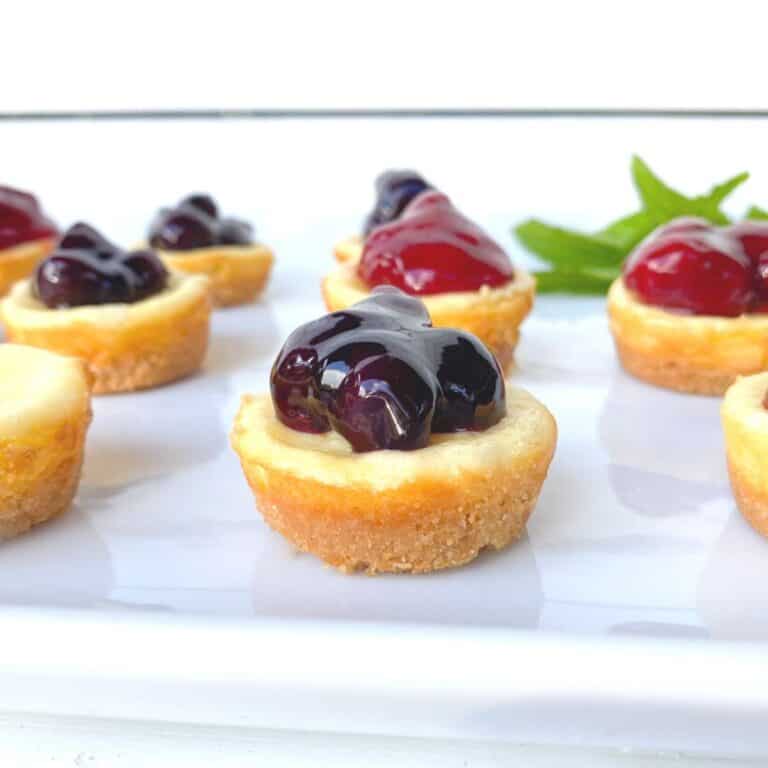 The BEST Mini Cheesecakes (with Cookie Crust)
These easy Mini Cheesecakes are the best mini cheesecake recipe ever! (See why below.) They are made with a thick cookie crust that is super crunchy and perfectly bite sized. Best of all, NO CUPCAKE LINERS are needed!
Print
Pin
Rate
Ingredients
Cheesecake Batter
2

packages cream cheese (8 oz.)

½

cup

sugar

2

tablespoon

cornstarch

2

tablespoon

sour cream

1

teaspoon

vanilla extract

¼

teaspoon

salt

2

tablespoon

cream

2

egg yolks
Cookie Crust
14

vanilla cream filled sandwich cookies

((any brand))

8

tablespoon

butter, melted

((1 stick))

¼

teaspoon

cinnamon
Instructions
In a food processor, puree your cookies, melted butter and cinnamon well. Stop to scrape down the sides a few times.

Add about 1 tablespoon of crust mixture to each muffin tin. (or distribute crust evenly amongst 24 tins). Use the bottom of a shot glass, or your fingers, to firmly press down each crust.

Bake your cookie crust for 5 minutes and then set aside.

Add all your cheesecake batter ingredients, besides the cream and egg yolks. Mix on HIGH speed for 1 minute. Scrape down the edges of your bowl and mix again for another minute.

Add your egg yolks and cream and mix again until fully combined.

Use a mini ice cream scoop to evenly distribute the batter. Fill each tin ¾ of the way full.

Bake for 5 minutes on the middle rack and then turn OFF the oven leaving the cheesecakes inside. Set your timer for 13 minutes. Do not open the oven!

After 13 minutes, crack open the oven door for another 10 minutes. This allows the cheesecakes to cool down slowly preventing sinking.

After 10 minutes is up, pull out your cheesecakes allowing them to cool before removing them. (They should pop right out using a knife.) Top with topping of your choice.

Store in the fridge for 3-4 days or in the freezer for 6-8 weeks.
Recipe Notes
Yield is 22-24 mini cheesecakes*
**I used a MINI cupcake pan that has cups which measure about 2" in diameter.
Topping ideas:
Freshly cut strawberries or blueberries
Fruit pie filling (like I used here)
Chopped nuts (pecans or walnuts would be delicious)
Shredded coconut
Sprinkles
Chocolate sauce
Whipped cream
Caramel
Crushed Oreo's
Nutrition
Calories:
473
kcal
|
Carbohydrates:
43.6
g
|
Protein:
4.6
g
|
Fat:
31.5
g
|
Saturated Fat:
16.1
g
|
Cholesterol:
98
mg
|
Sodium:
378
mg
|
Potassium:
131
mg
|
Fiber:
1.2
g
|
Sugar:
23.7
g
|
Calcium:
63
mg