Pumpkin Pie Whipped Cream is the perfect sweet topping for any and all of your fall desserts this season!
This recipe is creamy, light, fluffy but still rich in flavor! It takes just a few minutes to prepare, and you can use it on all sorts of desserts from pumpkin pie to ice cream to your coffee and so much more! It's a delicious dessert topping that I guarantee your guests will go crazy over this Thanksgiving!
Jump to:
I am happy to share that I partnered with Dairy Council of Florida to bring you this sweet treat!
Don't even think about buying that store bought can of whipped cream! It's stable for about 30 seconds before it starts to melt away leaving a yucky mess.
Like my bourbon whipped cream, this pumpkin pie version is SOO much better and takes almost no time to whip up.
It reminds me of a Starbuck's pumpkin spiced latte, which by the way, would be even more delicious with a dollop on top!
Homade whipped cream takes minimal effort that can make any store bought pumpkin or pecan pie look so much more enticing!
Top it over my mini pumpkin pies or on some hot chocolate!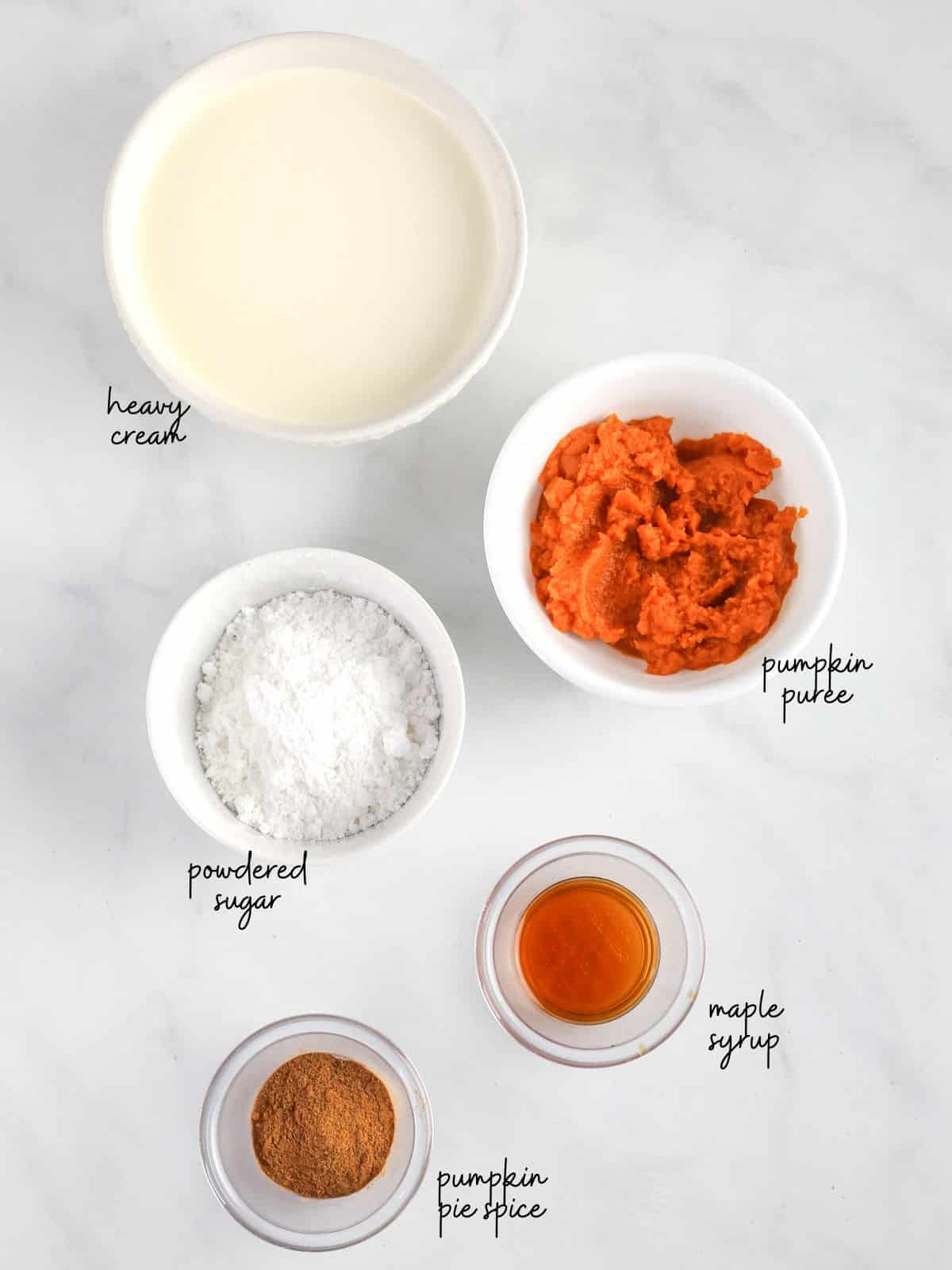 🛒Ingredients
Heavy cream - heavy cream has the highest fat content and is best for whipping.
Pumpkin puree - you can find this in the baking aisle of most grocery stores
Powdered sugar - also known as confectioners' sugar, this is a finely ground sugar that dissolves easily.
Vanilla extract - this is optional, but highly recommended as it rounds out the flavors nicely.
Pumpkin pie spice - you can find this in the baking aisle of most grocery stores. If you can't find it, you can make your own by mixing together nutmeg, cinnamon, clove, ginger and all spice.
📝How To Make Whipped Cream
1. Pour the heavy cream into a large bowl or the bowl of a stand mixer.
2. Add the pumpkin puree, powdered sugar, vanilla extract and pumpkin pie spice.
3. Mix on low speed until everything is combined, then increase the speed to medium-high and mix until stiff peaks form.
4. Serve immediately or store in the fridge for later.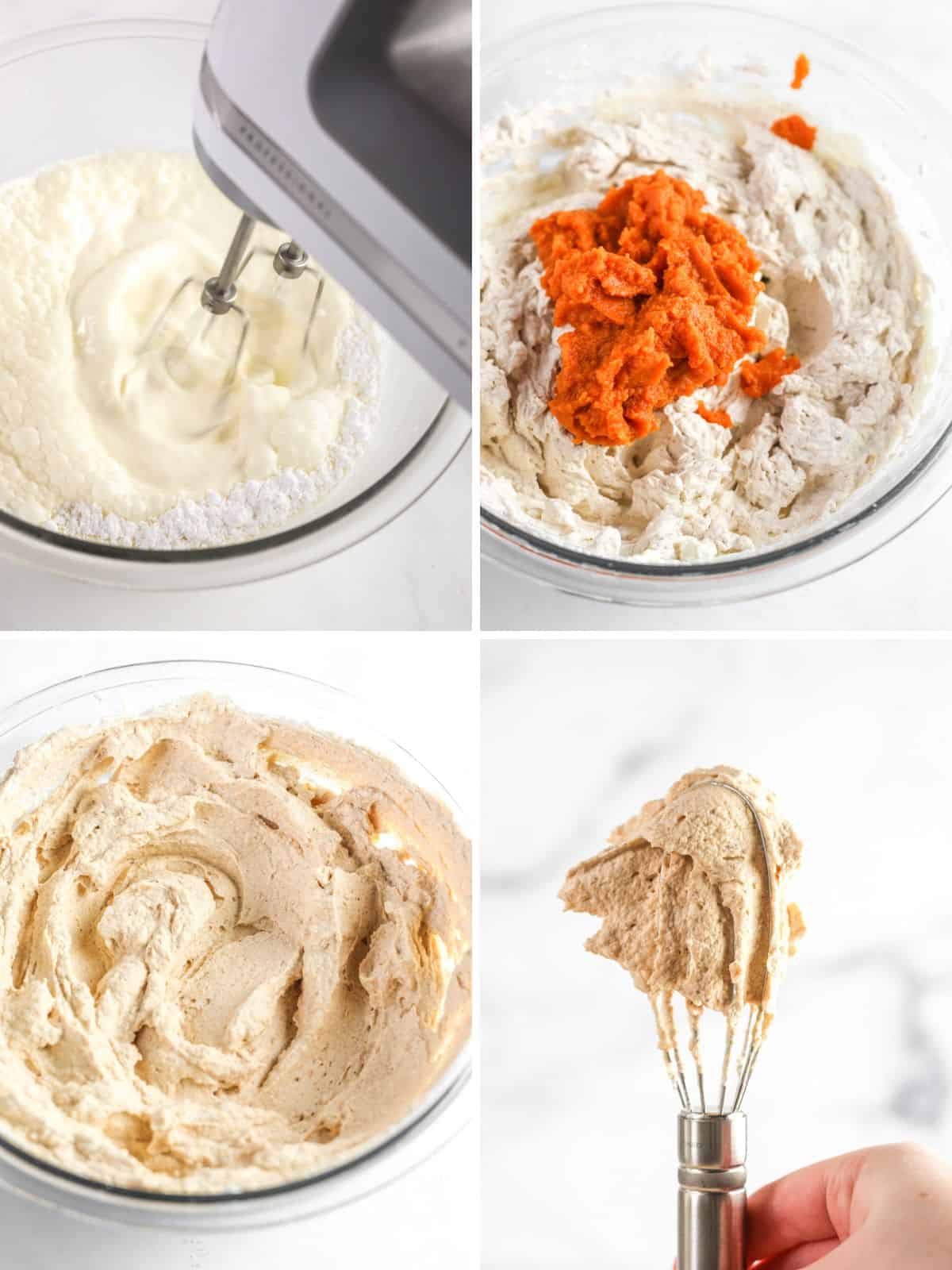 Tips For Making The Best Pumpkin Whipped Cream
For the best results, use cold ingredients and mixers. This will help the cream to whip up quickly and evenly.
If you want a little extra flavor, try adding a splash of bourbon or rum to the mixture.
If you find that your whipped cream is too thick, you can add a little bit of milk to thin it out.
For a vegan version of this recipe, use coconut cream in place of the heavy cream.
🛠️Fixing Over-Whipped Cream
If you accidentally over-whip your cream, there's no need to panic! Just add a tablespoon or two of more cream and mix it in until its smooth again. This will help to thin out the whipped cream.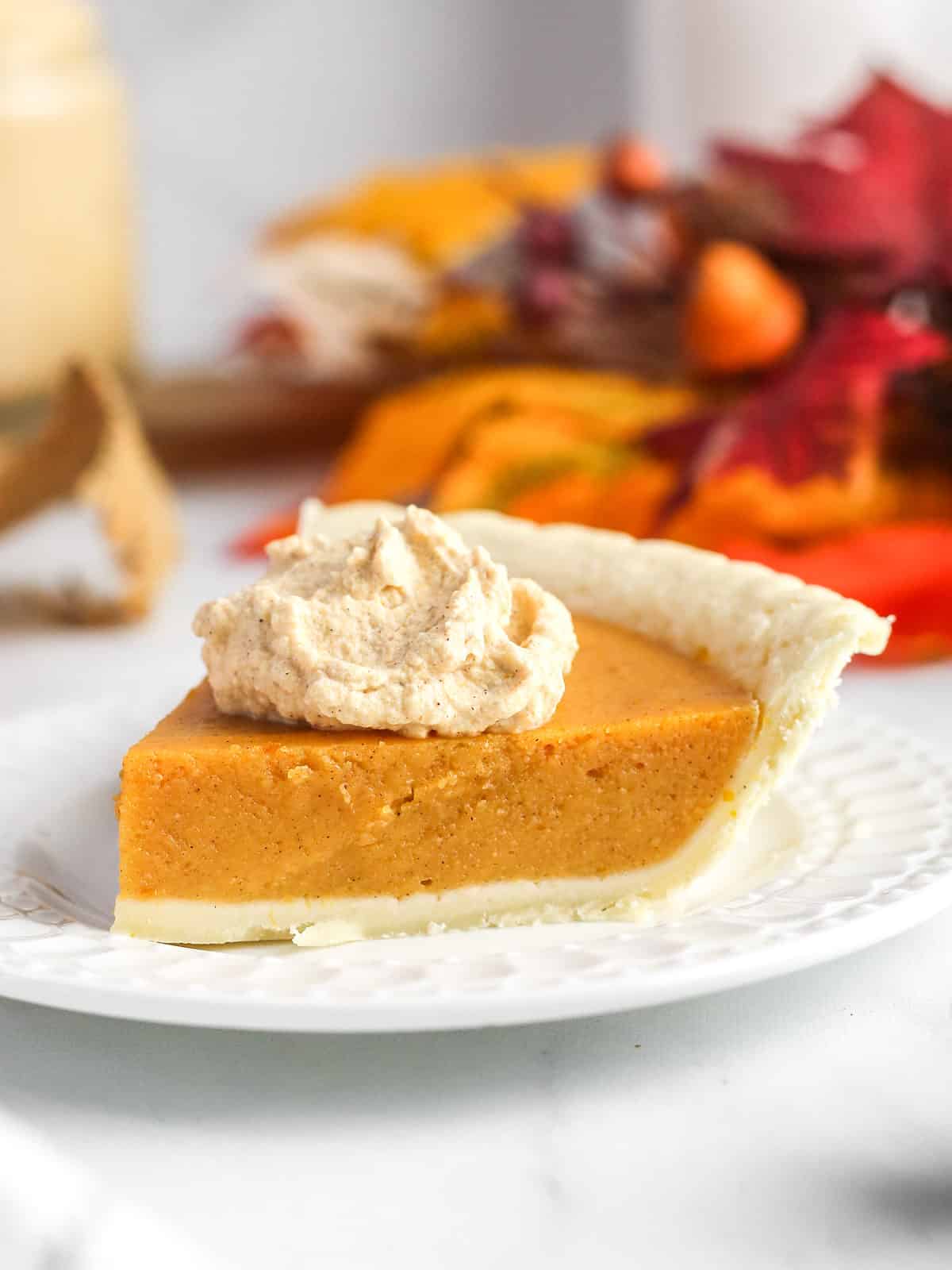 🥛Heavy Cream vs. Whipping Cream
If you're wondering what the difference is between heavy cream and whipping cream, it's all in the fat content.
Whipping cream has a lower fat content (30-36%), while heavy cream has a higher fat content (36-40%).
The higher fat content in heavy cream makes it easier to whip and results in a richer, more stable whipped cream. So for the best pumpkin whipped cream, we recommend using HEAVY cream.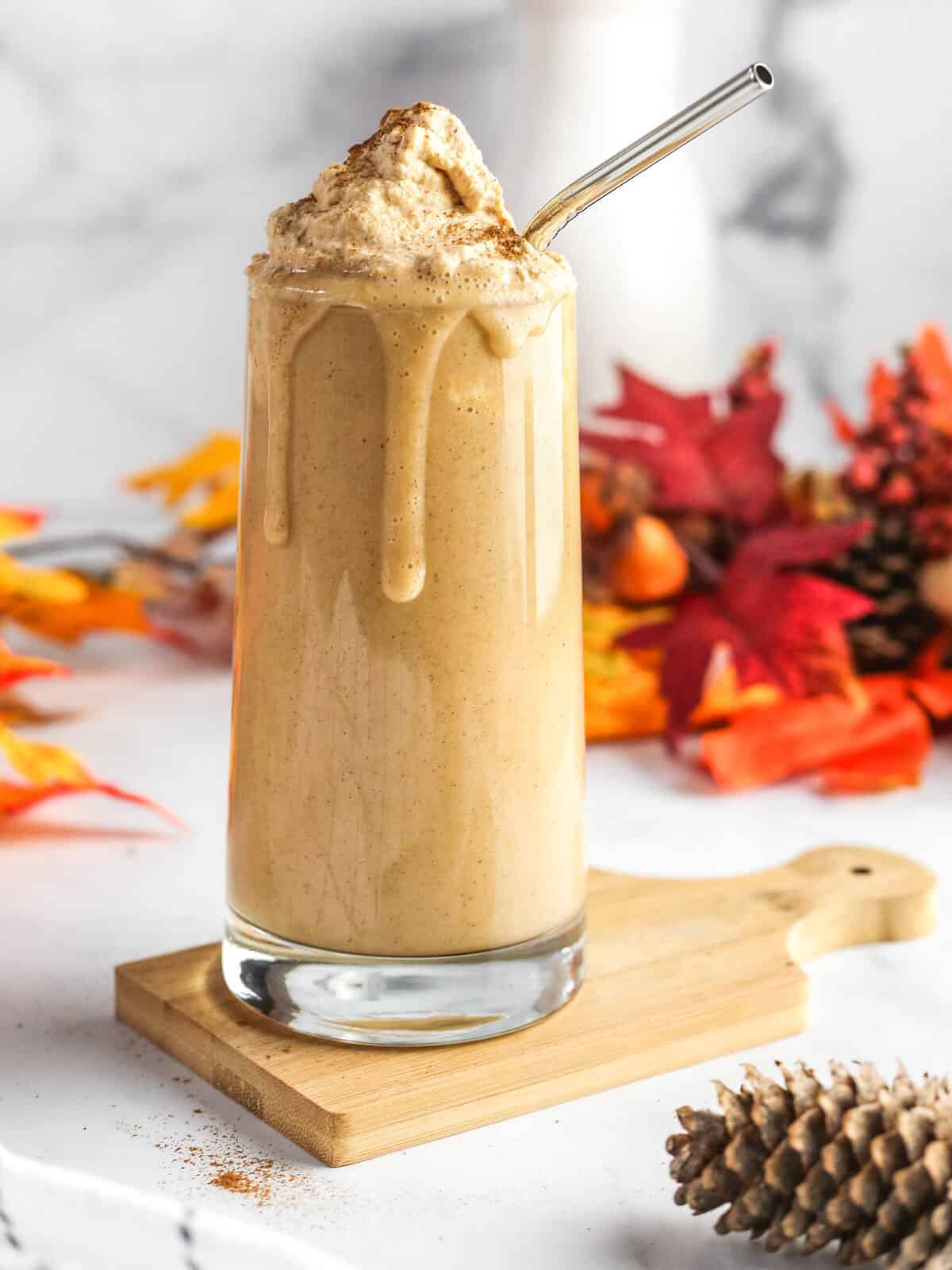 Flavor Variations
-Chocolate: Add ⅓ cup of cocoa powder to the mixture with your powdered sugar.
-Cinnamon: Increase the amount of cinnamon in the recipe, or add a teaspoon of ground ginger for a little extra spice.
-Orange: Add the zest of one orange or a teaspoon of orange extract to the cream before whipping.
-Maple: Replace the powdered sugar with maple syrup. It's such a delicious flavor that pairs so well with pumpkin or pecan pie.
-Peanut Butter: Fold in ¼ cup of creamy peanut butter after you whip the cream.
-Coffee: Add ½-1 tablespoon of instant coffee powder to the cream before whipping.
-Chai: Add 1 teaspoon of ground cardamom, cloves and ginger to the mixture.
-Chocolate Chip: Stir in ½ cup of mini chocolate chips after the cream has been whipped.
-Bourbon: Yes, BOURBON! Get my recipe here!
How Long Can Whipped Cream Last?
Homemade whipped cream will last in the fridge for 2-3 days. You can also freeze it, although it will lose some of its light, fluffy texture.
Whipped cream can be stored in an airtight container for up to 2 months.
When you're ready to use it, thaw it overnight in the fridge and then re-whip it to bring it back to life before using.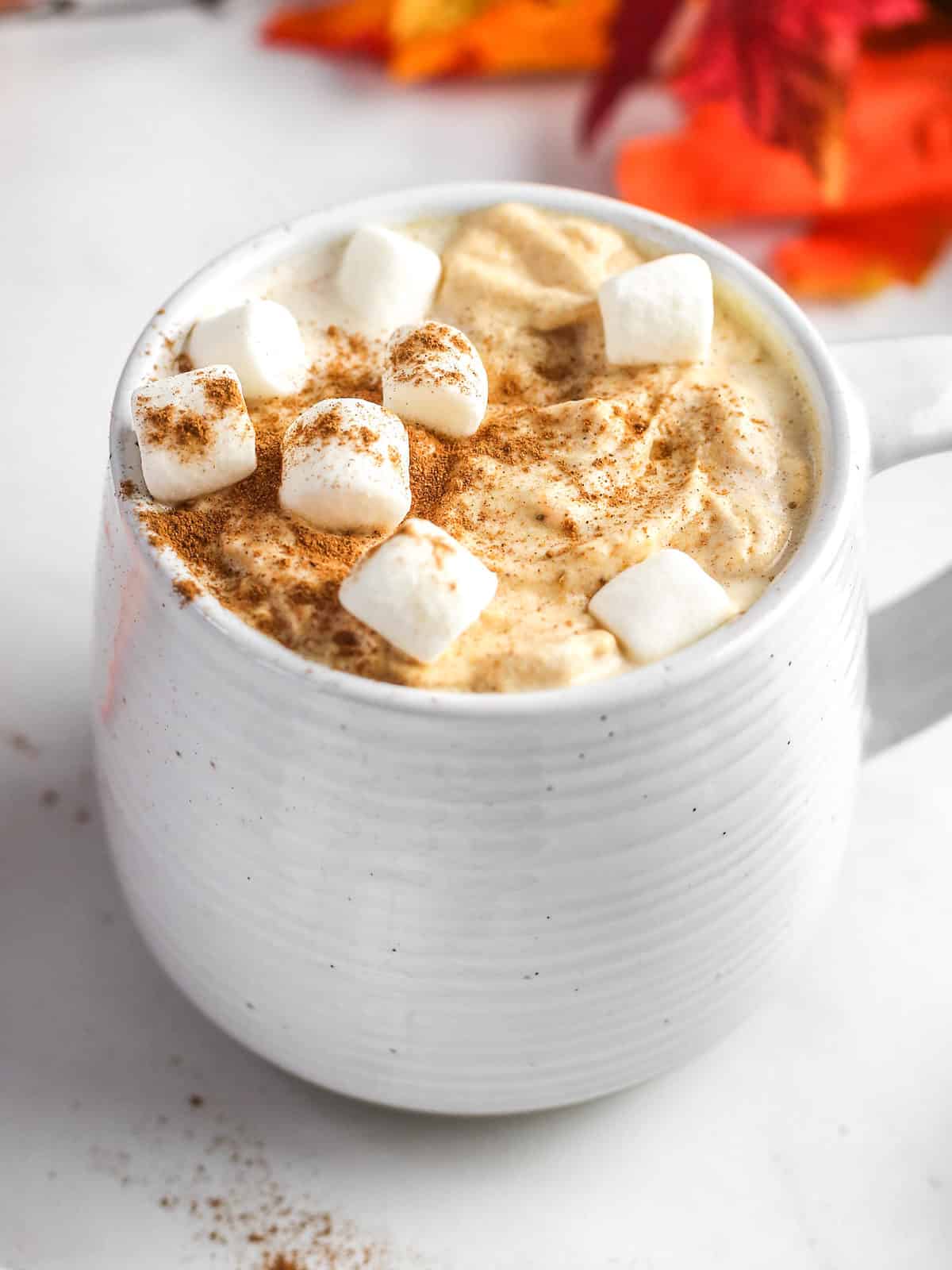 What To Serve It With
Pumpkin spice whipped cream is delicious on all sorts of desserts! Here are a few ideas to get you started:
-Top a slice of pumpkin pie with a dollop of whipped cream.
-Use it as a dip for fresh fruits like apples or pears or with gingersnaps.
-Stir it into your coffee or hot chocolate for a delicious fall-inspired treat.
-Serve it over ice cream or on top of a milkshake.
-Top your pancakes or waffles.
-Make a pumpkin spice trifle by layering whipped cream, pound cake and pumpkin pie filling. (So delicious!)
-On top of a pumpkin spiced cocktail
Pumpkin pie whipped cream is a must on your holiday table this year!! It's so delicious and such an easy way to make any sweet treat, whether store bought or not, look much more sophisticated and homemade.
If you love pumpkin goodness, try my Pumpkin Pie Margarita!
FAQ's
Why is my whipped cream grainy?
You overwhipped it or did not use powdered sugar.
Can I use half and half instead of heavy cream?
No. You need the high fat content which is only in heavy or whipping creams.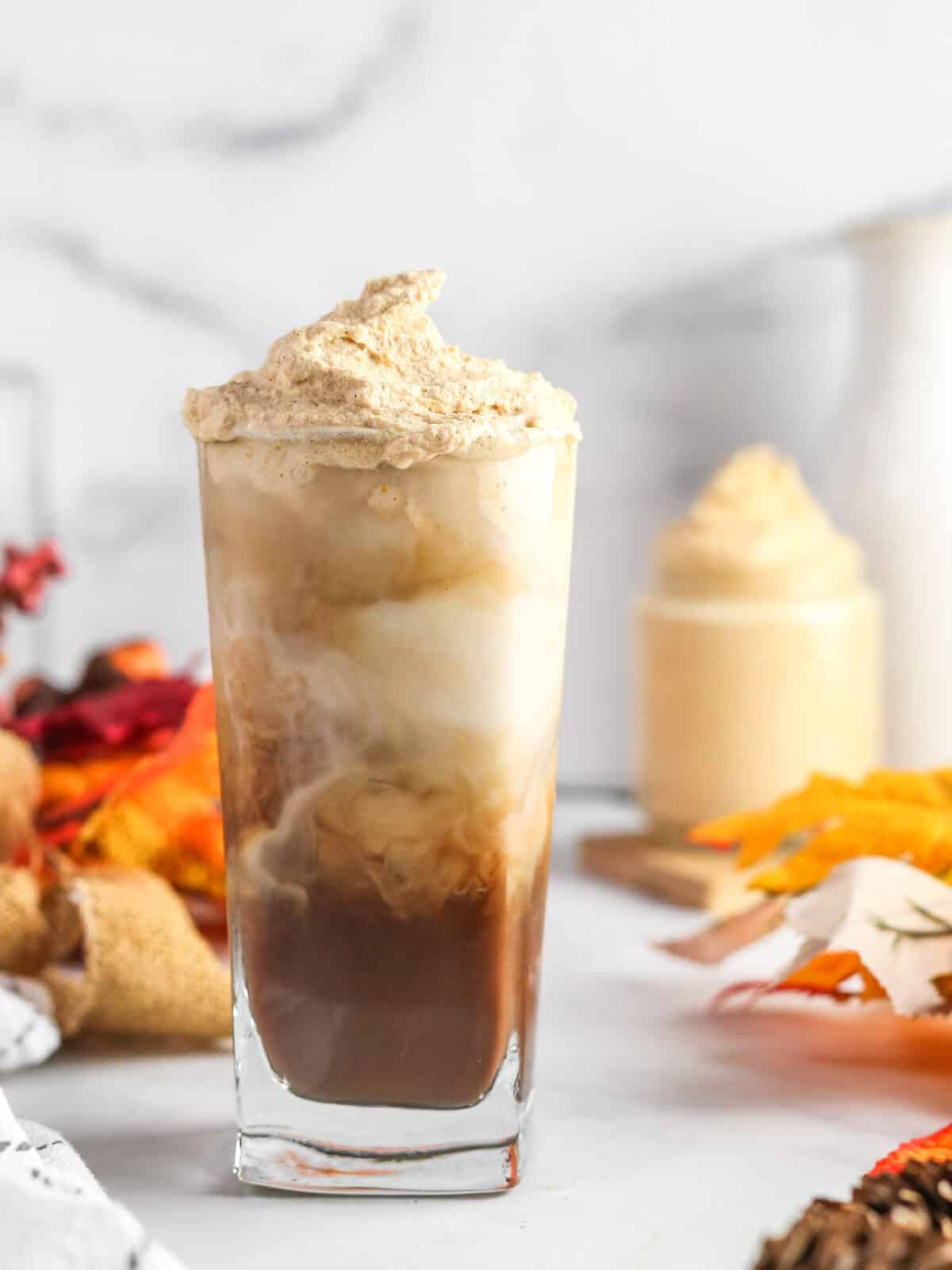 Other Pumpkin Recipes You Will Love:
📖 Recipe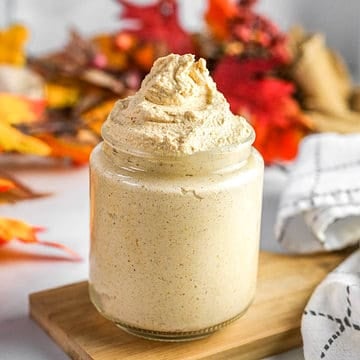 Pumpkin Pie Whipped Cream
Pumpkin Pie Whipped Cream is the perfect sweet topping for any and all of your fall desserts this season!
Print
Pin
Rate
Ingredients
1

cup

heavy cream

(cold)

⅓

cup

pumpkin puree

(cold)

¼

cup

powdered sugar

1

teaspoon

vanilla extract

1

teaspoon

pumpkin pie spice
Instructions
Pop your whisking bowl and beaters in the freezer for 5-10 minutes. This will help the whipped cream whip up nicely.

Add the heavy cream and powdered sugar to the cold bowl and whisk on high for about 3 minutes. Turn whisk upside down and look for stiff peaks to stick straight up. If they do not, whisk a little more. Don't whisk too long or it will turn to butter.

Add in the vanilla and pumpkin pie spice and mix until just combined.

Gently fold in pumpkin puree with a spatula until blended.

Serve cold on top of ice cream, pie, coffee, or anything else you like!