This patriotic pull-apart Red, White and Blue Dessert is the perfect summer dessert for Memorial Day, Fourth of July or Labor Day! It is super easy to make, fun and absolutely delicious!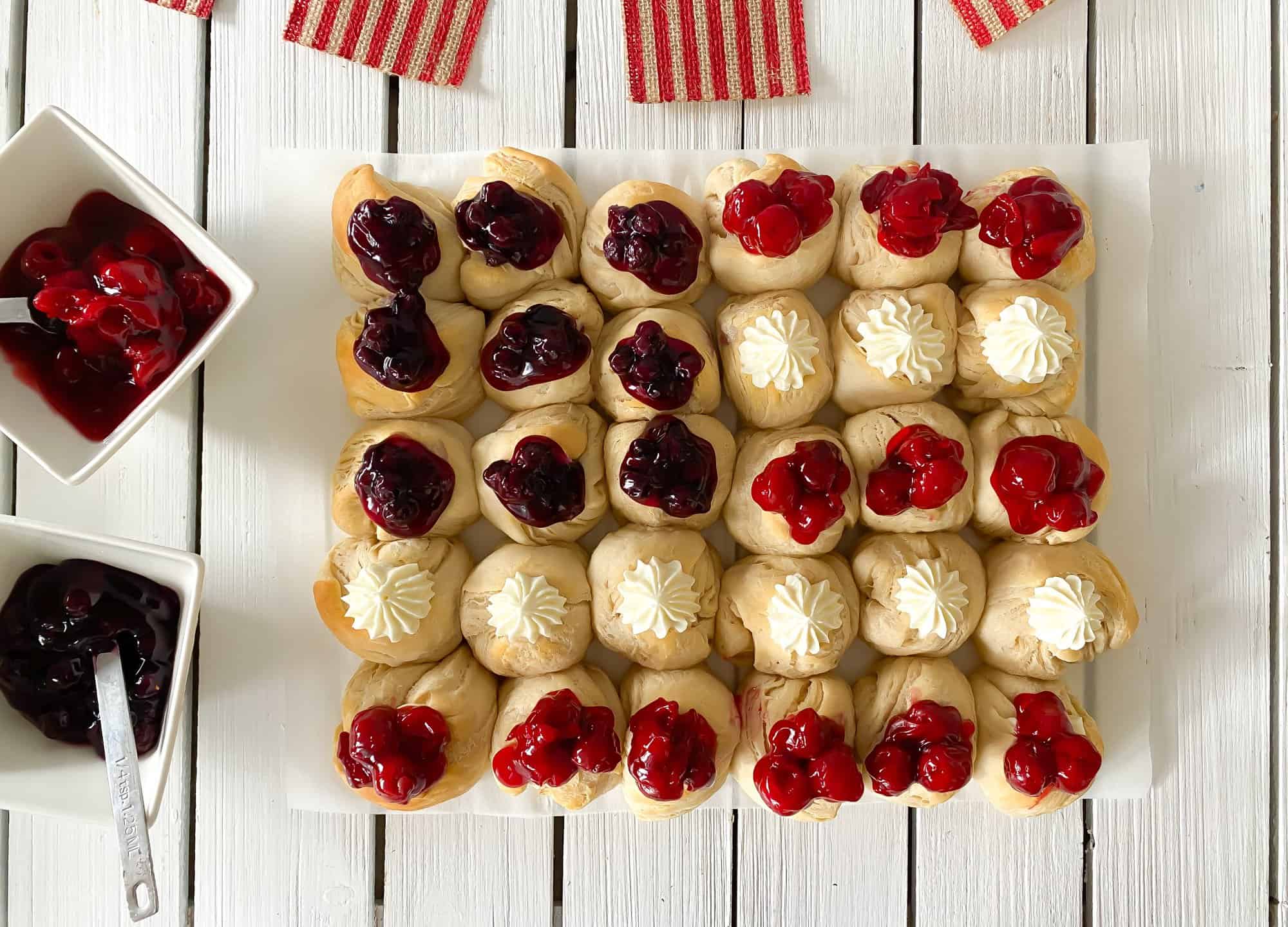 Fun Fact! This dessert was featured on Food Network's The Kitchen by Jeff Mauro. How cool?!
Since red, white and blue desserts are the perfect thing to serve any time during the summer especially on Memorial Day, Fourth of July or Labor Day!
This pull-apart biscuit flag is the ultimate patriotic dessert recipe! Plus, it's easy, festive and so delicious!
❤️💙🤍Make sure you check out these 13 Red, White and Blue Finger Food Desserts too!
📝Ingredient Tips
For this recipe I used just 6 simple ingredients. Here are some tips for you.
Pillsbury Biscuit dough- I used Pillsbury's canned buttermilk biscuits (NOT FLAKEY LAYERS) for this recipe because it's the best. The American flag should be enough for about 15 people. If you want to make the flag larger, you can by adding another can of biscuits.
Pie Filling- You can choose any pie filling. I used cherry but strawberry, raspberry or blackberry would work. Do not go generic on this one! Trust me. Cheap pie fillings are watery and do not hold up well on top of the biscuit flag.
Serve up this beautiful Red White Blue Layered Drink too!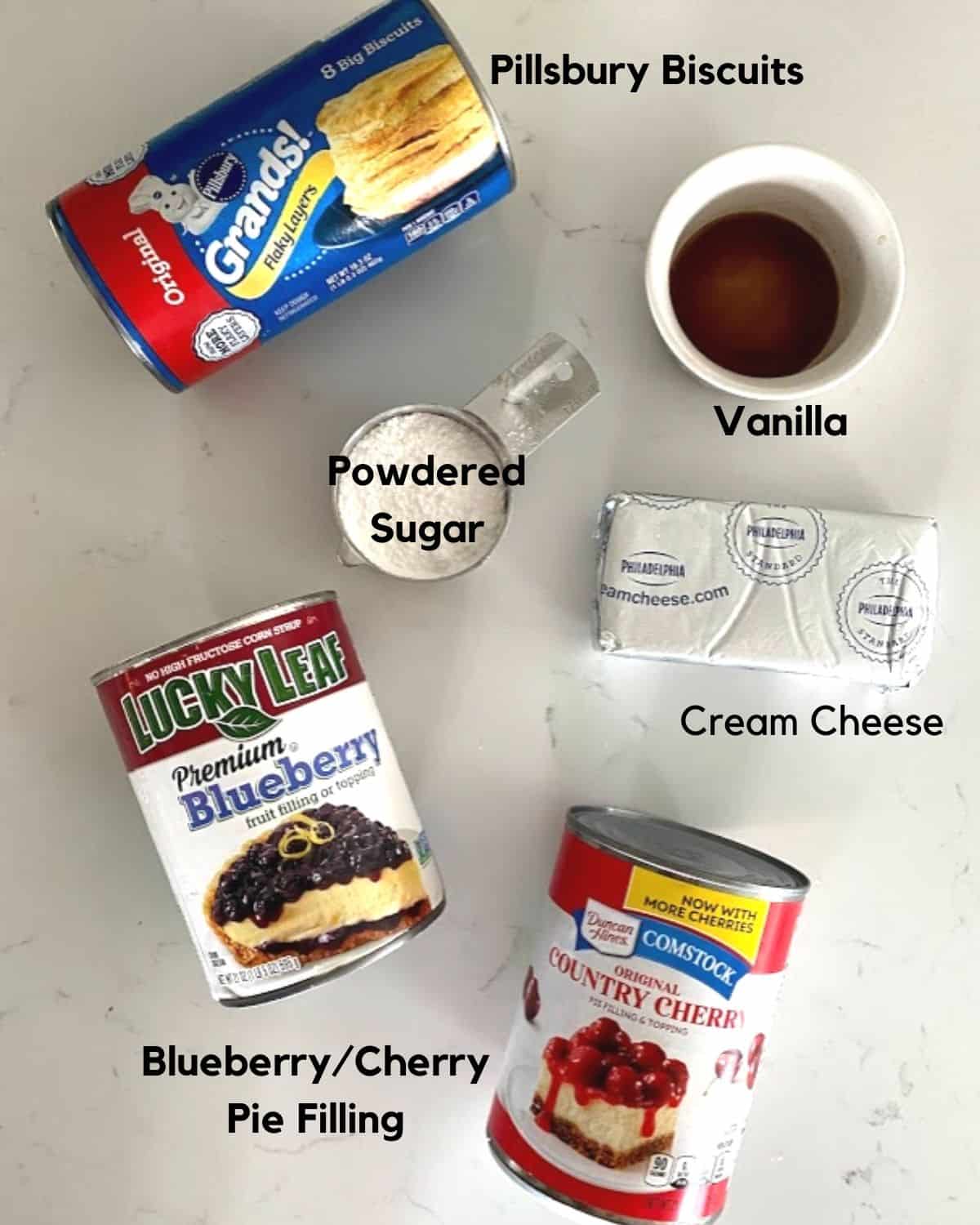 Equipment
Piping Bag- Having a piping bag makes piping the cheesecake filling easy. If you don't have one, you can make one using a large Ziploc baggie with the end snipped off to create a hole. You will just need to create your own hole when piping since the plastic bag won't be strong enough to penetrate the biscuit.
Star Tip- A star piping tip isn't necessary but it DOES add to the stars and stripes theme. If you don't have one, you can simply pipe "dollops" instead of stars.
Rolling Your Biscuits
You want to cut your biscuits into two. This gives you perfectly bite-sized portions that are not too small or big. Roll each biscuit in-between the palms of your hands until round and smooth.
Once you roll your biscuit halves into small balls, you want to place them close but not squished together. Then you want to brush them with an egg. The egg will make your biscuits golden and shiny.
Place on a nonstick surface like a mat or parchment paper. This will allow you to remove your flag onto a nice serving platter later on.
Skip the apple pie this year and try my Spiced Apple Pie French Fries!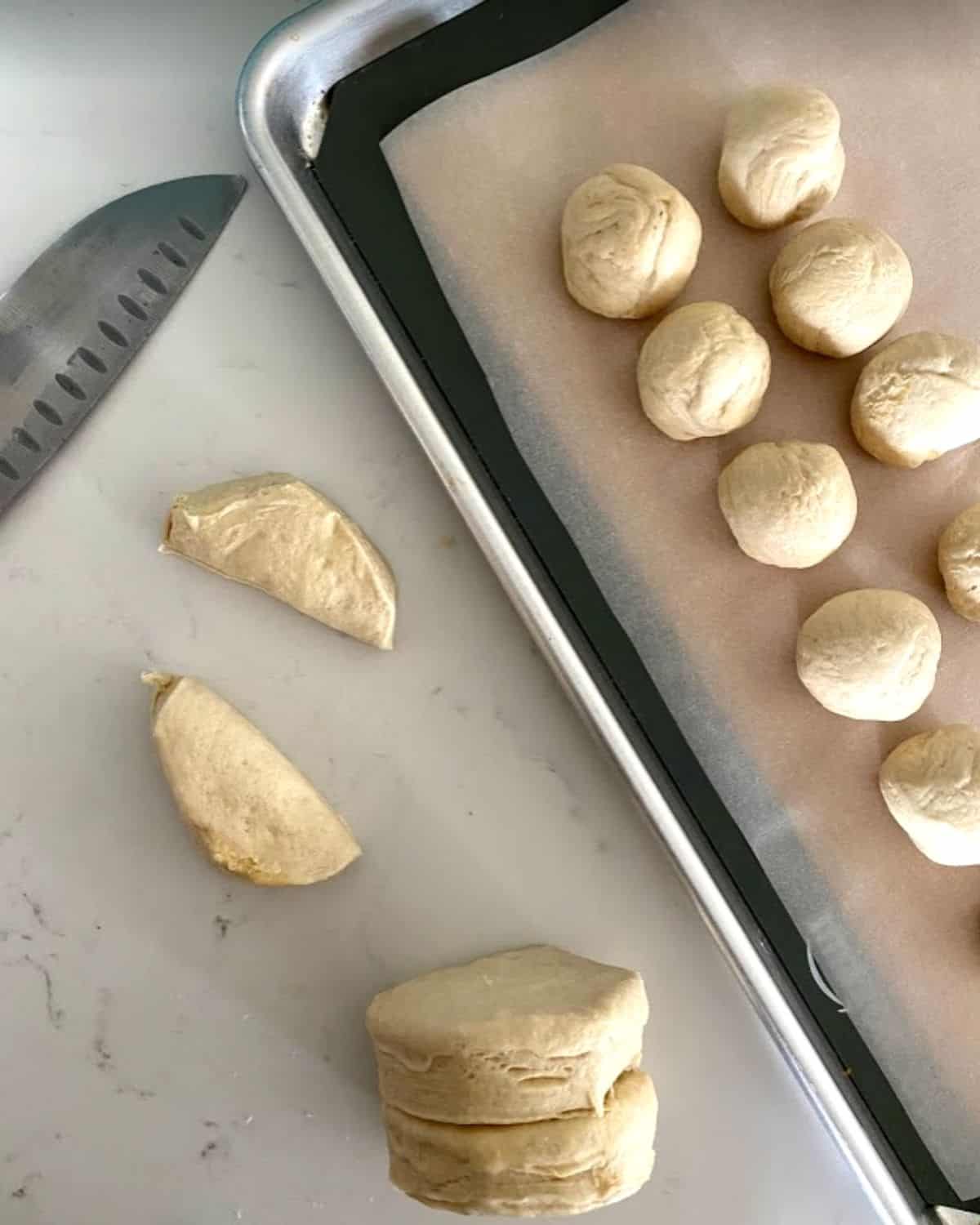 Making Your Flag
First, you want to wait for your biscuits to cool completely or the filling will melt and slide off.
Once cooled, take a piping bag with a tip on the end and insert the tip in the center of each biscuit. Squeeze gently until the biscuit is full. It's okay if some filling comes out of the top. You want every biscuit filled generously with the cheese cake filling.
Then use a small spoon or teaspoon to add a dollop of blueberry filling to the upper left part of your biscuit flag. Top SIX biscuits with the blueberry filling.
Then move to the top of your flag and top the top, middle and bottom row with the cherry, or any red, pie filling.
Finally, finish by piping a star or dollop of the cream cheese filling onto the rest of your flag for the white stripes.
Flag Dessert Tips
I dusted powdered sugar on top but this is optional. Here are some other tips I have for you to make your patriotic dessert super festive and tasty.
Add plenty of filling to each biscuit. The biscuits are not very sweet so they need it.
Make sure to transfer your biscuit flag to your serving platter before topping. The less you move it after, the better.
Serve with extra cheesecake filling on the side for people to dip into. (Yes it's that good.)
Make your American flag super large and historically accurate by adding 13 rows of biscuits. You will need to double this recipe to do this!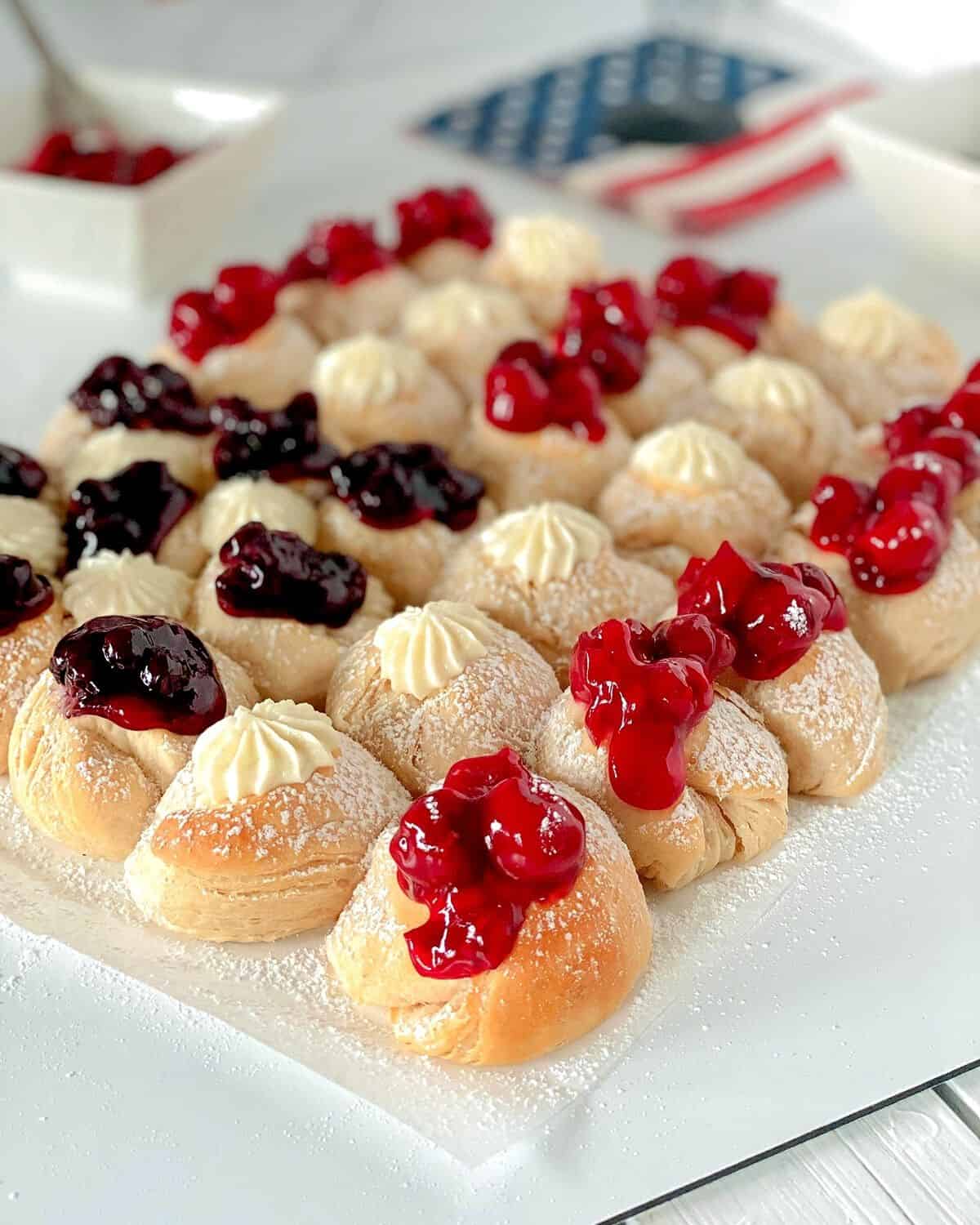 ❤️💙🤍Make sure you check out these 13 Red, White and Blue Finger Food Desserts too!
Need a festive appetizer? Check out my Watermelon Blueberry Feta Stars.
Make This In Advance
Make this patriotic red, white, and blue dessert ahead of time! Simply bake them according to the instructions and let the biscuits cool. Then cover and refrigerate until ready to fill. This method is best if you plan on transporting the dessert somewhere else.
Otherwise, you could finish the entire flag the night before and refrigerate as is. Leave the top uncovered so it stays beautifully festive! 🙂
Need a festive appetizer? Try my Star Spangled Kielbasa Skewers!
Other Red, White and Blue Recipes
📽 If you love entertaining at home, subscribe to my YouTube channel!!
📖 Recipe
Red, White and Blue Dessert
This easy pull-apart Red, White and Blue Dessert is the perfect summer dessert for Memorial Day, Fourth of July or Labor Day! It is super easy to make and is absolutely delicious!
Print
Pin
Rate
Ingredients
2

cans

Pillsbury Biscuits (8 Count)

6

oz.

strawberry pie filling

((about ¾ cup))

6

oz.

blueberry pie filling

((about ¾ cup))

12

oz.

cream cheese

5-6

tbsp.

milk

½

cup

powdered sugar

1¾

tsp.

vanilla extract
Instructions
Preheat your oven to 375°F.

Pop open your biscuit cans and cut each biscuit half. Roll each half in between your hands until you have smooth round balls of dough. You will have 2 biscuits leftover.

(You can bake them off for dinner later.) 😉

Place each biscuit ball on a nonstick surface like a silicone mat or parchment paper. (This will make it easier to slide off your flag onto your serving platter.)

*You want 5 rows of 6 biscuit balls across totaling 30.

Brush each biscuit with your egg wash and bake on the top rack for about 8-10 minutes or until cooked through. Don't overbake.

Allow your biscuits too cool completely before filling. While waiting, add cream cheese, 5 tbsp. of milk, powdered sugar and vanilla into a mixing bowl and mix together until smooth and creamy. *Add the extra tbsp. of milk if it's too thick!

Add cheesecake filling to a piping bag with a tip. I used a star tip but any tip will work.

Insert the piping tip in the top of each biscuit and fill generously. It's okay if the filling comes out a bit. Distribute the filling amongst all of the biscuits.

Once all biscuits are filled, we are going to pipe our "white stripes". Pipe a star onto the top of the second row of biscuits starting with the 5th biscuit then the fourth row, starting with the first biscuit. (See photo above!)

Next, add the "blue" by adding a dollop of blueberry filling on the top of the upper left 6 biscuits. You are going for a square. (See photo above!)

Finally, top the remaining biscuits with the cherry filling for the "red stripes". These are the top remaining row, third and bottom 6.

Sprinkle with powdered sugar or serve as is! Any extra cheesecake or pie filling can be served on the side!
Recipe Notes
Yield*
This flag will give you 30 biscuit bombs.
Nutrition
Calories:
344
kcal
|
Carbohydrates:
44
g
|
Protein:
5
g
|
Fat:
18
g
|
Saturated Fat:
6
g
|
Polyunsaturated Fat:
4
g
|
Monounsaturated Fat:
6
g
|
Cholesterol:
24
mg
|
Sodium:
657
mg
|
Potassium:
189
mg
|
Fiber:
1
g
|
Sugar:
10
g
|
Vitamin A:
316
IU
|
Vitamin C:
2
mg
|
Calcium:
64
mg
|
Iron:
2
mg