Here are 13 Red, White and Blue Patriotic Desserts you can bring to this summer's backyard barbecue or holiday party! They are extra festive and ideal for serving on Memorial Day, 4th of July or Labor Day. All recipes are red, white and blue and deliciously sweet!
Also check out my patrotic red, white and blue drink your guests will LOVE!
What better way to celebrate America than to serve patriotic sweets to friends and family?
Below is a round up of the BEST summertime party desserts that are 'red, white and blue', shaped like a flag, star or simply the colors of the American flag!
All recipes are kid friendly and great for serving on any summer holiday this year!
Check out my other quick desserts which take less than 15 minutes to whip up!
Patriotic Desserts For Any Holiday!
Don't you agree that festive recipes just make a party so much more fun? And since RED, WHITE and BLUE scream summer, bring ON the patriotic desserts!
No matter what holiday you're celebrating this summer, whether Independence Day, Memorial Day or Labor Day, desserts that are red, white and blue are welcome or rather, expected at most parties!
That also gives us reason to make these desserts not just once but THREE times this summer...if you find one you like! 🙂
⭐Need a patriotic appetizer? My Star Spangled Kielbasa Bites or Watermelon Stars are definitely patriotic winners!
Red, White and Blue Desserts
It is often hard to find foods that are red, white or blue. ESPECIALLY the BLUE! So here is a list of food ideas you can use to replace some of the dessert recipes below or help you to create your own fun patriotic desserts!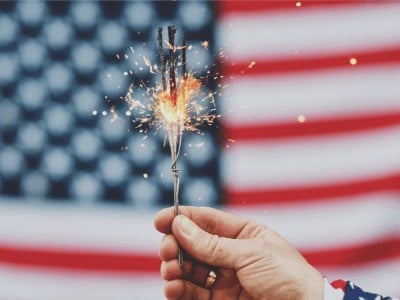 Red Dessert Ideas
Raspberries
Strawberries
Cherries
Watermelon
Pomegranate seeds
Craisins
Red Sprinkles
Swedish Fish
Red M&M's
White Dessert Ideas
Marshmallows
White Chocolate Chips (mini)
White Sprinkles
Whipped Cream
Angle Food Cake
Pound Cake (this is more yellowish but it would work)
Blue Dessert Ideas
Blueberries
Blackberries (they are darker but would work)
Blue Sprinkles
Blue Candy Melts
Blue M&M's
Blue Pop Rocks
Need a BLUE punch to serve the adults? Check out this spiked blue tropical punch!
Other Patriotic Variations
Some of the quickest ways to add red, white or blue to your desserts are using red, white or blue candy melts! They are chocolate discs that melt very easily so dunking, dipping or drizzling are encouraged! They just make it so easy to turn any dessert into a patriotic treat!
Also, grab some festive sprinkles and you're just a shake away from patriotic desserts!
---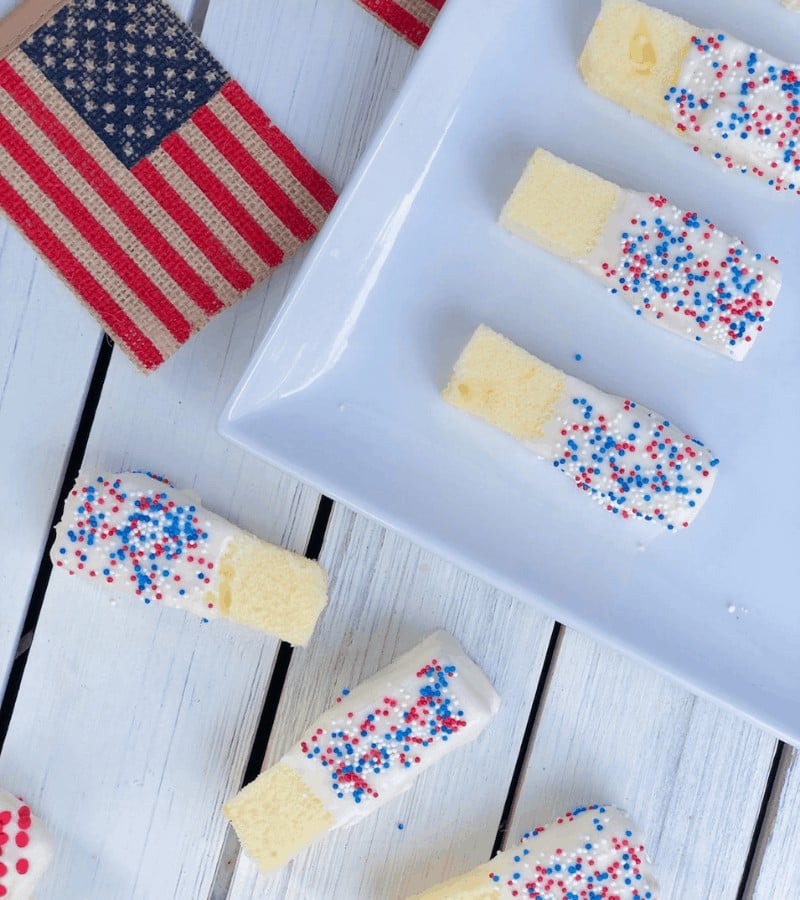 These adorable cake sticks use just THREE INGREDIENTS! They are made using a store-bought loaf of Entenmann's pound cake. But you can use any pound cake. All you do is cut, dip and sprinkle!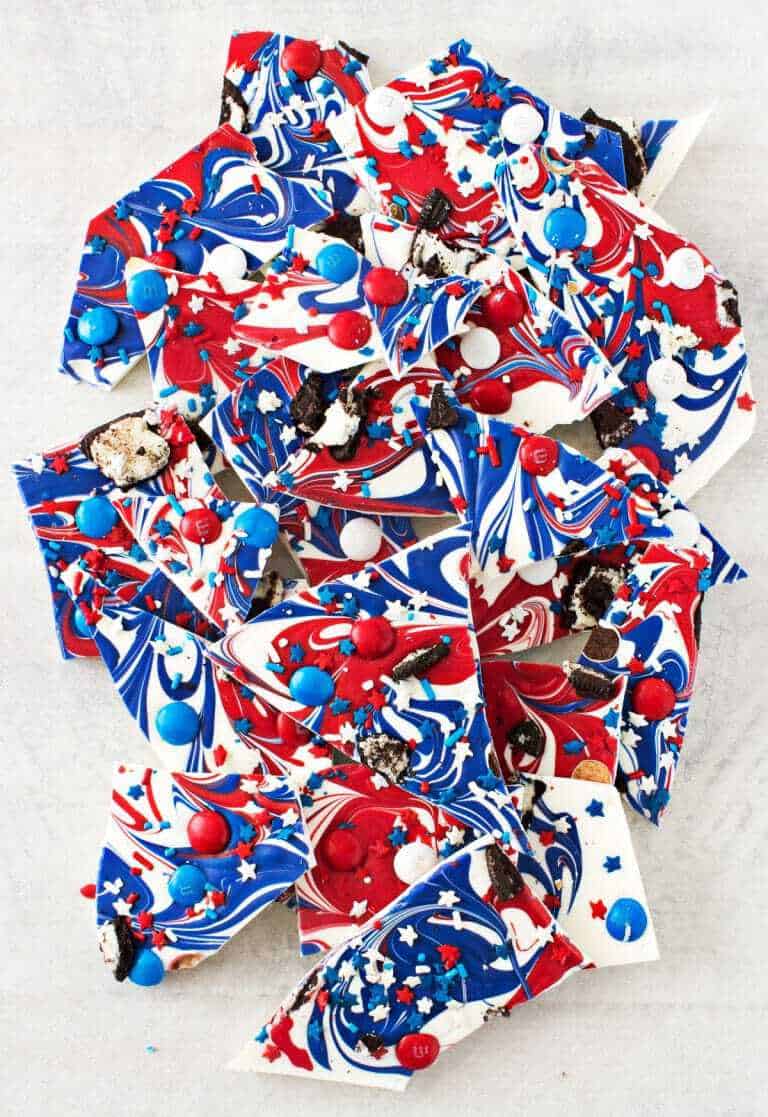 Bark is such an easy dessert to make. This red, white and blue bark is perfect for any summer holiday and is easy to make in advance and transport!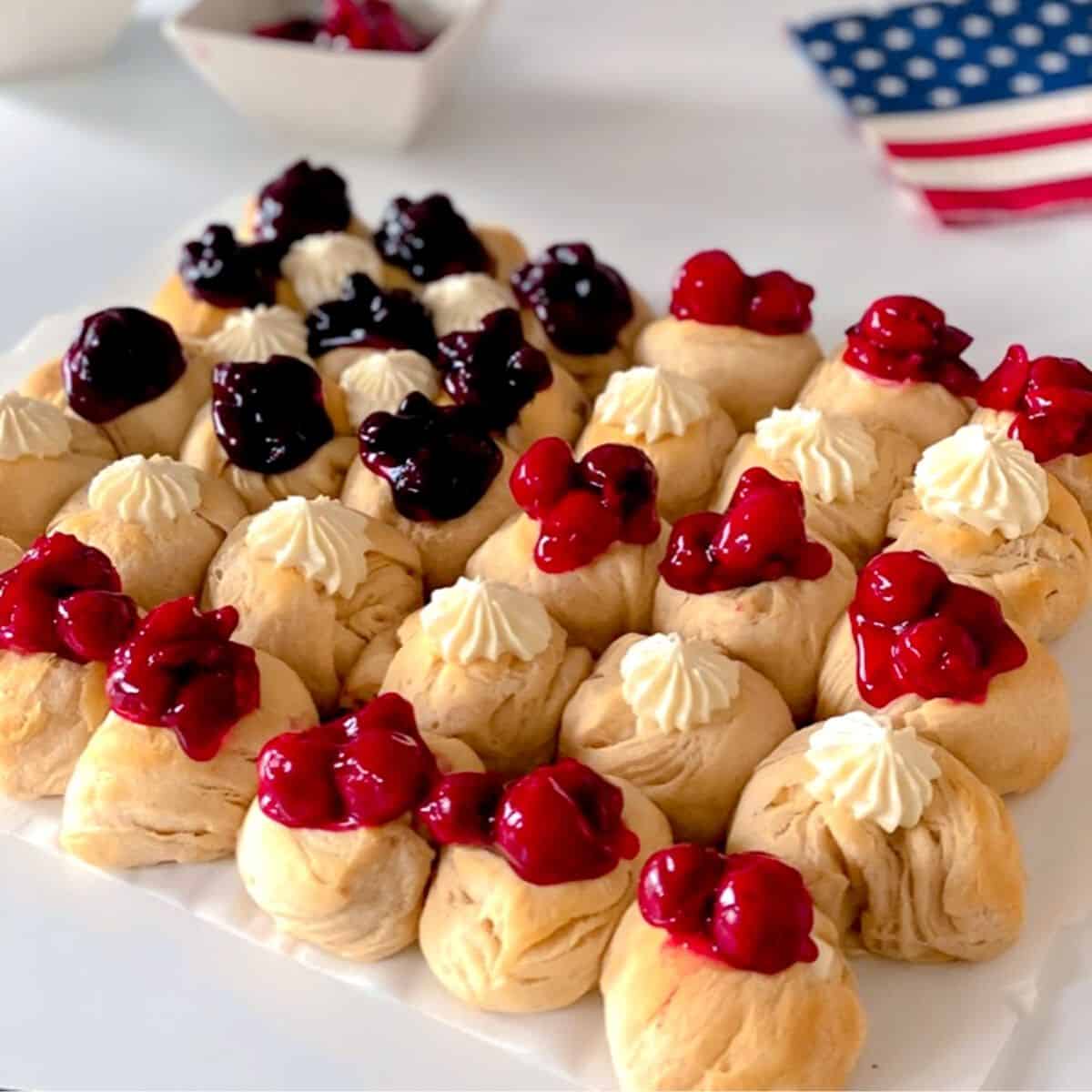 This flag dessert is one of a kind and has never been done before! It is made using Pillsbury biscuit dough which bakes in not time. Then the mini biscuits are filled with a cheesecake filling and topped with red, white and blue pie filling. It is delicious, festive and super patriotic!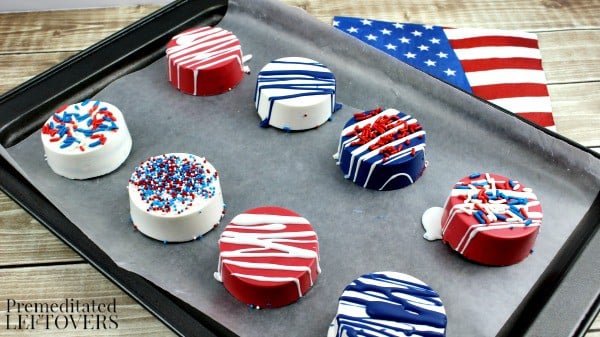 Oreos are a favorite dessert for anyone no matter what age! These are beautiful and use a simple mold to form perfect cylinders of chocolatey goodness. Get your kids to help with this one!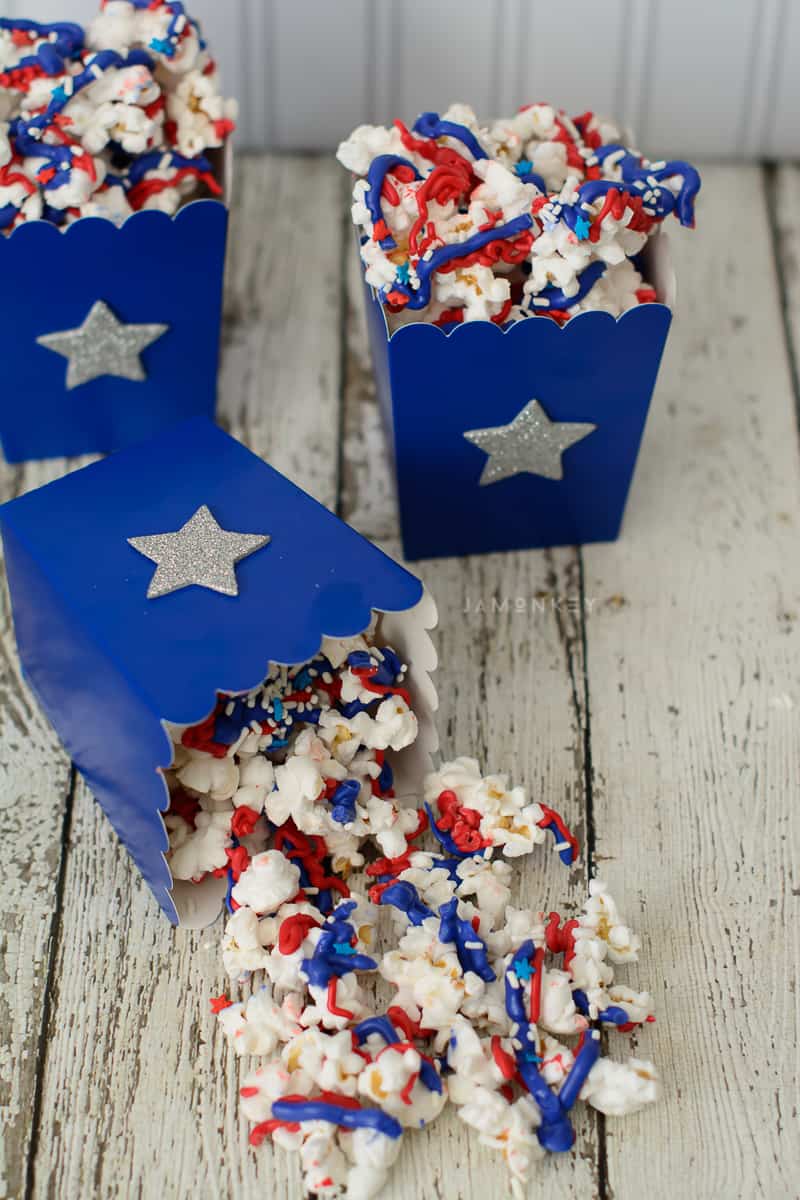 Popcorn drizzled with red and blue chocolate would be a fun snack or dessert for any summer party. You can make your own popcorn or purchase a bag from the store to make it super easy!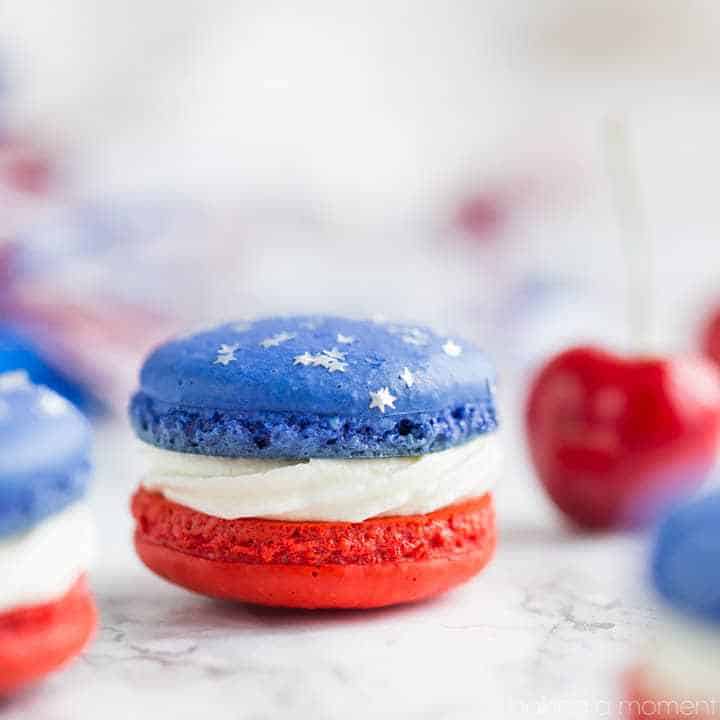 Macarons are delicious little bites. Die the batter different colors and you have a patriotic red, white and blue macaron perfect for Memorial Day, Labor Day or 4th of July!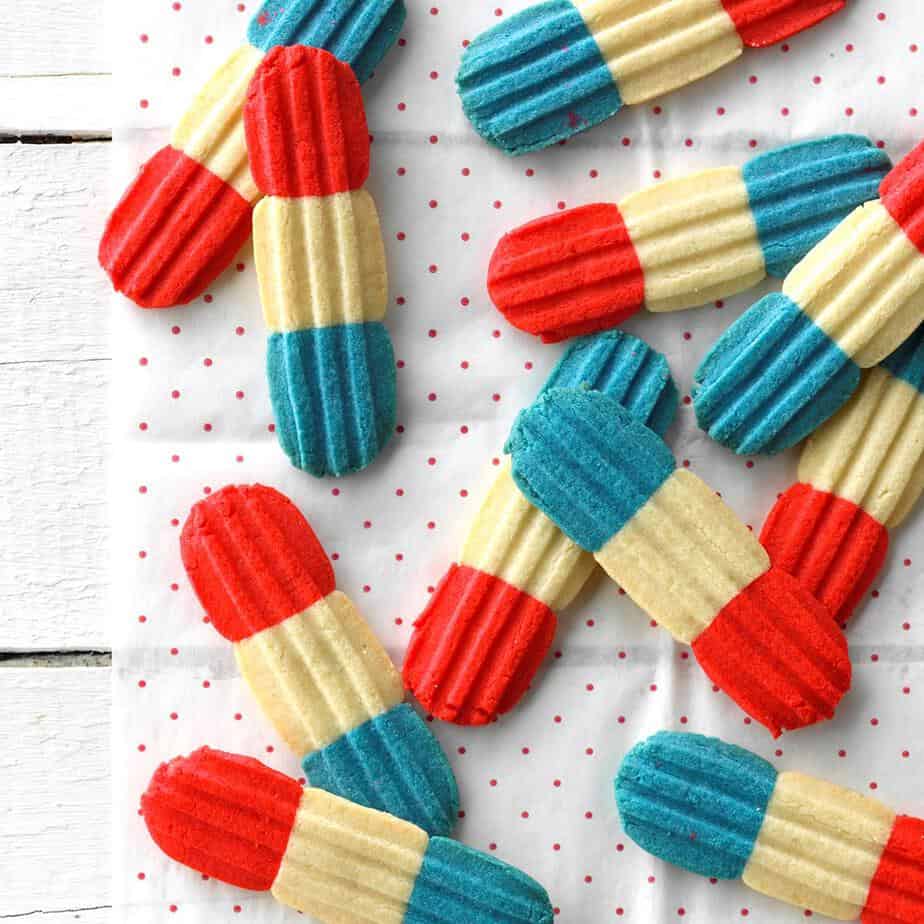 These cookies scream summertime! Plus, they are easier than they look. With just a little food coloring and a fork, you can resemble the firecracker popsicles we all loved growing up! Serve these with my Bomb Pop Drink too!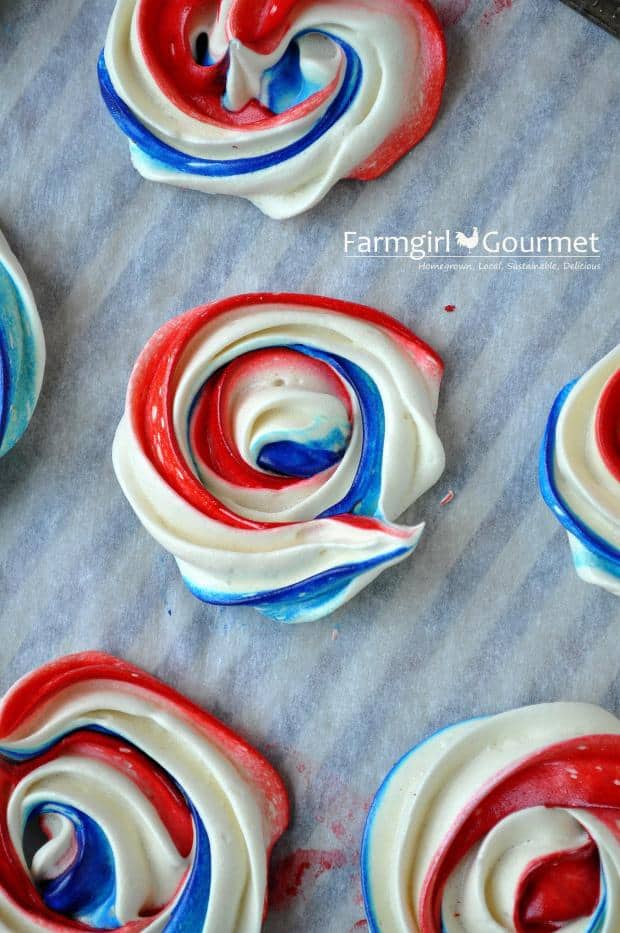 Meringue cookies are a healthier option in the summertime. These are beautifully festive and simple to prepare. All you'll need is a piping bag to pipe beautiful patriotic swirls.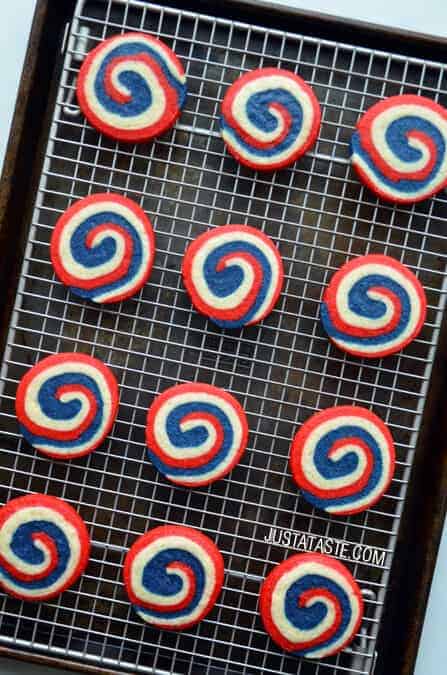 Pinwheel cookies are such a popular cookie in the states. These patriotic pinwheels are simple and adorable.
These Red, White, & Blue Crinkle Cookies will be great for your Memorial Day and 4th of July dessert. They are so simple! We make them with a boxed cake mix, Cool-Whip, and a few other ingredients. And… they are super patriotic.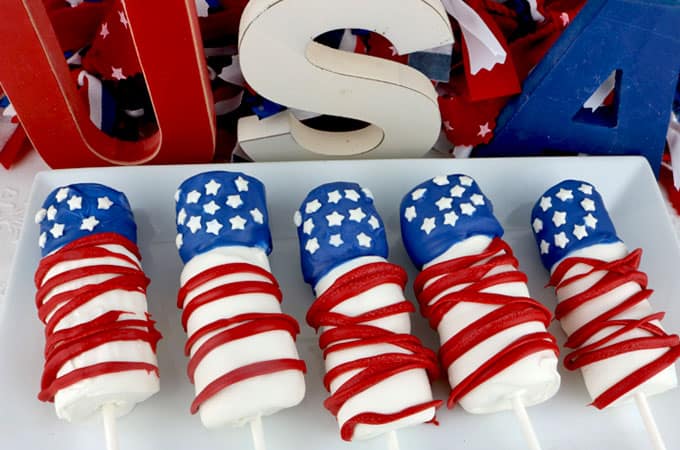 American Flag Marshmallow Pops are delicious patriotic treats that are as easy to eat as they are to make. Fun for a 4th of July or Memorial Day parties.
Red, White and Blue Mini Cakes
These Red, White, and Blue Mini Cakes are perfect for all your patriotic parties and BBQs this summer!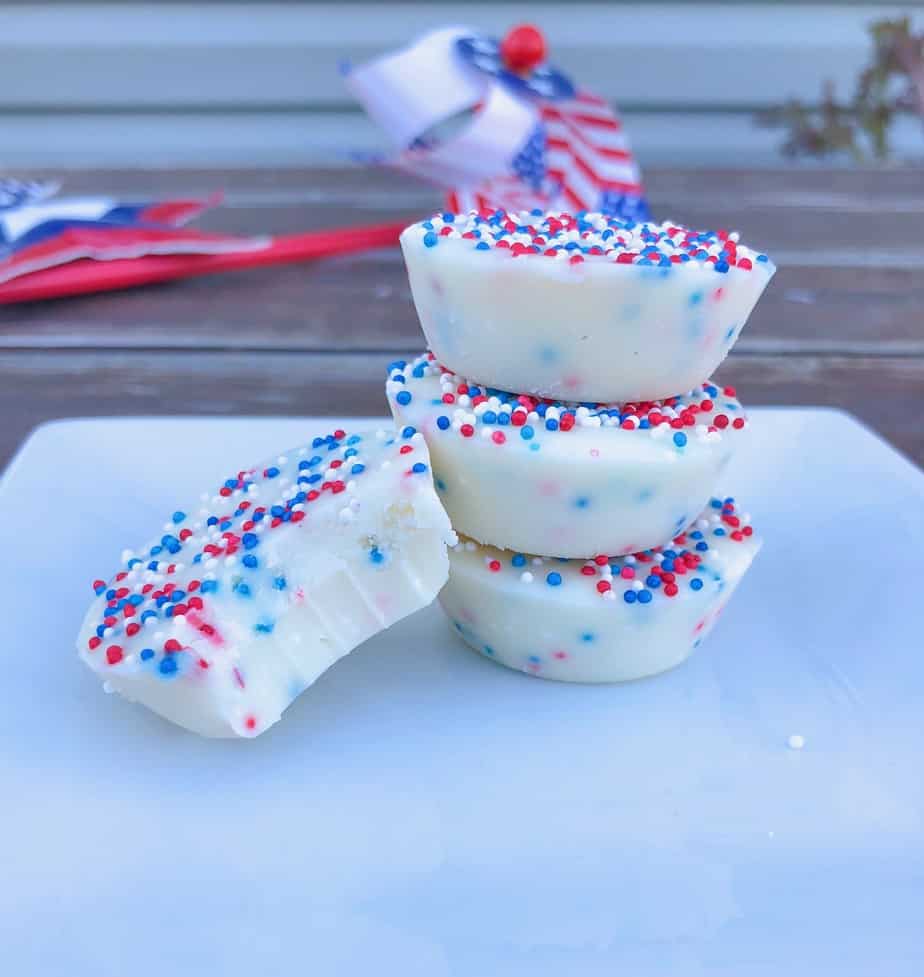 Fudge is the epitome of summer so why not make it festive for any holiday? This fudge is a vanilla cream fudge made in mini molds or using a mini muffin tin. And best part is, all you need is a microwave!
💫But what appetizers are you serving? My Star Spangled Kielbasa Bites would be perfect for the occasion!
Final Dessert Tips
How adorable are these patriotic desserts? By simply adding some food coloring, red, white and blue sprinkles, or just some patriotic colored candies, you can take an average dessert over the top!
Many of these festive desserts can be made to fit any occasion or holiday by changing out the food coloring. The possibilities are endless!
🤩 Also make sure to make these Watermelon Blueberry Stars to continue the STAR theme!
Other summer recipes you might like:
Grilled Pineapple Spears with Jalapeno Honey
73 Shrimp Appetizer Ideas For Your Next Party
EASY Crab Ceviche with Avocado
Hot Crab & Artichoke Dip with Cream Cheese
Panko Fried Butterfly Shrimp (w/ 2 Sauces)
📽 If you love entertaining at home, subscribe to my YouTube channel!!