A super EASY microwave vanilla fudge recipe perfect for the summer! I made these bites without condensed milk and used fresh cream instead giving each bite a rich and creamy white chocolate flavor.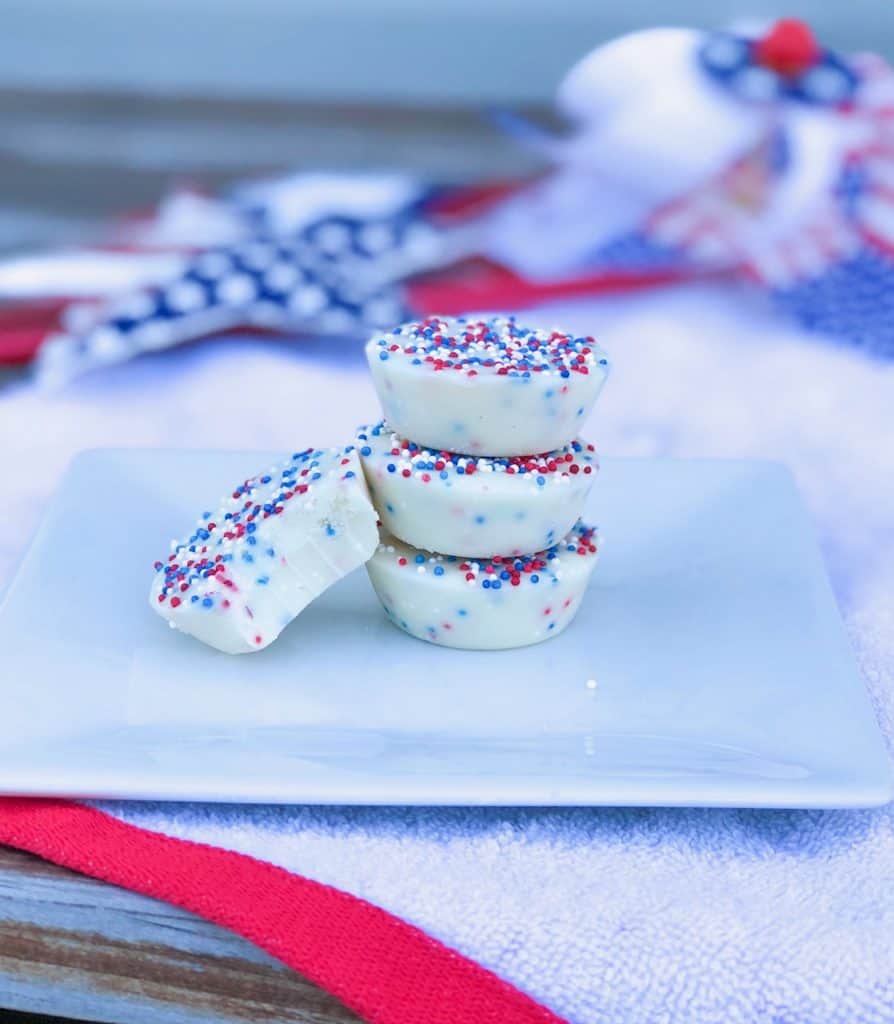 How To Make Microwave Vanilla Fudge
For this easy and quick fudge recipe, there is no sweetened condensed milk. I think it makes the fudge overly sweet. I also did not touch a double boiler because I think it makes fudge overly complicated.
Microwave fudge steps:
Heat cream, butter and vanilla in the microwave until HOT not boiling!
Add hot cream to white chocolate and stir
Reheat chocolate in the microwave for 10 seconds at a time until it is fully melted
Place in molds, mini muffin tin or a pan and allow to completely cool (1-2 hours)
That's it! The only way you can mess this up is by scorching your chocolate. You can do this by leaving it in the microwave too long. If you seize your chocolate, you can fix it! See video below.
And if you're like me, you probably only use one button on the microwave to reheat EVERYTHING. But did you know there are other reheating options?! Who knew!?
Well...I always knew but was in denial.
So if your microwave has the "MELT CHOCOLATE" option, use it! It helps!
But for this recipe, I did NOT use that. I simply hit "reheat" and timed it. As long as you don't go OVER the time noted, your chocolate will be fine.
If you're interested, read about how fudge originated!
What To Do When Your Chocolate Seizes?
Chocolate can seize up easily if water finds its way in! Here is a video showing you what to do if this happens!
Don't have molds or a mini muffin tin?
That's okay! You can simply add your fudge to a brownie pan or any pan that is smaller in size. Just make sure to line your pan with parchment paper so your fudge doesn't stick to the pan. Then, once it fully cools, remove from the pan and cut your fudge into small squares! That's it!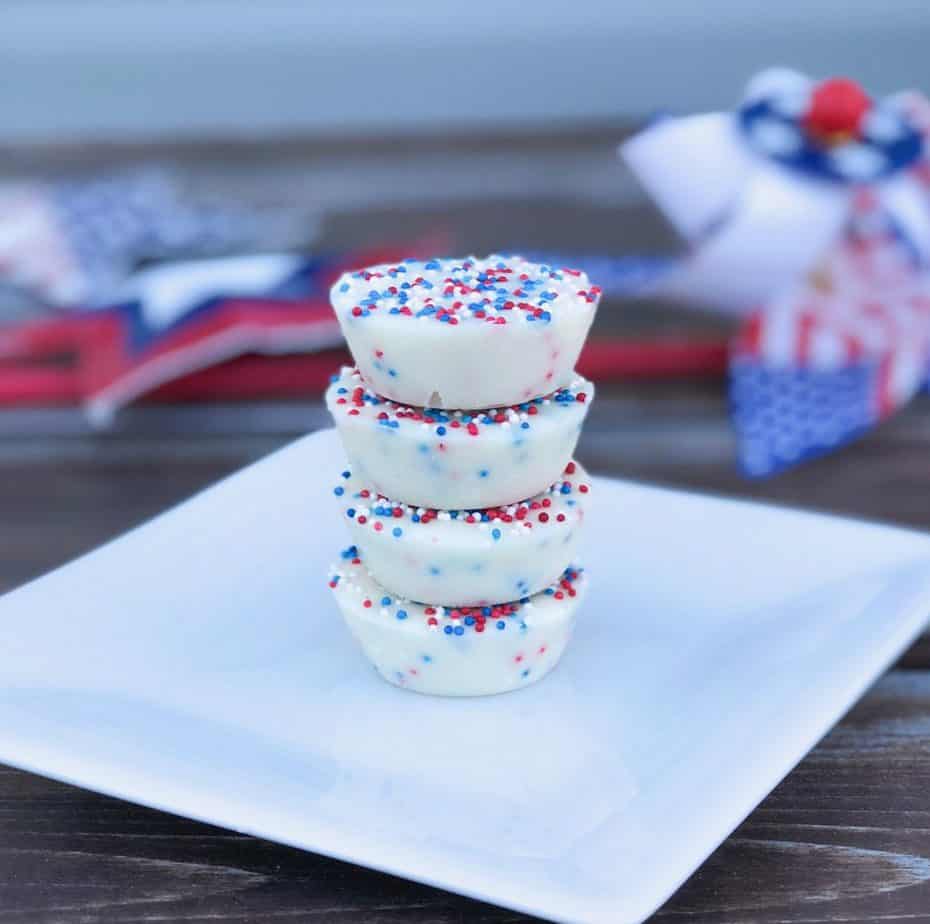 ---
More summer dessert recipes:
4th of July Chocolate Dipped Pound Cake Sticks
13 Red, White and Blue Bite Sized Desserts
American Flag Cheesecake Biscuit Bombs
Grilled Pineapple Spears with Jalapeno Honey
Easy BAKED Churro Bites (with quick chocolate sauce)
Easy Microwave Vanilla Cream Fudge (without condensed milk)
These Microwave Vanilla Cream Fudge Bites (without condensed milk) are so easy and even more decadent. They only contain 4 ingredients and one is not condensed milk! All you need is a microwave and 3 minutes later you'll be in fudge heaven!

Print
Pin
Rate
Ingredients
2 ½

Cups

White Chocolate Chips

¼

Cup

Heavy Cream (or half and half)

1

Tbsp

Salted Butter

((add ¼ tsp. salt if using unsalted))

1 ½

Tsp

Vanilla Extract

2

Tsp.

Sprinkles (Nonpareils)

(*Optional)
Instructions
Heat cream, butter and vanilla in the microwave for 60 seconds or until steaming HOT.

In another bowl have your chocolate chips ready. Then add the hot cream immediately to the chocolate chips and stir as much as you can. (the chips wont melt right away.) Place again in the microwave for 15 seconds. Take out and stir again. Repeat for another 15 seconds and stir, stir, stir! If chocolate still is not fully melted, repeat until it is.

Add sprinkles to melted chocolate and stir. Use a mini ice cream scoop and add one full scoop to your mini muffin tins. Top with more sprinkles if desired. If you're using another mold or pan just make sure the fudge is at least 1-2 inches thick.

Allow to cool completely. Exact time will depend on the temperature of your home and size of your mold. (Allow at least 2 hours to completely cool)
Recipe Notes
Don't overheat your chocolate or it will not melt properly! Watch it carefully and don't reheat for more than 10 seconds at a time!
*Party Tip* You can use this recipe for any holiday by just adding the appropriate colored sprinkles!
Use a heart mold for Valentine's Day and add red and pink sprinkles! Or use red and green for Christmas time!
Nutrition
Serving:
0
g
|
Calories:
359
kcal
|
Carbohydrates:
36.2
g
|
Protein:
3.7
g
|
Saturated Fat:
13.8
g
|
Polyunsaturated Fat:
0
g
|
Monounsaturated Fat:
0
g
|
Trans Fat:
0
g
|
Cholesterol:
23
mg
|
Sodium:
68
mg
|
Potassium:
0
mg
|
Fiber:
0.1
g
|
Sugar:
0
g
|
Vitamin A:
0
IU
|
Vitamin C:
0
mg
|
Calcium:
0
mg
|
Iron:
0
mg