This easy QUICK red white and blue dessert could not be easier to make! Just 3 ingredients and no baking required, these are the ideal patriotic dessert for your next summer party! Check out my other no-bake desserts.
This recipe is such a fun and festive dessert to serve at your next Fourth of July party along with my deep fried Oreos!
To cut time by more than half, I suggest you purchase store-bought pound cake to make you cake sticks!
🤍💙❤️Need a patriotic appetizer? Try these Star Spangled Kielbasa Bites or these Watermelon Stars!
The Pound Cake
Ain't no shame in using short cuts when expecting company and time is not on your side! No one will care that it's not ALL homemade, I promise. The important part is that you spent the time (minimal time), putting together a unique dessert that no one else has had before!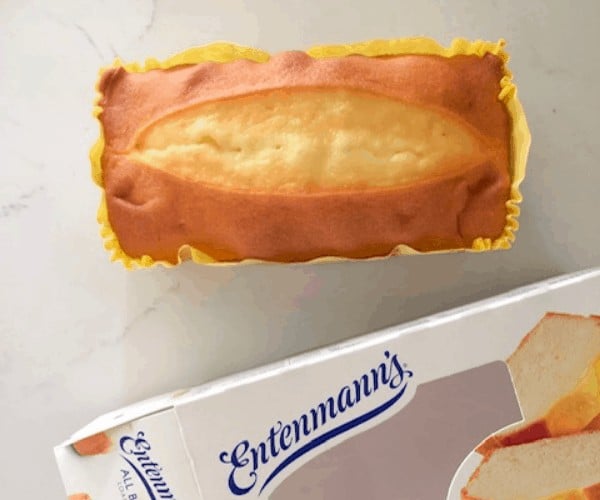 For this fun dessert, I used Entenmenn's Pound Cake. If your grocery store has it, which most do, GET IT! It is awesome. It's moist, delicious and perfect for making quick and easy desserts on the fly like these Mini Angle Cakes with Berry Syrup.
If you cannot find this brand, you can certainly get any other pound cake as long as it's in a LOAF. Worse comes to worse, make a boxed pound cake at home! It is still easy and will come out even tastier.
Once you have your loaf of pound cake, you will want to slice the cake into 1" slices. Then trim off the "crust" so you have a pretty white pieces of cake. Finally, cut each slice again but this time, in half. If the cake you have is larger, you may want to cut each slice into thirds but you be the judge!
When you have your cake sticks, you're ready for dipping!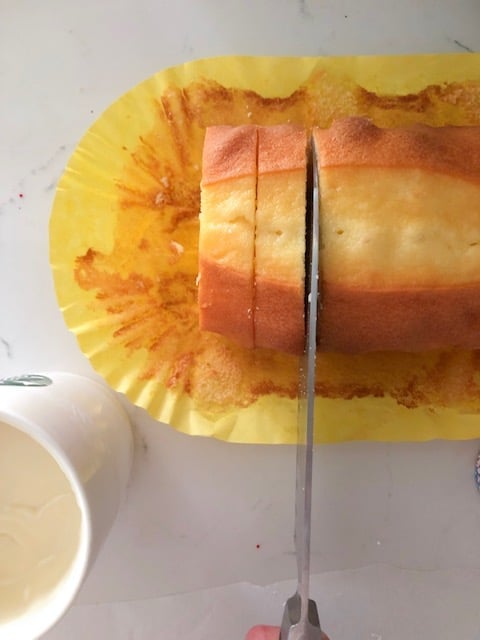 Dipping Your Cake Sticks
Working with chocolate can be tricky but have no fear. It isn't as scary as it seems. Just make sure you don't burn your chocolate or get any water in it and you'll be fine!
I chose to use white chocolate because it goes with the red, white & blue theme. Then I added red and blue sprinkles. You could, of course, use milk chocolate or even dark chocolate but the brown color will not look as festive.
Other fourth of July ideas would be to melt red or blue candy melts chocolate and drizzle that on top of each cake stick instead of using sprinkles.
Which type of chocolate is best for dipping?
Candy Melts, without a doubt are the best melting chocolate! They melt super easily and the consistency always comes out nice and smooth.
Using regular white chocolate chips is an option but NOT your best option. It will just not have the same consistency as using the candy melts. It will melt but it will be very thick.
Candy melts are not sold at most grocery stores so I suggest ordering a few packs off of Amazon. (click image above) They last months on end and you can purchase all kinds of colors! Your local craft store may sell them too.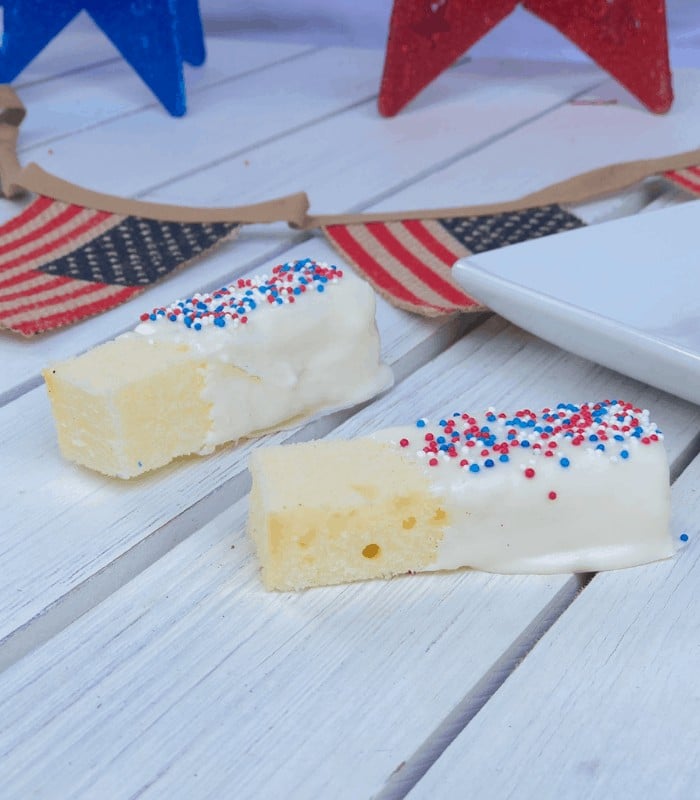 Get Creative!
Another option that would be SO festive and perfect for the 4th of July holiday would be to cut your cake into STARS! Grab any star cookie cutter and cut out as many stars as you can from each slice. This would be such a creative idea that screams 'fourth of July'!
Here are some products you will need to make this recipe!
🤍💙❤️Need a patriotic appetizer? Try these Star Spangled Kielbasa Bites!
Check out some other easy festive summer recipes!
More Red, White and Blue Desserts
American Flag Cheesecake Biscuit Bombs
Chocolate Covered Banana Nut Bites
Easy Homemade Buttery Caramel Corn
Easy Microwave Vanilla Cream Fudge (without condensed milk)
---
📖 Recipe
4th of July Chocolate Dipped Pound Cake Sticks
Fun and easy Fourth of July pound cake sticks perfect for those summer holidays! Store-bought pound cake cut, dipped into white chocolate, and then sprinkled with patriotic sprinkles!

Print
Pin
Rate
Instructions
Cut your pound cake loaf into 1" slices. Trim the crust off of each slice (optional). Then cut each slice in half resulting in TWO sticks per slice. You should be able to get around 12 sticks.

Melt chocolate in a large heat-proof bowl in the microwave in 30 second increments, stirring WELL in between. You should have to do this 3-5 times until the chocolate is fully melted. Do not burn the chocolate!

Pour your melted chocolate into a mug for easy dipping. Dip each stick ¾ of the way into the melted chocolate and allow excess to drip off. You may need to shake it a bit but be careful not to break the cake. Place onto parchment paper and sprinkle desired sprinkles on top.

Repeat until all sticks are covered! You will need to reheat the chocolate after every 4-5 sticks to keep its consistency. Just pop the mug in for another 10-20 seconds and stir before continuing to dip.

Allow to cool before serving. Store in the fridge for 5-7 days in a Tupperware container.
Recipe Notes
Pound cake is the only cake I recommend for dipping since it holds together the best.
Nutrition
Calories:
277
kcal
|
Carbohydrates:
37
g
|
Protein:
0.01
g
|
Fat:
14
g
|
Saturated Fat:
13
g
|
Monounsaturated Fat:
0.002
g
|
Cholesterol:
0.2
mg
|
Sodium:
52
mg
|
Potassium:
0.2
mg
|
Sugar:
37
g
|
Vitamin A:
0.3
IU
|
Calcium:
0.1
mg
|
Iron:
0.01
mg