Transport your taste buds to the sun-drenched shores of Greece with this tantalizing collection of Greek appetizers. From creamy tzatziki to crispy spanakopita to succulent keftedes and briny dolmades, these appetizers capture the essence of Mediterranean cuisine. The Greek flavors will not only awaken your palate but also invite you on a culinary journey through the rich and diverse flavors of Greece.
What is the most popular appetizer in Greece?
After visiting Greece multiple times, I would argue to say OTHER THAN feta cheese and Kalamata olives, tzatziki dip with french fries is one of the most popular appetizers served in Greece!
These finger food type appetizers are also called "Meze". Meze is simply small plates of food kind of like tapas. Other foods commonly served In Greece are hummus, Greek salad aka Horiatiki salad, keftedes, saganaki and spanakopita!
Growing up Greek, I have made and tried everything so I may be biased to say I think Greek appertizers are THE BEST kinds of appetizers out there. They are flavorful, fresh, and not too heavy. Save some of these Greek appertizers to serve your friends or family and get ready for some Opas! (No plate smashing allowed.)
Feta Cheese
Feta cheese itelf drizzled with extra virgin olive oil and lots of oregano is a popular appetizer that is on every Greek table. The feta in Greece is THE BEST since it's super creamy rather than dry and crumbly.
Slice it into wedges or chunks and serve with freshly grilled pita bread for a deliciously filling appetizer that goes pretty well with ouzo!
Kalamata Olives
Kalamata olives are the only olive served in Greece as an appetizer. They are SO delicious and really the only ones I prefer to eat. Pair a bowl of olives with some fresh pita bead and some creamy feta cheese and your meze platter is set!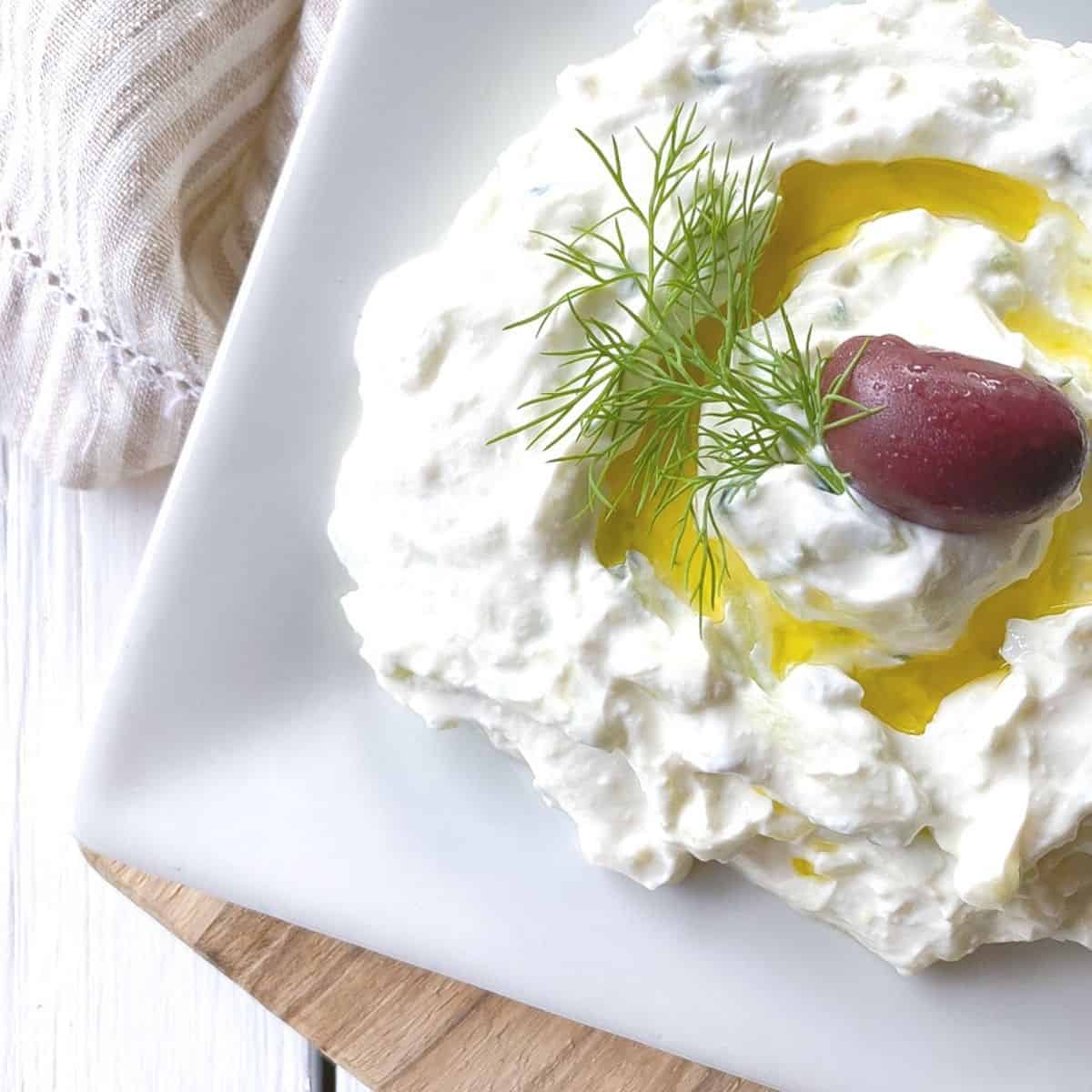 Dive into the refreshing world of Tzatziki, a beloved Greek dip that's as versatile as it is delicious. Creamy yogurt, crisp cucumber, and a symphony of herbs and garlic come together to create a tangy, cooling sensation that's perfect for dipping, spreading, or even as a flavorful condiment. Join us on a flavorful exploration of this Mediterranean classic that's sure to leave your taste buds craving for more.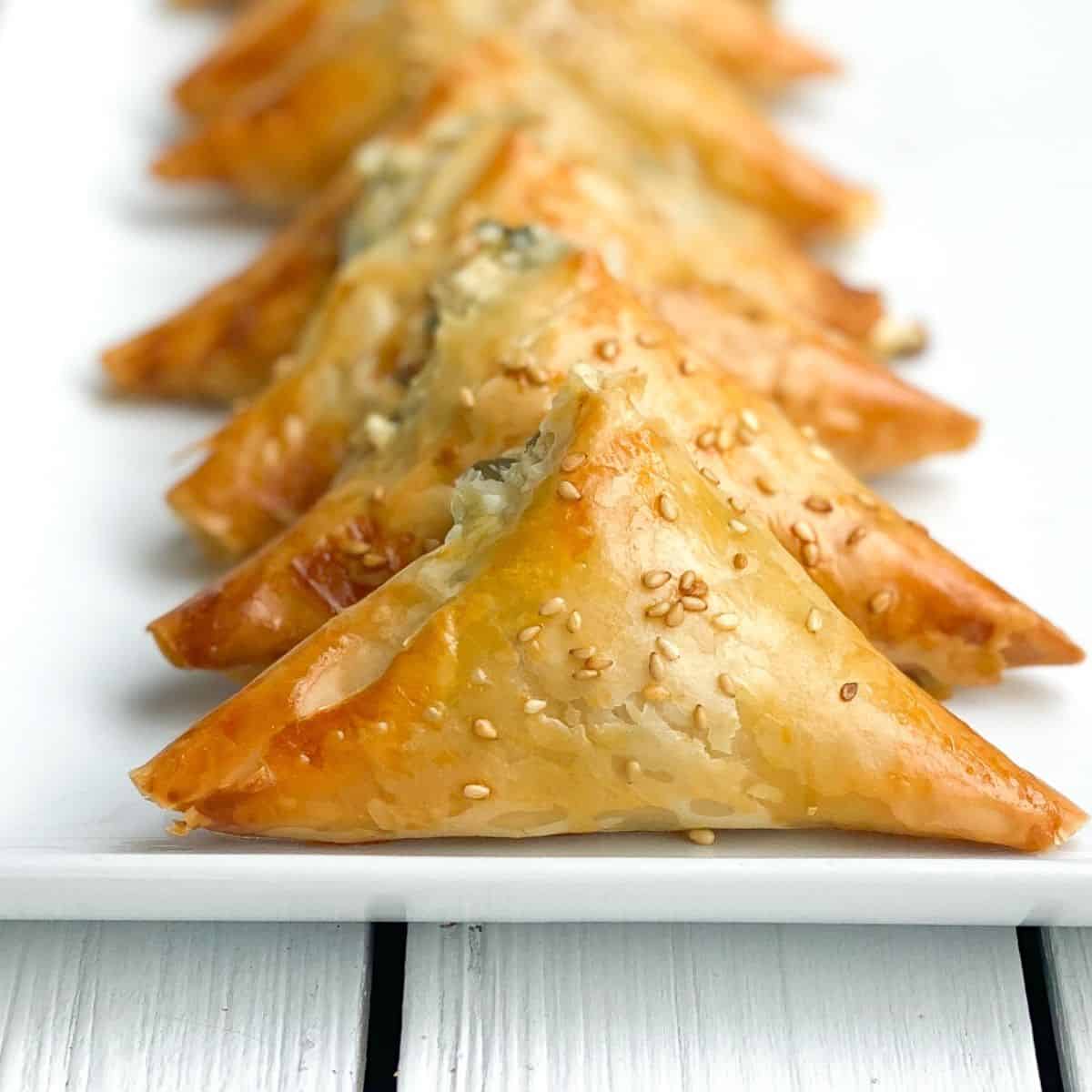 Spanakopita is one of the most popular Greek appetizers. My mother would make these spanakopita triangles every family gathering growing up! My yiayia would make an entire sheetpan!
They are easy to make and SO delicious!
Golden brown, crispy triangles are a harmonious marriage of earthy greens and creamy feta cheese, seasoned with spices and herbs, creating a satisfying appetizer or snack that embodies the essence of Greek cuisine.
Let's take a tasty trip to Greece with Melitzanosalata Dip, a classic Greek treat that's like sunshine in a bowl. This creamy dip combines roasted eggplant, zesty garlic, and a medley of aromatic herbs, all drizzled with a bit of olive oil.
I love serving it when entertaining because it's naturally vegan and the perfect partner for pita bread or veggie sticks!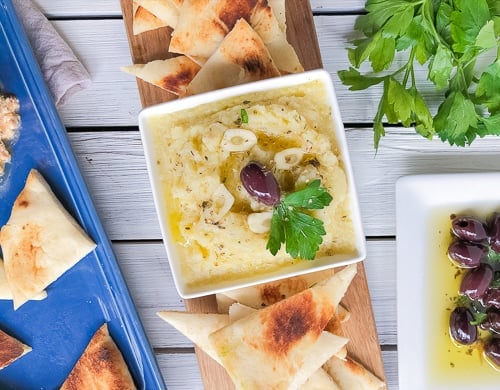 Skordalia is a delightful dip or spread that packs a punch of flavor. This creamy spread is made by blending garlic, mashed potatoes, olive oil, and a dash of vinegar or lemon juice, creating a tangy, garlicky dip that's simply irresistible.
Whether you're spreading it on bread or using it as a dip for veggies, Skordalia promises a delightful taste of Greece in every bite.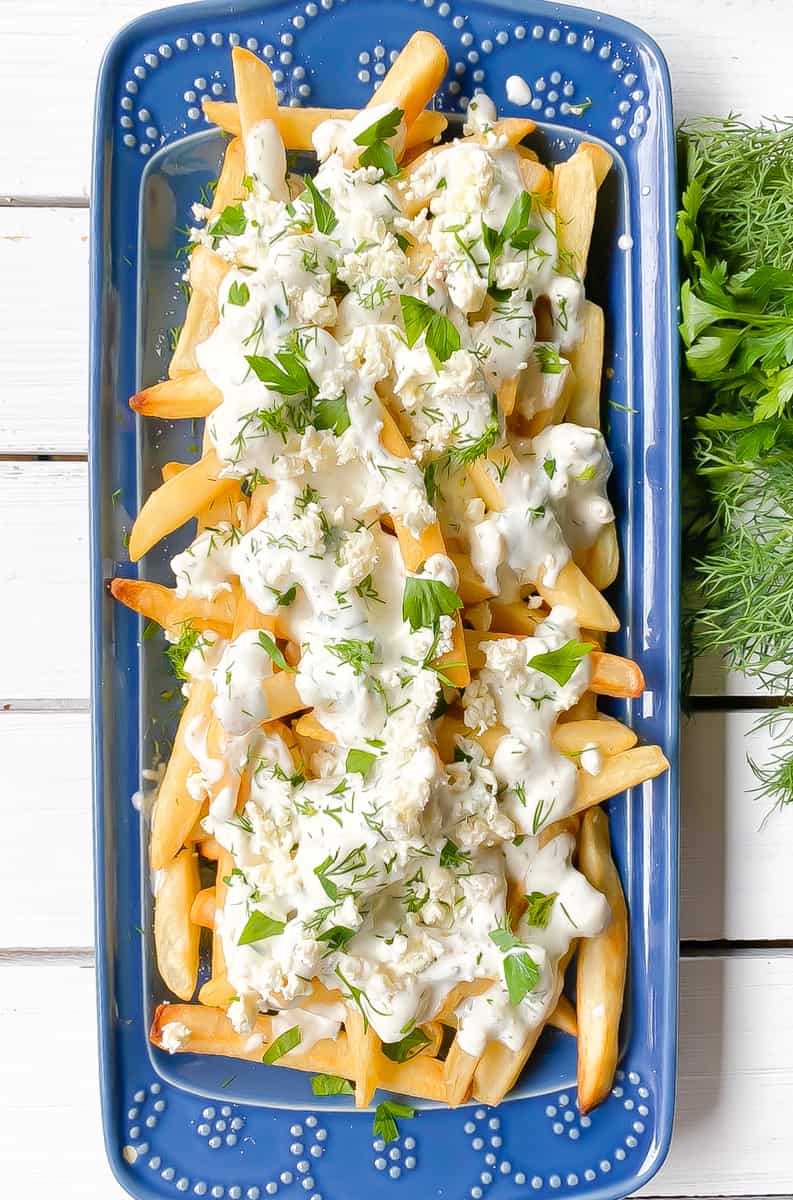 Feta cheese is definitely an appetizer on it's own. But pair it with some french fries and you've got another appetizer that's ever better!
Feta Fries are a unique appetizer that's perfect for feta lovers. These crispy fries are generously topped with crumbled feta cheese and tzatziki sauce, offering a delightful combination of salty and savory flavors. Whether you're enjoying them as a side dish or a satisfying snack, Feta Fries promise a scrumptious experience that's impossible to resist.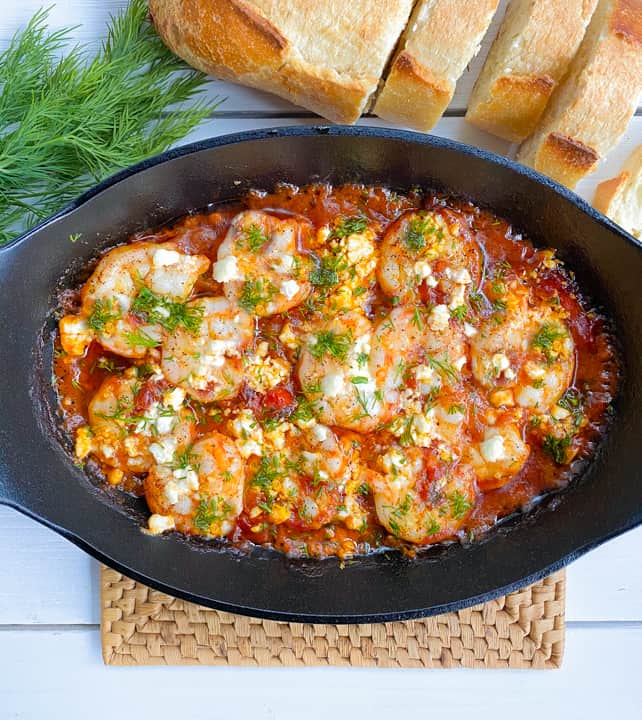 Get ready to savor the delightful taste of the Mediterranean with Shrimp Saganaki, a Greek dish that's a seafood lover's dream. Plump, succulent shrimp are simmered in a rich tomato sauce, infused with aromatic herbs and a hint of ouzo or brandy for that special kick. Topped with crumbled feta cheese and served with crusty bread, Shrimp Saganaki is a flavorful and heartwarming treat that captures the essence of Greek cuisine.
You're Greek party isn't set without some LAMB! These Greek Lamb Meatballs served with Tzatziki Sauce are a dish that embodies the essence of Mediterranean flavors. These succulent lamb meatballs are seasoned with aromatic herbs and spices, then lovingly cooked to perfection.
Drizzled with cool and tangy tzatziki sauce, it's a mouthwatering combination that will transport your taste buds straight to Greece, where every bite is a flavorful journey worth savoring.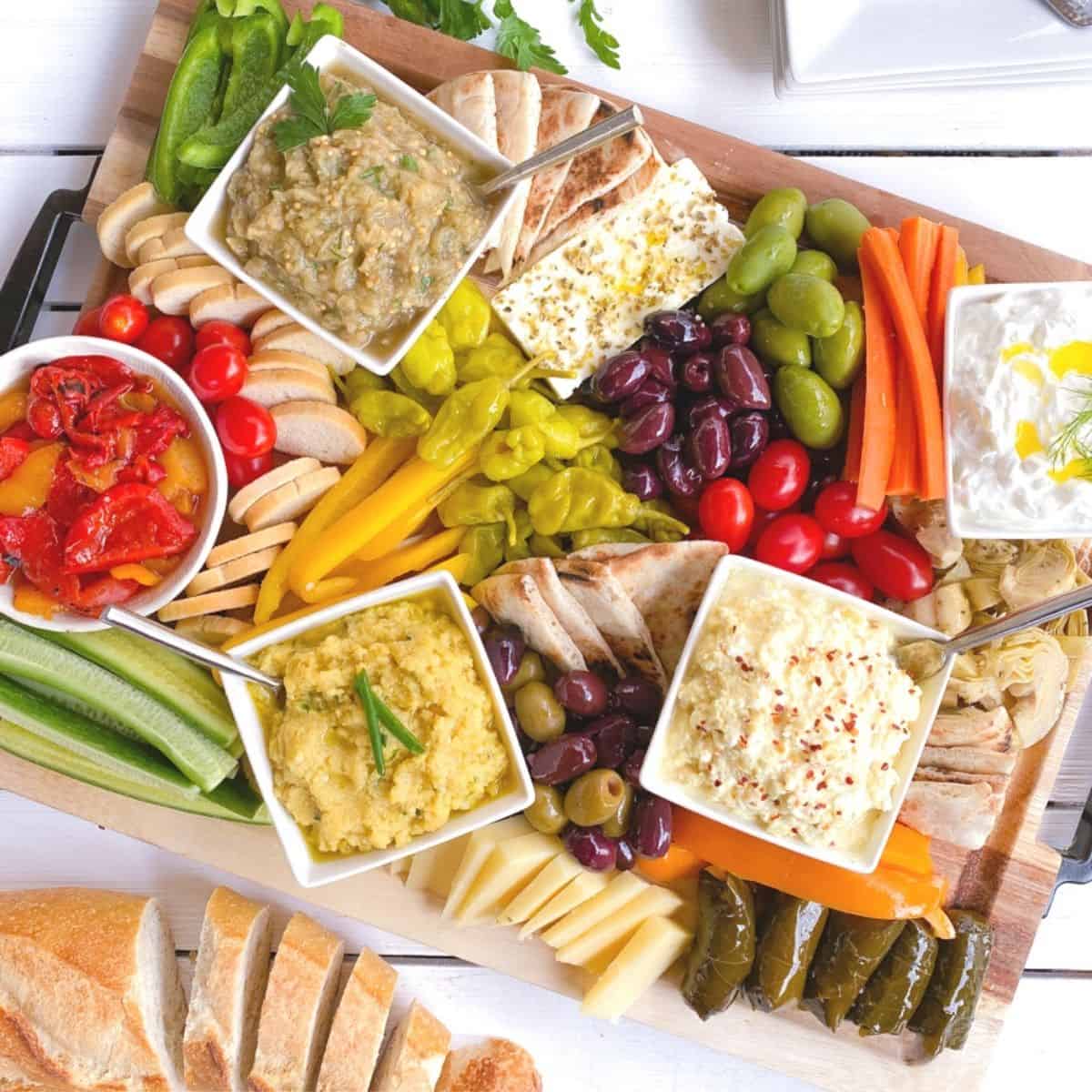 Can't decide which direction to go? Make this Greek Meze Platter, a spread that's perfect for sharing and savoring. This vibrant platter features an array of mouthwatering bites, from creamy hummus and briny olives to stuffed grape leaves and crumbled feta cheese.
Paired with warm pita bread and fresh vegetables, it's a delightful assortment that captures the spirit of Greek hospitality and culinary tradition, inviting you to indulge in a diverse tapestry of Mediterranean tastes.
These Greek Salad Cucumber Cups are my take on your classic Greek salad but made bite sized! It's a refreshing appetizer that's as delightful as it is visually appealing. Crisp cucumber cups are filled with a medley of vibrant ingredients like diced tomatoes, red onions, Kalamata olives, and crumbled feta cheese, all drizzled with a zesty vinaigrette.
These bite-sized gems are a burst of Mediterranean freshness, offering a taste of Greece in every crunchy, flavorful bite.
This is my take on the classic dip Tirokafteri. It's a bit simply but just as tasy. Spice up your appetizer game with Spicy Feta Dip, a zesty and creamy concoction that's sure to awaken your taste buds.
This fiery dip combines the richness of feta cheese with a kick of red pepper flakes and a squeeze of lemon juice, creating a tantalizing blend of heat and tang. Perfect for dipping pita bread or veggies, Spicy Feta Dip is a bold and irresistible treat that adds a fiery twist to your culinary adventures.
Homemade white bean hummus is the base for this layered hummus dip. Spooned over the top is a light Mediterranean Pico made from fresh herbs, chopped tomato, and English cucumber — it really gives this appetizer a delightful freshness and beautiful color.
This delightful finger food, known as dolmadakia or stuffed grape leaves, is a fantastic vegan or lenten dish, full of aromas from the fresh herbs. Relish these delectable bites on their own, complemented by a dollop of Greek yogurt, or elevate them to a complete meal by serving them alongside a crisp salad or grilled vegetables. Enjoy!
Creamy and tangy feta cheese wrapped in delicate layers of crispy phyllo pastry with sweet honey and sesame seeds on top makes a perfect balance between savory and sweet. This mouthwatering appetizer will only take 40 minutes to prepare and bake and will impress everyone.
Greek Orzo Salad
This recipe is not necessarily an appetizer but is one that I serve all the time especially in the summer. It's fresh, bright and is made with many Greek flavors such as peppers, onions, olives and lots of creamy feta cheese!
Why not serve this with small plates for guests to enjoy with some Greek wine!?
Other Appetizers You May Like