Fried feta cheese has been in my family for years. I have such great memories of my mother tossing a chunk of feta into sizzling hot olive oil. It was a delicious appetizer or Greek meze to any dinner. So pass the pita bread and let's dig in!
I love feta cheese. I literally eat it every day. So when I get the chance to serve it up in a fancier way for guests, I jump on it!
Frying feta is such a deliciously easy way to elevate this hard salty goat cheese. If you love fete as much as I do, you need to try my Spicy Feta Cheese Dip.
Jump to:
Watch How I Make These Cheesy Pull Apart Bread!
Ingredient Tips
Good quality block of feta. Look for one that is sliced about 1" thick.
Sesame seeds- These add flavor and texture.
Honey- This adds a sweetness to balance the saltiness. You can even use hot honey if you like some heat!
Egg- The egg will help the sesame seeds to stick better.
Cornstarch- Cornstarch helps to crisp up foods and works better than flour in my opinion!
Tips For Frying Feta Cheese
✔️ Choose a thick pre-sliced chunk of feta from the store that's about 1" in width. Don't try to slice a block yourself or it will crumble.
✔️ You want a thick layer of oil in your pan so choose a smaller skillet so you do not waste oil.
✔️ A non-stick or cast iron pan is recommended as stainless steel pans may stick to the feta.
✔️ Make sure your heat is not too high. The last thing you want is a burnt crust and cold feta inside. Medium heat is what I am for to ensure a crispy golden brown crust forms while warming the feta inside.
✔️ Use shallow wide bowls for dipping your feta to ensure you coat the entire block thoroughly.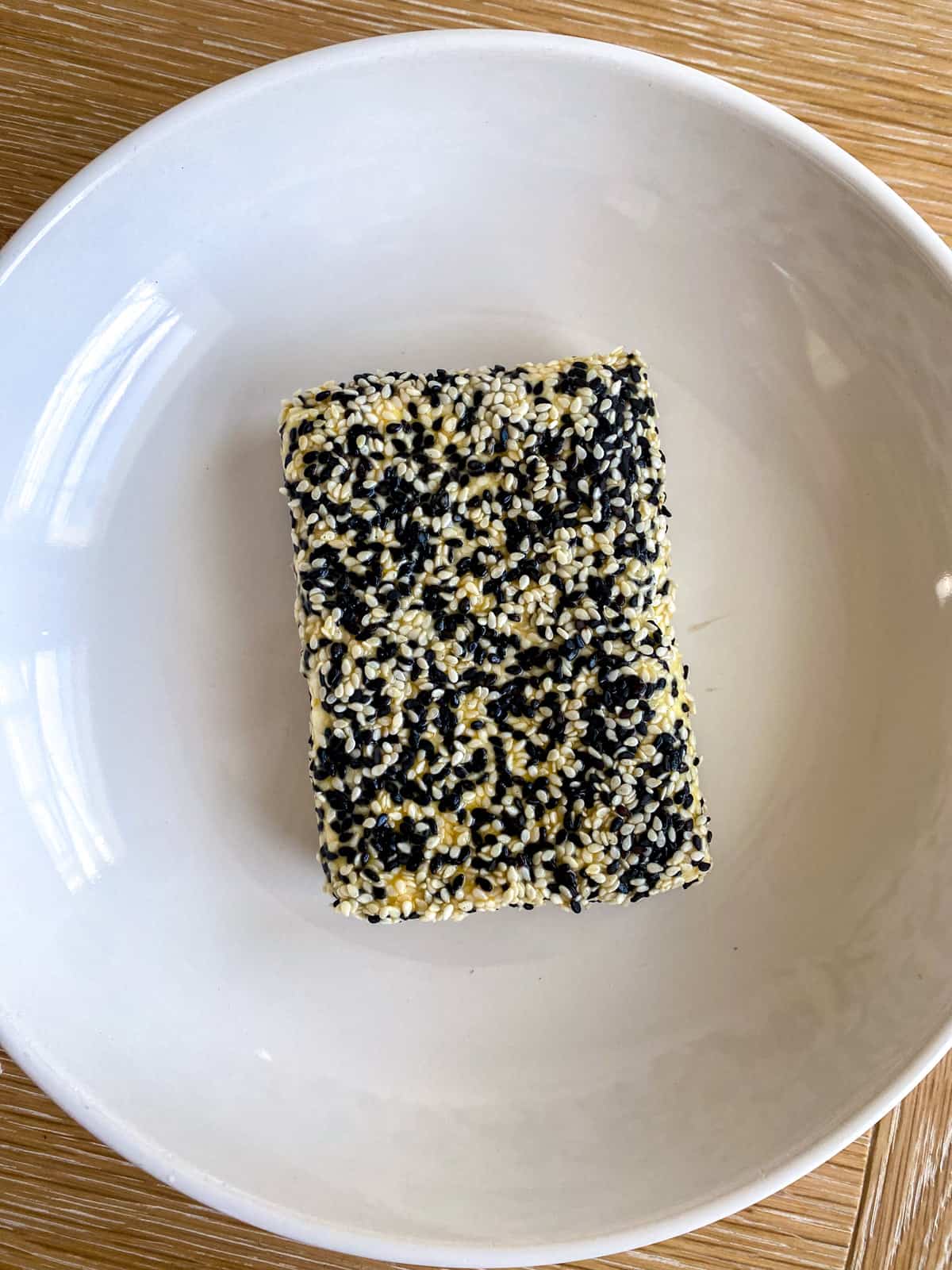 The Sesame Seed Crust
The goal of fried feta is a crispy crust.
To get this, you want to use cornstarch (which results in a super crispy texture) plus the sesame seeds which add both texture and flavor.
For my sesame seeds, I chose a mixture of white and black sesame seeds to coat my feta in. This is preferential and more about aesthetics than anything else.
The Honey Drizzle
The sweetness of honey goes so well with the saltiness of the feta cheese. It's a delicious match made in heaven.
I suggest you either drizzle the honey as guests arrive or serve it on the side with a little honeycomb so everyone can drizzle the honey themselves.
Drizzling honey is so fun to do so why not encourage your guests to have fun while they're at it?! It makes for a fun entertaining experience too!
Reheating Fried Feta
If you want to reheat this the next day or a few hours later, you can either pop it in a pan with just a touch of oil OR bake it in the oven. The idea is to just warm up the feta cheese while crisping up the exterior again.
What To Serve This With
I recommend serving with an assortment of crackers and breads. Pita bread is a must. Naan bread is also a similar alternative.
Crackers that are harder are best so they do not break. Also be sure to include gluten free options for guests who have allergies.
Other Greek Appetizers To Try!
📖 Recipe
Fried Feta With Sesame & Honey
Fried feta cheese, encased in a crispy sesame seed crust, is a treat that balances the creamy, tangy feta with the sweet drizzle of honey. This irresistible combination of textures and flavors makes it a delightful Greek appetizer that's both savory and sweet!
Print
Pin
Rate
Ingredients
8

oz.

block of feta cheese

¼

cup

cornstarch

1

egg

2-3

tablespoon

sesame seeds, white or black

honey for drizzling
Instructions
Remove block of feta from package being careful not to break it.

Pour the cornstarch in one shallow bowl. The sesame seeds in another shallow bowl. And whisk the egg in another shallow bowl.

Coat the feta block in the cornstarch first making sure to cover completely. Then the egg. Finally the sesame seeds. Make sure it's nicely coated! Use more seeds if needed.

Preheat some oilve oil in a small cast iron skillet or nonstick skillet over medium heat.

When the oil is hot, add the feta cheese carefully using two forks.

Flip after 5 minutes or so or until a golden brown crust forms. You do not want to burn the seeds or brown them too quickly or your feta will not melt inside. Turn down the heat if needed.

Once a nice brown crust has formed, you can drain the block on a paper towel before transferring to a plate.

Drizzle with honey and serve hot with crackers and pita bread!
Recipe Notes
Nutrition
Calories:
204
kcal
|
Carbohydrates:
10
g
|
Protein:
9
g
|
Fat:
14
g
|
Saturated Fat:
8
g
|
Polyunsaturated Fat:
1
g
|
Monounsaturated Fat:
3
g
|
Cholesterol:
51
mg
|
Sodium:
648
mg
|
Potassium:
55
mg
|
Fiber:
1
g
|
Sugar:
0.03
g
|
Vitamin A:
240
IU
|
Vitamin C:
0.003
mg
|
Calcium:
319
mg
|
Iron:
1
mg