This Avgolemono Soup recipe is not your average chicken soup. It's a classic Greek dish that combines the richness of chicken broth with the zesty brightness of lemon juice and the velvety texture of eggs. It's creamy, tangy and very. hearty. This soup is my go to comfort soup that I LOVE making in large batches.
This Greek chicken lemon soup is very nostalgic for me. My yiayia has made it every Christmas for as long as I can remember. My mother would also make it growing up. And now I make it for my family.
This recipe may seem overwhelming but it's not. The stock takes about 3 hours which is my favorite part because it's pretty hands off for most of the time and it makes your house smell amazing!
Ingredient Tips
Chicken: A whole chicken or chicken thighs are the ideal.
Celery/Carrots/Onion/Garlic: This adds flavor to the chicken broth.
Parlsey/Bay leaf/Thyme: These herbs are my go-to but you can use whatever you have on hand.
Peppercorn: Whole peppercorn release a ton of flavor and are highly recommended when making homemade broth.
Eggs: This is what thickens the broth while adding a creamy, silky texture.
Lemons: The staple ingredient after chicken. Lemons add a tangy, bright citrus flavor that is a must.
Rice/Orzo: You can use either rice or orzo. Both are delicious but I prefer rice.
How To Make Greek Lemon Chicken Soup
Step 1:
Add all ingredients except for the eggs, lemon and rice, to a stock pot and simmer for 3 hours.
Step 2: 
Strain everything so the broth is separate. Remove the chicken and set aside. Discard the veggies and herbs. Whisk your eggs with hot chicken stock and set aside.
Step 3:
Remove bones and cartilage from chicken and chop chicken into small pieces.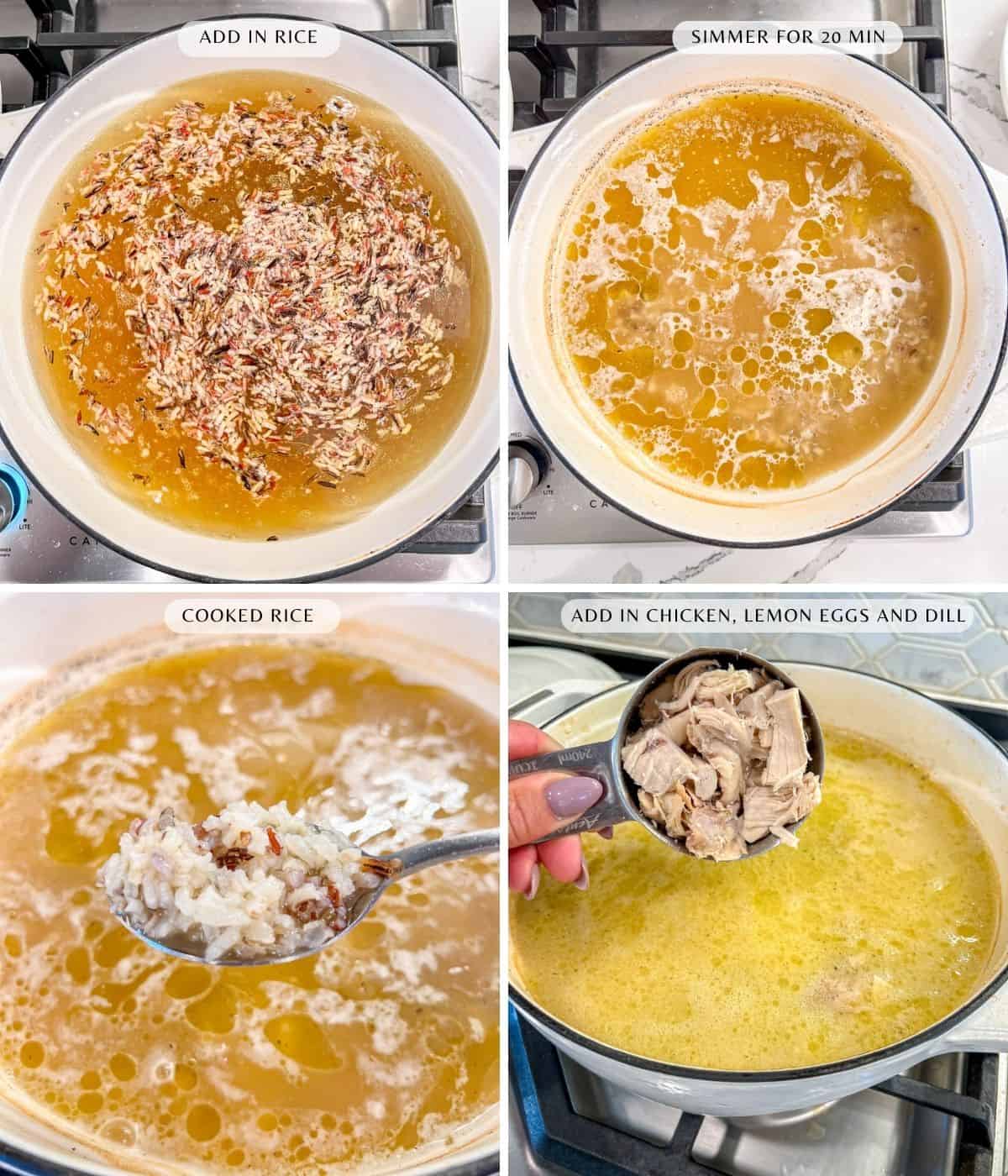 Step 4:
Add in your rice and simmer until rice is cooked through. Add your chicken, lemon, eggs, and dill. Season and serve!
Homemade Broth vs. Storebought
Okay, I will argue any day that homemade broth is and will always be better than store-bought broths!
The flavor is 100 times more rich and flavorful. Plus, it's cheaper!
Yes it takes longer but it's about quality here not quantity.
If you don't have the time, you can use storebought broth. It will turn a 4 hours recipe into a 40 minute one but the flavor will not be the same.
Using A Whole Chicken
Using a whole chicken is what I like to use however you can use chicken thighs if you prefer. Any cut of chicken that has a bone works. The bones are essential to making the best chicken stock as they release the most flavor while keeping the chicken moist and tender.
Note that the chicken will be falling off the bone when you strain the broth so handle it carefully.
Allow it to cool enough before you remove the bones and cartilage.
I love how much chicken you get from one whole chicken! I save/freeze the extra meat and use it for chicken quesadillas or tacos later in the week. It's very budget friendly!
Rice vs. Orzo
Okay so my yiayia actually uses angel hair pasta!
It's great if you want a FAST turnaround since it cooks super fast. The result is more of a chicken noodle soup texture which is still delicious.
Many restaurants, as well as my mother, use orzo pasta. It is also a great option because it's SMALL like rice.
The traditional grain to add is RICE. I love it with rice. It does wonders for the texture and does taste a bit different than the pasta. You can use ANY rice! I like wild rice because of the different colors it provides.
Either way, it's all delicious.
Soup Variations
Although this soup IS pretty simple once the broth is done, you can tweak it to your liking.
add chopped carrots/celery along with the rice or pasta
use a different type of pasta
leave out the rice/pasta all together
add fresh thyme or parsley instead of dill
use angle hair pasta cut into small pieces
Aleka's Avgolemono Tips
Take your time making your broth. I recommend putting it on by lunchtime so it's ready for dinner.
Season the chicken stock WELL before, during and after to ensure all the ingredients inside the soup are well flavored.
Add more lemon juice at the end if you prefer. (I always do!!)
Add more water if your broth is too rich.
Storing & Reheating
Avgolemono soup will last for 3-4 days sealed in the fridge. I just pop a lid on top of the pot and throw it in the fridge if there's room!
Reheat on the stove over medium heat and turn off before it starts to boil. Be aware that the soup will solidify because of the fat content. That's okay and it will dissolve as it heats. Feel free to mix in ½-1 cup of water to loosen it up a bit.
Other Greek Recipes To Serve With Your Soup
📖 Recipe
Avgolemono (Greek Lemon Chicken Soup)
This Greek Avgolemono Soup is a classic Mediterranean dish known for its creamy and tangy flavor, combining chicken broth, lemon juice, and beaten eggs to create a luscious, velvety texture. Growing up Greek, it's a comforting and nostalgic soup recipe.
Print
Pin
Rate
Ingredients
1

4 lb

whole chicken

water

3

ribs

celery, cleaned and chopped into thirds

3

carrots, peeled and choped into thirds

1

large

yellow onion

(*or two medium onions)

4

large

garlic bulbs

1

bunch

fresh thyme

1

bunch

fresh parsley

1

bay leaf

½

tablespoon

black peppercorns

1

teaspoon

salt

1

cup

rice

(*see note below)

2

large

eggs

⅓-½

cup

lemon juice, frreshly squeezed

(*see note below)

1

tablespoon

fresh dill, chopped
Instructions
Add whole chicken, carrots, celery, onion, garlic, bay leaf, peppercorn, salt, thyme and parsley to a stock pot with _____ cups of water.

Bring to a boil and then simmer for 3-4 hours on medium low heat.

Add a strainer over top of another large stock pot and strain the veggies and chicken so the new pot has the clean chicken stock.

Add 2 cups of water and rice to the strained broth and boil for 15-20 minutes or until the rice is tender. At this point, season the broth with salt to your liking.

Pull the chicken from the strainer and discard the rest of the veggies/herbs.

Remove all the bones and cartilidge from the chicken gently trying not to break apart the chicken too much.

Chop the chicken into small pieces and set aside 2 cups for the soup. The rest of the chicken can be frozen. See note below.

When the rice is tender, turn off the heat.

Crack both of your eggs into a medium sized bowl and scramble.

Remove 2 cups of the hot broth from the pot using a measuring cup and VERY slowly, pour the broth into the eggs as you scramble. This is called tempering. If you don't do this slowly, you will have chunks of scrambed eggs in your soup so take your time. Ask someone to help pour as you scramble if you can! 🙂

When all the broth is incorporated into the eggs, pour it all back into the pot and stir.

Add in your chicken, lemon juice and fresh herbs and stir. Serve hot!
Recipe Notes
Notes*
I have step-byu-step photos in my post above so feel free to scroll up to see them!
This soup looks more complicated than it is. The only mistake you can make is not slowly incorporating the hot broth into the eggs. Everything else is foolproof.
If you want to add in more chicken, rice or lemon juice, you can!
Always season your soup in the middle and at the end. Salt is essential. Salt to your liking.
Nutrition
Calories:
171
kcal
|
Carbohydrates:
33
g
|
Protein:
5
g
|
Fat:
2
g
|
Saturated Fat:
1
g
|
Polyunsaturated Fat:
0.5
g
|
Monounsaturated Fat:
1
g
|
Trans Fat:
0.01
g
|
Cholesterol:
62
mg
|
Sodium:
457
mg
|
Potassium:
327
mg
|
Fiber:
3
g
|
Sugar:
3
g
|
Vitamin A:
6114
IU
|
Vitamin C:
23
mg
|
Calcium:
62
mg
|
Iron:
2
mg