Baklava Rolls are individual bites of rich, decadent, sticky sweet goodness. While this dessert may be modern in design, you better believe that it has all the traditional flavors reminiscent of your yiayia's kitchen. Sweet, crispy, and oh so decadent- your family will DEVOUR these homemade baklava rolls.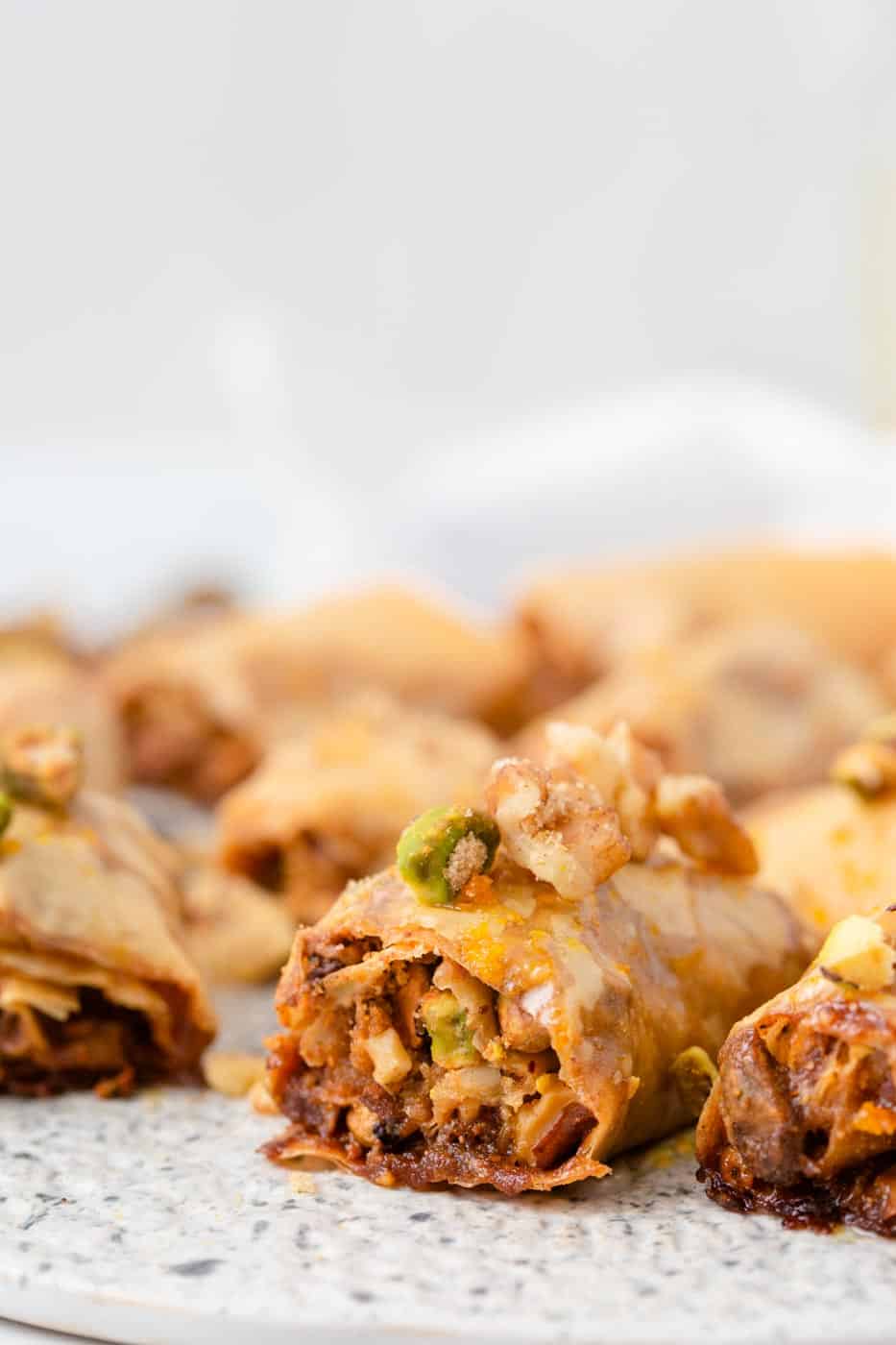 There's really nothing better than biting into one of these addictive, decadent rolls of baklava. I honestly can't get enough of them, and neither can my family!
A batch of these baklava rolls never last too long in my house, and why would they? Flakey phyllo dough is brushed with melted butter, filled with a rich, walnut filling, then baked until golden brown and crisp.
The entire tray is then bathed in the most amazing orange honey syrup and cooled so you end up with the best mouth watering dessert.
This recipe is an easier version of traditional baklava, but still delivers on every aspect of tradition. Flakey phyllo? Check. Rich, buttery sweet filling? Check. Sticky, syrupy goodness? Check!
I promise you're going to love these indulgent Greek dessert and so will anyone you serve them to. But be careful, because one you bring them to a party you're going to be asked to make them time and time again!
What Is Baklava?
Baklava is a layered dessert made up of phyllo dough with a rich, nutty filling that's soaked in a sticky, sweet filling. It's a traditional dessert found in many Greek, Turkish, and Middle Eastern Cultures.
Typically it's cut into squares or diamond shapes, but for this recipe we're making it easy by rolling it!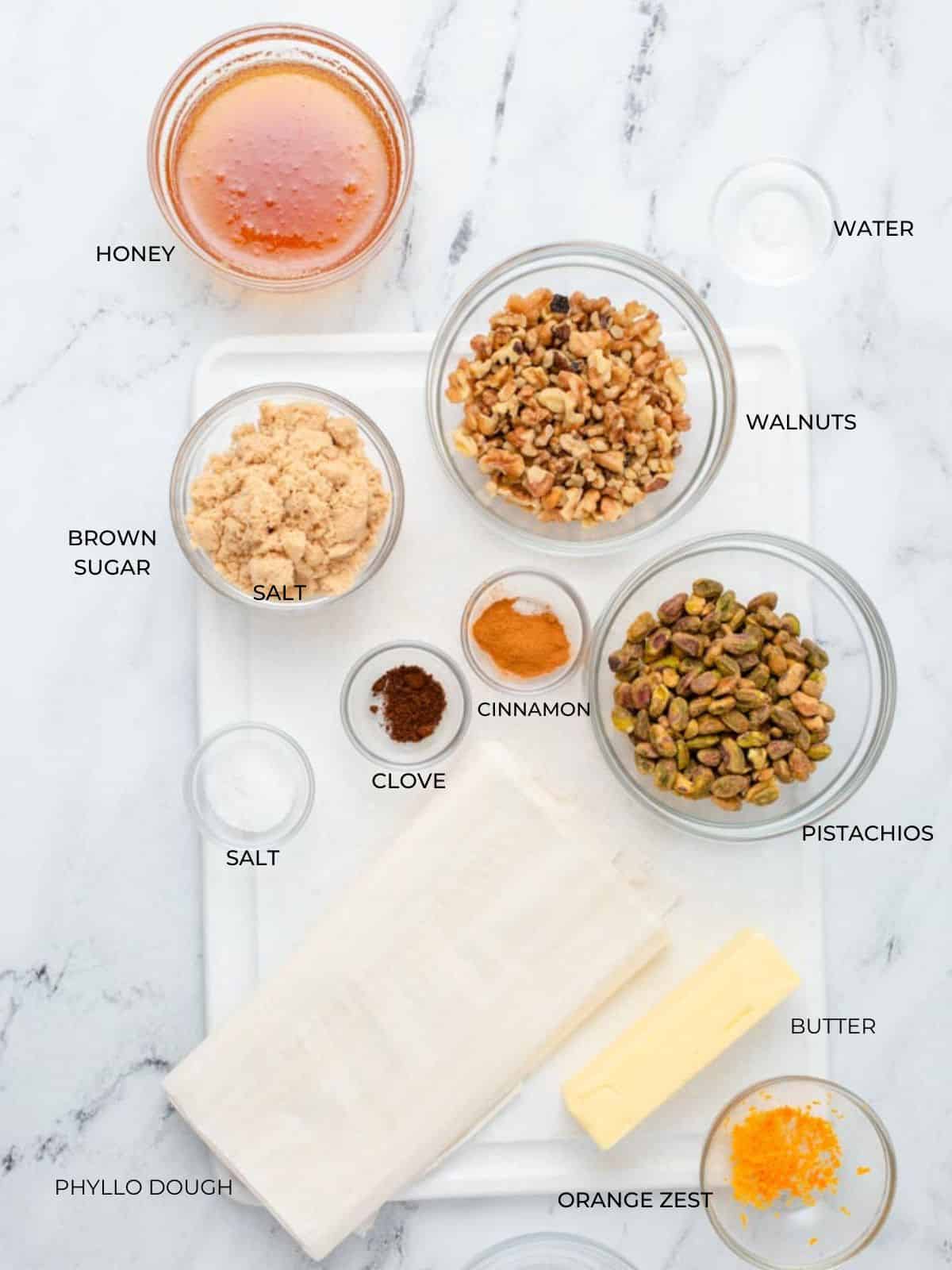 What You Need To Make Baklava Rolls
Kitchen Tools:
Microwave safe bowl
Kitchen towel
Sharp knife
Ingredient Notes
Phyllo dough: I just use frozen phyllo dough from the grocery store because it's the easiest and most convenient
Butter: It's always best to use unsalted butter in dessert recipes because then you can control the salt level
Walnuts or pistachios: Walnuts are the traditional Greek baklava filling while pistachios are what's traditionally used in Turkish baklava. Both will work in these rolls though
Brown sugar: This is used in the filling and adds a nice depth of flavor over regular white sugar
Spices: You'll need almond extract, ground cinnamon, ground clove, and salt
Honey: This is the base for the syrup that will be drizzled over the mini rolls
Orange: I love to flavor my syrup with orange zest because it adds a nice note of brightness that cuts the richness of this traditional dessert
Water: This is just to help thin out the syrup so you can easily pour it over the top of your baklava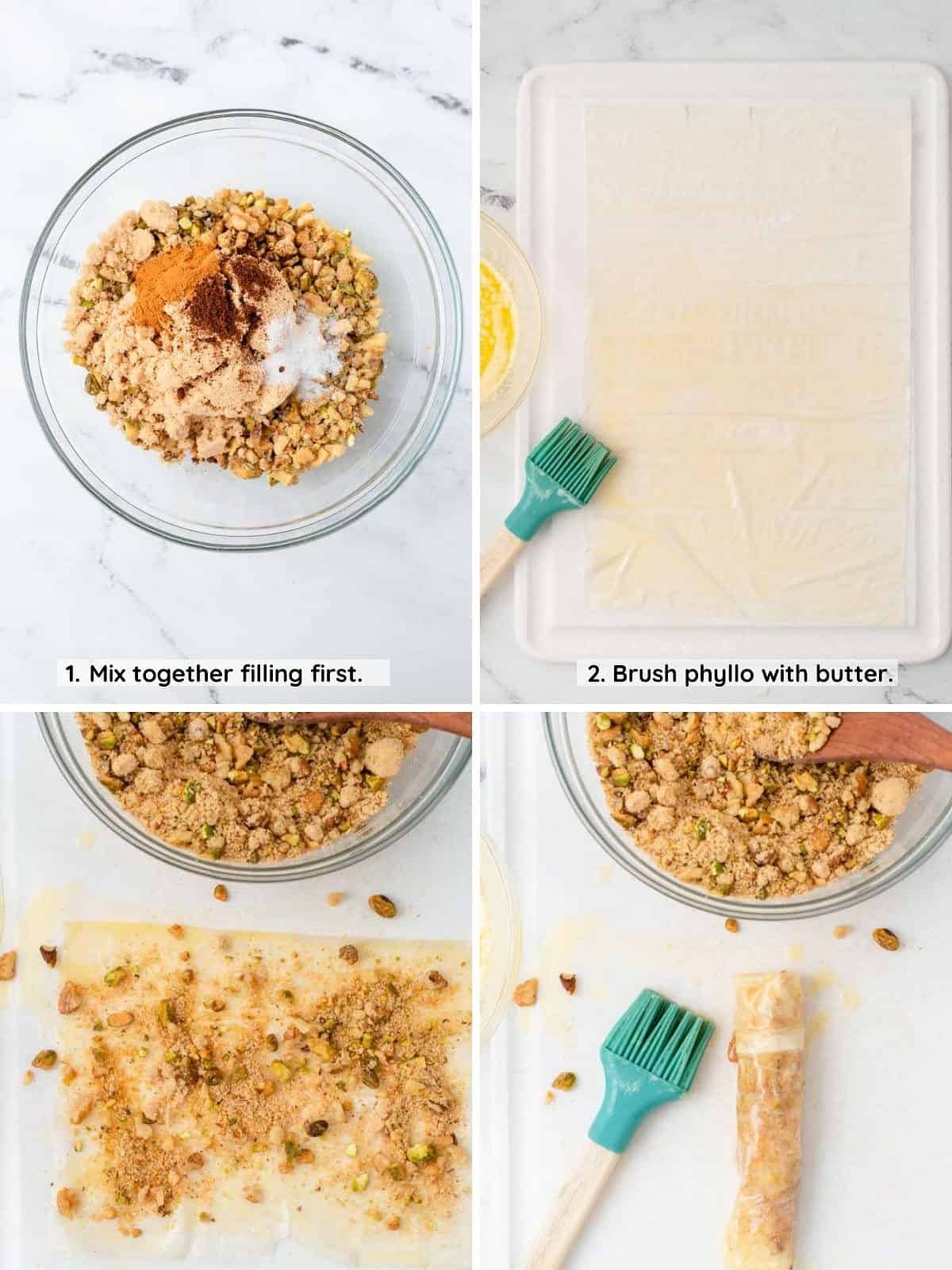 Instructions
Defrost your phyllo dough in the fridge
Preheat your oven to 350°F.
Prepare the filling first by combining chopped walnuts, brown sugar, cinnamon, clove, and salt in a large mixing bowl
Next, place butter in a microwave safe bowl and melt it in the microwave for 30 seconds at a time and stir in almond extract and set aside
Unroll your defrosted phyllo dough and keep it moist with a damp towel as you assemble your rolls
Take one phyllo sheet and lay it gently on a lightly floured surface. Brush it lightly with the melted butter, then take the top and fold in half downwards.
Brush again with melted butter and add about 3 Tablespoons. of the nut filling, spreading it evenly across the bottom of the folded phyllo sheet.
Carefully roll the sheet making sure not to puncture the dough.
Lightly butter the top of the roll and cut it into mini logs.( The size is up to you! )
Repeat with the rest of the dough.
Place all of your cut logs onto a baking sheet and bake for 18-20 minutes, or until the phyllo is a nice golden brown.
While the rolls are baking, add honey, water and orange zest to a small bowl and whisk together. Set that aside.
When the rolls come out of the oven pour over the orange honey syrup while they're still hot.
Let cool completely and serve sprinkled with more nuts on top for garnish.
📃 NOTE: You can print the FULL recipe with all ingredients & detailed instructions below!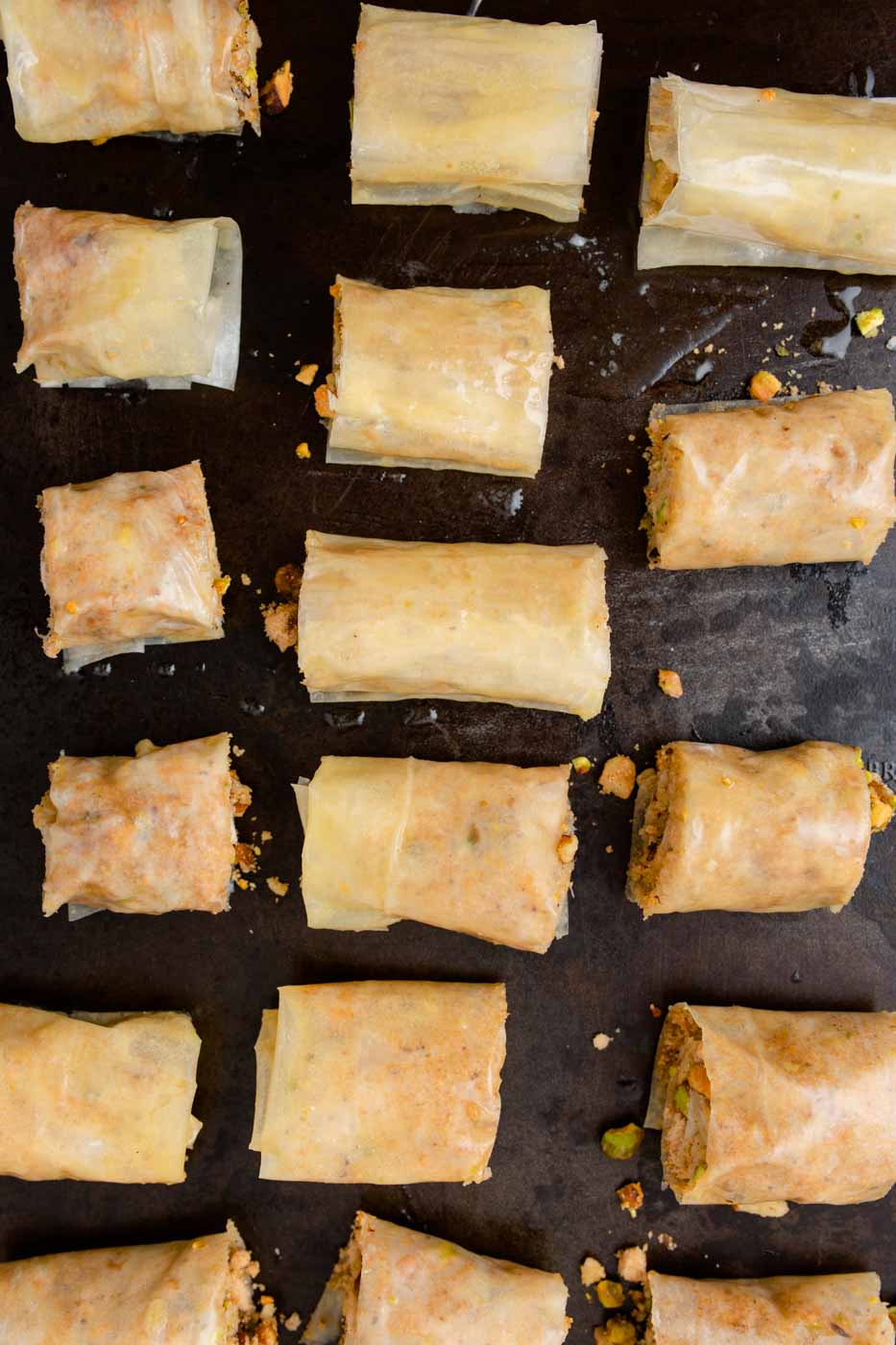 Expert Tips
Let the phyllo dough defrost COMPLETELY.
Keep the dough moist with a damp towel so it doesn't dry out while you're assembling.
Use a combination of chopped walnuts and pistachios for extra flavor.
Don't skimp on the butter, the dough needs it in order to not dry out.
Cut the logs whatever size you'd like.
Substitute the orange zest for lemon if you'd like.
Pour the syrup over IMMEDIATELY after the mini rolls come out of the oven.
For best results let your baklava cool completely before serving it.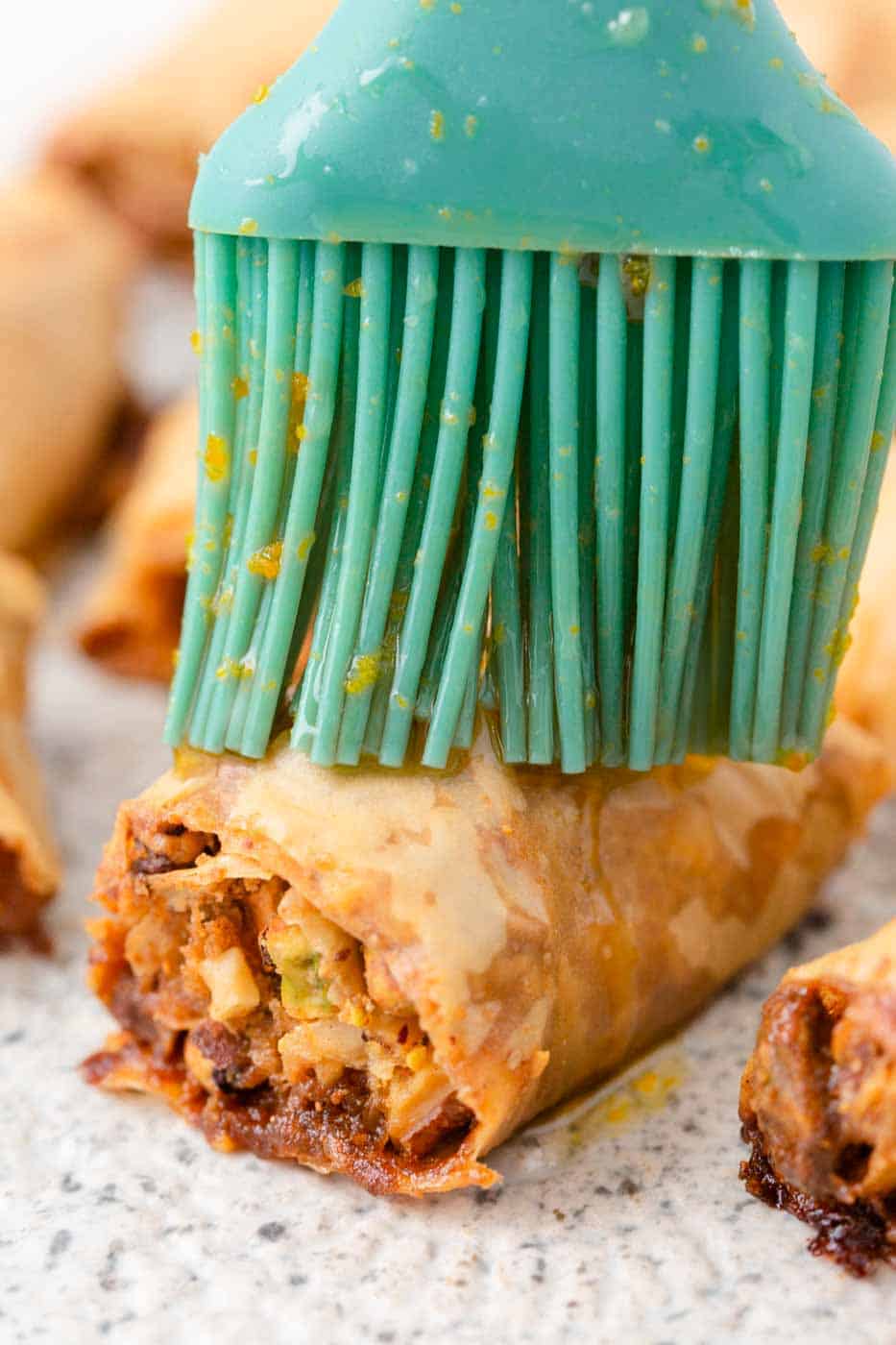 How To Keep Baklava From Getting Soggy
You can keep your baklava rolls from becoming soggy by covering it lightly with a paper towel and by NOT storing it in a warm place. If stored in a warm environment, the honey will melt and cause the phyllo to get soggy.
Once it has had adequate time to absorb the orange honey syrup you can cover it tightly with aluminum foil to keep any air out.
Storing Leftovers
I recommend covering your pan of roll tightly with aluminum foil and storing at room temperature. It will last for up to 5 days, and as long as the air is kept out it shouldn't become soggy.
If you choose to keep it in the fridge, the phyllo will become harder and slightly chewy. However it will last a bit longer.
How To Freeze Baklava:
Wrap your rolls tightly in a double layer of plastic wrap and then again in a double layer of aluminum foil. Place your tightly wrapped package into a freezer safe bag and store in the freezer for up to 3 months.
When you're ready to enjoy, let them thaw at room temperature or in the fridge overnight.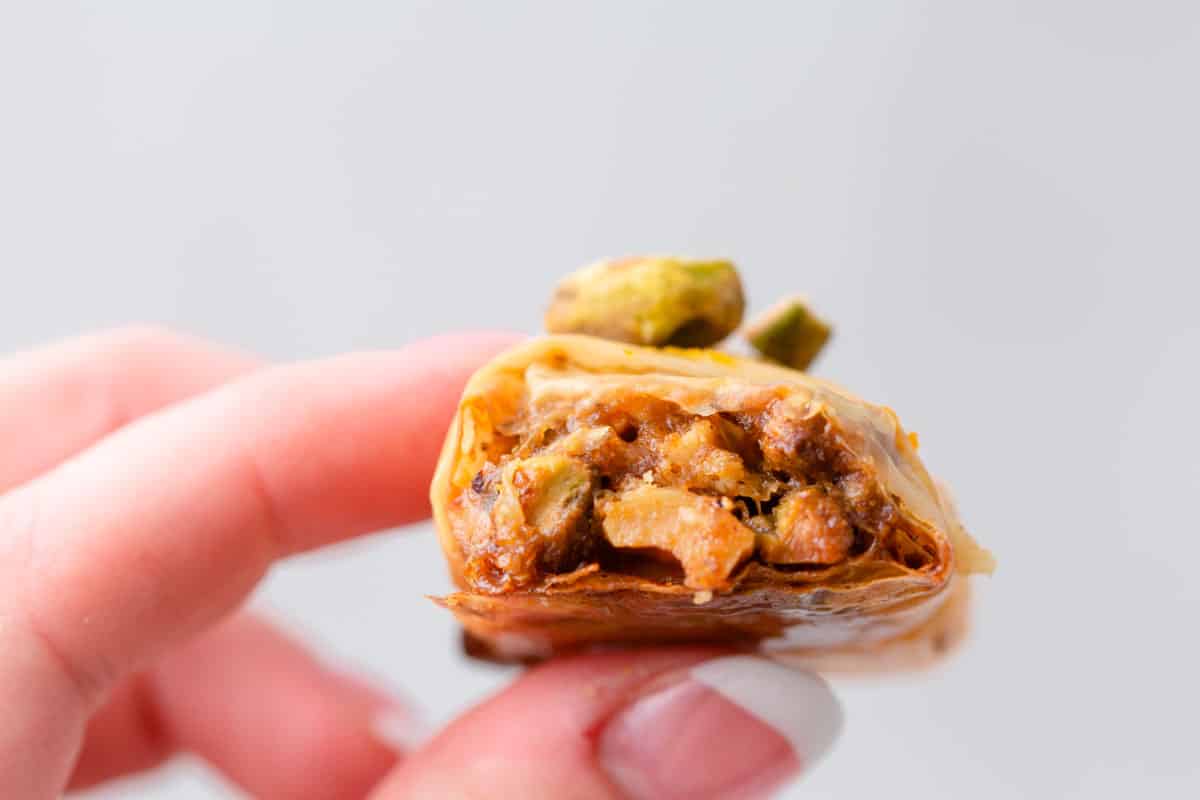 FAQs
How do you make crunchy baklava rolls?
To make crunchy baklava you want to allow adequate time for it to soak in the syrup. Don't cover it while it's soaking up that syrup because exposing the dough to air will help keep that crunchy goodness we're after.
How do you know when baklava is done?
You'll know it's done baking when the phyllo dough is golden brown and crispy. It usually takes at least three hours for the syrup to be completely soaked up, so you can even make this the night before to allow it to absorb and cool overnight.
What's the difference between Greek and Turkish baklava?
When it comes to differentiating between Greek and Turkish baklava, the disparity is thin. They're both sweet, moist, and absolutely delicious. 
From what I understand, Greek baklava is typically made with walnuts, honey, and cinnamon while the Turkish variety is more commonly made with pistachios, a sugar syrup, and lemon juice.
What can I do with leftover Phyllo dough?
Check out these 27 Easy Phyllo Cup Recipes for ways to use up any leftover phyllo dough.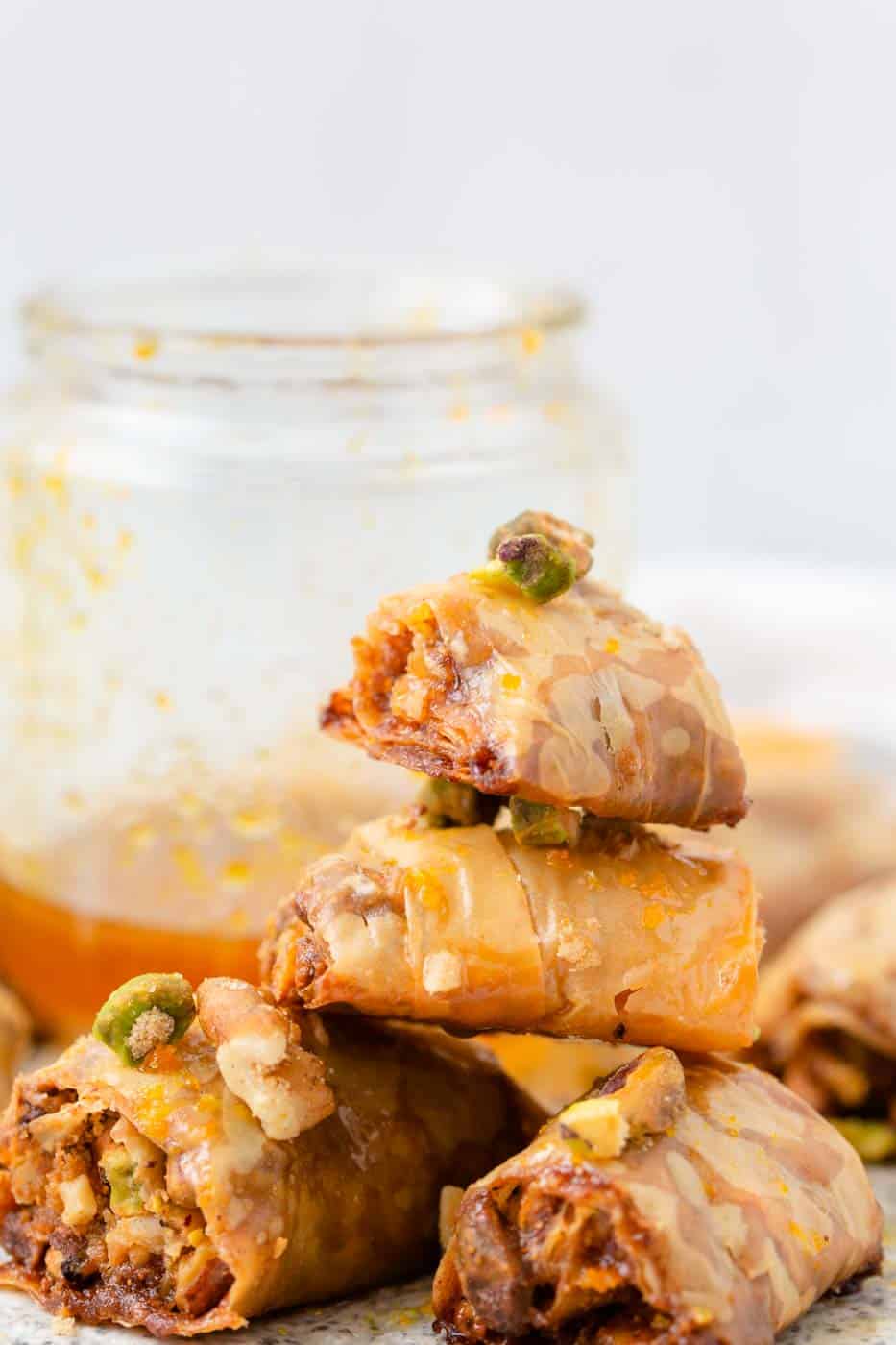 If You Liked This Recipe, Be Sure To Try One Of These!
Other dessert recipes you may like:
Puppy Chow Recipe Without Peanut Butter
Chocolate Chip Pudding Cookies
Baklava Rolls With Citrus Honey
These Mini Baklava Rolls With Orange Honey Syrup are a traditional Greek dessert that will have you licking your fingers clean. Layers of buttery phyllo dough filled with spiced nuts, rolled and drenched with a sweet citrus syrup, they are absolutely irresistible.
Print
Pin
Rate
Ingredients
8

oz.

Frozen Phyllo Dough

((About 20 sheets))

1

Stick

Unsalted Butter

2

Cups

Walnuts or Pistachios (or both)

((finely chopped))

1

Tsp.

Cinnamon

½

Cup

Brown Sugar

¼

Tsp.

Clove

½

Tsp.

Salt

Flour for surface
Orange Honey Syrup
Zest

1

Medium Orange

¾

Cup

Honey

¼

Cup

Water
Instructions
Defrost your phyllo dough in the fridge. I recommend popping the dough in the fridge at least the night before or even days/weeks prior. Phyllo stays fresh in the fridge for up to 30 days.

Prepare your nut mixture first by combining the chopped nuts, sugar, cinnamon, nutmeg, and salt in a bowl.

Melt your butter in a small bowl using the microwave. Add almond extract to the butter.

Unroll defrosted dough and keep your dough moist with a damp towel as you assemble your rolls.

Take one phyllo sheet and lay on a lightly floured surface.

Brush it lightly with butter. Take the top and fold in half downwards.

Brush again with butter and add about 3 tbsp. of nut mixture spreading evenly across the bottom of the folded phyllo sheet.

Roll the sheet carefully making sure not to puncture dough. Lightly butter top of roll. Cut into mini logs. The size is up to you! Repeat with the rest of the dough.

Place logs on baking sheet, tighlty packed.

Bake for 18-20 min. or until golden brown.

While baking, add honey, water and citrus to small bowl and whisk together.

Pour the citrus honey over the baklava while still hot. Let cool and serve sprinkled with more nuts for garnish.
Recipe Notes
This recipe should give you about 40 mini rolls that are about 2" long.
Party Tips*
Freeze pre/post baking and then allow to defrost in fridge when ready to serve or bake!
Serve sprinkle with nuts or sift powdered sugar/cinnamon on top.
Place a skewer or toothpick in each for easy eating.
Try serving with ice cream!
Nutrition
Calories:
444
kcal
|
Carbohydrates:
66.4
g
|
Protein:
10.1
g
|
Fat:
18.5
g
|
Saturated Fat:
4.8
g
|
Cholesterol:
17
mg
|
Sodium:
378
mg
|
Fiber:
2.9
g
|
Sugar:
21.6
g