Smoked Salmon Carpaccio is a perfect Spring appetizer! Thinly sliced smoked salmon is served with a creamy lemon thyme dressing and fresh arugula. Serve with your favorite crackers at brunch or a tea party for a dish that your guests will love!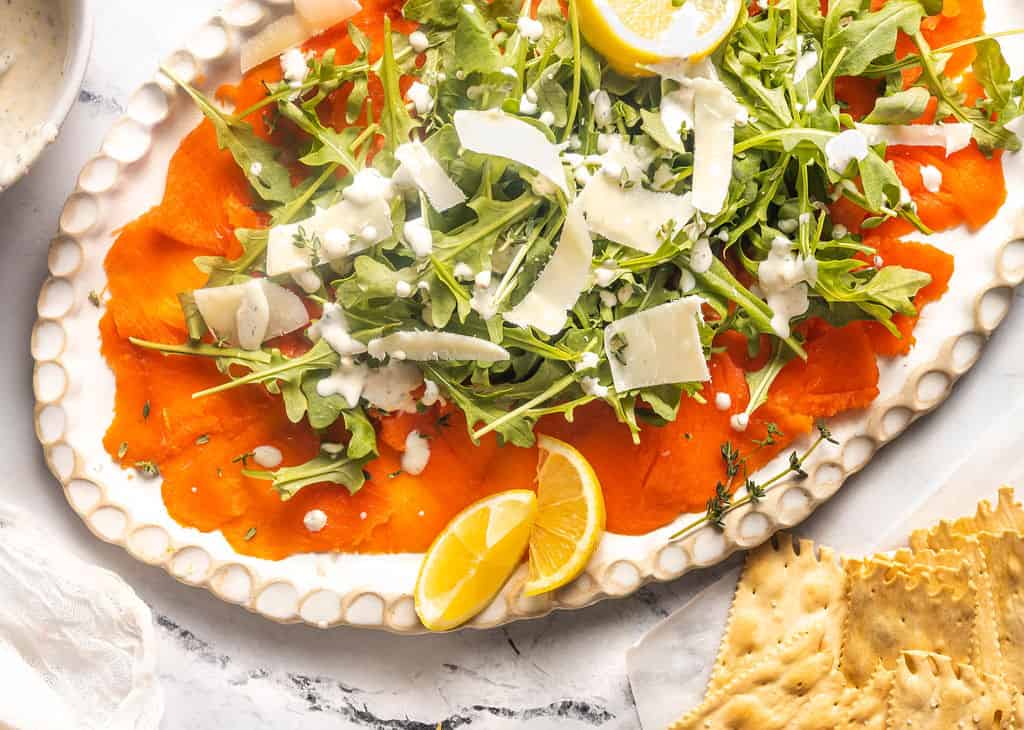 This smoked salmon carpaccio could not be an easier appetizer to make. Fresh smoked salmon is sliced razor thin and served with a creamy lemon thyme dressing.
It's a refreshing dish that is great to make for a baby shower, holiday brunch, or for an elegant birthday party.
Serve with smoked salmon crostini and this hot crab artichoke dip and you might not be able to get your guests to leave your party!
What do you eat raw smoked salmon with?
cream cheese and capers over a bagel or crackers
over a salad
by itself with freshly squeezed lemon juice and olive oil
on top of a cucumber canape
on top of rice or rolled into sushi
😍Why You'll Love This Recipe
What You Need To Make Smoked Salmon Carpaccio
*Full list of ingredients and measurements can be found in recipe card below*
Salmon: This recipe calls for wild caught salmon. It's smoked so though not technically raw, it does have the same texture.
Sour cream: This is the base for our lemon thyme sauce. You'll want to use full-fat sour cream for the best flavor.
Lemon: You will need both the zest and juice of a lemon in order to brighten the dish up.
Thyme: Fresh thyme is preferred over dried because it has a better flavor.
Honey: I like to add a little bit of honey to my sauce to balance out the acidity of the lemon
Arugula: A big pile of arugula on top of the salmon not only looks fancy, but it's also adds such a nice pepperiness and freshness
Parmesan cheese: Optional, but is cheese ever really optional? Just kidding, you don't have to add it but I like the saltiness it adds
Crackers: You can use your favorite crackers. I prefer a thin, artisan cracker but any will work.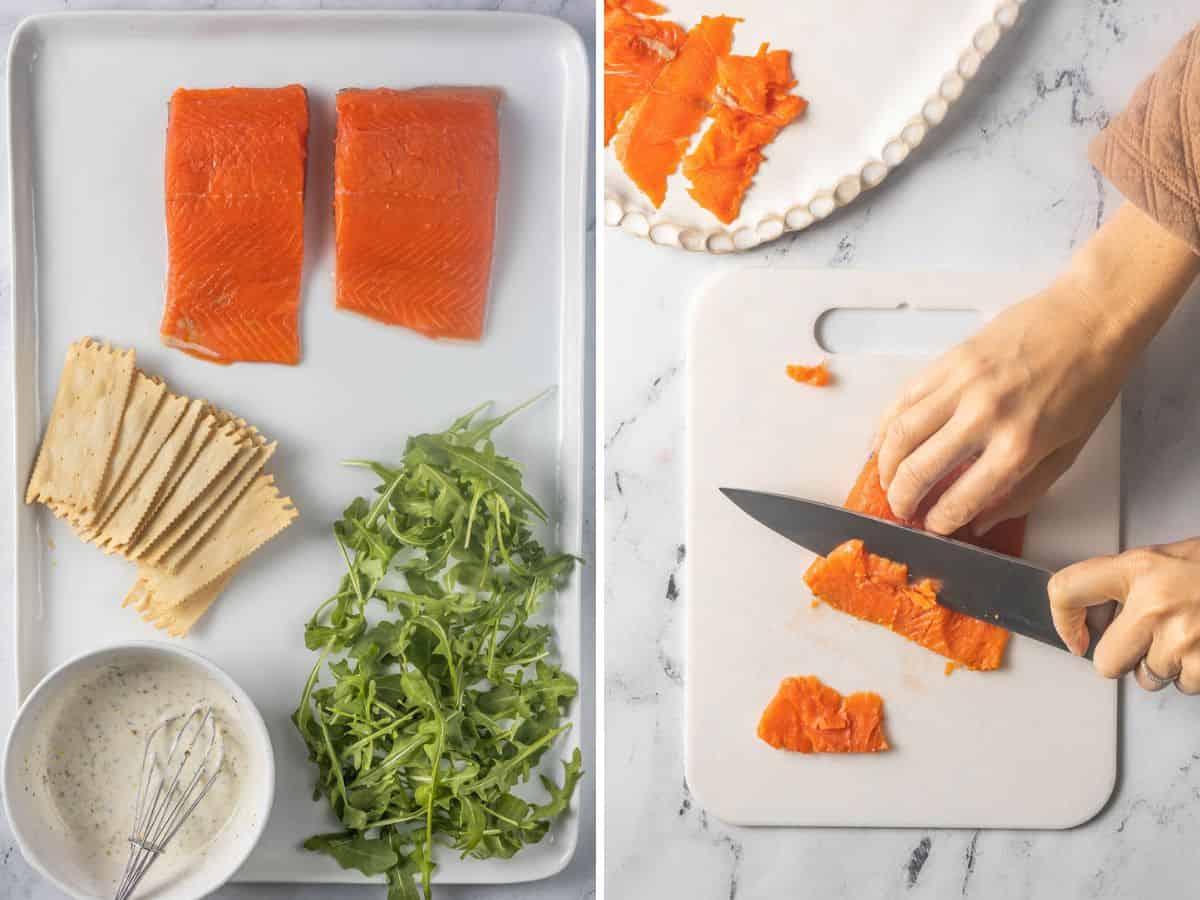 Instructions
1. Place the salmon into the freezer and let it freeze for about 3 hours, until mostly solid.
2. Once it's almost frozen, use a very sharp chef's knife to slice the salmon razor thin at a 45 degree angle.
3. When all of the salmon is cut, arrange it nicely on a large platter, then place it into the fridge while you make the dressing.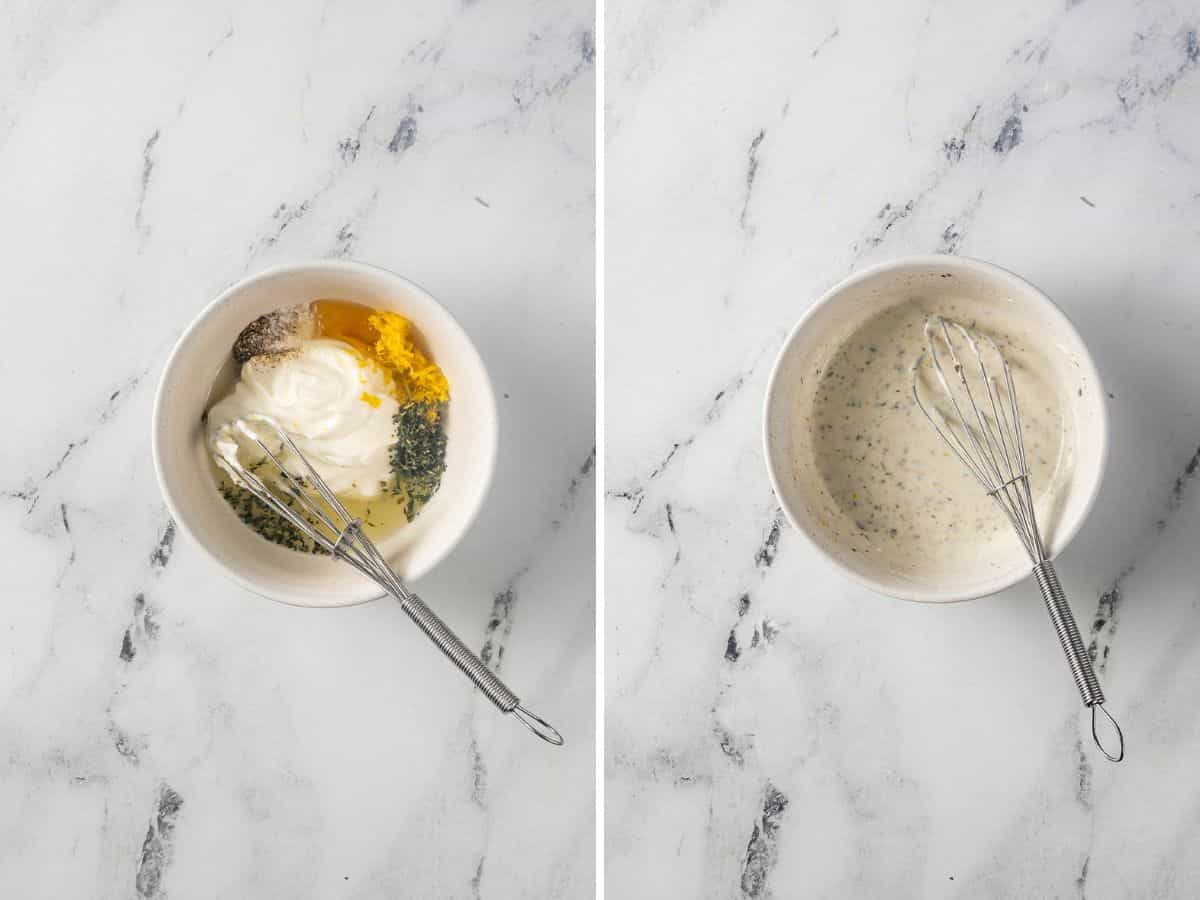 4. In a small bowl, whisk together the sour cream, lemon juice and zest, thyme, honey, salt, and pepper.
5. Remove the salmon platter from the fridge and arrange the arugula on top of it. Shave some slices of parmesan cheese over top, then drizzle over the lemon thyme dressing.
6. Refrigerate until you're ready to serve. Pair with your favorite crackers and enjoy!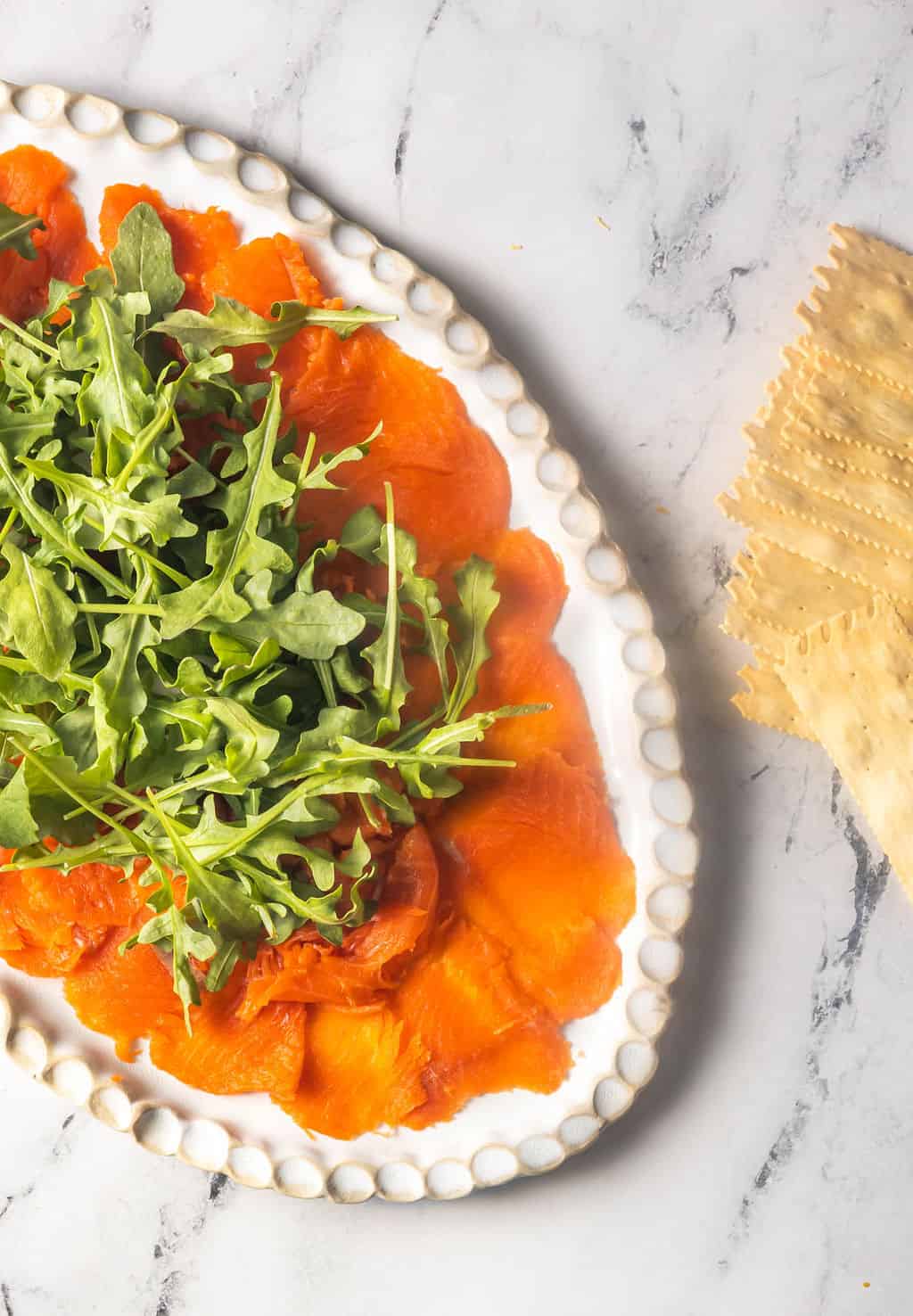 "Can I Make In Advance and Store In The Fridge?"
Yes but keep it covered with plastic wrap and serve within 24 hours.
Storing Carpaccio
Storing salmon carpaccio properly is essential to maintain its freshness and flavor. Here's how to store salmon carpaccio safely:
Immediate Consumption: Ideally, you should consume salmon carpaccio immediately after it's prepared for the best taste and texture. This dish is typically served fresh and is not intended for long-term storage.
Refrigeration: If you need to store leftover salmon carpaccio, it's important to refrigerate it promptly. Use an airtight container or wrap it tightly in plastic wrap or aluminum foil to prevent exposure to air, which can cause the salmon to dry out and absorb odors from the fridge.
Temperature: Store the salmon carpaccio in the refrigerator at a temperature between 32°F (0°C) and 40°F (4°C). Keep in mind that temperatures closer to the lower end of this range are better for preserving freshness.
Avoid Freezing: Salmon carpaccio is not suitable for freezing. Freezing can significantly alter the texture and taste of the dish, as the delicate fish can become mushy when thawed.
Condiments Separately: If you've served salmon carpaccio with condiments such as parmesan cheese, arugula or a dressing, it's a good idea to store these separately from the salmon itself. This prevents the condiments from making the salmon soggy.
Quality Check: Before consuming any leftover salmon carpaccio, do a visual and odor check. If it looks discolored, has an off-putting odor, or has an unusual texture, it's best to discard.
Remember that the key to enjoying salmon carpaccio is to serve it as fresh as possible!
🙋‍♂️Frequently Asked Questions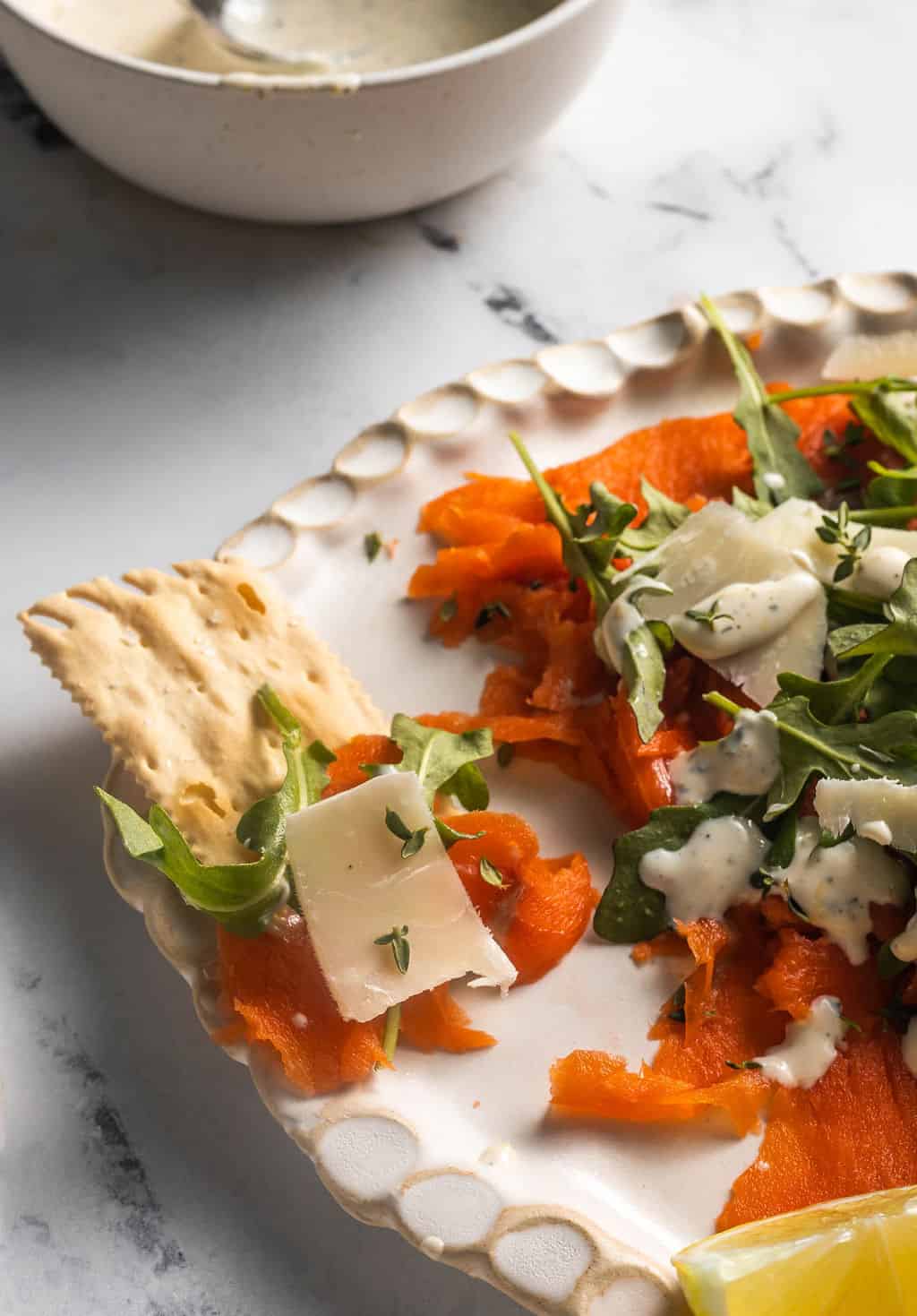 More Appetizers You'll Love!
📖 Recipe