This Smoked Salmon Crostini is a simple and elegant appetizer made up of crispy bread layered with thin slices of smoked salmon topped with tangy capers, onions and a dijon vinagarette.
It's easy to make but looks impressive! Serving smoked salmon is an ideal brunch or pre-dinner appetizer in the warmer months since it's light and fresh. Salmon crostini is finger food at it's finest!
Whether you're serving my smoked salmon carpaccio or this smoked salmon crostini, smoked salmon is definitely a fancy but quick appetizer to please your guests when entertaining at home.
They're so easy to make, yet still so, so elegant. All you need to do is toast your baguette, fry up some capers, and assemble most of which can be done in advance!
The flavors are bright and refreshing, making this a perfect appetizer to serve at a brunch, baby or bridal shower, cocktail party, wine tasting or even for an adult tea party.
If you're looking for MORE crostini ideas, check out this post of 33 crostini toppings you'll love!
What Is Smoked Salmon?
When you "smoke" salmon, it's typically cured, to preserve it, and either hot or cold smoked to add flavor. The result is a flavorful, salty fish that is best served raw.
Smoked salmon is typically thinly sliced and packaged tightly.
If you own a smoker, you can cure and smoke your own salmon at home. It's less expensive and not too hard to do. Plus, you can control the flavors.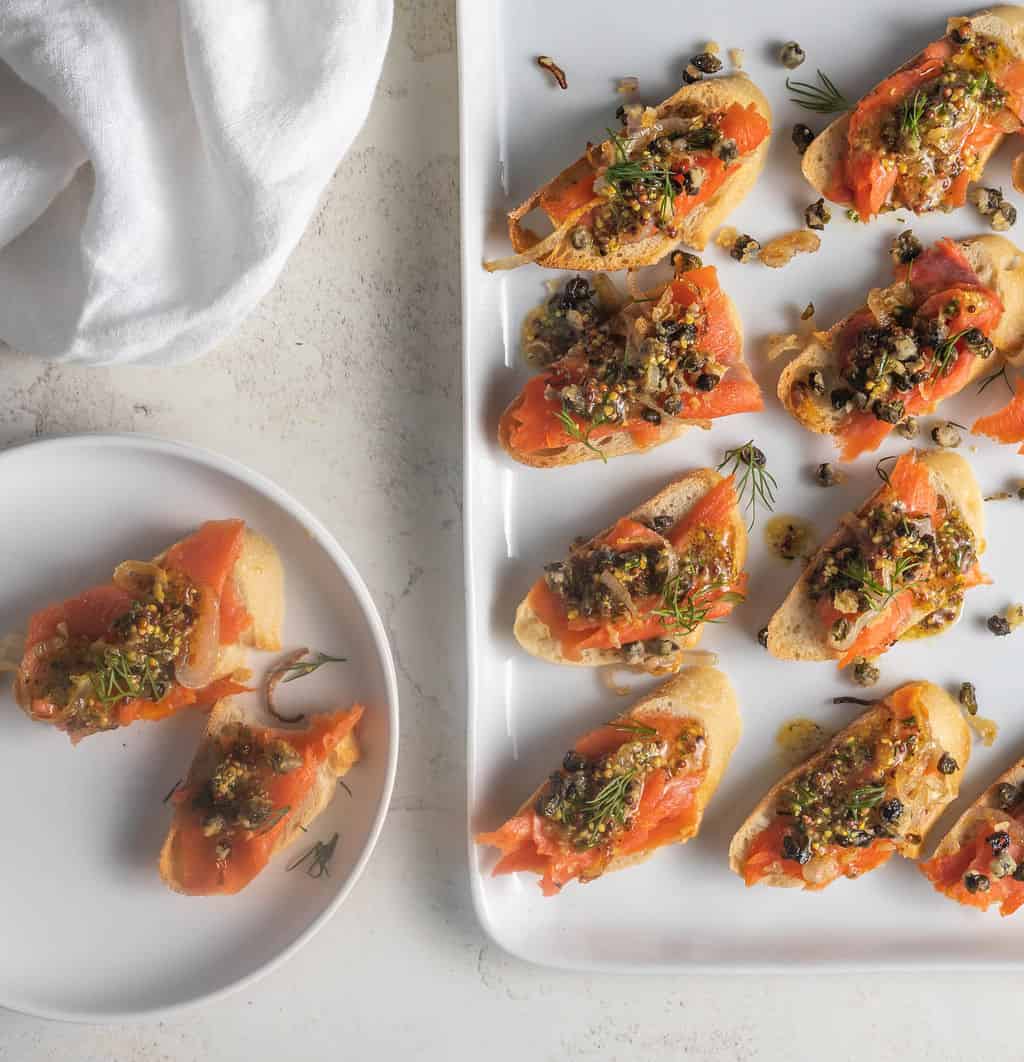 Is Smoked Salmon Raw?
Smoked salmon is first cured then smoked over a fire hot OR cold. If it's hot smoked, it's cooked. If it's cold smoked, it will still be raw.
Salmon that's hot smoked, cooks during the smoking process at a higher temperature. This results in a firm texture and bright orange color.
Cold smoked salmon smoked the fish at no more than 80 degrees F which will not really cook the salmon. The texture will result in a more tender salmon that's deeper in color.
Look at the package you're purchasing. Most will be cold smoked.
Cold Smoked vs. Hot Smoked
As opposed to lox, hot smoked is typically drier and flakier. It is typically smoked at around 120 degrees F.
Cold smoked salmon is cured for days using salt. The salt draws out the moisture then smoked at a cooler temperature of around 80 degrees F.
Purchasing Smoked Salmon
There are many varieties of smoked salmon sold in grocery stored. The best brand is London Smoke & Cure Sashimi Grade Smoked Salmon. If you cannot find this, look for one that is pre-packaged, thinly sliced, and used a natural smoke flavor.
Smoked salmon is usually cured or cold smoked as opposed to lox which does not undergo a smoking process.
Find one that matches your budget and taste buds.
🐟 What You'll Need For Smoked Salmon Crostini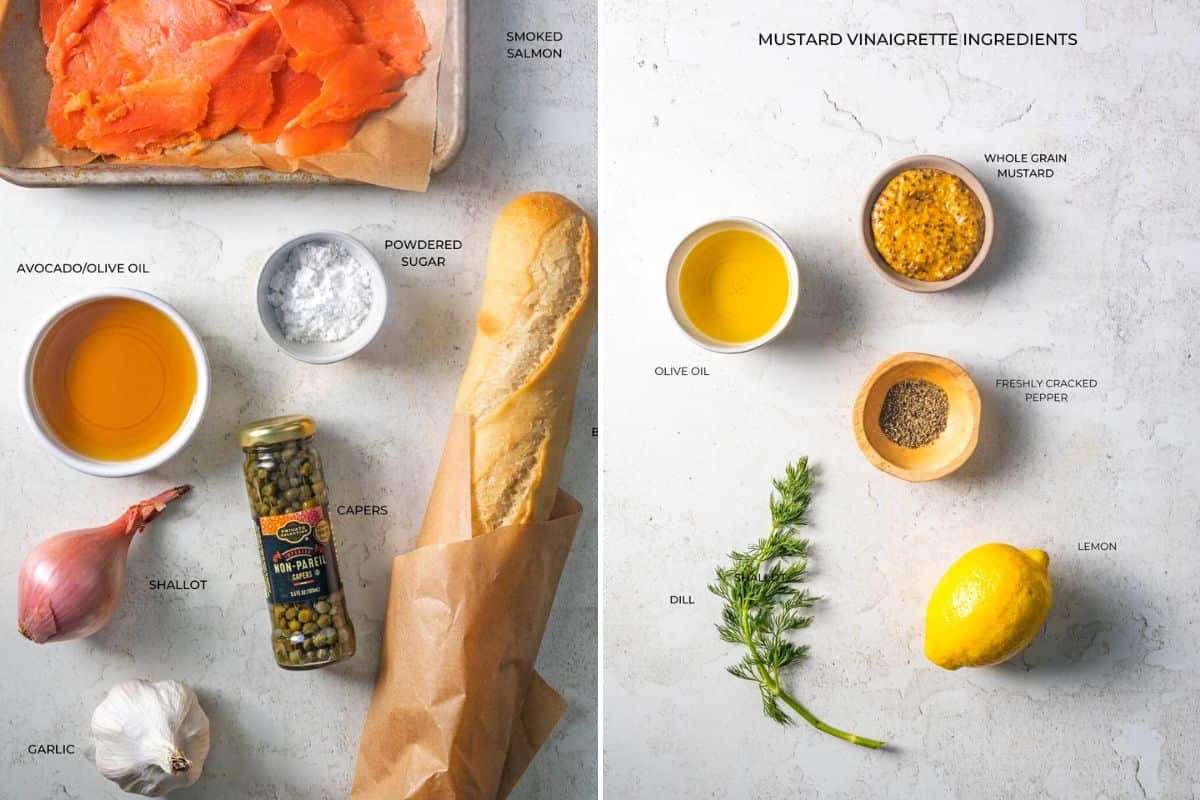 🛒Ingredient Notes
*full ingredients list and measurements can be found in recipe card below*
Baguette: You can usually find baguettes in the bakery section of your local grocery store. Choose a longer skinny one that's super fresh.
Capers: The capers are fried before serving for a nice little crunchy/salty bite!
Shallot: These also get fried for the topping and adds a sharp bite.
Garlic: Fresh garlic as opposed to garlic powder is BEST!
Mustard: Whole grain mustard is recommended as it adds a nice tang without being overpowering.
Lemon juice: Just to brighten up the rich flavors, fresh lemon juice is best!
Dill: Salmon and dill go together hand in hand. Be sure to use fresh dill for the best flavor!
Smoked salmon: Sockeye smoked salmon is the best out there! Just look for an all natural one, because many have red dye added to them (yikes!)
🧑‍🍳How To Make Smoked Salmon Crostini
1. Thinly slice your baguette into 36 pieces and lay them out in a single layer on a baking sheet(s). Bake for about 5 minutes, or until very lightly toasted.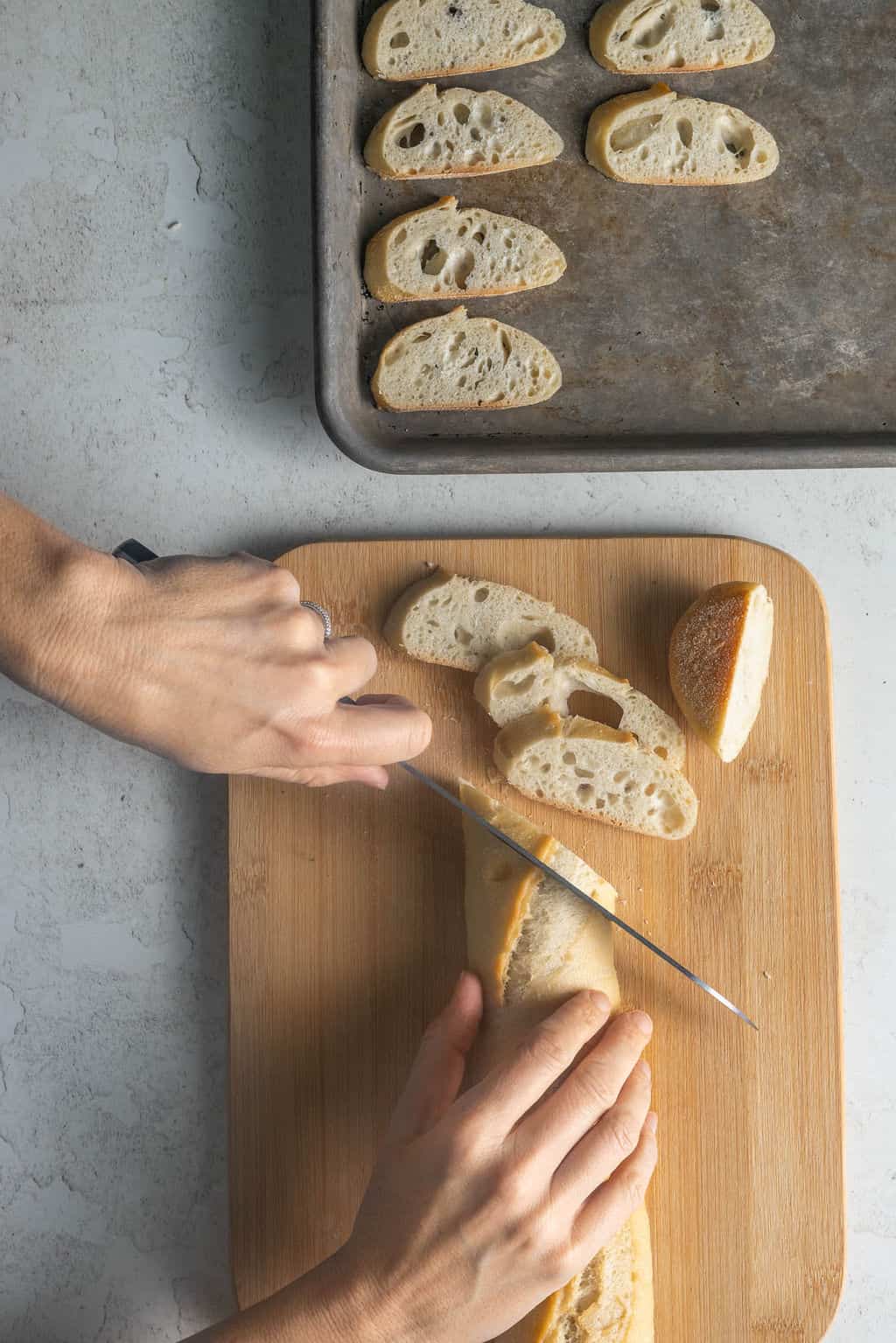 2. Drain the capers well and toss with the flour. Heat avocado oil in a medium sized skillet over medium heat and fry the capers for 2-3 minutes, or until the flour starts to look brown.
3. Add sliced shallots into the oil and cook for another 3-5 minutes. Stir in garlic and cook for 1 more minute, then remove from heat immediately.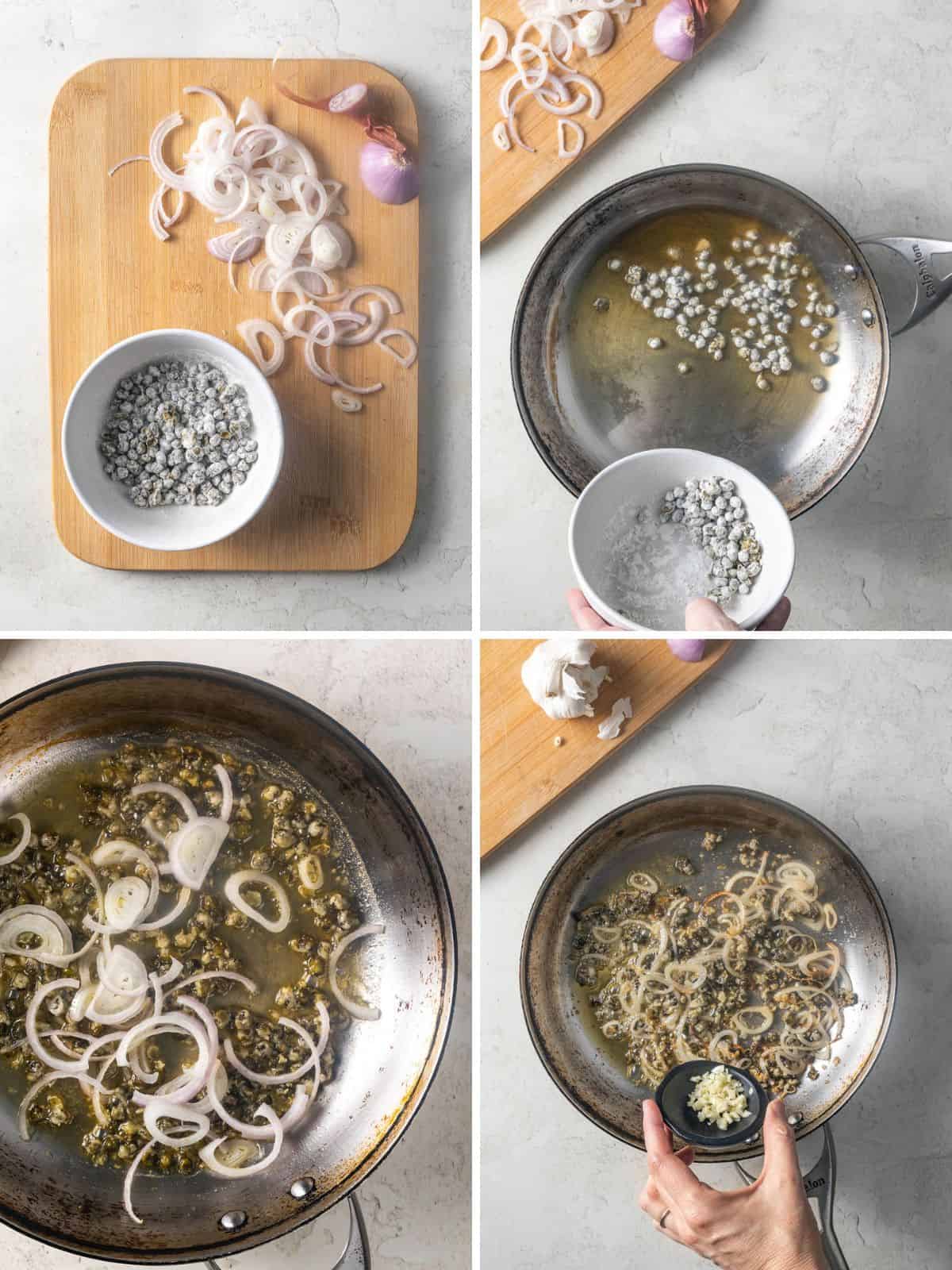 4. Use a slotted spoon to remove and caper mixture and place onto a paper towel any excess oil.
5. In a small mixing bowl, whisk together olive oil, mustard, lemon juice, dill, and pepper. Set that aside.
6. Begin to build your smoked salmon crostini. Distribute the salmon evenly among the toasted baguette slices, top each with some of the caper mixture, drizzle with some of the vinaigrette, and finish with additional dill if desired.
7. Serve immediately and enjoy!
Can I Store Leftovers?
Smoked salmon crostini is best eaten fresh. Once it has sat out and then been stored the bread loses that "crunch."
Also, you can't let smoked salmon sit out for more than 2 hours. If it has sat out for longer, it is no longer safe to consume.
Make sure you serve a fancy drink with your fancy crostini!
Expert Tips
Resist the urge to add salt. Smoked salmon is already salted and it may be too much.
Swap out the dill for fresh parsley if you wish.
Store the smoked salmon in the fridge until last minute to ensure it's cold.
This appetizer can be served room temperature or chilled to make assembly easier when guests arrive.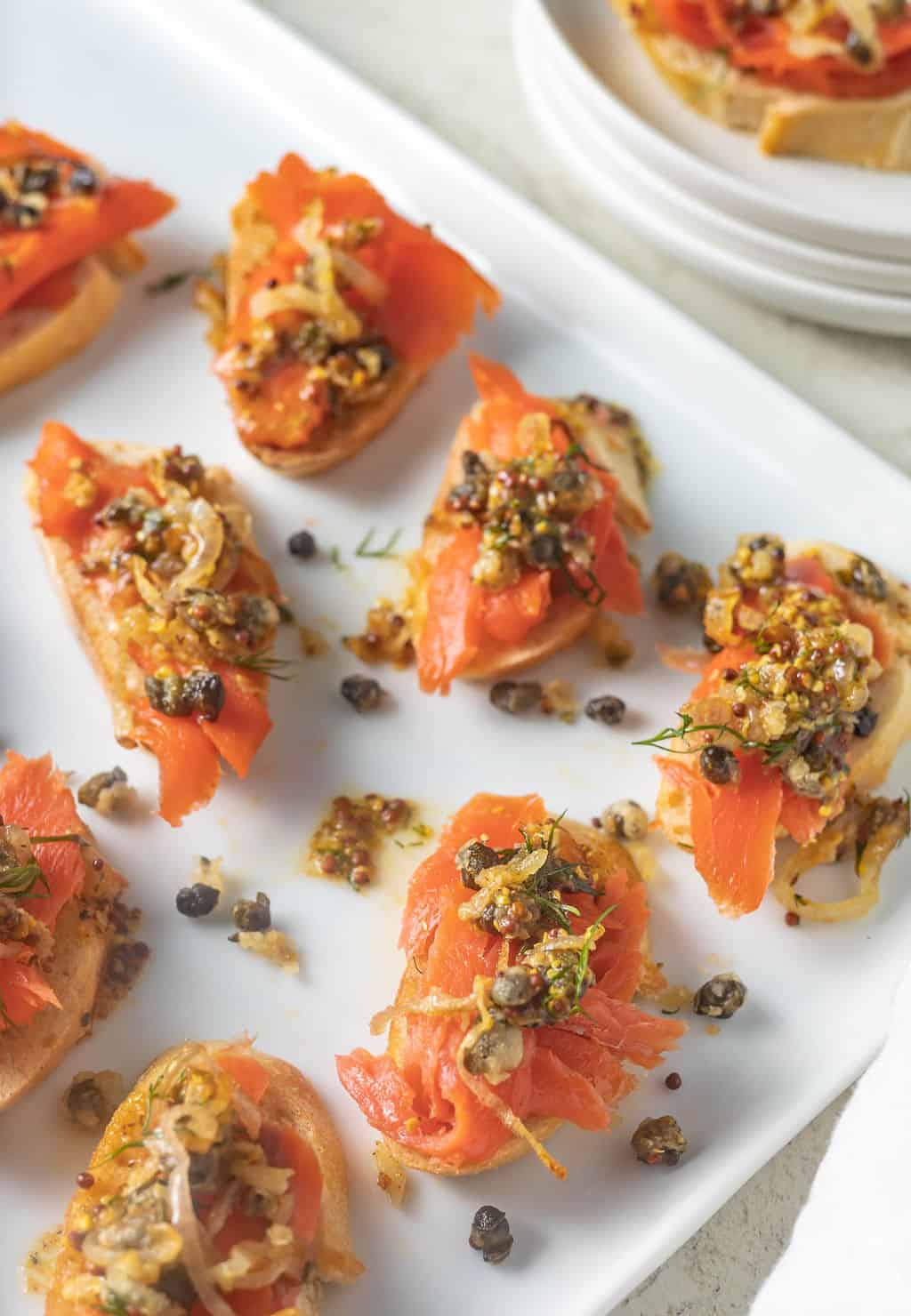 Frequently Asked Questions
Could I use hot salmon instead of cold smoked salmon?
For the best flavor, it's best if you follow the recipe as written and use cold smoked salmon.
Can I double or triple the recipe for a crowd?
Sure! This recipe does make about 3 dozen, but it you want to double or triple for a crowd- be my guest!
I suggest planning to have 2 crostini per person.
Can I make smoked salmon crostini ahead of time?
No, this isn't a recipe that you can really make in advance. The crostini can get soggy if made too far ahead of time, so it's best if you make it right before you're ready to serve.
Can I use a gluten free baguette?
Yes, you certainly can! I've found that Schar makes a great gluten free baguette.
More Crostini Recipes!
If you're looking for MORE crostini ideas, check out this post of 33 crostini toppings you'll love!
📖 Recipe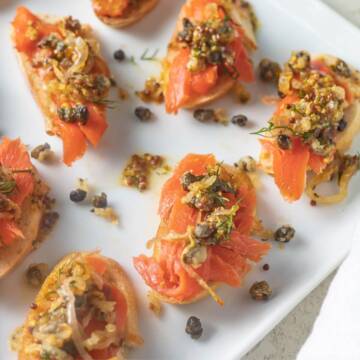 Smoked Salmon Crostini Appetizer
This Smoked Salmon Crostini is simple and elegant. It's easy to make and great to serve at a brunch or for an appetizer. This recipe is finger food at it's finest!
Print
Pin
Rate
Ingredients
1

Fresh long baguette

(Cut into 36 ¼" slices)

⅓

Cup

Capers

(drained)

1

Tablespoon

All purpose flour

¼

Cup

Avocado oil or olive oil

(for frying)

1

Medium shallot

(very thinly sliced)

1

Clove

Garlic

(minced)

8

Ounces

Smoked salmon, thinly sliced*
Dijon Vinaigrette
2

Tablespoons

Extra virgin olive oil

4

Teaspoons

Lemon juice

2

Tablespoons

Whole grain mustard

2

Teaspoons

Fresh dill

(chopped)

½

Teaspoon

Ground black pepper
Instructions
Preheat the oven to 350°F.

Thinly slice your baguette into about 36 ¼" slices and lay in a single layer on your baking sheet. You may need to use 2 baking sheets in order to maintain one layer.

Place the baking sheet in the oven and bake for about 5 minutes, or until just lightly golden brown. Take out of the oven once toasted and set aside.

In a medium sized skillet, heat the avocado oil over medium heat.

Drain the capers well, and toss in a bowl with the flour to coat well. Carefully place them in the oil and fry for 2-3 minutes, or until the flour just starts to turn brown.

Add the thinly slices shallots to the oil and cook for an additional 3-5 minutes, or until they begin to become tender. Turn down the heat if it starts to burn.

Stir in the minced garlic and cook for just 1 minute in order to not burn the garlic.

Remove the pan from the heat and use a slotted spoon to take the caper mixture out of the oil. Place it onto a paper towel to drain any excess oil and set aside

In a small bowl, whisk together the olive oil, whole grain mustard, lemon juice, chopped dill, and ground black pepper.

Begin to assemble your crostini. Top the baguette slices evenly with the smoked salmon, evenly distribute the caper mixture over each, then drizzle ¼-½ teaspoon of the vinaigrette over each.

Finish with more fresh dill if desired as a garnish and serve immediately for a crispy bite.
Recipe Notes
This appetizer yields 36 crostini if using a narrow baguette. More or less will depend on the size of your baguette.
Serve within 1-2 hours of assembling to prevent the crostini from getting stale.
Both the caper/onion mixture AND the vinaigrette can be made 1-2 days in advance.
*Most smoked salmon is sold cold smoked already thinly sliced in the food store. Look for the best quality salmon you can find. Sushi grade is a plus. Natural smoked is recommended.
Nutrition
Calories:
48
kcal
|
Carbohydrates:
4
g
|
Protein:
2
g
|
Fat:
3
g
|
Saturated Fat:
0.4
g
|
Polyunsaturated Fat:
0.5
g
|
Monounsaturated Fat:
2
g
|
Cholesterol:
1
mg
|
Sodium:
146
mg
|
Potassium:
25
mg
|
Fiber:
0.3
g
|
Sugar:
0.4
g
|
Vitamin A:
9
IU
|
Vitamin C:
0.4
mg
|
Calcium:
10
mg
|
Iron:
0.4
mg