Aperol is an Italian liqueur, but the name actually comes from the French word "aperitif" which is an alcoholic beverage that stimulates the palette. It's supposed to be enjoyed BEFORE a meal. Here, I share a few different Aperol-inspired cocktails you will love serving your guests year-round!
How Is Aperol Made?
The bright orange color of this liqueur pretty much speaks for itself when it comes to ingredients. Aperol is citrusy and bittersweet. It's made from oranges, rhubarbs, gentian root, cinchona bark, and a few other top-secret ingredients.
Sometimes Aperol is confused with Campari because they are both brightly colored, but they are very different.
How Is Aperol Different From Campari?
Campari is crimson red and bitter in flavor, while Aperol is orange and sweet in flavor. Aperol is also lower in alcohol content. The drink was made to be a light refresher before dinner, but is now one of the most popular drinks all over the world!
Fun Aperol Cocktails
We have searched for the best Aperol recipes to share with you, and have come up with a really neat list of options. Check them out, here!
DARK PINEAPPLE
Full recipe is at the bottom!
This cocktail is uniquely delicious! It's sweet, tart, bitter and refreshing. I prefer serving this Aperol cocktail in a large wine goblet in the summer time with a dehydrated orange slice as a garnish.
(Full recipe is at the bottom of this post!)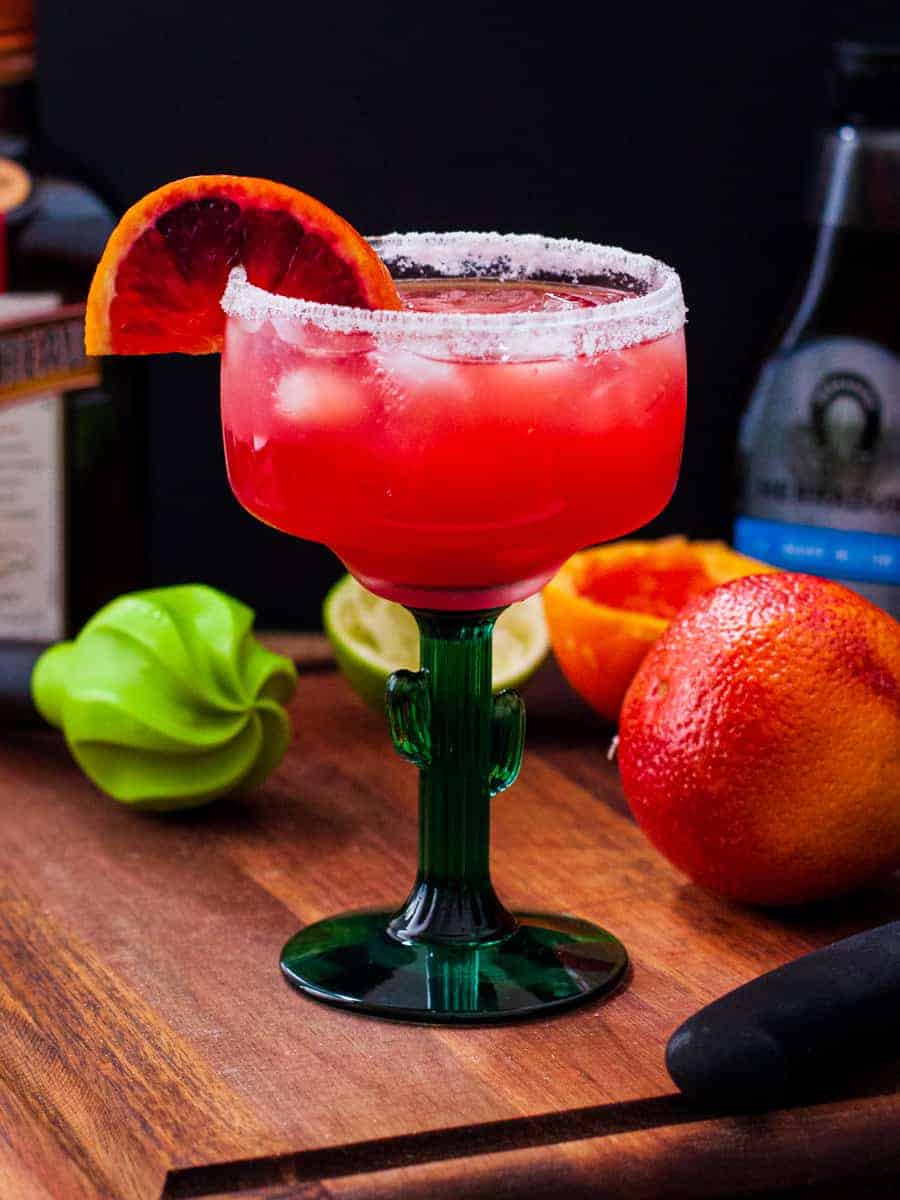 Ingredients
Blood Orange
Aperol
Lime
Tequila
Pleasing to the eyes and the taste buds - This Margarita is one for the books! It is full of flavor with a little kick.
Although Triple Sec is traditionally used in a Margarita, I like to use Aperol in this recipe. It gives the cocktail a stunning color and an amazing, citrus burst! If you love triple sec, try these cocktails!
If you're feeling adventurous, use both! 😉
Ingredients:
Prosecco
Aperol
Soda Water
Orange Slices
This is probably the most simple (and well-known) Aperol cocktail out there. Sweet, light, and trendy - Perfect for brunch guests, or as a midday treat for yourself.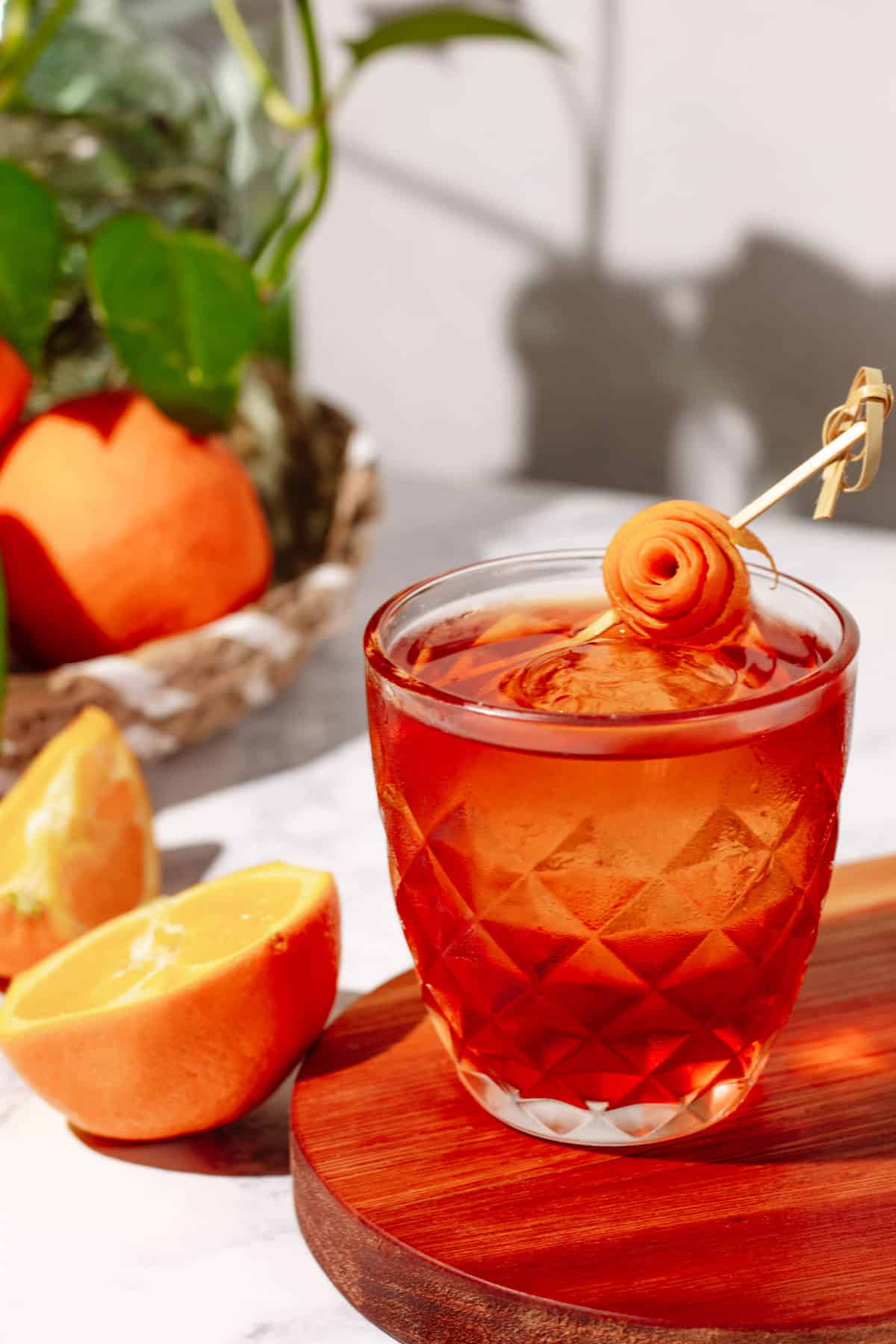 Ingredients:
Aperol
Gin
Sweet Vermouth
A classic Negroni is made with Campari, but Gin already gives this cocktail a slightly bitter taste. For a sweet/bitter balance, swapping the Campari with Aperol hits the spot!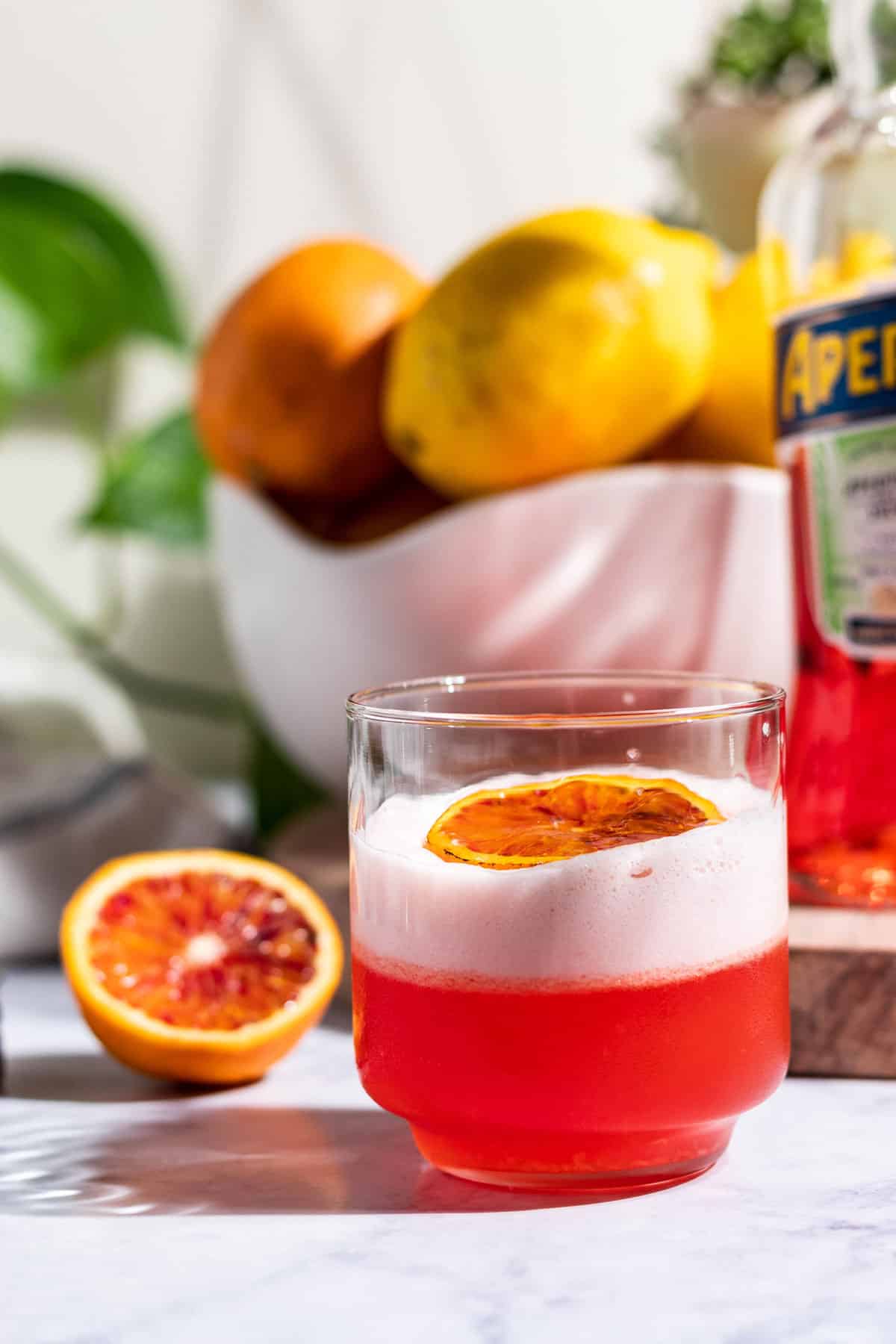 Ingredients:
Aperol
Blood Orange Juice
Lemon Juice
Egg White
Blood Orange Slice or Lemon Peel
Isn't this cocktail just gorgeous?! I absolutely love how vibrant and bright it is.
The egg white may seem a little strange, but it adds a silky texture that truly tops off the sour base of this drink. Give it a chance... I bet you'll be shocked at how good it is!
For a vegan alternative, without the egg, The Perfect Gin Aperol Sour Cocktail will do the trick!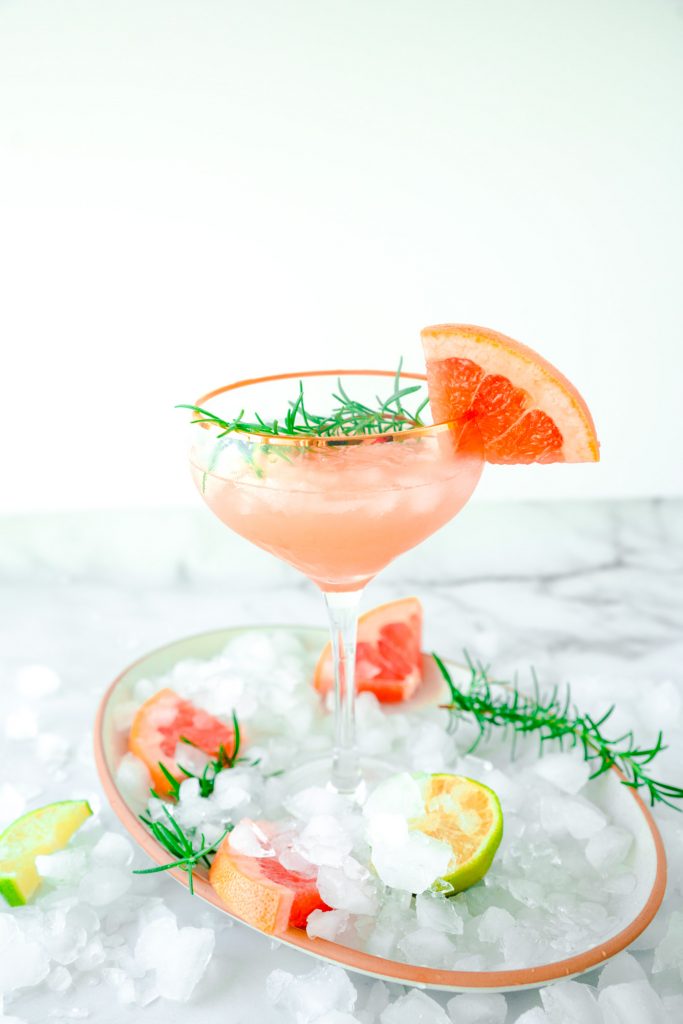 Ingredients:
Grapefruit Juice
Vodka
Aperol
Lime Juice
Muddled Rosemary
Rosemary Sprigs
Grapefruit Slices
Pretty in pink! A cocktail too tasty to pass up. The recipe calls for sweetener to downplay the bitterness of the grapefruit juice, but I thought Aperol would be a perfect substitute! Tart and sweet with the most wonderful, herbal aroma.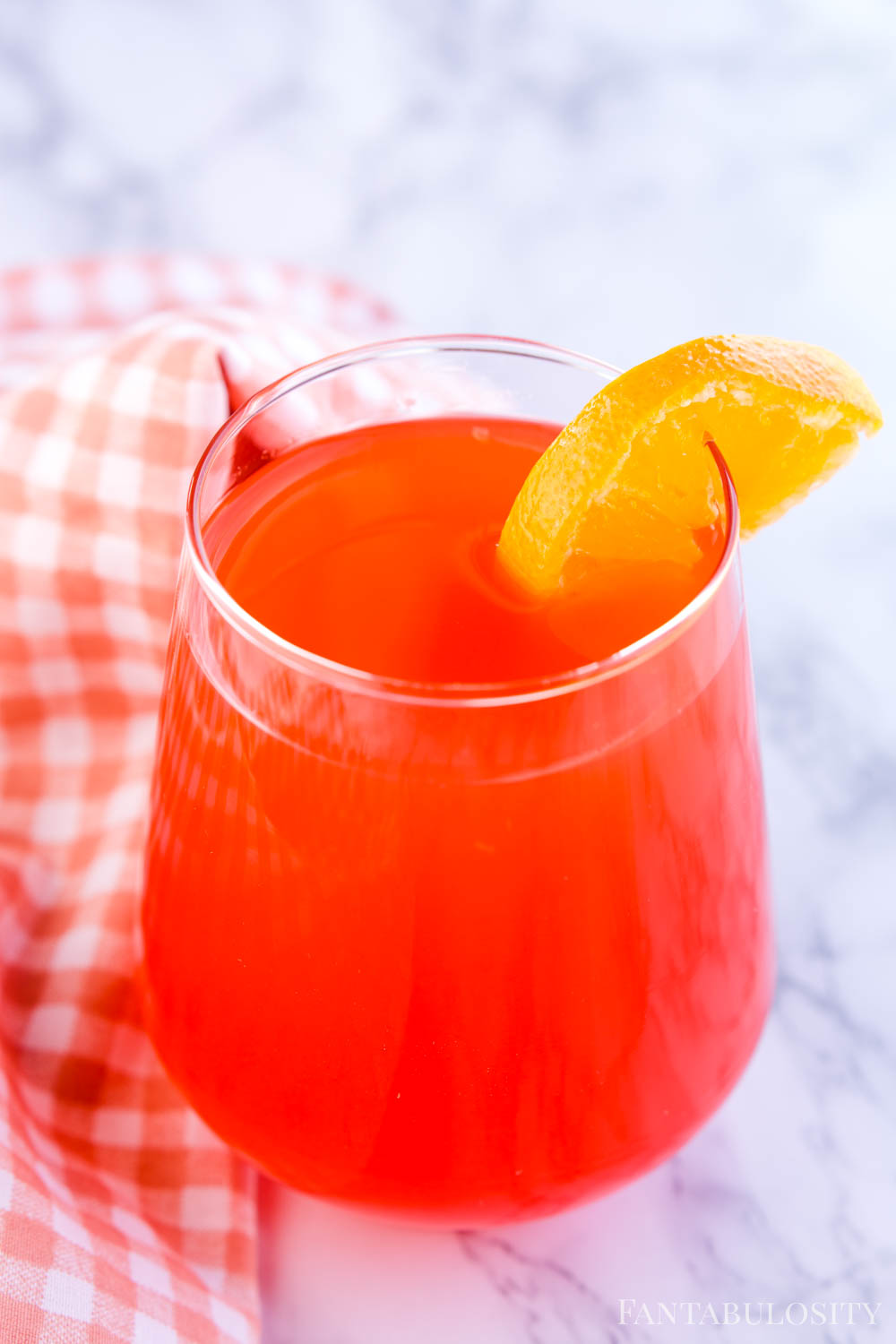 Ingredients:
Kool-Aid Mix (1 Lemon, 1 Cherry, 1 Strawberry, 1 Orange)
Water
Aperol
Pineapple Juice
Sprite (or any Lemon-Lime soda you prefer)
Sugar
For a super simple drink idea that will serve more than enough guests, try this fruit punch.
FYI - IT IS SWEET! I'd suggest adding a small amount of sugar first, then adding more if you need it, so you can gauge how sweet you'd like the final product to be. Serve on ice with a citrus garnish.
It can also be made as a non-alcoholic beverage, which would be great for a kid's birthday party. Minus the Aperol, of course!
Ingredients:
Rhubarbs
Lemons
Sugar
Water
Aperol
I LOVE a lemonade cocktail! Fresh Rhubarbs help set off the light notes within the Aperol, giving this drink a unique flavor. If you're looking for a tasty summer cocktail, this is the one!
Oh, as a precaution, be sure to discard ALL of the Rhubarb leaves when prepping. Only use the stalks (the red part) as the leaves are poisonous.
Non-Alcoholic Aperol Substitutes
The great thing is that any of these fun drinks can be served as a mocktail! If you still want the taste of Aperol mixed in, but don't want the boozy effect, check out these non-alcoholic brands.
Both brands offer quite a selection of non-alcoholic "spirits" and are SO good. You won't even miss the alcohol with how flavorful these mocktails turn out!
Aperol Holiday Cocktails
The citrus notes and bold, bright color of Aperol isn't just for summer-themed cocktails. No way! Toss in the right ingredients and you'll have some pretty awesome drinks for entertaining guests at all of your holiday events.
Ingredients:
Cranberries
Cinnamon Sticks
Rosemary
Aperol
Orange Slices
Prosecco
Club Soda
Water
For a twist on the classic Spritz, perfect for Thanksgiving or Christmas, you have to try this! There are a few extra steps involved since you'd be making your simple syrup, but it is more than worth it. The cranberries set the stage for holiday-themed flavor.
Ingredients:
Champagne
Pineapple Juice
Grenadine
Aperol
Orange Juice
Oranges and Cherries
Mimosas are always fun! This recipe is short and to the point - Super easy for any get-together. Pour all of the ingredients into an iced punch bowl, give it a little stir, and voila! Toss in some peeled orange slices and cherries for garnish and you have an instant crowd-pleaser.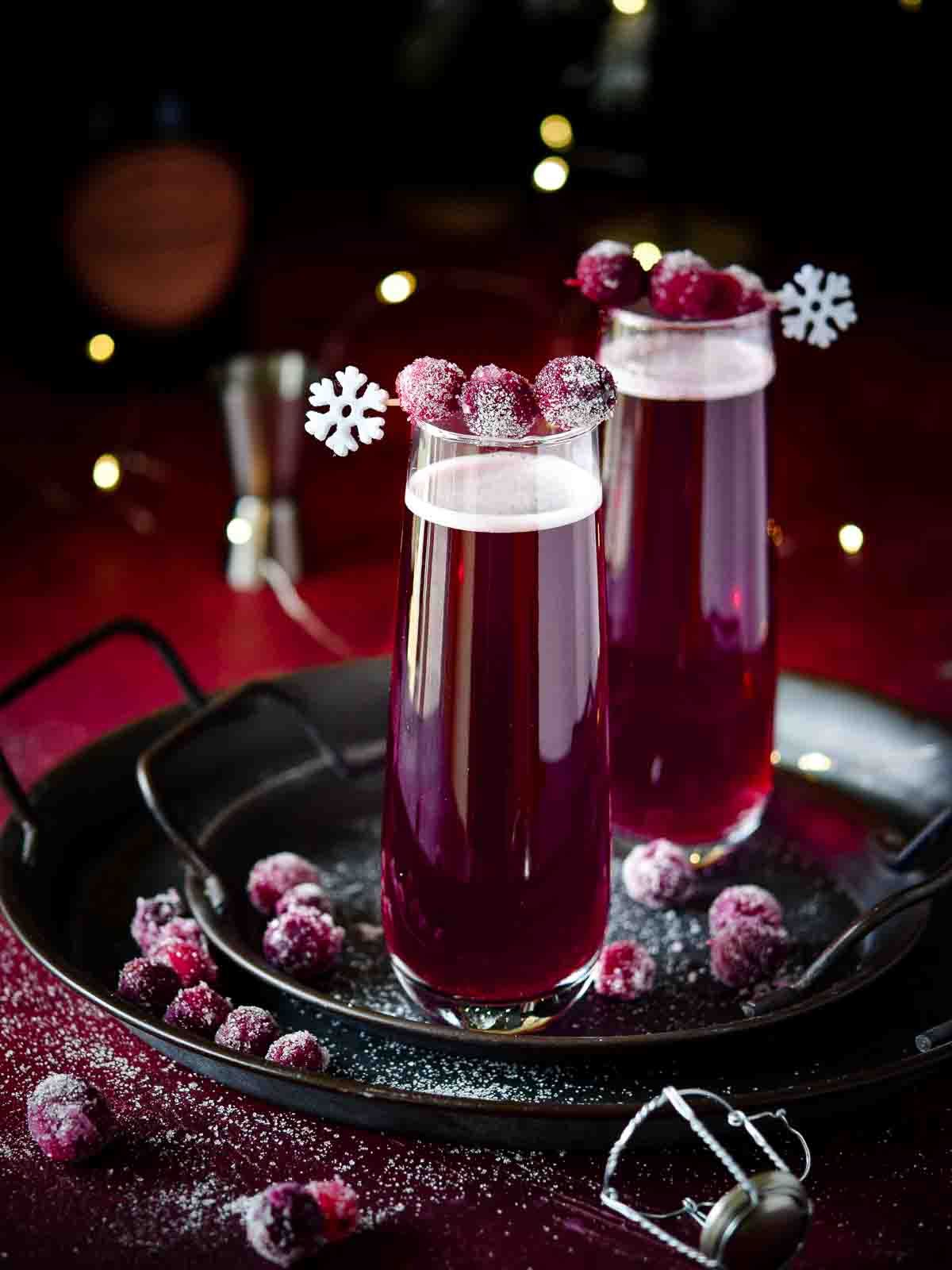 Ingredients:
Champagne
Aperol
Cranberry Juice
Cranberries
Sugar
Take this traditional cocktail to the next level by swapping orange juice with cranberry juice, and adding Aperol, for an unforgettable spin! The sugared cranberries add a sparkling effect which will definitely make these a hit at any Thanksgiving dinner or Christmas party you will be hosting.
This non-alcoholic Aperol Spritz is a delicious and healthy take on the classic, Italian, orange drink served everywhere in Italy during the summer months! The fresh herbs and combination of juices hit both the bitter and sweet notes an Aperol Spritz is known for.
What To Serve With Your Cocktails
Appetizers, entrees, desserts - There is a pretty long list of goodies to serve with your cocktails. Although it is on the sweeter side, Aperol pairs well with just about anything! Have a cocktail on the side, or mix the liqueur in the actual dish... whatever you prefer.
Here are some recipes you may enjoy:
📖 Recipe
Dark Pineapple
This cocktail is a delicious combination of sweet pineapple juice, bitter aperol and tart lime juice. The dark rum makes this cocktail potent but not overly strong.
Print
Pin
Rate
Ingredients
2

ounces

pineapple juice

1

ounce

dark rum

¾

ounce

Campari

½

ounce

lime juice, freshly squeezed
Instructions
Add all ingredients to a cocktail shaker with ice and shake well for 10 seconds.

Strain into wine glass with ice and garnish with citrus of choice or pineapple slice.
Recipe Notes
Pineapple juice can be substituted with orange juice if you like!
Nutrition
Calories:
156
kcal
|
Carbohydrates:
14
g
|
Protein:
0.3
g
|
Fat:
0.1
g
|
Polyunsaturated Fat:
0.02
g
|
Monounsaturated Fat:
0.01
g
|
Sodium:
2
mg
|
Potassium:
91
mg
|
Fiber:
0.2
g
|
Sugar:
6
g
|
Vitamin A:
10
IU
|
Vitamin C:
10
mg
|
Calcium:
9
mg
|
Iron:
0.2
mg