This easy Frosé recipe is a refreshing blend of rosé wine, Titos vodka and frozen peachs. It's my take on a popular Frosé served at a local restaurant that is AH-mazing! Plus, you can blend it up in less than 10 minutes making it a delicious cocktail to serve in the summertime!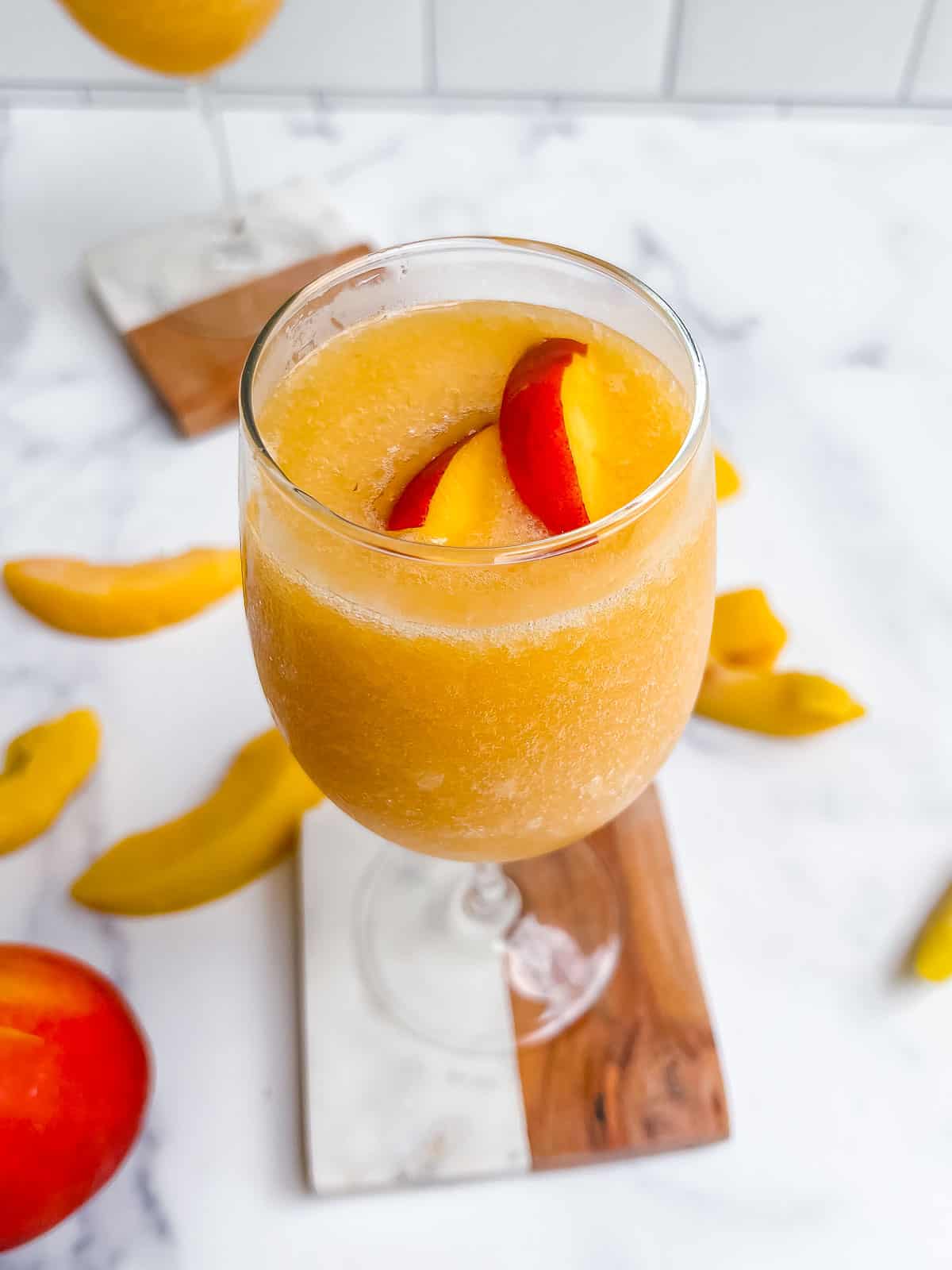 Making frose at home is much easier than it looks!
Simply blend your favorite Rosé wine with frozen fruit, sweetener, and vodka for a sweet adult beverage you can enjoy while you're relaxing by the pool or serve for brunch.
If there's one thing I want to indulge in on a hot summer's day, it's a cold Frosé. I love that it has a subtle sweetness, is naturally gluten and dairy free, and can be made in under 10 minutes.
Make sure to serve up some mini shrimp tostadas or prosciutto melon skewers to really get the party started!
What Is Frosé?
In short, Frosé is blended Rosé wine. However, more often than not, people make it with frozen fruit, added liquor and a sometimes a sweetener like honey or agave.
It's a very summery cocktail that's reminiscent of an adult slushy. You should also try my limoncello spritz which is another summertime favorite!
What Rosé Wine Is Best In A

Frosé

?
I prefer to use a dry Rosé because the flavor is much more full bodied than the sweeter varieties. Plus, the fruit will naturally add sweetness.
A few great varietals to use are:
Grenache

Cabernet Sauvignon

Pinot Noir

Tempranillo
Instructions:
Add all ingredients to the base of a

high speed blender

Blend on high until you get a slushy-like consistency

Pour into your favorite wine glass, garnish with a fresh peach or mint leaf, and enjoy!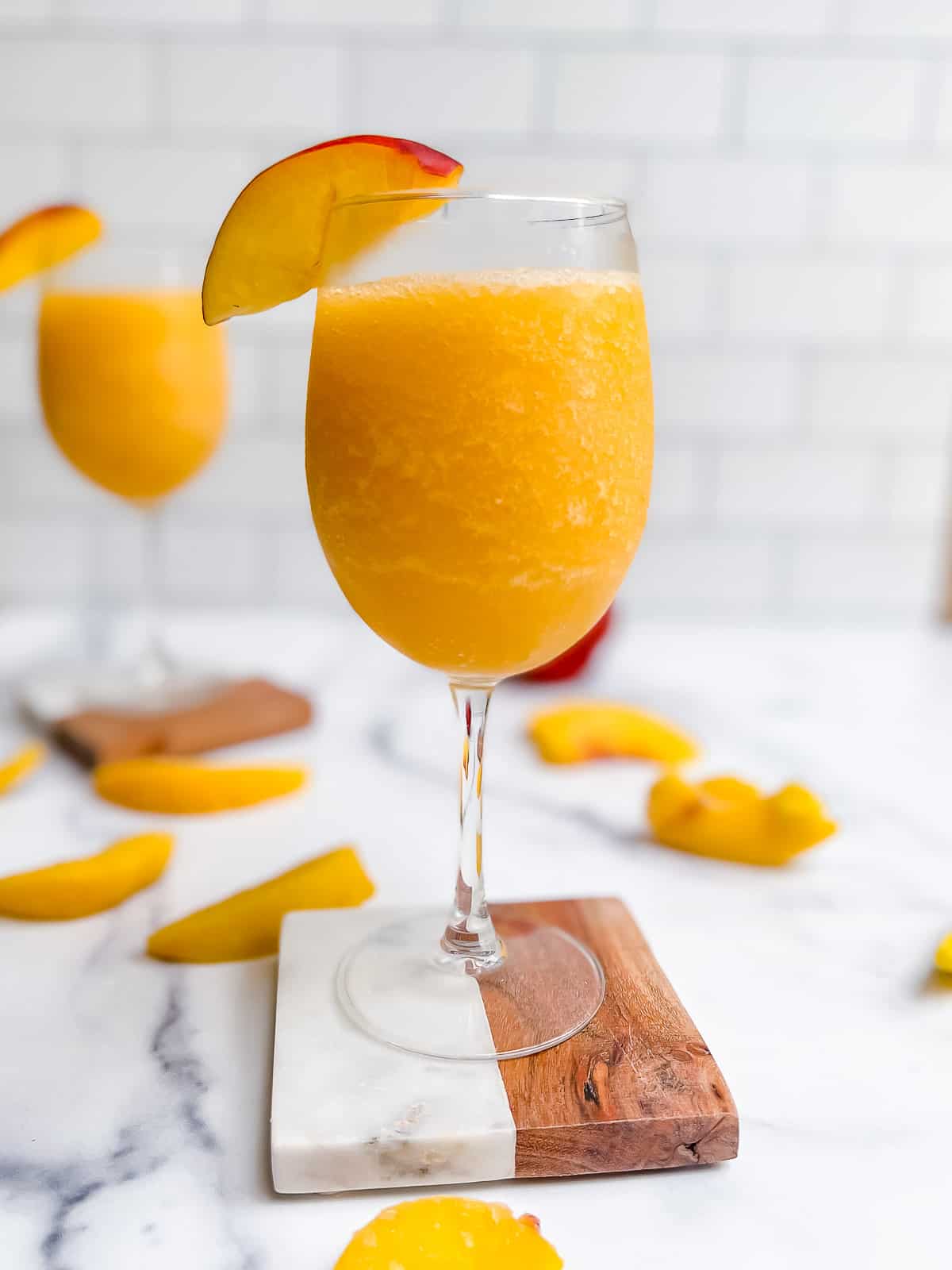 How To Store It
You don't want to make your Frosé too far in advance because it will melt! However, if you want to make it ahead of time, blend it up and, once blended, pour it into an ice cube tray and freeze!
Then when you're ready to enjoy it again, add the cubes to a blender and serve! You may need to add a touch more of rose or water.
Freezing Fruit For Frosé
You always want to make a Frosé with frozen fruit. If you don't want to buy it from the grocery store, you can easily freeze your own fruit at home.
To freeze fruit you want to cut it up into small pieces and lay the pieces in a single layer on a parchment lined baking sheet. Place the baking sheet into the freezer for 20-30 minutes, then take it out, transfer the partially frozen fruit to a freezer safe bag, and return it to the freezer.
By partially freezing it first you prevent the fruit from sticking together and forming big clumps in the bag.
Expert Tips
Use a

dry Rosé

for the most flavor

Make sure your

fruit is frozen

Amount of sweetener needed

will vary

based on Rosé variety

Chill your wine glasses

20-30 minutes before serving

Freeze Frosé in ice cube trays, then blend again for an

extra slushy

consistency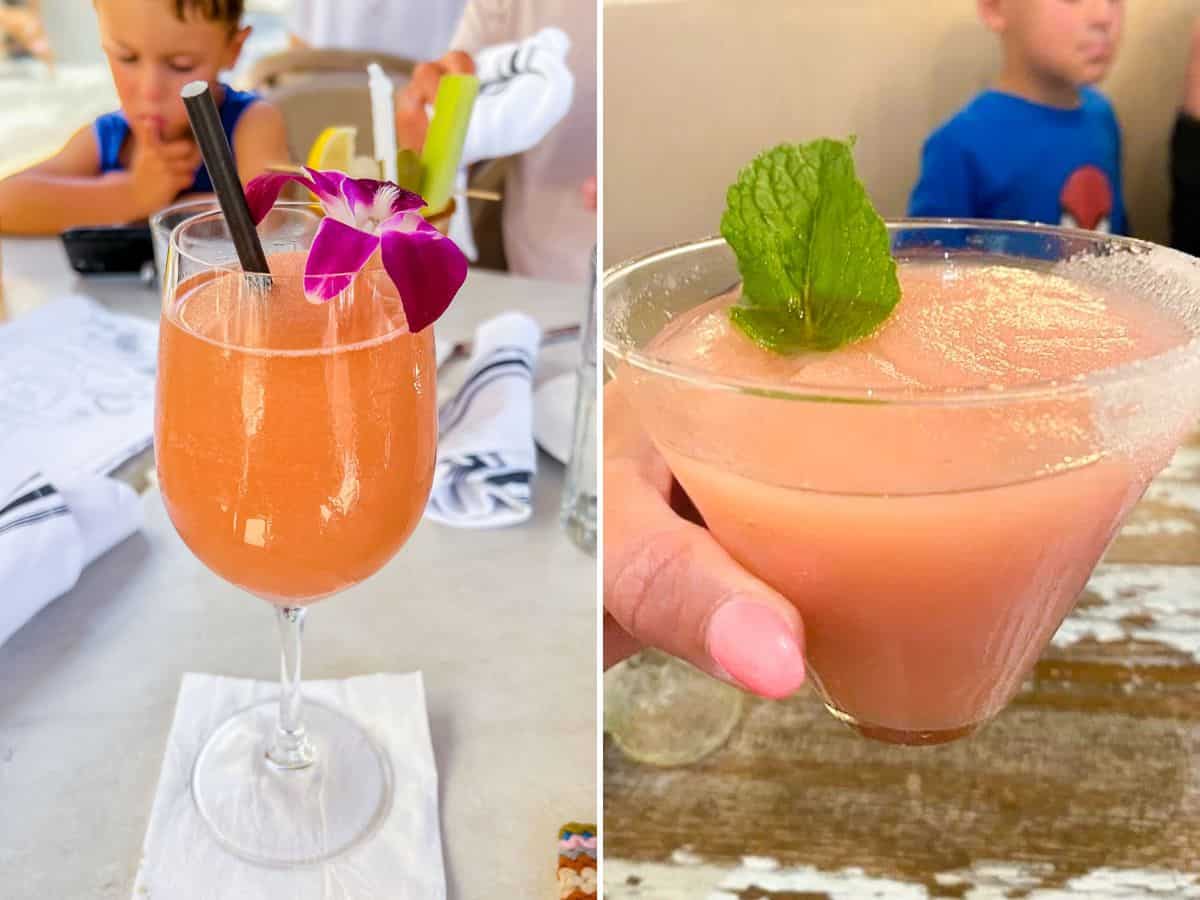 Other Frose Variations
As you can see from the photos above, there are many different ways you can make rose. One of the most common ways frose is made is with frozen strawberries. You can add any frozen fruit but I find strawberries and peaches result in the best drink.
FAQs
How can I make the rose flavor more pronounced?
Add the rose to ice cube trays and freeze a few ice cubes to add to a blender.
Can I make Frosé with vodka?
If you want to add vodka, pour 1 ounce into the mixture before blending.
Am I able to make this with strawberries instead of peaches?
You can absolutely substitute the frozen peaches with frozen strawberries. You could also make this with frozen raspberries, watermelon, cherries, mango or passionfruit like I used in my passionfruit martini.
Can I make this Frosé ahead of time?
Yes! If you want to make this ahead of time what you're going to want to do is make the frosé and pour it into ice cube trays. Place the trays into the freezer and when you're ready to enjoy, blend up the frosé cubes, pour into your glass, and enjoy!
What can I sweeten this with instead of honey?
If you don't want to use honey, you could sweeten it with agave syrup instead.
What kind of glass do I serve this in?
You can serve it in a wine glass, goblet, or a tumbler.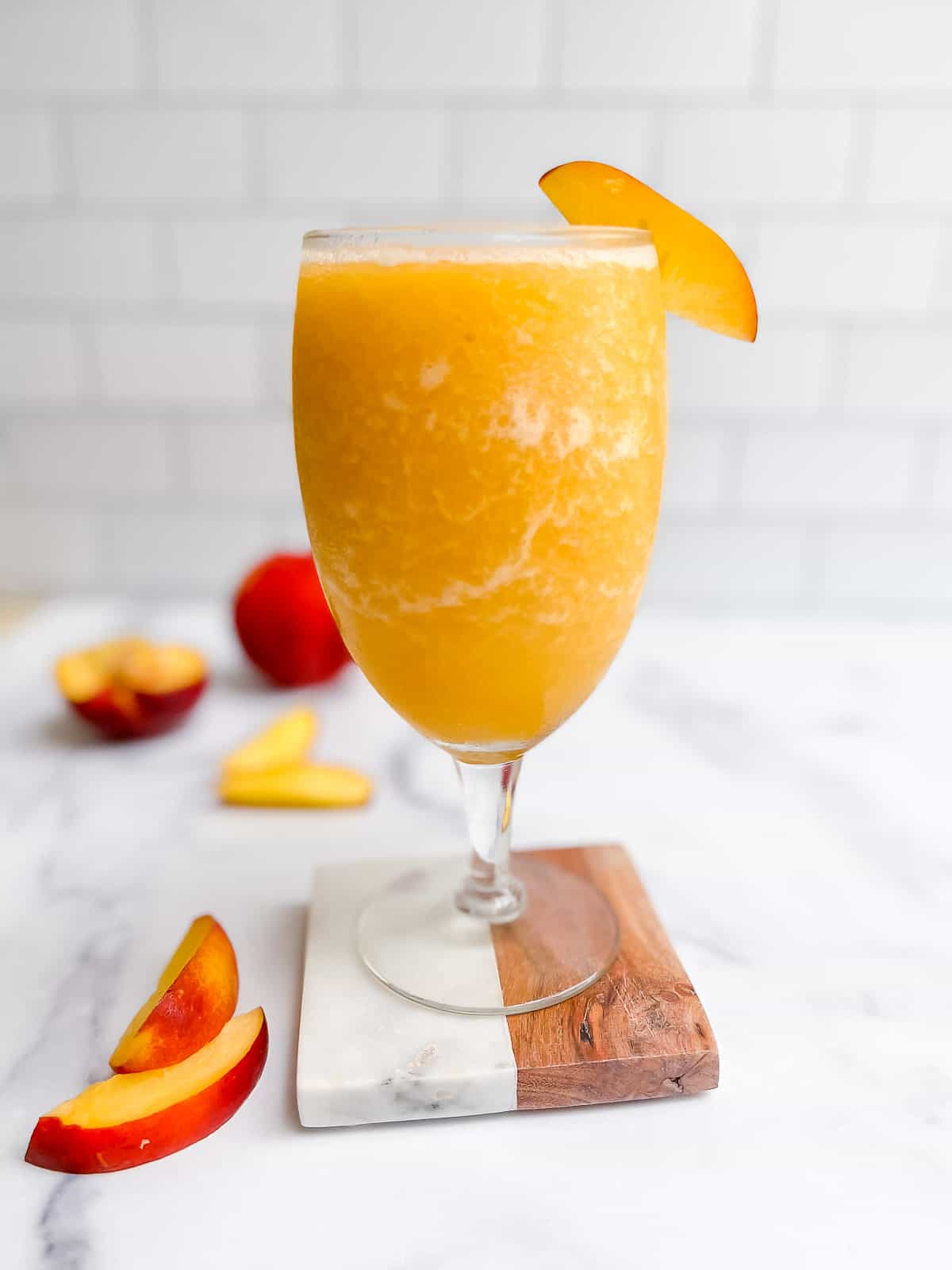 Check Out These Other Yummy Drinks Next!
What To Serve With Your Frose:
These are my favorite summer time sides and dips to serve!