These Caramelized Pearl Baby Onions are sauteéd in a sweet and savory balsamic glaze. I love to serve these as an appetizer with fancy skewers alongside cheese and some good wine. The sauce is also great for dipping bread into!

About Pearl Onions
Pearl onions, often known as buttons or baby onions, are similar to leeks. They are petite in size making them difficult to peel. They are similar in taste to white onions but have a slightly sweet bite.
I love serving them when I'm entertaining because of how 'fancy' they look! Sometimes taking a little more time to prepare appetizers is well worth it. Your guests will definitely appreciate something different and unique!
And since caramelized onions are a popular topping for meats, pizza and veggies, why not turn them into a fun, bite sized appetizer for guests to enjoy on their own? Best of all, they are healthy, full of flavor, vegetarian and gluten free, so its guaranteed that everyone will be able to enjoy them!
How To Peel Pearl Onions
Baby onions are a pain to peel but I have a short cut that makes them super easy.
Option 1
Take a small pairing knife and trim off both ends. Then cut a slit from top to bottom and carefully peel off the outer layer.
Option 2 (Faster)
Trim the ends of your onions and throw them all (skin on) into a pot of boiling water. Wait a few minutes and take them out. Once they cool, the skin should just slide right off!
Once your mini onions are peeled, then your ready to cook them! Next question is, how?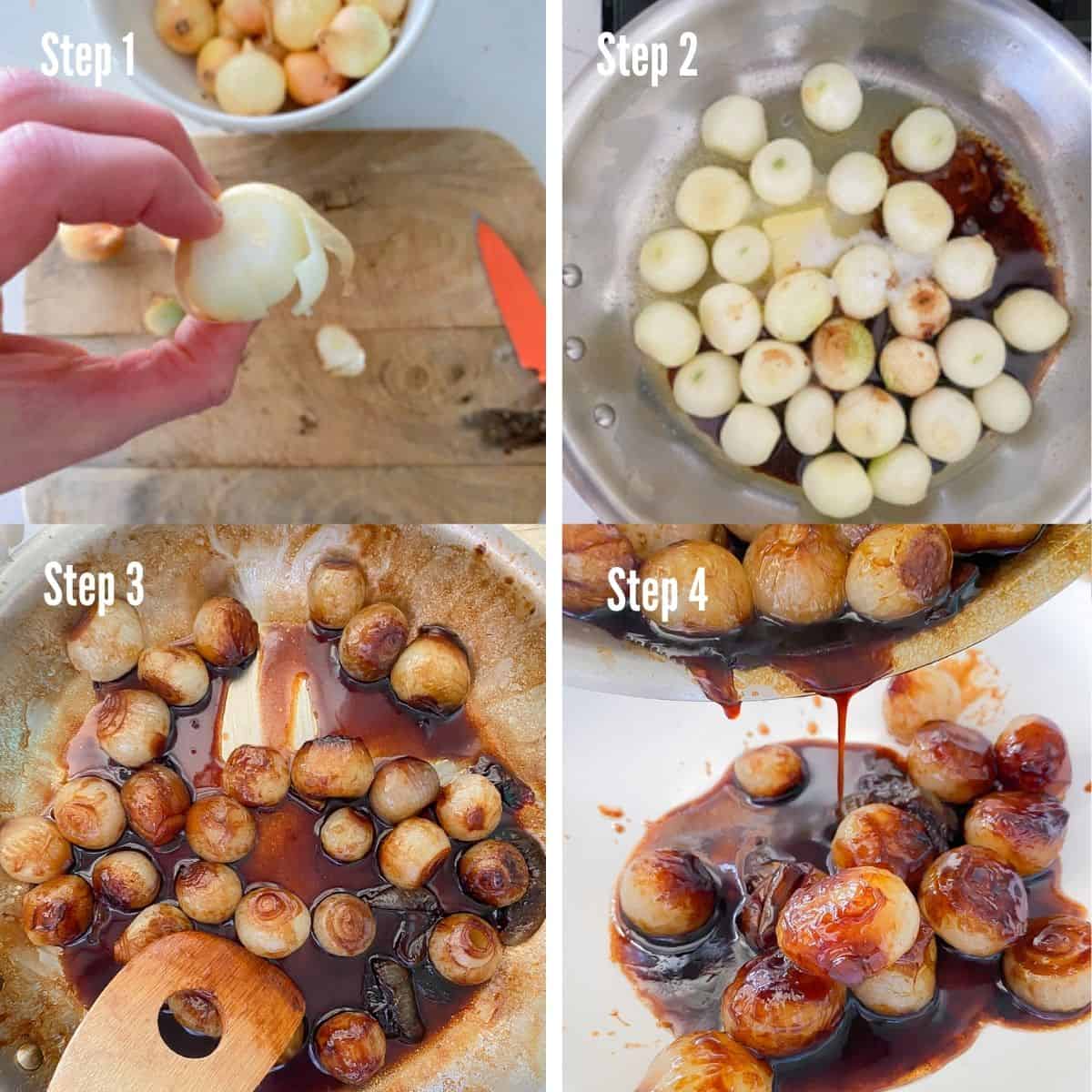 How To Caramelize Pearl Onions
Any onions, if caramelized properly, will and should take time. A minimum of 30 minutes is required but the longer the better!
Pearl onions need to cook through so they become soft and tender on the inside. To do this, its best to use a saute pan with a lid.
Then it's important to add some liquid to the pan so they steam while they caramelize. You can add chicken stock, vegetable stock, wine or just water to do this. Stock and wine will add more flavor to the onions.
They will take time to saute, soften and for the sugars to caramelize so be patient. You don't want to burn them which can easily happen with sugar.
How To Serve Your Onions
You can serve these onions SO many ways. As a side dish with steak or chicken. On top of mashes potatoes. Or even alongside a roast.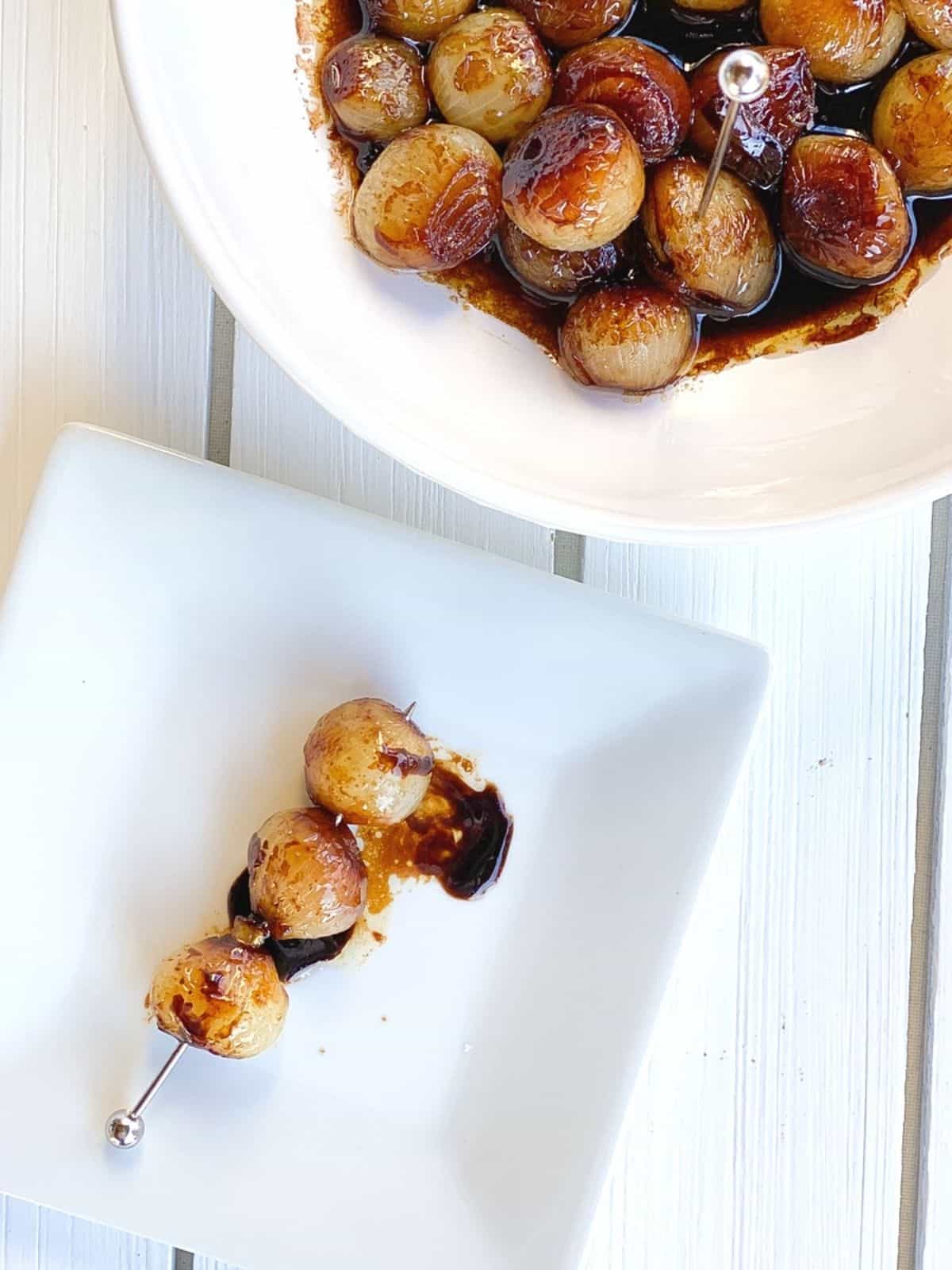 However since this food blog is dedicated to bite sized party food, the best way to serve these is with fancy skewers or mini toothpicks. They would go perfectly with a cheese board or spread and some bread for dipping. And don't forget a good bottle of wine!
Other Ingredients To Add!
This recipe for pearl onions is simple. However, to make them a bit more sophisticated, you can add other ingredients to kick up the flavor!
Add fresh thyme to your saute pan
Add red wine or chicken stock to your pan instead of water
Use brown sugar instead of white sugar
Add mushrooms to your pan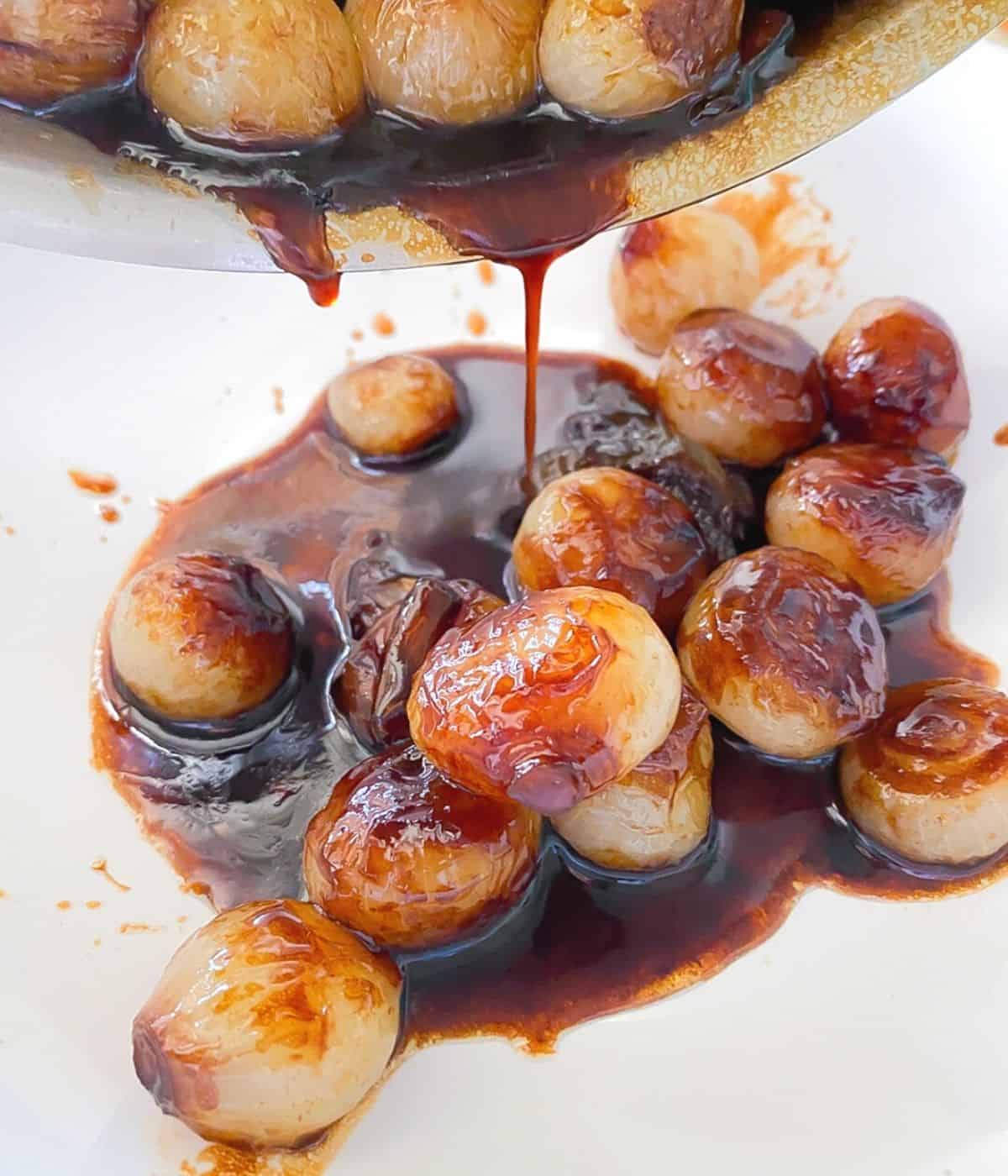 Here are some other skewered appetizers you will love!
Mini Cheeseburger Skewers (w/ Burger Sauce)
Spiked Watermelon Mojito Skewers
📖 Recipe
Caramelized Pearl Onions with Balsamic Glaze
These Caramelized Pear Onions Baby onions sauteed in a sweet and savory balsamic sauce. I love to serve these with fancy skewers alongside cheese and some good wine.
Print
Pin
Rate
Ingredients
10

oz

pearl onions, peeled

2

tablespoon

balsamic vinegar

3

tablespoon

sugar

1

tablespoon

butter

1

tablespoon

olive oil

½

teaspoon

salt
Instructions
Add whole peeled pearl onions to a large saute pan and over medium-low heat, add oil and butter.

When onions start to simmer, add the vinegar, sugar, salt and 2 tablespoons of water. Stir and cover with a lid.

After 10 minutes, check the liquid. If the pan is dry, add another 2 tablespoons of water.

After 10 more minutes, check your onions. They should be tender and the sugars should be nicely caramelized. If they are not tender, simmer another 5 minutes until they are ready. Remove and chill until ready to serve.
Recipe Notes
*Do NOT use canned cocktail onions in place of raw pearl onions.
Nutrition
Calories:
60
kcal
|
Protein:
0.4
g
|
Fat:
3.2
g
|
Saturated Fat:
1.2
g
|
Cholesterol:
4
mg
|
Sodium:
159
mg
|
Potassium:
55
mg
|
Fiber:
0.8
g
|
Sugar:
6
g
|
Calcium:
9
mg