Weekend brunches are just BEGGING you to create the most incredible at-home Bloody Mary Bar! Invite all your friends, grab your favorite vodka, and hit the store for all kinds of fun toppings and garnishes. In no time at all you can set up an amazing DIY bloody mary bar that allows everyone to personalize their own drink.
I love setting up a DRINK STATION when entertaining at home. It gets me off the hook for playing bartender and allows the guests to help themselves.
Don't be intimidated, setting up a DIY Bloody Mary Bar in at home is actually quite simple!
Gather the ingredients, display them on a table in small bowls or jars, and let your guests do all the work!
In this post you'll find all of my best tips, tricks, and expert hostess advice on how to streamline your set-up and make hosting easy on yourself.
Invite your friends over, show them to the table, and I'm sure they'll have no problem figuring out what to do. I mean, what's not to love about a personalized Bloody Mary?!
Please know that this post is just a helpful guideline to get you on your way. Feel free to be as creative and over the top as you want!
Add some fancy garnishes, decorate your display, just have a good time and know that as long as there's booze at brunch, your friends and family won't be complaining 😉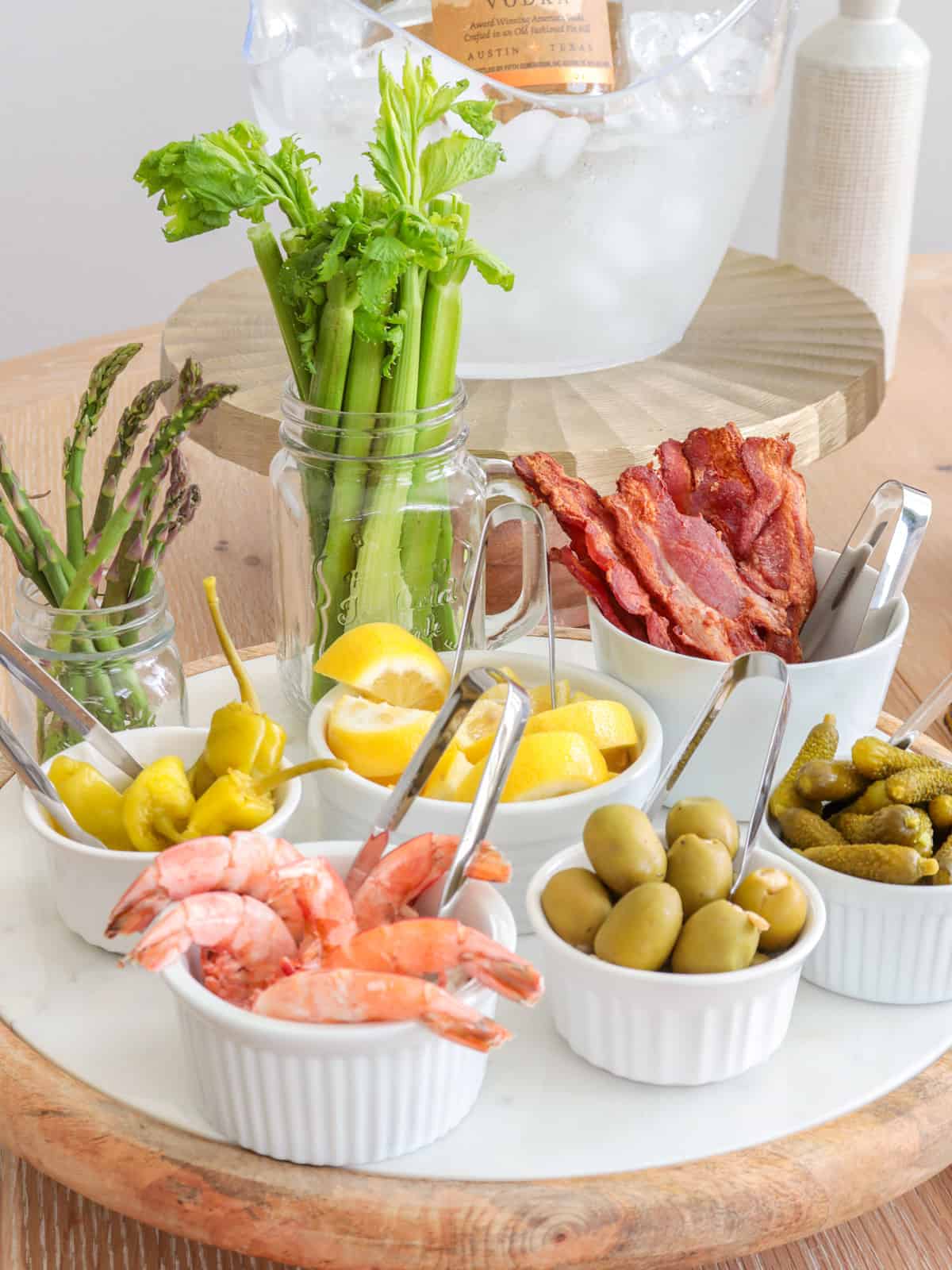 Keep in mind, this list is just a guideline. You do not have to set out every garnish idea on here, or if you have other ones you'd like to add feel free!
Go fancy or stay simple, the option is totally up to you. Be sure to check out this post for some truly over the top bloody mary garnish ideas!
Assembling Your Bloody Mary Bar
1. Approx. 2 hours before your party, start setting up!
STEP ONE: Pour the bloody mary mix into a pitcher and chill in the fridge along with the vodka. You can also chill the pitcher over ice so it's all set.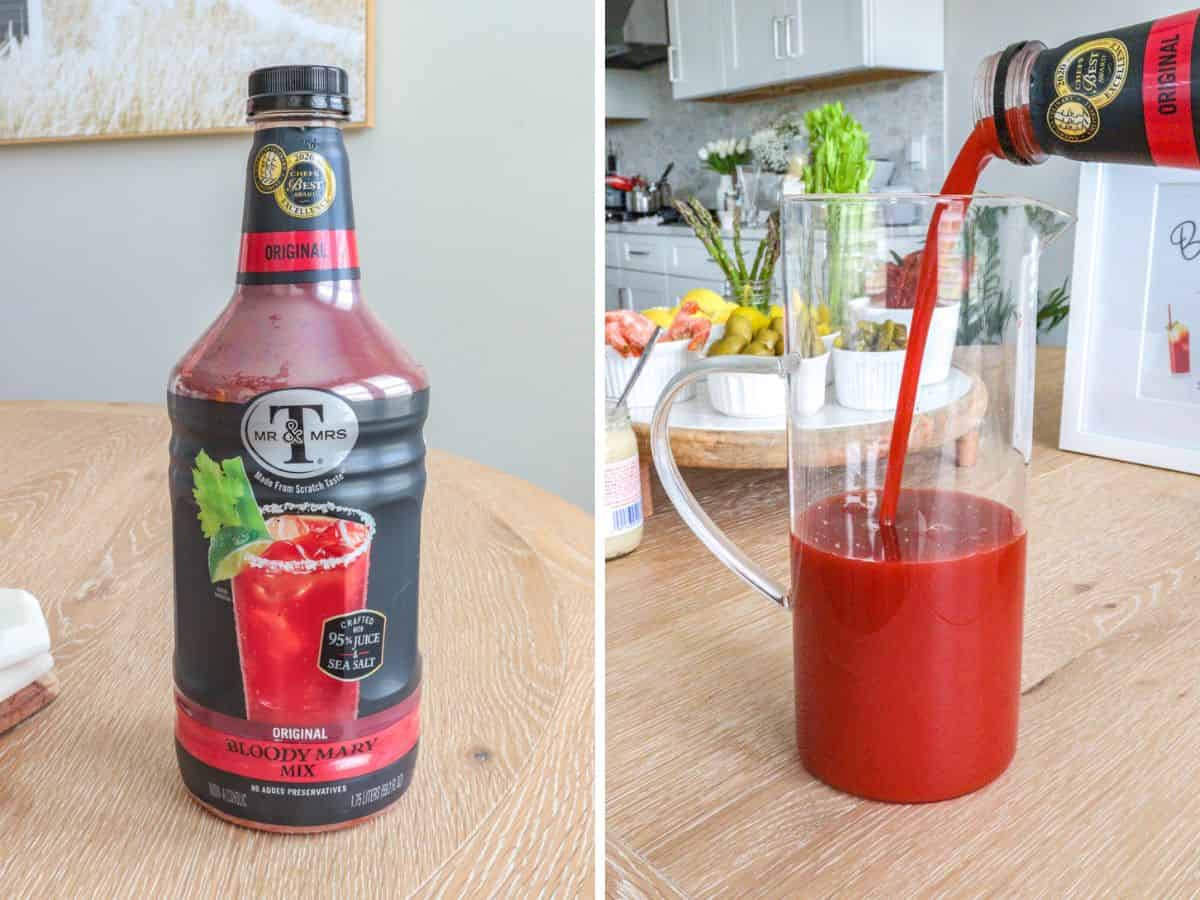 STEP TWO: Prepare your garnishes, set them in little bowls, and store in the fridge until needed.
STEP THREE: Add the "extras". This includes mini skewers, toothpicks, napkins, coasters, straws, spoons, etc.
How To Make A Bloody Mary
Add your bloody mary mix, vodka, and any other ingredients to a cocktail shaker with ice.
Shake for 10-15 seconds, then pour into an ice filled glass.
Add as many toppings as you'd like then get to sipping!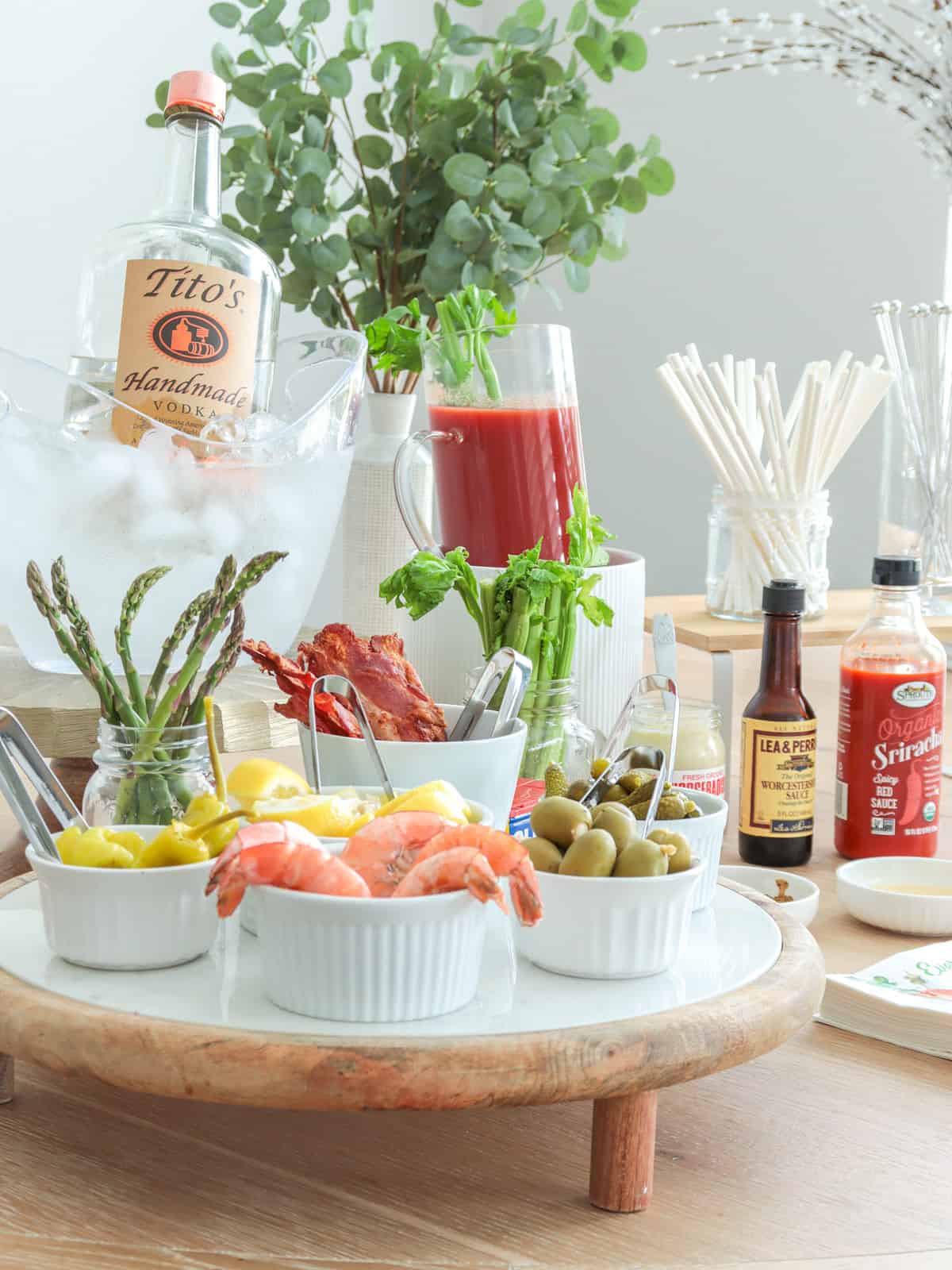 Bar Decor Ideas
Just like with my mimosa bar, I like to keep the decorations to a minimum.
A SIGN is the most important part of any DIY bar. It tells people what they're about to get into and can explain how to assemble their own cocktail.
A vase of fresh flowers, different serving platters with varying heights, and a simple printable sign that can be used to guide guests.
Honestly, a Bloody Mary Bar usually has quite a few elements and garnishes that you really don't want the decorations to get in the way. Keep it simple and let the food be the star of the show!
Frequently Asked Questions
Recommended Cocktails: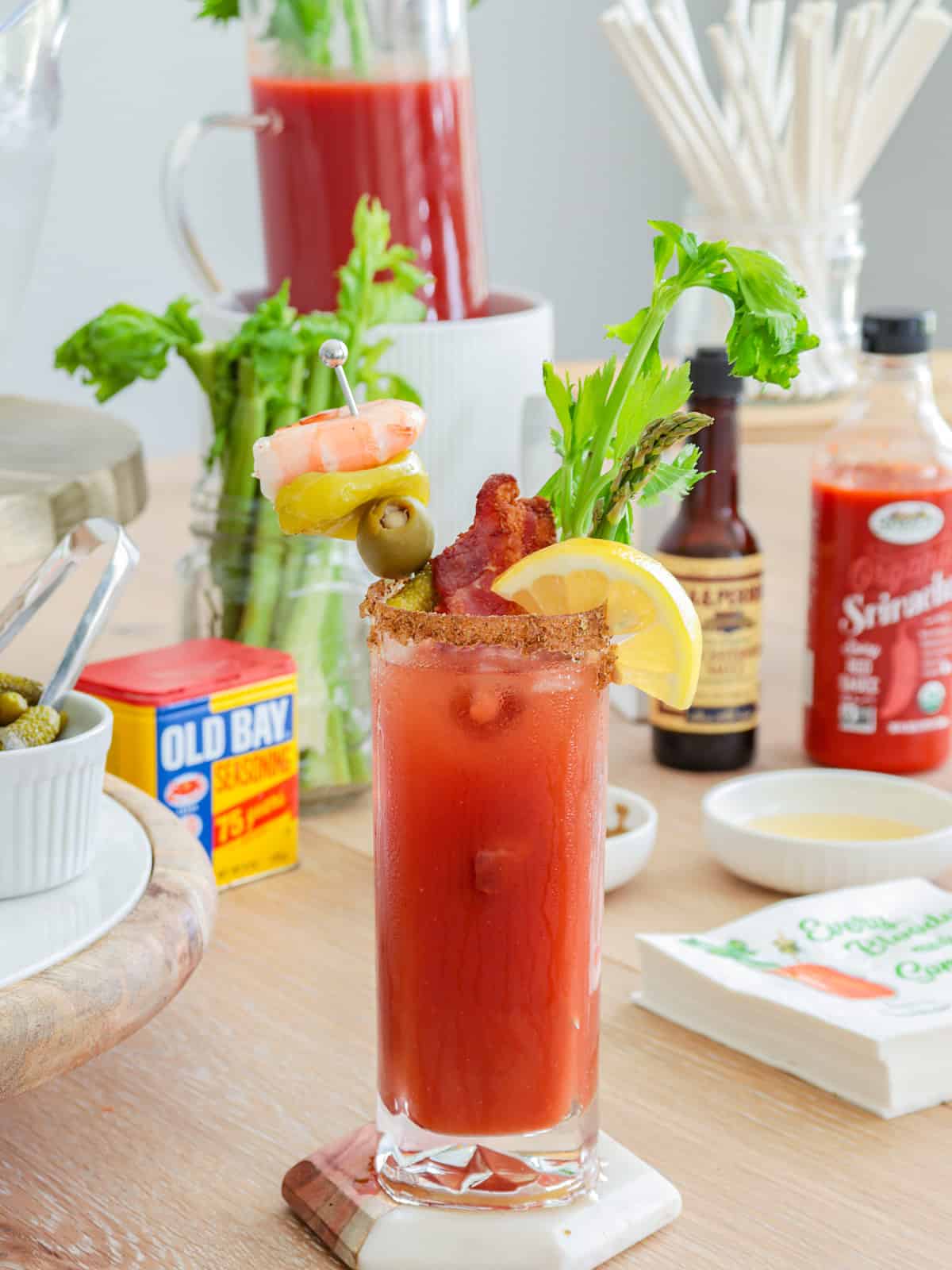 Recommended:
📖 Recipe