Setting up a stunning DIY Mojito Bar will not only give your guests something fun to do, but it also makes entertaining less stressful for you! Everyone can shake up their own fresh cocktail, while you get to actually enjoy their company at the party.
In this post I'm sharing all of my best tips, tricks, and even recipe ideas so anyone can create their own mojito bar right at home.
Mojitos are the epitome of summer! They are a popular cocktail that is served in the summertime.
It's bright, refreshing and fun. The only con to diy mojitos is they are a bit tedious to make. So instead of spending hours muddling mint and limes at your own party, why not make your own DIY mojito bar!?
It is MUCH more efficient and gives your guests control over their own drinks.
The mojito is a classic Cuban cocktail, originated in Havana Cuba, that's made with just 5 ingredients: rum, mint, lime juice, sugar and soda water. It is served in a tall highball glass with lots of ice!
It is a light and refreshing drink that is enjoyed during the summertime or warmer months.
I tried to keep the bar under $100 including alcohol but you can definitely get it down in price if you want to.
Now let's get mixing!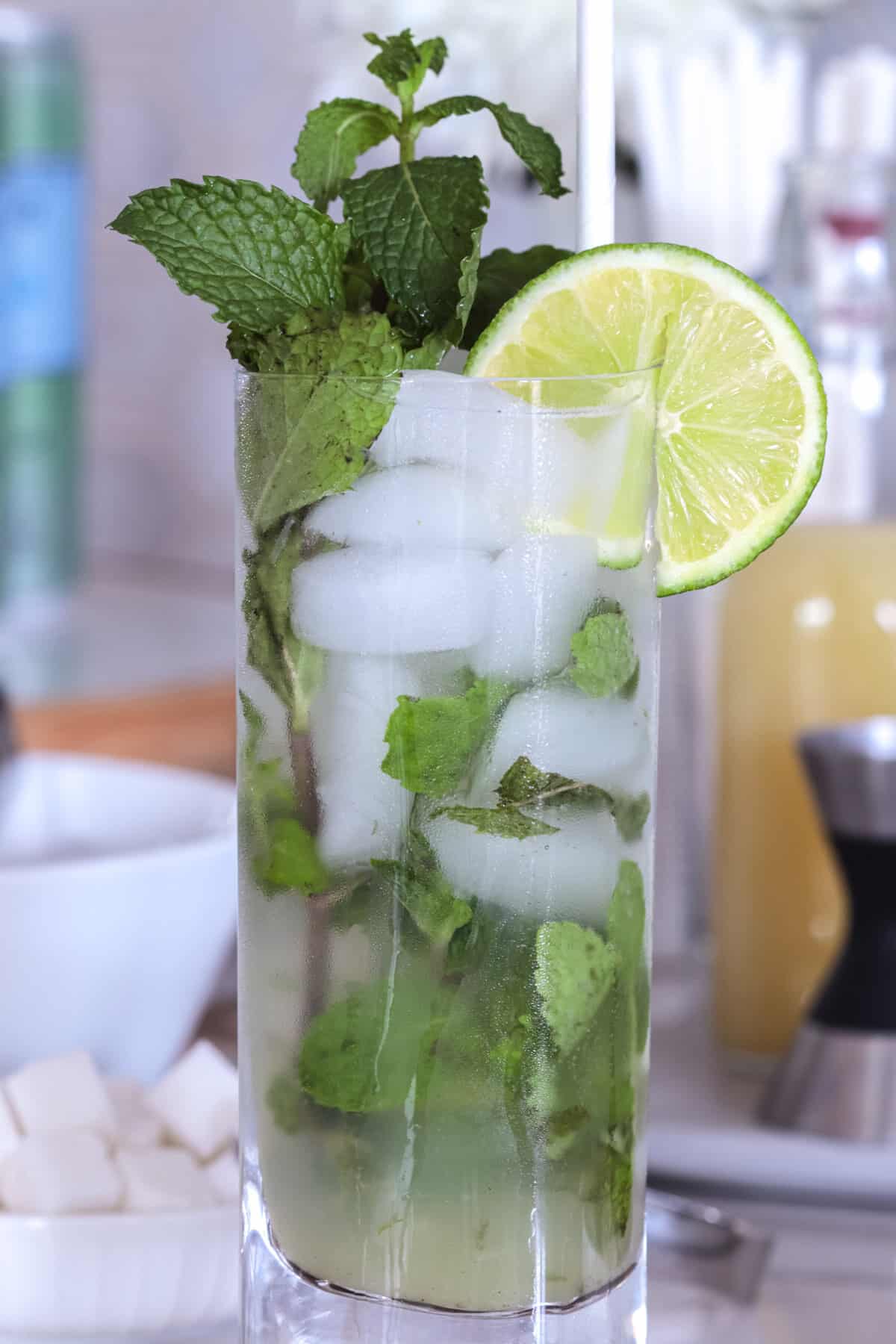 How To Set Up a Mojito Bar At Home
A DIY mojito bar or station is something that should be the focal point of your cocktail party.
Don't be afraid to make it fancy. After all, when people come over, you want to leave them thinking, "Wow, this is cool!". So spend time on the minor details. People notice them, trust me.
Putting together a DIY mojito station doesn't need to be complicated or pricy. There's tons of ways you can make it look pretty and be delicious without breaking the bank!
1. Choose Your Location
Before you set out your ingredients, it's important to choose a location! It can be either indoors or outdoors but make sure to place it in an open obvious location. I recommend one with lots of natural light by a window if possible.
A kitchen counter, dining room table, end table, or even a bar cart all work!
2. Add Some Basic Mojito Ingredients
Rum- The traditional mojito uses regular white rum but you can also offer coconut rum. Just one note: choose the best quality rum you can find!
Simple Syrup- *Or sugar cubes. You can purchase store-bought simple syrup or simply use equal parts sugar to water. I suggest offering a flavored simple syrup optiontoo like jalapeno or strawberry syrup.
Mint leaves- FRESH mint is essential for a good mojito, and it also looks pretty too! Just be sure to display the stems in a vase or jar of water to prevent them from wilting.
Limes- To make things easier for guests, pre-quarter them before setting them out. Not only will they look beautiful, but the limes are all set to be muddled!
Club soda- Club soda adds a nice little bubble to this cocktail and makes it perfectly refreshing. You can also substitute with cans of lime sparkling water or another flavored sparkling water for guests to have fun with.
Sugar cubes- *Or simple syrup. If you want to offer guests a more traditional way to make mojitos, sugar cubes are it. Place them in a colorful bowl, and the white will really pop!
3. Make It Easily Accessible
You're definitely going to want to make the drinks easily accessible for your guests so they're not squished, waiting, or confused on what to do.
Display your ingredients in a pretty, yet sensible way so that guests aren't reaching over one another. Set out limes, sugar cubes, and any other fruits in matching bowls, and have glassware stacked on the side.
You can also create or print out pretty signs that can help label ingredients and guide your guests on how to make their drink!
4. Add Some Decorations
I kept my bar pretty simple with a few touches of flowers, pretty dishes, and fun napkins because I really wanted the ingredients to shine!
You can add as little or as many decorations as you'd like though. More flowers, signs with directions, and even a banner, tablecloth, or confetti would all be fun touches to add!
I highly suggest a mojito bar sign. It will tell your guests HOW to make the mojito and encourage them to jump in!
Mojito Tools and Equipment Needed
A bar cart or table: A bar cart is a fun piece because it's easy to make look pretty, but a table works just as well too!
Highball glasses: A mojito is traditionally served in a highball glass, so I like to serve them that way on my bar as well.
Stirrer: Stirrers are easier for guests to use because you can have a jar filled with them rather than everyone waiting to shake their drink in a cocktail shaker.
Straws: Not only are straws a fun garnish, but they can be color coordinated to your party
Bowls: I think that a set of matching bowls makes everything look clean and cohesive, but if you want a more eclectic look, mismatched bowls would be super cute too!
Muddler: I HIGHLY recommend ordering one from Amazon if you don't have one, this is a key tool for extracting all that fresh minty flavor.
How To Make A Mojito
STEP ONE: Muddle the mint, sugar, and lime together.
STEP TWO: Pour in the rum.
STEP THREE: Add ice to your glass and top with club soda.
STEP FOUR: Give it a stir, sip and enjoy!
What Is The Best Rum To Use?
Honestly, you can use whatever rum you have on hand but if it's not a quality rum, it won't be as enticing for guests. I like the brand Bacardi's superior white rum, but a few more good options are:
Havana Club Anejo Blanco
Diplomatico Planas Rum
Don Q
Captain Morgan White Rum
Mojito Variations
Strawberry mojito: Made with muddled strawberries, fresh mint, lime, and simple syrup, this is a fun, fruity twist!
Pineapple mojito: Muddle some fresh pineapple with the lime and mint!
Blackberry mojito: Muddle some fresh blackberries with mint and lime, and sweeten with a blackberry simple syrup
Raspberry mojito: Just muddle a few fresh raspberries first, then add the other ingredients and enjoy
Coconut mojito: Use coconut milk or cream of coconut for a creamy, tropical twist on this classic drink!
Spicy mojito: Want a little heat? Try adding in some jalapeno simple syrup for a kick
Virgin mojito: Substitute the rum with sparkling water for a fun and refreshing drink everyone can enjoy!
Frequently Asked Questions
Do you shake a mojito?
It's up to you! Mojitos can either be shaken or stirred, depending on what you prefer.
Traditionally the mint is muddled and the alcohol is mixed in the same glass you're serving it in, but if you're adding any other berries or syrups you may want to shake it to really blend the flavors together.
Can I make it with vodka instead?
While rum is a very important ingredient in a mojito, if you'd like to make yours with vodka instead, be my guest! That's the great thing about a DIY bar, you can customize it to your personal taste.
What's the best kind of mint to use?
An authentic Cuban mojito is made with "mojito mint", however that's native to Cuba and not normally found in your grocery store.
Spearmint is the next best option, and is commonly labeled "mint" when you see it in the store.
Aleka's Expert Tips!
Use fresh mint: You can purchase it either from the grocery store or grow it yourself! Mint is actually an easy herb to grow and it makes a fun project with kids.
Sweeten as needed: You may want to put out a few different sweeteners. I usually have out sugar cubes, agave, and a simple syrup so people have choices.
Fresh or bottled lime juice: Fresh is always great if it's easy and accessible for you! Otherwise, you can purchase a high quality bottled lime juice and still get a tasty mojito.
Make sure to muddle: Muddling is the best way to extract all that delicious minty flavor!
Shaken or stirred: There's long been a debate between bartender as to whether or not a mojito should be shaken or stirred. I think it's up to you! And just know, no matter what, you're going to end up with a delicious drink
When To Serve A Mojito Bar
A DIY cocktail bar is a great addition to any of your adult parties! It's easy to set up, can be personalized for any event, and is a hit with guests as they'll love being about to customize their drink!
Here's a few ideas on when you should set up your mojito bar:
Bridal shower
Brunch with friends
Retirement party
Bachelorette party
Summer BBQ (might want to have a non-alcoholic version too if there's kids!)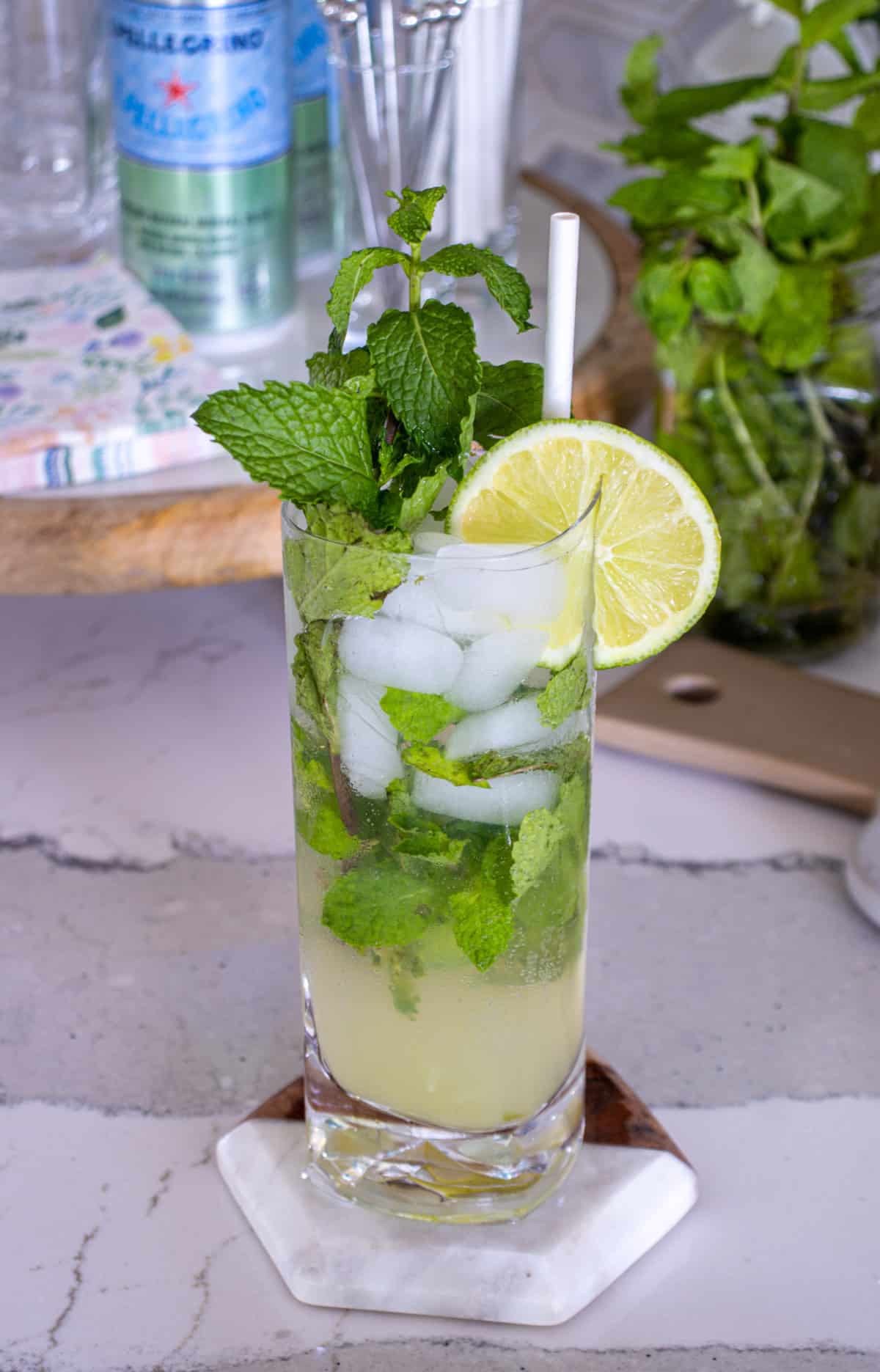 More DIY Cocktail Bar Ideas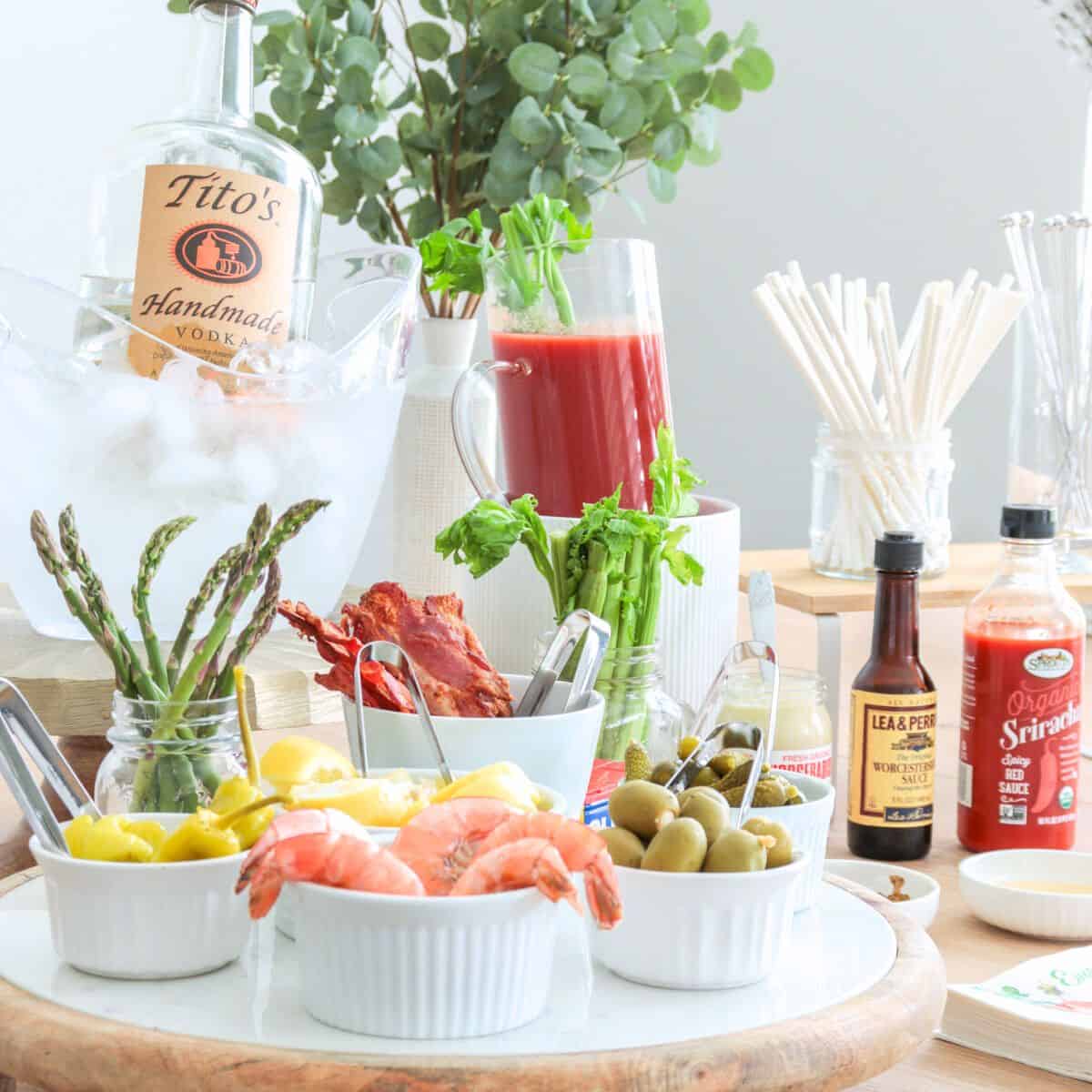 📖 Recipe
DIY Mojito Cocktail Bar For Any Party (with Recipe)
Setting up a stunning DIY Mojito Bar will not only give your guests something fun to do, but it also makes entertaining less stressful for you! Everyone can shake up their own fresh cocktail, while you get to actually enjoy their company at the party.
Print
Pin
Rate
Ingredients
1 ½

fluid ounces

white rum

½ - ¾

cup

club soda

8-10

fresh mint leaves

½

medium lime

2

tablespoons

white sugar or ½ oz simple syrup

ice cubes
Instructions
Add your mint leaves, sugar and lime juice to a highball glass and muddle everything together to release the minty flavor.

Add half a glass of ice and top woth rum and club soda.

Stir and garnish with more mint and a lime wheel.
Recipe Notes
Use fresh mint: You can purchase it either from the grocery store or grow it yourself! Mint is actually an easy herb to grow and it makes a fun project with kids.

Sweeten as needed: You may want to put out a few different sweeteners. I usually have out sugar cubes, agave, and a simple syrup so people have choices.

Fresh or bottled lime juice: Fresh is always great if it's easy and accessible for you! Otherwise, you can purchase a high quality bottled lime juice and still get a tasty mojito.

Make sure to muddle: Muddling is the best way to extract all that delicious minty flavor!

Shaken or stirred: There's long been a debate between bartender as to whether or not a mojito should be shaken or stirred. I think it's up to you! And just know, no matter what, you're going to end up with a delicious drink