This Strawberry Mojito recipe is a fun, fruity twist on the classic drink. Made with muddled strawberries, fresh mint, rum, and simple syrup, it's a delicious summer drink you'll want to be sip by the pool every chance you get. You can make a pitcher or single serve glass, the choice is yours!
There's no need to go on vacation, when you can transport yourself to paradise with this sweet strawberry mojito. It's simple, fresh, and tastes like summer in a glass.
I absolutely love how refreshing this fruity drink is and that it's not too overpowering. The bright taste of the strawberries really shines through, and pairs so well with the fresh lime and cool mint flavors.
Simply add some rum and club soda, and you've got a summer sip ready in less than 5 minutes.
If you're a strawberry lover, be sure to also check out my favorite strawberry basil lemonade!
How do you muddle strawberries for mojito?
Muddling is more intimidating then it seems. It really isn't difficult at all if you have one tool, a muddler.
You can use this muddler or the back of a wooden spoon! both work well. Here are some tips for muddling strawberries:
Wash and Prepare the Strawberries:

Start by washing the strawberries under cold running water to remove any dirt or debris.
Remove the green stems and hulls from the strawberries. You can use a knife or a strawberry huller for this.

Cut the Strawberries:

Depending on the size of your container or glass, you may need to cut the strawberries into smaller pieces. Quartering or slicing them will make muddling easier.

Add Strawberries to the Container:

Place the prepared strawberries in the bottom of a cocktail shaker, mixing glass, or whatever container you're using for muddling.

Add Sugar (Optional):

If desired, add a small amount of sugar to the strawberries. This can help extract juices and enhance the sweetness. Start with a teaspoon and adjust to taste.

Muddle the Strawberries:

Use a muddler, which is a bartender's tool designed for this purpose. It's usually a wooden or metal rod with a flat, rounded end.
Gently press and twist the muddler against the strawberries in a twisting motion. The idea is to break down the fruit without smashing it into pulp.

Press and Twist:

Apply gentle pressure as you twist the muddler to release the juices from the strawberries. Continue until the strawberries are partially crushed and the juice is extracted.

Stop Before Over-Muddling:

Be cautious not to over-muddle, as this can turn the strawberries into a mushy mess. You're aiming to release the flavors without completely pulverizing the fruit.

Strain or Use as Desired:

You can use the muddled strawberries as they are in your recipes, or you can strain the mixture through a fine mesh strainer to remove any solids.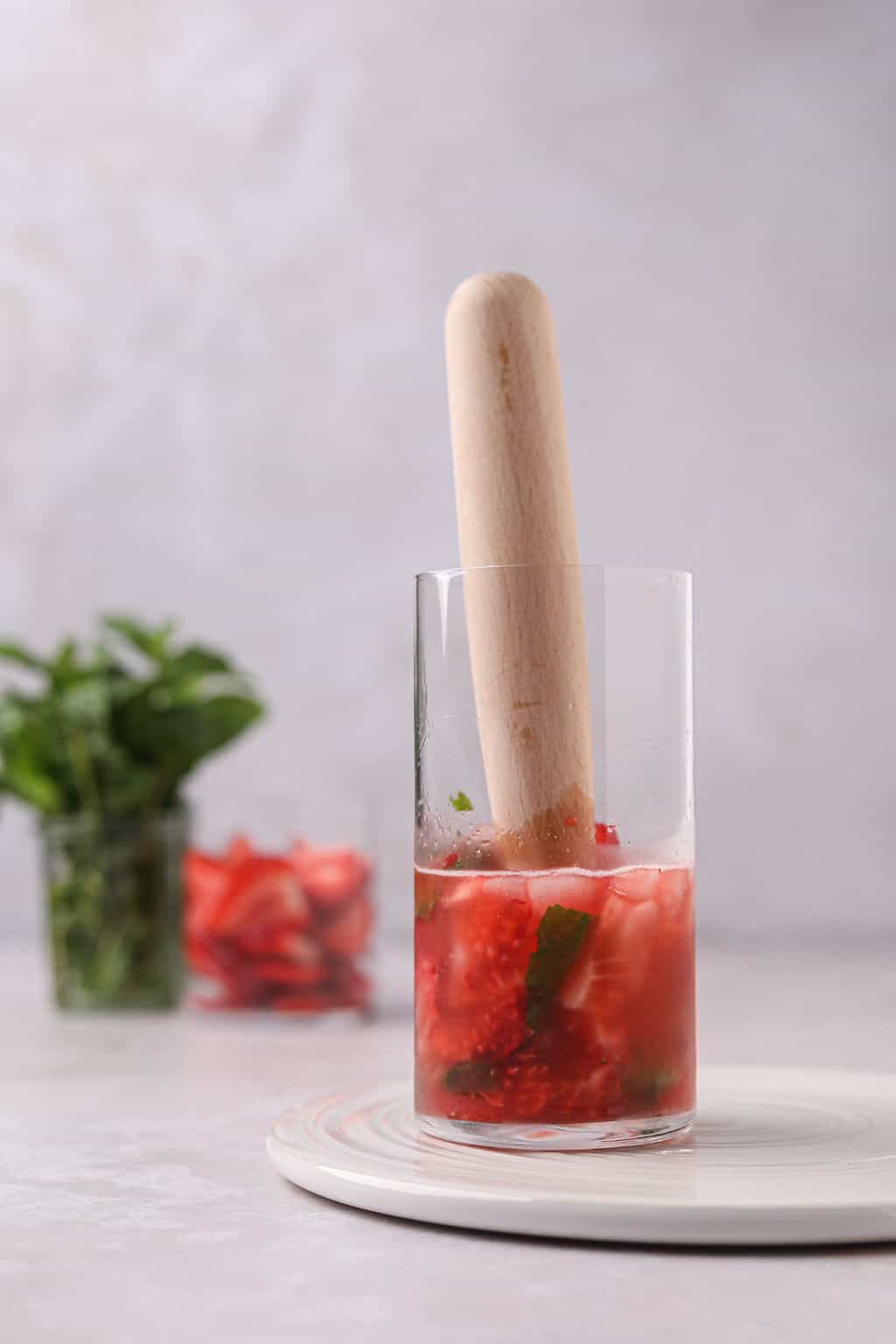 Tips For Using Mint
Fresh mint is a crucial and iconic ingredient in making mojitos. Its aromatic and slightly sweet flavor contributes to the refreshing and vibrant taste of this classic cocktail. Here's how to use mint effectively in mojitos:
Find Fresh Mint:

Choose fresh mint leaves that are bright green and aromatic. Avoid leaves that are wilted, discolored, or have a strong off-putting odor.

Prepping Mint Leaves:

Gently wash the mint leaves under cold water to remove any dirt or debris. Pat them dry with a clean towel or paper towel.

Muddling Mint:

To release the mint's flavor, gently muddle a handful of mint leaves in the bottom of a glass or cocktail shaker using a muddler. Press and twist the mint leaves without over-muddling, as this can result in a bitter taste.

Using Mint Sprigs as Garnish:

After muddling the mint, you can also add a mint sprig to the cocktail for visual appeal and an extra burst of fragrance. Slap the mint sprig between your hands to release its aromatic oils before placing it in the drink.

Mint Variation:

While traditional mojitos use spearmint, you can also experiment with different mint varieties such as peppermint or chocolate mint to create unique flavor profiles.

Mint Syrup or Infusions:

For even more mint flavor, you can make a mint-infused simple syrup by boiling equal parts sugar and water with fresh mint leaves. Let it cool, strain, and use it as a sweetening agent in your mojitos.

Adjusting Mint Intensity:

The amount of mint you use can vary based on your taste preference. Some people enjoy a strong mint flavor, while others prefer a milder taste. Start with a few leaves and adjust to your liking.
Frequently Asked Questions
More Cocktails You'll Love!
📖 Recipe