Are you looking for ways to help mom feel special on Mother's Day? Well, I've got you covered with a few mom-themed games and activities to play with the family to make this special occasion exciting!
Mother's Day is a day to honor our mothers and thank them for everything they do to make our lives better.
I'm sure we can all concur that moms are the epitome of greatness and merit a day full of attention, gifts, and time spent with loved ones. Can you think of a better way to spend the day than playing games with mom?
While gifts are nice, games are the perfect way to include everyone from kids to adults!
These activities to play with the family will create fantastic memories and may even begin new traditions! The best part? You can tweak these games a bit and utilize them for any occasion!
Some of these Mother's Day ideas require little to no preparation ahead of time. Others are a bit more intricate and involve some more planning, but will definitely be worth it in the end.
These ideas are perfect for either small or large gatherings and can be played in the comfort of your own home, or almost anywhere else. They will surely let mommy know how much you appreciate her!
If you're looking for a fancy Mother's Day treat, check out my Mini Egg Custard Tartlets.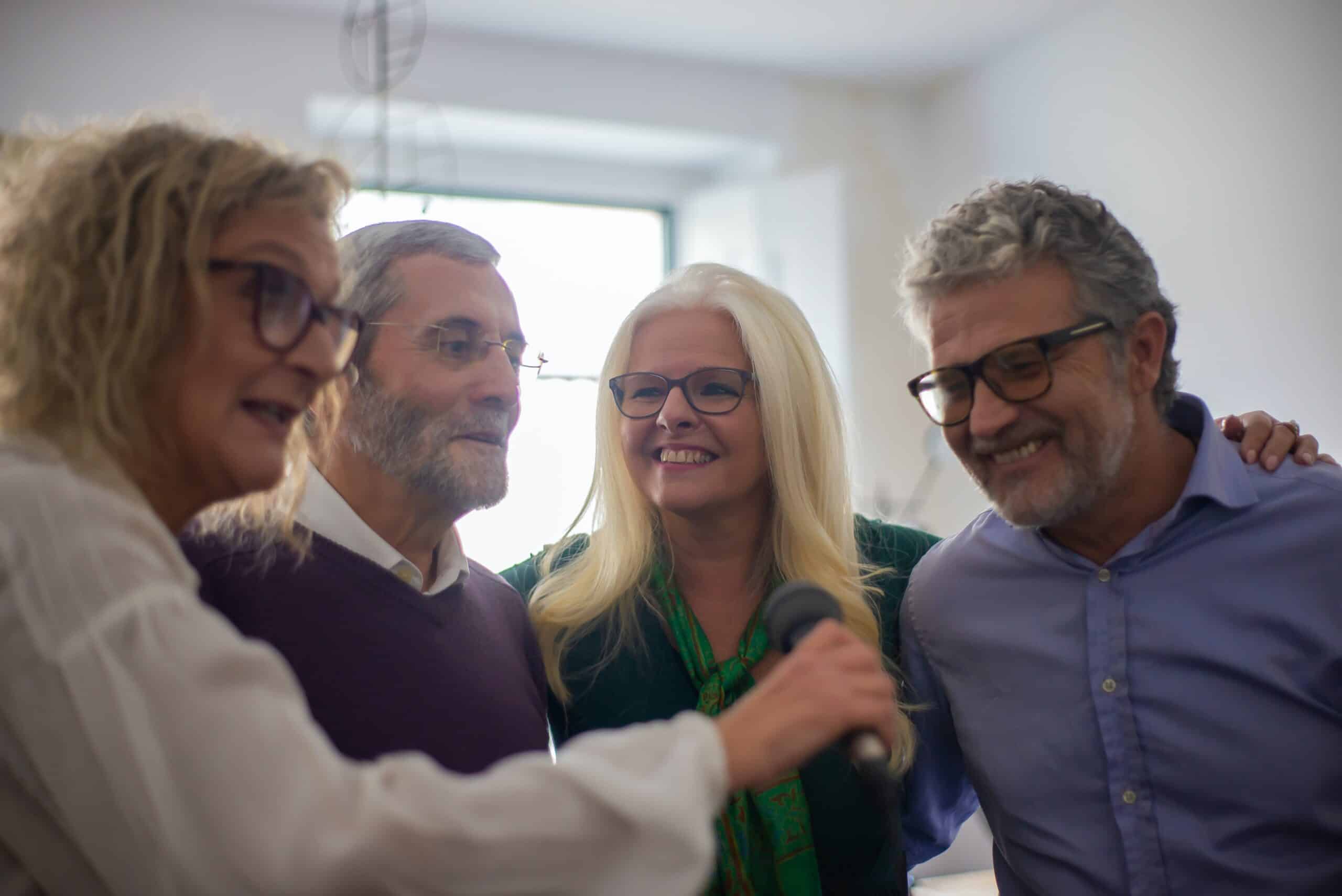 Karaoke
If your family enjoys karaoke, give it a Mother's Day spin by selecting mom-themed songs only. Songs such as Meghan Trainor's "Mom," Carrie Underwood's "Mama's Song," or Anne Marie's "Her," make great songs to belt out with your mom. You can even pick mom's favorite songs to sing. It will definitely make her feel special to know you remember her favorite tunes.
You don't need crazy equipment to enjoy karaoke; all you need is somewhere to display the lyrics from YouTube - even a smartphone will work! You'll also want to make sure the songs you want have karaoke versions, but no worries if you don't have a microphone; just grab a hairbrush and sing from the soul!
Name That Tune
If your family isn't the karaoke type, you can still enjoy mom's favorite music by playing a few rounds of Name That Tune. Try to guess mom's favorite songs by only listening to a few seconds of them. You can even have her hum them instead. Whoever guesses first, wins!
Mom Trivia
Alright kids, you better study for this one! Show mom how well you know her with this trivia-based game.
Have mom ask questions about herself, giving each kid the opportunity to answer before she reveals the answer herself. Sort of a "dating game" spin-off for moms and kids. You'd be surprised at how closely they pay attention to the things we enjoy.
Oh, I can hear the laughs now! So much fun to be had for everyone involved. Especially mom!
Choose different categories, like books, movies, or food. Then have someone ask questions regarding mom for each category, such as her favorite hobbies, activities, her favorite books, movies, TV shows, and any other elements that everyone should know if they really pay attention to anything mom says.
Ask the questions and have everyone write down their answers and award prizes to whoever knows mom the best. You can even include a round of Name That Tune (from above) in this mom-themed trivia game, which is a similar concept.
Make sure to snap a few pictures or record a few videos throughout the day - definitely make sure that you capture the goofy moments. Those are the absolute best. Candid craziness!
There's nothing like looking back to feel all of the love and good times flooding in as you stroll down memory lane. Something bittersweet that you will cherish for the rest of your lives.
Don't forget the drinks! Mom would love a Gin Aperol Sour which is a light, slightly sweet cocktail that's a pretty pinkish hue!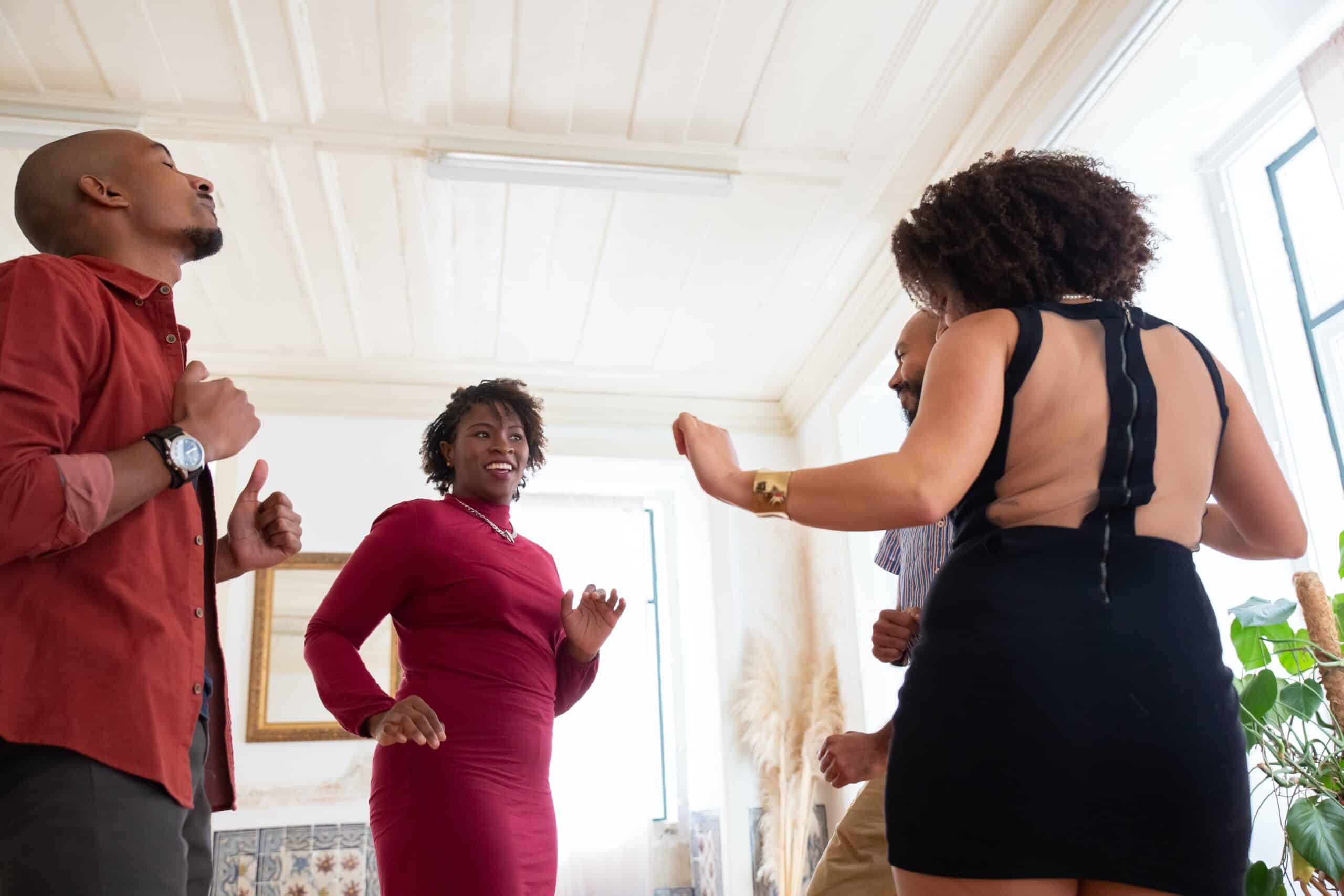 Mother's Day Dance Party
Push the furniture out of the way and turn your living room into a dance floor for a dance party! Create a playlist of dance-able songs and include mom's favorite tunes. Let it play while your guests dance the night away! Who said mom couldn't dance? Oh and the grandchildren will love it!
Mom's Charades
This beloved party game will put everyone's acting abilities to the test. There is relatively no prep time needed for this activity. All you'll need to do is list out mom's favorite movies, songs, books, and TV shows on small pieces of paper and put them in a hat or bowl.
You can even make it more mom-specific and use her catchphrases, favorite food, or dream vacations destination. Draw a paper from the hat or bowl when it's your turn, act the given title out, and have everyone guess what you are doing!
Plus, kids LOVE charades!
Or check out these board games perfect for 8 players or more!
Don't Say "Mom"
So, I am thinking that this game may be more for mom than anyone else. How many times a day do we hear our name called? I feel like I hear it over a million times in less than 5 hours... and secretly, I wouldn't change it for a second. Although, at the moment, it can drive us bonkers!
Challenge the kids to refrain from saying "mom" (or whichever version of "mom" they prefer) for a specific time period or even the entire day. The kid who can go the longest without saying "mom" wins! I'm willing to bet at least one child will be out of the game within the first 15 minutes or less.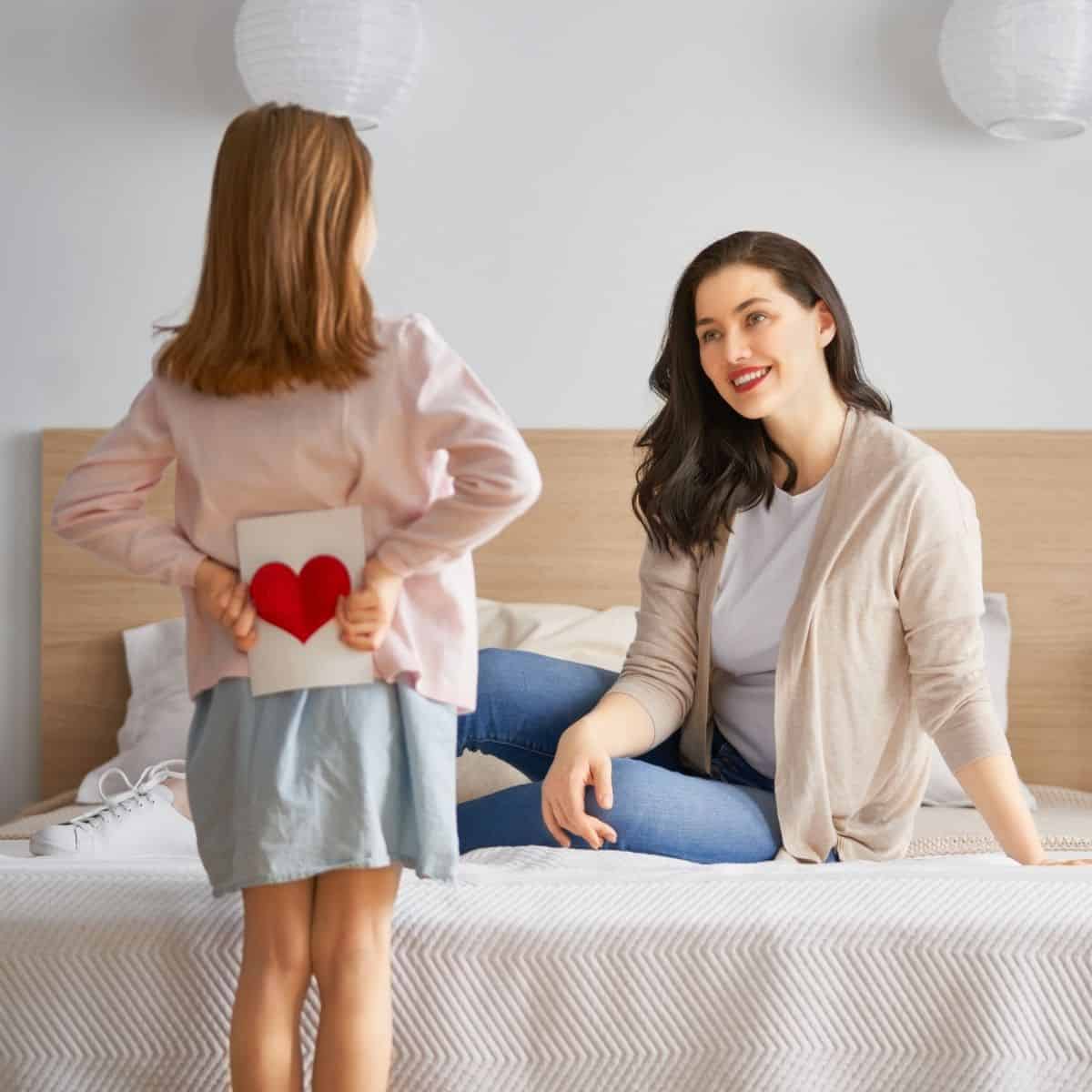 Mom Scavenger Hunt
I love treasure hunts/scavenger hunts. They are tons of fun, and so exciting.
This scavenger hunt is not your average hunt. This one is all about MOM.
To set up your hunt, you need to first choose the "treasure". It could be a gift or something her children made for her. Nothing crazy.
Next, hide it somewhere then give mom a "map" leading her on a wild goose chase while she searches for the treasure. (Just don't pull an Easter blunder and forget where the gift is!)
Mother's Day Mad Libs
A classic childhood game with a Mother's Day twist; create a story about mom (real or not) and replace keywords with blanks.
State the part of speech (verb, noun, adjective) under each blank and have everyone fill in the blanks with words of their choice. Read the stories aloud when everyone finishes. The stories almost always make for great laughs!
Here are some FREE printables!
Awards Cere-mommy
An awards cere-mommy is not necessarily a game, but it is SO cute and a special way to celebrate mom. One that will earn some huge smiles!
Have a family member host an awards celebration just for her!
Choose different categories that she is the absolute best in (I know it will be hard to choose since moms do it all) and make homemade awards to hand out as you announce each win. You could even record it to watch later on down the road! How sweet is that?
Mommy Bingo
Create your own Mother's Day-themed bingo cards for a fun group game. These can be handmade or printed from a template online.
Create grids on each card and fill them in with mom-related words, such as her catchphrases, character traits, or her favorite books, movies, and songs. Assign a caller and whoever fills their board first, wins!
Bake Off!
A personal favorite: host a bake-off with your family!
Bake a batch of cookies or cupcakes ahead of time and offer a variety of decorating tools and have everyone decorate their own dessert.
Have mom be the judge of her favorite or even have her decorate her own! The best part is definitely the taste test!
Nostalgic Cooking
Another food-centered activity is to prepare mom's favorite dish or even a recipe that has been passed down through generations. You can have her help you (if she's up for it), or you can get the recipe from another family member. Make it an activity that everyone participates in.
You can ask mom to tell you about the creator of the recipe and why it's such a staple in the family. These memories will make her happy.
I recommend a chafing dish, which will hold large amounts of food. Mom will surely enjoy a home-cooked meal put together by her loved ones!
This spanakopita recipe is one my mother loves and always makes for us on special occasions.
Mother's Day Photobooth Experience
Stage a family photoshoot to commemorate this special occasion. You can find an area of the house with a nice background or you can buy a backdrop in mom's favorite color to display. You can also buy special props, such as wigs, silly hats, tiaras, shutter glasses, and other inflatable props.
Grab the camera and have everyone strike their favorite pose. Make sure to take a group photo, using the camera's self-timer function to ensure everyone has the memory for years to come. You can even use a polaroid camera so everyone can take a physical copy before they leave.
Mother's Day Scrapbook
This Mother's Day scrapbook activity is perfect for the craft-lovers in the family. Find/print photos of every mother's Day through the years - this may require some digging around. Buy a photo album or scrapbook, stickers, and any other mom-themed decorations you think mom will love.
Designate a time during Mother's Day to have everyone help put it together and decorate it. Leave room at the end of the scrapbook for the pictures she will want to add this Mother's Day and any future Mother's Day. This is a memory she will cherish and it also makes the perfect Mother's Day present.
Mother's Day Family Tree
Print photos of your family members and create a family tree with mom's help! Bring out your inner artist and draw a tree with branches. You can even find an empty family tree online and print it if you prefer.
Glue each photo on the corresponding branch to display how everyone is related to one another. If you are not able to print photos, just make it a fun activity with mom, where you fill in the family tree with everyone's names and have a nice discussion about your heritage.
Photo Matching Game
This photo matching game is perfect for a larger Mother's Day event, where you have several moms as guests. Display baby pictures and current photos of each mom and have the guests try to match each baby photo to the respective mom.
This is a great activity for the family that will lead to childhood stories or discussions about family heritage, as well!
Final Mother's Day Thoughts
Whether you're having a small, intimate family gathering or a large Mother's Day celebration, mom deserves to be honored.
Regardless of how you celebrate, or what you choose to do for the day, just make sure that it's about MOM!
Let her know how important she is and how much you appreciate everything she does for your family... out of nothing but love!
The cooking, cleaning, working (in or out of the home), taxi driving, it all comes from an extremely large heart that wants nothing but the best for the ones she loves. Don't stress about the day being perfectly planned or put together. Have fun! Make it count.
I promise having the family together will be more than enough to make her day amazing - everything else is just a little extra razzle-dazzle!
Recipes Mom Will Love Waking Up To:
How To Make Pink Chocolate Covered Strawberries
Mini Cinnamon Sugar Brioche French Toast Bites
Mini Egg Custard Tartlets (Using A Muffin Tin!)
Recent Posts