These Easy Mini Egg Custard Tartlets are a delicious bite-sized dessert that is ideal for small gatherings, baby showers, bridal showers, afternoon tea parties or a Mother's day brunch! Made with a quick homemade pastry dough and filled with a vanilla infused custard, they are a fancy treat that takes minimal effort to prepare!
If you love brunch recipes, try my King's Hawaiian Roll French Toast!
These mini custard tartlets are a delicious sweet treat that will make you look super fancy! They are a simple sweet pastry dough that's filled with a slightly sweet and creamy custard filling.
If you've never had them before, they taste like a cross between a pie and a boston cream donut. So yeah, they are pretty darn delicious!
I recommend serving them for a fancy brunch, bridal shower, or baby shower with these tea finger sandwiches.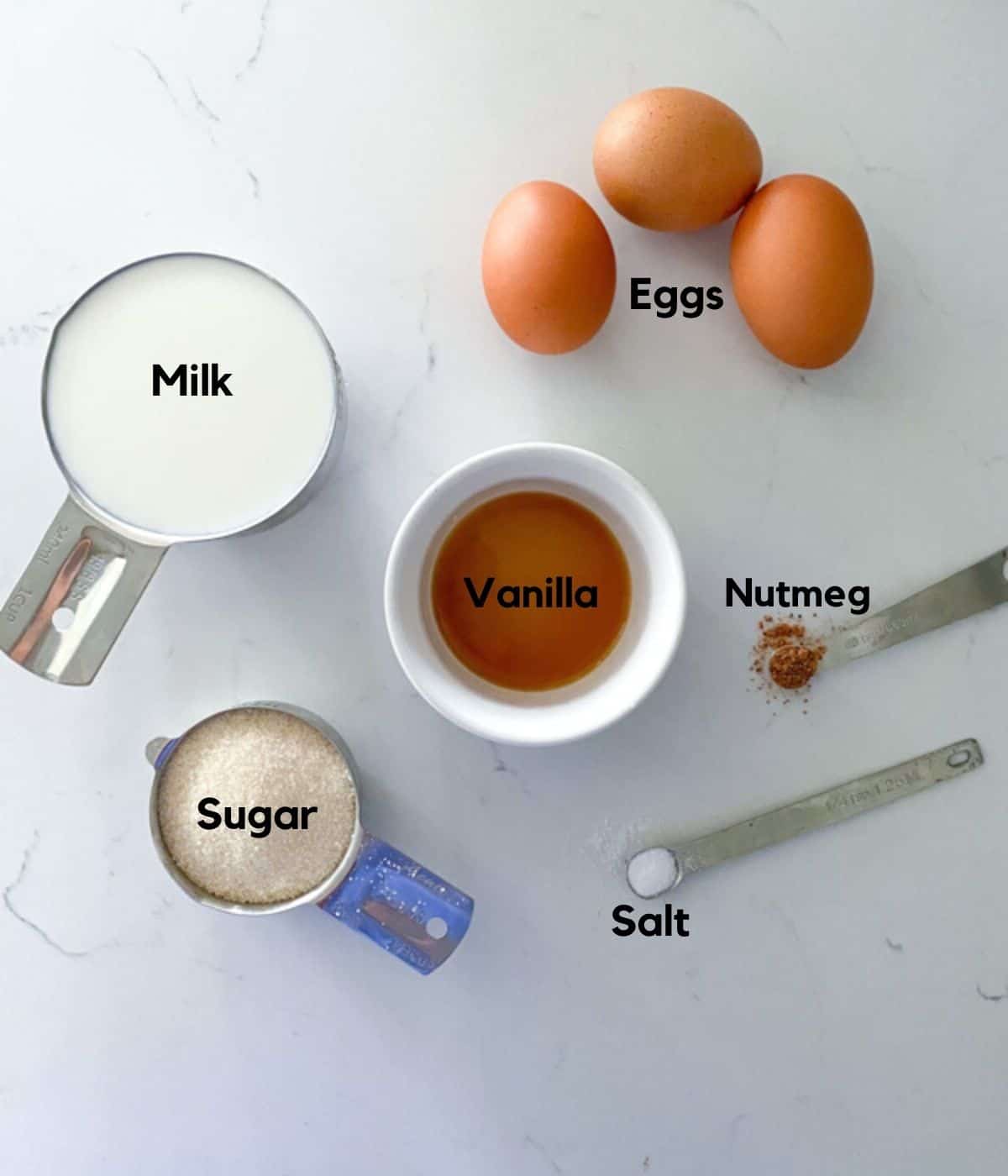 Egg Custard Ingredients
Eggs
Sugar- Granulated sugar works best.
Salt- Balances the sweetness.
Vanilla- A good quality extract is best.
Milk- Whole milk will yield the creamiest, richest custard.
Nutmeg- Adds a bit of spice to the custard.
The Tart Custard
Making the custard is SUPER easy so don't at all be intimidated. I like to use a food processor to keep it simple but if you don't have one, a blender or plain ole whisk would work just fine.
The most important part is to whisk your egg yolks and sugar until the yellow color turns a pale yellow. This allows the sugar to dissolve while incorporating air into the yolks. It will give you a lighter custard.
Warm your milk in the microwave or in a small saucepan before adding to your egg mixture. This is especially important if you are using granulated sugar because the warm milk will allow the sugar to further dissolve. The LAST thing we want is gritty custard!
Pie Crust vs. Tart Crust
Tart crusts are different from pie crusts. They have eggs, milk and sugar in them unlike pie crusts where they are simply made with butter and flour.
A tart crust tastes more like a cookie than a pie. They are sweeter and not as flakey. It is also a bit softer to the touch making it easier to work with.
Compared to a pie crust, tart crusts are EASIER to make since it's NOT about the flakiness. It does not matter if your butter is super cold or cut into pea-sized chunks.
All you need to do is combine everything together and it's ready to fill any pan!
Making Your Tart Crust
Step 1: Add your butter and flour to a food processor or use a pastry cutter and cut/puree it together until you get a coarse meal resembling small peas.
Step 2: Add in your egg yolk, milk/cream and a pinch of salt and mix until the dough comes together in a ball.
Step 3: Form your dough into a disc and chill for 30 minutes to an hour. This will make your dough easier to roll.
Step 4: In the meantime, add your milk to a saucepot and heat until just hot. Do not boil.
Step 5: Add your egg yolks and sugar to a food processor or mixer and blend/whisk until it turns a pale/light yellow. Then add your vanilla, hot milk and nutmeg.
Step 6: Roll out your dough to ⅛ of an inch thickness and cut 14 (2-3") rounds out. Press your dough into a greased mini muffin tin.
Step 7: Add the custard to each muffin cup and bake until the custard just sets.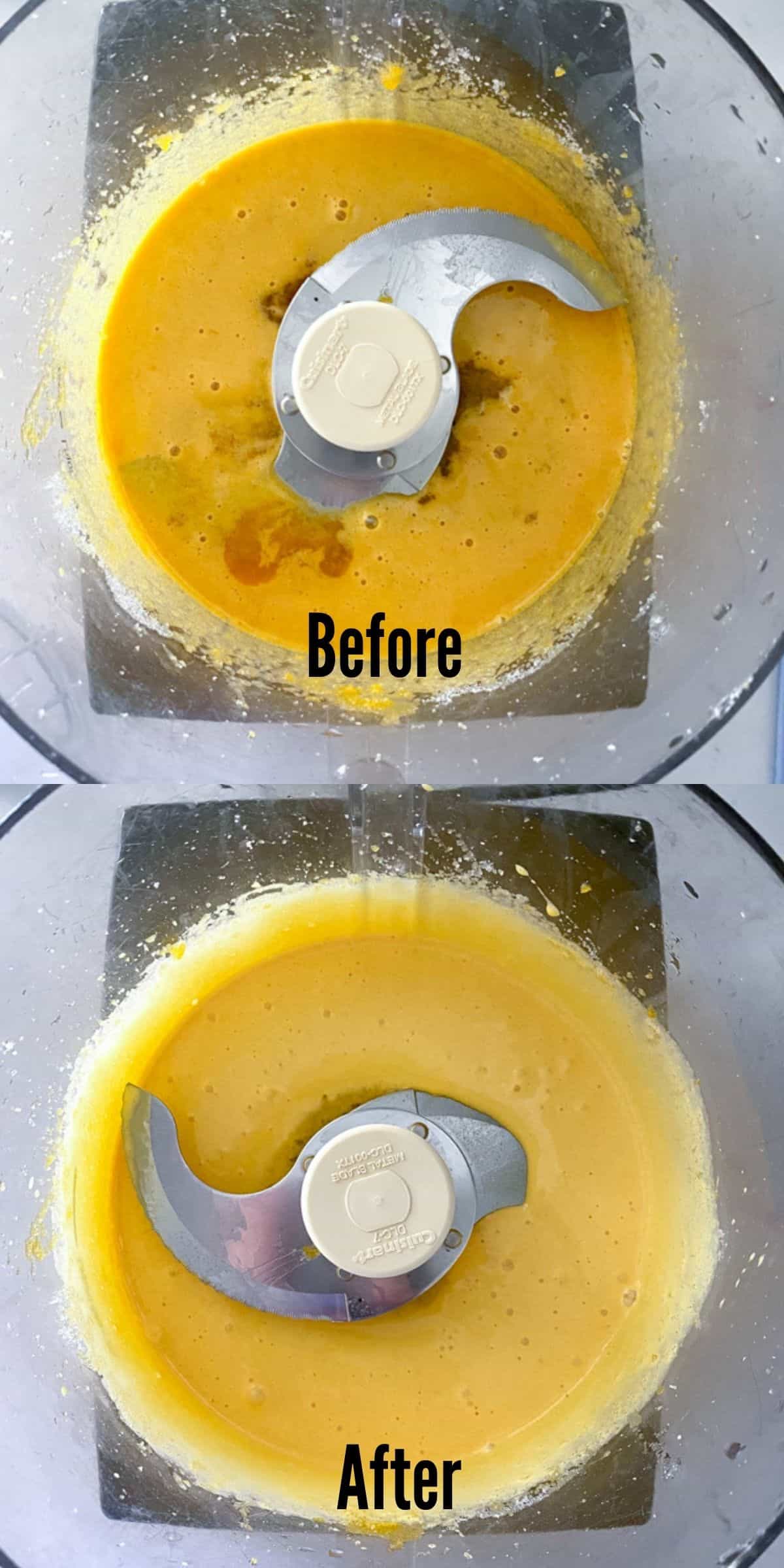 Expert Tips
Many recipes make custard tartlets complicated but I don't believe they have to be.
I also believe mini custard tarts are more difficult to make than one large custard tart because of the tediousness of cutting each crust. I tried a few different techniques and believe that I found the best and easiest way to do the crust.
Making your own tart crust is not hard to do and is not temperamental like pie crust is.
Use round cookie cutters to cut your mini tart shells. They help make sure each shell is perfect in size.
If making your own crust, make sure you roll out the dough to about an ⅛ of an inch thick.
When whisking your custard, it is important to whisk it well. This builds air which creates a light and airy custard.
The custard is ready when it still has a little jiggle. If you shake the muffin tin and it does not jiggle, it is overbaked.
Whisk your cutard well so it's not GRITTY.
Tart Topping Options
These tartlets are delicious on their own but if you want to fancy them up a bit, you can add a few toppings like:
freshly cut strawberries
blueberries
whipped cream
kiwi fruit
Fresh fruit is always a delicious addition to tarts but the possibilities are endless.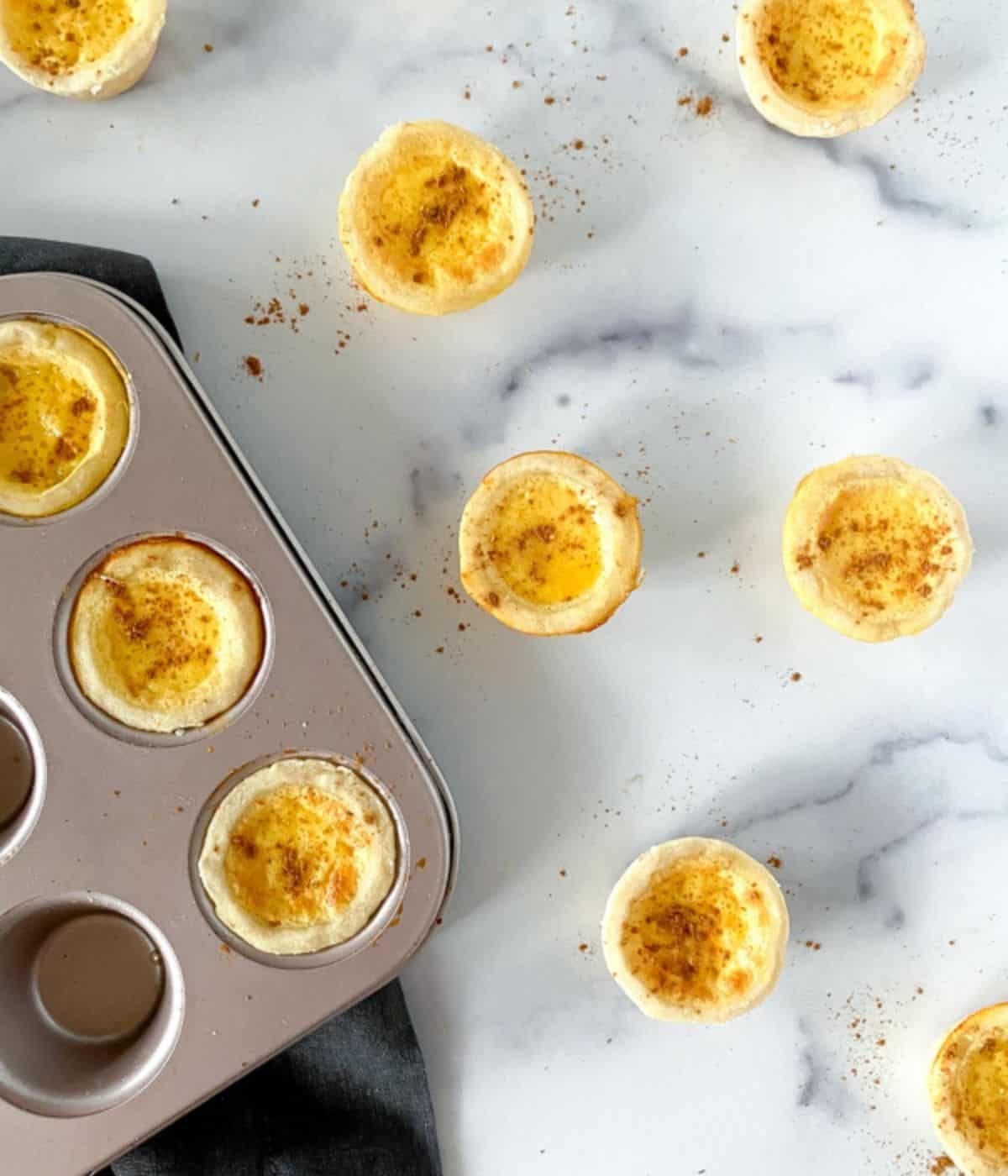 Serving Ideas
I love serving these mini custard tartlets for brunch or at a tea party. They are the perfect finger food or sweet dessert.
I recommend making them a day ahead and storing them in the fridge. Make sure you do not stack them as the custard will stick to anything it comes in contact with.
FAQ's
Can I freeze custard tarts?
I would not recommend freezing them. Custard is made with eggs and eggs do not freeze well. If you want, you can freeze the tart shells then fill them when they thaw.
Can I use a vanilla bean instead of vanilla extract?
Yes! In fact, I recommend it. I don't use it because it is expensive and not many people have it on hand. Expect to use one vanilla bean pod for every tsp. of extract.
Can I make these mini tartlets in a regular muffin tin?
You could definitely make these in larger muffin tins however I have not tried. If you do, I would double the recipe and bake them longer.
What is the difference between Portuguese egg tarts, Chinese egg tarts and this recipe?
Portuguese and Chinese egg tarts are a bit less sweet as the dough is typically made without sugar. It resembles more of a pie pastry dough rather than a cookie like this recipe.
Why did my custard tarts sink?
Your tarts will sink if you overcook the custard. When the custard slightly jiggles, you want to remove your tartlets right away.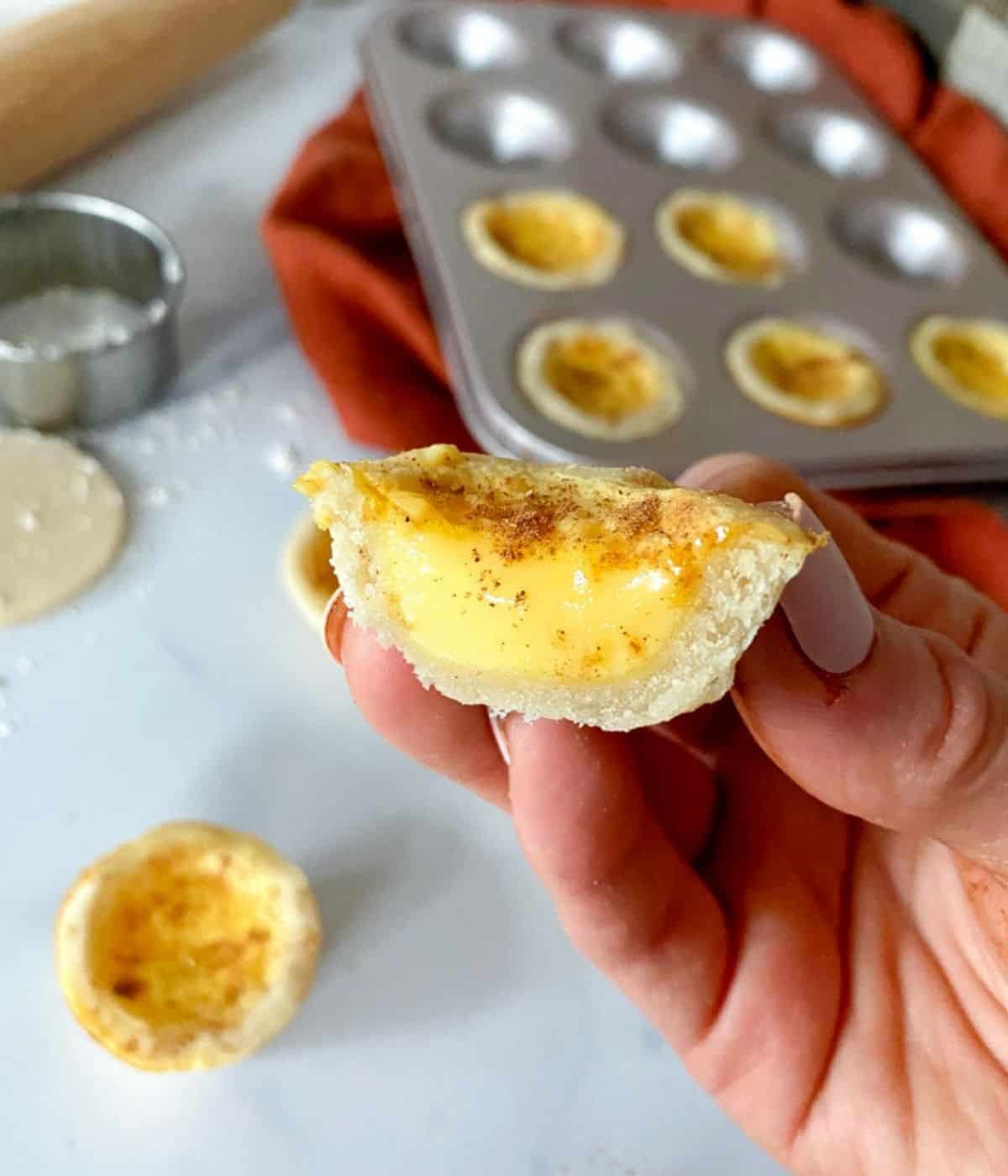 Other mini desserts you might like:
The BEST Mini Cheesecakes (with Cookie Crust)
Easy Pecan Tassie Cookies (Nut Cups)
Easy Strawberry Phyllo Cups w/ Cream Cheese
BAKED Mini Churro Bites w/ Quick Chocolate Sauce
📽 If you love entertaining at home, subscribe to my YouTube channel!!
📖 Recipe
Mini Egg Custard Tartlets (Using A Muffin Tin)
These Easy Mini Egg Custard Tartlets are a delicious and classic sweet treat, snack or dessert. Serve at an afternoon brunch, bridal shower or baby shower.
Print
Pin
Rate
Ingredients
Tart Crust
⅓

cup

flour

1

tablespoon

powdered sugar

2

tablespoons

unsalted butter, cold

1

egg

yolk

½

teaspoon

cream

(or milk if you don't have cream)

pinch of salt
Custard
2

large

egg yolks

½

cup

full fat milk or cream

3

tablespoons

sugar

¾

teaspoon

vanilla extract

⅛

teaspoon

nutmeg
Instructions
Add the flour, sugar and salt in a mixer, food processor or large bowl.

Dice the butter up into small pieces and pulse or "cut" the butter into the dry mixture. You can use the pulse option, whisk or pastry cutter. The mixture will start to look coarse and chunky.

Because we are making mini tarts, we don't need to use the entire egg yolk. Break the yolk and use just ONE teaspoon of yolk.

Add 1 teaspoon of the yolk and ½ teaspoon of cream to the mixture and pulse or cut until the dough begins to come together in a ball or you are able to easily form it into a ball.

Wrap the dough and let it chill for 30 minutes - 1 hour. Doing this will allow you to roll it out easily without sticking.

Add some flour to your table and place your dough on top. Using a rolling pin, roll the dough into a round shape until it is ⅛" thick. After each roll, rotate the dough a few degrees to prevent it from sticking. It does not need to be a perfect circle.

Cut out rounds of dough that are about 2" in diameter. Then place the dough inside each muffin tin carefully pressing it down into the tin. If it rips, just patch it up with a little dough. (See photos.)
Custard
Preheat your oven to 375°F.

In a food processor or mixing bowl, add egg yolks and sugar and whisk until the color turns pale/light yellow. (about a minute or so)

Warm your milk in a small saucepan or in the microwave until hot but not boiling.

Add your warm milk, vanilla and nutmeg to the egg mixture and mix until fully combined.

Scoop or pour the custard into each muffin tin until they are just filled.

Bake on the middle rack for 14 minutes or until the custard SLIGHTLY jiggles.

Allow to cool a bit before removing. (Use a knife to release the sides until they pop out.) Grate or sprinkle more nutmeg on the top of each and chill until ready to serve.
Recipe Notes
Yield: 10-12
I have not tried making these using a large muffin tin. If you do, I would double the ingredients and bake them longer.
Remove your custard tartlets when they are warm enough to handle. If you want until they fully cool, they will be tougher to remove.
Store tartlets in the fridge for up to 5 days.
Nutrition
Calories:
121
kcal
|
Carbohydrates:
15
g
|
Protein:
2
g
|
Fat:
6
g
|
Saturated Fat:
3
g
|
Polyunsaturated Fat:
0.4
g
|
Monounsaturated Fat:
2
g
|
Trans Fat:
0.2
g
|
Cholesterol:
76
mg
|
Sodium:
41
mg
|
Potassium:
47
mg
|
Fiber:
0.2
g
|
Sugar:
8
g
|
Vitamin A:
240
IU
|
Vitamin C:
0.003
mg
|
Calcium:
35
mg
|
Iron:
0.5
mg