Tea Sandwiches are such a fun brunch time snack to serve with or without tea! I like to make these sandwiches AHEAD of time when expecting company.
It is best to serve them cold (or room temperature) so no fussing with reheating! Traditional tea sandwiches are ideal for afternoon bridal, baby showers or at an adult tea party!
Tea sandwiches, or all mini sandwiches really, are such a fun way to enjoy a late morning or early afternoon tea (or mimosa)!
They were created to help stave off hunger until the main meal and they definitely do just that! It is also known as 'low tea' as opposed to 'high tea' because the sandwiches were typically served on low tables.
Here is more on the history of tea sandwiches.
Now a days, you will see these tea sandwiches most often at bridal showers, baby showers or adult tea parties.
Did I mention how cost efficient they are to make?
If you're looking for a great make ahead brunch recipe, try my Turkey Avocado Roll Ups with Thyme Dressing or my Hot Ham and Cheese Sliders!
How To Cut Tea Sandwiches
Traditional English tea sandwiches are typically cut into small triangles.I like the rectangles because I feel like it saves bread.
The firs thing to do is, trim the crust. Use a serrated knife for this. If your knife is not sharp, you will squish the bread. Then cut diagonally to make two triangles.
Another option is to cut your sandwiches into long rectangles. You could probably get 3 rectangles from each trimmed sandwich.
The Best Bread For Tea Sandwiches
Although it is not traditional, most tea sandwiches are made with "regular sliced" bagged sandwich bread in either white, wheat or rye. It is what we all have in our grocery store and is the easiest to find!
If your bread is too thick, the ratio of filling to bread will be off so try to keep it on the thin side.
I like to have a combination of white, wheat and rye sandwich bread when serving my tea sandwiches at a party. The color contrast is more appetizing too!
Bonus! Most tea sandwiches are also vegetarian friendly so they will suit almost all of your guests dietary restrictions. An even better idea is to buy gluten free bread so that those who are gluten free will be able to enjoy these too!
Keep Your Sandwiches From Drying Out
Traditional afternoon tea sandwiches are made using super soft, moist sandwich bread which can and will get very dry if you leave them out for more than an hour or so. Remember, open air is the enemy.
You have two options:
1. Place a damp paper towel or dish cloth over top of your sandwiches until your guests arrive.
2. Add your sandwiches to a container or sheetpan and cover with saran wrap very well.
TIP* Adding a layer of butter to your bread on both sides, will act as a barrier and keep your bread from getting soggy!
11 Expert Tips
Spread a thin layer of butter onto your bread to prevent your sandwiches from getting soggy.
Keep your finger sandwiches bite-sized. They should be able to be consumed in a few bites.
Serve your tea sandwiches with black or herbal tea, cream pastries and scones to keep it traditional.
Look for the thinnest bread you can find. This helps to keep the bread to filling ratio equal.
Feel free to use different types of bread like white, wheat, rye and pumpernickel for an array of colors and taste.
If using cucumbers, make sure to slice them very thin.
Adding fresh herbs instead of dried makes a huge difference in flavor.
Finding the right ratio of bread to filling for the perfect tea sandwich.
Make sure to trim your tea sandwiches AFTER you fill them. This will make for a neater edge. And use a serrated knife to do so!
Using cucumbers, radishes, celery or pickles add a needed CRUNCH to tea sandwiches so make sure to add one of the above.
Add a topping to each individual tea sandwich to give your guests an idea of what's inside.
If you are layering your tea sandwiches on top of one another, I like to place a piece of wax or parchment paper in between so they do not get too soggy or stick to each other.
Other Sandwich Combinations
Just like your typical sandwich, there are so many different variations of tea sandwiches you can play around with. There are no rules!
Smoked salmon (lox), cream cheese and capers
Egg salad with watercress
Cheese and jam or chutney
Ham, cheese and mustard with a thinly sliced pickle
Prawn (shrimp) with mayo.
Beef with a horseradish sauce.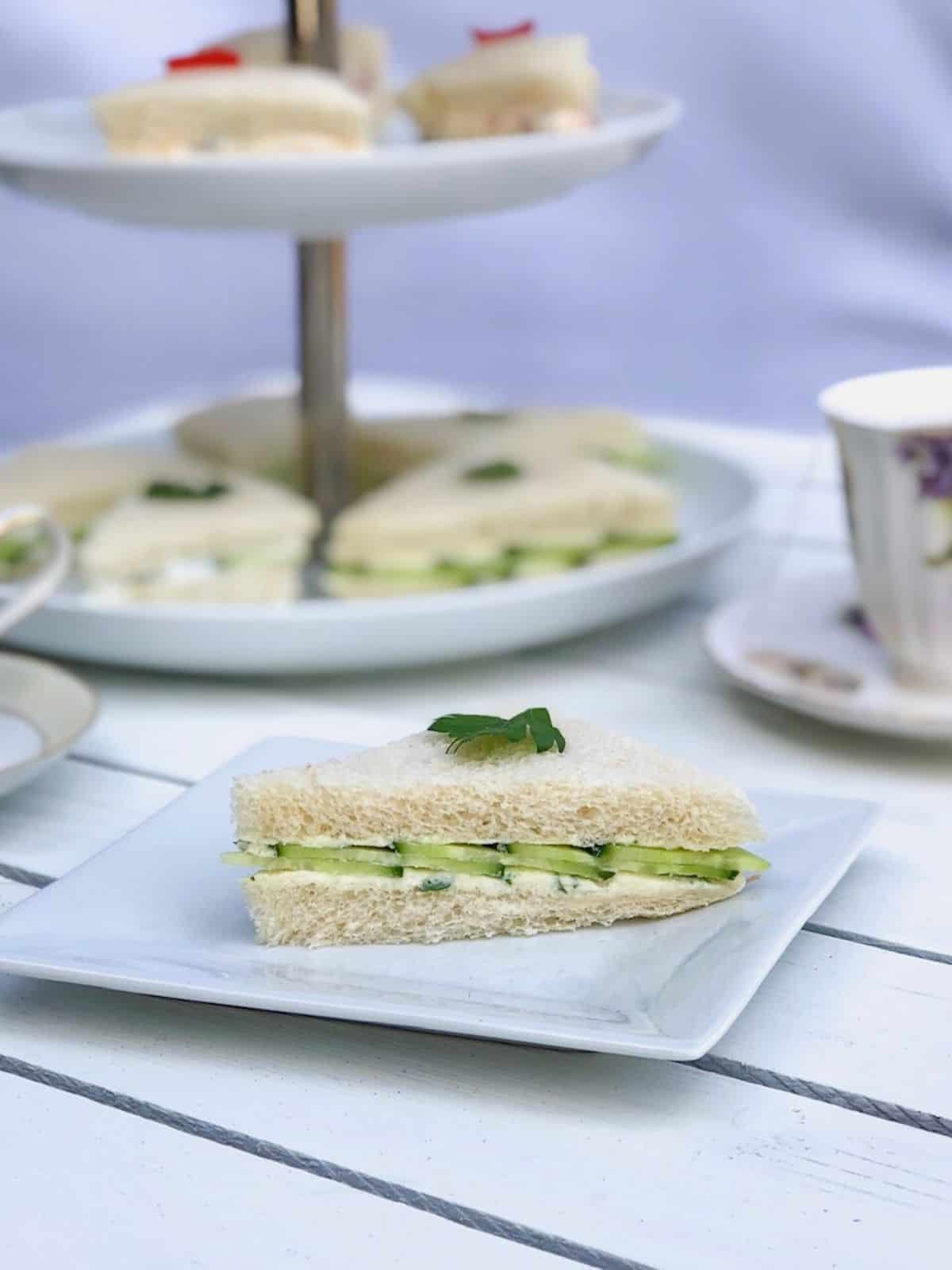 Here are some other brunch appetizers you may like:
Puff Pastry Breakfast Cups With Honey Dijon Sauce
Southern Deviled Eggs With Relish
📽 If you love entertaining at home, subscribe to my YouTube channel!!
📖 Recipe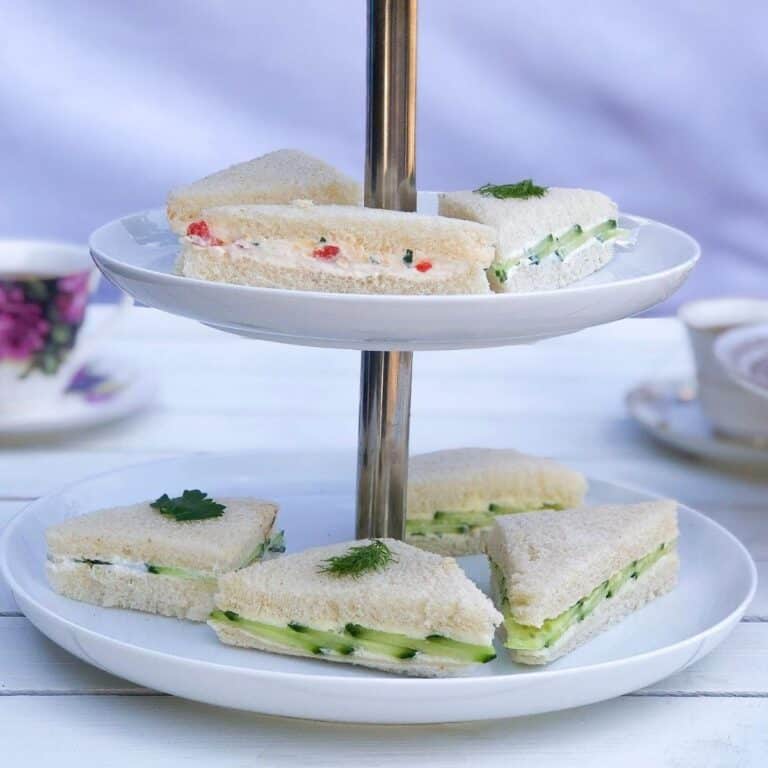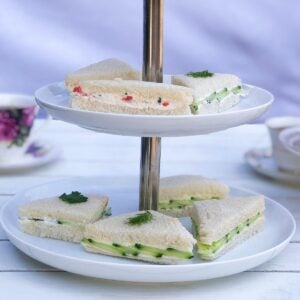 Tea Sandwiches (3 Recipes!)
Tea sandwiches are such a fun brunch time snack to serve with or without tea! I like to make these English Tea Finger Sandwiches AHEAD of time when expecting company. It is best to serve them cold (or room temperature) so no fussing with reheating! These sandwiches are ideal for bridal or baby showers or just a small brunch party!
Print
Pin
Rate
Ingredients
2

Hot House

Seedless Cucumbers

((do not peel))
Traditional Cucumber
8

Tbsp.

Unsalted Butter

1

Tsp.

Sugar

1

Tsp.

Fresh Parsley

1

Tsp.

Fresh Chives

Salt

To taste

6

Slices

White Sandwich Bread
Greek Tzatziki
½

Tsp.

Minced Garlic

1

Cup

Plain Whole Greek Yogurt

¾

Tsp.

Fresh Dill

¾

Tsp.

Fresh Lemon Juice

Salt

To Taste

6

Slices

White Sandwich Bread
Pimento Cheese
4

Oz.

Cream Cheese

2

Tbsp.

Sliced Pimento Peppers

((jarred))

¼

Cup

Shredded Cheeses

((Cheddar/Monterey/Colby Jack))

⅛

Tsp.

Onion Powder

Salt

To taste

6

Slices

White Sandwich Bread
Instructions
Prepare each sandwich filling by adding all the ingredients to separate bowls. (3 total) Mix each using a silicone spatula. (they work best!) Keep in mind that using room temperature butter and cream cheese will make mixing much easier!

Once your 3 fillings are ready, set out your bread slices and start spreading your filling generously onto each side of your bread.

*Note* I used a TOTAL of 18 slices of bread. I laid out 6 slices for EACH filling. This gave me 3 large sandwiches with EACH filling. (Total of 9.) I then cut each of the 9 finished sandwiches into TWO triangles giving me a total of 18 tea sandwiches triangles to serve or 6 each. If you want to QUARTER your tea sandwiches you can. You should then get twice the amount (36 total).

Trim the ends of your cucumbers and then cut each into thirds (or half) depending how long your cucumbers are. (The idea is to cut them lengthwise first before you start slicing them down. We want about 4" chunks so that when we slice them, they fit nicely onto your bread. (See photos). Finally, you can slice each chunk into slices about 1/16" thick. Your yield will differ than mine depending upon the size of your cucumbers. Aim for about 4-5 slices per sandwich! (See photos for reference!)
Recipe Notes
The total yield for this recipe is 18 triangles (6 of each type). I assume people will eat 3 sandwiches each making this ideal for about 6 people.
**I added about 2-3 tablespoon of filling to each sandwich. Your yield may be a bit different depending how much filling you use!
**Store your finished and cut tea sandwiches in a sealed Tupperware container in the fridge until ready to serve.
**Hothouse cucumbers are the long seedless cucumbers. You usually find them individually wrapped since you are meant to eat with the skin on. Keep in mind that keeping the skin on also allows for the pretty green color to show!
Nutrition
Calories:
437
kcal
|
Carbohydrates:
41
g
|
Protein:
12
g
|
Fat:
25
g
|
Saturated Fat:
15
g
|
Polyunsaturated Fat:
2
g
|
Monounsaturated Fat:
6
g
|
Trans Fat:
1
g
|
Cholesterol:
63
mg
|
Sodium:
433
mg
|
Potassium:
189
mg
|
Fiber:
2
g
|
Sugar:
7
g
|
Vitamin A:
1032
IU
|
Vitamin C:
8
mg
|
Calcium:
223
mg
|
Iron:
3
mg