These Southern Deviled Eggs are a slight twist on your traditional recipe but made with relish and pickle juice! An inexpensive but filling appetizer that can be made ahead and is perfect for the spring or summer time!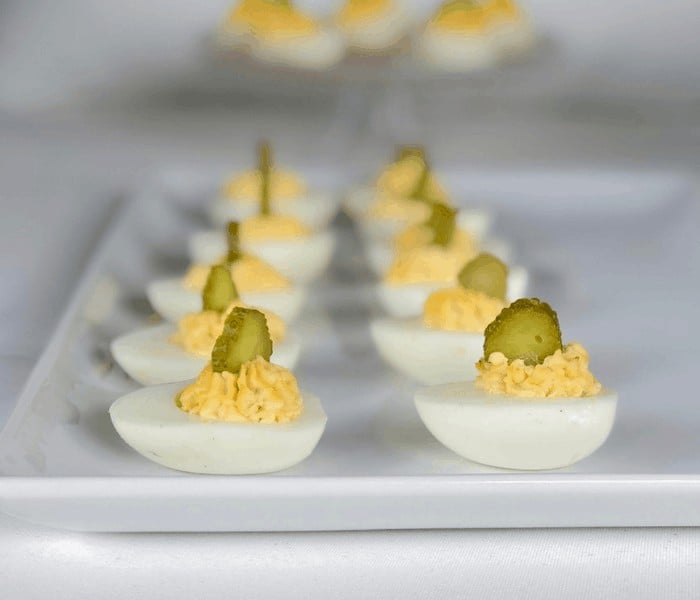 Deviled eggs are a classic warm weather appetizer that have been around for years. They are ideal for Easter or any summer party!
If you are looking for Easter appetizers, check out these Creative & Easy Easter Appetizers.
How to peel eggs FAST!
I don't make deviled eggs often. I don't know why. Maybe because the thought of peeling eggs for hours is not what I consider time efficient. Especially with two kids under 3...
BUT I have recently discovered a technique that has allowed me to peel eggs faster. MUCH faster! Plus, no green yolks or cracked shells! Now, I boil, peel and fill my deviled eggs in less than 35 minutes!
So here is the recipe I made this Easter that pleased even my mother, who might I add, is like Alex Guarnaschelli when it comes to tasting food.
They have a sweet pickle flavor that is both salty and sour. Guests will love them. A simple, cold appetizer that can be made 1-2 days ahead!
Sweet Tangy Filling
I always try to add a touch of sweetness to most of my savory dishes. A little bit of sweetness to balance out the saltiness, sweetness and tang.
These deviled eggs are also made with less mayo so they are NOT RUNNY or taste too 'mayoee' like some recipes I have tried before. If you are NOT a mayo lover, you should try my most popular recipe, spinach dip without mayo or my Tiktok viral recipe, my Mayo Free Potato Salad!
The relish is what really gives these deviled eggs their sweetness. In addition to that, I added some honey because I love the flavor...but that is purely optional.
Most traditional southern deviled egg recipes are made with relish, mustard and mayo. Some recipes add vinegar or pickles. Others add dill relish instead of sweet relish. Either way, mustard and relish is a must for me!
"Why are my hard boiled eggs hard to peel?"
Using fresh eggs can make it harder to peel. But, what's fresh really? You have no idea how long those eggs were in the food store so it's hard to know for sure.
Regardless of how "old" they are, I like to wait for my eggs to cool down before peeling. I've found that when they're warm, they are MUCH harder to peel.
Deviled Egg Tips
Use a piping bag (or plastic baggie to pipe out your filling!) It looks SO much better is is SO much quicker and easier to fill! Presentation is everything when it comes to deviled eggs. You, or your guests, do not want sloppy looking eggs. A star piping tip will give you a fancier look.
Do not use too much mayo! This will cause a runny filling AND will mask the flavor of the egg itself.
Garnish with some color! This could be a pickle, fresh herbs OR paprika.
Choose the right plate! Serve on a plate that does not allow the eggs to slide around. *The deviled egg plates are worth the investment and extra pantry space especially if you're transporting! *Tip* Place a paper towel underneath your eggs if you are using a regular plate to prevent from slipping.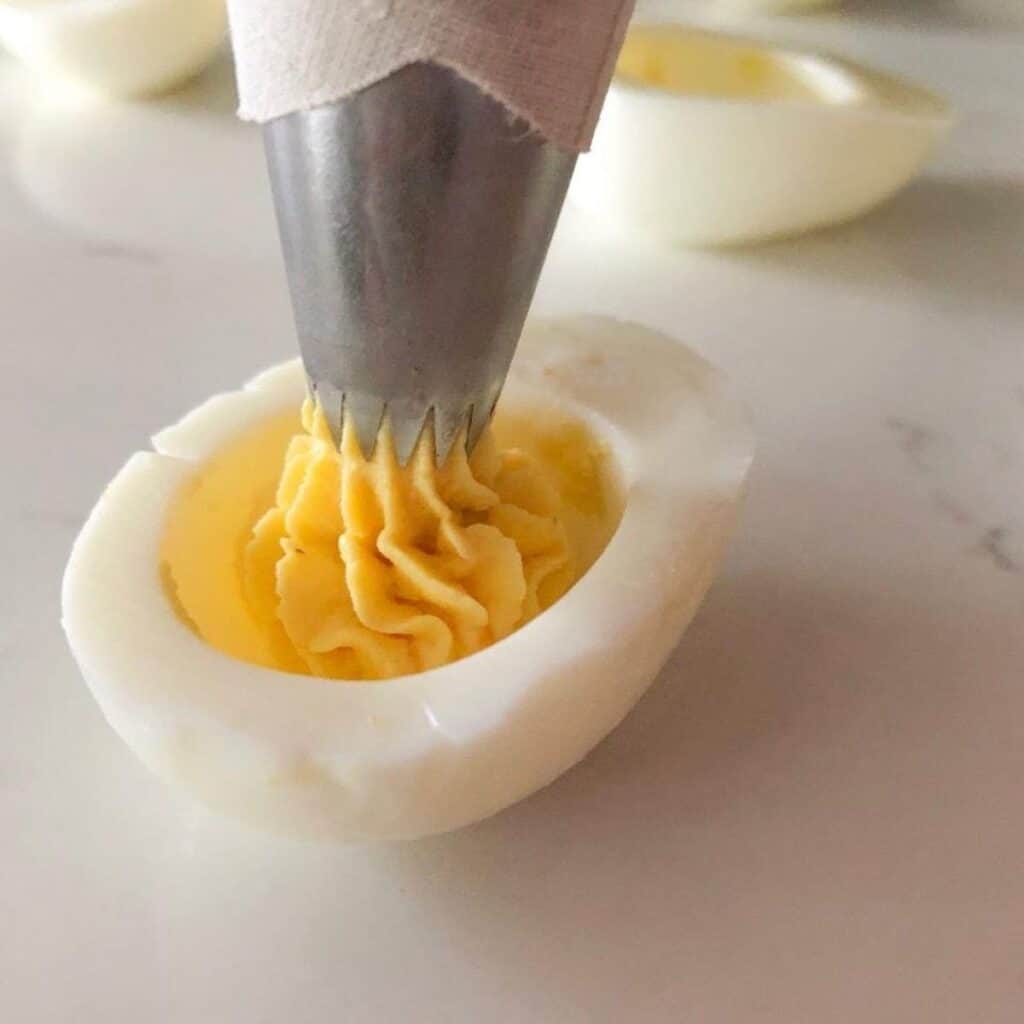 How Far In Advance Can You Make Deviled Eggs?
Deviled eggs can be made 2-3 days ahead of time. You can boil/peel and then refrigerate the peeled eggs. Then make the filling the day of.
Or you can make the filling and keep them separate from the egg whites and then pipe them the day of.
OR assemble ALL your eggs all the way up to garnishing with a pickle and refrigerate them all under some plastic wrap! Either way you choose, they will hold up nicely.
Just don't wait TOO long or that stench can be unbearable.
Other appetizers you can serve cold:
Healthy Creamy Imitation Crab Salad
EASY Crab Ceviche with Avocado
Mini Caesar Salad Parmesan Cheese Cups
Pinwheel Sandwiches For Parties
19 Easy Last Minute COLD Party Dips For A Crowd
---
📖 Recipe
Southern Deviled Eggs (with relish)
These traditional Southern Deviled Eggs are made with relish and pickle juice and could not be easier to whip up. A cheap and filling appetizer that can be made ahead and will be sure to satisfy all your guests in the warmer months!
Print
Pin
Rate
Ingredients
Filling
2

tablespoon

Pickle Juice

3

tablespoon

Mayo

4

Tsp.

Sweet Relish

¾

Tsp.

Dijon

3

Dashes

Worcestershire Sauce

¼

Tsp.

Salt

pepper to taste
Instructions
Add your eggs to a saucepan (small pot) and add just enough water to cover them. Bring to a boil and immediately turn OFF the flame when water starts to boil. Cover with a lid and let sit on stove for 12 minutes. Transfer to sink and allow cold water to run over the eggs until all the hot water is replaced by cold. Let sit in sauce pan for another 10 minutes or so until they are cool enough to peel. Peel shells under cold water.

Once all 8 eggs are peeled, set two of them aside. Slice the other 6 eggs in half lengthwise and pop out yolks using a small spoon. (Give the eggs a slight squeeze to help the yolks pop out if you're having trouble removing them.)

Chop up your other two eggs well and add it to the bowl with your yolks. Add your mayo, dijon, relish, Worcestershire sauce, pickle juice, salt and pepper.

Pipe or spoon filling into each egg cavity. You should have 12 finished deviled eggs.
Recipe Notes
*Yield is 12 deviled eggs.
Garnish with a pickle slice and paprika if desired.

These can be made 1-2 days ahead of time. Store in the fridge in a sealed container.
Nutrition
Serving:
3
eggs
|
Calories:
145
kcal
|
Carbohydrates:
3.7
g
|
Protein:
10.1
g
|
Fat:
9.9
g
|
Saturated Fat:
2.8
g
|
Sodium:
354
mg
|
Potassium:
110
mg
|
Sugar:
2.5
g
|
Calcium:
30
mg
|
Iron:
1.4
mg