This Vodka Sunrise is a fun take on the classic cocktail, a tequila sunrise. But instead, it's made with vodka instead of tequila. Red grenadine is layered with orange juice to make this drink reminiscent of a stunning sunrise.
If you love a classic screwdriver, you will love a vodka sunrise because it's the same thing but with grenadine mixed in!
It's basically the same type of drink with a touch of grenadine added for color and sweetness. Most people are familiar with the popular cocktail, a tequila sunrise but for those who don't like tequila, this version is perfect!
Serving this for brunch? Try pairing it with my Hawaiian Bread French Toast or these Starbucks copycat egg bites!
🛒 What do you put in a Vodka Sunrise?
Vodka- Use the best vodka you have since it is the only alcohol being used. Titos will make it gluten free!
Grenadine- This is a non-alcoholic sticky syrup that's both tart and sweet. It has a deep red color which gives many drinks a pink hue when blended. You can find it in any grocery store OR make your own here!
Orange Juice- Use any orange juice you enjoy however I recommend one that's pulp-free! Those little "pulpies" aren't very appealing.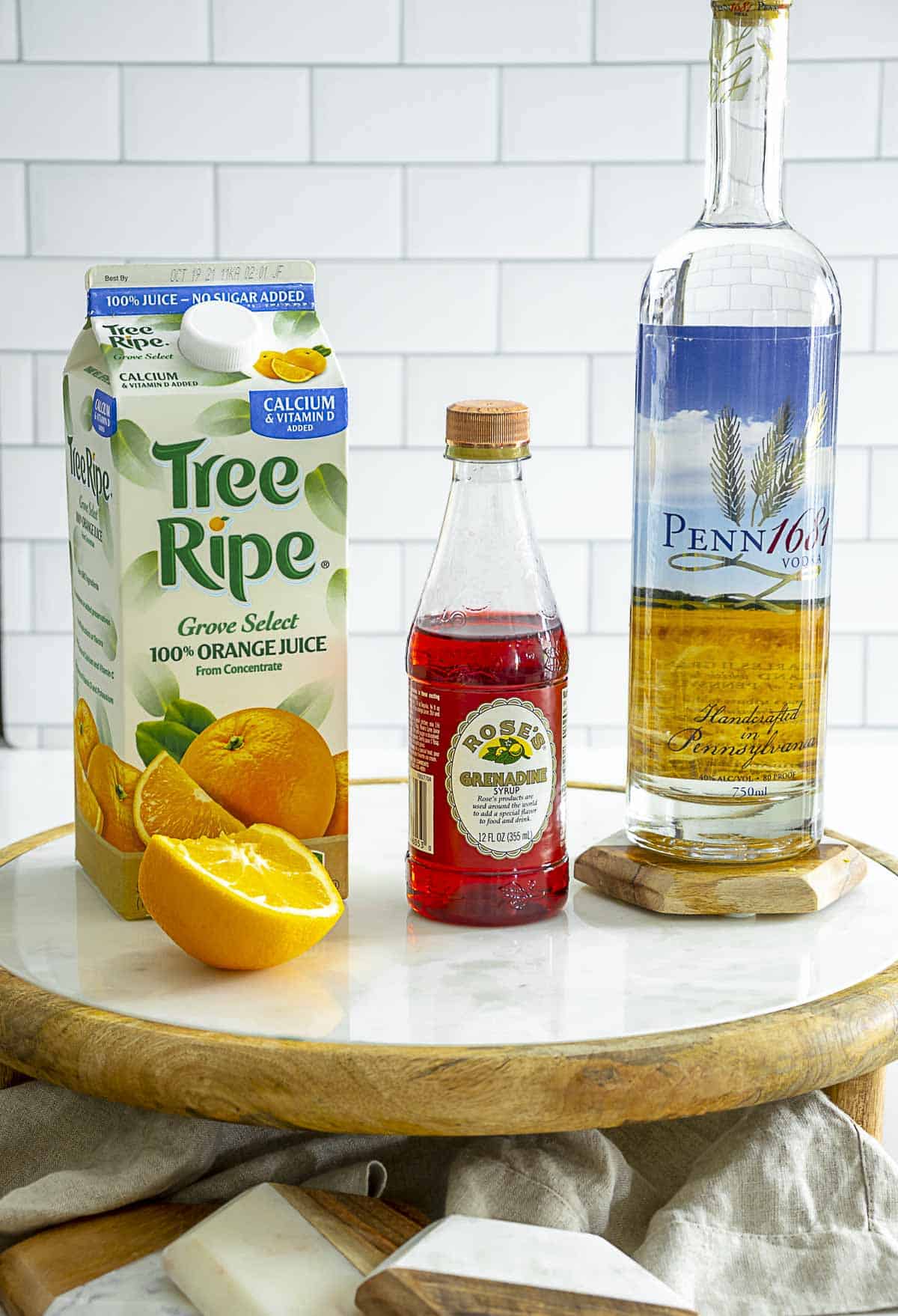 🌅 Getting The Sunrise Look
To get that gorgeous "sunrise" look to your cocktail, the trick is to add your grenadine syrup FIRST to a tall glass with ice. Then mix your orange juice and vodka in a cocktail shaker before adding it over top of the syrup.
You don't want to mix it before serving because then it will turn a pinkish hue defeating the sunrise presentation.
The grenadine stays on the bottom because it is more dense than the orange juice.
If you love beautiful hues and colorful drinks, you have to make this purple lavender cocktail!
📝 Variations
This is a simple cocktail however you can swap out a few things to keep the sunrise color but meet the needs of your guests.
Swap out the vodka! You can use another clear liqueur like tequila or white rum! Coconut rum would be a deliciously tropical addition.
Use a different juice! Instead of orange juice, why not try pineapple, peach, mango or a fruity mixture of the two? (Pineapple would be delicious with the coconut rum!)
Don't have grenadine? Try using a black currant, pomegranate or cherry juice instead to achieve similar colors. You can even use a drop of red food coloring at the bottom!
🍹Love bloody marys? Check out this post on the best garnishes for your Bloody Mary!
🙋‍♂️"What is the difference between a vodka sunrise and a sunset?"
Both drinks have the same ingredients however the difference is mainly HOW the grenadine is added.
When the sun rises, the red is beneath the yellow.
When the sun sets, the red is typically above the yellow.
This is why the red aka grenadine is added on TOP of the orange juice or LAST. It's usually mixed with a soda water to make it lighter (not sink).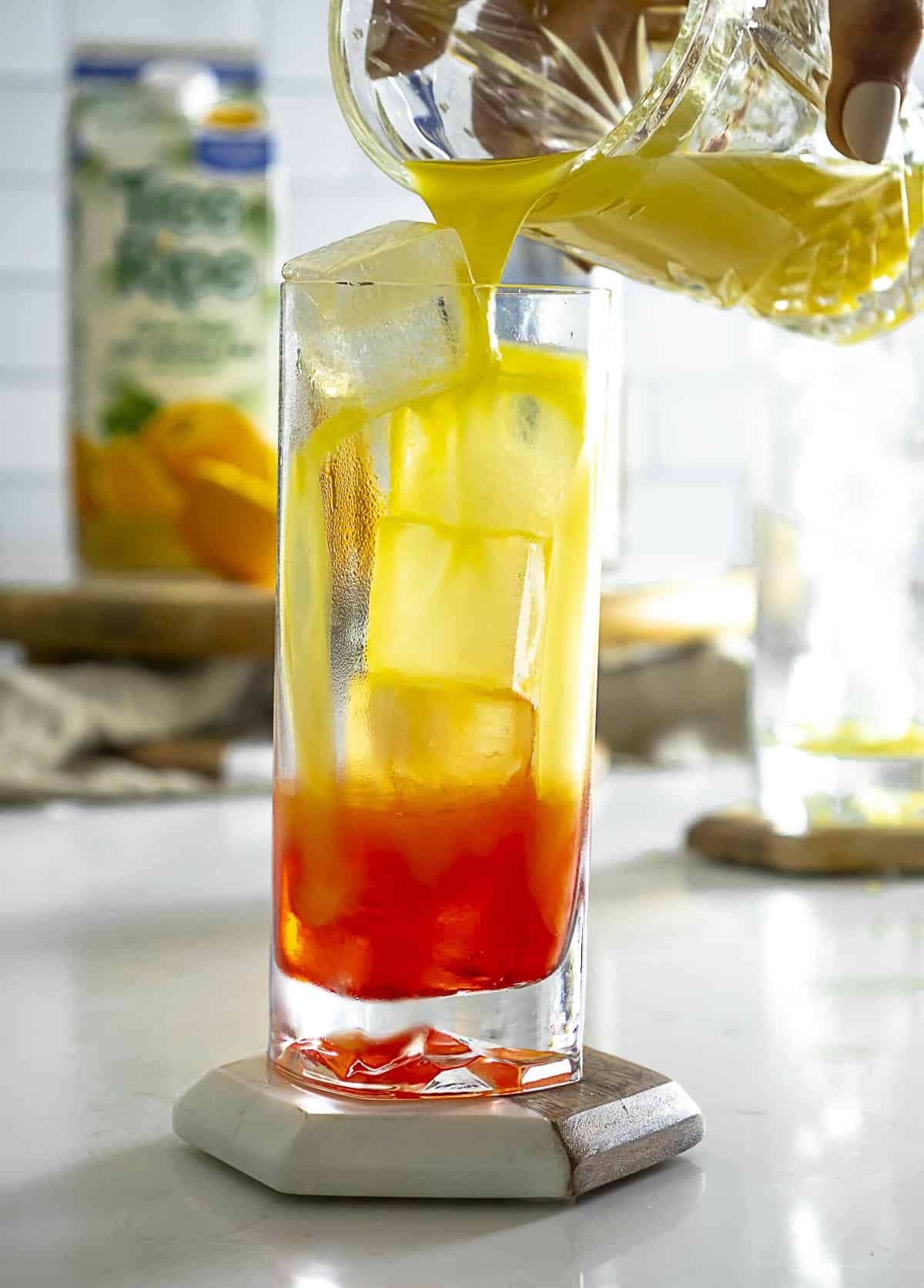 🍹Love fruity cocktails? Check out this awesome drink list!
✅ Expert Tips
Use a tall, skinny glass to serve your vodka sunrise in. It layers nicely and looks beautiful.
Chill your glass in the freezer for 10-20 minutes before serving for an extra cold drink.
Garnish with an orange slice and maraschino cherry.
Skewer your garnishes on a fun umbrella skewer if you prefer.
Serve with a straw to allow guests to mix their drink if they want.
Mix the orange juice with soda water for a less sweet, bubbly option.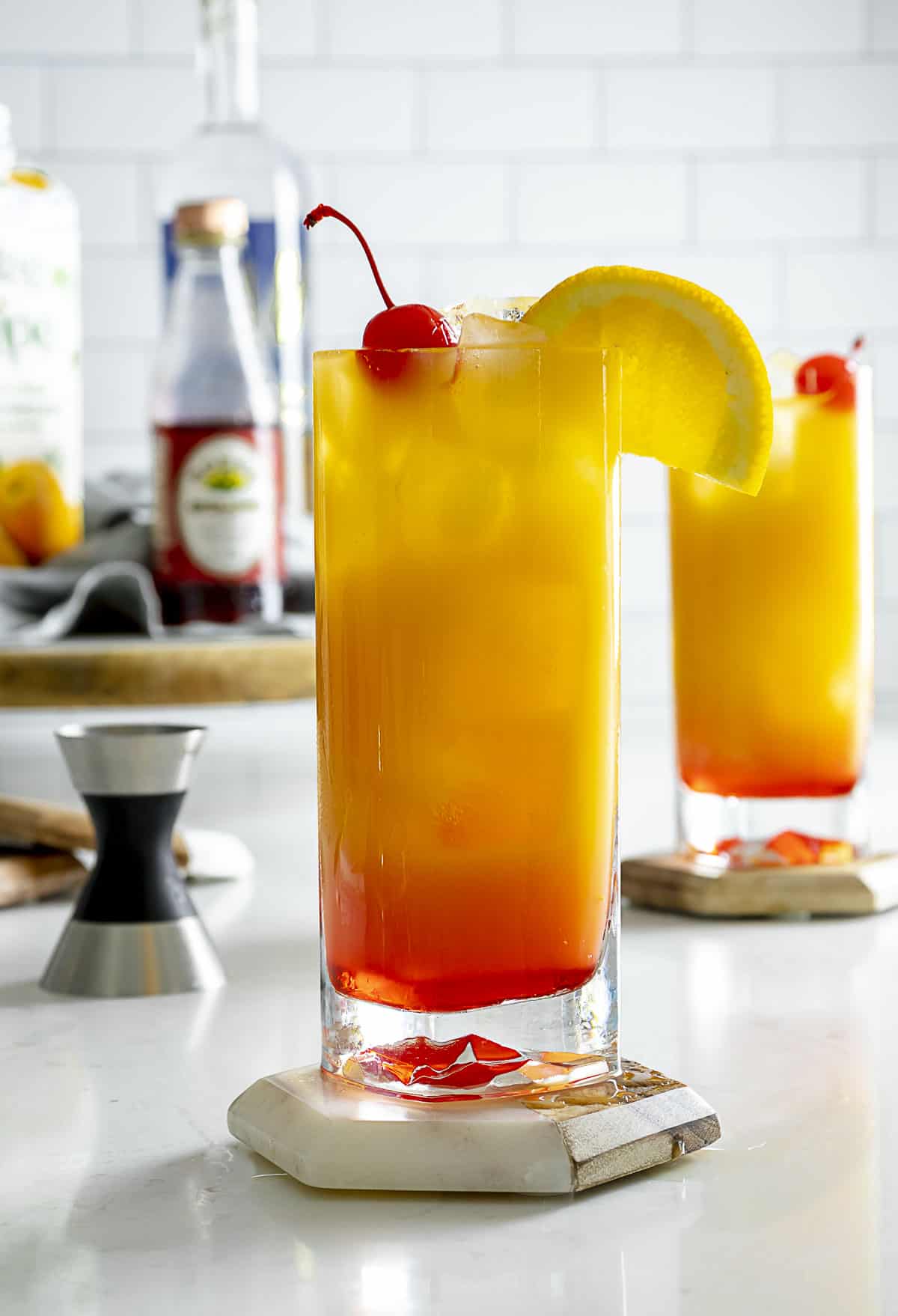 Check out this list of juices and mixers that pair well with vodka.
🙋‍♂️ FAQ's
Can I make this non-alcoholic?
Sure! Leave out the vodka and either mix as is or add a splash of soda water for a fun kid-friendly mocktail!
Does grenadine have alcohol?
Nope! It's just a red simple syrup.
Can I make this in a large batch ahead of time for a party?
Yes! To prevent playing bartender all party long, pre-mix the orange juice and vodka and place in a pourable pitcher. Then set that next to a cute pour bottle of the grenadine with a shot glass or jigger for guests to add themselves! Just add a small sign that says, "add 1 oz grenadine then top with OJ"!
Do I need to pour the grenadine first?
No you don't have to since grenadine is a heavier liquor so gravity will naturally allow it to sink to the bottom. The color will just be a bit more muddled.
When is best to serve this cocktail?
Since there is orange juice in it, it makes for the perfect breakfast or brunch drink during the warmer months!
Other Summer Cocktails You'll Love
Passion Fruit Vodka Martini Cocktail (With Puree)
Classic Margarita Pitchers (No Simple Syrup!)
The Perfect Gin Aperol Sour Cocktail
📲 FOLLOW Aleka on social!! 👋 Follow me on facebook, instagram, pinterest, youtube or tiktok for more recipes and entertaining tips!
Other Cocktails Similar To A Vodka Sunrise
Tequila Sunrise: The original inspiration for the Vodka Sunrise, this cocktail features tequila, orange juice, and grenadine. It creates a visually appealing gradient of colors, just like the Vodka Sunrise.

Rum Sunset: A variation of the Tequila Sunrise, the Rum Sunset replaces tequila with rum as the base spirit. It typically includes rum, orange juice, and grenadine, resulting in a colorful sunset-like appearance.

Peach Sunrise: This cocktail offers a fruity twist by using peach schnapps along with orange juice and grenadine. The peach schnapps adds a sweet and slightly fruity flavor to the classic Sunrise combination.

Passion Fruit Sunrise: Adding a tropical touch, the Passion Fruit Sunrise incorporates passion fruit juice alongside orange juice and grenadine. The passion fruit juice brings a tangy and exotic flavor to the mix.
These drinks share similarities with the Vodka Sunrise in terms of using fruit juices and grenadine to create visually striking color effects while offering variations in flavor through the use of different spirits and additional fruit components.
📽 If you love entertaining at home, subscribe to my YouTube channel!!
Other Trending Cocktails
📖 Recipe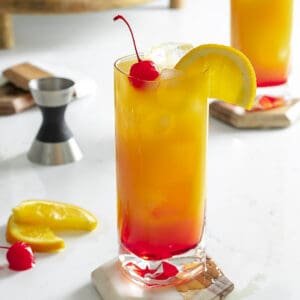 Vodka Sunrise Cocktail
This Vodka Sunrise is a fun take on the classic tequila sunrise cocktail but made with vodka. Red grenadine topped with brightly hued orange juice make this drink reminiscent of a stunning sunrise. It's ideal for summer mornings or brunch gatherings!
Print
Pin
Rate
Ingredients
1½

ounces

good vodka

5

ounces

orange juice

(*you can use pineapple or mango too)

1

ounce

grenadine syrup

1 orange slice and 1 maraschino cherry for garnish
Instructions
Fill a glass with ice and add grenadine.

Top grenadine with orange juice mixture and garnish with orange slice and a cherry.
Recipe Notes
Nutrition
Calories:
238
kcal
|
Carbohydrates:
34
g
|
Protein:
1
g
|
Fat:
0.3
g
|
Saturated Fat:
0.03
g
|
Polyunsaturated Fat:
0.1
g
|
Monounsaturated Fat:
0.1
g
|
Sodium:
10
mg
|
Potassium:
292
mg
|
Fiber:
0.3
g
|
Sugar:
25
g
|
Vitamin A:
284
IU
|
Vitamin C:
71
mg
|
Calcium:
17
mg
|
Iron:
0.3
mg