These Spicy Garlic Roasted Chickpeas are an irresistible healthy snack that I love putting around the house in small bowls when I am expecting company. They are so irresistible and way too easy to eat!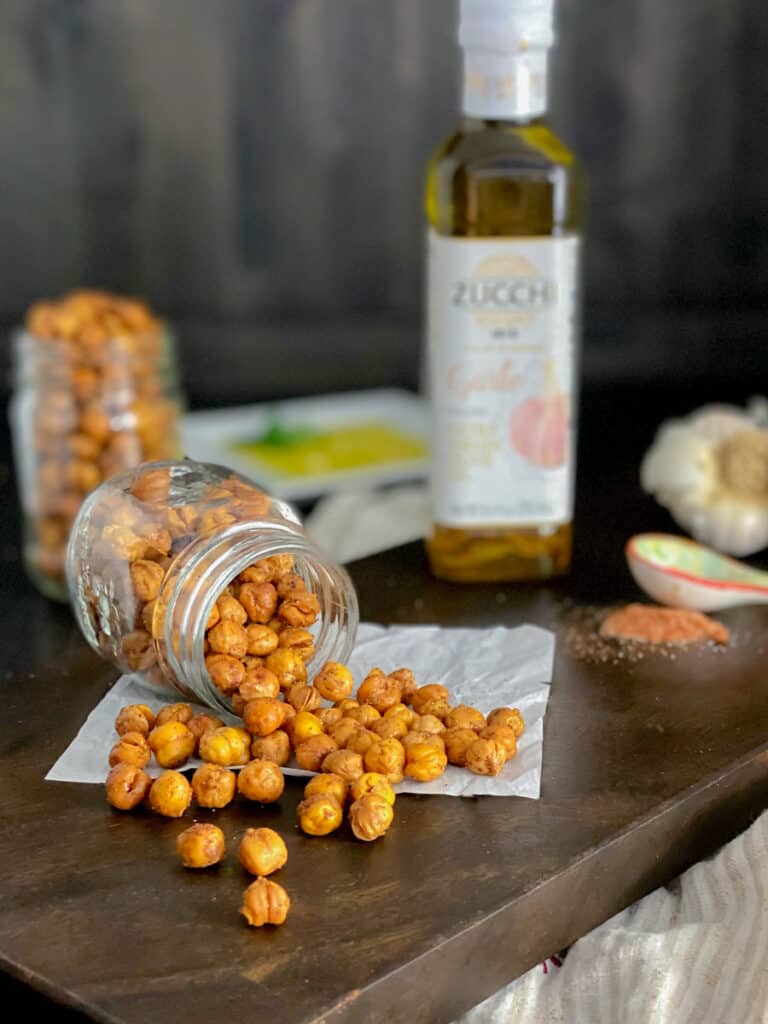 This post was sponsored by Zucchi. All opinions are my own.
Roasted chickpeas are a popular snack these days because of how healthy and delicious they are. For this recipe, I use canned chickpeas which are roasted in the oven until nice and dry. Then I take them out to add the seasoning before popping them back in the oven to get them extra crispy. They are one of the easiest party snacks I have on my blog and require just a few minutes of prep!
The Garlic Flavoring
I love garlic in any form. Roasted, raw, smashed, dried, sautéed, you name it. And since my motto has always been, go big or go home, you can guarantee this recipe will pack a garlic punch! Sorry not sorry.
To infuse as much garlic flavor as I can into the chickpeas, I like to use a flavor infused oil in addition to the spices. For this recipe, I used Zucchi Garlic-Flavored Extra Virgin Olive Oil. It is high quality garlic-flavored EVOO that is enriched with real garlic flakes making it perfect for amplifying the taste of chickpeas.
If you would like to purchase Zucchi's Garlic-Flavored EVOO, you can do so online at Yummy Bazaar, Italian Food Online Store or Magnifico Food. Their oils are exceptional and also economically sustainable which I love.
To add even MORE garlic flavor, I used granulated garlic in my seasoning blend as well. I don't recommend adding freshly minced garlic to your chickpeas since it will most likely burn in the oven while adding more moisture to the chickpeas which is not what we want.
Spicy Seasoning
Chickpeas are VERY bland on their own so it is key that you add lots of seasoning. The spice blend I used in this recipe is made with a mixture of a few different spices that bring the flavor and heat. Most of the heat comes from the chili powder but you can also add cayenne powder if you really want to "kick it up a notch" as Emeril says.
Other Seasoning Blends:
The good thing about chickpeas is the fact that they can take on any flavor profile. If you want to make them more festive, try adding some rosemary or sage. If you want to sweeten them up a bit, add some sugar or cinnamon. Here are some other delicious spice blends you could use on your chickpeas!
Old Bay Seasoning (Summer time)
Rosemary and Sage (Holiday Parties)
Pumpkin Spice and Sugar (Fall)
Lemon zest, Basil, Parsley (Spring)
Blackened Seasoning (Anytime)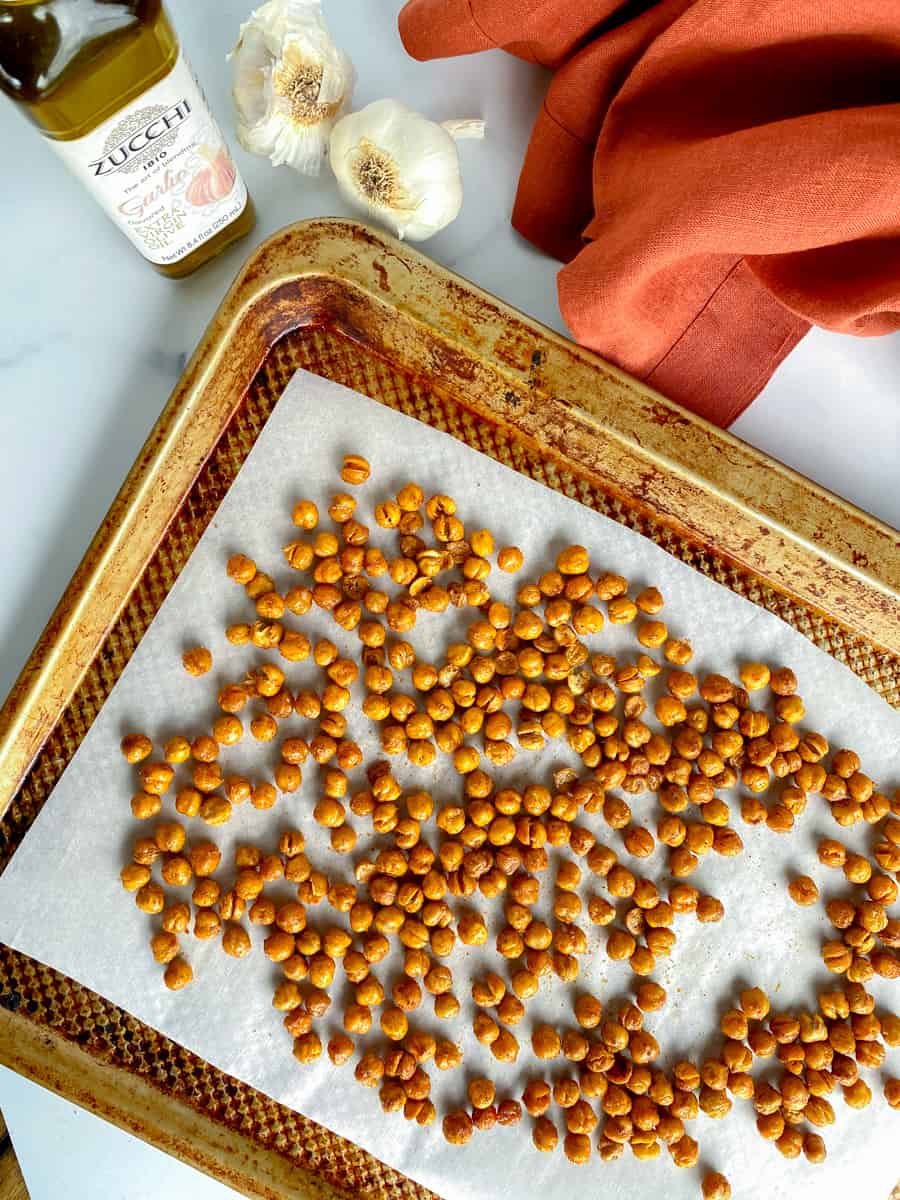 Any don't forget, adding flavored oils will infuse even more 'yum' into your chickpeas. Zucchi's Chili Pepper or Pesto-infused oils would be delicious additions to chickpeas!
Roasting Chickpeas Without Oil
The trick to super crispy, crunchy chickpeas is adding your oil LAST. For a majority of the time, I like to roast my chickpeas "naked", with zero seasoning or oil added. This allows all of the moisture trapped inside the chickpeas to easily evaporate. Then before the chickpeas turn a golden brown, you will take them out and add Zucchi's Garlic-Flavored EVOO along with my spice blend to finish roasting.
Did you know? Chickpeas are also called garbanzo beans, bengal grams, egyptian peas, ceci beans and kabuli chana.
How To Store Roasted Chickpeas Properly
Storing your chickpeas is simple. They do not need refrigeration. In fact, you do NOT want to put roasted chickpeas in the fridge at all. This would add moisture to your chickpeas causing them to turn soft. Instead, wait for them to fully cool, then toss them in a plastic container with a lid or plastic baggie.
How Long Will They Stay Fresh?
Roasted chickpeas will stay fresh for up to 5 days properly sealed but are best eaten within 2-3 days.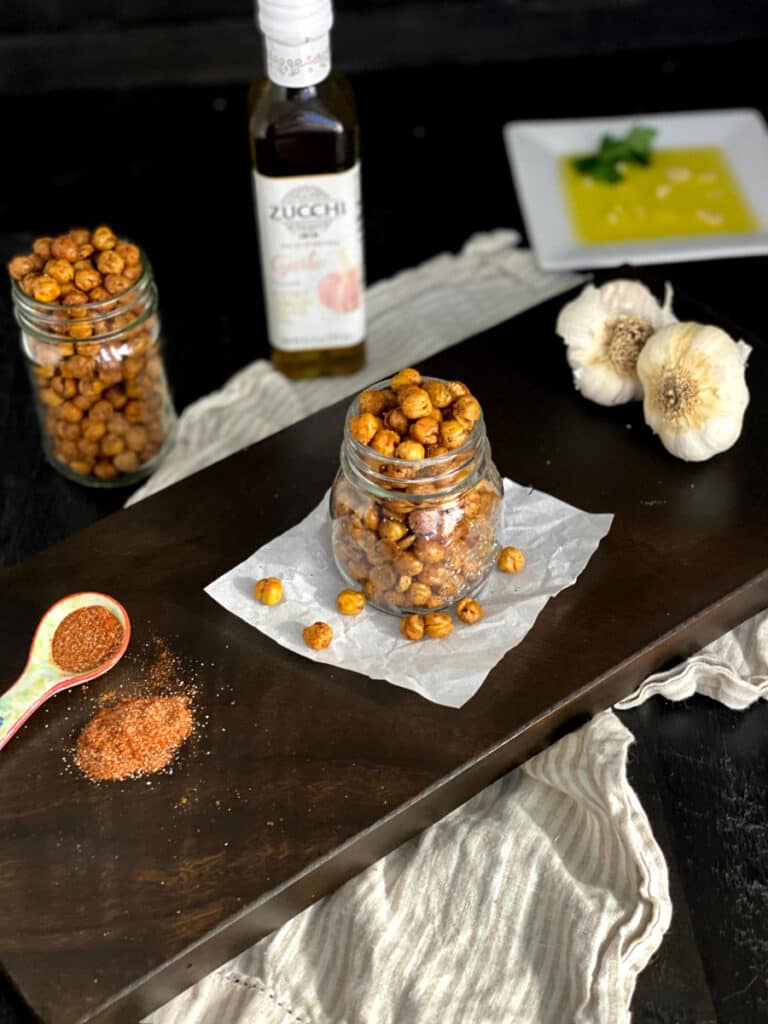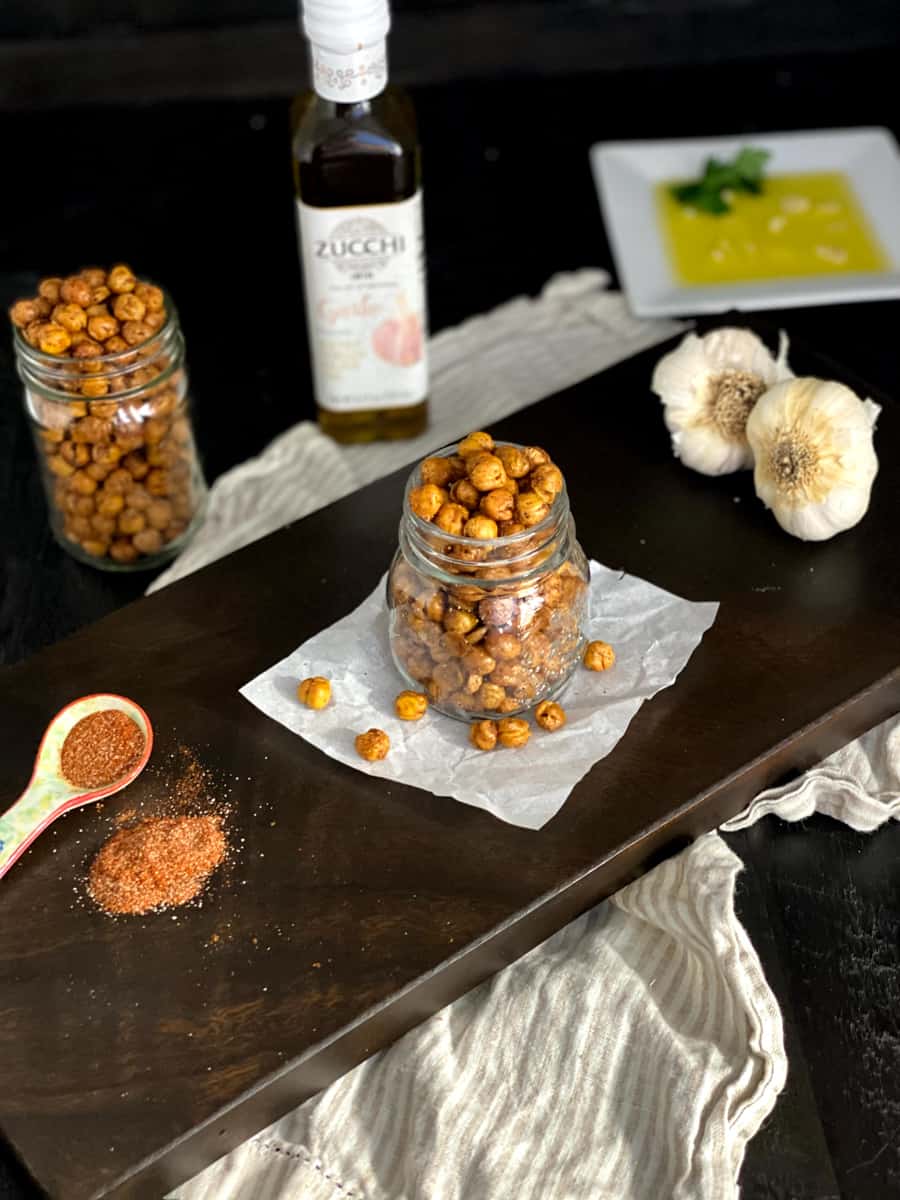 Did you know? Chickpeas can also be black, green, brown or even red!
Other easy snack recipes you will love:
The BEST Olive Oil Dip For Bread (with FRESH herbs)
Crispy Seasoned Potato Wedges (Oven Baked)
Ham and Cream Cheese Roll Ups (with Pickle Relish)
Spicy Garlic Roasted Chickpeas (Extra Crispy)
These Spicy Garlic Roasted Chickpeas are an irresistible healthy snack that I love putting around the house in small bowls when I am expecting company. They are so irresistible and way too easy to eat!
Print
Pin
Rate
Ingredients
2

15 oz. cans

chickpeas (garbanzo beans)

2

tablespoon

Zucchi Garlic-Flavored EVOO

1

teaspoon

garlic powder

1

teaspoon

chili powder

½

teaspoon

onion powder

½

teaspoon

smoked paprika

½

teaspoon

salt

2

teaspoon

sugar
Instructions
Drain your chickpeas and then lay them flat on top of a few paper towels. Place a few more paper towels over top and lightly roll the paper towel on top to dry the chickpeas as much as possible. Discard of any peels.

Add your chickpeas to a parchment paper lined baking sheet dry and bake for 50 minutes.

In the meantime, prepare your spice blend by adding them all EXCEPT FOR THE SUGAR to a small bowl.

After 50 minutes, take out your chickpeas and add 2 TB olive oil. Roll the chickpeas around in the oil. (I like to use my hand when they are cooled enough to touch.) Make sure they are coated well.

Next, sprinkle your spice mixture over top and using your hand, roll the chickpeas around again so the spices stick to each chickpea.

Bake for another 8-10 minutes on the middle rack. Sprinkle the chickpeas with the sugar when they come out so it does not burn.

Let the chickpeas cool completely on the baking sheet for at least 15 minutes. Store in a container or plastic bag.
Recipe Notes
To ensure you have extra crispy chickpeas, make sure you dry them as much as possible before baking. If you have time, let them sit on the counter to air dry for 15-30 minutes before roasting.
Store your chickpeas in a sealed container for 5-7 days. Do not store in the fridge.
Nutrition
Calories:
39
kcal
|
Carbohydrates:
2
g
|
Protein:
0.1
g
|
Fat:
4
g
|
Saturated Fat:
0.5
g
|
Polyunsaturated Fat:
0.4
g
|
Monounsaturated Fat:
3
g
|
Sodium:
150
mg
|
Potassium:
14
mg
|
Fiber:
0.2
g
|
Sugar:
1
g
|
Vitamin A:
136
IU
|
Vitamin C:
0.04
mg
|
Calcium:
2
mg
|
Iron:
0.1
mg