A deliciously fancy hors d'oeuvre to serve at this year's Oscar party! This Filet Mignon Appetizer is a fun take on the classic Filet Oscar dish made bite sized and worthy of your fingers! And make sure to check out this long list of finger food ideas!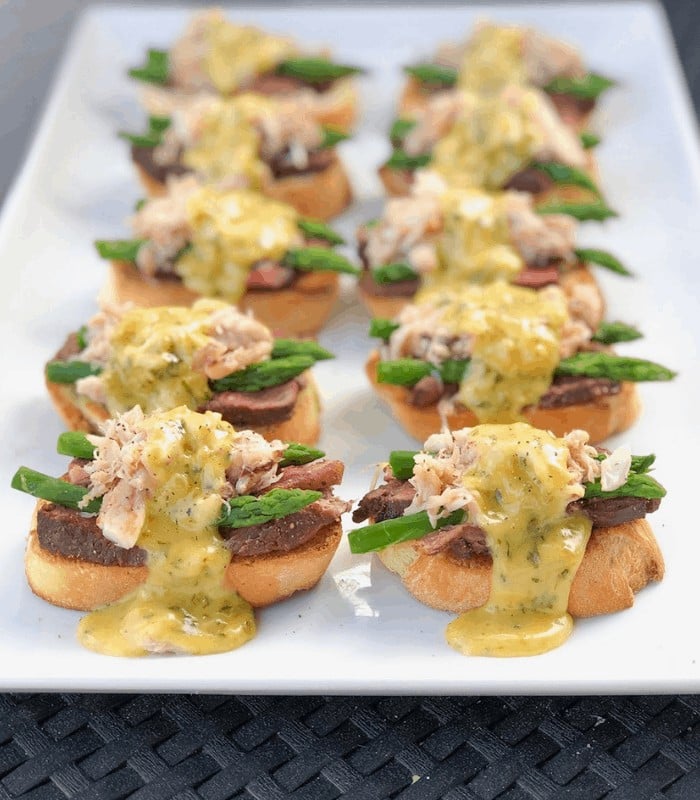 This crostini appetizer will be the talk of your Oscar party! They are so fancy and packed with flavor! It really is the perfect bite sized appetizer to ring in the new year! Also make sure to check out more Finger Food Ideas For Your Next Party!
Filet Oscar Inspired
This appetizer was inspired by my love for surf and turf. The combination is just so hearty and satisfying. Filet oscar is typically prepared with crab, asparagus and finished with a rich Bearnaise sauce.
It would also be a delicious Oscar party appetizer if you like the play on words. 🙂
Bearnaise Sauce The "Modern Way"
The SAUCE on this steak and crab crostini is the best part of the dish, hands down.
It is called a 'Bearnaise' sauce. Sounds fancy huh?! If you are just patient, it will work out, I promise.
I discovered a non-traditional way or more "modern" technique to making the sauce which requires less pots/pans and allows less room for error.
The most important part is to heat the sauce slowly and WHISK, WHISK, WHISK! It is 100% worth the effort.
Choosing Your Steak
Of all the bite sized appetizers on my blog, THIS one is the fanciest by far!
I mean, steak? Crab? Bearnaise sauce?? Forget about it.
Although, it may not be the cheapest appetizer to make, it will be the most raved over.
When choosing your steak, I only recommend going for a filet mignon. It is the most tender and tender meat is what we are going for especially when eating it crostini-style.
Are beef tenderloin and filet mignon the same thing?
Tenderloin and Filet Mignon are considered to be interchangeable because Filet Mignon is actually a cut of the Tenderloin, specifically from the tip.
How To Cook Your Steak
Cooking your filet is a personal preference! I personally love a good medium on my filet but if you want more rare or well done, go for it.
Just keep in mind! You are not the only one eating your crostini. Does everyone love rare? Well done?
If you were at a wedding hors d'eourvre hour, they would most likely serve their filets medium-rare or medium since that is the recommended "doneness". So if you are expecting guests, I recommend preparing your filets medium since it is in between well and rare.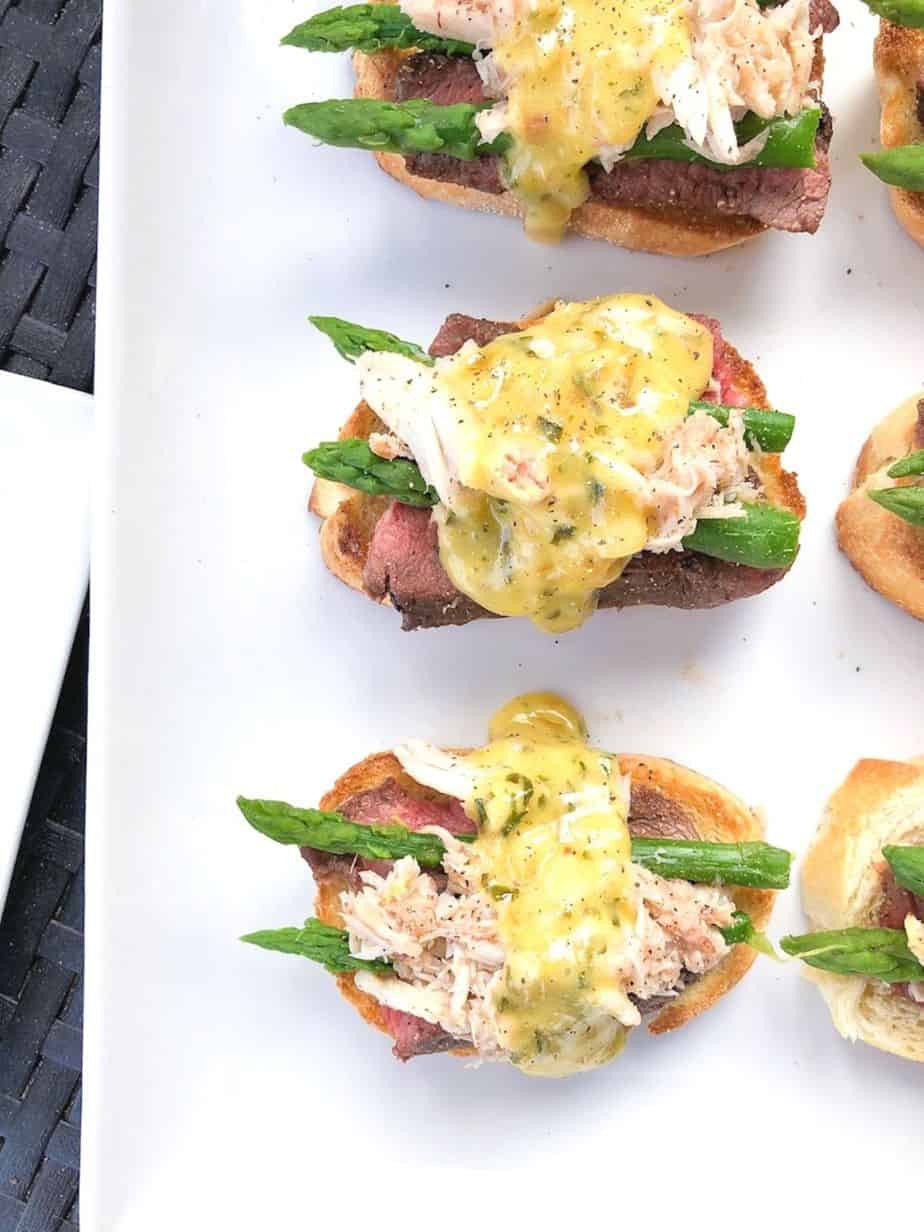 Choosing Your Crab
I suggest going for jump lump crab meat. It looks beautifully impressive on top of crostini. The claw meat is a bit sweeter which is another good option. If you don't want to spend the money on this type, get whatever crab you can find!
Crostini Tips
Do NOT over toast your crostini! If it is too hard, you will ruin the entire appetizer. *See tip below on how to toast these!
Get the best filet you can find! A good filet means a tender filet. And a tender filet will be easy to BITE into.
Make all the components ahead of time! (hours or the night before). Sear and slice your filet. Prepare your sauce. Cut your bread. And trim your asparagus. Then refrigerate everything until ready to use.
Take your time and be diligent with the sauce. It is the best part and SO worth the extra attention!
Crusty, fresh bread is key. No one likes stale crostini.
How To Assemble Filet Mignon Appetizer
Have all of your ingredients ready to go before assembling! You want it fresh so the crostini maintains its texture.
I made these twice because the first time, my crostini dried out too much and it was not easy to bite into.
So what I ended up doing was broiling/toasting one side of each crostini. (Just lay them flat on a baking sheet and broil lightly without flipping them.)
Then assemble each directly on the baking sheet keeping the non-toasted side DOWN! Cover with tin foil and keep in the fridge.
Then when your guests are on their way, you can pop the entire baking sheet full of assembled crostini into the oven! The bottom of the crostini will now toast while the rest warms up nicely!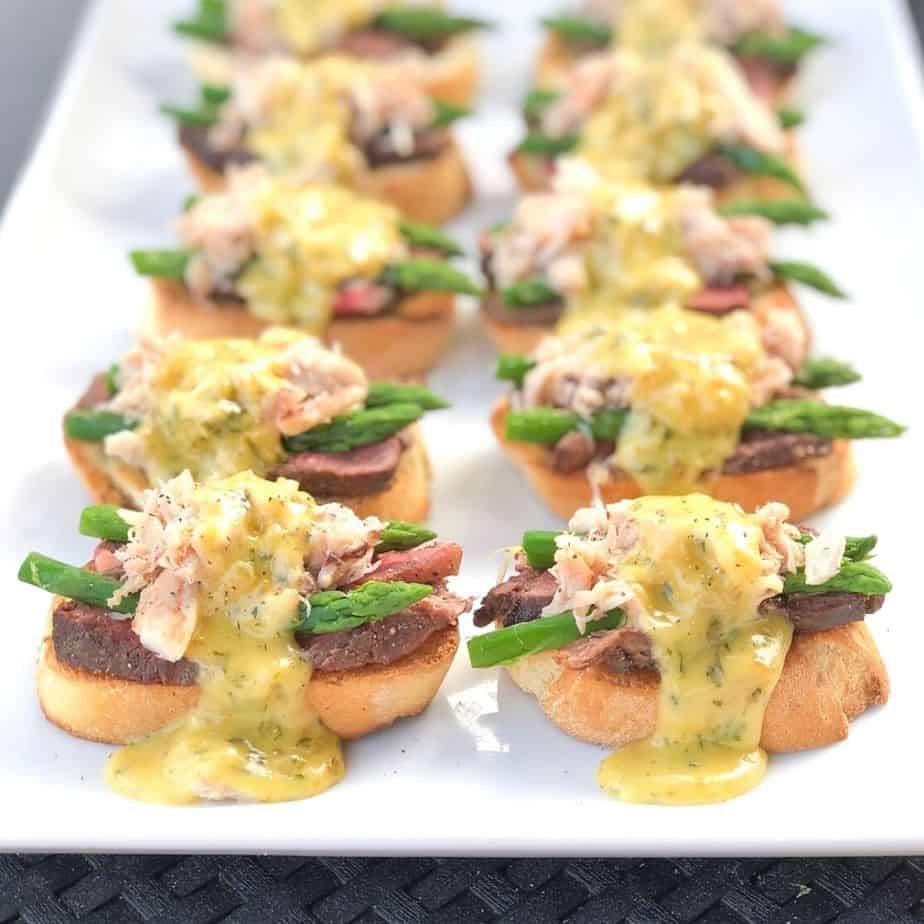 Make sure to check out these hors d'eourvres!
Mini Canape Toasts with Sweet Cheese
Grilled Cheese Sticks (with tomato soup shooter)
Bruschetta Caprese (with mozzarella)
Easy Savory Canapés For Parties
---
📖 Recipe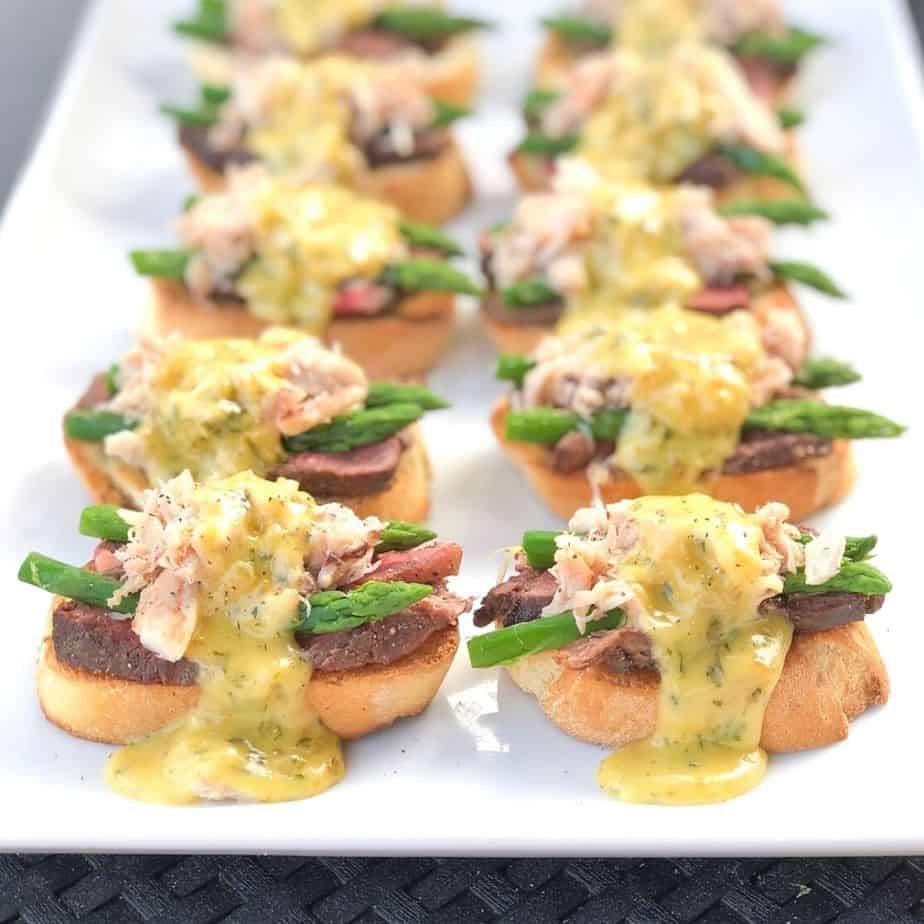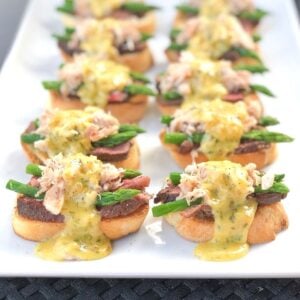 Steak and Crab Crostini Appetizer
A deliciously fancy hors d'eourvre for your next dinner or cocktail party! This Filet Oscar Crostini Appetizer is a fun take on the classic Filet Oscar dish made bite sized!
Print
Pin
Rate
Ingredients
1

Crusty

Italian Baguette

((Cut into ¾" thick slices))

12

oz.

Tenderloin Filet

(The best you can afford!)

5

oz.

Asparagus Tips

((28 tips))

8 oz.

Crab Meat

((I use canned))

1

Garlic Clove

Salt

(*to taste)

Freshly Cracked Black Pepper
Bearnaise Sauce
1 stick

(8 tbsp)

Salted Butter, melted

1

Small

Shallot

((Minced))

2

tablespoon

White Wine Vinegar

1

tablespoon

Tarragon

((Chopped))

2

Large

Egg Yolks

2

Tbsp.

Lemon juice

1

Tbsp.

Honey

(*Optional)
Instructions
Lay your sliced bread onto a baking sheet and brush or drizzle both sides with butter. Season with salt and pepper. Place under the broiler until tops are lightly browned. Remove and immediately rub your peeled garlic clove onto each slice. Set aside.

Dry your filets with a paper towel and season WELL with salt and pepper. Place a heavy saute pan over high heat until it gets very hot. Add, 2-3 tablespoon of butter to the pan and immediately add your filets swirling the butter around each filet using the pan handle to do so. Don't move your filets! Wait about 4-5 minutes and flip when one side starts to brown. Allow the other side to sear until nicely browned. Internal temperature should reach about 140 degrees for medium steak. Take off heat and set aside. Slice filet very thinly right before your ready to assemble.

To make your Bearnaise sauce, add 2 tablespoon of butter to a sauce pan over medium heat. Add your shallots, vinegar and tarragon. Simmer for about 5 minutes to allow the shallots to soften and vinegar to cook off. Don't let the shallots burn! Turn off heat and allow to cool.

While cooling, cook your asparagus according to directions (if using a steam bag). Otherwise, bring salted water to a boil in another sauce pan and toss in your asparagus for a few minutes (until just cooked through) not too soft! Rinse with ice cold water and then cut into desired length. Set aside.

Add your egg yolks to the shallots and whisk to mix. Turn the heat back on to the lowest setting. While whisking, stream in the REST of your melted butter slowly until fully incorporated. Whisk your butt off making sure to scrape the bottom of the pan. The sauce will slowly start to thicken as the eggs cook.

Once the sauce is thick enough, (think creamy soup) turn off the heat. Finally, whisk in your lemon juice (and honey if using), add salt and pepper to taste. Set sauce aside. *Your sauce will thicken as it sits. If needed, add a little water to loosen up.

When ready, start to assemble your crostini directly on your baking sheet. Place one to two slices of filet onto each followed by two asparagus spears, then a spoonful of the crab meat. Cover with tin foil and place in a 350°F oven until all components are warmed through (about 10 minutes). The bottom of the crostini will also get a chance to crisp up! Take out and place on serving platter with sauce drizzled generously over each.
Recipe Notes
Tips*
You can make the componenets AHEAD of time even the sauce. Then refrigerate until ready to assemble crostini! (toast the crostini the day of so its not stale)
Use

clarified

butter if you don't want a smokey household from searing your filets. Clarified butter is butter with the milk solids removed. To remove them, melt the butter in the microwave or in a saucepan and scoop off the white foamy part that rises to the top. The yellow butter in the middle is what you want!
Nutrition
Serving:
2
crostini
|
Calories:
278
kcal
|
Carbohydrates:
4.7
g
|
Protein:
19.7
g
|
Fat:
19.5
g
|
Saturated Fat:
10.5
g
|
Cholesterol:
157
mg
|
Sodium:
329
mg
|
Potassium:
248
mg
|
Fiber:
0.5
g
|
Sugar:
3
g
|
Calcium:
110
mg
|
Iron:
2
mg