This irresistable sour cream potato salad recipe is what your next BBQ or cookout NEEDS! Made with tender potato chunks, tangy sour cream, and a medley of diced celery and chives, this twist on your classic potato salad is absolutely delicious!
I am happy to share that I partnered with Dairy Council of Florida to bring you this deliciously creamy side dish!
Although it originated in Germany, Americans have adopted potato salad as a outdoor side dish MUST HAVE! Unlike German-inspired potato salads that are served hot with no mayo, this American version is the opposite!
Potato salads are one my favorite side dishes to serve during the summer. Being that you can make it in advance and serve it cold, it's my favorite type of recipe to serve when entertaining.
Potato salad pairs so well with burgers, hot dogs, ribs, chicken, and more.
But this version is made primarily with sour cream so it is a bit different than other potato salads. It still has a bit of mayo in it to maintain those traditional potato salad flavors but it doesn't hit you in the face.
When I first tested this recipe, I fell in love. To be honest, I was surprised at how delicious it turned out the first time around. It has the perfect combination of sweetness, tanginess and creaminess. You will LOVE it!
Jump to:
What Are The Best Potatoes To Use
The best potatoes for potato salad are typically those with a waxy texture.
These potatoes hold their shape well when cooked and have a smooth, creamy texture, making them ideal for salads.
These potato varieties are less starchy compared to russet potatoes, which makes them less likely to fall apart or become mealy when boiled. When making potato salad, it's important to choose a potato variety that suits your preference for texture and flavor.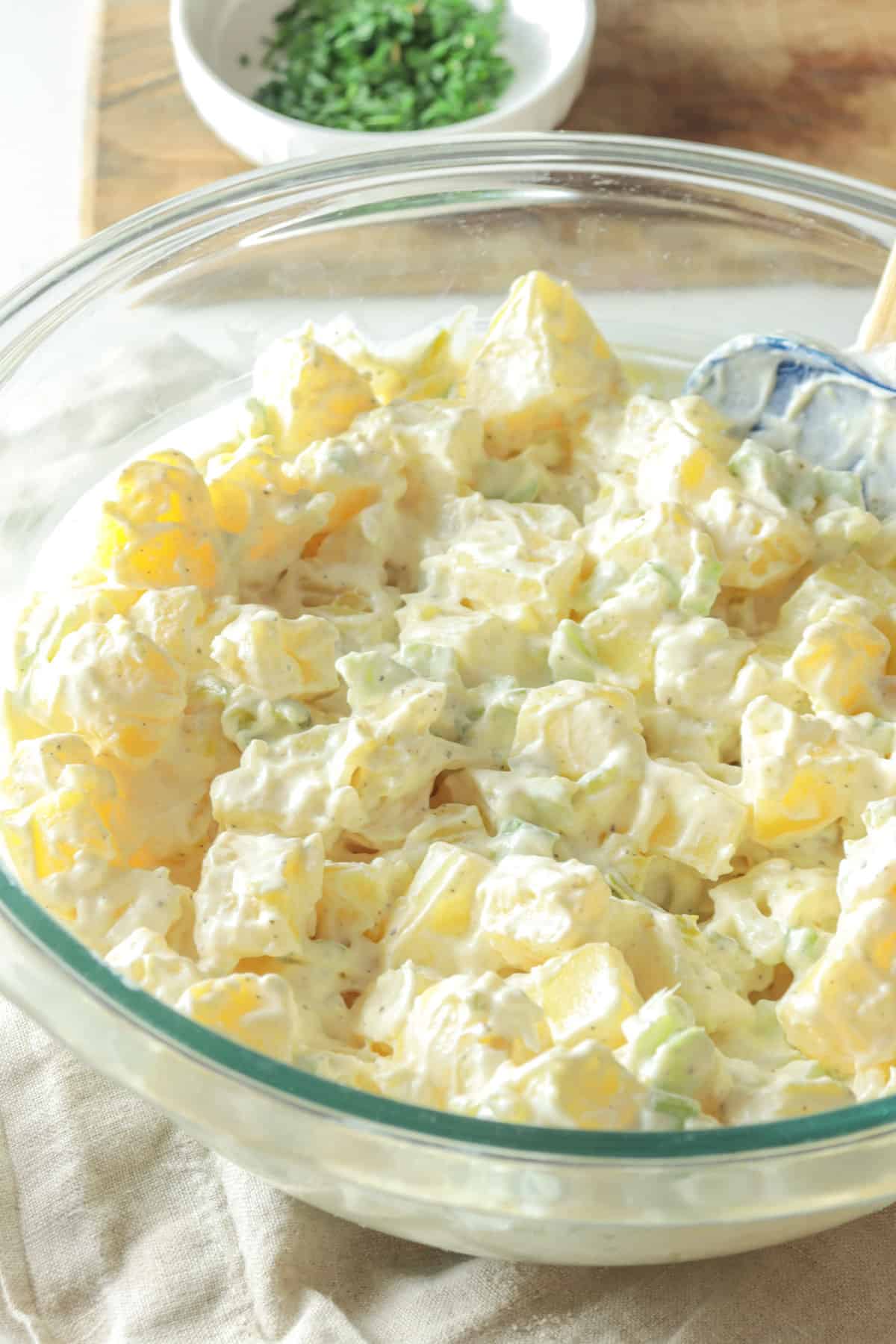 Tips For Making Potato Salad
Consistent Potato Size: Cut the potato cubes into uniform sizes to ensure even cooking. This way, you'll have tender potatoes that are cooked through.
Salting the Boiling Water: Adding salt to the boiling water when cooking the potatoes helps to season them from the inside out. It's essential for bringing out their natural flavors.
Don't Overcook: Keep a close eye on the potatoes while they're boiling. Overcooked potatoes can become mushy, affecting the texture of the salad.
Cooling the Potatoes: Allow the cooked potato cubes to cool slightly before mixing them with the dressing. This prevents the potatoes from absorbing too much moisture from the dressing.
Creamy and Tangy Balance: Adjust the ratio of sour cream and mayonnaise to achieve your preferred level of creaminess and tanginess. You can add more sour cream for a tangier flavor or more mayonnaise for creaminess.
Dijon Mustard and Relish: Dijon mustard adds a nice tang and depth of flavor, while sweet relish contributes a hint of sweetness and crunch. Adjust the amounts based on your taste preferences.
Sugar Balance: The small amount of sugar helps balance the flavors and cuts through the tanginess. Adjust it to your liking, especially if you prefer a sweeter or less sweet salad.
Chilling Time: Let the potato salad chill in the refrigerator for at least an hour before serving. This allows the flavors to meld together and the salad to reach its optimal temperature.
Gentle Mixing: When combining the dressing with the potatoes and vegetables, use a gentle folding motion. This preserves the texture of the potatoes and prevents them from breaking apart.
Chives Garnish: Save some minced chives for garnishing before serving. The fresh chives add color and a burst of oniony flavor to the dish.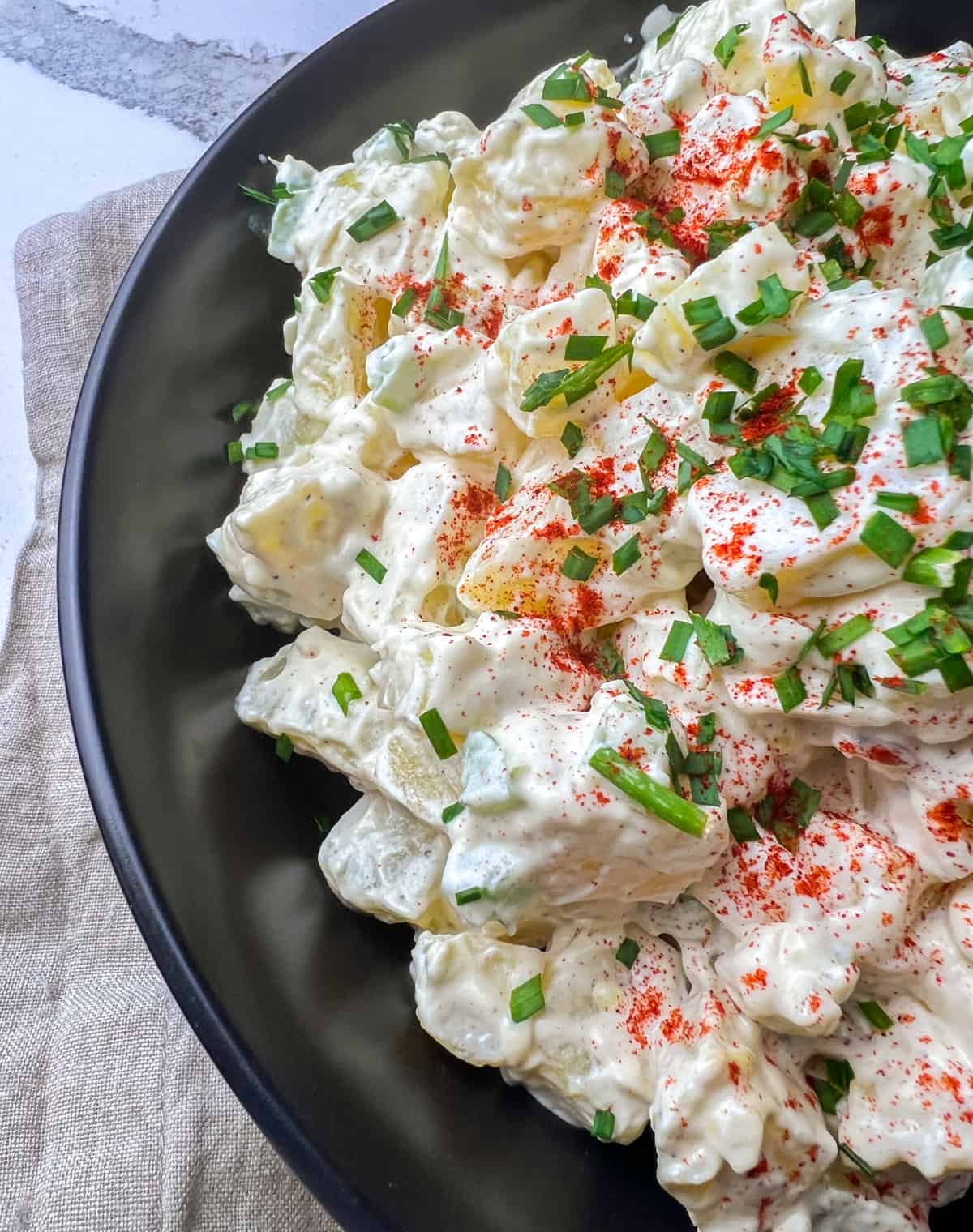 Variations & Substitutions
1. You can use mini potatoes or fingerling potatoes if you wish.
2. You can substitute dijon mustard for yellow mustard although the taste will be slightly different.
3. You can swap the chives for scallions.
4. You can use any kind of onion you prefer.
5. Feel free to mix in dill, parsley, or another herb if you wish.
Common Potato Salad Mistakes
Overcooking the Potatoes: Cooking the potatoes for too long can result in a mushy texture, which is not desirable for potato salad. Be sure to test the potatoes for doneness and avoid overboiling.
Undercooking the Potatoes: On the other hand, undercooked potatoes can be hard and unpleasant to eat. Make sure the potatoes are tender but not falling apart.
Using the Wrong Potato Variety: Choosing the wrong potato variety can lead to a texture that's too mealy or crumbly for potato salad. Opt for waxy potatoes like Yukon Gold or red potatoes for the best results.
Not Cooling the Potatoes: Adding the dressing to hot potatoes can cause the dressing to become absorbed too quickly, resulting in a less flavorful salad. Allow the potatoes to cool slightly before mixing.
Overmixing: Overmixing the potatoes with the dressing can cause them to break apart and become overly mushy. Gently fold the ingredients together to maintain the potato's texture.
Using Too Much Dressing: Adding too much dressing can make the salad overly soggy and overpower the flavors. Start with a little dressing and add more as needed.
Underseasoning: Potato salad can be bland if not properly seasoned. Be sure to taste and adjust the seasoning to your liking. Don't be afraid of SALT!
Not Adding Fresh Herbs: Fresh herbs like parsley, chives, or dill can add a burst of freshness to the salad. Don't skip these, as they contribute to the overall flavor.
Using Low-Quality Mayonnaise or Sour Cream: The quality of your mayo and sour cream affects the overall taste of the salad. Choose a good-quality brand for the best results.
Not Letting the Salad Rest: Allowing the potato salad to rest for a little while before serving helps the flavors meld and ensures a more enjoyable eating experience.
FAQ's
Can I leave the skins on my potatoes?
Yes if you prefer more of a rustic salad. Just make sure the potatos you use have thin skins unlike russet potatoes.
Can I add eggs?
Yes. Hard boiled eggs are something to consider adding as many people like them in potato salads.
Why is my potato salad soggy?
You may have over boiled your potatoes OR you did not allow them to fully evaporate and drain before adding your dressing.
Other Side Dishes To Try!
📖 Recipe