This fun 4th of July drink is a beautiful, sweet, fruity and refreshing cocktail or mocktail to serve guests this July 4th! The slushy red, white and blue layers offer different flavors as they take a sip of America's most festive drink!
I am happy to share that I partnered with Dairy Council of Florida to bring you this festive patriotic drink!
This patriotic layered drink is very similar to my other red, white and blue drink but instead, it's frozen so the ingredients of two layers are a little different!
How this frozen drink differs:
The red layer is made with frozen strawberries which add a fresh and delicious daquiri-like flavor!
The white layer is made with a creamy, tangy layer of vanilla yogurt. The yogurt adds creaminess and some protein which is something I appreciate especially if the kiddos are sipping it! It's kind of like sipping on frozen yogurt!
Ingredient Tips
Frozen strawberries: These are a must to getting that slushy texture. But you can add more ice if you're using fresh strawberries.
Yogurt: I suggest using your favorite yogurt. I recommend a full fat vanilla yogurt to ensure it's super thick and creamy in the middle.
Grenadine: This is a sweet red syrup that is alcohol free.
Blue curacao: There is a blue curacao syrup (alcohol free) and a blue curacao liqueur (for the adults). You can purchase the syrup to save money and they simply add alcohol to it as another alternative.
Liquor: I used coconut rum and Bailey's in this drink because it works but you can see my other suggestions below!
Ice: You will need lots of ice to make it slushy! I recommend crushed ice as it will be easier to blend up!
Layering Tips
Use a larger spoon to neatly add each layer and smooth it out. Since grenadine is usually heavier density-wise, I like to add the red layer on the bottom.
Note* As the drink sits (more than an hour), the white and blue layers will start to sink a bit too. It's best to serve and enjoy right away.
Blender Tips
If you do not have a good blender, it might be difficult blending the layers into a smooth consistency. I recommend this small blender if you don't want to splurge on an expensive one. It gets the job done very well and comes with different mixing cups (get 3!).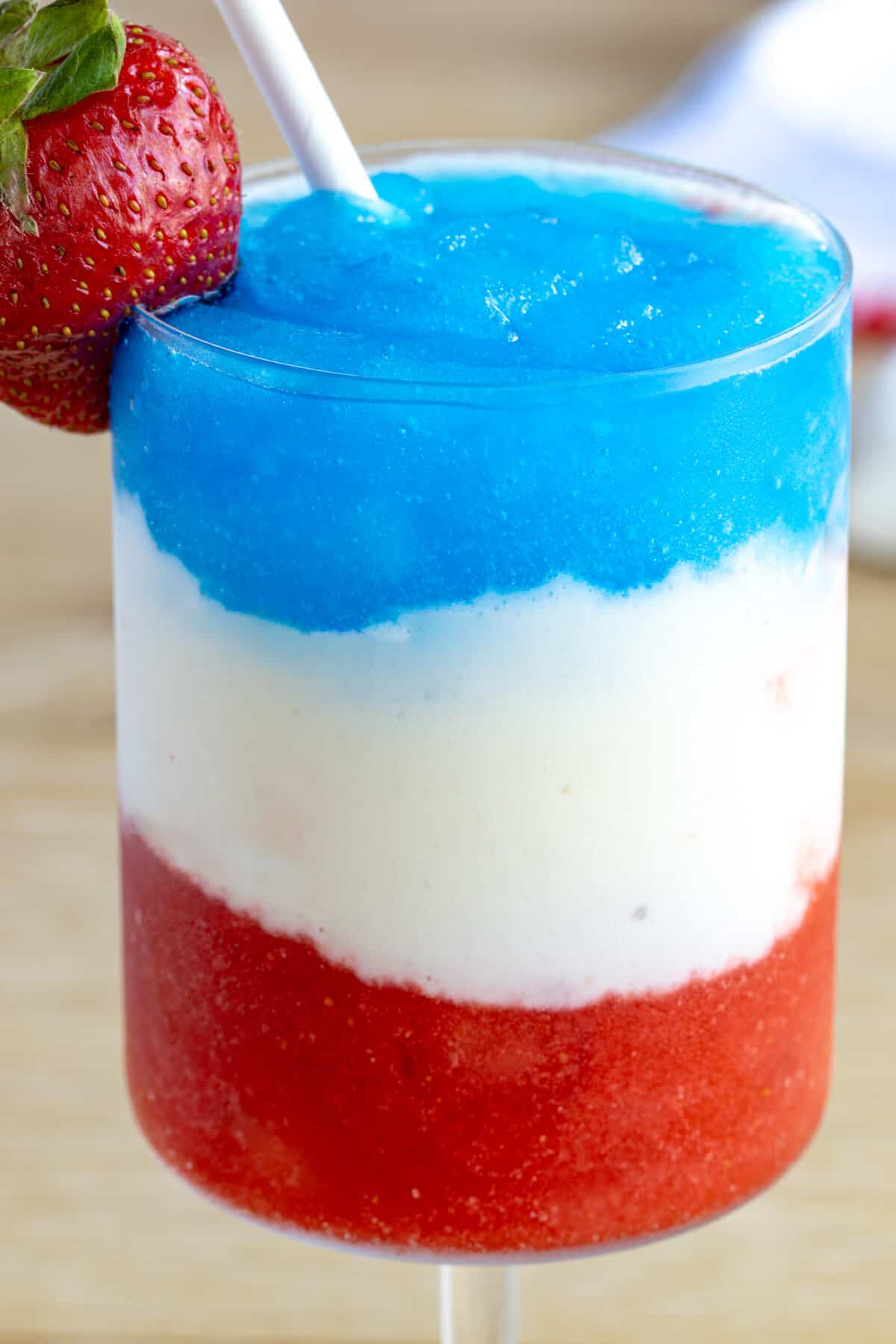 Alcohol Options
I love rum in frozen drinks but you can substitute vodka if you prefer! Flavors liquors are also a great option. Here are some favorites:
Pineapple rum
Mango rum
Strawberry vodka
Bailey's (for the white layer)
Raspberry vodka
Make It Kid Friendly!
It's easy to make this for kids too! Just swap out any liquor for WATER or MILK/CREAM for the Bailey's in the white layer and blend away! 🙂
I always keep these fun bendy straws in the house! The kids love them and they're perfect for this drink.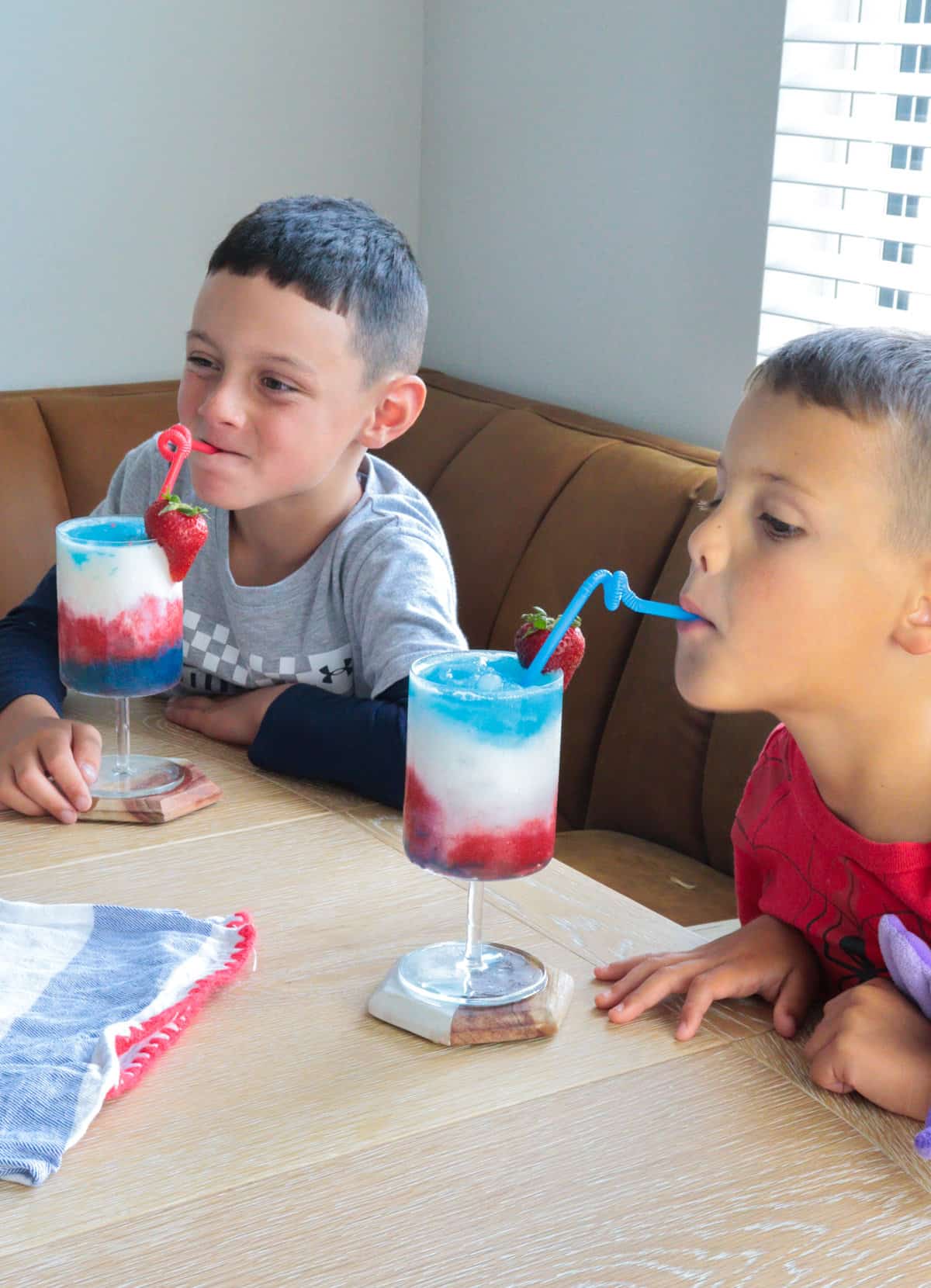 How To Make This Drink In Advance
The tedious part of this drink is blending each layer. But once that's done, it's fun to layer up!
I suggest making a double or triple batch of each layer an hour or two before and store it in the freezer. If you have the Ninja Bullet or any smaller blender with it's own mixing cup, it's easy to pop each red, white and blue mixture back on the blender without transferring them and washing.
Other Drinks That Serve A Crowd
Margarita Pitchers Recipe (For 14 People!)
Other 4th Of July Recipes to Make
📖 Recipe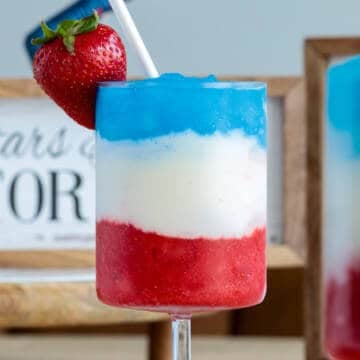 Ingredients
Red Layer
1

oz.

grenadine syrup

10-12

frozen strawberries

½

cup

ice, crushed
White Layer
⅓

cup

vanilla yogurt

⅔

cup

ice, crushed

1

oz.

milk or cream

(*or Bailey's for adults)
Blue Layer
3 ½

oz.

blue curacaro syrup

(*or blue curacaro liqueur for adults)

¾

cup

ice, crushed
Instructions
Add ingredients for each layer into a blender and puree until smooth.

If any layer is too thick and cannot blend well, add more liqueur or water (for the kiddos) to get it moving in the blender.

Add red, white and blue layers to separate freezer-proof cups and store in the freezer until ready to layer and serve!
Recipe Notes
Making Your Drink In Advance:
*If freezing for more than 1 hour, the contents will solidify transfer to the fridge for a bit.
*Another option is to add the ingredients for each layer to a separate cup and have that ready to go before guests arrive.
Then just add ice and blend right before serving!