Are you looking for something fun to do with your friends, coworkers or family? If so, an adult scavenger hunt is the perfect activity! Scavenger hunts are great for any location and can be customized to fit any group size. So grab all the clues, checklist and a team, and let's get hunting!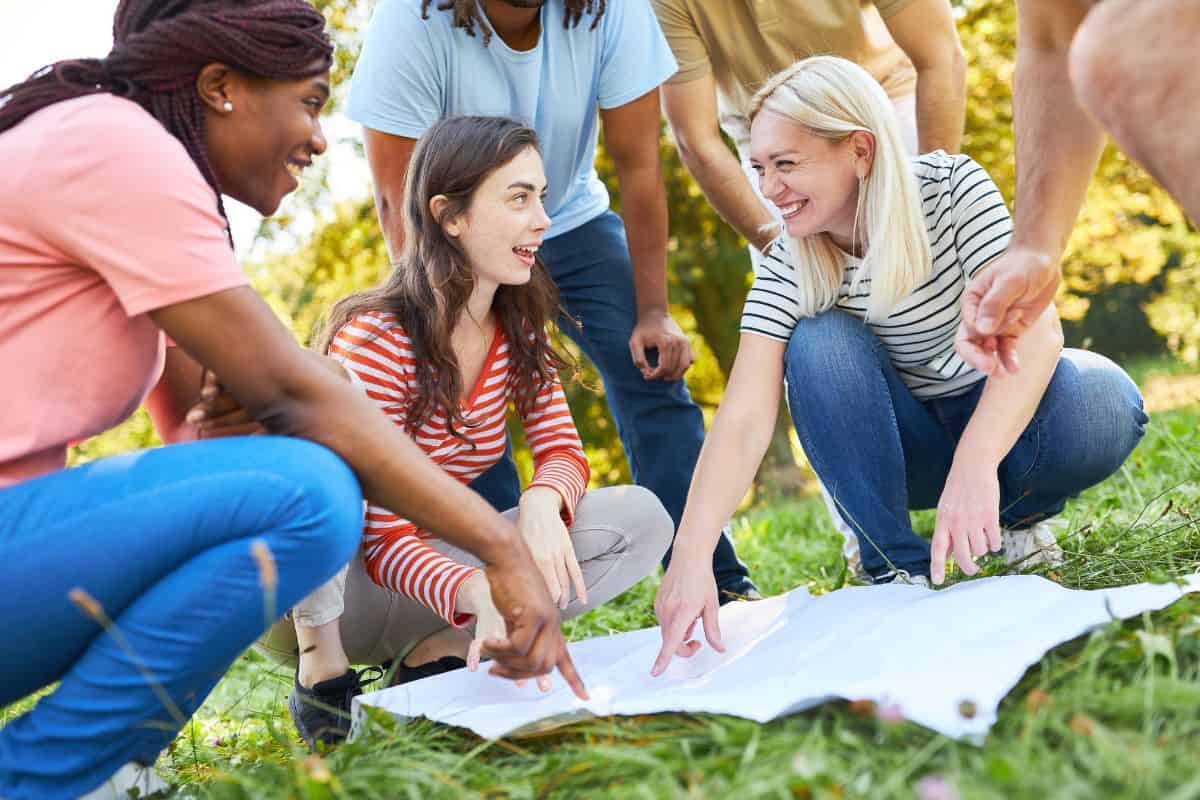 Two Types Of Scavenger Hunts
A scavenger hunt is a game that's typically played putdoors requiring players to find random items. You can play this TWO ways!
One way to set up a scavenger hunt is to create/print a list of miscellaneous objects you know are in the area of the hunt. Participants are required to check items off the list as they find them. The first ones to do this WIN! This method is easier on the host and is ideal for a larger area and a lot of people.
The second way is a bit more time consuming but can be much more tricky! Leave clues for the players around the hunted area guiding them from one clue to the next. Sort of like a treasure hunt! At the end, have the prize or final clue claim the winner. This is best played with a smaller group of people.
Scavenger Hunt Must Haves
Before beginning ANY scavenger hunt, make sure everyone has a list of items needed to be found OR a list of rhyming clues a camera (or phone) for taking photos, a pencil to scratch off items, and a team or teammate!
Scavenger Hunt Clues
These clues can be edited as needed since they depend on the LOCATION of the hunt.
This hunt will be fun you see, let's take our time and make some tea.
Did you hit a wrinkle? Just wait, I need to tinkle.
Wow this is a big house! Way to big for a lil' ole mouse.
Dinner's ready! Let's eat! If you want a clue, then take a seat! (Dining room chair)
One of me per day keeps the doctor away. (Apple)
I can't mix batter, but I can bake a cake. (Oven)
I come in pairs, I'm easy to lose, I go between your feet and your shoes. (Socks)
Looking for the next clue? Don't get stressed. Find the clue where you get dressed!
There's no clues to be seen! Why don't you grab some caffeine?
This game is just getting spicy! The next clue is a bit icy.
I'm sure you all tried, but look harder! The next clue needs to be dried.
My favorite colors is light pink. Pe-eew! What's that stink?!
This game is just getting groovey, let's take a break to watch a movie.
Finding the last clue broke my back. What would make it better is a little snack.
No clue want's to be seen. Grab a mop and let's just clean!
Shh, don't make a peep! It's time for us to sleep.
This game is such hard work! If I work any harder, I may go berserk!
 This type of treasure hunt is the most simple and easiest. Simply hide items around your city, neighborhood or even inside your own home and have teams search for them. You could hide small trinkets like erasers, jewelry, coins, or keys. The team that finds the most items wins!
Neighborhood Scavenger Hunt Adults
A scavenger hunt for adults can be a great way to explore the area surrounding your neighborhood! From sidewalks and parks to local businesses and historical sites, there's so much to discover.
For your adult-oriented scavenger hunt, look for things like:
sculptures
garden gnomes
wind chimes
bird baths
planters with interesting foliage
tiny local shop
outdoor bench
wooden fence
street sign with an adjective
graffiti art
interesting doors
red roses
vines growing on houses
porches with rocking chairs
cute mailboxes
With the right eye and a willingness to explore, you'll have plenty of items checked off your list in no time!
Things to find in an office scavenger hunt
An office scavenger hunt may start out as a relatively dry task, but working to unearth all the hidden goodies can be surprisingly fun. Your team may have to search high and low throughout the office - no stone should be left unturned because you never know what trinkets yu might find!
Here are some items you can add to your list:
Desks with locked drawer
Pens that are not blue, black or red
Blue post-it note
Coffee creamer packet
Clipboard
Pink, yellow, orange highlighter
Ruler
Yellow notepad paper
Wired mouse
AA Battery
Door stop
Staple 2 different colored papers together
Selfie with a secretary
Selfie with company logo
A photo with 4 children
Photos with 3 different exit signs
Things To Find In A House Scavenger Hunt
This one's great for an evening spent with friends or family - funny how it always seems like the most interesting things in a home are tucked away in the least expected pla
es! Have your team search through all of the nooks and crannies of each room to find items around the house.
Items to househunt for are:
Remote control
1 nickle
Glass vase
Piece or crystal
Book published earlier than 1960
D battery
Dustpan
Rotting fruit or vegetable
Stale bread
Dead bug
Silly straws
Chopsticks
Lint roller
Antique item
How To Plan An Outdoor Scavenger Hunt
If you're looking for a scavenger hunt to take outdoors, the possibilities are endless! Use your imagination and pick a theme - it could be anything from finding items with certain colors or shapes to hunting for clues that are simply in nature.
Some items to add to your list are:
Specific trees/leaves: maple, oak, birch, etc.
Pinecone
Wildflower
Photo of water
Animal
Tree wider than 2 feet
Photo hugging a tree
Leaf larger than your hand
Smooth rock
Bird nest
Dead tree
Spider web
Hole in tree
Litter
Gather up all the necessary supplies such as maps and compasses (if needed), snacks, backpacks, water bottles and flashlights before heading out into nature for some good old-fashioned treasure hunting!
How To Plan A Beach Hunt
A beach scavenger hunt is a great way to spend an afternoon with your friends or family. Depending on the age of the participants, you can customize the list of items to search for!
Here are some fun beach finds:
Whole seashell
Round rock
Photo with a sandcastle
Sea glass
Any sea animal (dead or alive)
Sunscreen
Seaweed
Selfie making a sand angel
Flag
Selfie on lifeguard stand
Selfie jumping in the ocean
You could even have teams race each other to find all the items first! Make sure to pack plenty of sunscreen and water bottles, as well as extra snacks and bug repellent if needed. Once everyone's ready, it's time to hit up that sandy shoreline and start searching
Plan A City Scavenger Hunt
If you're looking for an urban adventure, a city scavenger hunt is the perfect choice. Pick a vibrant neighborhood and create a list of items to search for - from street signs and art installations to interesting storefro
ts and quirky eateries. Nothing beats discovering all sorts of new sights while exploring with friends or family. Make sure to dress comfortably, bring your camera or phone so you can take pictures of your finds, and don't forget some cash in case you discover anything worth buying! With enough exploration, the city will soon become your playground.
Items to hunt for in the city:
Monument
Museum
Street sign of a famous person
Scooter
Food truck
Park bench
Old house
Taxi
Someone drinking something
Cute dog
Couple holding hands
Man in a suit
Briefcase
Someone riding a bike
Trolley
Scooter
Plan A Nighttime/Camping Scavenger Hunt
For those looking to add an extra layer of challenge to their scavenger hunts, try taking it into the night!
Depending on where you are, you can search for things like:
Stars
Fireflies
Spotlight
Solar lights
House with no lights on
House with an 2nd floor light on
A stick longer than your arm
A living bug
A purple flower
Photo laying on a bench
If there are any night markets in the area, these can be great places to find unique items and buy some snacks along the way. Make sure to bring plenty of flashlights and perhaps some glow sticks if you plan on going out after dark.
With a little bit of luck and some detective skills, you'll be able to find all sorts of interesting things!
How To Plan A Mall Hunt
Organizing a mall scavenger hunt can be a great way to spend an afternoon with friends or family. You can customize the list of items from store-specific items, colors and shapes to fun prizes that you'd like to find.
Make sure to bring plenty of cash for any potential purchases and some snacks for the journey. With enough exploration and creativity, you'll soon be able to make it through the entire mall without missing anything!
Potential Mall Finds:
Purchase a coffee
Take a selfie with a manaquin
Take a photo going down the escalator
A blue sweater
An coupler holding hands
A baby in a stroller
A 40% off sale sign
An exit sign
A buy one get one FREE sign
Take a selfie with a store manager
Take a selfie throwing a coin into a fountain
Purchase a soft pretzel
Take a selfie trying on sneakers
Host A Virtual Scavenger Virtual Hunt
In these uncertain times, it can be difficult to get together with friends and family for a traditional scavenger hunt. Fortunately, there are still plenty of ways to make the experience fun and engaging by hosting a virtual scavenger hunt!
You can create a list of items or tasks that each person needs to complete at home or in the office.
Some items to throw on the hunt list are:
- from taking pictures of certain objects in their home to creating funny videos or stories. Make sure everyone has access to whatever devices or tools they might need before starting the game. With some creativity and lots of laughs, you'll soon have an entertaining evening on your hands
coffee mug
remote control
face mask
herbal tea
hand sanitizer
magazine from last year
frozen peas
puzzle
a queen of hearts
light beer
something noisy
something that smells good
a piece of art
something furry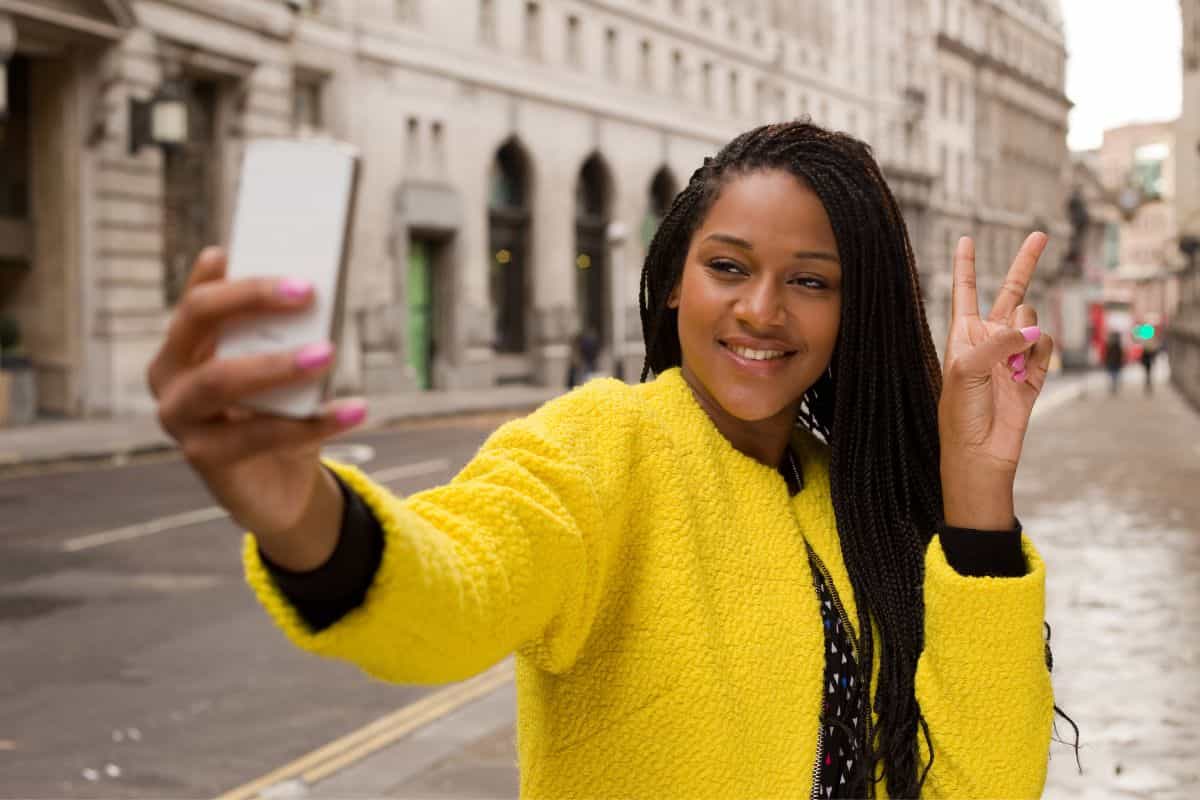 How To Plan A Photo Hunt
One of the most unique ways to experience a city is through photography. A photo scavenger hunt can be a great way to explore the area and capture all its beauty in a unique way.
Create a list of items or places you'd like to photograph.
Street art
Cafe
Sunset
Beautiful tree
A bug
Moon
Water fountain
Person walking
Make sure to pack all the necessary supplies such as cameras, lenses, tripods and any other accessories that might help with your photographs. With plenty of exploration and creativity, you'll soon make some stunning photos!
Conclusion
Scavenger hunts are always great ways to have some fun with friends, colleauges or family. Whether it's exploring for interesting items in your hometown or discovering hidden gems in nature, there are so many different ways to create a unique and memorable scavenger hunt experience.
Make sure to plan ahead, pack all the necessary supplies, and be prepared to have some fun! With enough creativity and exploration, you'll soon discover plenty of amazing things along the way! Good luck on your next scavenger hunt adventure!
Other activities you might like:
23 Fun Party Theme Ideas For Adults