These Spinach and Feta Phyllo Cups are one of my favorite phyllo cup appetizers! They are "no bake" and can be ready in under 15 minutes!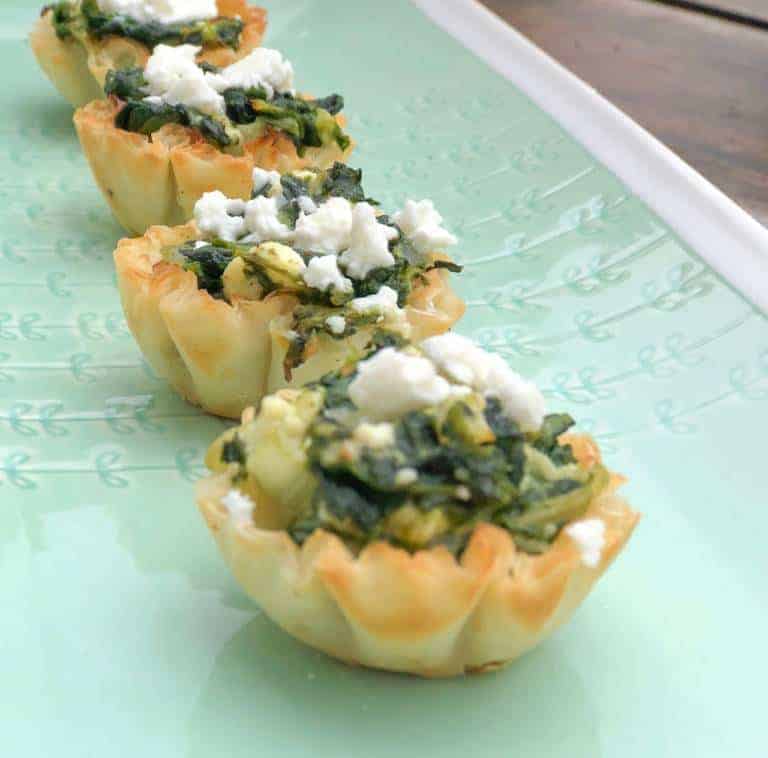 I made these creamed spinach phyllo or "filo", cups for a bridal shower last weekend and they were a big hit! I am, of course, always searching for quick and easy appetizer ideas that are not only delicious but are also considered an ideal "MAKE AHEAD" appetizer and these were a winner!
Spinach Feta Phyllo Cup Ingredients
phyllo shells- Purchase store-bought shells for a quicker recipe!
spinach- I use frozen chopped spinach! It works best for this recipe.
feta cheese- Greek feta served in a water brine is what I recommend as its miuch creamier.
onions- White or sweet yellow onions.
garlic- Fresh garlic is best.
cream- Heavy cream adds a creaminess and moisture to your filling so it doesn't dry out.
spices- I use nutmeg as one of my spices since it goes so well with spinach.
How To Make The Spinach Feta Filling
The filling is VERY similar to that of spanakopita filling.
Spanakopita is a Greek phyllo pie recipe made with spinach and cheese. In fact, that dish is what inspired this recipe. They are SO delicious.
Spinach with feta to me, is a match made in heaven.
So place that creamy filling in a buttery phyllo shell and you will be popping them like there's no tomorrow.
Steps:
Step 1: Sauté your onions and garlic.
Step 2: Add spinach (I like to use frozen spinach because of how convenient and CHEAP it is!
Step 3: Add your cream and spices and mix until combined.
Step 4: Mix in your feta cheese and add to phyllo cups! Serve warm.
Phyllo Cups
A phyllo cup is simply a cup made out of phyllo dough. Phyllo dough is a very, very thin pastry dough that is super flaky.
They are sold pre-packaged in the freezer aisle of most grocery stores!
They are perfect for making so many bite-sized treats! Especially desserts!
**If you haven't tried these yet, you need to! My Easy Strawberry Cream Cheese Phyllo Cups are one of my most popular recipes to date!
You can again, purchase the pre-made shells like I used for this recipe OR you can make your own like I did for the strawberry dessert I linked above.
How To Make Homemade Phyllo Cups
Okay so you have TWO phyllo cup options here...
Buy Pre-baked Cups
15 cups for $3.50
They have pre-baked phyllo cups or "shells" you could literally just thaw a fill which would turn this appetizer into a 10 minute one! The only thing is the package comes with 15 cups for $3.50. Keep in mind they are small! If you want to prepare a lot of these fast, they are perfect.
Buy Phyllo, Cut and Bake Yourself
36+ cups for $3.50
I did not make my own for this recipe but it is a cheaper option. Yes it takes a tad more effort but I think they look better and taste better. You also will save money and have more bang for your hard earned buck!
Math teacher time...(Fun fact* I taught math for 10 years!)
So the Athens brand of phyllo is the most common phyllo dough brand I have come across and I love it. If you don't have access to this brand, that's okay.
Any brand will work since it is always cheaper than buying pre-made cups. They sell phyllo in 1 lb. packs. Either in one 12 x 17" roll or two 9 x 14" rolls. Both packages contain 1 pound of dough.
Either way, you should be able to get at least 36 cups (4 rows of 5 for the large one and 3 rows of 4 for the smaller) if you cut your cups using a 3" ring give or take!
A 1 lb. phyllo package is also about $3.50 and should give you at least 36 cups!
Can I Make This Ahead of Time?
Yes!!
Isn't it is SO hard to find a delicious make ahead appetizer? You have to consider how you will keep everything fresh, how you will transport the food, keep it warm, and of course how you will reheat the food without it drying out.
Most appetizers can get very dry when reheated so that is something that I always think about before bringing food anywhere.
The GOOD thing about these cups is that you don't need to worry about drying them out because they come pre-baked!
All you need to do is make the creamed spinach filling and fill them up. Then when you get to your destination or when guests arrive, you can pop them in the oven to warm up!
Can I Freeze These?
You can fill them and freeze them if you want to make them days or even weeks ahead of time. The filling when thawing will be a bit watery so I suggest not thawing and placing directly into the oven from the freezer.
You may also like these party appetizers:
27 Easy Phyllo Cup Appetizer Ideas
Burrata and Pepper Phyllo Cups

Spinach and Feta Cheese Triangles
Easy Bruschetta Caprese (With Mozzarella)
Recent AGT Posts:
---
📖 Recipe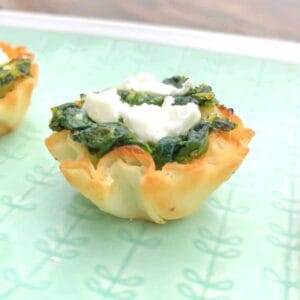 Creamy Spinach and Feta Phyllo Dough Cups
These Creamed Spinach and Feta Phyllo Cups are one of my favorite appetizer recipes to date! They can be ready in just under 15 minutes! I have no doubt they will quickly become your favorite make-ahead appetizer for any party or gathering!
Print
Pin
Rate
Ingredients
1

package

premade phyllo shells (15 shells)

2

cups

Frozen Chopped Spinach (16 oz.)

((defrosted and drained))

3

oz.

Good Feta

1

Medium

White Onion

(Finely Diced)

1

Large

Garlic Clove

3

Tbsp.

Heavy Cream

¼

Tsp.

Nutmeg

⅛

Tsp.

Salt

⅛

Tsp.

Pepper

¼

Cup

Olive Oil
Instructions
Saute onions in the oil over medium-low heat until translucent. (About 7-8 minutes.) Do not brown. You just want to cook them through and bring out their sweetness. Turn down heat if they start to brown.

Add minced garlic and saute for 1 minute.

Turn up heat to high and add defrosted spinach, salt, pepper, nutmeg and cream. Mix together and after another minute, take pan off heat.

*If mixture looks dry, add more cream! Keep it mind, the filling will dry out a bit more as it bakes so it should be creamy going in.

Crumble 2 ½ oz. feta cheese and mix into the spinach mixture. (Leave the rest aside for topping.)

Fill pre-baked phyllo cups nice and full and top with the rest of the feta crumbles. Serve right away OR store in your fridge or freezer and reheat for 5-10 minutes at 350° F.

*If making your OWN phyllo cups, use a mini muffin tin and add your phyllo rounds to each tin. Fill then bake for 15-20 minutes at 350° F or until edges are golden brown.
Recipe Notes
Tips
The pre-made phyllo cups do not need to be baked however I will often throw them in the oven for 5 minutes after filling, just to get them extra crispy.
If you are making your own phyllo cups, you will a mini muffin tin and will need to bake these for at least 15 minutes or until edges have browned.
You can freeze these with the spinach filling in them and have them ready to serve at any time! Just pop them in the oven at 350 F to warm them up.
If you are transporting these to another location/house, I recommend using waxed paper or aluminum foil in between each layer of cups. This way you can stack your cups in one container.
Nutrition
Serving:
0
g
|
Calories:
194
kcal
|
Carbohydrates:
27
g
|
Protein:
5.5
g
|
Fat:
0
g
|
Polyunsaturated Fat:
0
g
|
Monounsaturated Fat:
0
g
|
Trans Fat:
17.4
g
|
Cholesterol:
0
mg
|
Sodium:
324
mg
|
Potassium:
0
mg
|
Sugar:
2.1
g
|
Vitamin A:
0
IU
|
Vitamin C:
0
mg
|
Calcium:
0
mg
|
Iron:
0
mg