Apple Cider Sangria takes that delightful fall feeling up a notch with a refreshing twist. This sangria is all about blending crisp apple cider with the elegance of white wine, making it the perfect cocktail for those brisk autumn nights. So, whether you're unwinding by the fire pit or hosting a relaxed fall get-together, this sangria will be a crowd favorite! Cheers to fall, y'all!
Apple Cider Sangria?! Yes please!! It's almost as good as my apple martini!
I couldn't think of a better way to embrace the fall vibes with a drink in hand! I'm talking about mixing the down-home goodness of apple cider with some fancy white wine, like Sauvignon Blanc or Pinot Grigio.
And if you're feeling a bit daring, you can even throw in a splash of brandy or orange liqueur into the mix! Toss in some apple and orange slices, cinnamon sticks, and maybe even a star anise if you're feeling wild.
Looking for a hot cider? Try my hot mulled cider recipe!
Apple Cider
Apple cider, often referred to simply as "cider" in many parts of the world, is a beloved and timeless beverage with deep-rooted traditions. What makes a good cider lies in the blend of apples each contributing its unique sweetness, tartness, and aroma.
The apples are then pressed to extract their precious juice, which is fermented to perfection, often with the help of natural yeast. The key to an exceptional cider is balance – a balance between sweetness and acidity, a balance between fruitiness and complexity.
How To Mix Up Your Sangria
It's SO easy and fun!
Just toss in your white wine and apple cider into a pitcher, maybe add that brandy if you're in the mood. Drop in some apple and orange slices, plus those cinnamon sticks, and sweeten things up with a bit of maple syrup if you like.
Then let all those flavors get to know eachother in the fridge for a few hours or overnight. Once those flavors mingle you can add a splash of sparkling water for some bubbly fun if you want to right before you serve it up!
How To Serve Sangria
Grab your biggest wine glass, I love huge goblets like this, throw in some ice, pour that sangria, and top it off with fresh apple and orange slices. If you want to get extra fancy, throw in a cinnamon stick or star anise pod!
Sangria Variations
Fall Fruit Medley: Mix in other autumn fruits like pears, cranberries, or even grapes for added flavor and visual appeal.

Spiced Rim: Rim your glasses with a blend of cinnamon and sugar for an extra kick of spice with each sip.

Mulled Wine Sangria: Heat the apple cider with mulling spices (cinnamon, cloves, nutmeg) before mixing it with the wine for a warm and cozy twist.

Citrus Zest: Add some citrus zest (lemon or orange) to brighten up the flavors and give it a zesty kick.

Honeycrisp Apple Sangria: Use Honeycrisp apples for a sweeter and juicier apple variety to enhance the fruitiness.

Bubbly Upgrade: Instead of still white wine, try using sparkling white wine or champagne for some effervescence.

Maple Syrup Sweetener: Swap honey or sugar with maple syrup for a richer, fall-inspired sweetness.

Caramel Drizzle: Drizzle a little caramel sauce into the glass or better yet, use a caramel vodka for a decadent treat.

Ginger Infusion: Infuse the sangria with slices of fresh ginger for a spicy and warming element.

Caramel Apple Variation: Consider using caramel-flavored vodka or schnapps for a caramel apple-inspired sangria.
Other fall recipes you will like!
📖 Recipe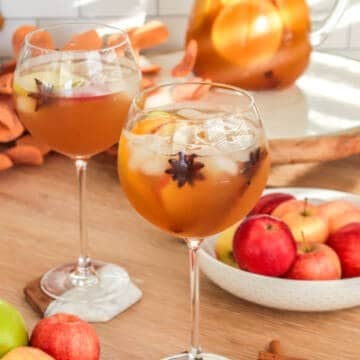 Apple Cider Sangria
Apple Cider Sangria takes that delightful fall feeling up a notch with a refreshing twist – WHITE wine. This sangria is all about blending crisp apple cider with the elegance of white wine, making it the perfect drink for those brisk autumn nights.
Print
Pin
Rate
Ingredients
4

cups

white wine, Pinot Grigio or Sauvignon Blanc

2

cups

apple cider

(*see note below)

¼-½

cup

brandy

¼

cup

maple syrup

2

apples, red and green

1

orange

4-5

cinnamon sticks

3-4

star anise or whole cloves
Instructions
Add all ingredients to a large 63. oz pitcher.

Slice apples and oranges and toss them in along with the cinnamon sticks, anise and cloves.

Mix well and store in the fridge for at least one hour. Overnight is best to allow the flavors to get to know eachother!
Recipe Notes
*There is a difference between good apple cider and average apple cider. I've found that the best apple ciders are the ones that are not brand name and in glass bottles.
Feel free to add more or less maple syrup for a sweeter sangria.
Using a sweeter wine will make your sangria sweeter. I used a dry sauvignon blanc for this recipe.