This Mushroom & Caramelized Onion Flatbread Pizza recipe is an easy but delicious appetizer for your next party! Make it easy by using store-bought flatbread OR refrigerated pizza dough! Either way, the flavors are spot on and will keep your guests happy!
Throwing a pizza party? Check out these appetizers that pair well with pizza!
This homemade mushroom flatbread and my arugula onion flatbread is one of my favorite appetizers to serve during the earlier hours. I know everyone will love it and I also know it will fill my guest's tummies while waiting for dinner.
Plus, wine goes so well with flatbread! I suggest pairing a bottle of red with this recipe.
If you love mushrooms, try my Mushroom Bruschetta Appetizer or my Italian Clam Stuffed Mushrooms.
Flatbread vs. Pizza Dough
If they were both thrown in the ring, who would win?
Ehhh, I'd put my money on pizza dough only because it has one added ingredient. Something to give it it's 'muscles'.
YEAST!
But like I said, if we're talking about your standard flatbread vs. your standard pizza dough, they are pretty darn identical.
The "flatness" (that should be a word) of the flatbread is just a lack of air bubbles that form in the dough that typically come from yeast.
How to make homemade flatbread using pizza dough
Flatbread and pizza dough taste the exact same but texture-wise, pizza dough is usually chewier and airy whereas flatbread is famously known as having a thin and super crispy texture.
And because we want to make a flatbread appetizer, THIN and CRISPY is our goal.
To achieve this, what you need to do is:
Roll the dough out as

thin

as possible without putting holes in it.

Poke the life out of your pizza dough using a fork. (This does not allow the dough to rise and creates a FLAT bread.)

Brushed both sides of the dough with a little olive oil and sprinkled with salt and pepper. (This helps with browning AND adds flavor!)
That's it! Then I used a sheet pan to bake it on. But if you have a pizza stone, use it! It will help create a super crispy crust.
Using store-bought flatbread
If you don't have time to make, roll and bake your own flatbread, no worries!
You can purchase pre-baked store-bought flatbread or even NAAN bread which I love. They sell flatbread pre-packaged in the bakery aisle. This is the brand I love using and it is the perfect shape!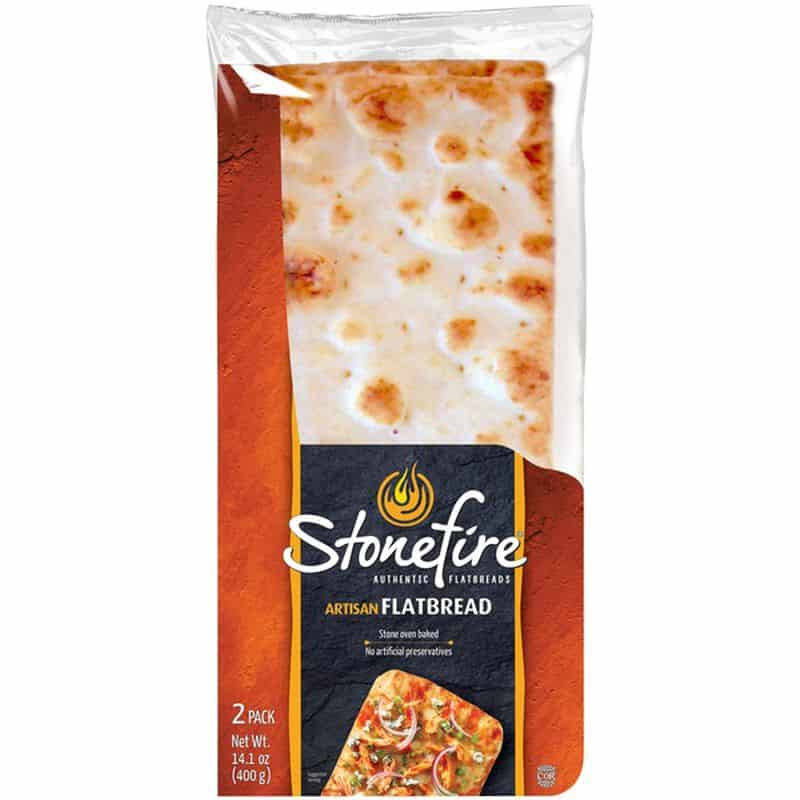 The Toppings
Here are the flatbread toppings I chose to use:
Mushrooms
Onions
Mozzarella Cheese
Thyme
Mushrooms and onions go together so well. Add in thyme, and you are guaranteed to have a winner!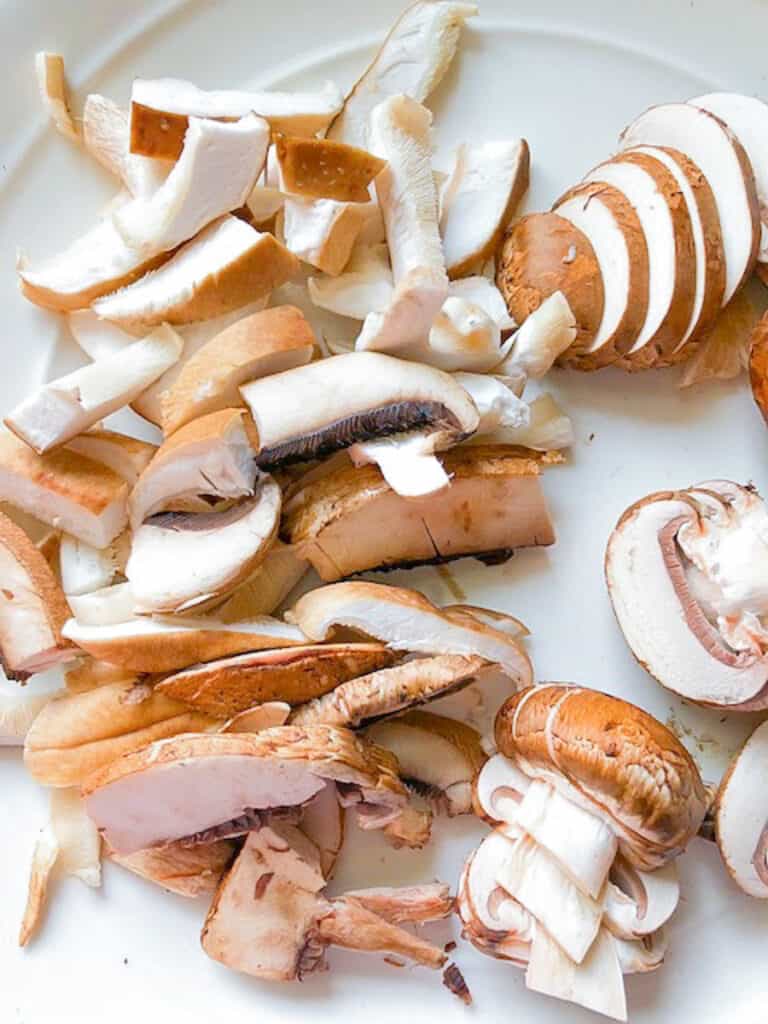 When it comes to the onions, take your time to caramelize them for as long as you can. The LONGER the better!
I would say a minimum of 30 minutes is needed but 45-60 min. is ideal to draw out the most sugar.
If you try to rush the process, you will burn your onions which is NOT what we want. Low and slow heat is required.
Also, know that onions have a lot of water in them so it will look like too many onions at first but they will shrink down A LOT! So don't be afraid to pile them into your skillet!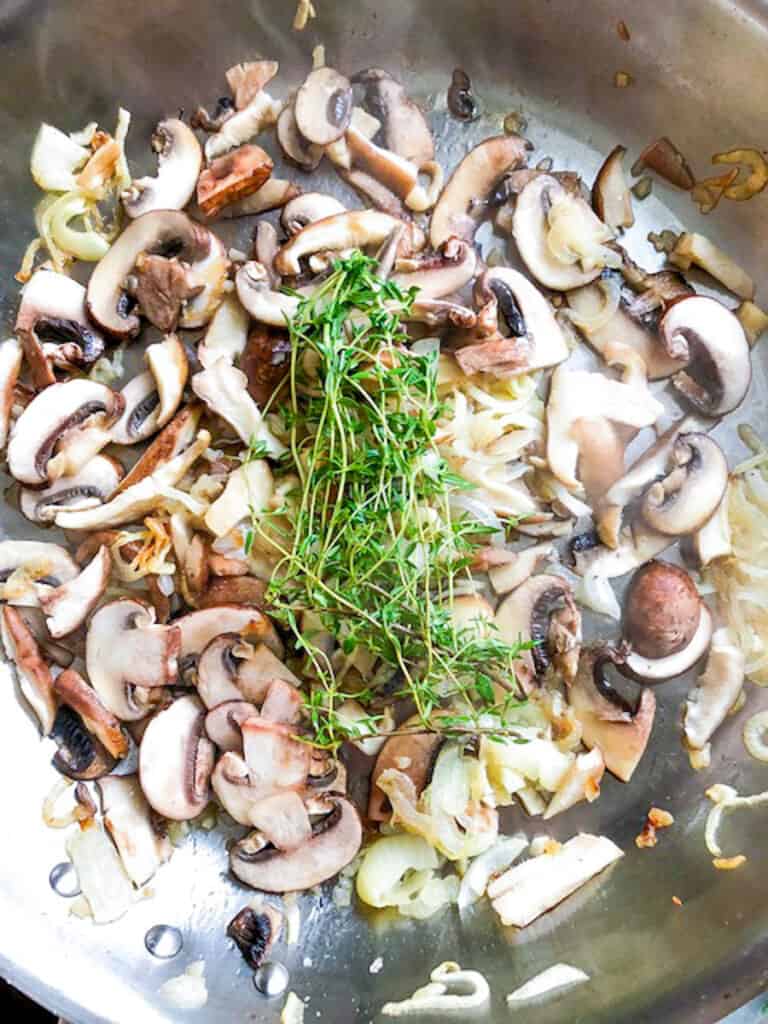 "What kind of mushrooms should I use?"
You can use whatever you have or can afford!
I love buying the mixed mushroom packages they have in the produce section. This way, I can create more of a "wild" mushroom flatbread without spending too much money. (since some can be pricey)
Here are some of my favorites:
cremini
shiitake
baby bella
oyster
porcini
Frequently Asked Questions
Is flatbread the same as thin crust?
No, there are slight differences between the two. Thin crust pizza is usually pizza with a, well thin crust. Flatbread pizza generally is thinner, crispier, and a different sauce rather than tomato sauce.
How long do leftovers last?
You can store leftovers in an airtight container in the fridge for 3-4 days.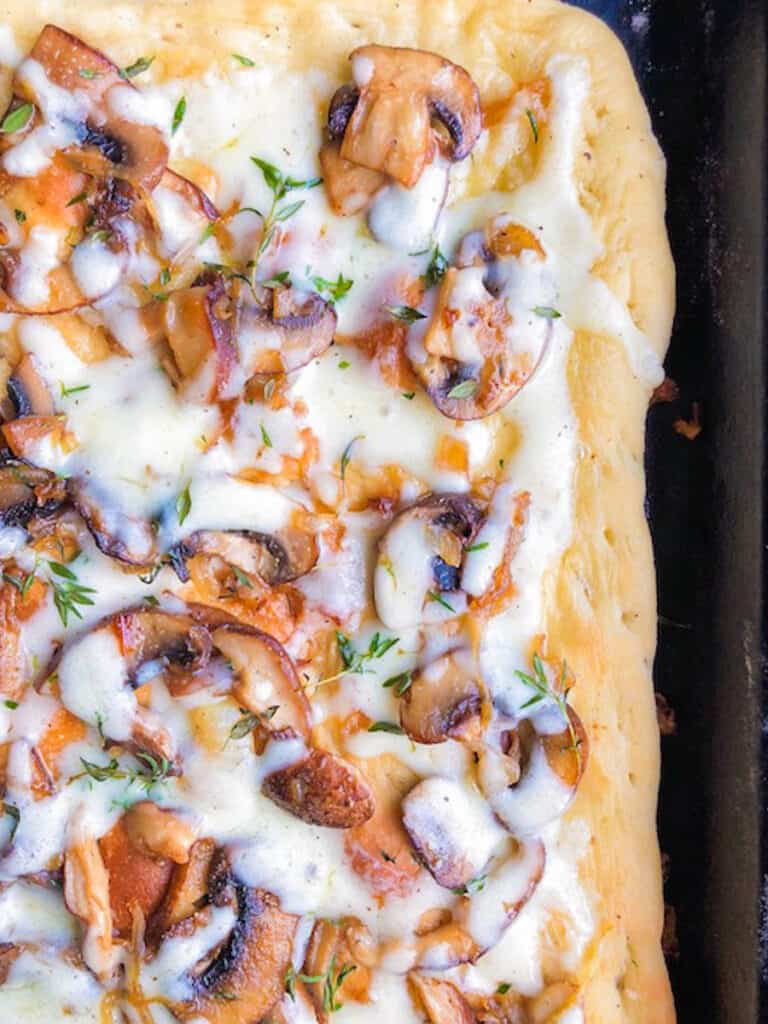 ---
Here are some other appetizers you may like:
Easy Puff Pastry Margherita Pizza
Puff Pastry Garlic n' Herb Pinwheels
Easy Ricotta Roasted Red Pepper Crostini
Easy Bruschetta Caprese (With Mozzarella)
---
📖 Recipe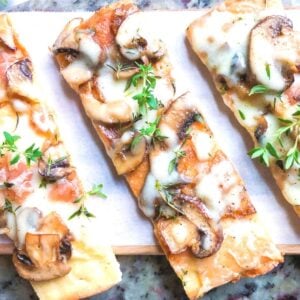 Mushroom Flatbread Pizza with Caramelized Onions
This Caramelized Onion and Mushroom Flatbread recipe is an easy appetizer for your next party! You can use store-bought flatbread OR refrigerated pizza dough! Either way, the flavors are spot on and will keep your guests happy!
Print
Pin
Rate
Ingredients
16 oz.

Pizza Dough

((or store-bought flatbread))

1

Large

Onion

((or two medium))

¼

Cup

Olive Oil

((+ 1 Tbsp.))

4

Cups

Mixed Mushrooms, Sliced

((I used Cremini, Bella & Shiitake))

2

Cups

Shredded Monterey Jack Cheese or Mozzarella

6-8

Sprigs

Fresh Thyme

3

Large

Garlic Cloves, Minced

3

Tbsp.

Sherry Wine

⅛

Tsp.

Salt

⅛

Tsp.

Pepper
Instructions
Slice your onions very thinly and add them along with your thyme sprigs and ¼ cup oil to a sauté pan over LOW heat.

Sauté for 30 minutes or until you get a light brown, caramelized color. The thyme leaves will fall off the stem so make sure to fish out to stems before adding to your flatbread.

Turn your heat up to medium and add your sliced mushrooms and minced garlic and sauté for another 5 minutes. (Get your sherry ready in the meantime.)

Turn heat up to high and add your sherry wine. Let it simmer for another 2-3 minutes before taking off the heat.

If using homemade pizza dough: Roll your dough out as this as you can into a rectangular shape trying not to put holes in it.  Place on a baking sheet or pizza stone and brush 1 tbsp. oil over top of the dough and season with salt & pepper.

If using store-bought flatbread: Place on a baking sheet and brush 1 tbsp. oil over top of the dough and season with salt & pepper.

Bake flatbread for 10-12 minutes or until golden brown. (store-bought flatbread will brown quicker!)

Once your crust is nice a crispy. Remove from the oven and spread the mushroom mixture evenly over top. Sprinkle with cheese and bake for 5 more minutes or until melted.

Cut into 2" strips and serve warm!
Recipe Notes
*Using store-bought flatbread is a quicker way to make this flatbread and tastes just as good!
*Add the cheese and mushrooms right before your guests arrive and pop it in the oven to serve it hot!
Nutrition
Calories:
602
kcal
|
Carbohydrates:
38.2
g
|
Protein:
15.9
g
|
Fat:
43.4
g
|
Saturated Fat:
12.4
g
|
Cholesterol:
34
mg
|
Sodium:
525
mg
|
Fiber:
4.3
g
|
Sugar:
2.5
g