Take your garlic bread to the next level with this easy homemade garlic bread spread made with roasted garlic and anchovies!
This is a sponsored post on behalf of Cento. All opinions are my own.
If you don't like garlic bread..I may need to rethink our friendship.
Imagine a warm CRISPY loaf of fresh Italian bread with a garlicky spread of BUTTER on top? Come onnn!
I created these Puff Pastry Garlic n' Herb Pinwheels which are a twist on garlic bread, because I love garlic bread SO much!
But have you ever tried it with anchovies on top?? Time to step it up!
Garlic Anchovy Butter
I wanted to develop a twist on the classic garlic bread recipe.
Enter ANCHOVIES.
I must admit, I never tried anchovies until I realized I had. One day, while I was enjoying a Caesar salad.
Yes. Anchovies are in Caesar dressing.
That is why it is so darn tasty! The flavor is an umami bomb in your mouth. And when properly combined with the right ingredients, you will not be able to tell that you are actually eating anchovies. You will just know there is something unique you're eating and you wont hate it.
So don't leave them out!!
For this garlic spread recipe, I used Cento's Extra Virgin Olive Oil and Anchovies!
Their products are a pantry staple in my home especially when I need a quick and flavorful snack or appetizer for guests!
In this recipe, I used their olive oil to roast the garlic and their anchovies mixed with the butter.
Anchovies are easy to use since they are so delicate. If using a food processor to blend your butter, just toss them in whole.
If you want small chunks of anchovies, lightly chop them and and mix them directly into your butter for an immediate flavor bomb!
Tips for your spread
A garlic bread "SPREAD" can be made SO many ways. The base would of, course, start with butter. I like to use unsalted butter so that I can control the salt.
the possibilities are endless! Your strategy should be to include at least one FRESH herb, garlic and something extra if you like.
Fresh herbs that would be great in ANY garlic bread spread would be:
parsley (my favorite)
chives (my second favorite)
basic
thyme
rosemary
tarragon
dill
Now, you can add your garlic one of THREE ways:
Sprinkle it on using garlic powder. This is the quickest and easiest way to add garlic flavor. It is delicious and the way I do it on those busy weeknights.
Use pre-minced garlic in the jar. This is the second best way to get that real garlic taste without doing all the peeling and chopping! It lasts for months and is actually, ALMOST as quick as sprinkling it on your bread!
Use REAL garlic and roast it in the oven. Although this option takes the longest, it is the BEST of the three! If you have never roasted garlic, you have been missing out. The flavor becomes more mild and slightly sweet and the garlic becomes soft so you can SPREAD it! Ideal for a garlic bread spread!!
Other butter add-ins:
Anchovies*
Honey
Hot Sauce
Soy Sauce
Lemon Zest
Parmesan Cheese
Mustard
Mayo
Tomato Paste
Let's Talk Anchovies
Ahh anchovies. Such an underrated fish. Don't hit back, I promise, it will be worth it.
Anchovies have gotten a bad rep. I am not quite sure why but I am here to sign their praise!
The NY Times seems to agree that anchovies make dishes better.
Why anchovies are a great option:
Anchovies come in three forms: canned, salted and as a paste.
For this recipe I used Cento's Canned Anchovies. They are from Italy, which are the best ones, and packed in olive oil
The flavor packed into just one of those tiny fish is insane. It is the perfect umami bomb to place on top of something like bread. And combined with garlic, it is delicious!
With that said, if you're tired of using the same garlic bread recipe, it's time to change it up and grab yourself a can or two next time you're in the store!
How To Roast Your Garlic
Roasting garlic is a great way to amp up the flavor of ANY dish! Besides putting roasted garlic in a bread spread, you can add it to your mashed potatoes or even in some pasta dishes.
There are two ways to roast your garlic.
Take the whole bulb and slice off the top portion. Then drizzle some olive oil and wrap it in some foil. Then bake. Here is a recipe.
You could also add the individual cloves to foil with some oil and roast it that way. That is what I did for this recipe.
Check out these tips for how to store garlic!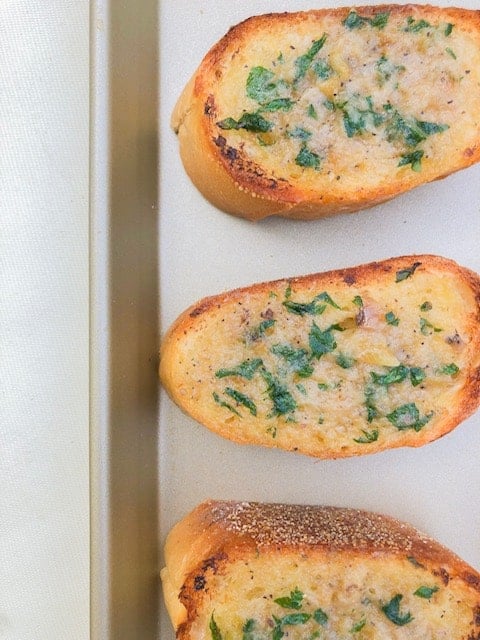 Here are some other garlicky appetizers you can serve:
Greek Potato and Garlic Dip (Skordalia)
📽 If you love entertaining at home, subscribe to my YouTube channel!!
---
📖 Recipe
Roasted Garlic Bread Spread (with anchovies)
The BEST garlic bread spread recipe made with butter, roasted garlic, fresh herbs and anchovies! Friends and family will wonder what your secret ingredient is!
Print
Pin
Rate
Ingredients
1

Fresh

Long Italian Baguette

((12 1" slices))

8

tablespoon

Unsalted Butter

5

Anchovy Filets

1

tablespoon

Honey

2

tablespoon

Freshly Chopped Parsley

½

Tsp.

Salt

(*Only if using UNSALTED butter)

4-5

Large

Cloves Garlic
Instructions
Preheat oven to 400 degrees F and take your butter out of the fridge to allow it to come to room temperature.

Peel off the skin of your garlic cloves and add the garlic cloves, whole anchovies and olive oil to a piece of tin foil big enough to fold up and lightly close the foil. (about an 8x8" square)

Place foil pack on a sheet pan in the oven and bake for 15-20 minutes.

When done roasting, take out and chop up garlic and anchovies into a paste. Add paste to your butter, honey, parsley, and salt. *Option: Add to food processor or mixer and blend until combined. Set aside.

Slice your bread into 1" slices and lay on a baking sheet. Spread your garlic anchovy butter onto each slice being generous. Set oven to 'broil' and place on the middle rack until edges of your bread are browned.
Recipe Notes
*You can make this ahead of time and freeze the slices for another day. Just spread your butter onto the sliced bread and "re-assemble" the loaf. *This will help the butter not fall off or get stuck on the wrap. Wrap buttered loaf in foil or a large Ziploc bag and freeze. Then follow directions to bake straight from the freezer.
Nutrition
Calories:
187
kcal
|
Carbohydrates:
7.1
g
|
Protein:
4.4
g
|
Fat:
16.2
g
|
Saturated Fat:
9.7
g
|
Cholesterol:
54
mg
|
Sodium:
1071
mg
|
Sugar:
2.9
g