These Chocolate Milk Pancakes are for all my chocolate lovers out there! They are a delightful twist on the classic breakfast favorite but BETTER! Imagine fluffy stacks infused with the delightful taste of cocoa, a treat that's impossible to resist.
I am happy to share that I partnered with Dairy Council of Florida to bring you this deliciously chocolately breakfast treat!
These chocolate milk pancakes remind me of chocolate cake donuts my father used to make in his donut shop. They were full of rich, chocolatey goodness and I could never get enough of them.
I now make these pancakes for my kids not just for breakfast but for special occasions like slumber parties or kids birthday parties!
Their faces light up when they smell these cooking. They prefer a small stack with a dollop of whipped cream on top and a glass of cold milk on the side!
Jump to: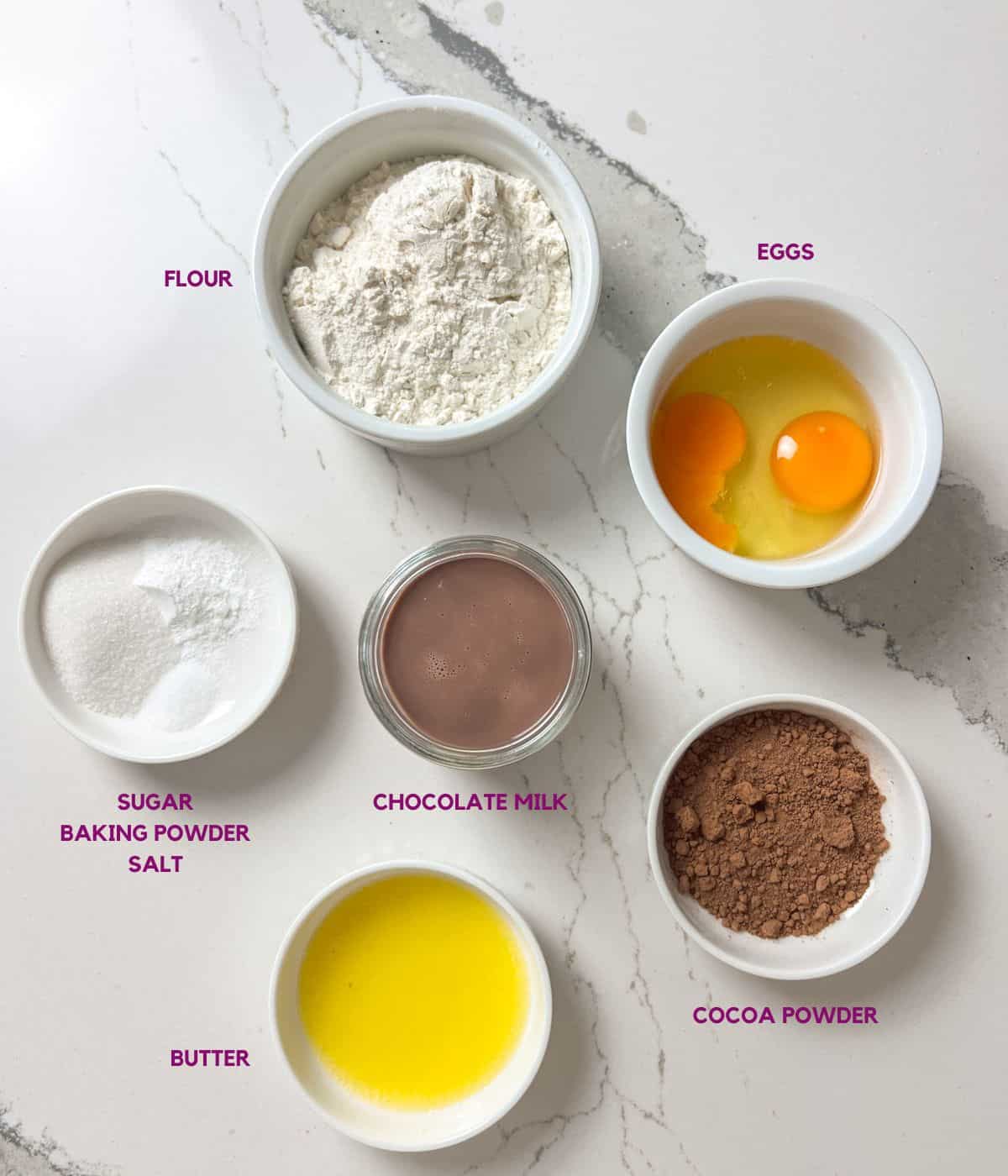 Ingredients
Room Temperature Eggs:

Eggs will bind your pancakes. Using room temperature eggs allows for better incorporation into the batter, resulting in fluffier pancakes.

Unsalted Butter:

Opt for unsalted butter so you can control the amount of salt in your recipe. This ensures that the pancakes aren't overly salty.

Sugar:

I use granulated sugar but you can use powdered if you wish. Adjust the amount of sugar accordingly to achieve your desired level of sweetness.

Chocolate Milk:

Any chocolate milk works. If you don't have chocolate milk on hand, you can create your own by mixing regular milk with cocoa powder (or chocolate syrup) and a sweetener like powdered sugar.

Cocoa Powder:

Experiment with different types of cocoa powder, such as natural cocoa or Dutch-processed cocoa, to achieve varying levels of chocolate intensity. I like Nestles's dark chocolate.

Baking Powder:

Make sure your leavening agent is fresh and hasn't expired for optimal rising and fluffiness.

Butter:

Melted butter adds flavor to the pancakes, but you can also use vegetable oil if preferred. Coconut oil can also lend a unique flavor.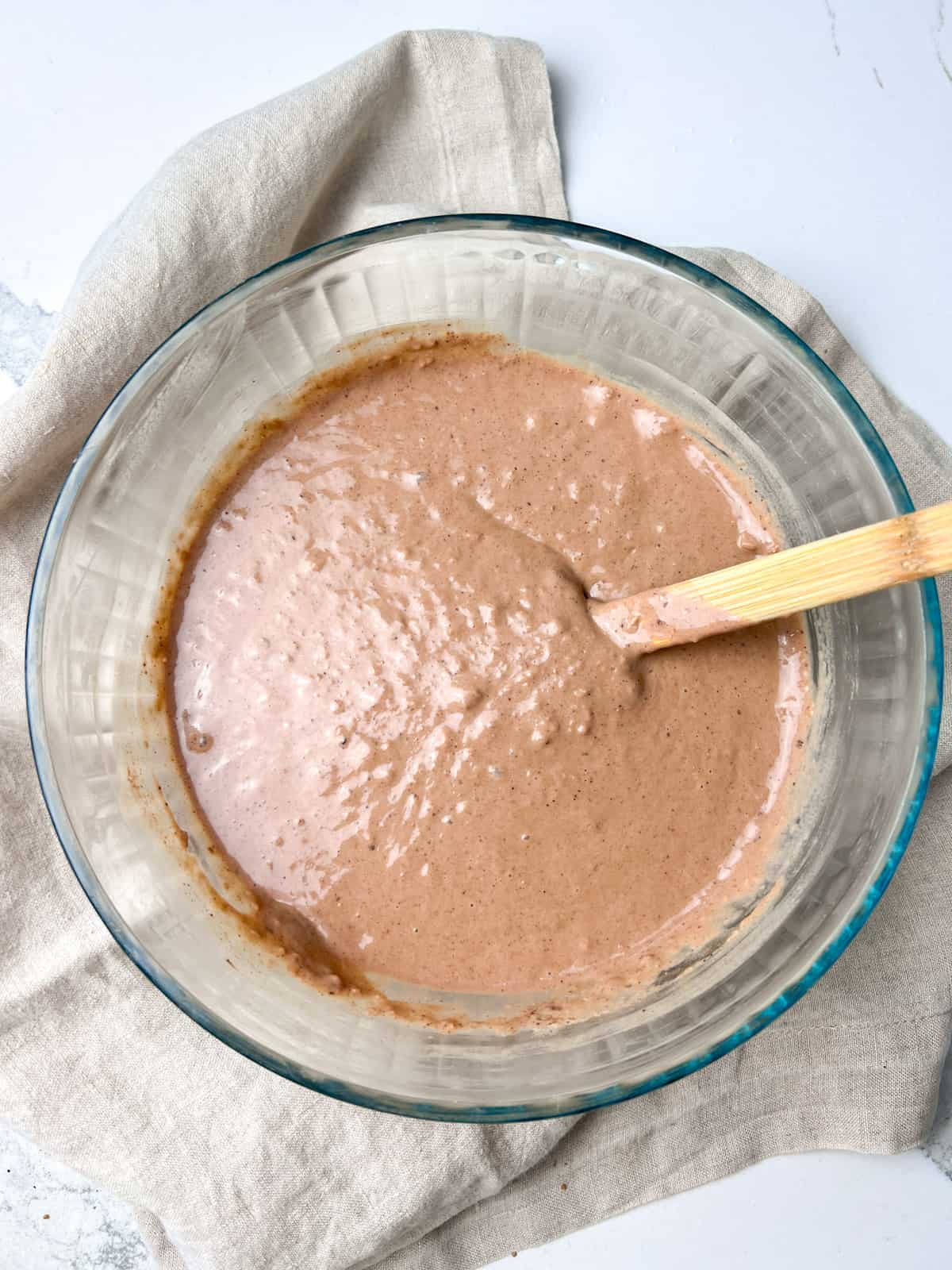 Instructions
Mix Dry Ingredients:

In a mixing bowl, whisk together the flour, baking powder, salt, and sugar until well combined.

Whisk Wet Ingredients:

In another bowl, beat the eggs and then add the chocolate milk. Mix until the eggs are fully incorporated into the milk.

Incorporate Cocoa:

Add the cocoa powder to the wet mixture and whisk until the cocoa is smoothly integrated.

Combine Wet and Dry Mixtures:

Gently pour the wet mixture into the bowl with the dry ingredients. Use a spatula or wooden spoon to fold the wet and dry ingredients together. Be careful not to overmix; a few lumps are okay.

Add Melted Butter:

Pour in the melted butter and gently fold it into the batter until just combined. The butter adds richness and flavor to the pancakes.

Preheat Griddle or Pan:

Heat a non-stick skillet or griddle over medium heat. You can lightly grease it with butter or cooking spray if desired.

Spoon Batter onto Griddle:

Once the griddle is hot, ladle a scoop of the pancake batter onto the surface. Use the back of the ladle to spread the batter into a round shape.

Cook and Flip:

Let the pancake cook until you see bubbles forming on the surface. This usually takes about 2-3 minutes. Carefully flip the pancake using a spatula and cook the other side for another 2-3 minutes, or until both sides are golden brown.

Repeat and Keep Warm:

Continue ladling the batter onto the griddle, leaving enough space between pancakes to prevent them from touching. As each pancake cooks, you can keep them warm in a low oven (around 200°F or 93°C) while you finish cooking the rest.

Serve and Enjoy:

Once all the pancakes are cooked, stack them up on plates. You can top them with your favorite toppings like maple syrup, fresh fruit, whipped cream, or a dusting of powdered sugar.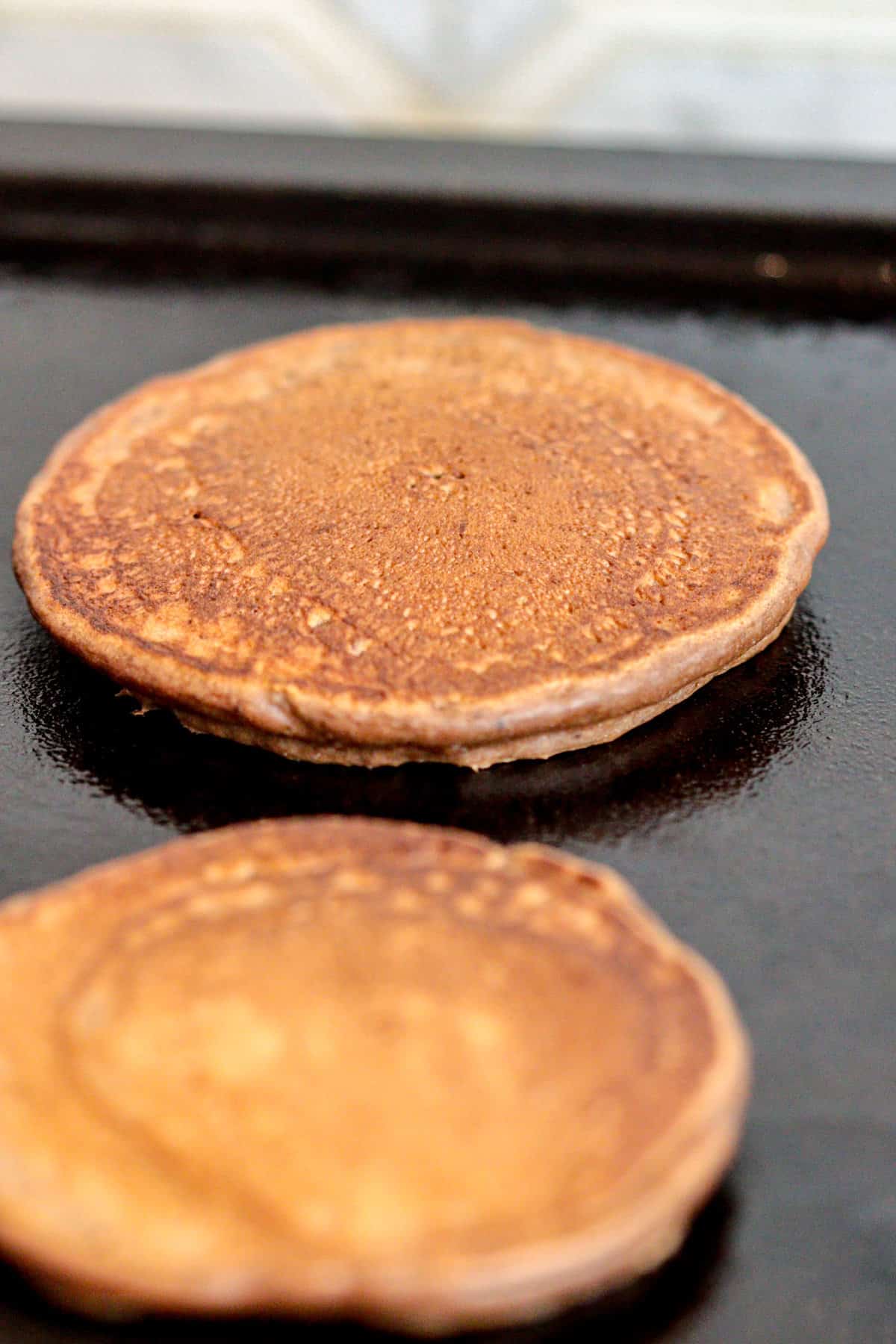 Pancake Tips
Sift Dry Ingredients: Before mixing, sift the flour and cocoa powder to ensure they're lump-free and well incorporated. This will ensure you're pancakes rise well.
Use Room Temperature Ingredients: Take eggs and milk out of the fridge in advance for more consistent mixing and fluffier pancakes.
Don't Overmix: When combining wet and dry ingredients, mix until JUST combined. Overmixing can lead to tough, dense pancakes.

Not

tasty!
Let Batter Rest: Allow the batter to rest for 5-10 minutes before cooking. This helps activate the baking powder for better rising power.
Preheat the Griddle: Make sure your griddle or pan is properly preheated to avoid unevenly cooked pancakes.
Use the Right Amount of Batter: Ladle the batter onto the griddle using a ¼ cup measuring cup for consistent pancake sizes.
Watch for Bubbles: As the pancakes cook, watch for bubbles forming on the surface. They will let you know when it's time to flip.
Adjust Heat: If pancakes are browning too quickly or not cooking through, adjust the heat to find the right balance.
Control Pancake Size: For larger pancakes, use a ⅓ cup of batter; for smaller, use a heaped tablespoon.
Enjoy Fresh: Pancakes are best enjoyed fresh off the griddle, but you can also store leftovers in the fridge and reheat in a toaster or oven.
Most Common Pancake Mistakes!
Overmixing: Overmixing the batter can lead to tough pancakes. Mix until just combined; a few lumps are okay.
Using Cold Ingredients: Cold eggs and milk can result in uneven mixing and less fluffy pancakes. Let them come to room temperature before using.
Skipping Resting Time: Allowing the batter to rest for a few minutes after mixing lets the ingredients hydrate and helps create fluffier pancakes.
Inconsistent Griddle Temperature: An improperly preheated griddle can cause uneven cooking. Make sure it's properly heated before adding batter.
Flipping Too Early: Pancakes need time to cook and set before flipping. Wait until bubbles form on the surface before flipping.
Flipping Too Often: Flipping a pancake more than once can result in less fluffiness. Flip only once for best results.
Flattening with Spatula: Don't do it!!! Pressing down on pancakes can make them dense. Resist the urge.
High Heat: Cooking pancakes on high heat can cause them to burn on the outside while remaining raw on the inside.
Not Greasing the Griddle: Failing to grease the griddle or pan can lead to sticking, making flipping difficult.
Pouring Cold Batter on a Hot Griddle: Cold batter poured onto a hot surface can result in uneven cooking and oddly shaped pancakes.
Using Expired Baking Powder: This one is more commo than you think. Expired baking powder can lead to flat pancakes. Check the expiration date before using.
Overcrowding the Griddle: Leaving too little space between pancakes can lead to uneven cooking and difficulty flipping.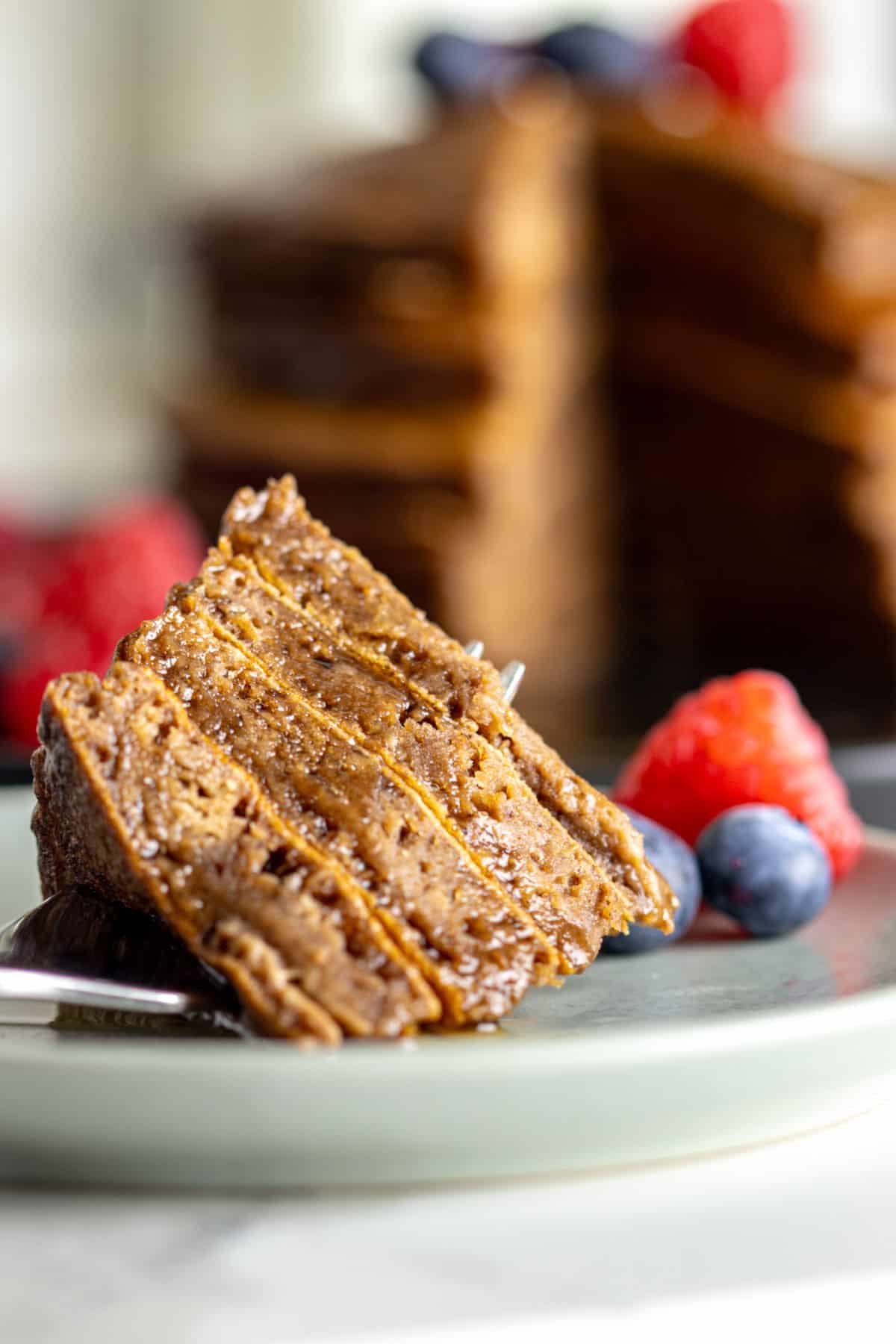 Chocolate Milk Pancake Substitutions
Flour: Experiment with whole wheat flour or a gluten-free flour blend for a different texture and flavor.

Chocolate Milk: If you don't have chocolate milk, you can make your own by adding cocoa powder and sweetener to regular milk.

Sugar: Substitute sugar with honey, maple syrup, or a sugar substitute for a different level of sweetness.

Cocoa Powder: Use dark cocoa powder for an intense chocolate flavor or white cocoa powder for a unique twist.

Butter: Try using coconut oil for a different flavor profile.

Vanilla Extract: Swap out vanilla extract with almond or hazelnut extract for a distinct flavor.
Chocolate Milk Pancake Variations
Fruity Delight: Add fresh or frozen berries (blueberries, strawberries, raspberries) to the batter.

Nutty Indulgence: Mix in chopped nuts (walnuts, pecans, almonds) for a satisfying crunch and nutty flavor.

S'mores Pancakes: Fold in mini marshmallows and crushed graham crackers to mimic the flavors of a classic campfire treat.

Orange-Chocolate Twist: Add orange zest and a dash of orange extract to the batter for a citrusy kick.

Double Chocolate Chips: Boost the chocolate factor by adding both cocoa powder and chocolate chips to the batter.

Minty Fresh: Incorporate mint extract and chocolate chips for a refreshing and nostalgic combination.

Banana-Chocolate Fusion: Mash ripe bananas into the batter and sprinkle with chocolate chips for a delightful pairing.

Caramel Drizzle: Top your chocolate milk pancakes with a drizzle of caramel sauce for a rich, caramel-chocolate flavor contrast.

Peanut Butter Swirl: Swirl peanut butter into the batter for a savory-sweet twist that's sure to satisfy.

Coconut-Chocolate Extravaganza: Mix shredded coconut and chocolate chips into the batter for a tropical-inspired delight.

Red Velvet Pancakes: Add red food coloring and a touch of vinegar for a red velvet pancake reminiscent of red velvet cake.

Mocha Marvel: Replace part of the chocolate milk with brewed coffee for a mocha-infused treat.

Pumpkin Spice Twist: In fall, add pumpkin puree and pumpkin pie spice for a seasonal treat.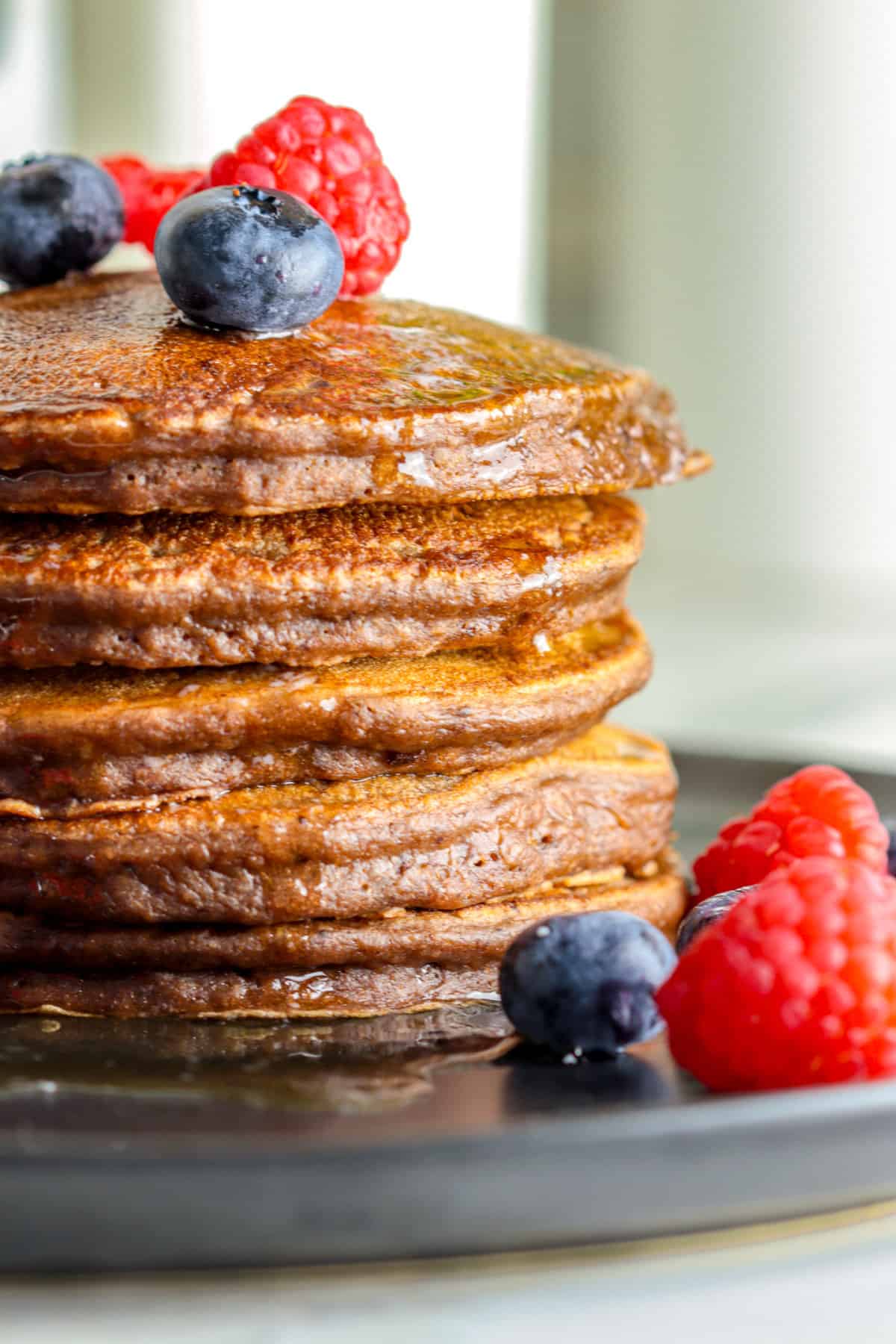 Fun Topping Ideas!
Fresh berries (strawberries, blueberries, raspberries)
Sliced bananas
Chopped nuts (walnuts, almonds, pecans)
Whipped cream
Chocolate chips or chunks
Maple syrup
Honey
Caramel sauce
Nutella or other chocolate spreads
Shredded coconut
Fruit compote or fruit preserves
Sprinkles or edible glitter
Crushed graham crackers
Marshmallows
Peanut butter or almond butter
Vanilla or chocolate ice cream
Dusted powdered sugar
Recommended Breakfast Recipes
📖 Recipe
Chocolate Milk Pancakes
These Chocolate Milk Pancakes are for all my chocolate lovers out there! They are a delightful twist on the classic breakfast favorite but BETTER! Imagine fluffy stacks infused with the delightful taste of cocoa, a treat that's impossible to resist.
Print
Pin
Rate
Ingredients
1

cup

flour

1

tablespoon

cocoa powder

1½

teaspoon

baking powder

3

tablespoon

sugar

¼

teaspoon

salt

1

large

egg

1

cup

chocolate milk + 2 tbsp

2

tablespoon

butter

1

teaspoon

vanilla
Instructions
Add dry ingredients to a bowl.

Sift the mixture using a strainer or mesh sifter if you have.

Add the wet ingredients to another bowl and whisk WELL.

Combine the dry ingredients into the wet ingredients and mix gently until JUST combined. You do not want to overmix your batter or your pancakes will be dense. Lumps are okay!!!

Let the batter sit. Heat your skillet to medium-high heat.

When hot, add oil or butter to coat skillet well and scoop about ¼ of a cup of pancake batter onto skillet. Don't scoop your pancakes too close together.

When small bubbles begin to form, your pancakes are ready to flip. (About 2-3 minutes.)

Flip using a spatula and don't touch for another 2 minutes or so. Do not press down your pancakes!

When cooked through, set aside and keep warm or serve right away with toppings of choice!
Recipe Notes
Pancake Tips
Do not overmix your batter! Use whisk or rubber spatula.
Make sure your griddle is hot but not TOO hot. You do not want to burn your pancakes before they cook in the middle.
Resist flipping your pancakes multiple times. This will flatten them.
Make sure your baking powder is not expired!!
Nutrition
Calories:
1061
kcal
|
Carbohydrates:
170
g
|
Protein:
22
g
|
Fat:
33
g
|
Saturated Fat:
20
g
|
Polyunsaturated Fat:
2
g
|
Monounsaturated Fat:
9
g
|
Trans Fat:
1
g
|
Cholesterol:
91
mg
|
Sodium:
1552
mg
|
Potassium:
644
mg
|
Fiber:
7
g
|
Sugar:
69
g
|
Vitamin A:
947
IU
|
Vitamin C:
2
mg
|
Calcium:
667
mg
|
Iron:
8
mg