This White Tea Shot is the best out there! It's easy, quick, and made with 3 main ingredients, peach schnapps, vodka and sweet n' sour mix. It's light, sweet, citrusy and very refreshing! Make a batch for your next girls night or summer get-together!
A classic white tea shot is probably one of my favorites to make, thanks to it's peachy, citrusy flavor, and simple, straightforward ingredients. It reminds me of sippin' on a cold peach tea in the summertime.
It's a popular bar request especially with the college crowd. It's easy to take down and simple enough to make. Girls are especially drawn to the flavors.
You can even scale this recipe up for a crowd, I mean how fun would that be for a party!
So let's grab your cocktail shaker and shot glasses, and let's have some fun!
What Is A White Tea Shot Made Of?
It's an alcoholic drink that's common among women because it's sweet, fruity, and lower in calories than a green tea shot.
Made with peach schnapps, vodka, sour mix, and a splash of Sprite, this shot is commonly served at parties and bars.
What's the difference between a white tea shot and a green tea shot?
The only difference between a white tea and a green tea shot is that a white tea shot uses VODKA whereas a green tea shot uses WHISKEY, Jameson is the go-to. The whiskey is what gives the green tea shot it's beautiful green hue.
Is there actual tea in this shot?
No, there's no actual tea in this white tea shot! This shot is actually a spinoff of the original "Green Tea Shot", and only contains the word "tea" because of its green tea counterpart.
While the classic recipe does not contain any tea whatsoever, there are some varieties that people make that do include tea.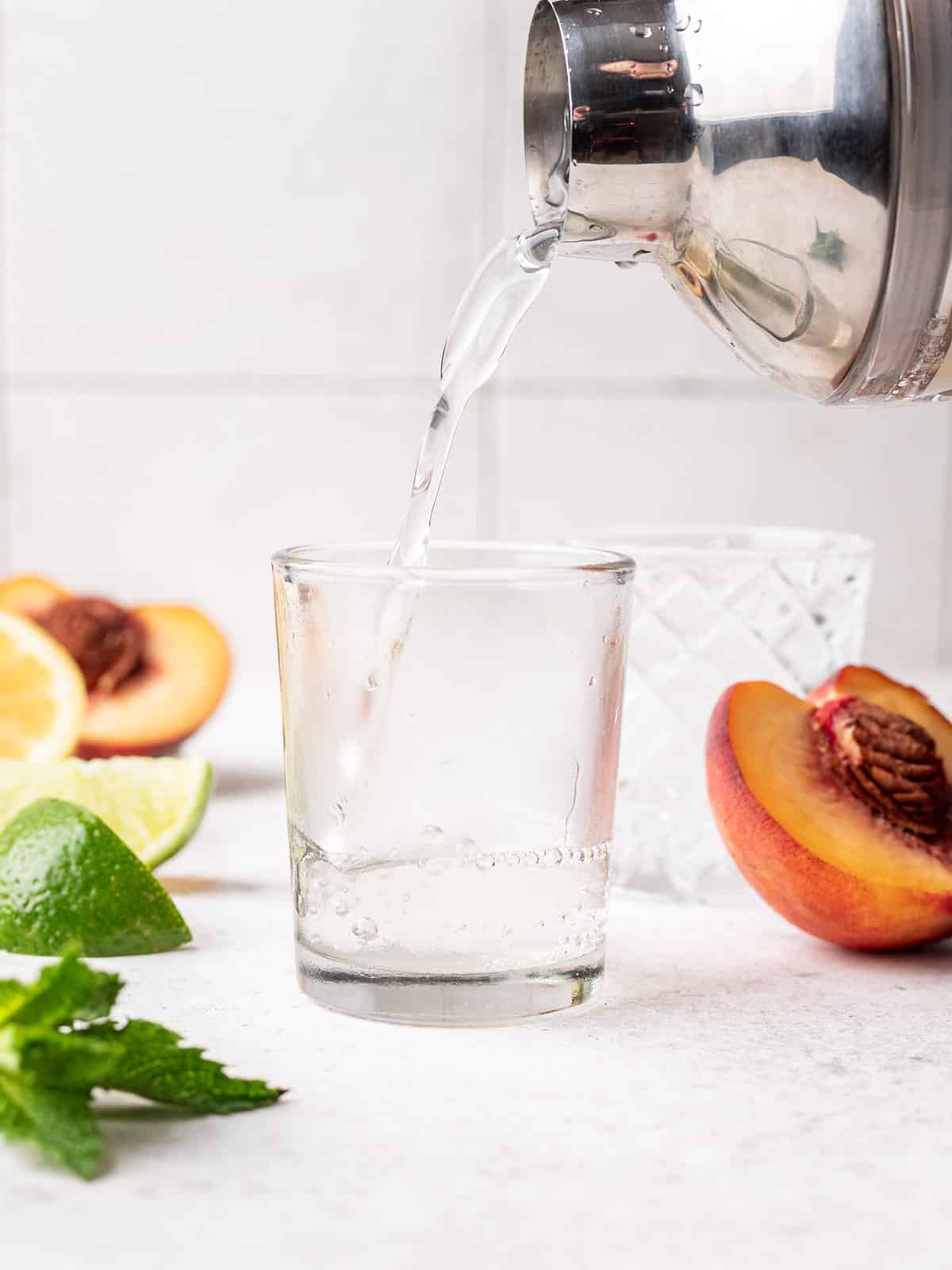 Ingredient Notes
*find the full ingredients list and measurements in the recipe card below*
Peach schnapps: The peach schnapps adds a little bit of sweetness and peach flavor to the shot. My favorite brand is Smirnoff.
Vodka: For vodka, just use your favorite one! Since this drink is a shot, there's no need to purchase overly expensive vodka.
Sour mix: You can use either homemade sour mix or store bought, they both work well.
Sprite: This is optional, but I like the extra sweetness is adds as well as the bubbles!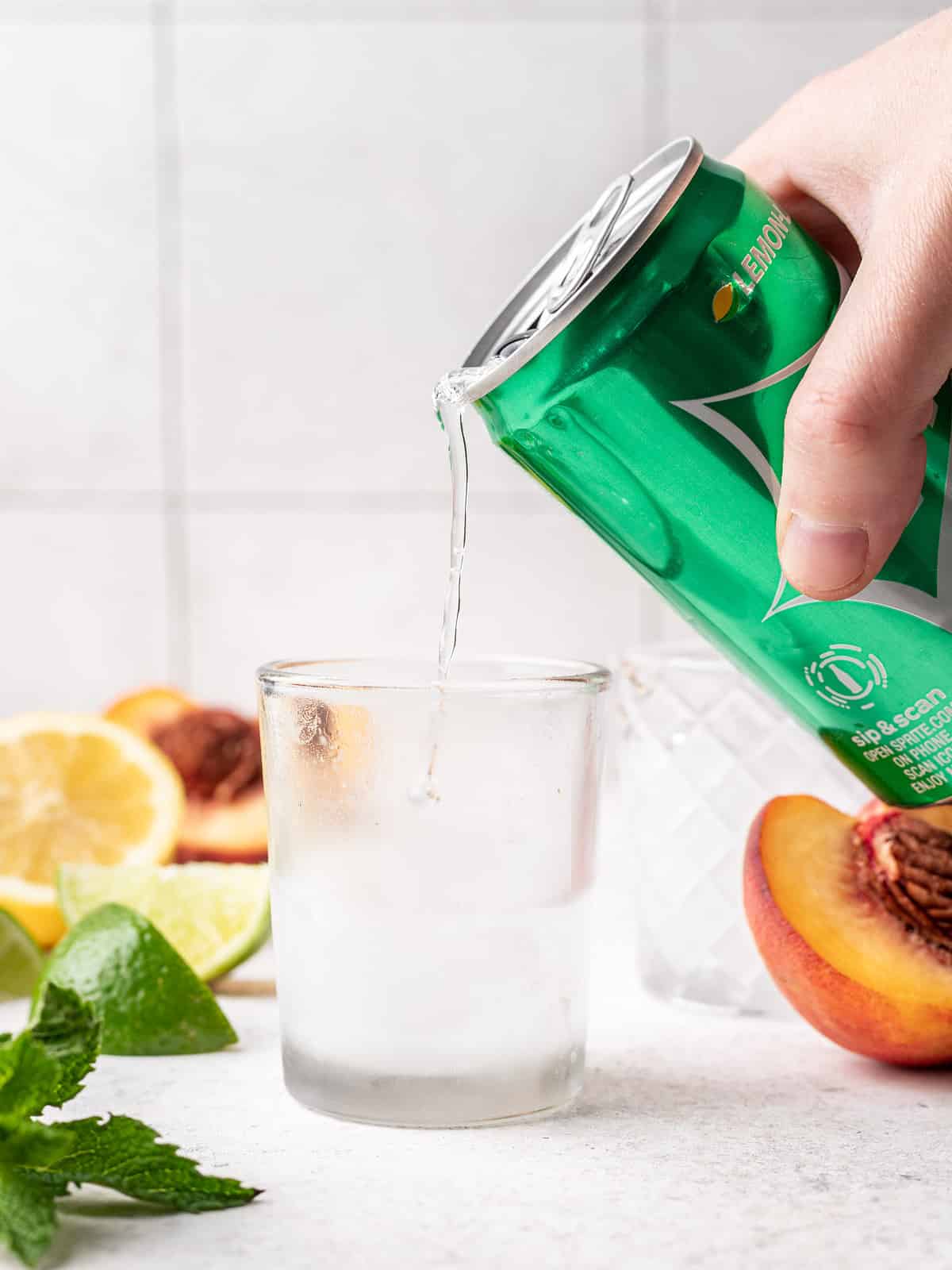 How To Make A White Tea Shot
To a chilled shot glass, add a splash of Sprite (if using)
Add the rest of the ingredients to a cocktail shaker with ice and shake well for 10-15 seconds
Pour into your shot glass, garnish with a peach slice, and enjoy!
Recipe Variations
Scale the recipe up if serving to a crowd! Just make a large batch and keep pre-mixed in a pitcher. Then when you're ready to serve, add a few ounces to a jigger and shake with ice! Serve cold.
You can also turn this shot into a drink by doubling the ingredients, pouring into a chilled glass with ice, and filling the rest of the glass with soda.
Make the shot with homemade sour mix, instead of store-bought.
Swap the vodka with tequila, whiskey or gin if you prefer.
Aleka's Tips
Chill your shot glass first, in order to achieve the best flavor. You want this shot SUPER COLD!
Sprite is optional, but adds a fun bubbliness to the white tea shot
Shake well, I highly recommend using a cocktail shaker
You can scale the recipe up as needed to serve a crowd!
Garnish with a slice of fresh cut peaches and mint leaves. It's a fancy way to serve the shot. (Presentation goes a longg way!)
Serve this in a small rocks glass if you prefer.
Do NOT add the soda to your shaker or the pressure will build and explode everywhere!
Sour Mix
If you cannot find it or don't feel like buying it, you can make your own sweet & sour mix at home! It's easier than you'd think and is much better homemade.
Frequently Asked Questions
What is white tea?
Actual white tea is a variety of tea that's made from the young leaves of the Camellia Sinensis plant.
Does this shot tastes super boozy?
I wouldn't say there's a strong taste of alcohol. Yes, you may feel some of the burn from the vodka, but because of the peach and lemon lime flavor it's pretty masked.
How much alcohol is in each shot?
The vodka is 40-50% alcohol and the peach schnapps is 15% alcohol. There may also be a little alcohol in your sour mix, depending on what brand you use.
Is there caffeine in them?
There is no caffeine in the shot recipe listed in the recipe card below. Some other recipes may call for you to make it with actual tea, and it that's the case, there may be some caffeine in it.
Try These Other Fun Shots!
📖 Recipe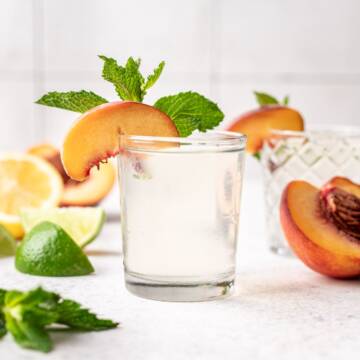 White Tea Shot
This White Tea Shot is the best out there! It's easy, quick, and made with 3 main ingredients. There's a touch of peach flavor along with some lemon, lime, and of course, vodka!
Print
Pin
Rate
Ingredients
½

Ounce

Peach Schnapps

½

Ounce

Vodka

¼

Ounce

Sour mix

Splash of Sprite

(optional)
Instructions
Add a slash of Sprite to a chilled shot glass if using

Add peach schnapps, vodka, and sour mix to a cocktail shaker with ice and shake for 10-15 seconds

Strain into your shot glass, garnish with a peach slice, and enjoy!
Recipe Notes
You can dial down the sweetness of the drink using soda water (flavored or not) in place of the Sprite.
Nutrition
Calories:
88
kcal
|
Carbohydrates:
9
g
|
Sodium:
4
mg
|
Potassium:
5
mg
|
Sugar:
8
g
|
Calcium:
1
mg
|
Iron:
0.3
mg